With a perfectly crisp edge and just-barely-baked center, these chewy double chocolate chip cookies have everything you could ever need in a cookie: deep chocolate flavor, an addictively chewy center, and a finishing touch of flaked sea salt to balance it all out. And the best part, it's a one bowl, three-step mix and you're ready to bake!
---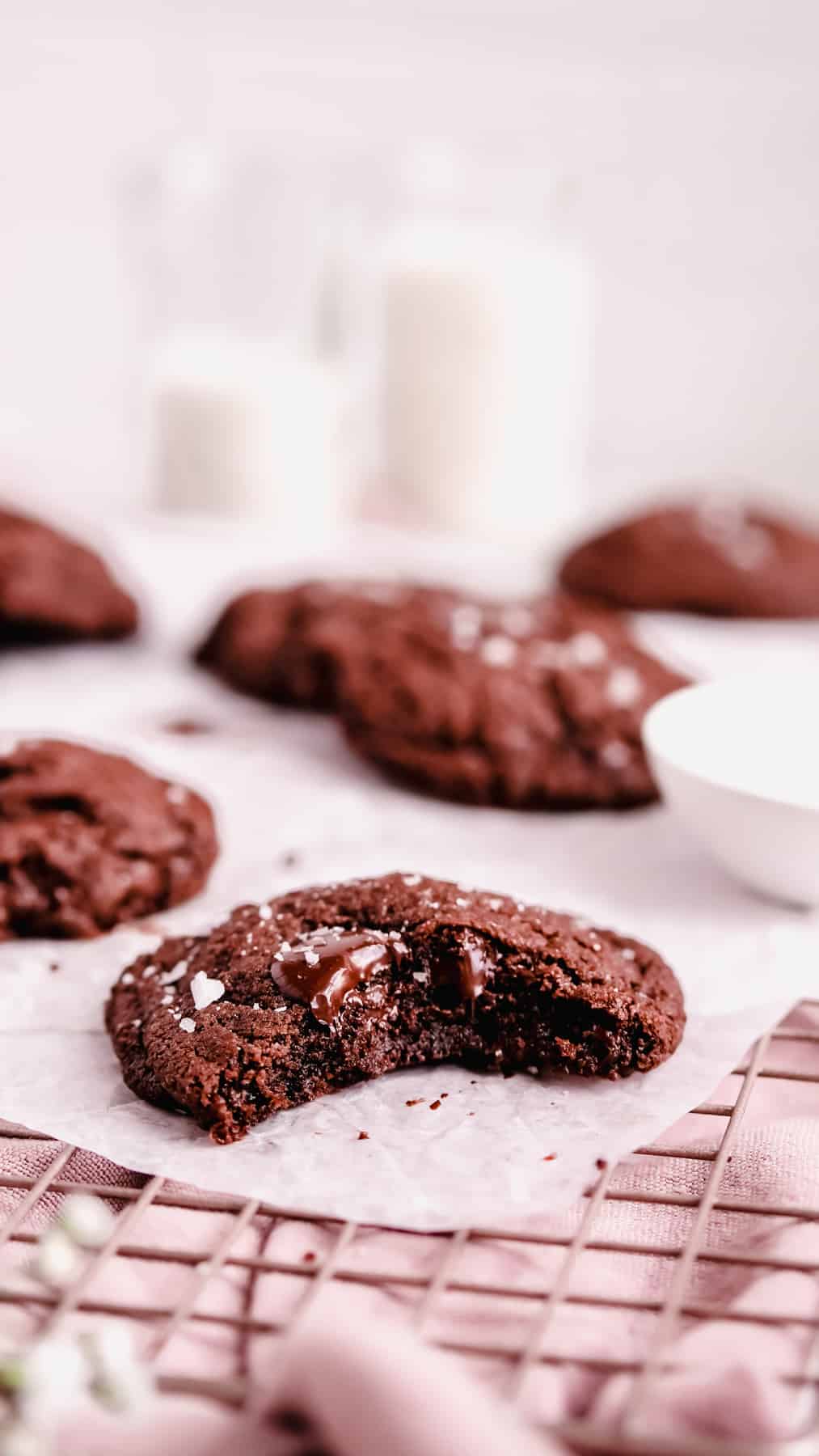 Jump to:
Double chocolate...yes, please!
So I'm sure you have read this on a lot of food blogs, BUT...
I am dead serious when I say, this recipe is my FAVORITE I have ever developed.
Now, I am a self-identifying chocoholic which doesn't hurt when it comes to my love of these super easy double chocolate chip cookies, but I think what really seals the deal for me is the perfect balance...
...bitter dark chocolate and sweet sugary dough
...a chewy just-barely-baked center with a crisp caramelized edge
...a beautiful cookie crackle with a brownie-like fudgy center
...a cookie that will impress anyone and everyone, that takes one bowl, less than 5 minutes, and only 3 steps to make!
What more could you want? My answer...another batch please!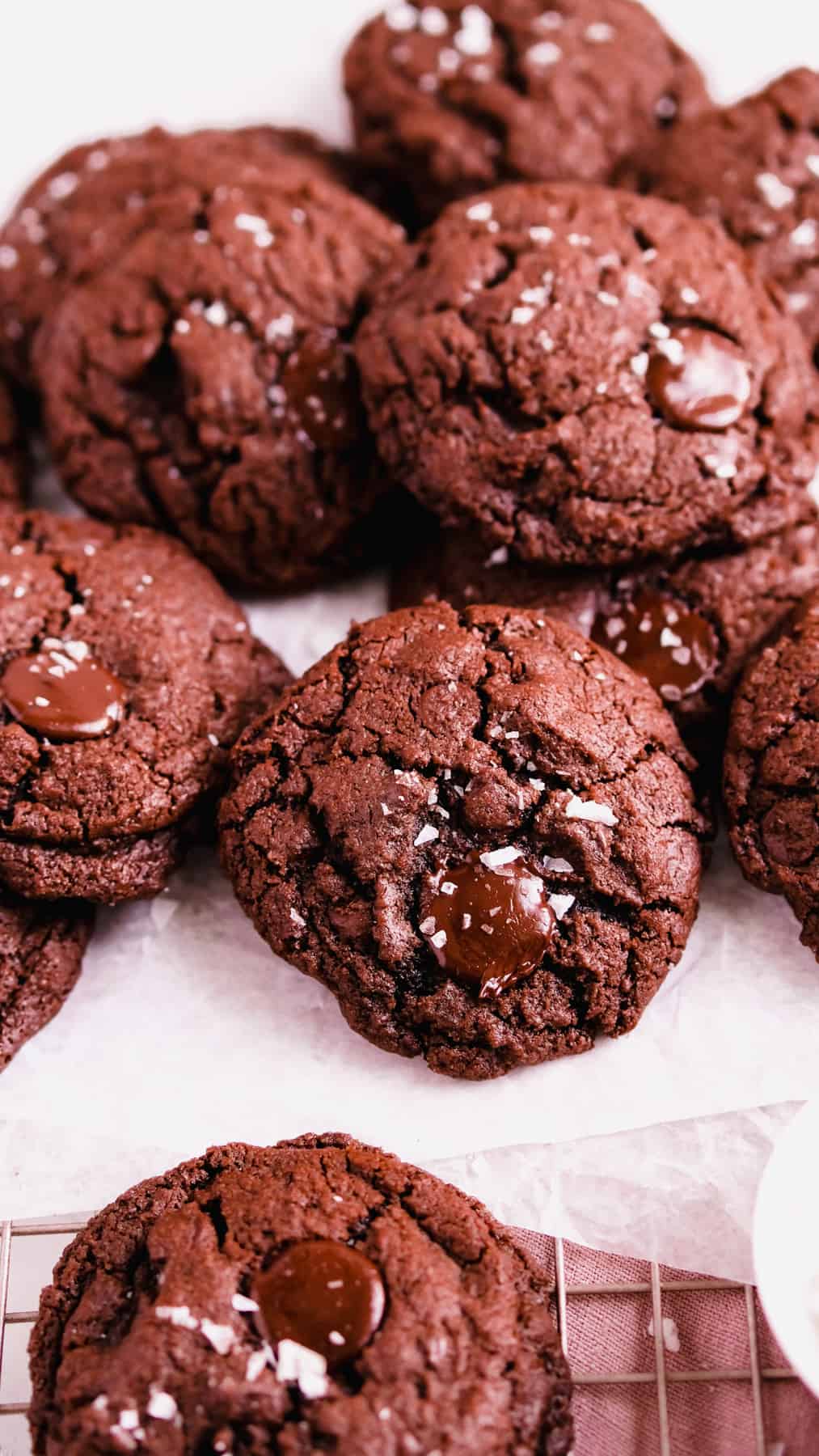 Why This Recipe Leads to Sweet Success
So, what makes chocolate chip cookies chewy?

The answer to this question will definitely change from recipe to recipe, even from one chewy chocolate chip cookie to another, but in this case, it's all about the texture of our dough.

This dough is particularly thick, which allows it to hold its shape really well in the oven, even without you having to chill it (because who wants to wait an extra hour or two for their cookies?! Not this lady...).

Since these cookies stand up nice and proud even in a hot oven, you'll get a full and proper bake to set their shape and crisp that edge. But the thickness of the center will keep it at a "just-barely-baked" texture in the middle that makes these cookies oh-so-tasty and almost like a chewy brownie in a cookie disguise.
Can it get even easier than a "one bowl" recipe?
Yes, it can! Not only is this a one bowl recipe, but these cookies are practically a two-step recipe. They're so easy and so tasty, that this deadly combo will have you mixing up a batch every single weekend.
If you want to make it even easier you can also bake this recipe by weight and then you don't even have to dirty measuring cups. To learn how check out my lesson series on the benefits of baking by weight and how to do it!
Ingredient Tips to Bake it Better
(Pssst…if you're ready to just get baking, get all the details in the recipe card below!)
Unsalted butter: we're adding two rounds of salt to these cookies so be sure to use unsalted butter here so the saltiness doesn't get overwhelming.
Sugar: using white sugar instead of brown sugar helps give you that crispy caramelized edge, and a purer chocolate flavor.
Dutch-processed cocoa powder: I like using an "extra-brute" cacao for a rich, dark chocolate flavor, but any dutch cocoa will work fine (you can functionally use natural cocoa too, but I definitely prefer the flavor of dutch cocoa for this recipe).
Vanilla extract

: believe it or not, vanilla actually makes chocolate taste more chocolatey so be sure not to skip it!

Dark chocolate chips, pistoles, or chopped chocolate: my favorite chocolate in any chip-filled cookie is a combo of Hershey's Special Dark Chocolate Chips and dark chocolate pistoles, but you can use whatever chocolate chunk size and type is your favorite!
Flaked sea salt (for garnish): while this ingredient is optional, a few flakes of crystalized sea salt are the perfect balance to this uber-chocolatey cookie base.
(p.s. for all the basic tips that no one ever taught you, that are super important to help you bake your best, check out my Baking 101 series!)
How to Make These Cookies From Scratch
(Pssst…if you're ready to just get baking, get all the details in the recipe card below!)
Prep your sheet pans with parchment and preheat your oven.
Mix all ingredients together except the chocolate chips.
Stir in the chocolate chips.
Scoop cookies and tray them up.
Sprinkle with sea salt, and add a decorative chip if you like.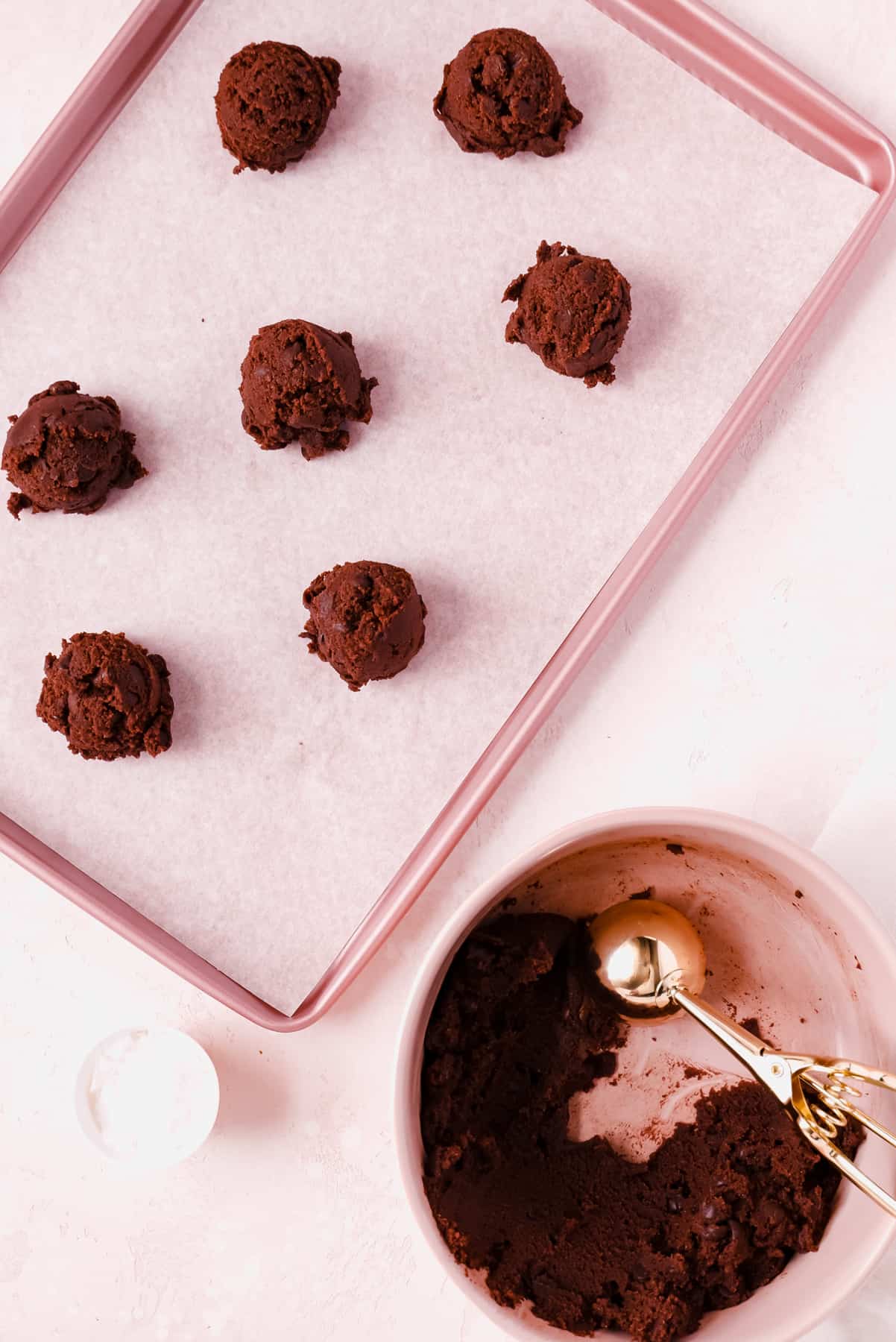 Then bake them off, and knock the tray on the counter a few times right after taking them out of the oven.
Cool, share and enjoy the molten chocolatey goodness!
*Expert Tips and Tricks* for Better Baking
What's the TOP TIP for making tasty chocolate chip cookies?
For the sake of your arm muscles, my top tip for this recipe is to use a mixer, but do not overuse a mixer. As a one-bowl recipe, these cookies are super easy to mix up, so it's tempting to just grab a wooden spoon and go at it. But, because we want a stiff dough to give us that chewy center, a mixer is really helpful for bringing everything together.

That said...you definitely don't want to overmix this dough, so mix just until your dough comes together, and then just until the chips are fairly well distributed to make sure your cookies stay nice and tender.
Can you make the dough ahead of time?
Yes! You can bake these delicious cookies from the fridge or freezer if you'd like to make the dough in advance. You can still bake them at 375°F for 10 minutes.

This dough will keep in the fridge for 4 days or in the freezer for up to a month, and be sure to store as fully scooped dough balls so you can just drop them right on the sheet when you're ready to bake!
How do you store these cookies?
These cookies will keep for a week in an air-tight container at room temperature (although if they last that long...I'd be super impressed by your award-winning self-restraint *hehe)
What substitutions can you make?
While I'm a dark chocolate fiend, feel free to swap in milk or white chocolate chips of your favorite type, or even swap in some nuts in place of part of the chocolate chips to make this recipe your own.

---
Other Recipes You'll Love
If you're all about the chewy cookies like me, be sure not to miss my Chewy Sea Salt Chocolate Chip Cookies, Birthday Cake Sugar Cookies, Oreo Chocolate Chip Cookies, Chewy Chocolate Chip Peanut Butter Cookies, and Campfire Marshmallow Chocolate Chip Cookies. And if you're looking for a little (or a lot) more chocolate, you definitely need to mix up a batch of my Fudgy Gluten Free Brownies, and some Dark Chocolate Hot Fudge for all your sundae needs too!
⭐ If you bake up this tasty recipe please give it a ⭐ rating in the recipe card or leave a comment and feel free to ask any questions at the bottom of the page to help others find their way to this sweet recipe too! ⭐
Full Recipe Here!
One Bowl, Chewy Double Chocolate Chip Cookies
These cookies have it all: deep chocolate flavor, an addictively chewy center, and the finishing touch of flaked sea salt to balance it all out. And the best part, it's a one bowl, three step mix and you're ready to bake!
Ingredients
10

tablespoons

(1 ¼ sticks) unsalted butter

(softened)

1

cup

sugar

1 ¼

cups

all-purpose flour

⅓

cup

dutch-processed cocoa powder

½

teaspoon

baking soda

½

teaspoon

salt

1

large egg

1

teaspoons

vanilla extract

1

cup

dark chocolate chips, pistoles, or chopped chocolate

Flaked sea salt

(for garnish, see notes)
Instructions
Prep and line: preheat your oven to 375°F and line two baking sheets with parchment paper.

Mix all ingredients except chips: add all the ingredients except the chocolate chips to a mixing bowl and mix by hand or with a mixer just until combined. (This is a pretty stiff dough so while it can be mixed by hand, I'd highly recommend a mixer unless you are looking for a workout as it'll take a few minutes to come together even with a mixer!)

Add chocolate chips: add in the chocolate all at once and stir in by hand just until it's distributed throughout the dough (you can do this using a stand mixer carefully on the lowest setting, but the dough will be too stiff for most hand mixers to work well here).

Scoop and tray: scoop dough into rounds using 2 tablespoons of dough per cookie (an ice-cream scoop works well here for easy portioning!), and place on a prepared baking sheet at least 2" apart. For an extra hand-made touch, gently press a chocolate chip into the top of each dough ball.

Salt and bake: if using, sprinkle a few crushed flakes of sea salt on top of each cookie. Bake for 9-11 minutes. Chocolate cookies can be tricky to check for done-ness but I recommend looking for a matte, dry surface, and edges that feel set when touch while the centers still feel just a hair under-done for a perfectly chewy texture. (Smell is also a big indicator of doneness, so as soon as you start to smell chocolate wafting through the air, you're probably close to, if not already done).

Knock 'em down: as soon as you take the cookies out of the oven, knock the tray firmly on the counter or hit it a few times from underneath (this helps to settle the molten batter while it's still all gooey and give you that nice crackly look - plus it's great stress management hehe).

Cool, share and enjoy: cool cookies as long as you can keep away from them (which in my case is usually 5 minutes at the most as self control near warm cookies is an oxymoron in my kitchen), then pass them around and enjoy!
Test Kitchen Tips
Baking chilled dough: if baking from the fridge or freezer, just tray up the chilled dough balls on your baking pan and bake according to regular recipe instructions.
To salt or not to salt? The sea salt flakes are optional in this recipe as they only serve as a garnish, but I highly recommend them for a perfect salt balance to the sweet chocolate cookie base.
Which chocolate chips? I prefer dark chocolate chips in this recipe (I use a combo of Hershey's Special Dark Chips and 60% pistoles from Cacao Barry); the higher the quality, the better in my book, but if Nestle's semi-sweet chips is what you grew up loving, then definitely stick with those if you like for that extra touch of nostalgia!
Nutrition
Serving:
1
cookie
Calories:
288
kcal
Carbohydrates:
37
g
Protein:
4
g
Fat:
15
g
Saturated Fat:
11
g
Trans Fat:
1
g
Cholesterol:
39
mg
Sodium:
248
mg
Potassium:
154
mg
Fiber:
2
g
Sugar:
22
g
Vitamin A:
313
IU
Vitamin C:
1
mg
Calcium:
56
mg
Iron:
1
mg
⭐ Did you bake up this tasty recipe? ⭐
Please give it a ⭐ rating in the recipe card or leave a comment at the bottom of the page to help others find this sweet recipe - I'd so appreciate it! Xo, Jocelyn

---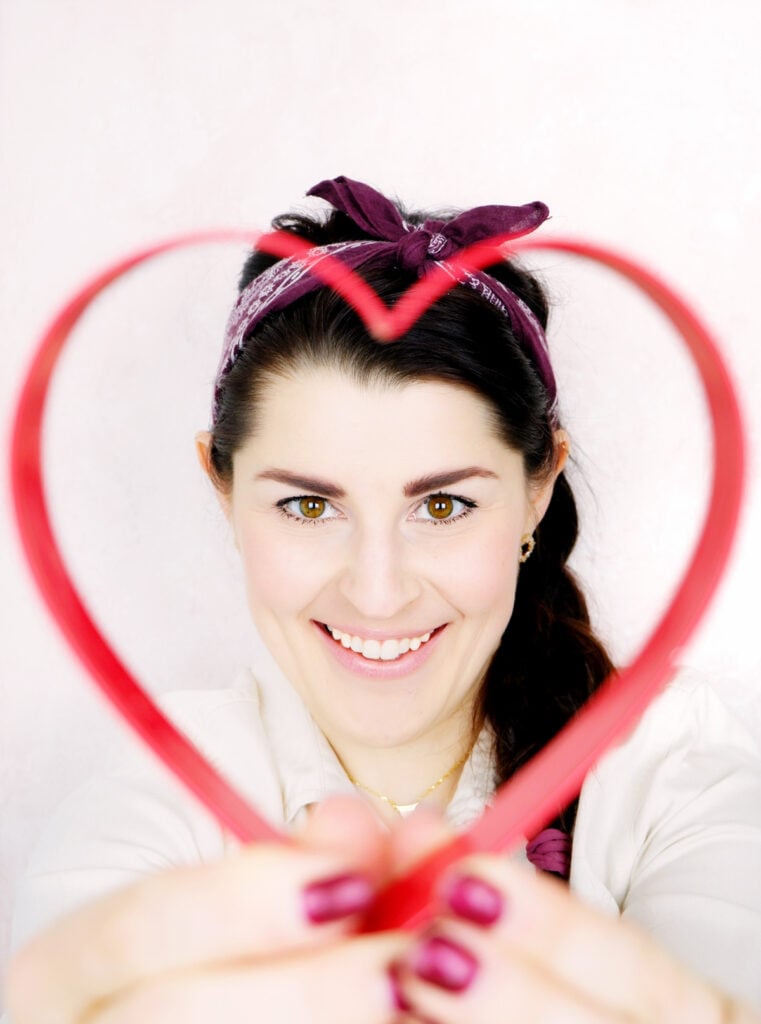 I hope you and your loved ones enjoy this recipe and when you give these a try, please share (literally and electronically!) and tag me on Instagram or Facebook @mint.and.mallow.kitchen so I can see all your amazing sweets and help you with any baking conundrums that come up!

Love, light and sweets always,
Jocelyn

This website contains Amazon affiliate program links. This means that I earn a small commission on qualifying purchases at no additional cost to you. I will never provide a link to nor recommend any product or service that I don't genuinely love or personally use. Thank you for supporting MINT + MALLOW kitchen and the brands that keep this blog running.
---
Are you ready to learn how to bake everything better?
Check out our lesson collections to learn how to play and develop your own recipes in the kitchen, so we can help you take all your bakes to the next level!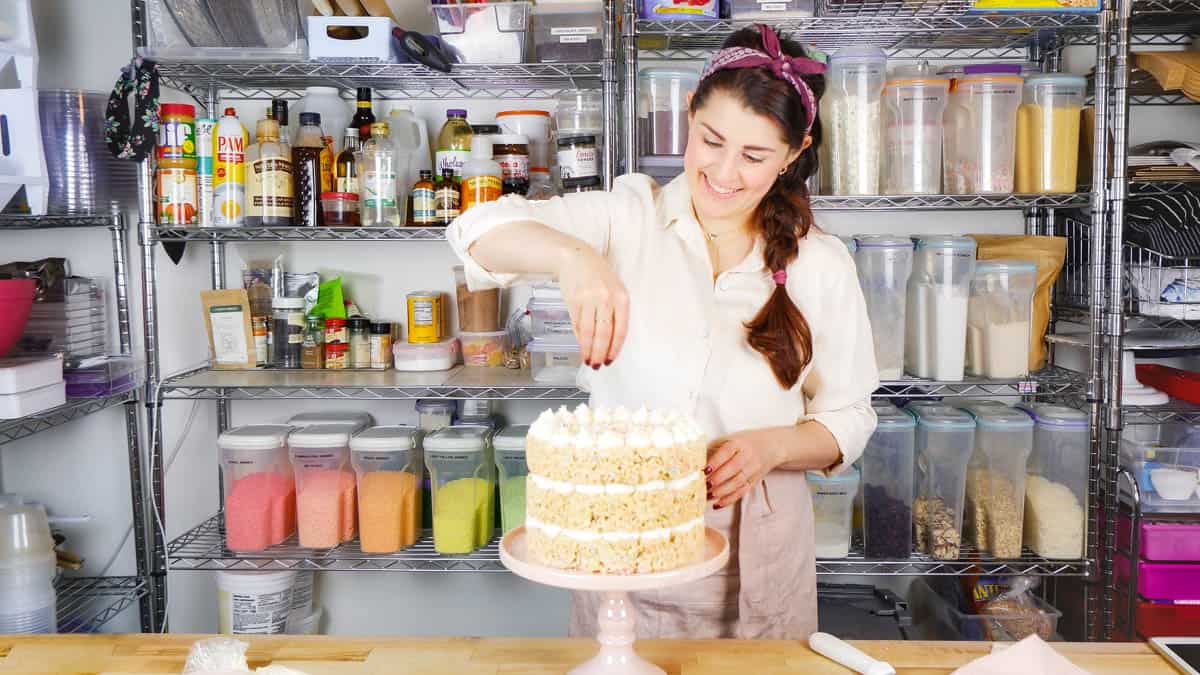 ---