---
These super easy fluffy lemon pancakes are a one-bowl, two-step prep, and could not be simpler to make (or tastier!). They'll give you that satisfying hit of sweetness in the morning that's beautifully balanced by the bright and zesty lemons. The fresh lemon whipped cream on top adds extra yumminess, while also dressing them up to help you celebrate any special occasion!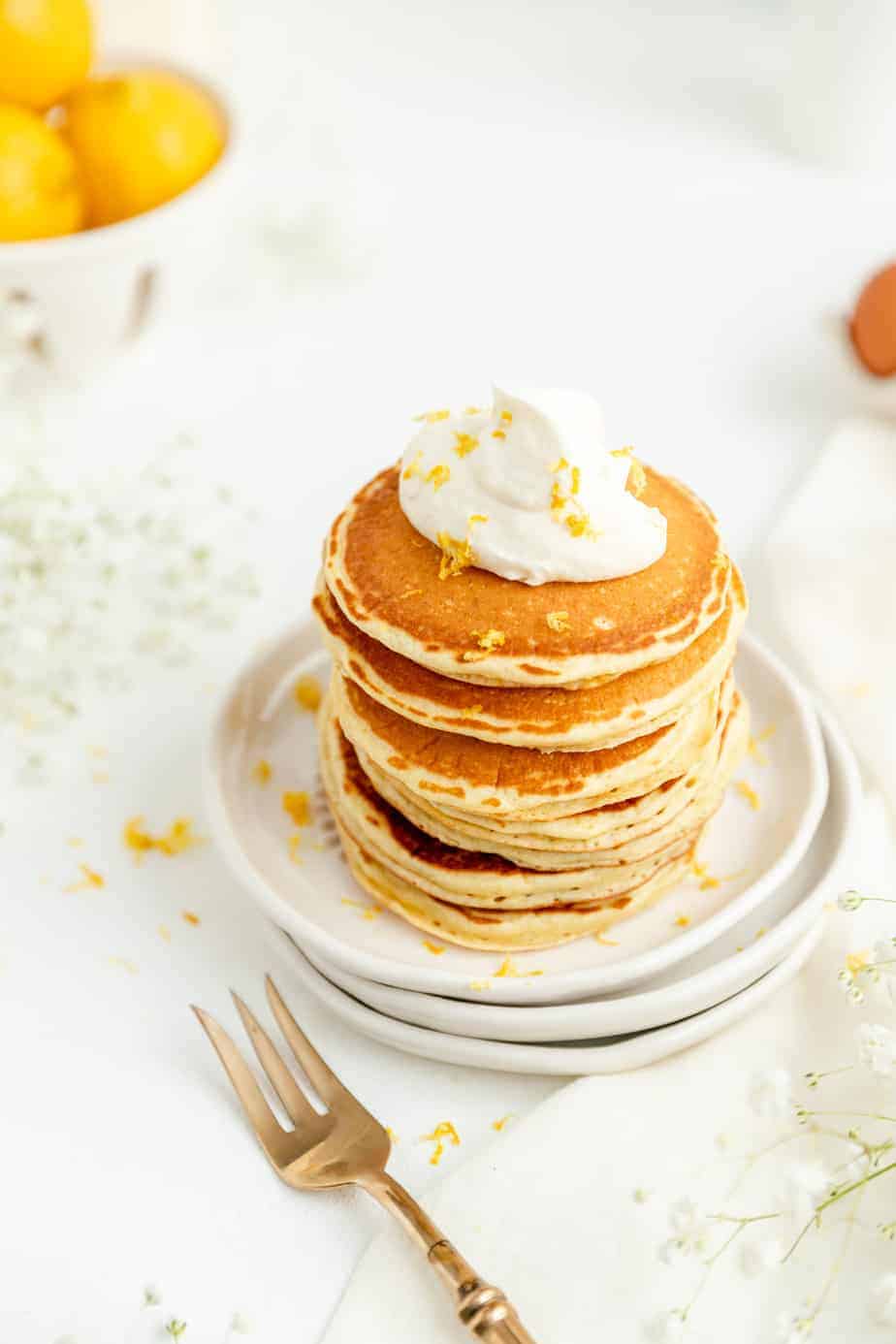 Jump to (scroll for more!):
What's the secret to great pancakes?
Well...if I told you, it wouldn't be much of a secret, would it? Juuuuuust kidding 🙂
Making those fluffy diner pancakes at home, with that delicious griddled taste can be trickier than you'd think. BUT, lucky for you, I have captured both the tender, fluffy texture, and the griddle-tastic flavor of a diner pancake in this recipe. Then I took it up a notch with this zesty lemon twist on the classic to create a morning stack of pancakes that's fit for any special occasion.
This recipe actually started in a Chicago restaurant I helped to open after pastry school that was known for delicious, elevated diner breakfast foods. So needless to say, a lot of time, effort, and expertise went into the original recipe. Then, of course, I added a little bit more love to it when I tweaked it to make it extra simple and flavorful for you all.
So what is the secret? In my book, to make a great pancake there are 2 really important things your recipe needs to have:
The right amount of leavener, to provide a little bit of that baking soda griddled taste, while still having the right amount a rise in your batter.
The right ratio of liquid to dry ingredients. Having the correct batter texture is what's going to allow you to have a tall, well-risen pancake that's light and fluffy, instead of something really heavy, or just super flat and, well, pancaked lol.
This recipe has both those crucial elements built right in for you. So all you have to do is dump everything in the bowl, give it a stir, and get to cookin'!
Ingredient Tips for Better Baking
(Pssst…if you're ready to just get baking, get all the details in the recipe card below!)
---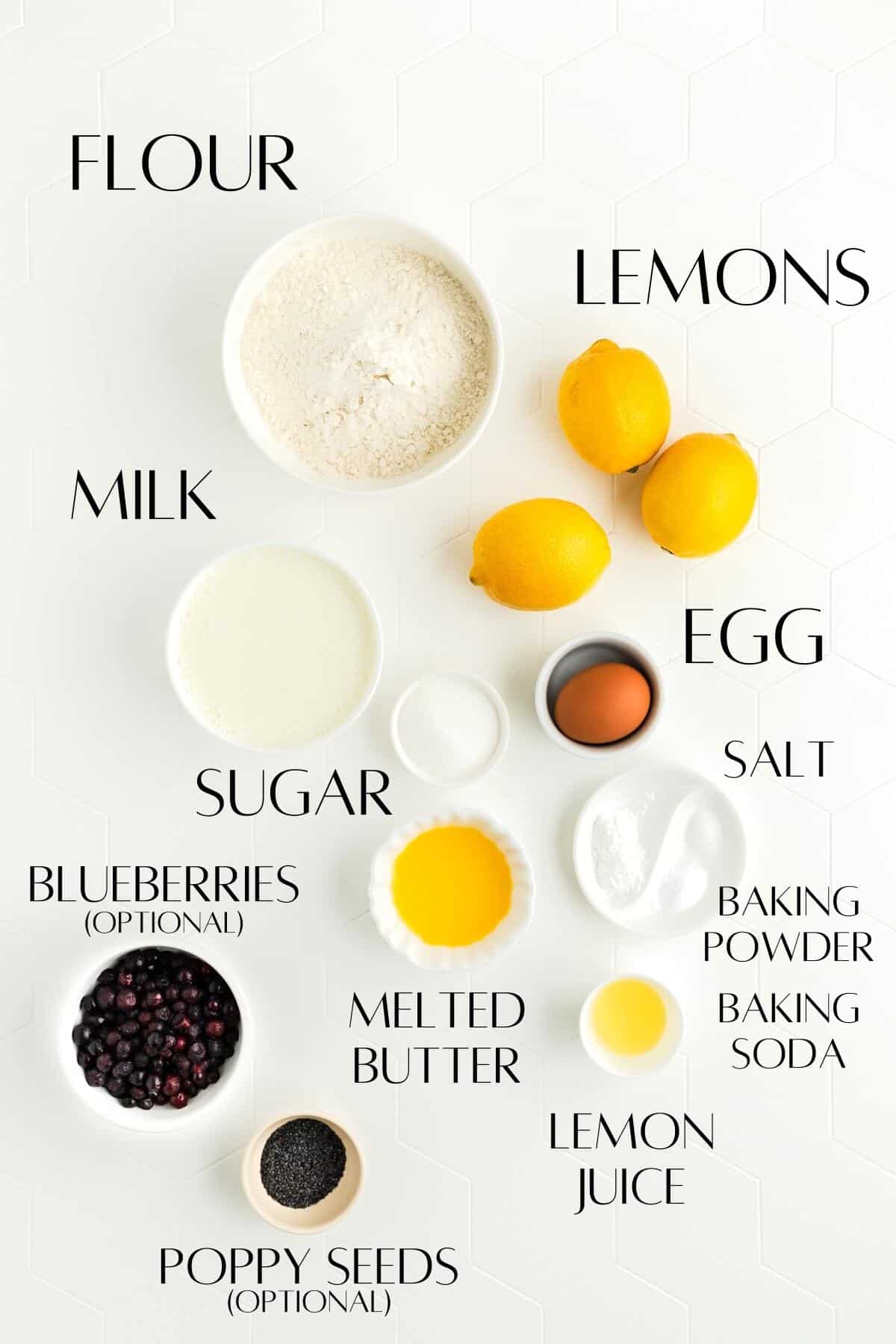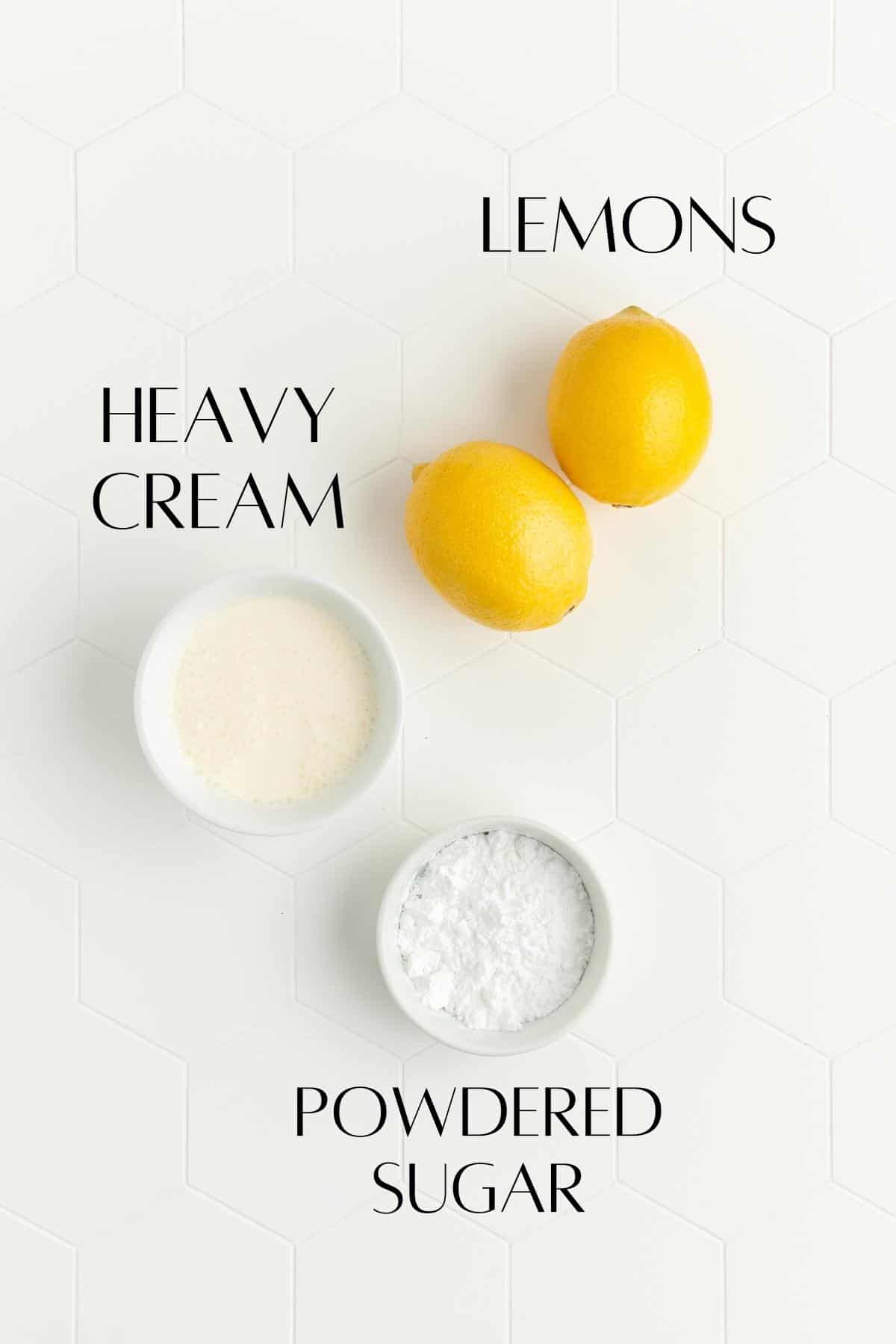 Sugar: I know it's tempting to skip the sugar, but because this recipe has so much acidity coming from the lemons, you'll really want to have the sugar in there just to balance out the lemon zest and juice.
Baking powder + baking soda: we're using both baking powder and baking soda for different purposes. The baking soda helps to thicken the batter in the bowl (so it spreads out nicely in the pan). The baking powder is what's going to help our pancakes spring and puff up when they hit the hot griddle (for a light and fluffy pancake!).
Lemon zest: these pancakes get most of their lemon flavor from the oils in the lemon zest. If possible, you want to zest your lemons right over top of your bowl. This helps capture all those oils spraying off the rind for great flavor in your final stack.
Whole, 2%, or skim milk: now I know classic pancakes do often use buttermilk. But when testing buttermilk with this recipe, it was just a little too acidic. Therefore I recommend sticking with whole, 2%, or skim milk to keep a nice and balanced flavor profile.
Blueberries or Poppy seeds: blueberries and poppy seeds are great additions if you want to customize your breakfast stack. But these pancakes are also delicious as just classic lemon cakes, which is actually my preferred version of this recipe.
Fresh Lemon Whipped Cream: the fresh lemon whipped cream really takes these pancakes up a notch and makes them feel extra special while adding a luscious, creamy texture too. But also feel free to skip the whipped cream all together if you just want a classic lemon stack with syrup!
(p.s. for all the basic tips that no one ever taught you, that are super important to help you bake your best, check out my Baking 101 series!)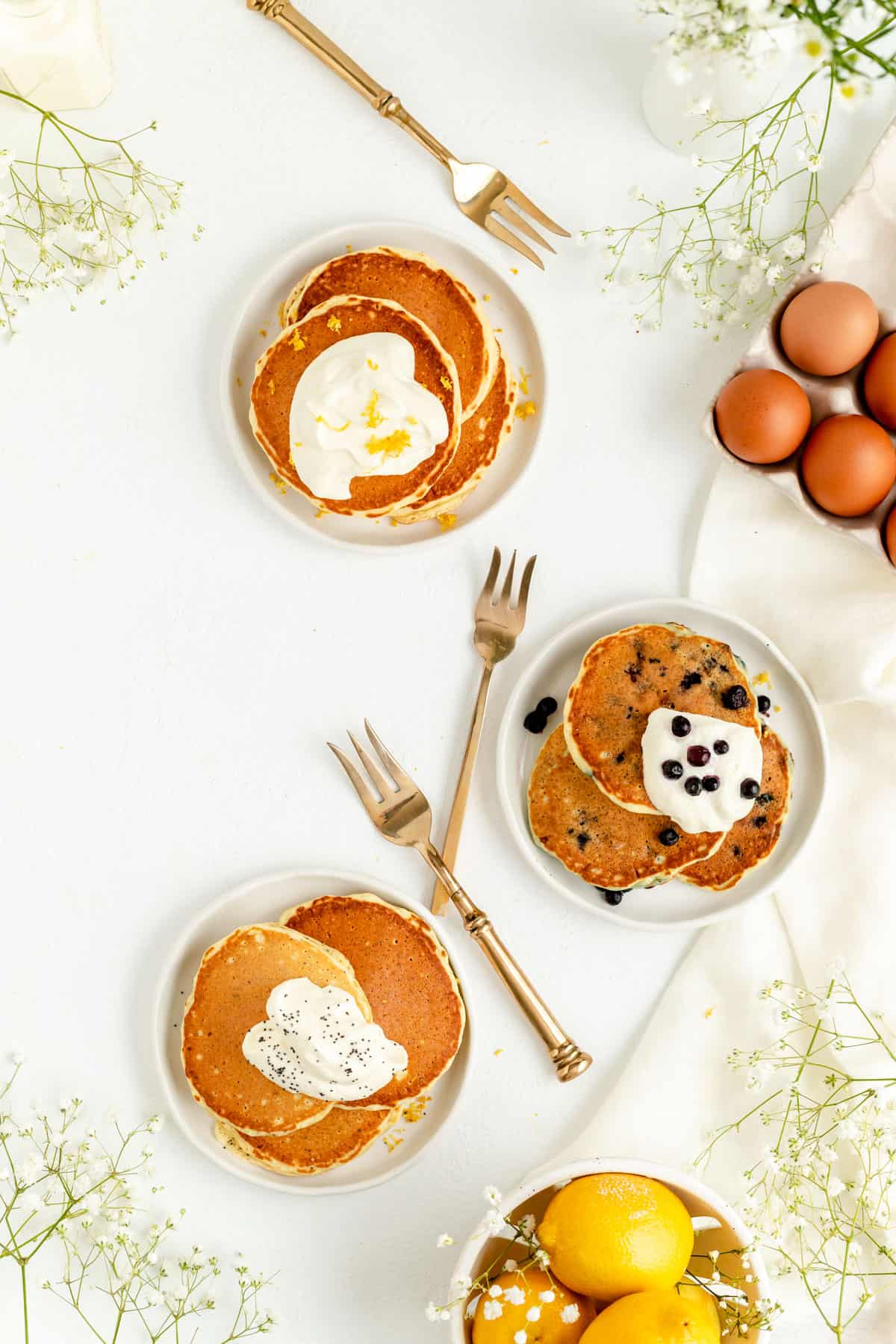 Special Tools You'll Need
The only special to you need is a zester for the lemons, and you can find my favorite one here!
How to Make Lemon Pancakes from Scratch
(Pssst…if you're ready to just get baking, get all the details in the recipe card below!)
---
If making the Lemon Whipped Cream, I'd recommend mixing that up before the batter so it's ready to go right when the pancakes come off the griddle. To prepare, whip all ingredients together until soft peaks form, then cover the bowl and set it aside in the fridge while preparing your pancakes.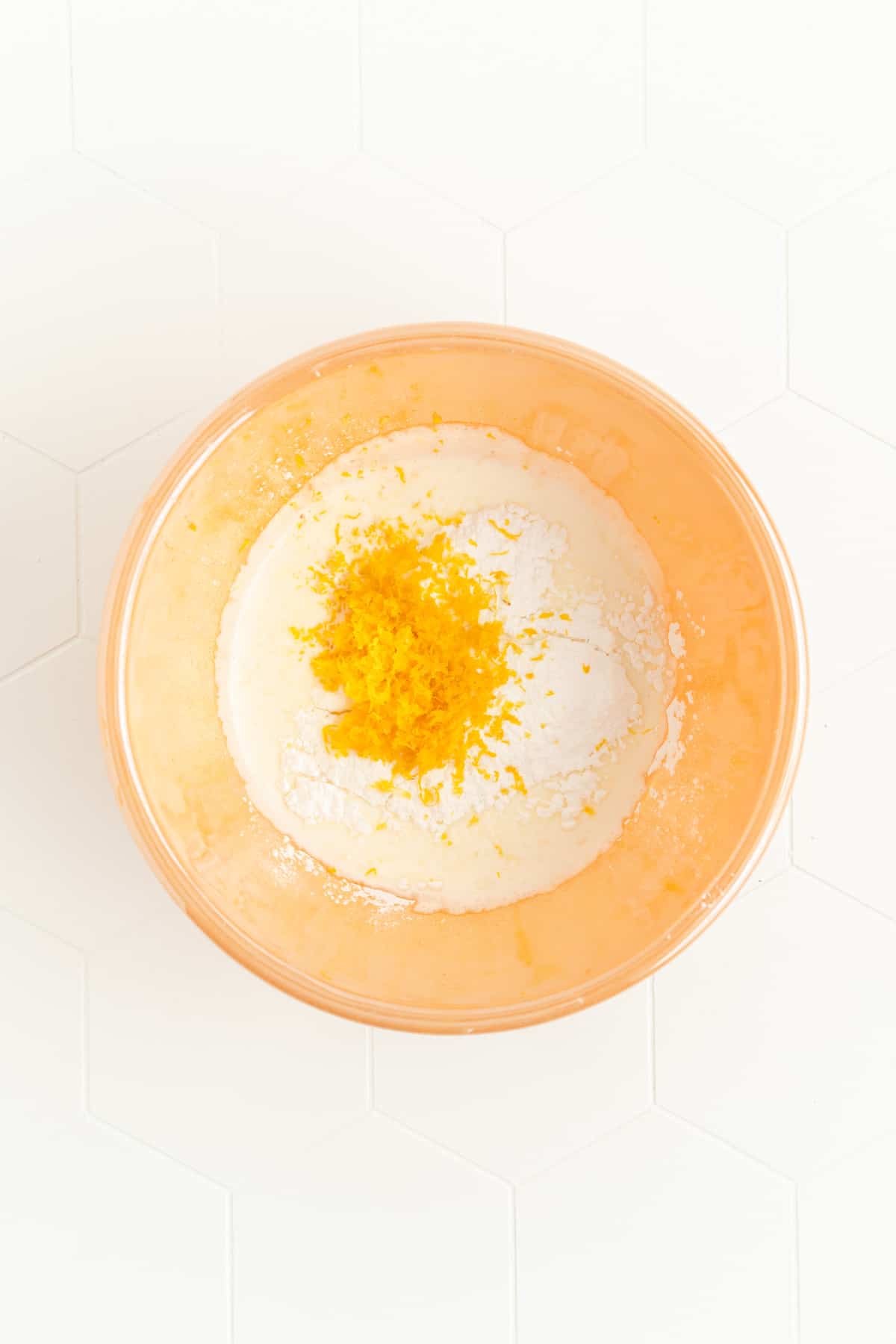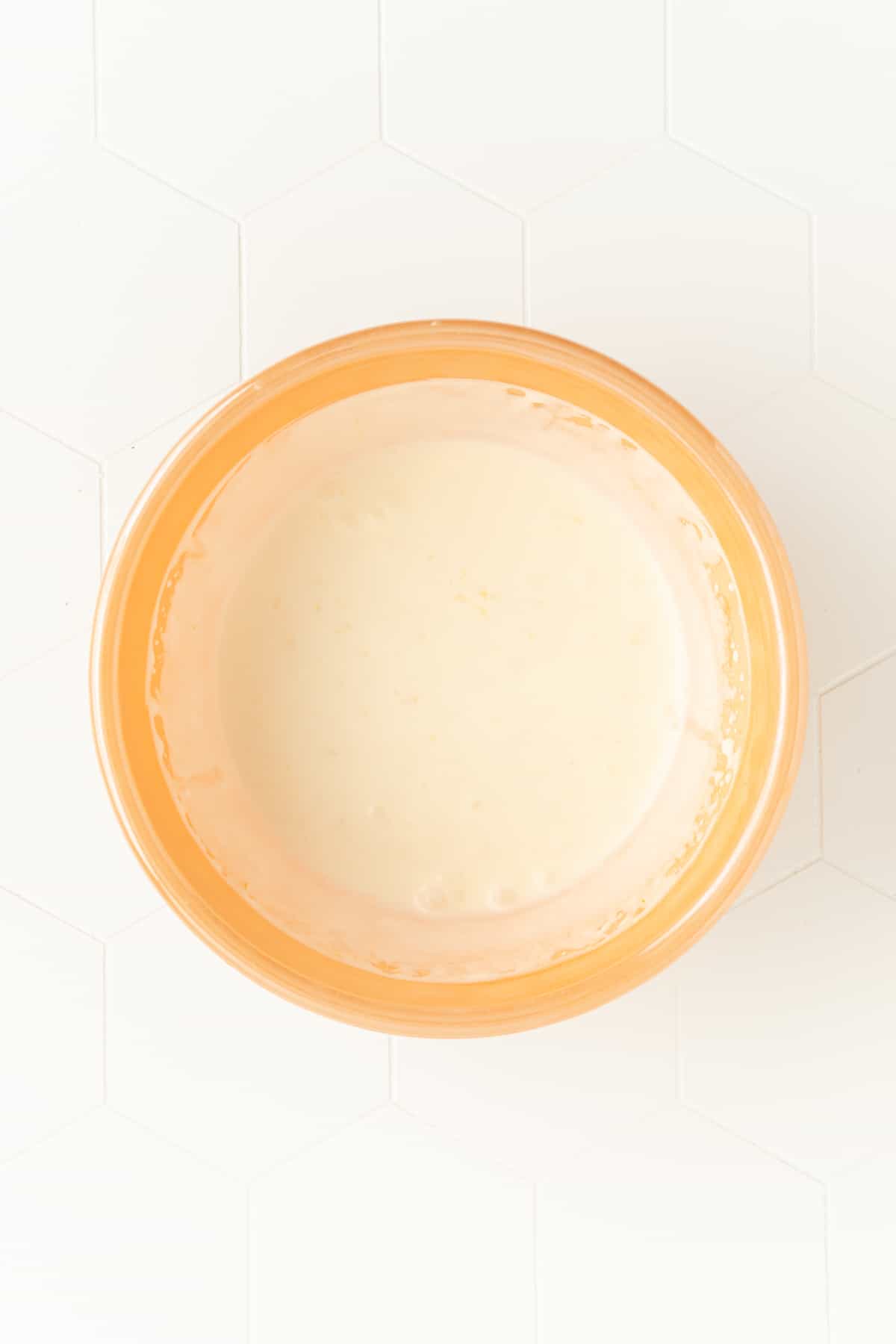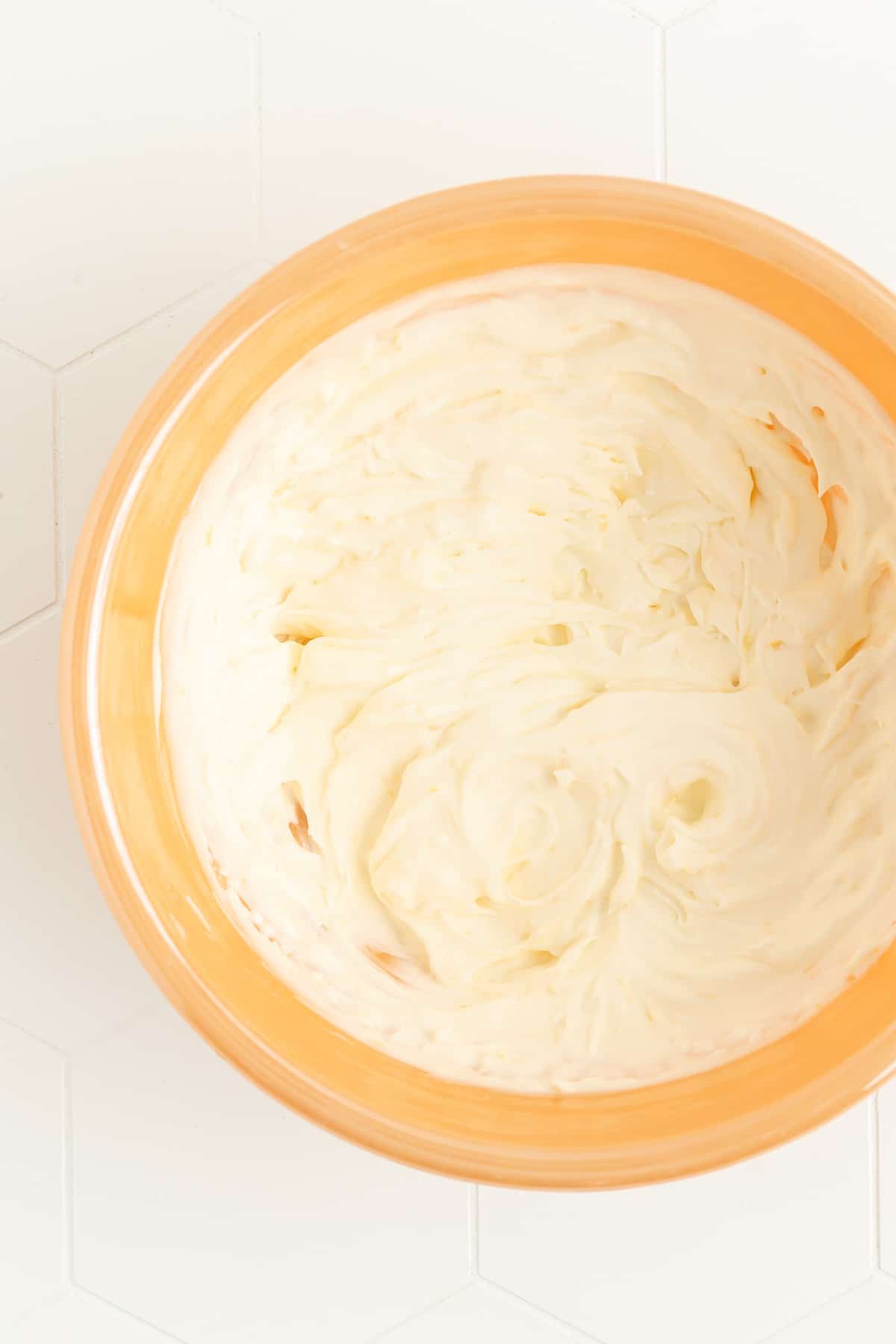 Blend together the dry ingredients, than zest the lemons over top.
Add in the wet ingredients and melted butter, and whisk until well combined.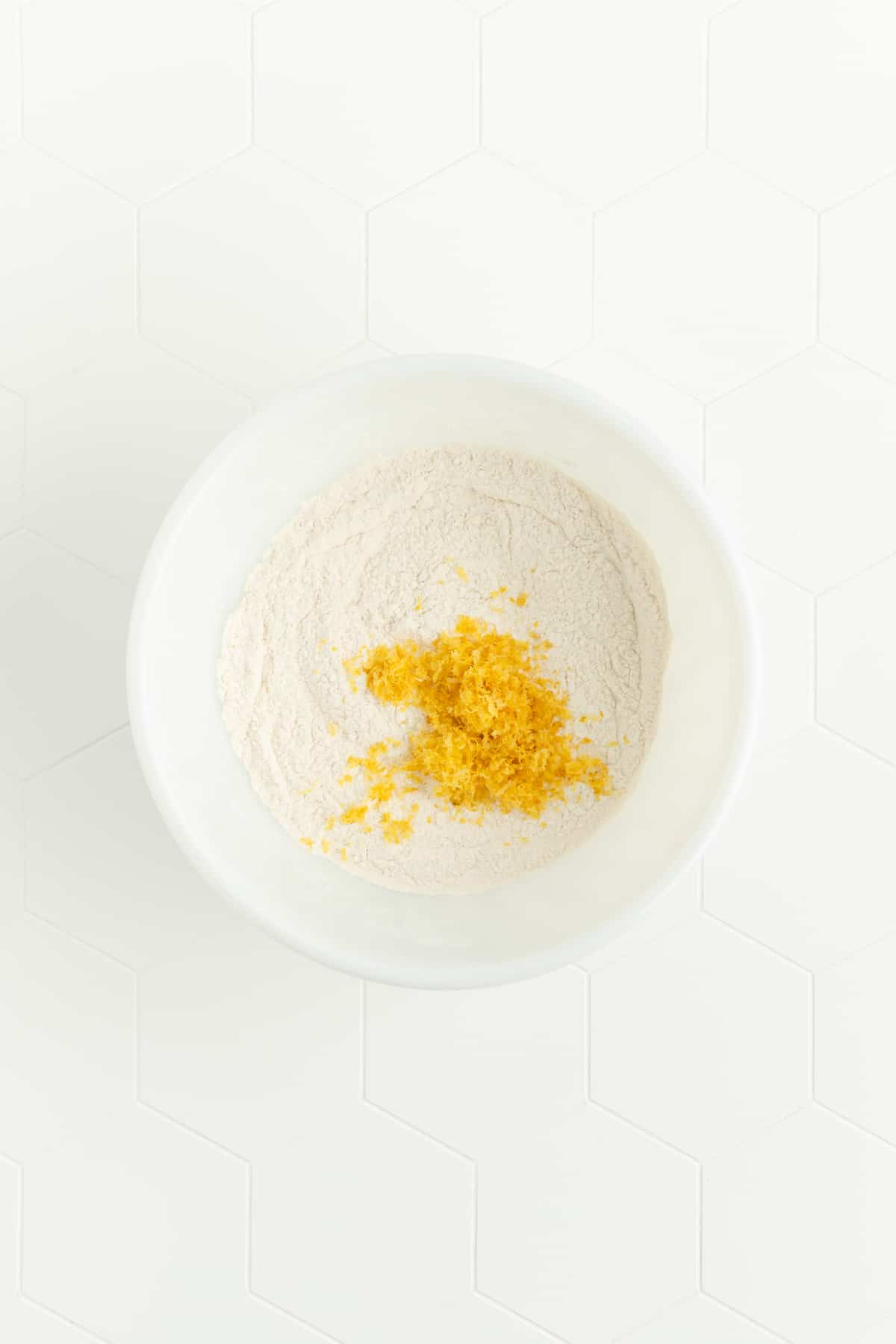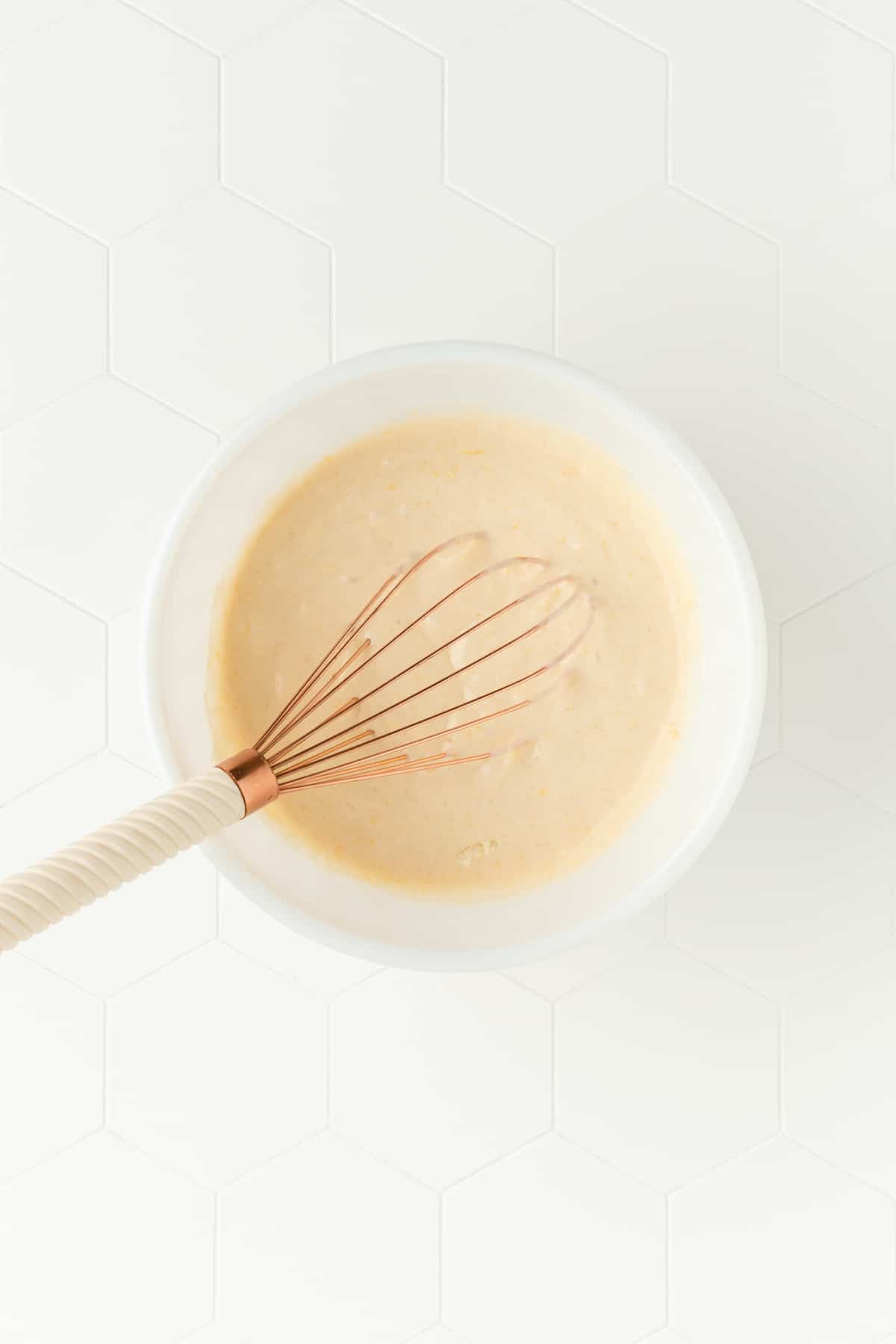 Briefly rest the batter while you pre-heat your pan or griddle.
Grease your cooking surface and portion you batter onto the pan/griddle.
Flip and cook until golden-brown on both sides.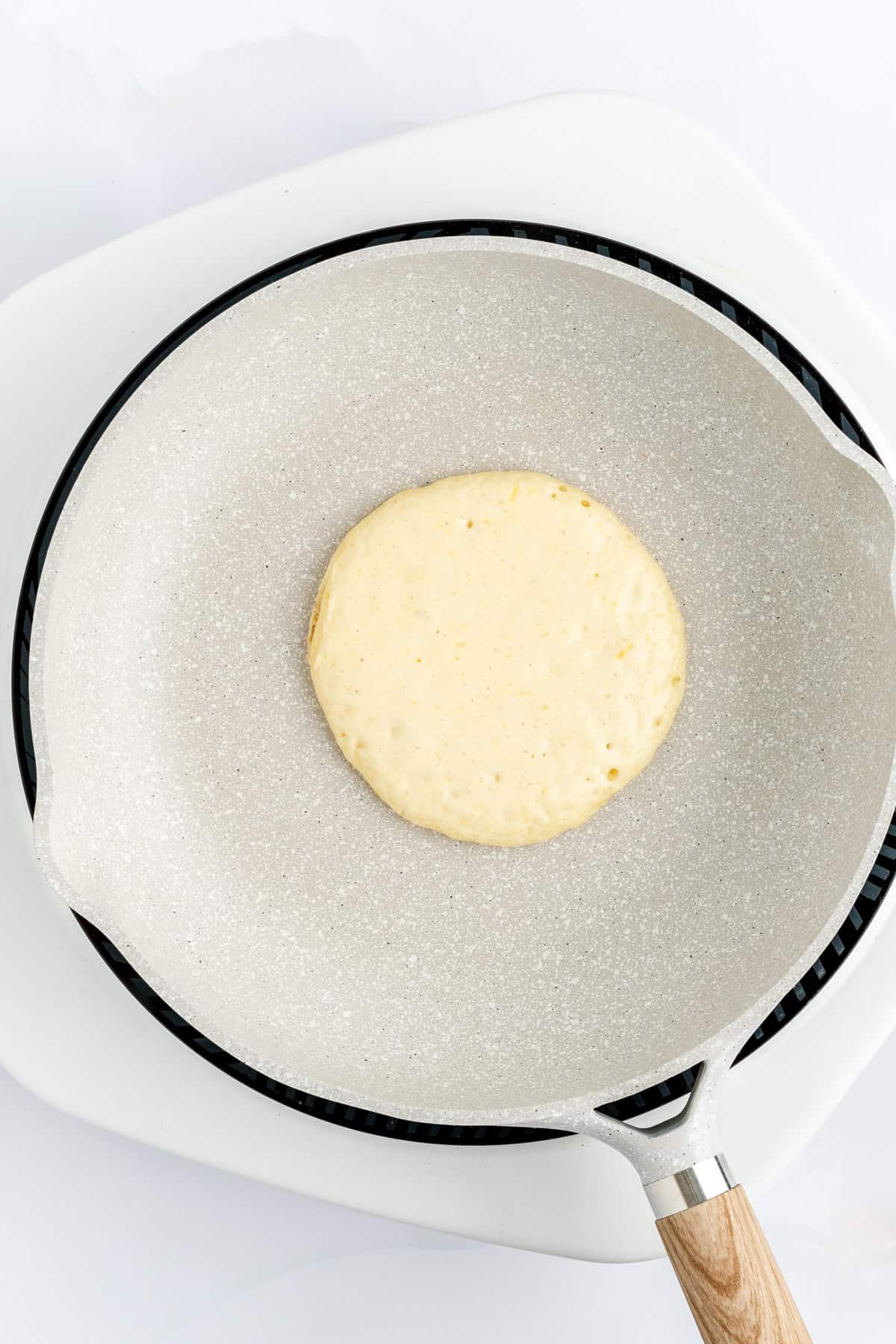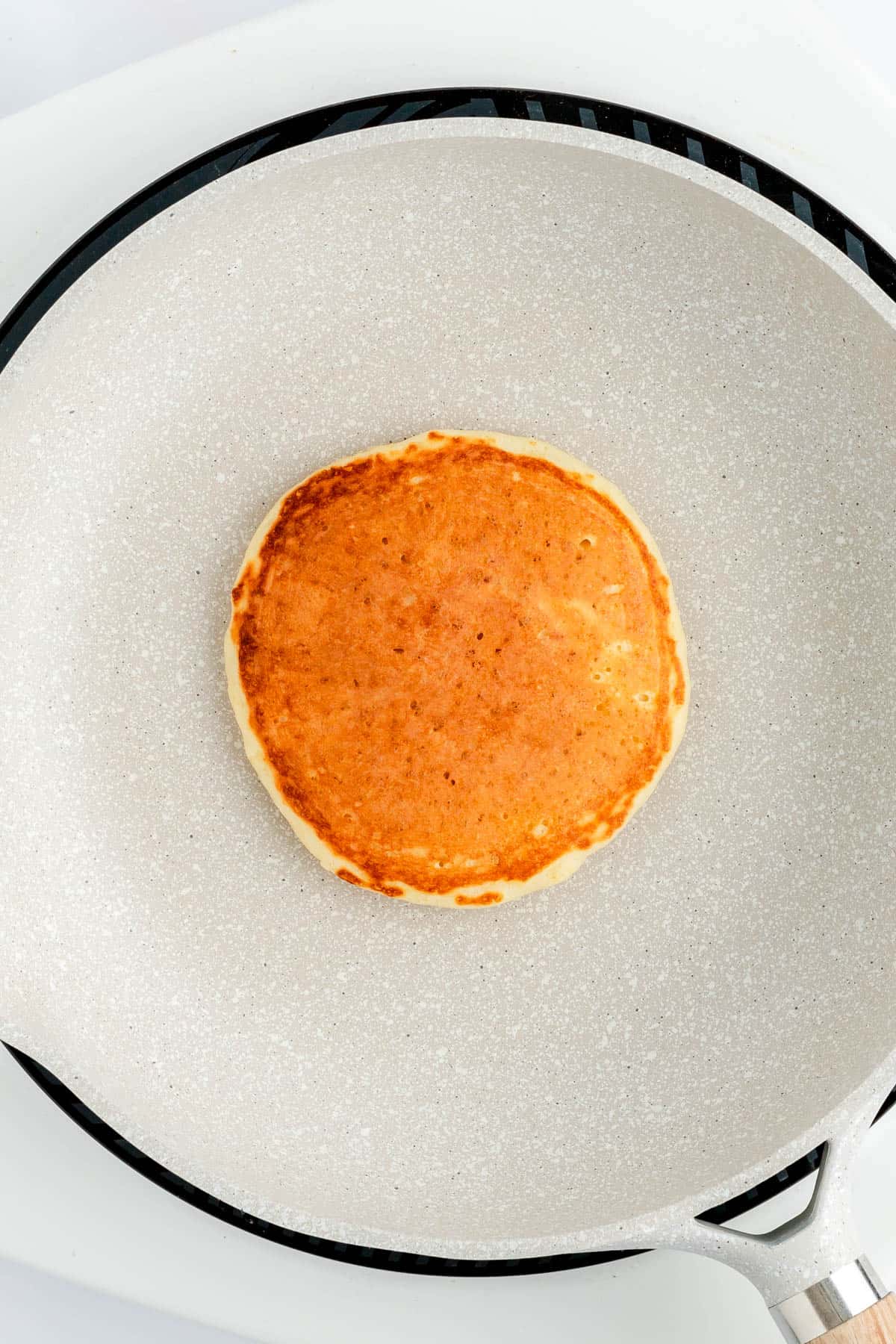 Repeat until you have a tall and fluffy stack.
Serve warm with all the toppings, share and enjoy!
Check out the full RECIPE WEB STORY for a click-through tutorial!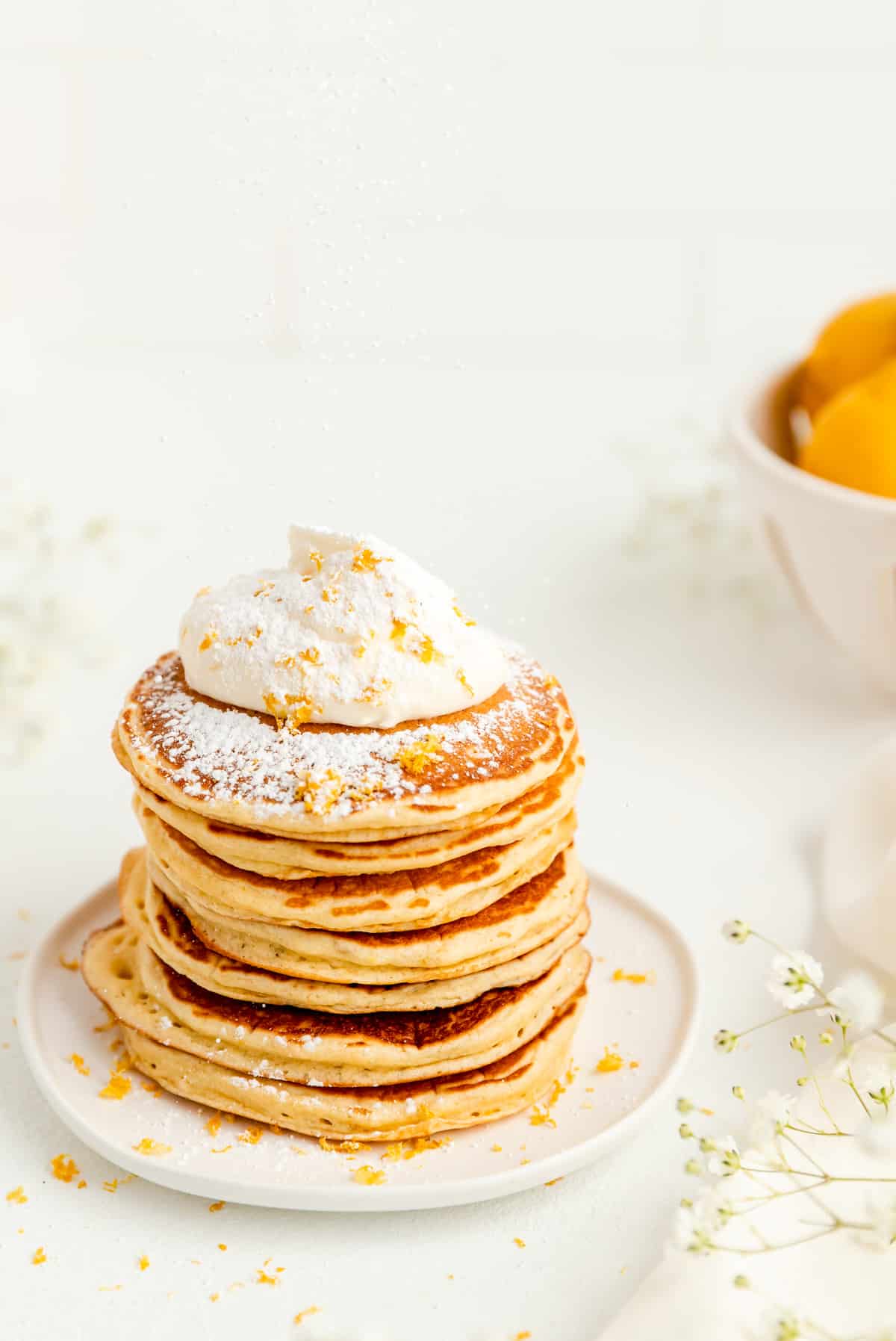 Make This Recipe Your Own
You can add poppy seeds or blueberries to customize these pancakes (details in the recipe card!). And I highly recommend trying them with the fresh lemon whipped cream for a rich and luscious addition to this classic breakfast dish.
Test Kitchen Tips for Sweet Success
Don't over-thin the batter: I often see people wanting a really runny pancake batter. But having a slightly thicker batter, that you may need to gently spread right when you drop it on the griddle, will help you get those light and fluffy pancakes.
Flip only once: for the prettiest finish, only flip your pancakes once by checking that the bottom is golden-brown before you go to flip them over. The cues I always look for on top to know they're ready to flip is bubbles popping on the top, and a "matte" look to the surface that's lost its shine.
Keep your pan at a good heat: for the best texture of pancakes, we want each side to cook for 1-2 minutes - not much faster and not much slower. So adjust your heat as needed to match that timeline. I typically pre-heat my pan on medium-high, then turn down to just above medium (6/10) once I'm cooking.
Use an ice cream scoop for portioning: one of my favorite tricks when cooking pancakes is to use an ice cream scoop to transfer the batter from the bowl to the pan. This will not only help all of your pancakes be the same size, but also makes it much easier for you to not get drips everywhere. My personal favorite scoop is this one which I slightly under-fill for about a quarter cup of batter per pancake, which makes a 4" pancake.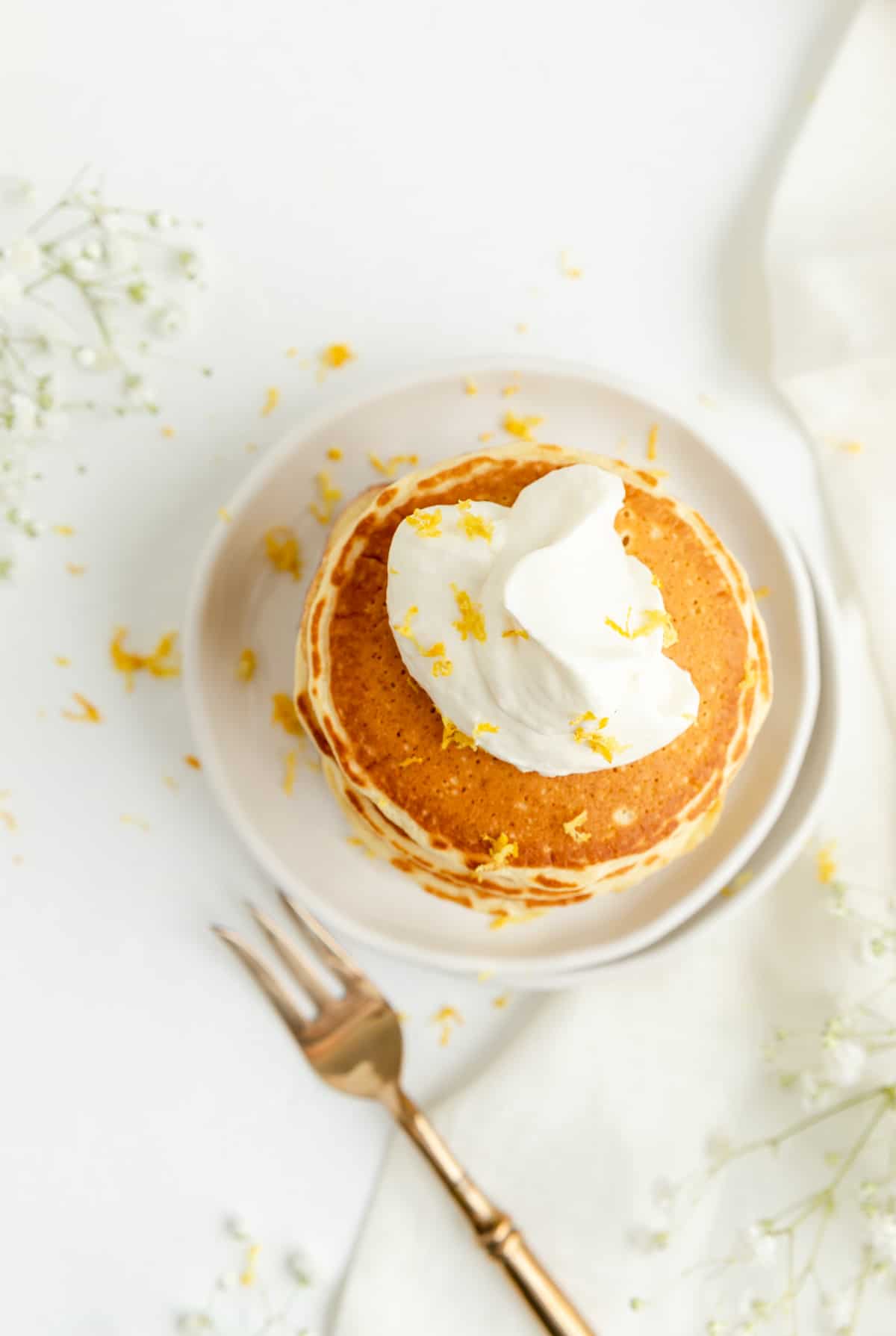 More Tips + FAQs
Can you make these pancakes ahead of time?
You certainly can! I recommend enjoying them fresh for the best experience, and you can keep them warm in the oven if preparing them shortly before serving. (See the recipe card instructions!)
How do you store leftover pancakes?
These pancakes will keep in the fridge, stored airtight, for up to 5 days. You can simply reheat them in the microwave and enjoy!
Can you freeze these pancakes?
How do I thaw them out?
Absolutely! While of course, these fluffy buttermilk pancakes will be best served fresh and warm, if you'd like to store a few away for a rainy day, you can freeze them with parchment or wax paper squares between them (to keep them from sticking together). Simply place however many you'd like to thaw on a plate and microwave directly from the freezer to enjoy!
Can I make these without any lemon?
While you certainly could, the flavor isn't really balanced without all the acidity from the lemons. If you're looking for a classic buttermilk/vanilla pancake recipe, I think you'd be happiest using my Classic Buttermilk Pancake recipe instead.
Can I make these pancakes bigger?
Absolutely! You can make these pancakes in any size from silver dollar to full-dinner plate size. You'll still look for the same visual cues to flip them over, it might just take a little more or less time depending on how big you make them.
---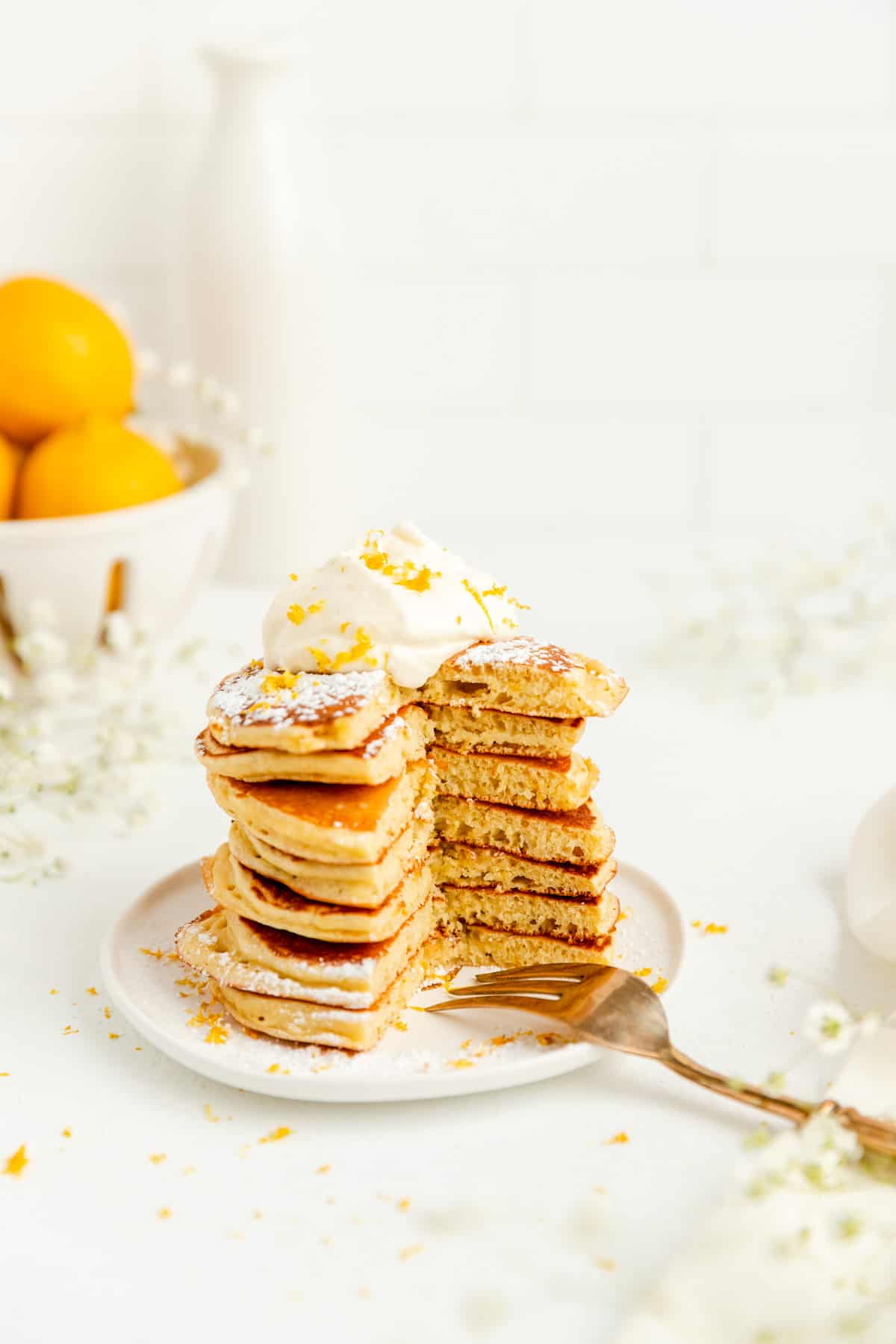 Other Recipes You'll Love
For other classic pancake stacks be sure to check out my Fluffy Buttermilk Pancake and French Toast Pancake recipe which are definitely fan favorites. For other tasty breakfast treats, don't miss out on my Oreo Cinnamon Rolls, Brioche French Toast Casserole Bake, Cinnamon and Sugar Donut Muffins, Mini Strawberry Jam-Filled Donut Muffins, and of course, my classic Blueberry Streusel Muffins and Maple Blueberry Scones. And last but not least, to satisfy that lemon fix, head over to my Lemon Sour Cream Bundt Cake and Lemon Cream Cheese Pound Cake recipes!

⭐ If you gave this recipe a try please give it a ⭐ rating and tag me on Instagram @mint.and.mallow.kitchen so I can see what you're baking up! ⭐
📖 Full Recipe
Easy, Fluffy Lemon Pancakes (with lemon whipped cream!)
These super easy fluffy lemon pancakes are a one-bowl, two-step prep, and could not be simpler to make (or tastier!).
Ingredients
1 ¼

cups

all-purpose flour

2

tablespoons

sugar

1 ¼

teaspoons

baking powder

½

teaspoon

baking soda

¼

teaspoon

salt

Zest of 2 large or 3 small lemons

(about 2 tablespoons)

1

cup

skim 2% or whole milk*1

1

large egg

1

tablespoon

lemon juice*2

2

tablespoons

unsalted butter

(melted)

Blueberries or poppyseeds*3

(optional)

Fresh Lemon whipped cream*4

(optional but super tasty!)
Instructions
Make Fresh Lemon Whipped Cream (optional): if making the whipped cream, I'd recommend mixing that up before the batter so it's ready to go right when the pancakes come off the griddle. See notes for instructions!*4

Blend dry ingredients and add zest: using a medium-sized bowl, whisk together all the dry ingredients until well blended. Zest your lemons right over the dries so the tasty oils from the lemon rind are caught in the bowl.

Combine with wet ingredients: add in remaining ingredients (buttermilk, egg, lemon juice and melted butter) and stir everything together using a fork or whisk just until well combined with no big lumps of flour remaining (a few small lumps are okay).

Rest batter and preheat pan: allow the batter to sit and thicken slightly for 5 minutes while you preheat your pan or griddle over medium-high heat.

Grease and portion: lightly grease your pan/griddle, and turn the heat down to medium once your pan is fully heated. Pour a scant ¼ cup of batter onto the surface for each pancake, spreading the batter out as needed (this will make about a 4" pancake).

Flip and cook until golden: cook each pancake for 1-2 minutes on each side until golden-brown, flipping over only once the top edges look set and matte, and the tops start to bubble and lose their shine.

Repeat until you have a stack: repeat this process with all remaining batter.

Share and enjoy! Serve warm topped with the fresh lemon whipped cream, butter and maple syrup, or your favorite fresh berries, and watch that stack disappear in no time!
Test Kitchen Tips
*1 Milk, not buttermilk: because this recipe has a lot of acid from the lemons, buttermilk took it a little too far into the sour realm. So I recommend sticking with traditional whole, 2%, or skim milk for the best flavor. 
*2 Zest then juice: always zest your lemons before juicing them because it can be difficult (and dangerous!) to try to zest a cut lemon.
*3 To make Lemon Poppyseed Pancakes: add 2 teaspoons of poppy seeds to your batter during the first step of blending the dries.
*3 To make Lemon Blueberry Pancakes: stir ⅔ cups fresh or frozen blueberries into your batter after it is fully mixed.
*4 Fresh Lemon Whipped Cream: to make fresh lemon whipped cream, add ½ cup heavy cream, 2 tablespoons sifted powder sugar, and the zest of ½ a large or 1 small lemon to a medium-sized mixing bowl.

 

Whip on medium speed for 2-3 minutes just until stiff peaks form.

 

Be careful not to over-mix, as this small amount can over-mix and become grainy pretty quickly (I used a hand mixer on medium speed for 2 minutes).

 

This recipe produces about 1 cup whipped cream, but you can double it if you'd like more, using 1 cup heavy cream, ¼ cup sifted powdered sugar, and the zest of 1 large or 2 small lemons.
Keep em' warm: If you're making a bigger batch, you can preheat your oven for 5-10 minutes to 200°F. Then turn the oven off when you start mixing your batter, and as you finish cooking your pancakes, you can put them on a wire rack on a baking sheet in the oven to keep them warm for service. But make sure you're oven isn't too hot or it'll dry them out!
Cooking for a crowd? You can feel free to double or triple this recipe to keep your pancake stack growing sky-high and feed as many people as you like.
Nutrition
Serving
1
pancake
|
Calories
90
kcal
|
Carbohydrates
13
g
|
Protein
2
g
|
Fat
3
g
|
Saturated Fat
2
g
|
Polyunsaturated Fat
1
g
|
Monounsaturated Fat
1
g
|
Trans Fat
1
g
|
Cholesterol
21
mg
|
Sodium
153
mg
|
Potassium
49
mg
|
Fiber
1
g
|
Sugar
3
g
|
Vitamin A
112
IU
|
Vitamin C
2
mg
|
Calcium
53
mg
|
Iron
1
mg