---
These tender and fluffy Maple Blueberry Drop Scones are so easy to make using buttermilk and without heavy cream to keep them nice and light. You can use fresh, frozen, or even wild blueberries, and a maple glaze is the perfect sweet finish on top!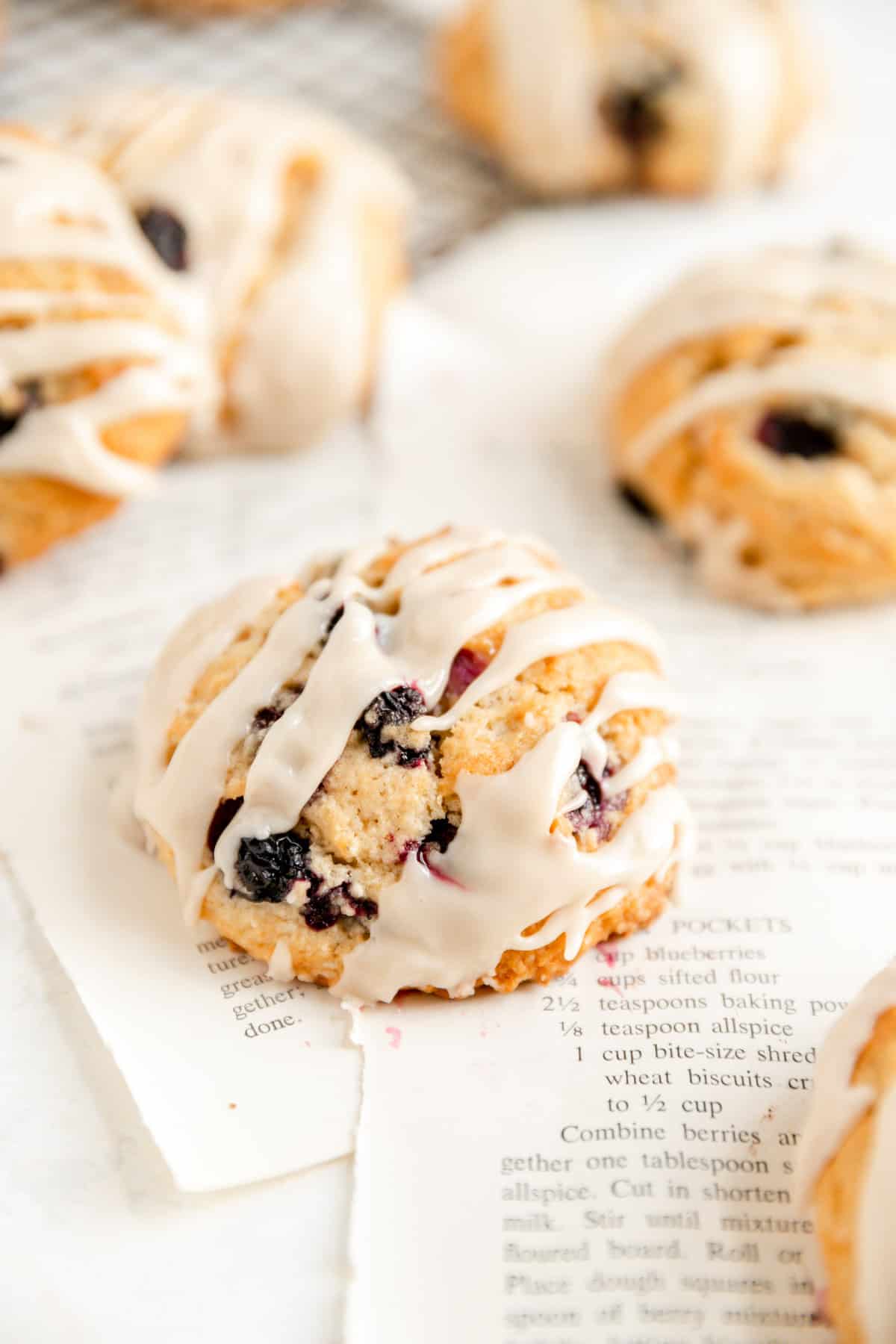 Jump to:
Americans. Scones. and Starbucks.
When it comes to what a "scone" is in America, I find that most people think scones are what they get at Starbucks. Now, I'm not hating on Starbucks. I love an Iced Chocolate Almond Milk Shaken Espresso as much as the next girl. BUT, when it comes to pastries, I know we can do better.
I can think of a number of different styles of scones when I consider defining what makes a scone, a scone. So let's chat about them!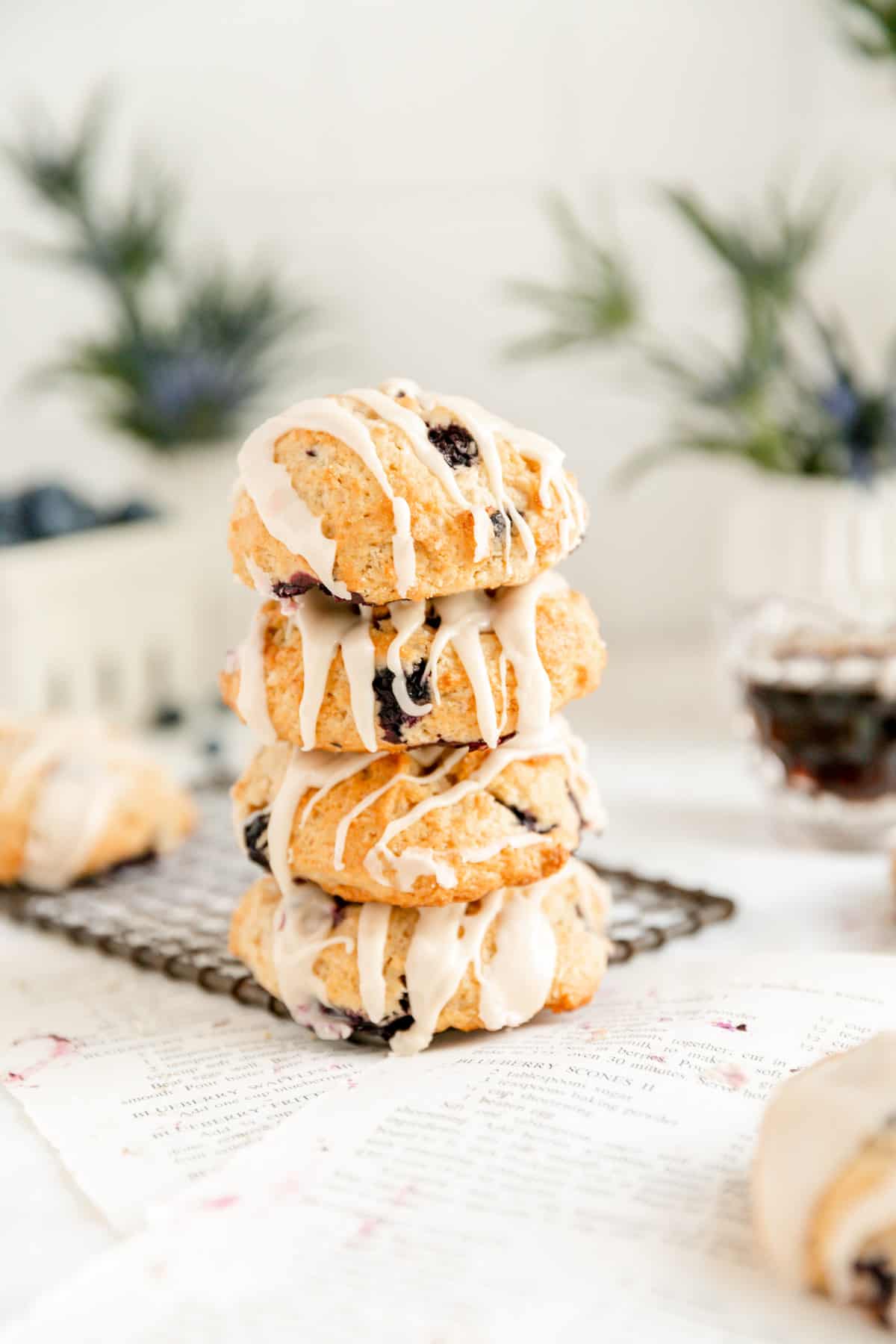 Classic vs. Drop vs. Hybrid Scones
Classic British Scones: my personal favorite with afternoon tea, clotted cream, and jam. These are made by cutting butter into flour, preparing a stiff dough, and then cutting it out with a round cookie cutter. They're tall, flaky, layered cylinders, usually plain or with raisins/currants and tend to be on the dryer side. As such, they are traditionally enjoyed cut open, and smeared with clotted cream and a tasty jam.

The Drop Scone: this is typically a quick mix, sloppier, stir and drop kind of batter. It's the easiest to make typically. Many don't even require you to cut in butter, but instead use heavy cream as the fat. You then usually just drop the batter in rounds on a baking sheet using a spoon or ice cream scoop. These are tender, soft, and fluffy, can be filled and glazed with many flavor combinations, and are more moist than their British counterparts.

The Hybrid: these guys have some of the flaky layers and rich buttery taste from the British-style scones, thanks to cutting cold butter into the dries, but more moisture and tenderness as well like a drop scone for a looser batter than a traditional British-style recipe. This type also is often flavored with berries, chips, and bits and frequently glazed for a tasty, pretty finish.
The hybrid is what we're working with today. We have the cut butter from the British tradition, but also a high amount of liquid, buttermilk in our case, to allow a "drop" prep without any folding, rolling or cutting needed.
A stiffer version might be patted out into a disk and then cut like a pizza to make triangle wedges. However, our looser version will just be scooped and dropped onto our baking sheet for easy prep!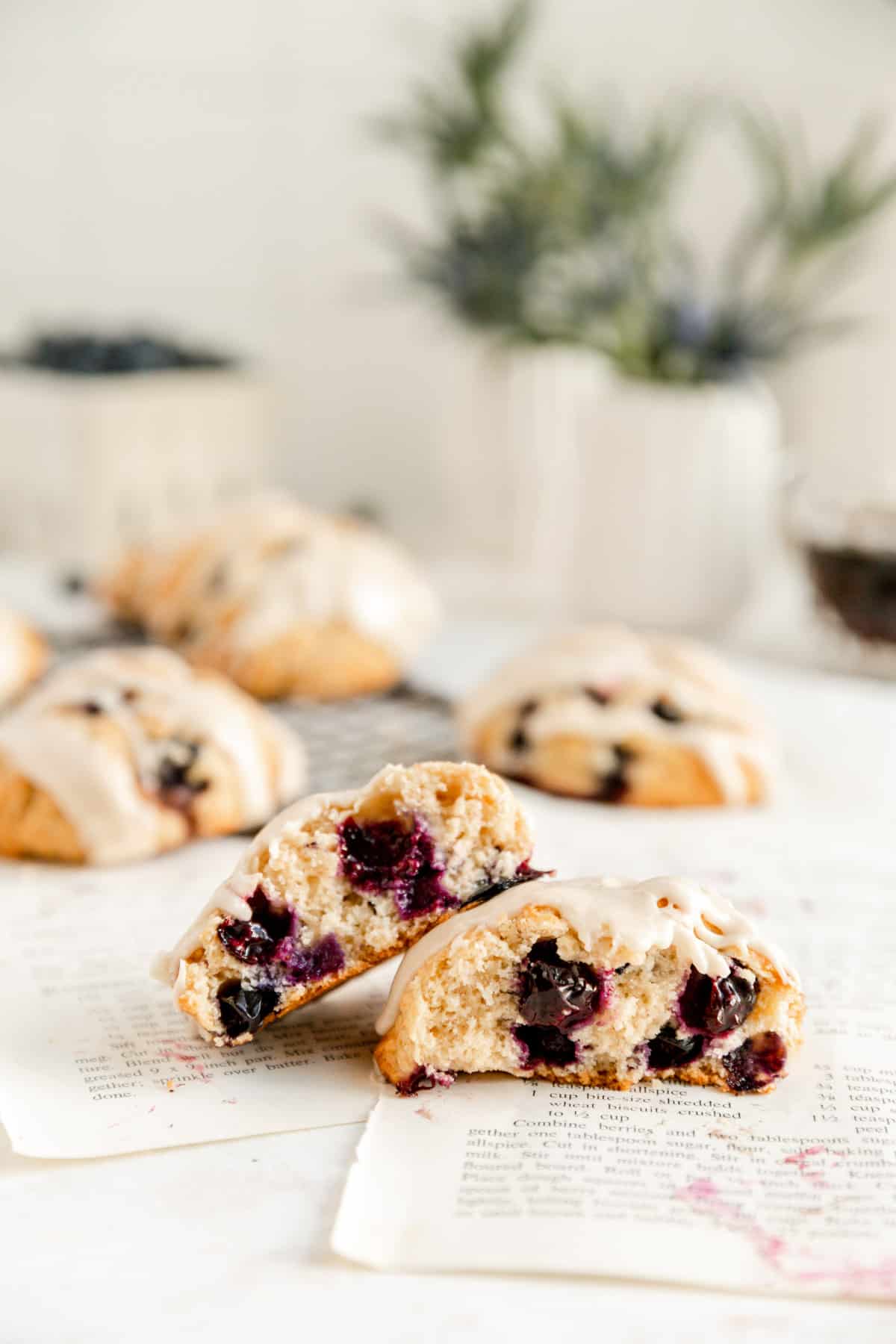 Why This Recipe Leads to Sweet Success
Cutting the butter all the way in: cutting butter into flour is not exactly the easiest thing to do, so I tried to make it as simple as possible in this recipe. Instead of having you stop part-way through, wonder how big exactly is a "pea-sized chunk," we're going to work the butter in completely. This makes it so you don't have to try to guess when you're all done, because it's easy to see when everything's evenly mixed.

Drop it like it's hot: many scones require folding the dough, rolling it out, and often cutting it into shapes. To keep things super simple (and keep your counters clean!), I've designed this recipe to just be scooped and dropped for easy prep.

The best of both worlds: I've also created this recipe to give you the best of the British and Cream Drop Scone style recipes, with none of the annoying bits! You'll get the rich flavor from the cut-in butter cubes. But, you'll also have a fluffy and moist crumb from the higher amount of liquid. And need I mention again, it'll keep your counters clean without compromising the quality of your scones at all?!

Buttermilk instead of heavy cream: heavy cream is the traditional ingredient you'll finds in drops scones. However, I've found it can weigh the batter down, especially if you're using butter as well, and the final scones can just be too rich overall. So we're holding onto that high liquid ratio to keep a light and fluffy, but still moist scone, but using buttermilk which both balances the flavor, and helps to tenderize the scones with its acidity for a truly irresistible bite. (p.s. if you're into light and fluffy breakfast treats...don't miss out on my Fluffy Buttermilk Pancakes and Cinnamon Donut Muffins!)
Ingredient Tips to Bake it Better
(Pssst…if you're ready to just get baking, get all the details in the recipe card below!)
---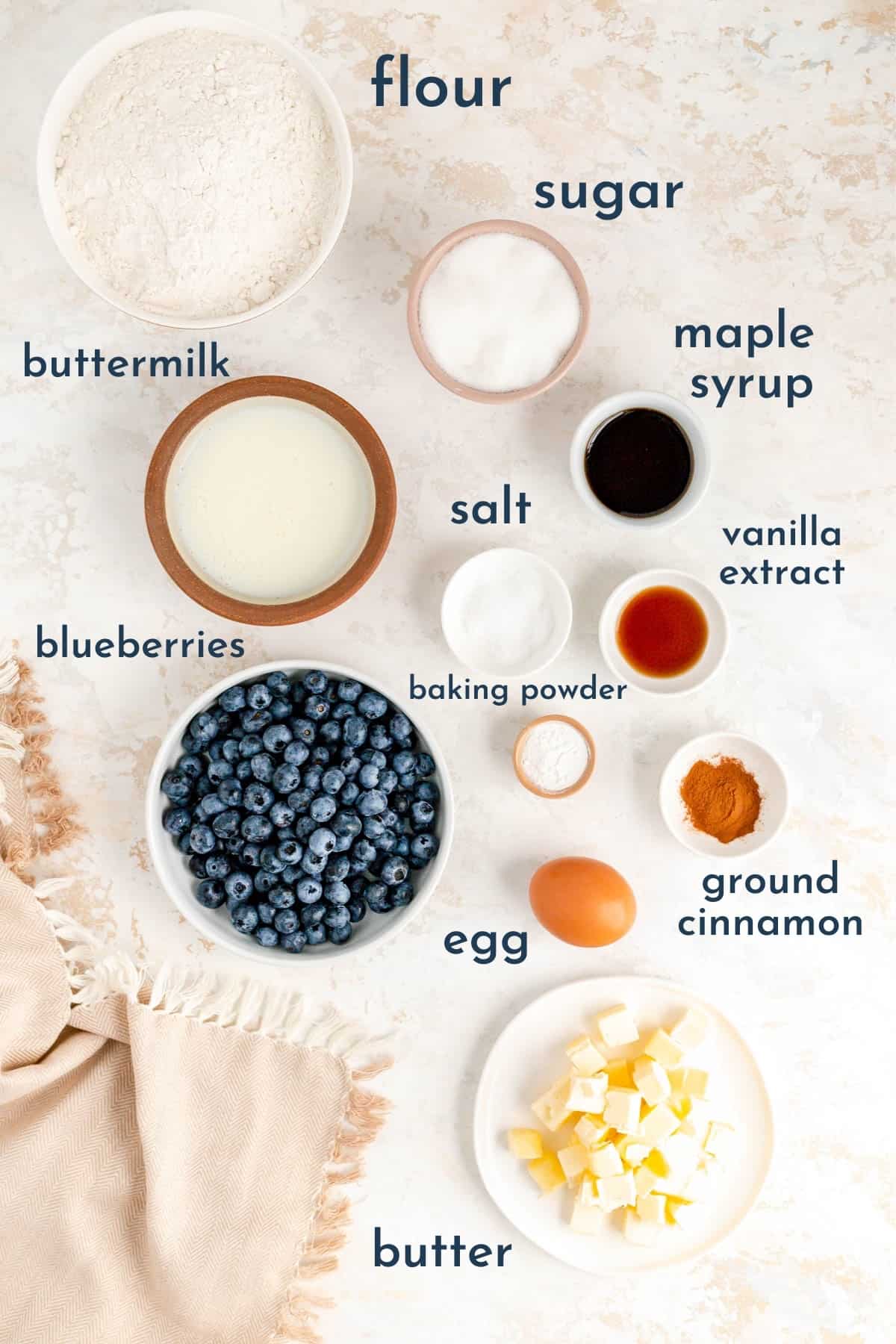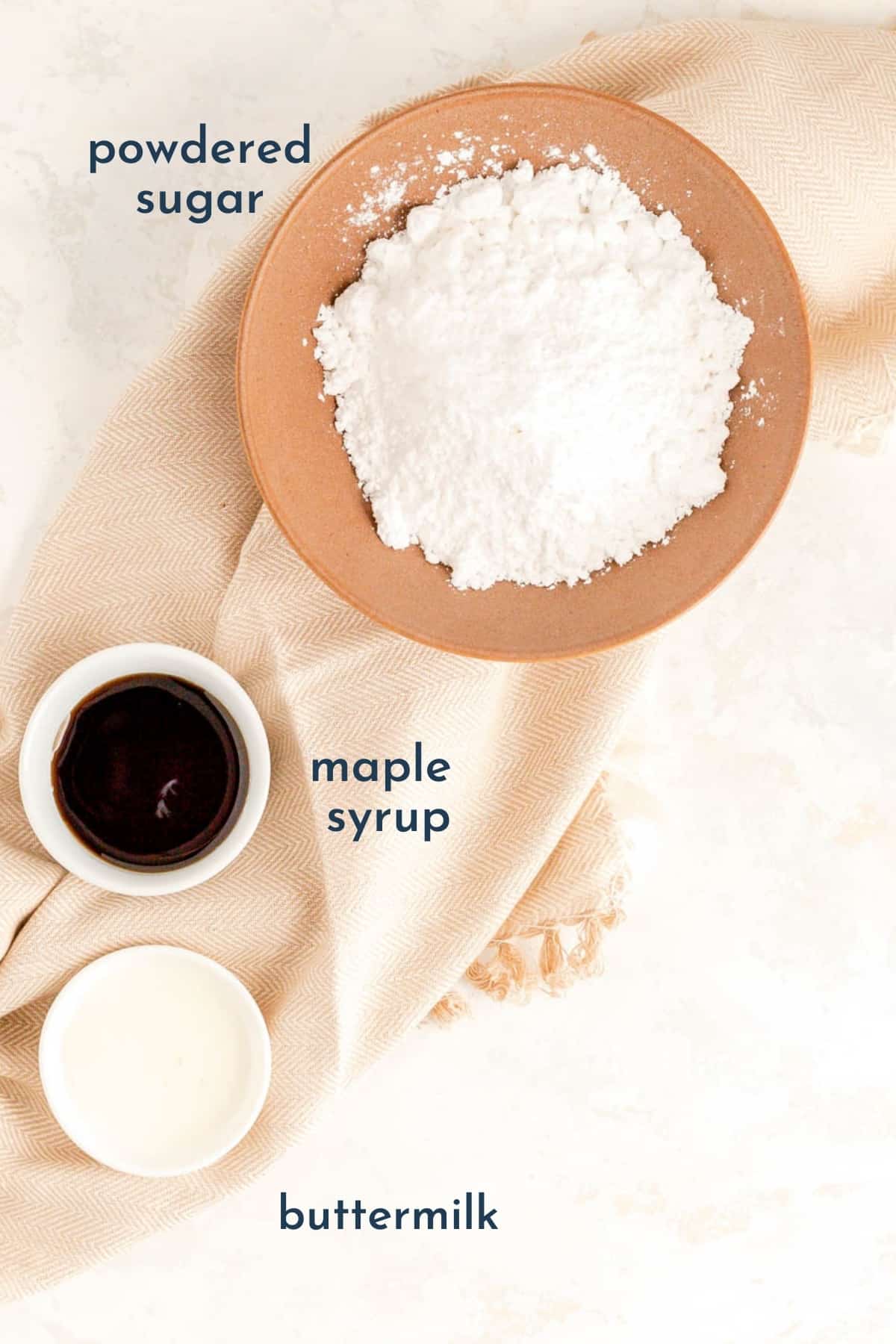 Cold Butter: make sure your butter is really cold, straight from the fridge, to help counter the warming up that will happen as you work it into your dries (especially if using your hands). Keeping it from getting soft or melty will give us that tender texture inside our scones.

Cinnamon: the cinnamon adds that extra-special touch that takes these scones to the next level. It also pairs beautifully with the maple flavor. That said, if you aren't a cinnamon lover, feel free to just leave it out of your recipe.

Buttermilk: to keep these blueberry scones light and fluffy, I developed this recipe without heavy cream, using buttermilk instead. The acidity in the buttermilk helps to tenderize the scones and I love the slight tang it brings to the mix too. But if all you have is regular milk at home, you're welcome to use that instead.

Maple Syrup, the real stuff: for this recipe we want to use real maple syrup - the thin, dark, robust flavor kind. Not only do I prefer it's flavor, but because it doesn't have any of those artificial stabilizers/preservatives which vary from brand to brand, you know you'll get consistent results as well.

Blueberries: this recipe works with any kind of blueberries you can get your hands on. The batter will stay lightest with fresh store-bought or wild blueberries. It will turn a pretty blue-purple if you use frozen blueberries. If using frozen berries, make sure they stay frozen right until you add them to your batter.
(p.s. for all the basic tips that no one ever taught you, that are super important to help you bake your best, check out my Baking 101 series!)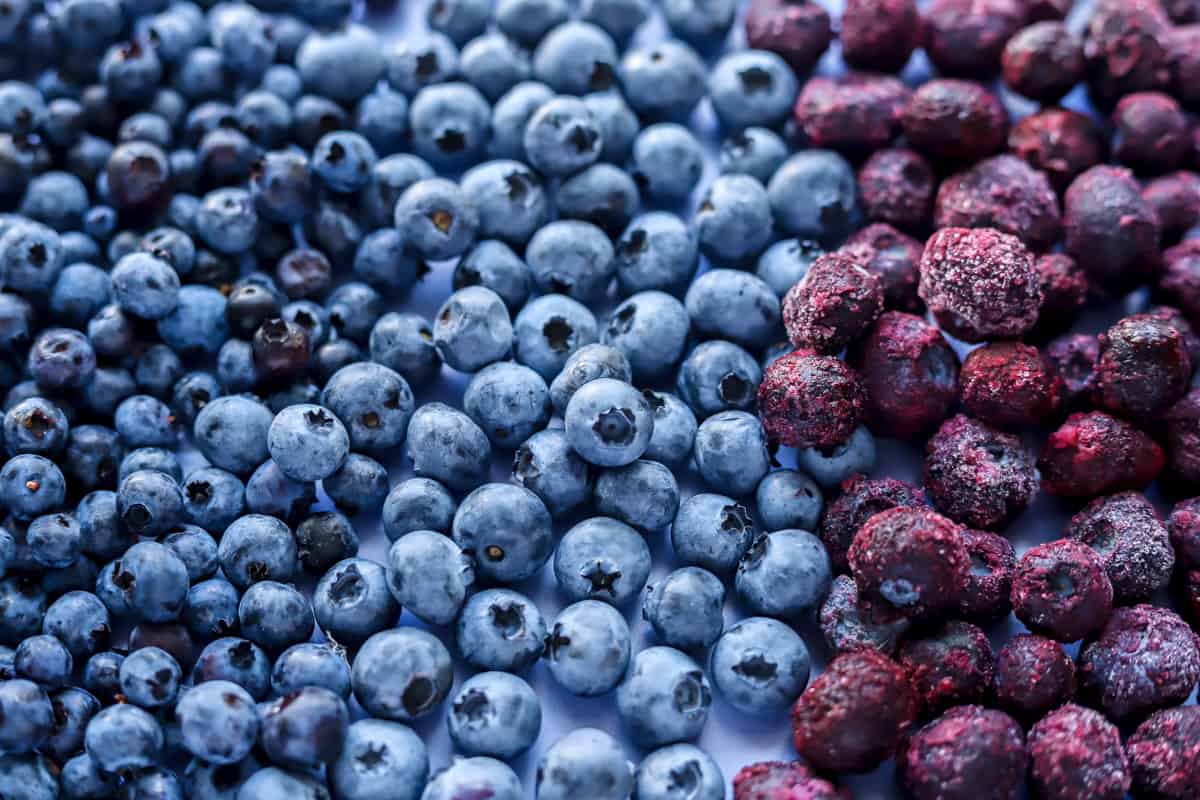 Special Tools and Equipment You'll Need
There are no special tools required for this recipe, but a dough whisk and a large ice cream scoop will definitely make the process easier for you.
What is a dough whisk, you ask?
It's a very unique tool that I didn't discover until I'd been baking for many years. I specifically use it for batters that are a little too sloppy for a wooden spoon to work well, but too stiff for a regular whisk.
As you can see below, it has a single large wire wound around in a few spirals, with no give to it. What this allows is for substantial mixing with each stroke, and a full blending of your ingredients with as little mixing as possible and without the dough whisk getting clogged with batter thanks to its large center opening.
90% of the time I'm using this tool, it is indeed for scones as there is no tool better suited for the job. So if you love having quick mix drop scones on the weekend, it's definitely a tool worth looking into, as they aren't very expensive either.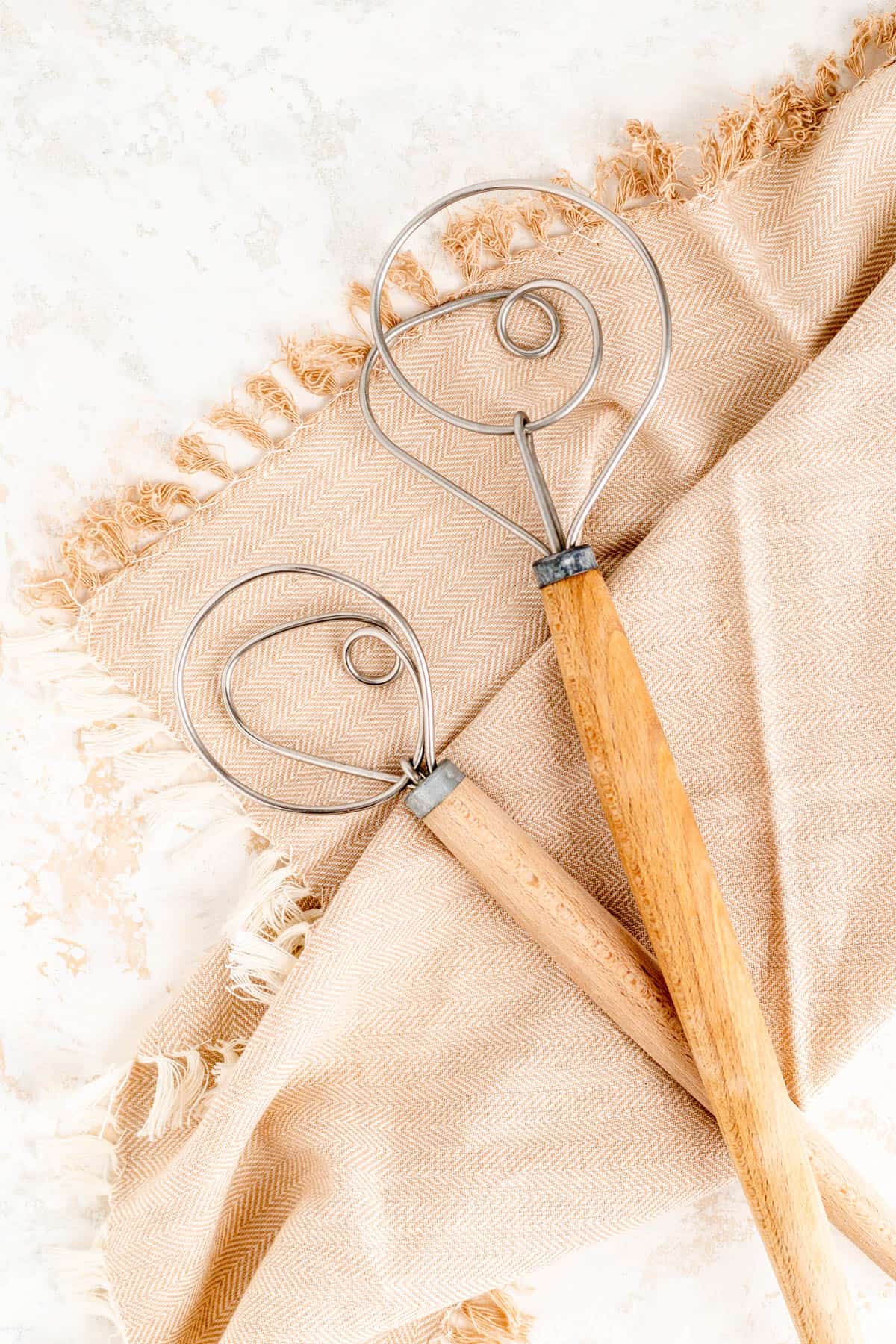 How to Make Maple-Glazed Scones From Scratch
(Pssst…if you're ready to just get baking, get all the details in the recipe card below!)
---
Prep your pans and preheat your oven.
Blend together your dry ingredients.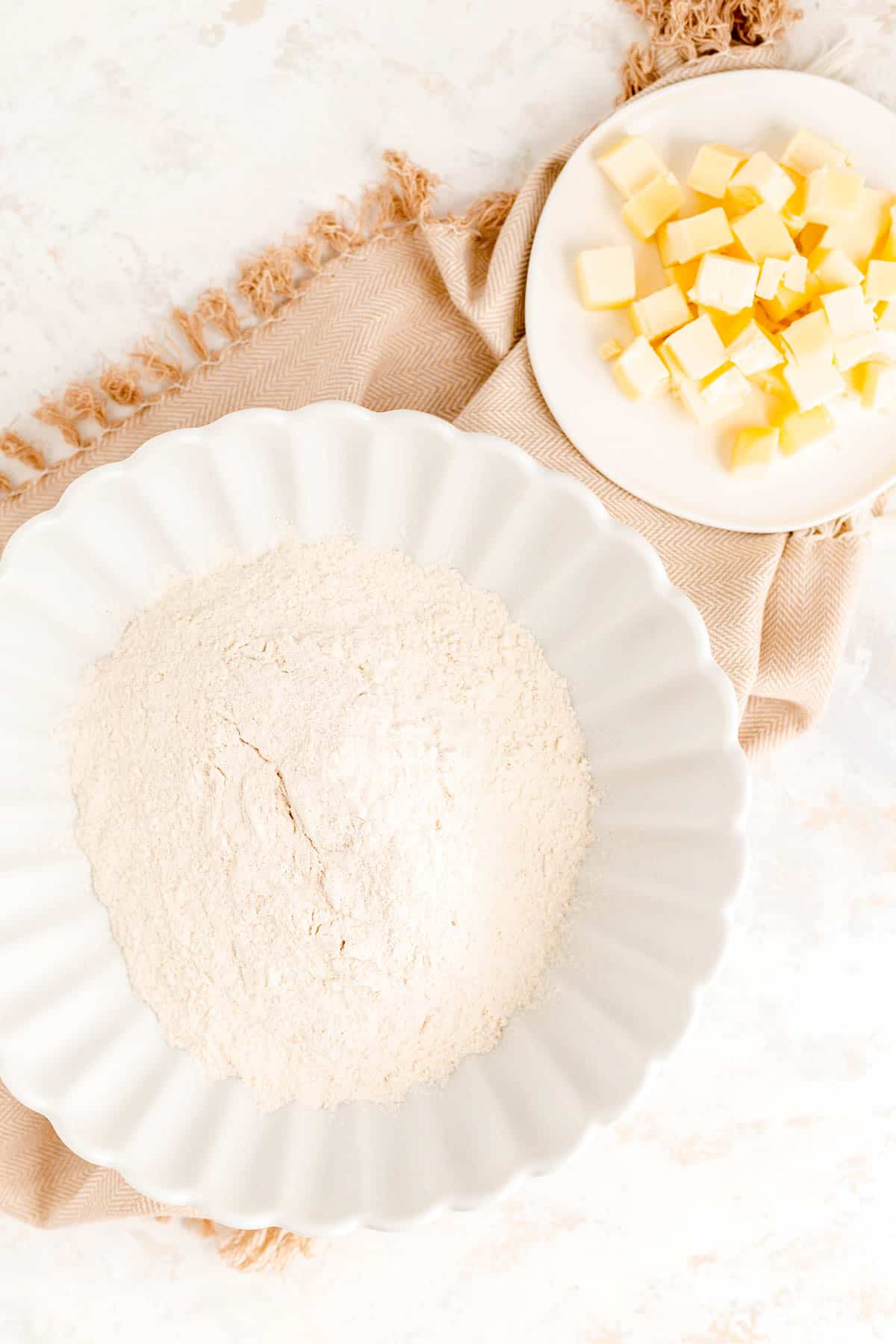 Cut your cold butter cubes into the dry ingredients. (Check out this REEL for a quick video lesson on cutting in butter!)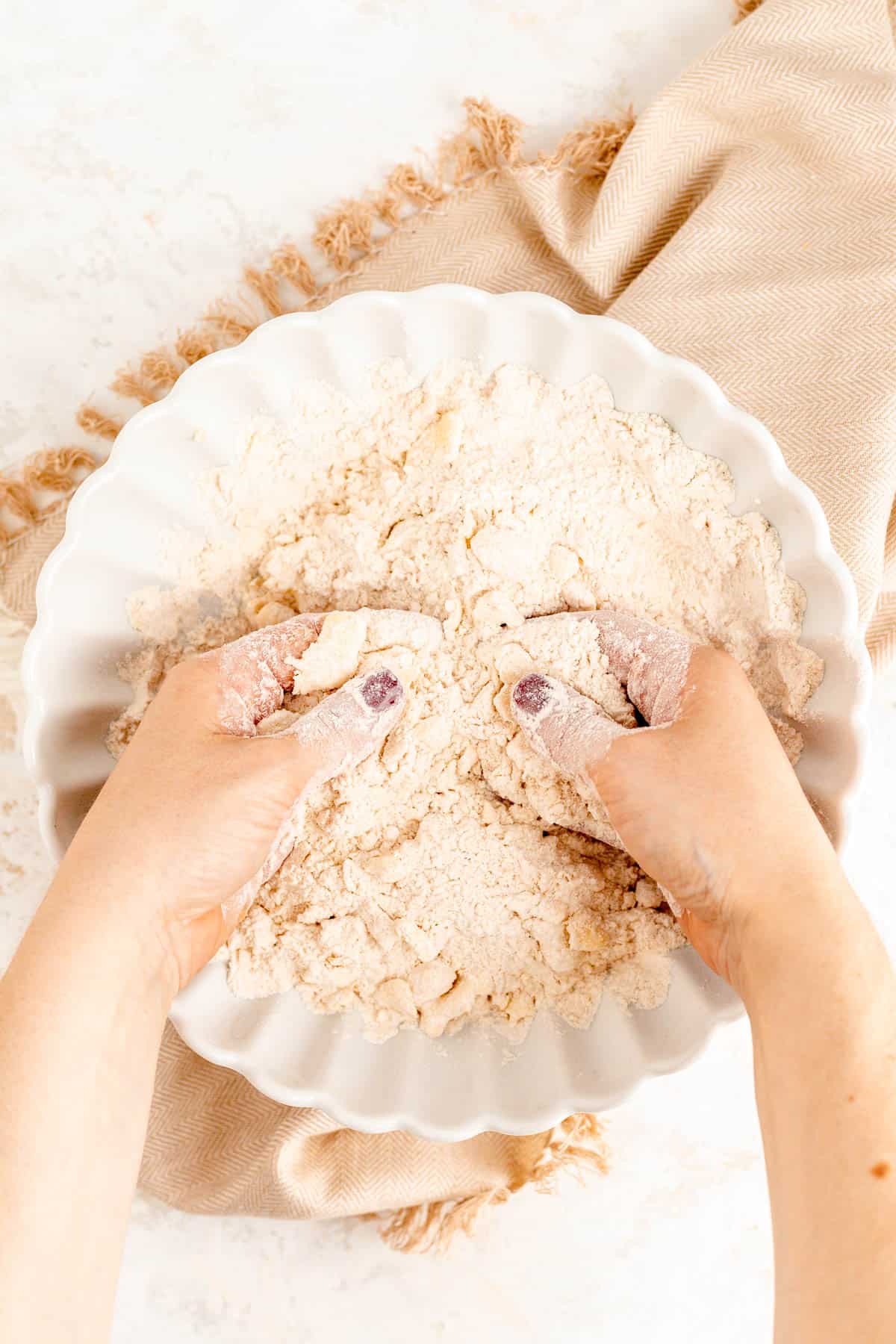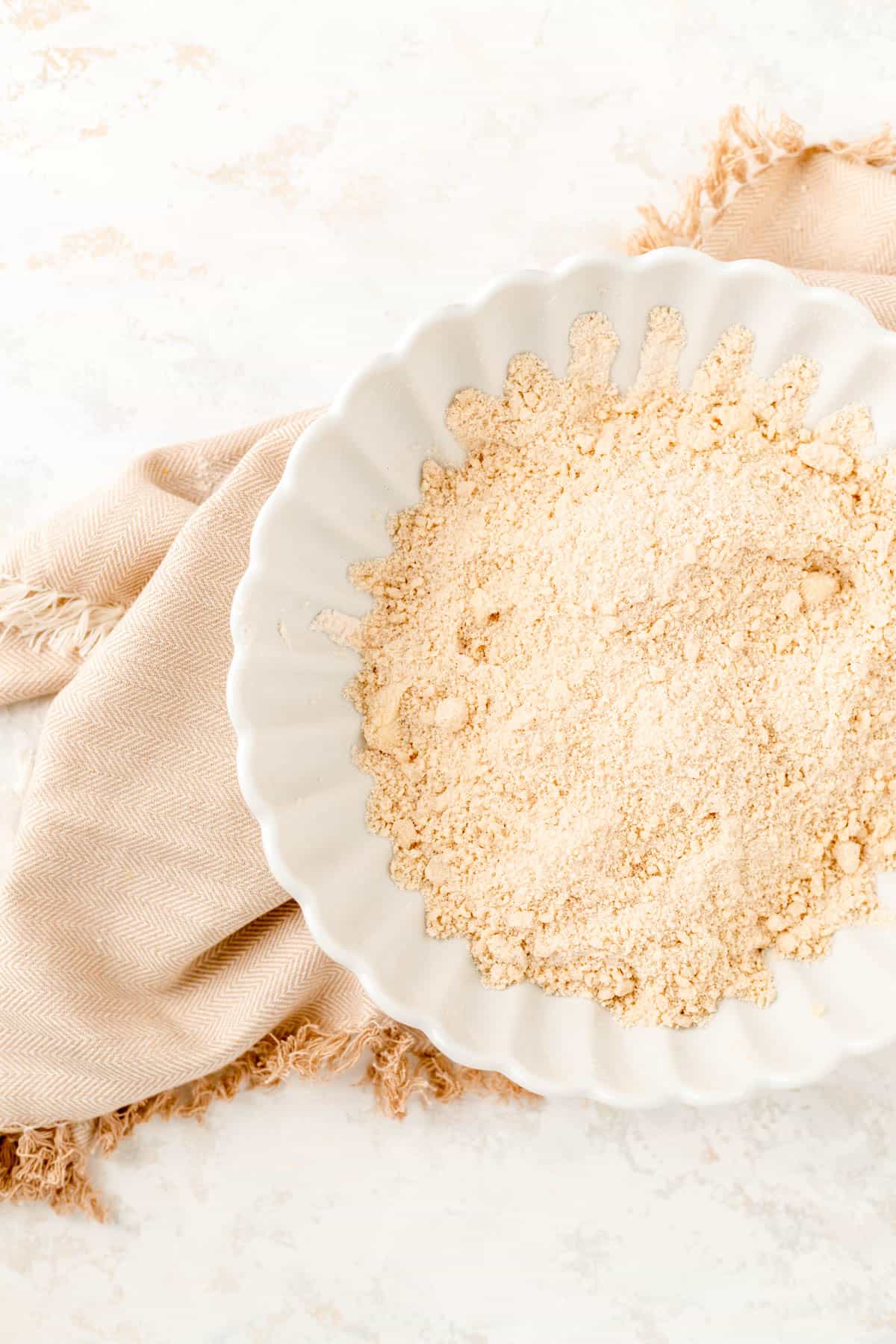 Toss the blueberries into the flour/butter mixture.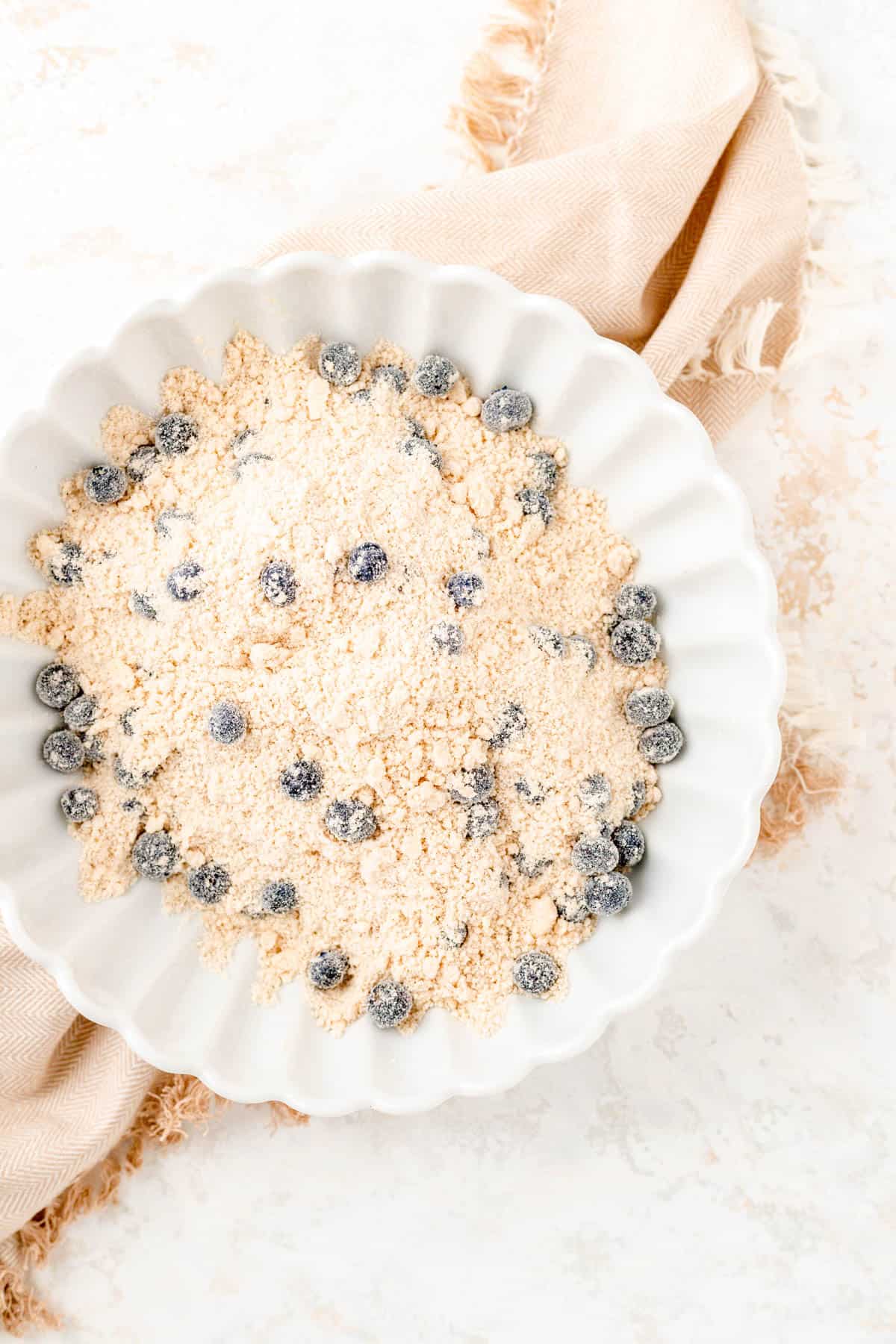 Combine the wet ingredients in a small bowl, and gently stir the wet and dry ingredients together (this is where that dough whisk is really helpful!).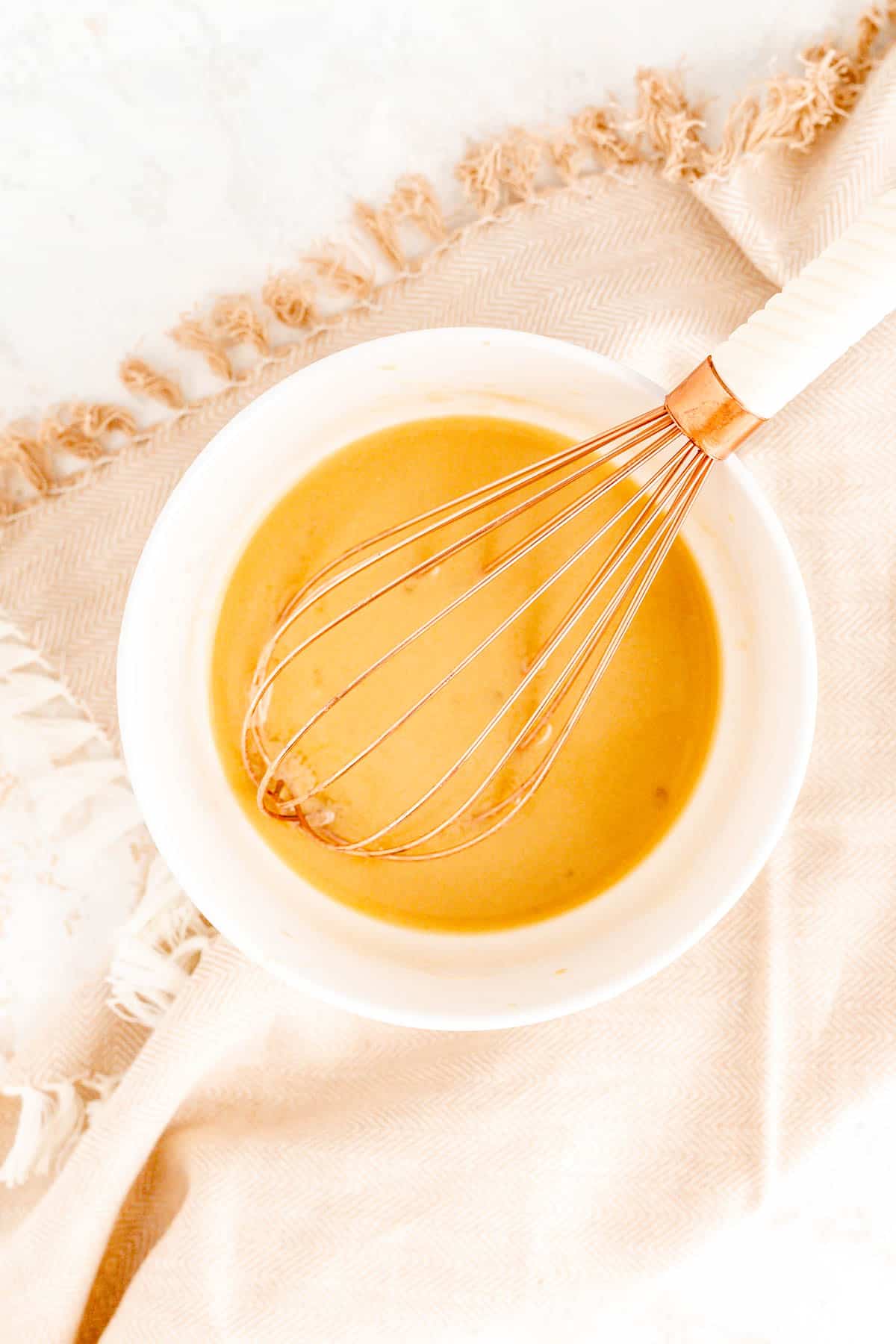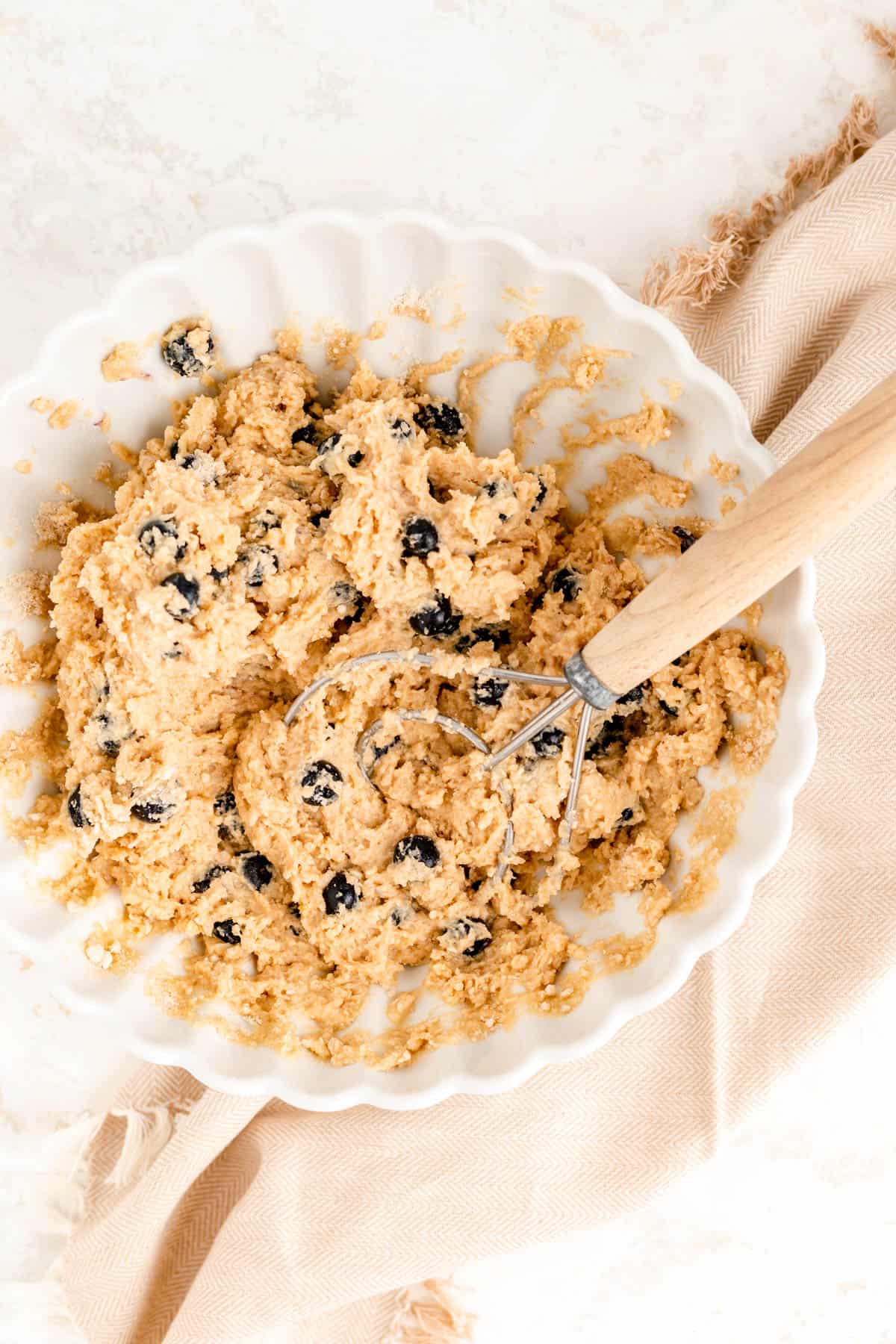 Drop your scones in rounds, on the prepared baking sheet.
Bake until golden brown and fully set.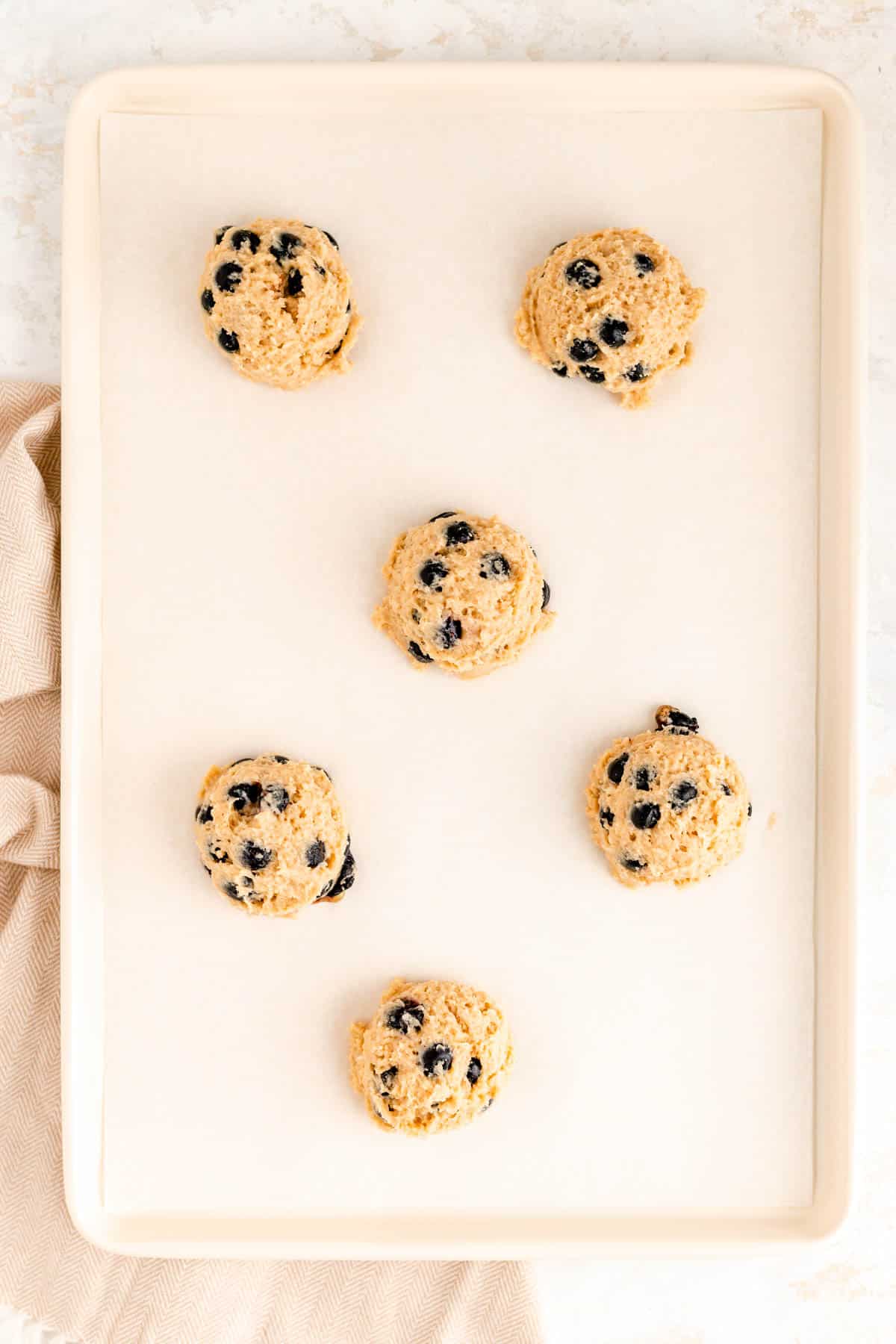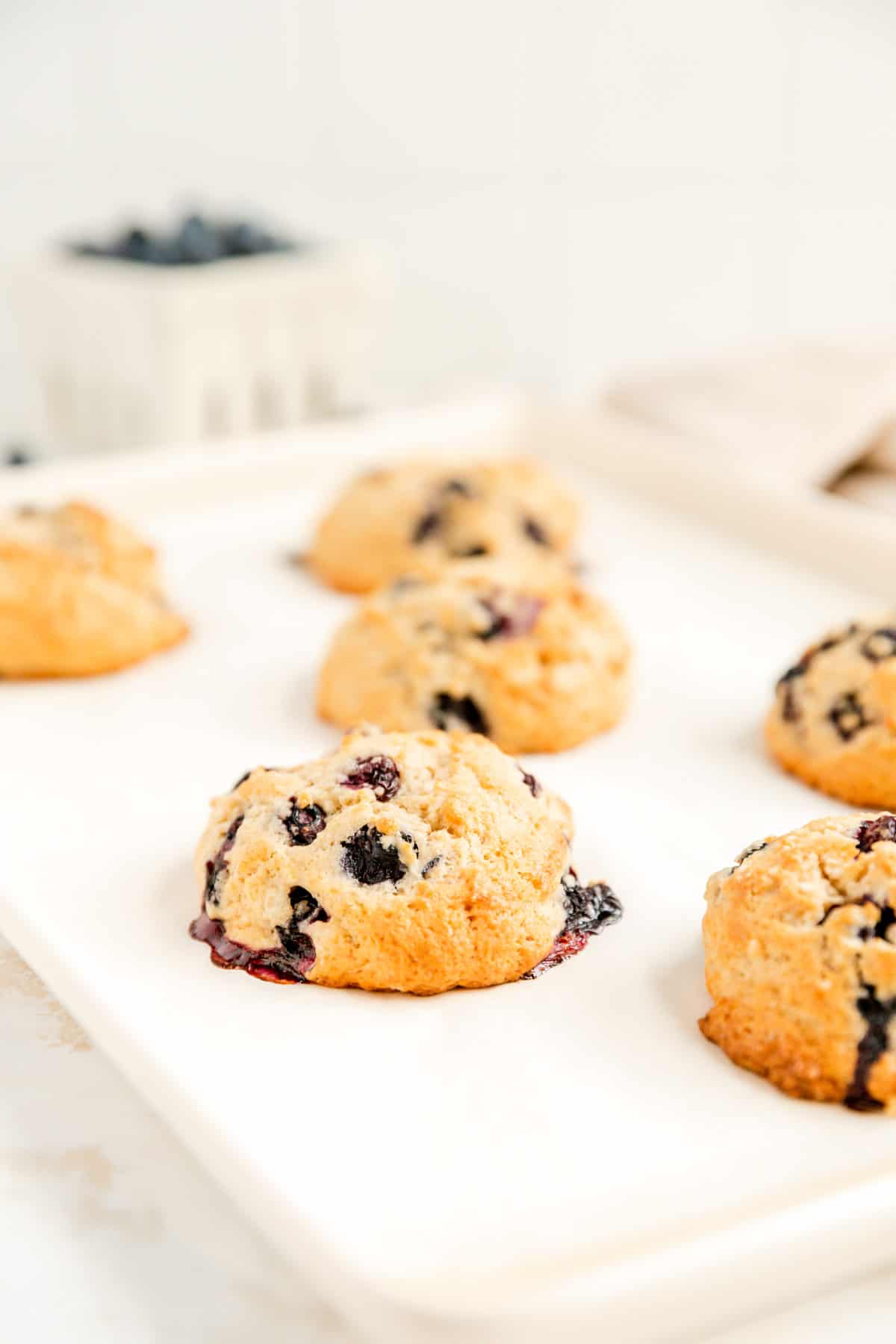 TO MAKE THE GLAZE:
Make the glaze by stirring all ingredients together until smooth.
Finish scones by drizzling glaze back and forth using a fork or small pitcher.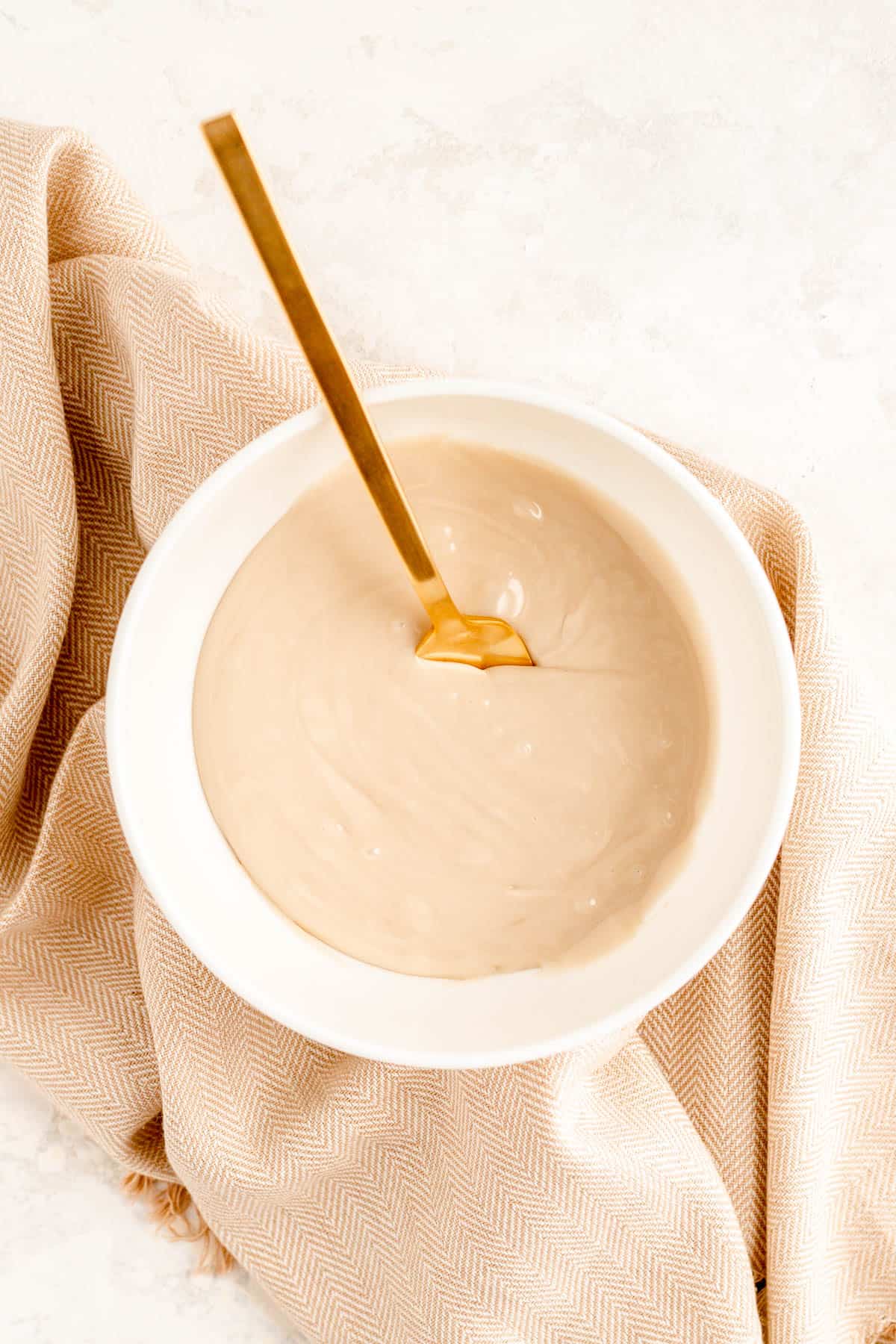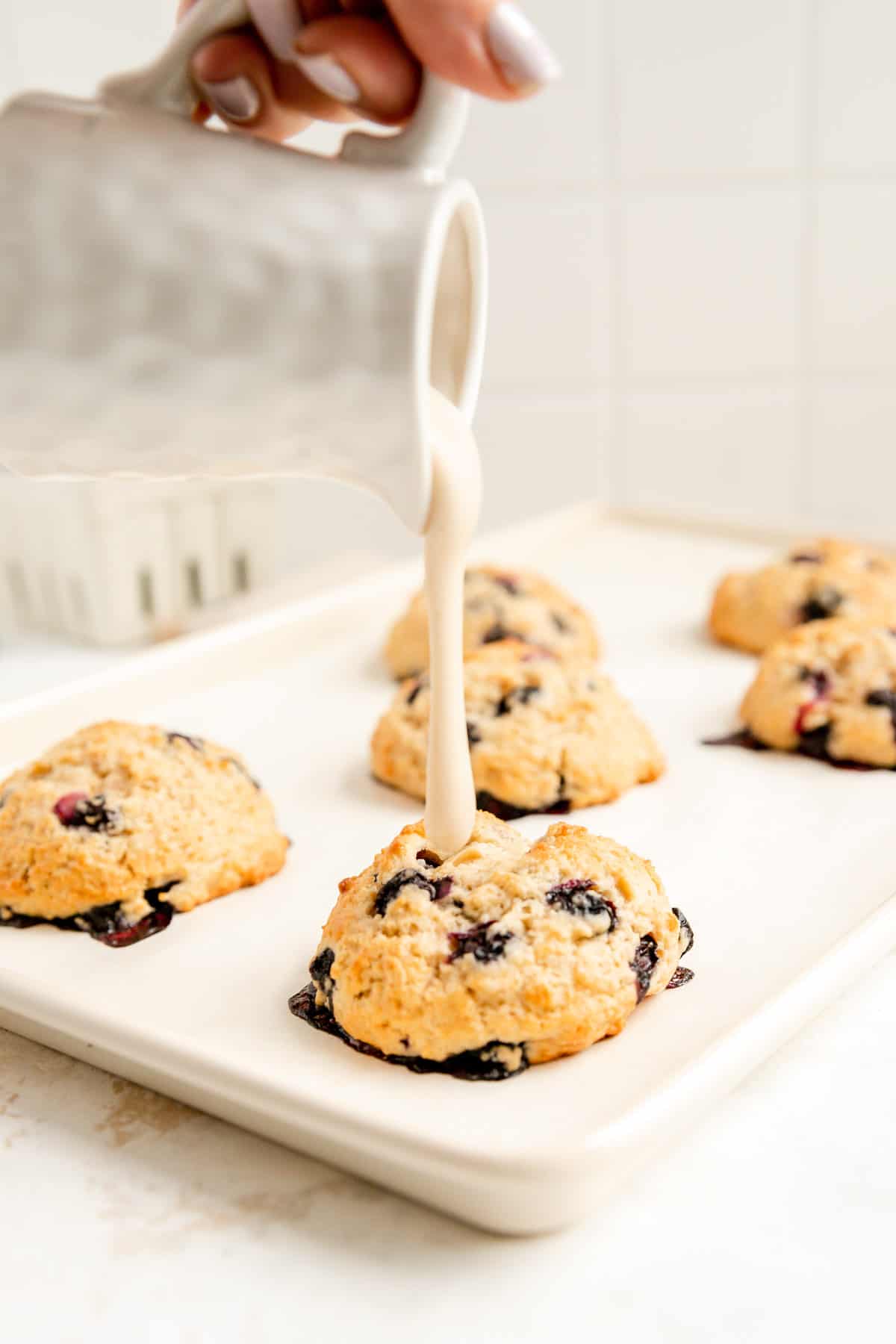 Allow glaze to set, then enjoy the perfect coffee or tea treat with your favorite breakfast beverage or afternoon pick-me-up!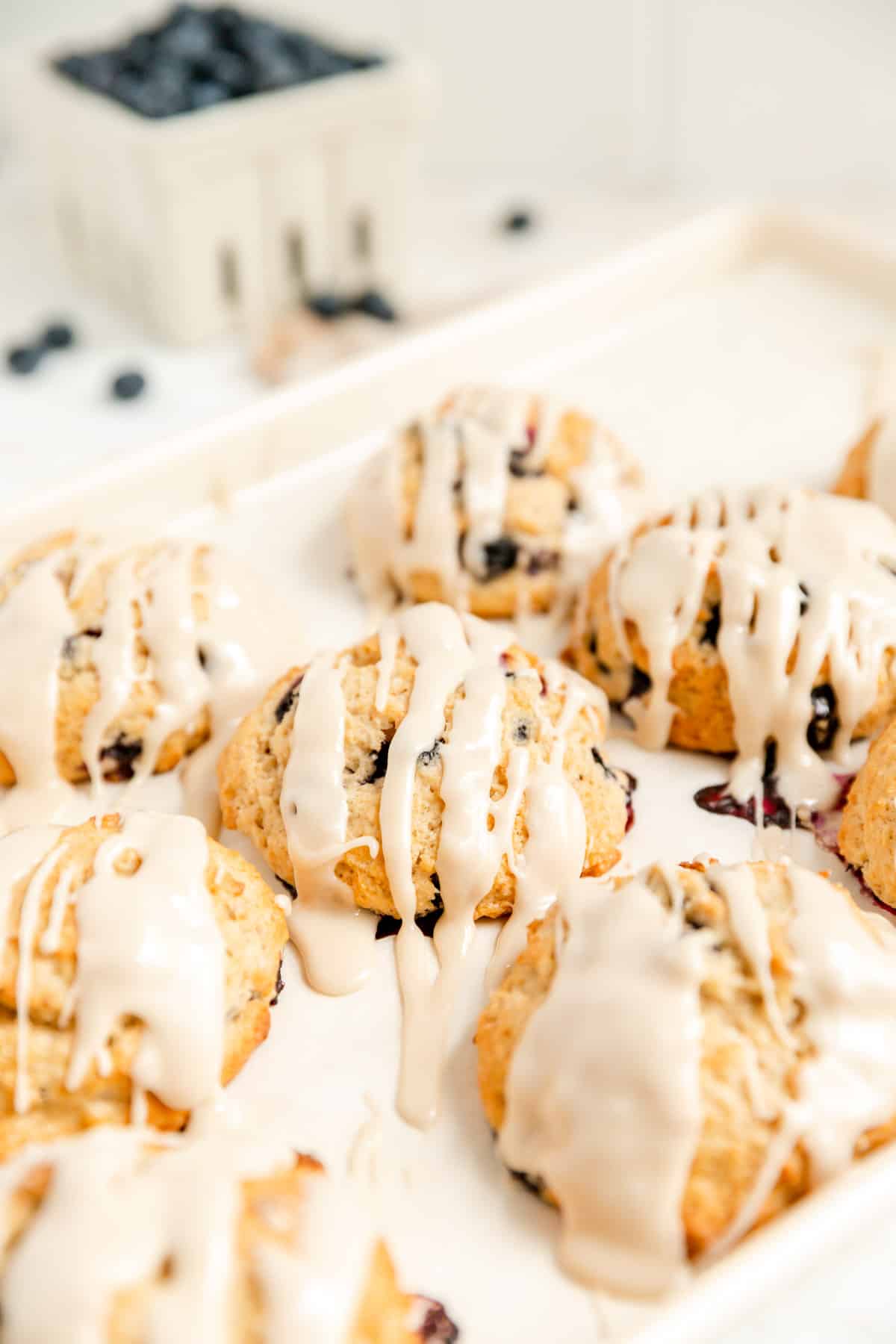 Check out the full RECIPE WEB STORY for a click-through tutorial!
*Expert Tips and Tricks* for Better Baking
What is the secret to making good scones?
Using that nice cold butter and taking the time to thoroughly and evenly work it into your dry ingredients. That technique, in combination with the magic of using buttermilk instead of heavy cream will give you that rich buttery taste you'll love, while still producing a light and fluffy texture.

Can you make scones ahead of time?
I wouldn't recommend making this recipe ahead of time more than a few hours before service, as scones are one of those treats that are really best enjoyed fresh.
How do you store scones?
If you do have leftovers, you can store them airtime at room temperature for up to two days (the moist crumb, and fresh juicy berry unfortunately give them a fairly short shelf life). If 10 scones is too many for you to eat fresh, feel free to halve the recipe to bake off just 5 at a time.

Can I substitute frozen blueberries for fresh in scones?
Absolutely! Frozen berries will make your batter turn a bright blue-purple as opposed to staying cream-colored. But honestly, I kind of love the pop of color! If using frozen berries, just make sure you keep them in the freezer right until you're adding them to your bowl. If they start to defrost and release their water, they will make a mess of your batter.
---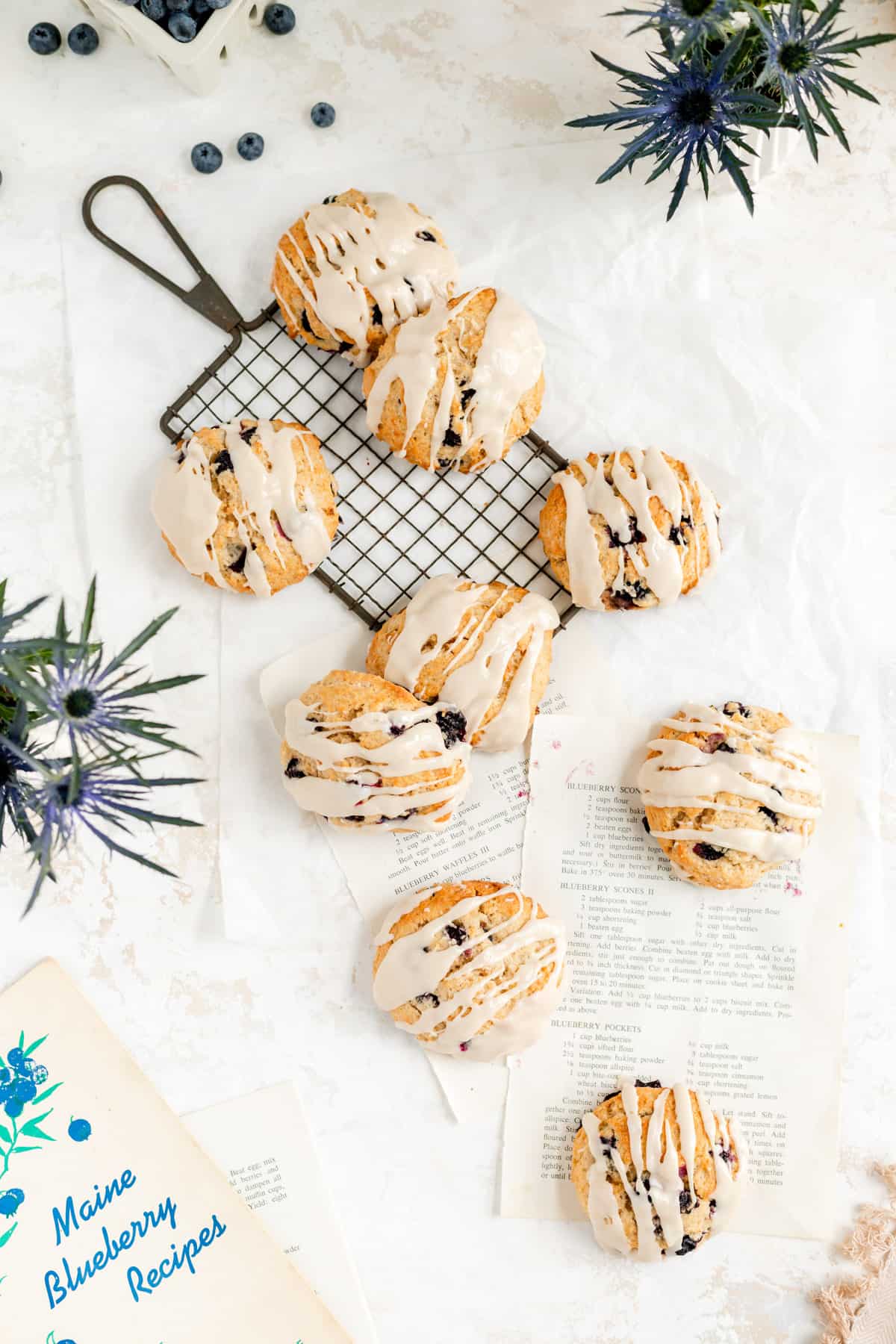 Other Recipes You'll Love
Some of my other favorite breakfast treats are my uber-light and fluffy Cinnamon and Sugar Donut Muffins, the Sour-Cream Blueberry Muffins with Cinnamon Streusel, and these fruity Strawberry Mini Donut Muffins!
⭐ If you bake up this tasty recipe please give it a ⭐ rating in the recipe card or leave a comment and feel free to ask any questions at the bottom of the page to help others find their way to this sweet recipe too! ⭐
~The Sweet Recipe Card~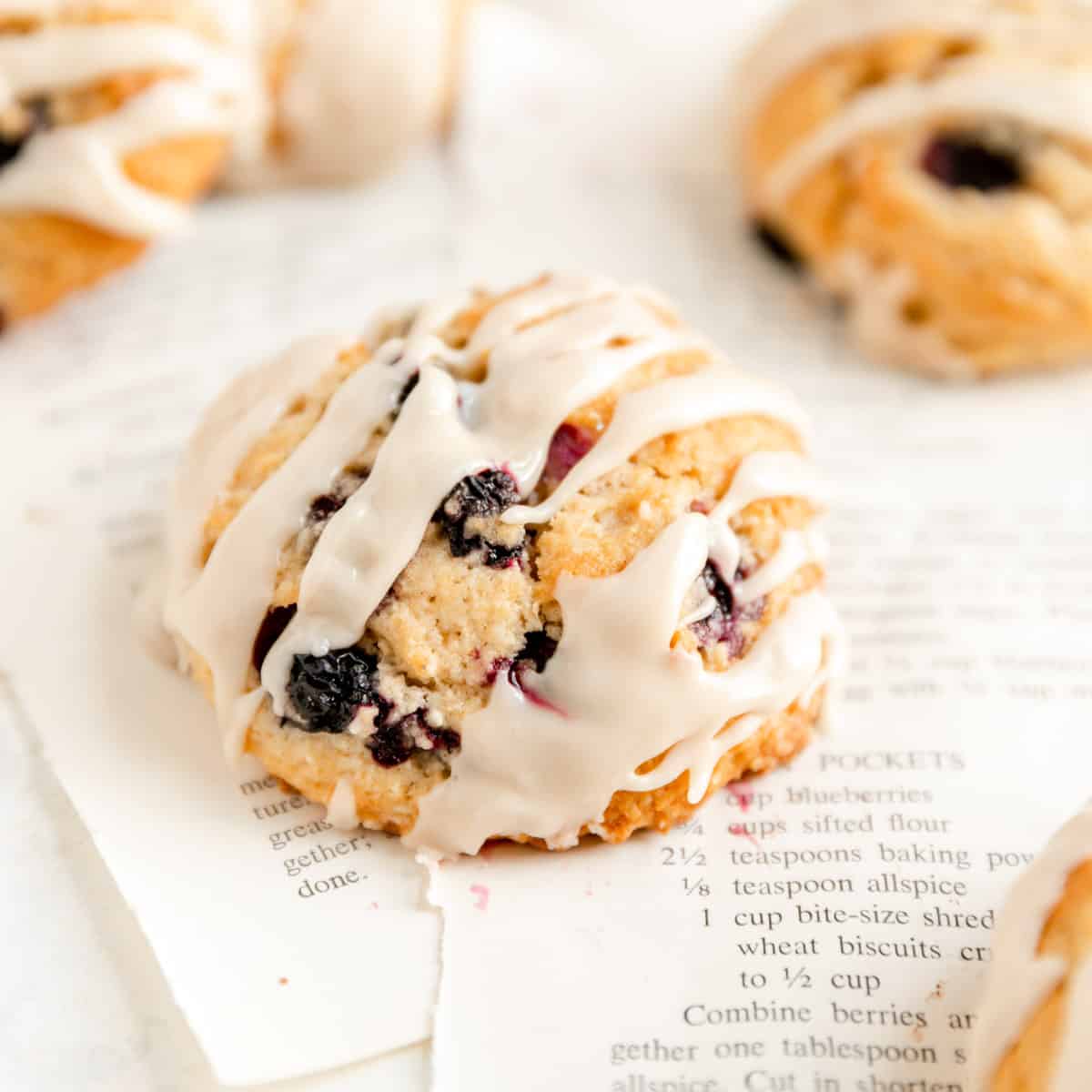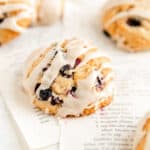 Maple Blueberry Drop Scones with Maple Glaze
These tender and fluffy scones are so easy to make using tasty buttermilk and no heavy cream. You can use fresh or frozen blueberries, and the maple glaze is the perfect finish on top!
Ingredients
FOR THE SCONES:
2 ⅓

cups

all purpose

½

cup

sugar

2 ½

teaspoons

baking powder

¾

teaspoon

ground cinnamon

½

teaspoon

salt

½

cup

(1 stick) unsalted butter

(cold, cut into ¼" cubes)

1 ½

cups

frozen or fresh blueberries

½

cup

buttermilk

1

large egg

2

tablespoons

real maple syrup

1

teaspoon

vanilla
FOR THE GLAZE:
1 ½

cups

powdered sugar

(sifted)

2

tablespoons

real maple syrup

1

tablespoon

buttermilk
Text me the ingredients please!
Instructions
TO MAKE THE SCONES:
Prep and preheat: preheat your oven to 400°F and line two baking sheets with parchment paper.

Blend dry ingredients: using a medium-sized bowl, whisk together all the dry ingredients until well blended.

Cut in butter: add cold butter cubes to your dry blend and toss to fully coat them in flour. Work the butter into the flour, bit by bit, either smearing it into sheets between your fingers (my preferred method) or cutting it into the flour with a fork or pastry blender. Continue to blend until no chunks of butter remain and you have a mixture of course compact-able crumbs (this usually takes at least 2-3 minutes).

Toss in blueberries: add blueberries (straight from the freezer if using frozen), and toss with the crumb mixture until fairly well distributed.

Combine and add wet ingredients: stir together buttermilk, egg, maple syrup, and vanilla until well blended. Add wet mixture to the flour mixture and stir everything together using a fork or whisk just until combined with no pockets of flour remain.

Scoop and tray: scoop dough into rounds using ⅓ cup of dough per scone (an ice-cream scoop works well here for easy portioning!), and place on a prepared baking sheet at least 3" apart.

Bake 'em: bake for 14-16 minutes, until the surface is golden brown and looks fully dry, and the center feels set and springs back when gently pressed.
TO MAKE THE GLAZE:
Make the glaze: as the scones cool, prepare the glaze. Mix together all the glaze ingredients with a fork until smooth and well blended. The glaze should be thick, but still settle to a smooth surface in the bowl a few seconds after you stop stirring. Feel free to thin with a little extra syrup or milk to your preferred texture.

Glaze scones: when scones are just a little warm still, set them on the wire rack over parchment/foil. Slowly drizzle glaze using a fork over the tops of scones, and allow the excess to drip off below the rack.

Set, share and enjoy! Allow glaze to set for at least 15-20 minutes (or longer if possible to allow it to fully crust on top), then pass around these tender blueberry treats and enjoy!
Nutrition
Calories:
347
kcal
Carbohydrates:
60
g
Protein:
4
g
Fat:
10
g
Saturated Fat:
6
g
Polyunsaturated Fat:
1
g
Monounsaturated Fat:
3
g
Trans Fat:
1
g
Cholesterol:
42
mg
Sodium:
326
mg
Potassium:
95
mg
Fiber:
1
g
Sugar:
35
g
Vitamin A:
342
IU
Vitamin C:
2
mg
Calcium:
96
mg
Iron:
2
mg
⭐ Did you bake up this tasty recipe? ⭐
Please give it a ⭐ rating in the recipe card or leave a comment at the bottom of the page to help others find this sweet recipe. I'd love it if you'd share your treats (literally and electronically!), and tag @mint.and.mallow.kitchen on Instagram or Facebook so I can see your beautiful bakes! Xo, Jocelyn
---
I hope you and your loved ones enjoy this recipe and when you give these a try, please share (literally and electronically!) and tag me on Instagram or Facebook @mint.and.mallow.kitchen so I can see all your amazing sweets and help you with any baking conundrums that come up!

Love, light and sweets always,
Jocelyn

This website contains Amazon affiliate program links. This means that I earn a small commission on qualifying purchases at no additional cost to you. I will never provide a link to nor recommend any product or service that I don't genuinely love or personally use. Thank you for supporting MINT + MALLOW kitchen and the brands that keep this blog running.
---
Are you ready to learn how to bake everything better?
Check out our lesson collections to learn how to play and develop your own recipes in the kitchen, so we can help you take all your bakes to the next level!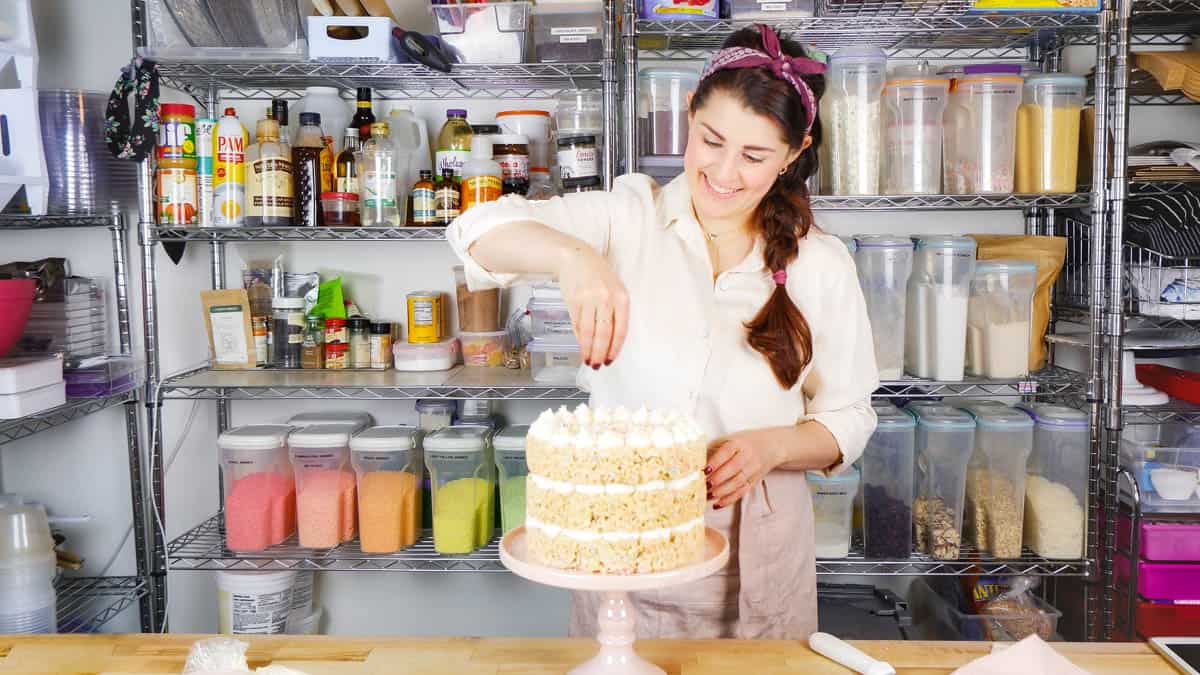 ---