---
This super easy Whipped Cream Cheese Frosting is extra light and fluffy. It's smack between a traditional cream cheese frosting and simple whipped cream, but you can whip it up without heavy cream! It's perfect for slathering on carrot cake, decorating red velvet cupcakes, smearing on warm cinnamon rolls, and so much more!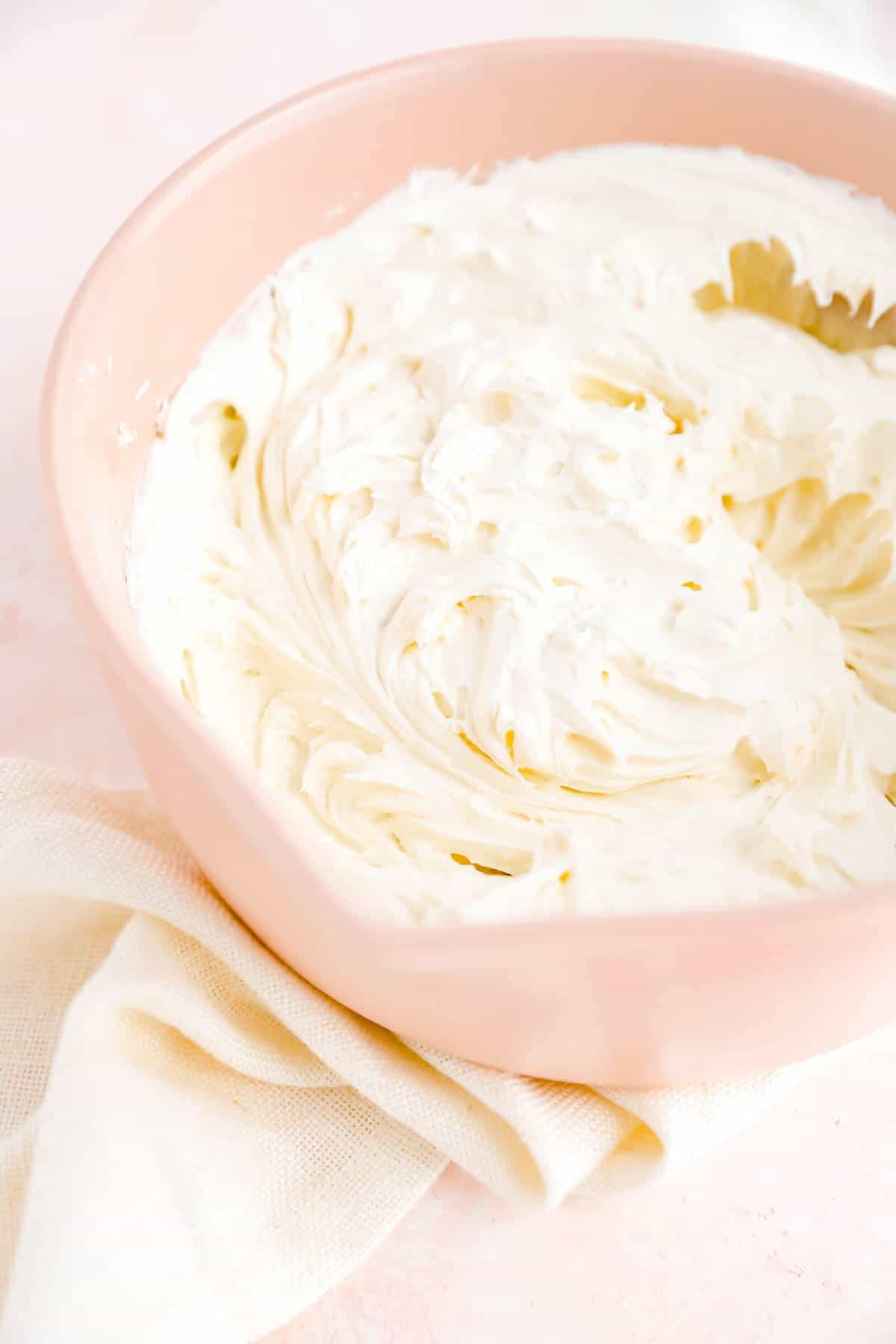 Jump to (scroll for more!):
Troubleshooting Cream Cheese Frosting
So we're going to keep this post short and sweet because this simple recipe is simply delicious for any and all cream cheese frosting needs. Thank you. The End.
Juuuust kidding, but seriously, there's little to say as this frosting speaks for itself and brings the best of all the previous cream cheese frostings I have tried into one recipe.
I frequently hear bakers, both new and practice, struggling with cream cheese frostings...
It can get too runny if you over-whip it and break down the structure of the cream cheese.
It can be too think if there isn't enough powdered sugar to help lighted in up, or not enough liquid added to smooth it out.
It can be too sweet if the recipe relies entirely on the powdered sugar for structure, and doesn't blanace it with enough of the other ingredients.
And if you want to use a non name-brand cream cheese, your guess on what your final texture will be is as good as mine.
Needless to say...for what should be a very simple recipe, if not developed correctly, these types of recipes can go wrong in a lot of way. But not here!
Let's chat a bit more about why this recipe will make sure you end up with fluffy-as-a-cloud frosting, with the perfect balance of tangy and sweet flavors.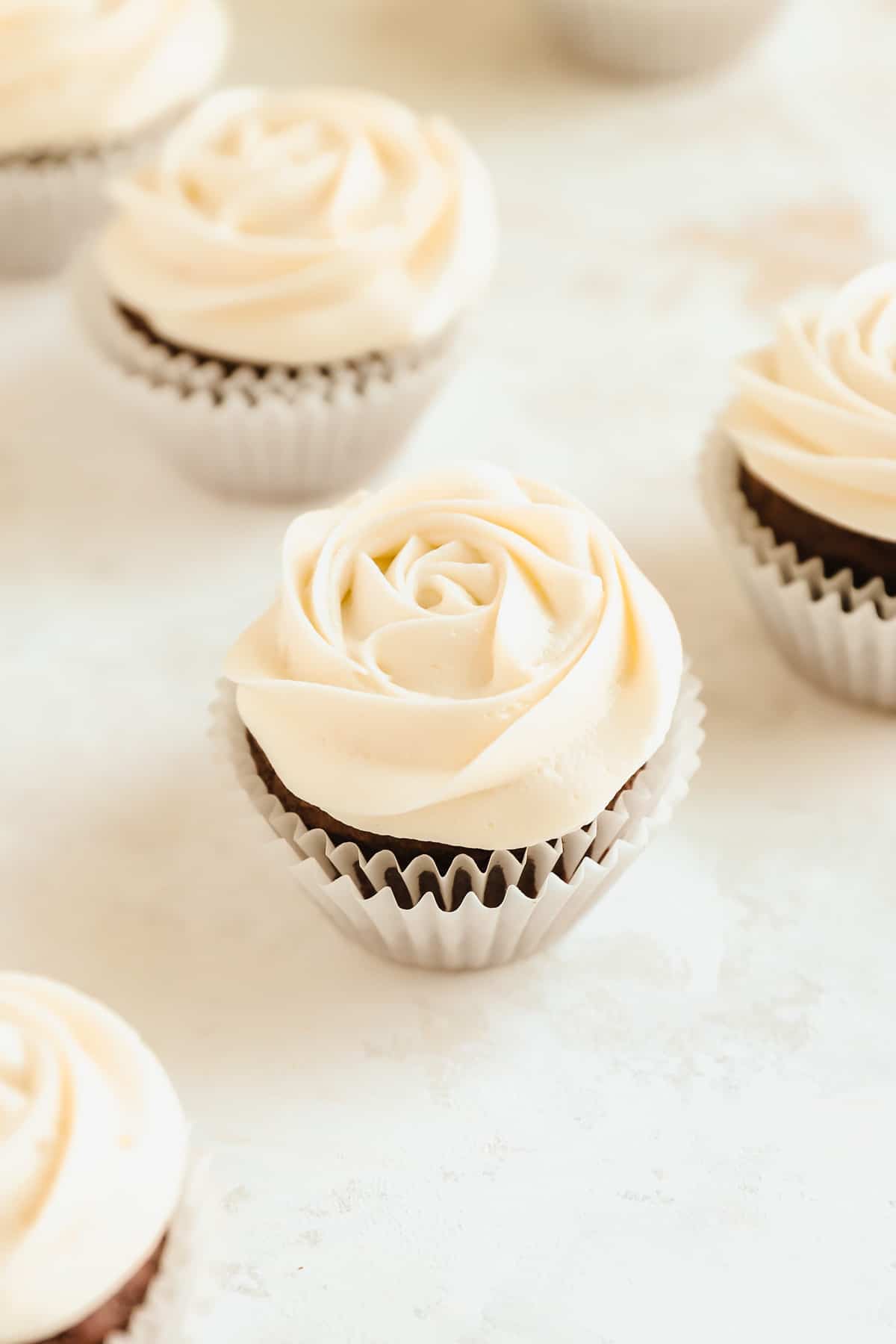 Why This Recipe Leads to Sweet Success
Keeping it simple: I kept this recipe as simple as possible and gave lots of detail in the mix time etc. to help take all the guess work out of it for you.
Philadelphia Cream Cheese for the win: I'm also going to tell you right now, you'll want to use the Philadelphia Original Cream Cheese we all know and love as it will yield consistent results. Even better, in a comparison taste test, I can honestly say it had my favorite and the most interesting flavor as well.
Just the right size: we sized this recipe to be not too big, and not too small. It's the perfect size for a thin coating on a two-layer 8" cake, three-layer 6" round cake, 12-18 cupcakes (depending on how much frosting you pile on), a generously frosted 9" x 13" cake or two 8" or 9" square cakes. If you're generous with your frosting or just want to make sure you have plenty, there are instructions for a 1.5X batch in the recipe notes, and a 2X batch in the recipe ingredients toggle button.
Balanced with Butter: I love cream cheese frosting as much as the next gal, but some recipes I find are just too heavy and almost feel like you're eating straight cream cheese on your cake. This recipe cuts the cream cheese down by using some butter as well. This not only adds a more complex flavor profile (because really, who doesn't love buttercream?!), but it also allows us to have a lighter texture and flavor. But don't worry- there is still plenty of cream cheese in there to satisfy your cravings for a sweet and cheesy tang.
Ingredient Tips for Better Baking
(Pssst…if you're ready to just get baking, get all the details in the recipe card below!)
---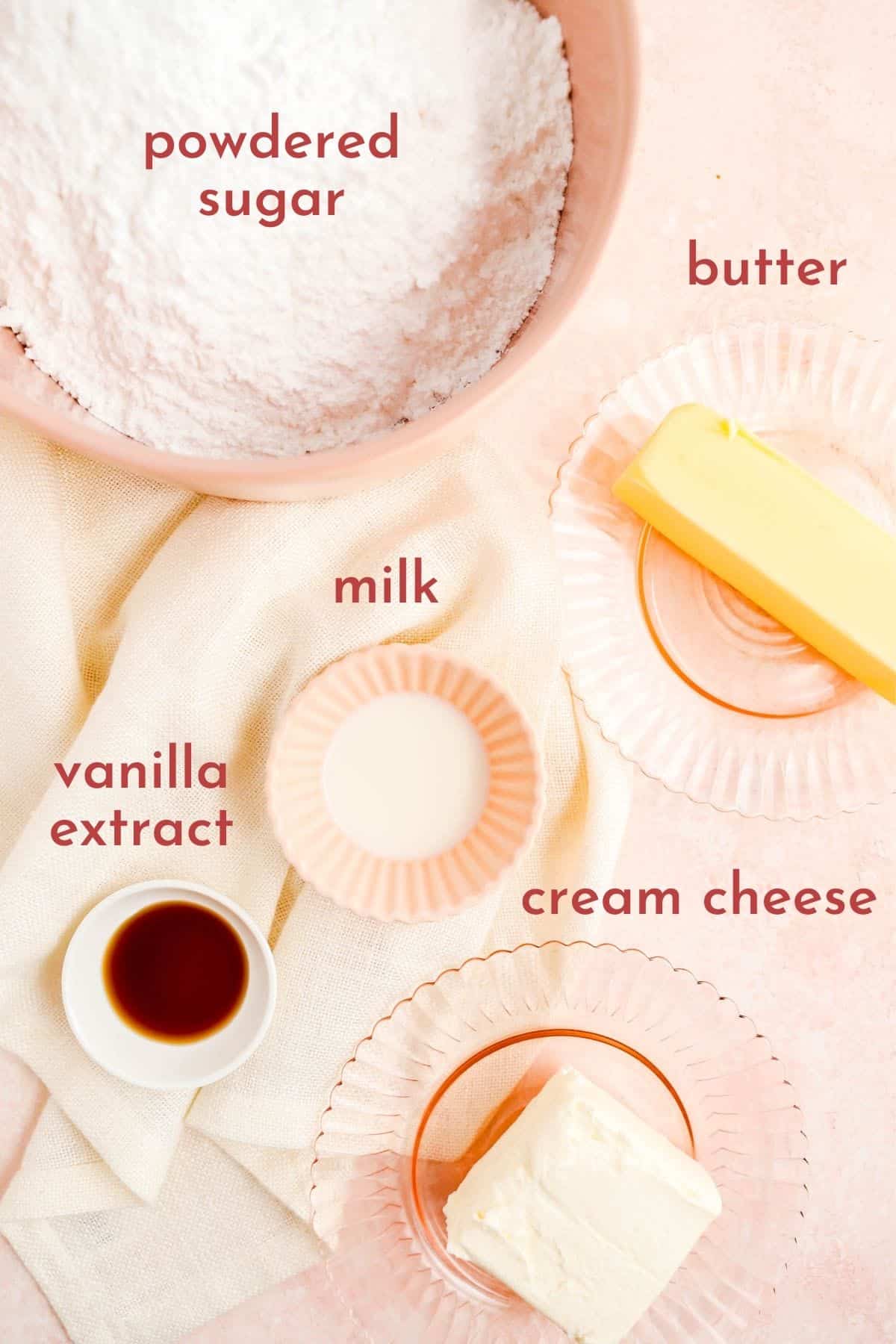 Cream Cheese: use full fat, Philadelphia brand! Their level of gums (stabilizers) and texture is consistent and will yield the same, dependable (very tasty) results each time.
Milk: as the last step in this recipe, we'll add milk. This allows us to loosen up the frosting for an extra light and fluffy texture, without needing to run to the store to grab heavy cream! If you happen to have heavy cream for your coffee, but no milk at home, you can absolutely make this recipe with heavy cream for a slightly richer finish.
Special Equipment You'll Need
You'll definitely want either a hand or stand mixer for this recipe, as they'll do all the work for us by incorporating lots of air into the batter for that whipped-cream texture.
How to Make This Frosting from Scratch
(Pssst…if you're ready to just get baking, get all the details in the recipe card below!)
---
Whip the butter, cream cheese and vanilla extract until very light and fluffy. (Adding the fat early helps you get extra flavor trapped inside your frosting!)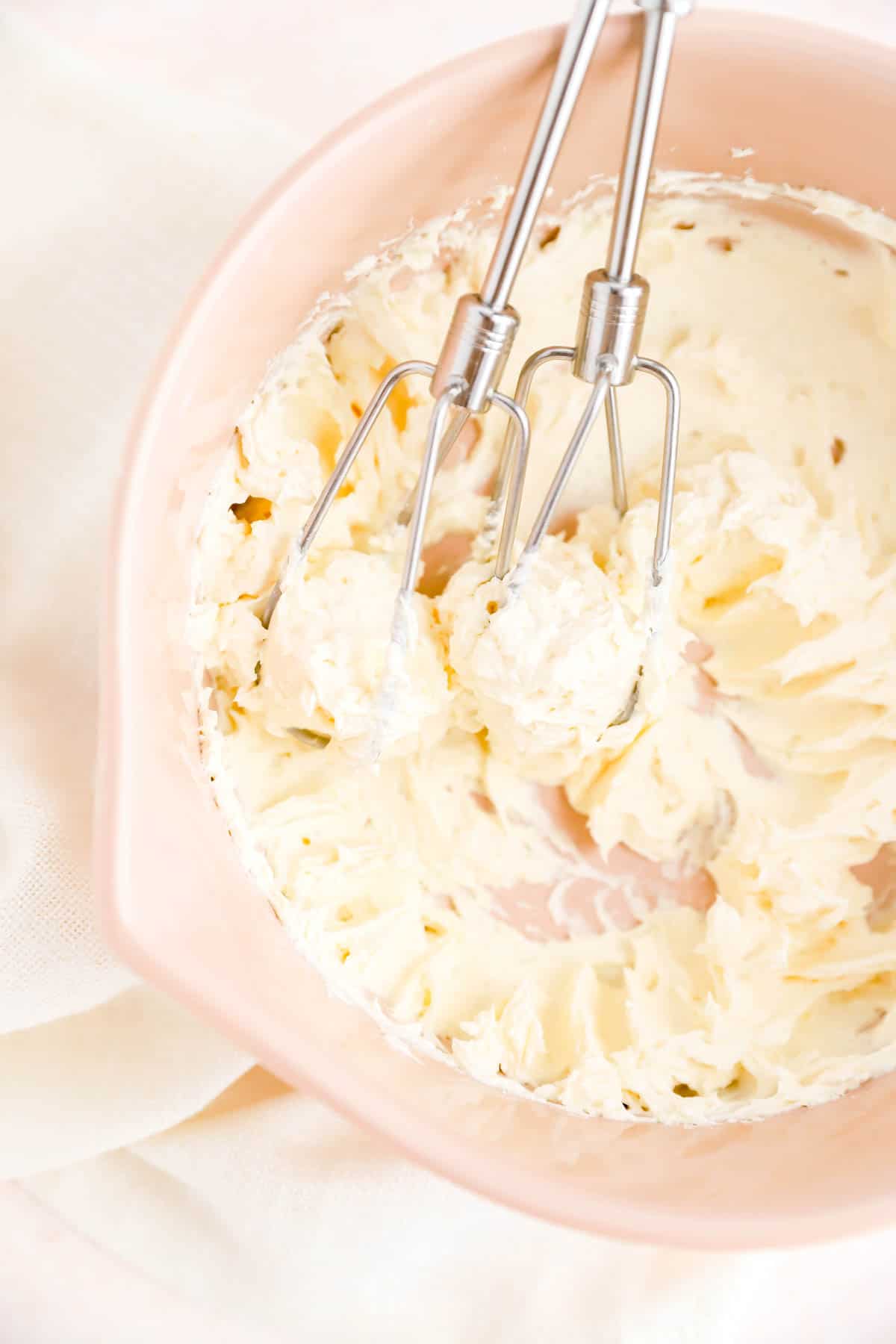 Add powdered sugar two in batches. This helps it incorporate a bit more smoothly than dumping it all in at once.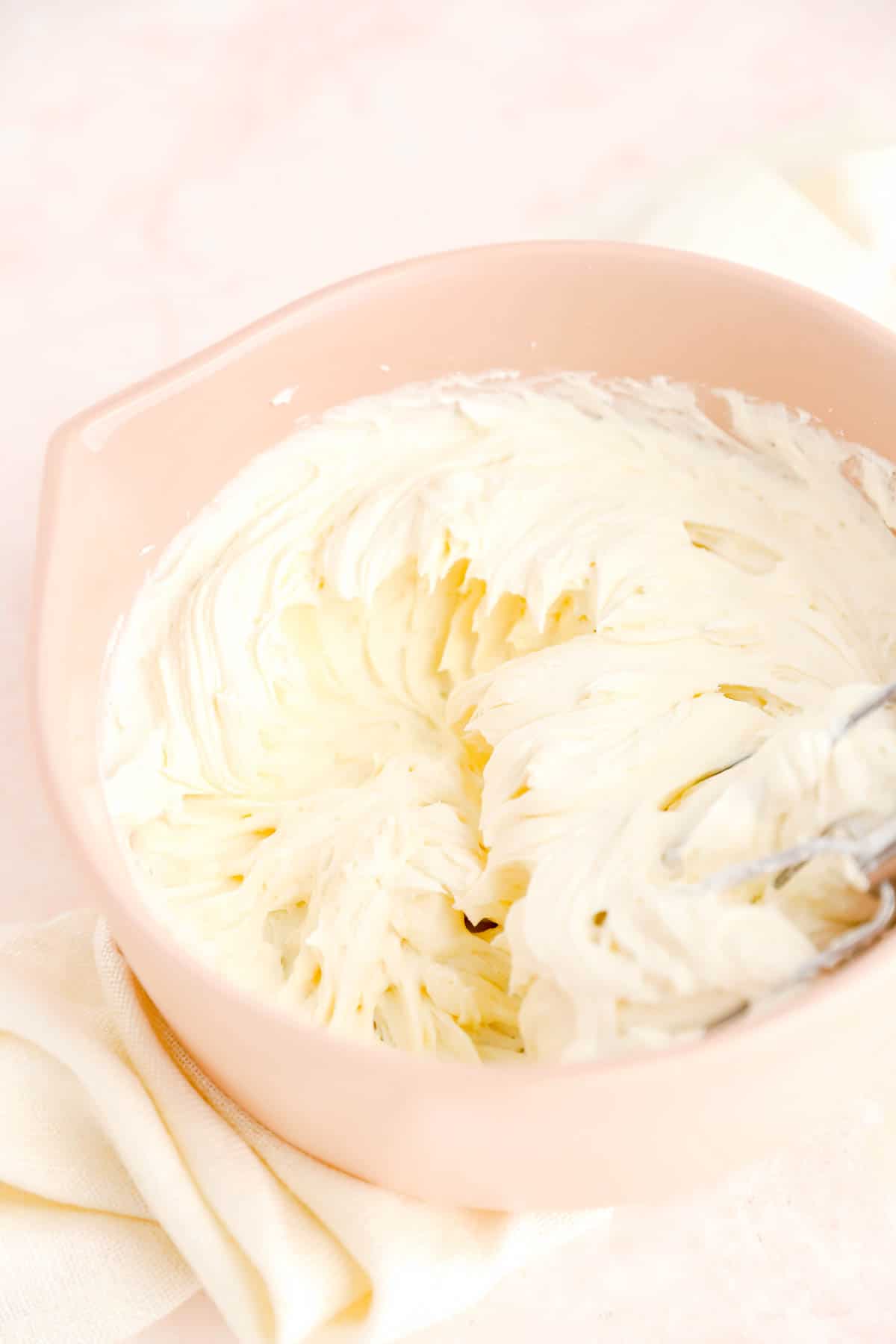 Add in the milk and whip until very light and fluffy again (almost bordering on a whipped cream texture).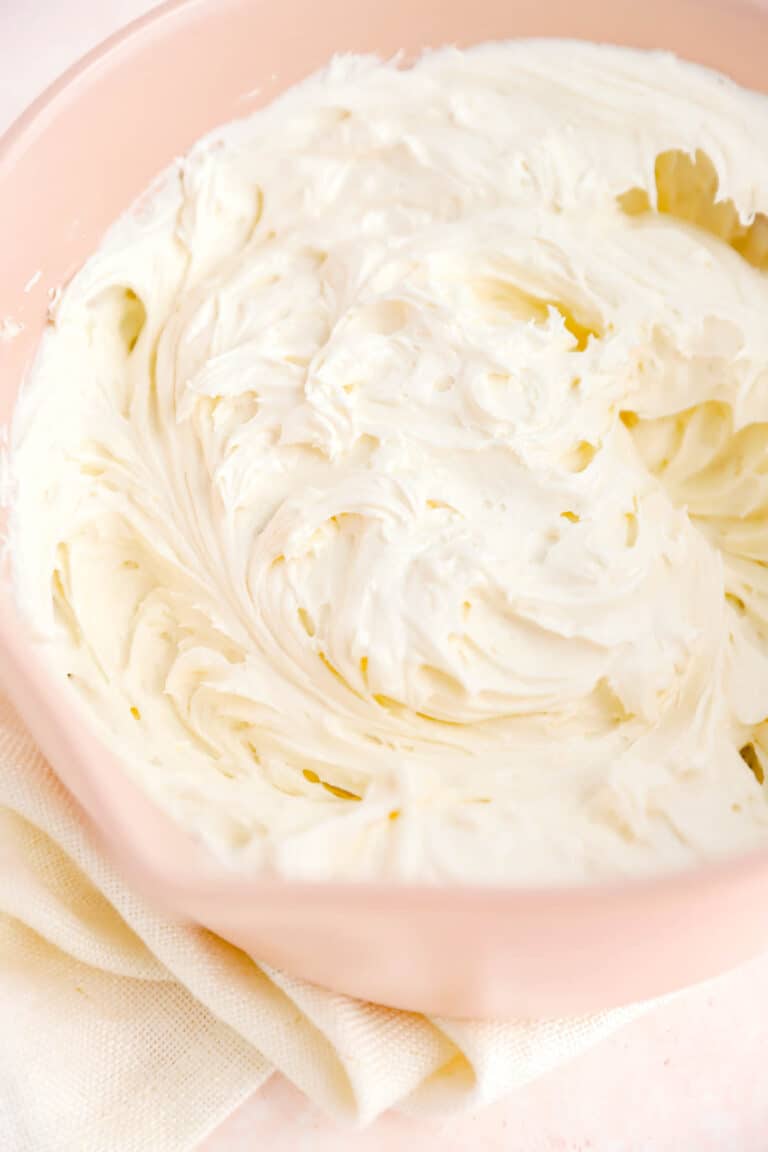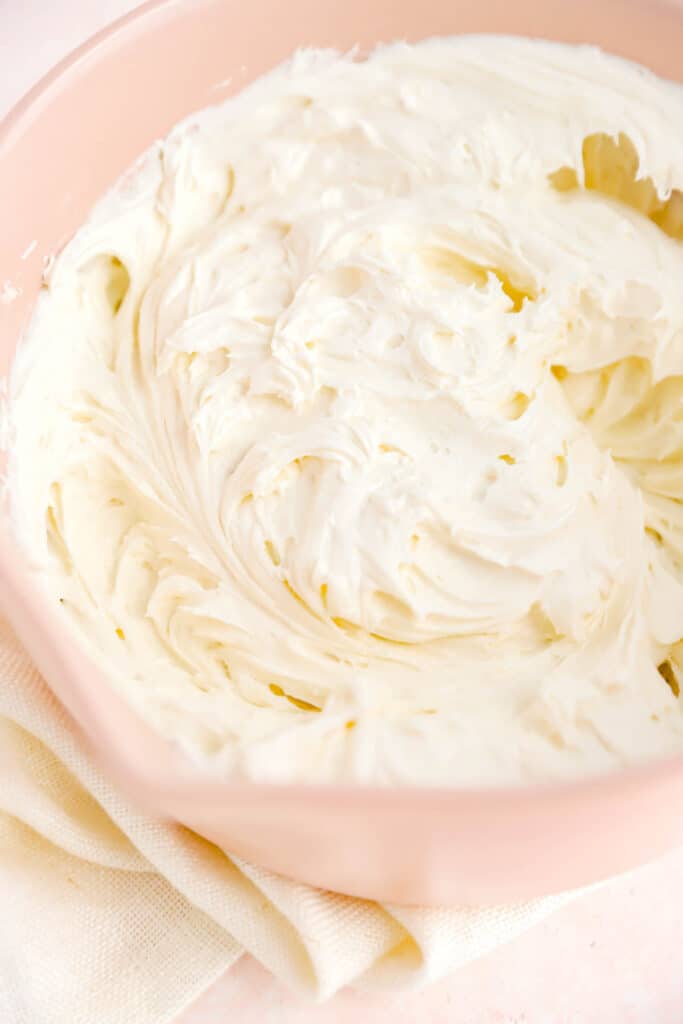 Chill and frost. If frosting your cake/cupcakes with just a hand done swirl, you can frost right away. If using to fill a cake, or pipe a rosette or design, you will want to chill your frosting for 20-30 minutes in the fridge first to allow it to stiffen up a bit.
Or, store covered 1-3 days ahead of use. This frosting can be made 1-3 days ahead of time, and then re-mixed so it's just like new for frosting your treats! To do this, allow frosting to come to room temperature on the counter for 2-3 hours, and then briefly remix right before use to fluff it up.
Check out the full RECIPE WEB STORY for a click-through tutorial!
Fun Ways to Make This Recipe Your Own
Lemon Cream Cheese Frosting: add the zest of one lemon for a single batch, and replace 1 tablespoon milk with 1 tablespoon lemon juice for an extra lemon hit!
Orange Cream Cheese Frosting: add the zest of one orange for a single batch, and replace 1 tablespoon milk with 1 tablespoon fresh squeezed orange juice for a lovely citrus twist!
Cinnamon Cream Cheese Frosting: sift a teaspoon of cinnamon in with the powder sugar. Taste once your frosting is ready and add additional cinnamon to taste!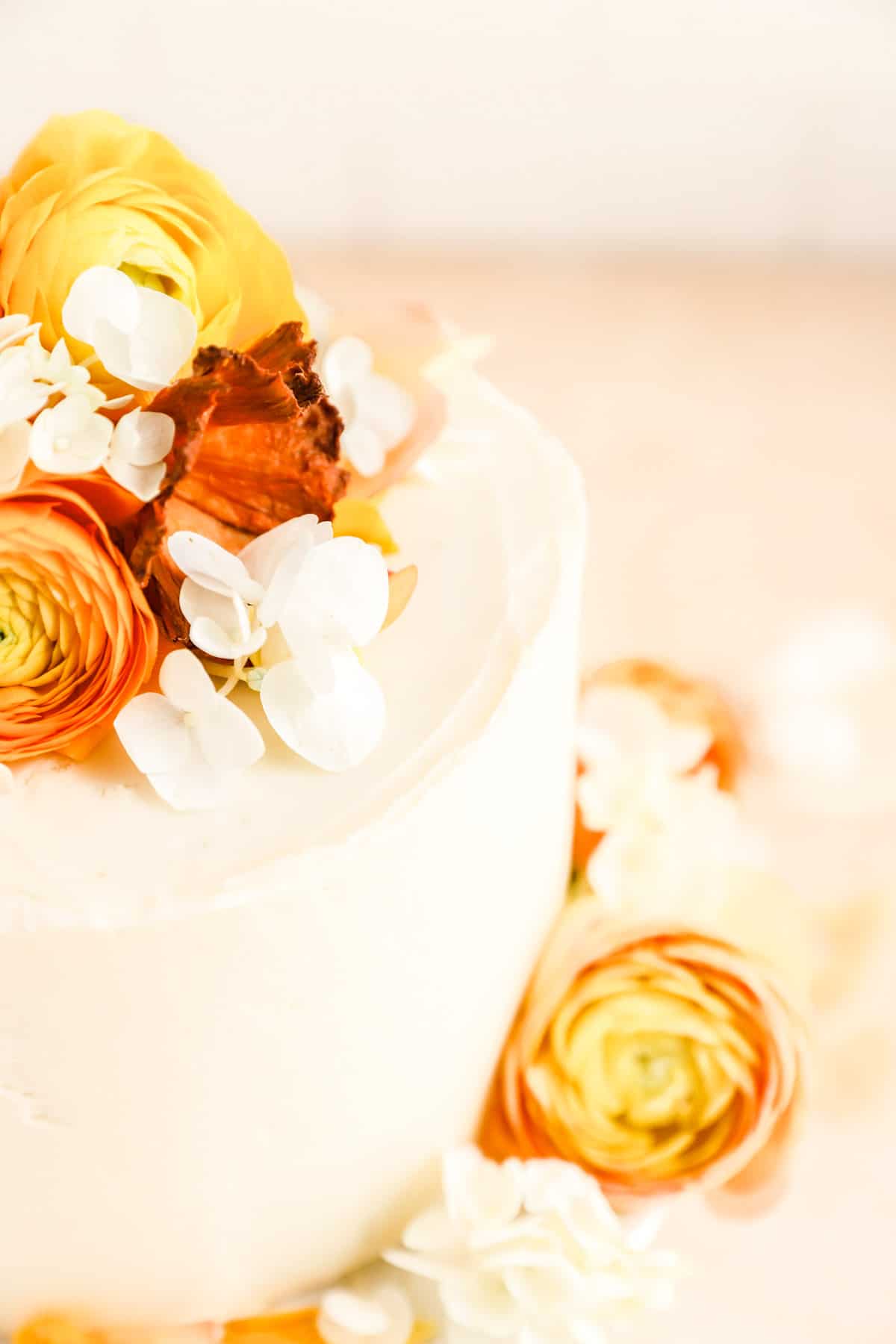 *Expert Tips and Tricks* to Help You Bake Like a Pro
What's the TOP TIP for making the best frosting?
Really taking the time to whip between each stage and having your butter and cream cheese at room temperature. Making sure your fats are soft before whipping will allow them to hold more air, and by mixing well at each stage of this frosting, you'll get a really smooth final product.
Does cream cheese frosting need to be refrigerated?
What's its shelf-life?
Yes! We have a lot of dairy in the frosting so you'll want to keep this frosting refrigerated whether it's by itself or on your favorite carrot cake or red velvet cupcakes. It will last for up to a week in the fridge.

Which is better, buttercream or cream cheese frosting? Are they interchangeable?
For many purposes, you will find buttercream and cream cheese frostings can be swapped out for each other. My favorite thing about this recipe is that it's the best of both! You get the smooth, uber-light and fluffy texture of a buttercream, but the quick mix method and classic cream cheese flavor you're looking for too. I promise, once you give this recipe a try, all other cream cheese frostings will be a thing of the past.
Is cream cheese frosting gluten-free?
This is a little bit of a tricky question, but simply put, yes, it certainly can be. None of the ingredients in cream cheese frosting naturally contain gluten. That said, you'll want to confirm the brands of ingredients you are buying are in fact produced in gluten free facilities as well.
---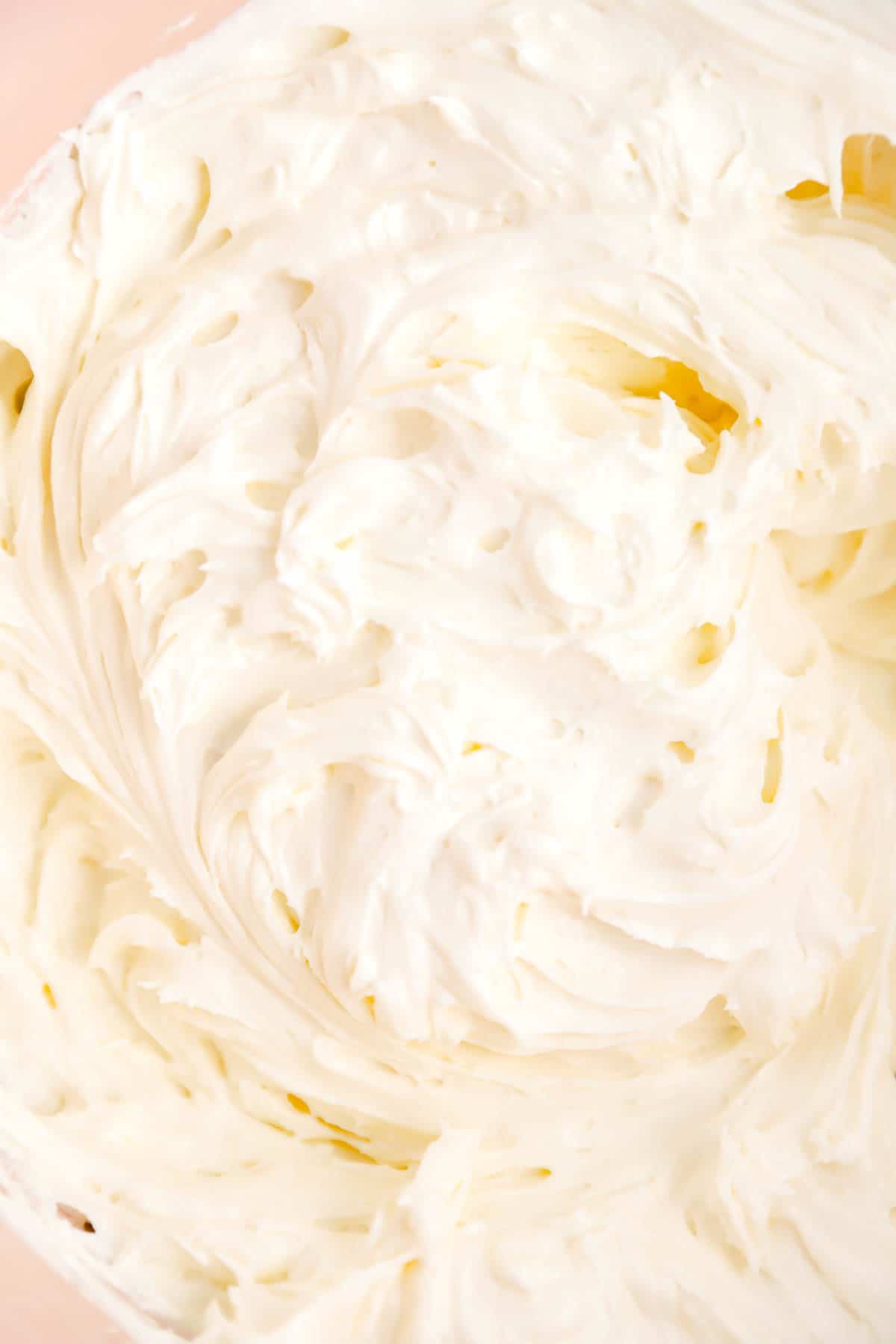 Other Recipes You'll Love
Well needless to say...this frosting and my Old-Fashioned Carrot Cake with Pineapple are a match made in heaven. And this light and fluffy topping also pairs perfectly with my Easy Vanilla Sheet Cake!
And if you're just on the search for your favorite homemade frosting, be sure to check these other quick mix icings out: Raspberry Cream Cheese Frosting, Easy Vanilla Buttercream, Easy Chocolate Buttercream.

⭐ If you gave this recipe a try please give it a ⭐ rating and tag me on Instagram @mint.and.mallow.kitchen so I can see what you're baking up! ⭐
📖 Full Recipe
Whipped Cream Cheese Frosting (without heavy cream)
Ingredients
½

cup

(1 stick) unsalted butter

(softened)

½

cup

(½ brick) full-fat cream cheese

(softened)

1 ½

teaspoons

vanilla extract

4

cups

powdered sugar

(sifted)

1

tablespoon

milk
Instructions
Whip fats and flavor: whip butter, cream cheese, and vanilla until fluffy (about 2 minutes on medium-high using a hand-mixer).

Add powdered sugar in batches: add sifted powdered sugar in 2 batches, beating for 30 seconds on medium-high after each addition until well combined.

Add milk and whip: add in milk and beat an additional 1-2 minutes on medium-high until frosting is smooth, light and very, very fluffy (almost bordering on a whipped cream texture).

Frost or chill: frost cake or cupcakes immediately if desired, or store covered in the fridge (see notes). If using to fill a cake, or pipe a rosette or design, you will want to chill your frosting for 20-30 minutes in the fridge first to allow it to stiffen up a bit. If storing for several hours or overnight, allow frosting to come to room temperature (2-4 hours on the counter at room temperature), and briefly remix right before use.
Test Kitchen Tips
Very, very fluffy: this frosting is very light and fluffy, almost whipped-cream-like in texture. So if you find it's a little too soft to fill and frost your cake, place it in the fridge for 20-30 minutes so if can stiffen up a bit, briefly remix it, and then continue to frost your cake.  This is helpful to get lines from a star-tip rosette or other piped design to hold it's shape better as well.
What will this frost? This isn't a huge batch of frosting and it's perfect for a thin coating of a 3-layer 6" cake, a two layer 8" cake or a small batch of cupcakes (12-18 depending on how generous you are with your frosting!).  If your cake has extra layers or is bigger in diameter, feel free to double this recipe for a full 5 cups of frosting.
1.5X batch: if you'd like a little extra frosting to work with for the items listed above, but don't need a full double batch, use these amounts for a 1.5X batch (about 3 ½ cups of frosting):

¾ cup (1 ½ sticks) butter
¾ cup (6 ounces; ¾ of a brick) cream cheese
2 teaspoons vanilla extract
6 cups sifted powder sugar
1 tablespoon + 1 teaspoon milk
Nutrition
Serving
1
cup
|
Calories
1239
kcal
|
Carbohydrates
194
g
|
Protein
3
g
|
Fat
53
g
|
Saturated Fat
32
g
|
Polyunsaturated Fat
2
g
|
Monounsaturated Fat
14
g
|
Trans Fat
1
g
|
Cholesterol
148
mg
|
Sodium
157
mg
|
Potassium
89
mg
|
Sugar
190
g
|
Vitamin A
1754
IU
|
Calcium
64
mg
|
Iron
1
mg