---
These funfetti cookies start with a classic soft and chewy sugar cookie dough, that's then packed with rainbow sprinkle confetti. With a one-bowl, quick-mix recipe, ready in under an hour, you'll be ready for a sweet celebration with these festive confetti sugar cookies in no time!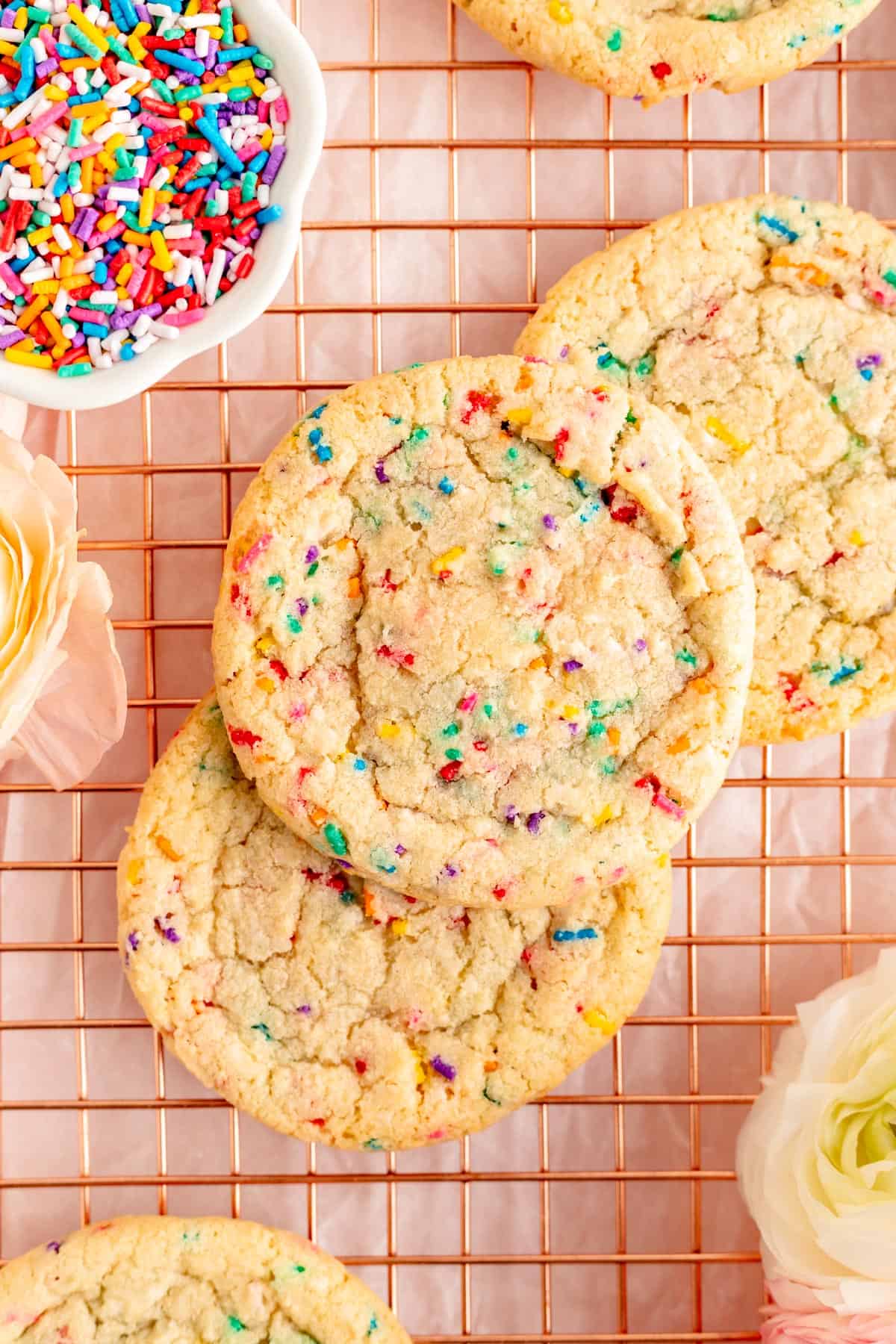 Jump to:
A Colorful Take on a Classic
It's hard to find a more classic treat than sugar cookies, and this recipe for funfetti cookies holds on to all those nostalgic flavors you love and dresses them up with a whole bunch o' sprinkles!
I kept this recipe super simple, and added instructions for big or mini cookies to fit your needs for any and every occasion.
While I know some folks like to use box cake mix for their "easy" cookies, we're making these funfetti sugar cookies without cake mix. But I promise, they're still super quick to make, and the few extra measurements will translate to a whole lot more flavor that officially makes these the best confetti cookies in my (very unbiased) opinion!
So whether you're looking for birthday rainbow sprinkle cookies or switching in some red, white and green sprinkles for the holiday season, I promise these cookies will quickly become your family's favorite all year round!
Ingredient Tips for Better Baking
(Pssst…if you're ready to just get baking, get all the details in the recipe card below!)
---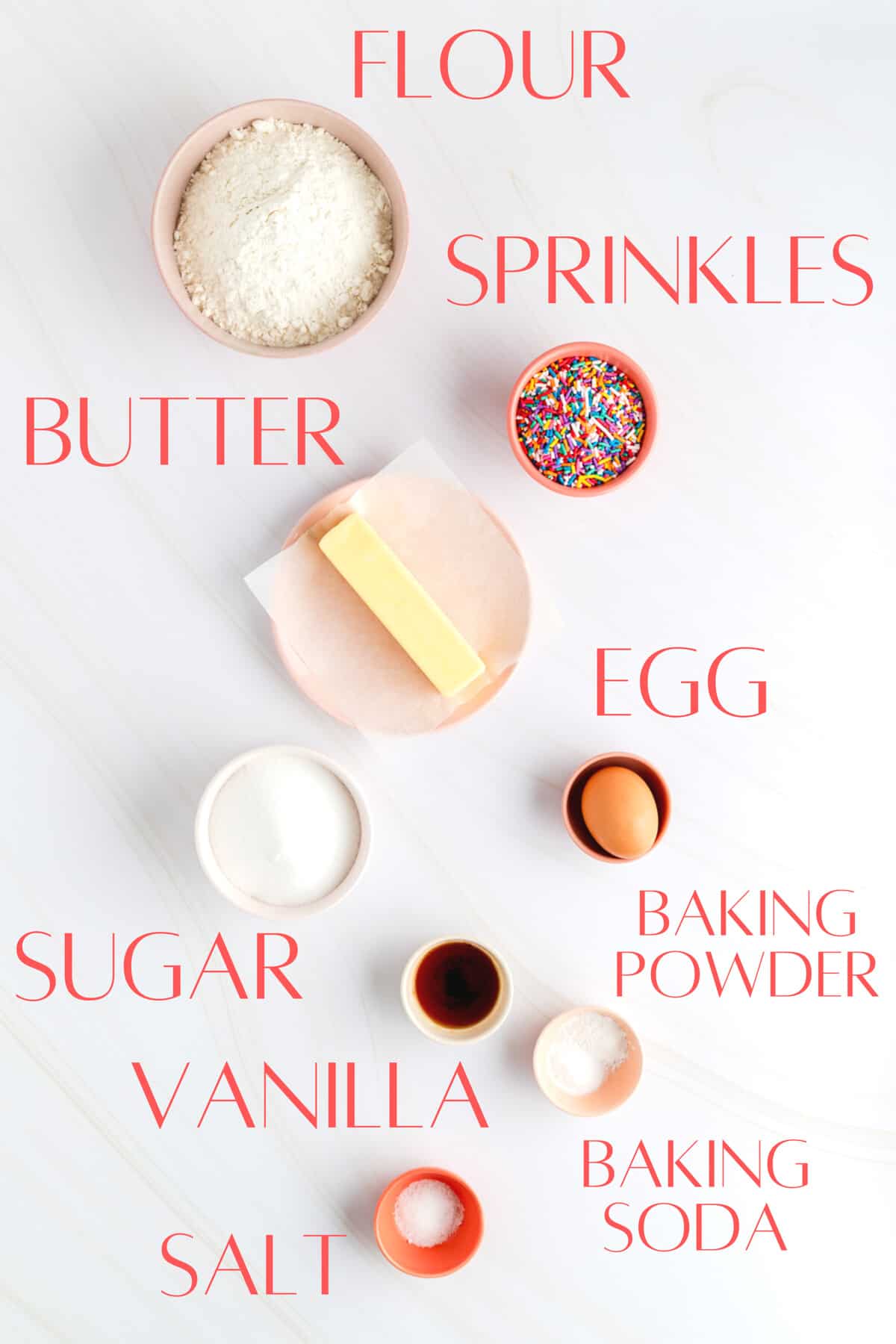 Butter: we're using a good deal of butter in this recipe so make sure it's unsalted.
Baking Powder + Baking Soda: using both is important here as one helps our cookies puff up (baking powder) and one helps them spread out (baking soda).
Sprinkles: the primary function of sprinkles is always to bring extra cheer. I recommend the long stick sprinkles instead of round nonpareils. The stick sprinkles have a softer texture that blends better with the texture of these chewy cookies, and are less likely to bleed color into the dough as well.
(p.s. for all the basic tips that no one ever taught you, that are super important to help you bake your best, check out my Baking 101 series!)
Special Tools You'll Need
How to Make Funfetti Cookies from Scratch
(Pssst…if you're ready to just get baking, get all the details in the recipe card below!)
---
Preheat your oven and line your baking pans. Cream together the butter, sugar, corn syrup and vanilla extract.
Beat in the egg.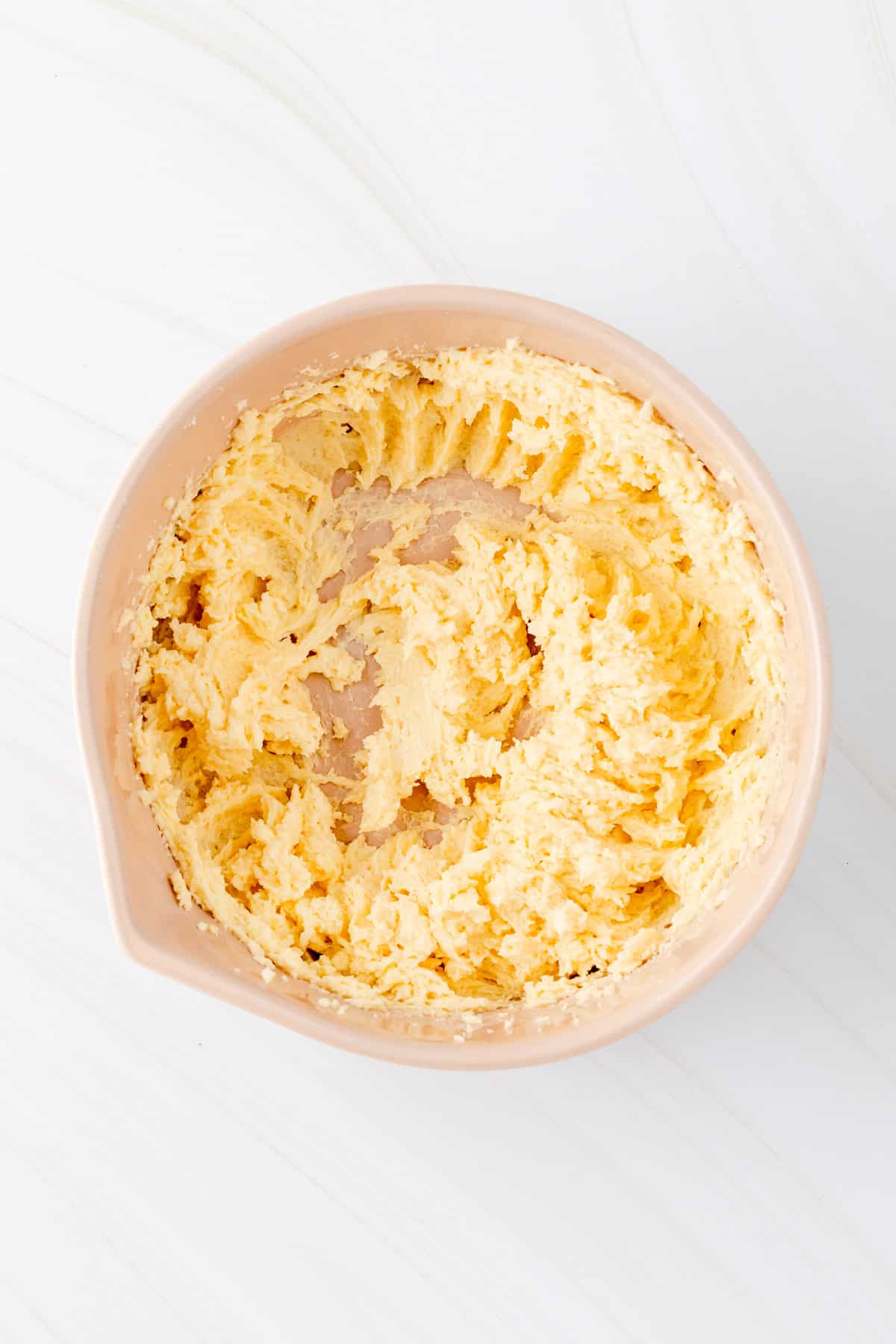 Mix in the dry ingredients until a smooth dough comes together.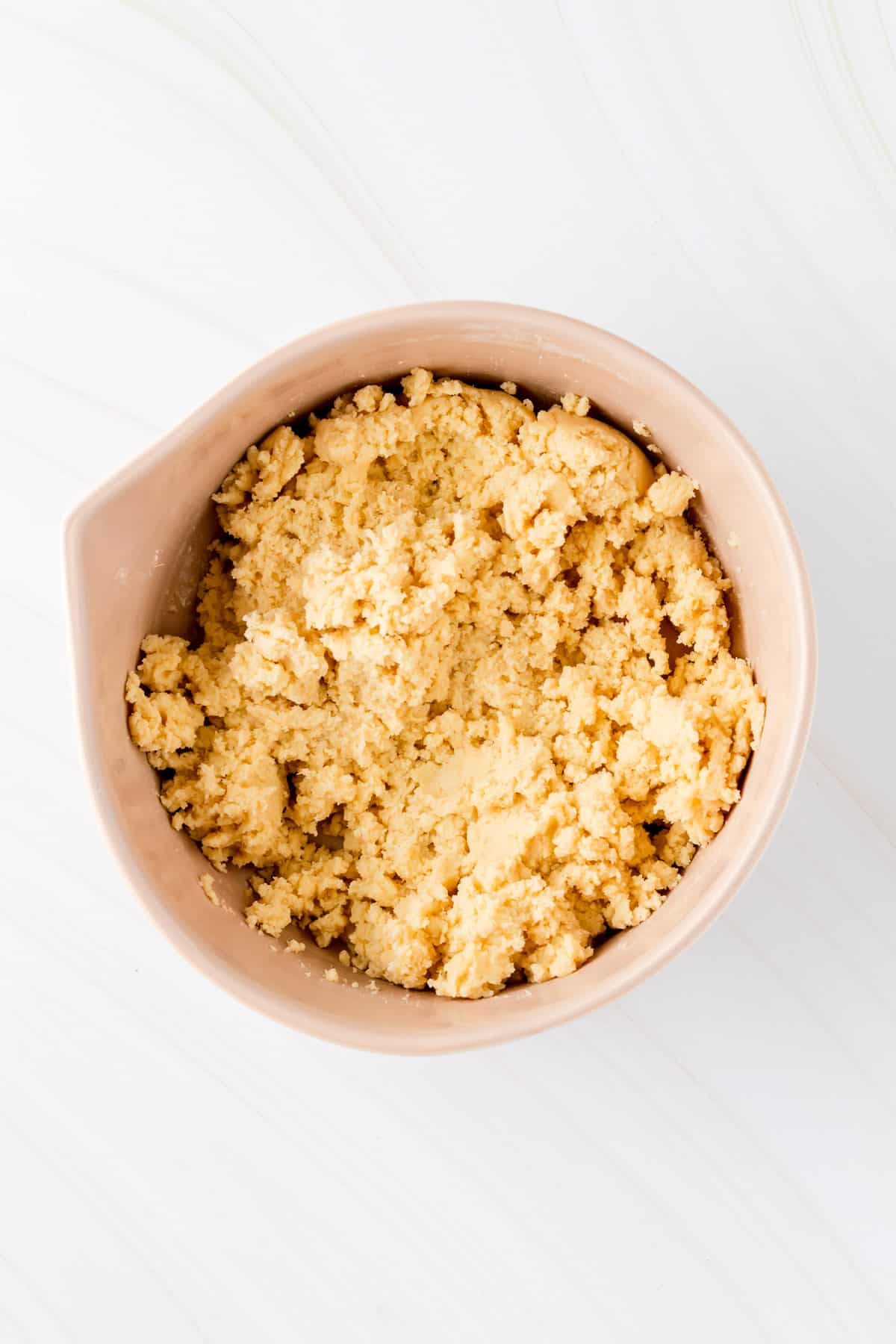 Mix in sprinkles just until combined.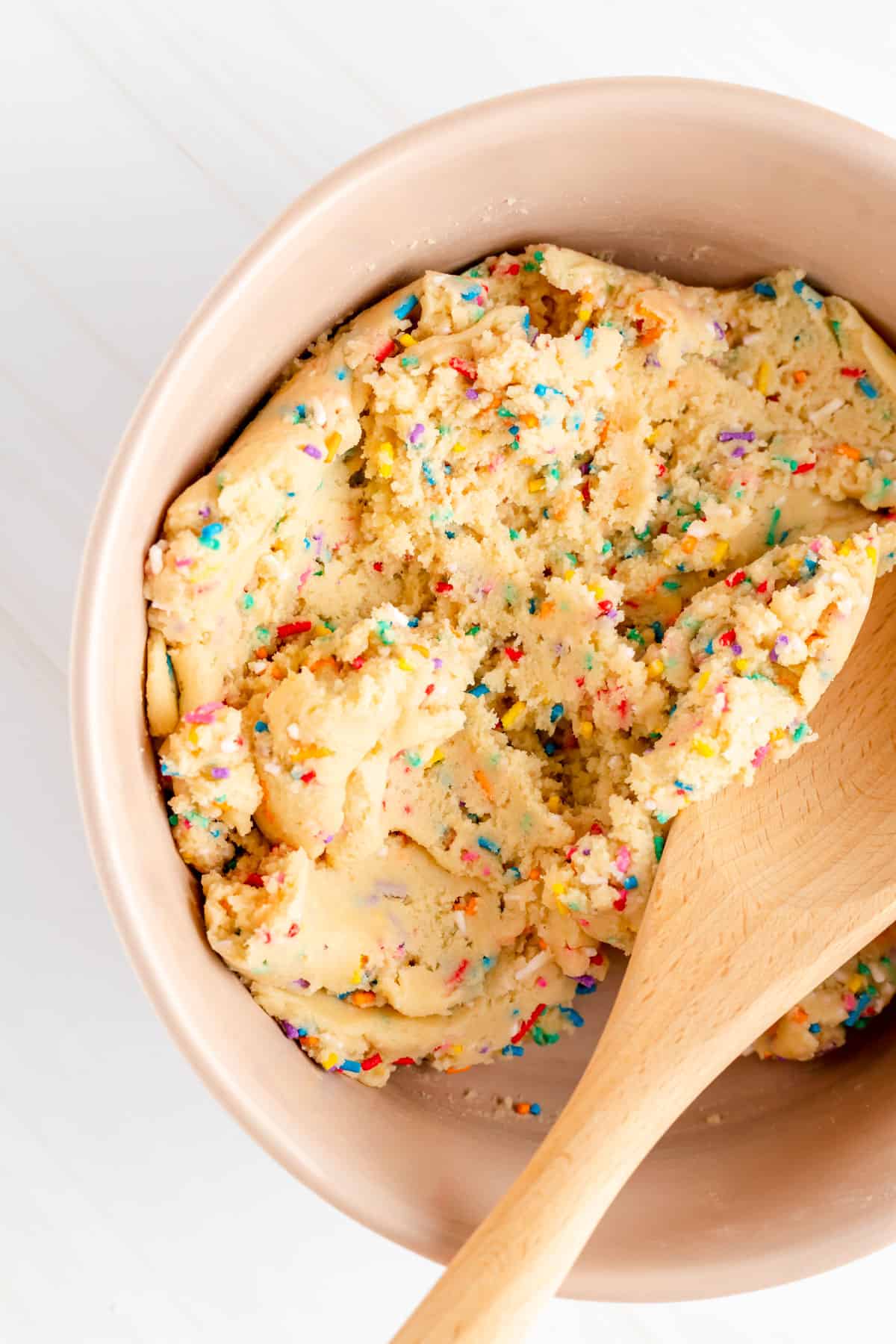 Scoop your cookies into 2" dough balls. Round by hand if needed. Tray on prepared pans, 2" apart.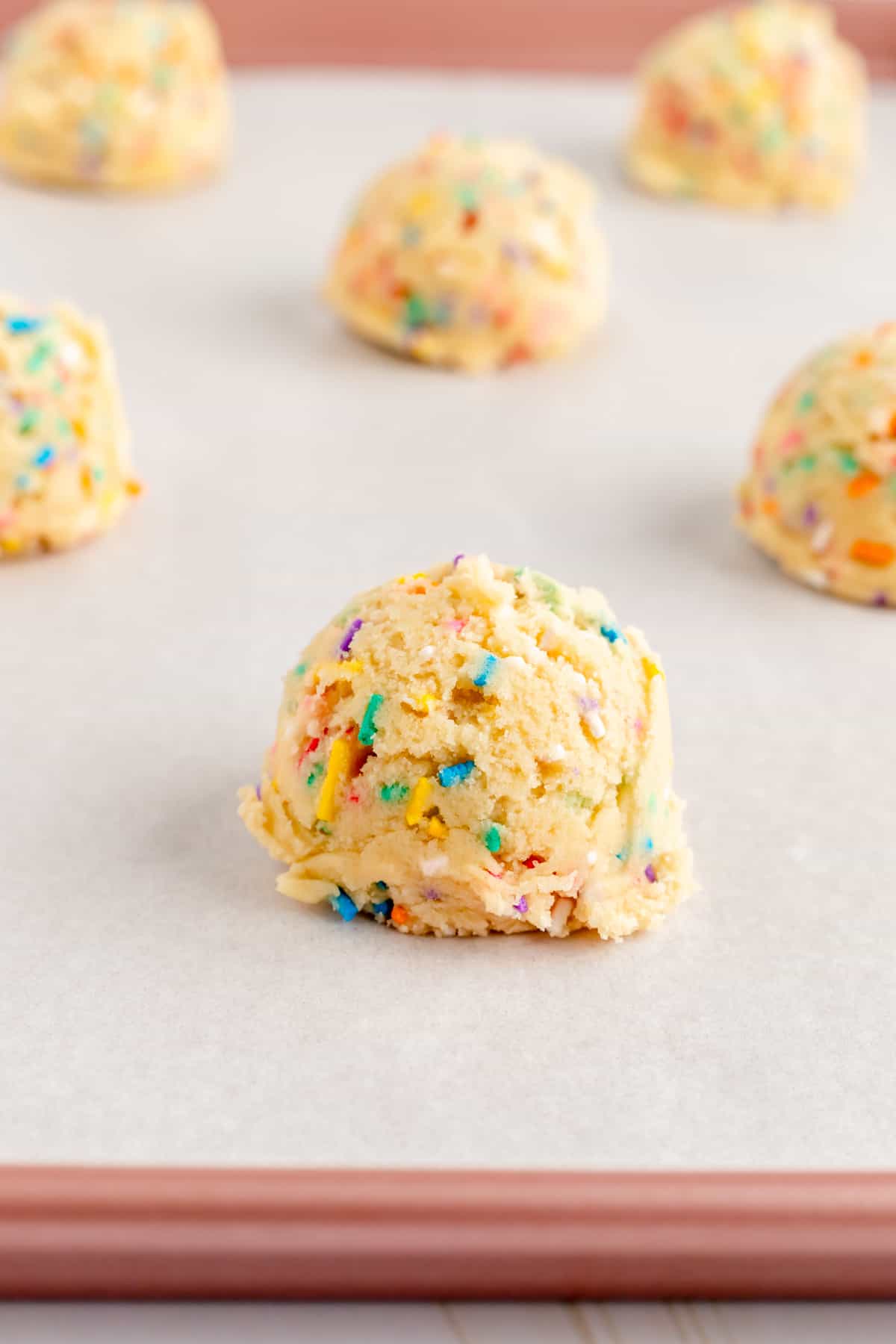 Bake until crackled and just barely golden on the edges. Knock cookies on the counter to settle them right out of the oven.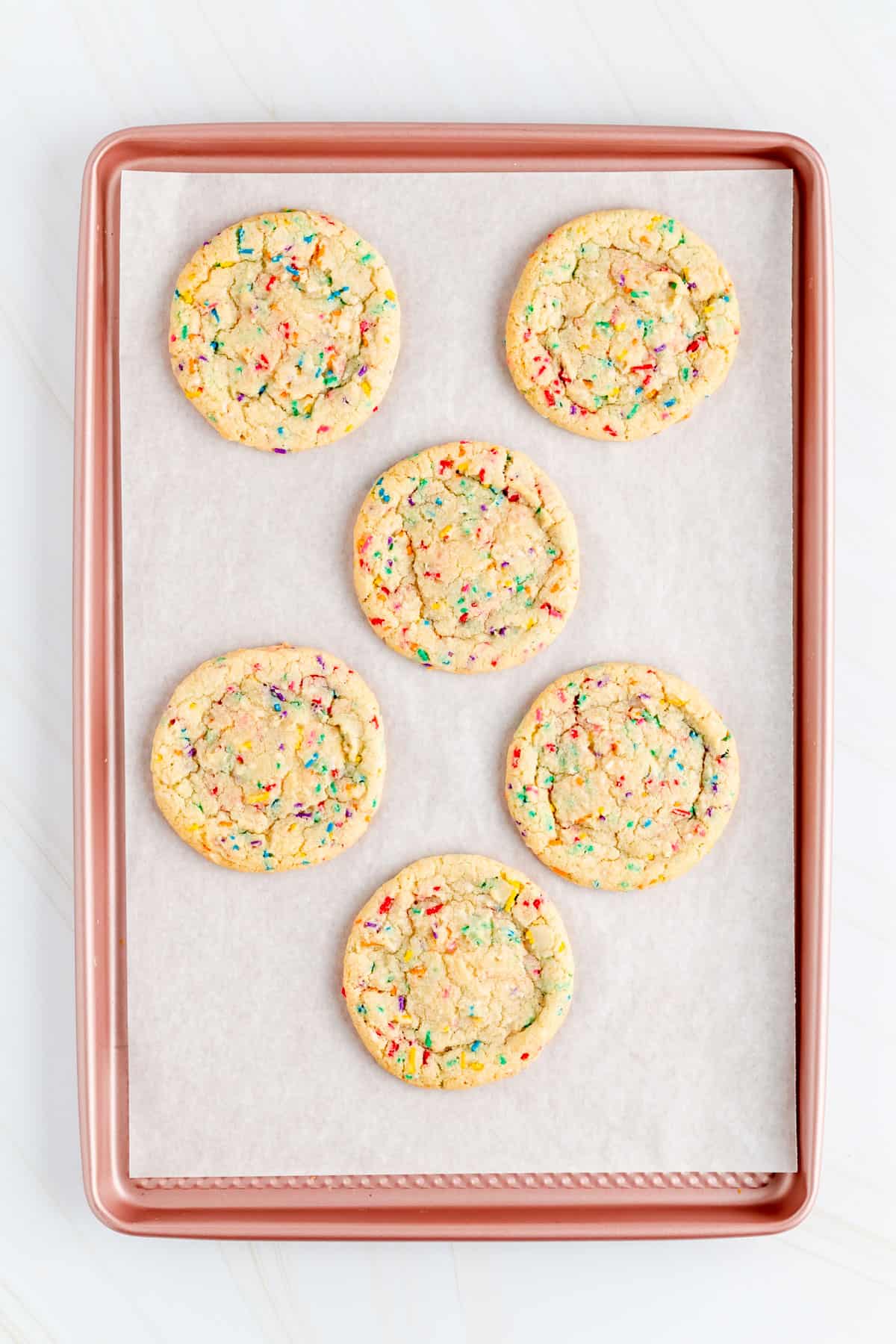 Cool, share, and enjoy these colorful and delicious treats!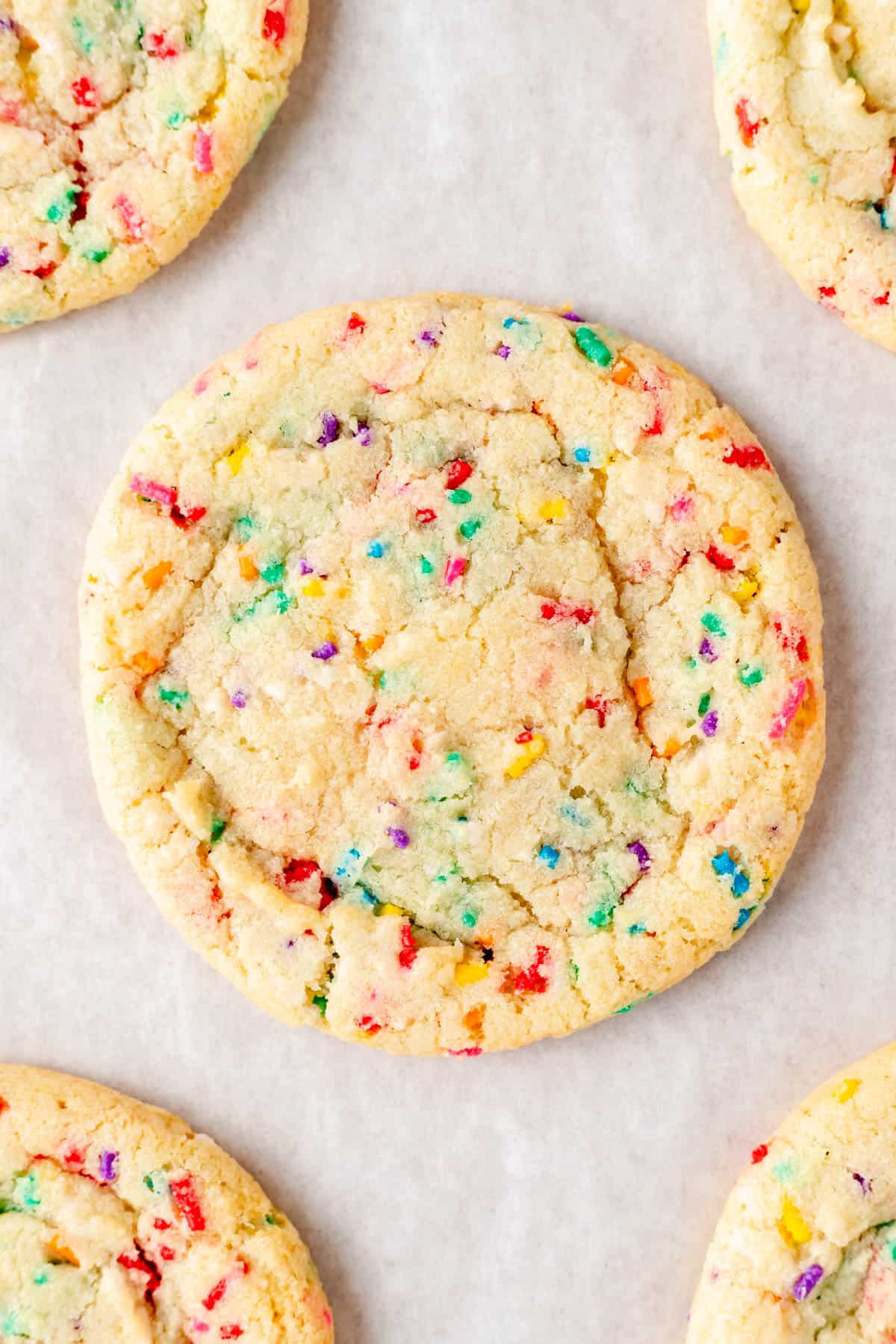 And check out the full RECIPE WEB STORY for a click-through tutorial!
Make This Recipe Your Own
Color to your occasion: feel free to switch up the sprinkle colors to fit your occasion. Whether you're matching the birthday boy or girl's favorite color, or going with an on-theme palette for your holiday party, the sky is the limit for these colorful cookies!
Add a citrus twist: for a fresh citrus note in these cookies, simply add the zest of one lemon or one orange to your butter in the first step.
Add an almond twist: for a hint of almond which is commonly found in sugar cookie recipes, add a ¼ teaspoon almond extract in the first step (with or without the vanilla extract).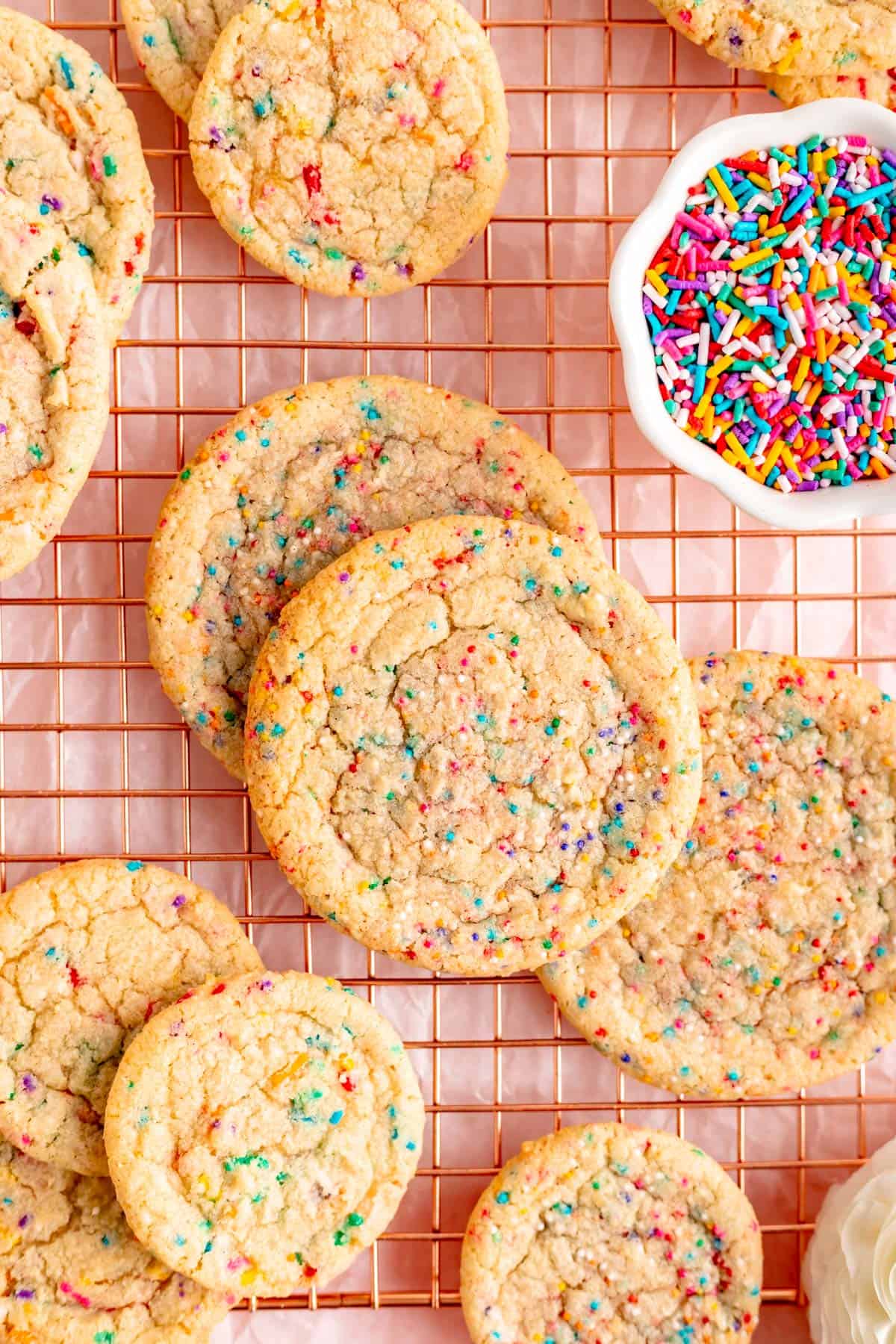 Test Kitchen Tips for Sweet Success
Get the butter fluffy: we want to really beat these cookies well before adding the dry ingredients. Whipping this batter well at the early stages traps air bubbles in your dough that heat up and expand in the oven to help the baking soda and baking powder, and give you that crackly top.
Use stick sprinkles: the stick-style sprinkles work best in this recipe (see ingredient tips above for more on why!).
Knock it when it's hot: hitting the cookies on the counter fresh out of the oven helps collapse their puffy domes and settle the molten batter to give you that nice chewy texture in the centers.
Don't over-bake! We want these cookies to have just a hint of color on the edge so they keep a little doughy-ness that ultimately translates to chewiness in the final cooled cookies.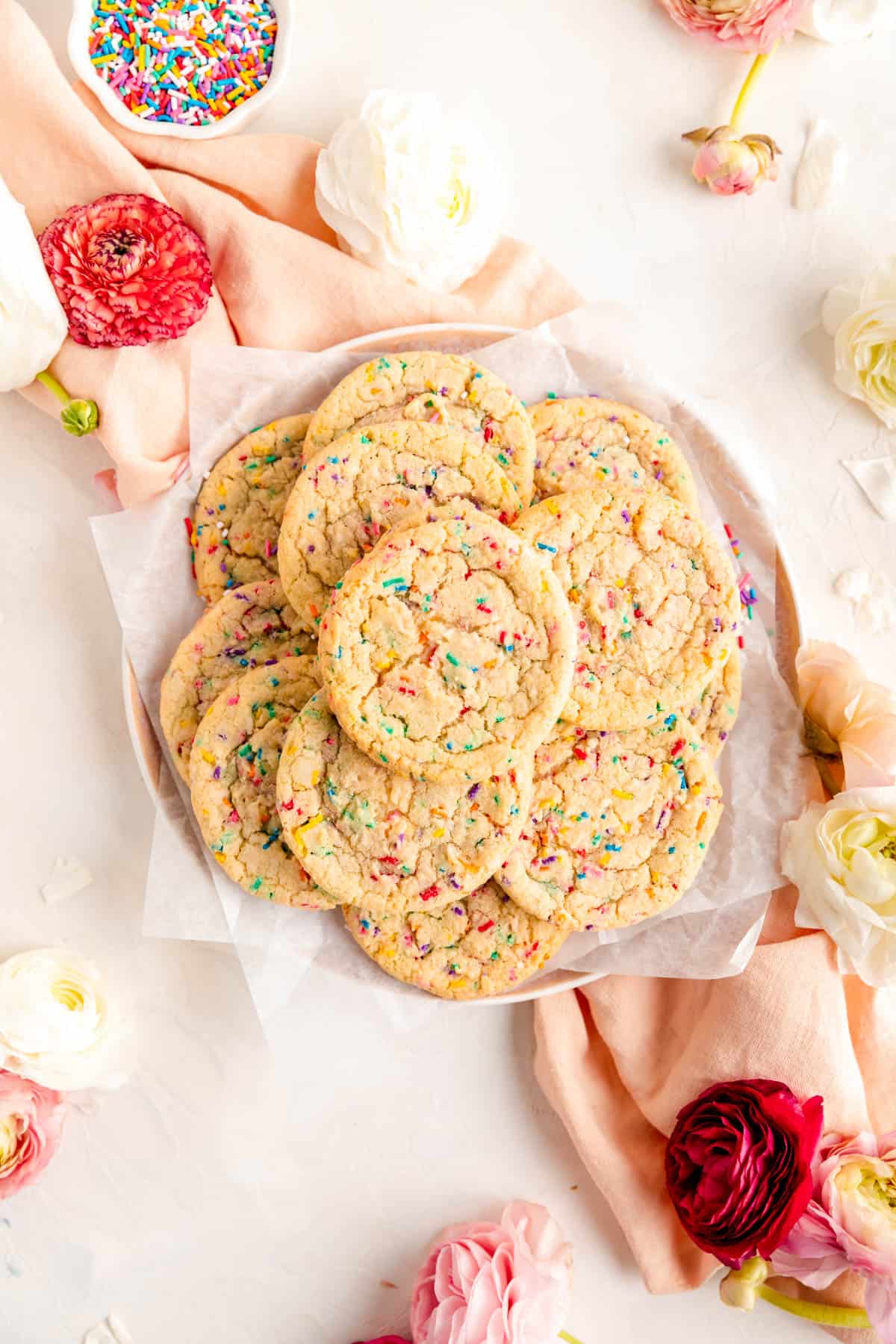 More Tips + FAQs
Can you make these cookies ahead of time? Can you bake them from the freezer?
My personal favorite version of these cookies is mixed and baked fresh, as I find that chewy center and crips edge combo is optimized with a fresh bake.

However, if the timing just doesn't work out, you can make these cookies ahead of time. The scooped dough balls will keep for 2 months in the freezer or 3 days in the fridge. They do bake straight from the fridge or freezer, but the texture will be a little different due to the chill/freeze of the dough (the cookies stay a little taller and will be a little less chewy and more doughy). For best results, thaw the dough to room temperature before baking.

Whether baking from the fridge or freezer, you can still bake them at 350°F. They may just take an extra minute or two to bake starting from a chilled temperature. 

Pull them out whenever you see that hint of golden brown on the edges. They also may stay a bit more domed and not crackle as much as the freshly mixed cookies would (but they'll still be super delicious!).
How do you store leftover cookies? (not that you'll have any!)
These cookies rarely survive more than a day or two in our house (lolz). But, if you do need to store them, keep them at room temperature in an air-tight container for up to a week.

Because of their slightly under-baked centers, these cookies actually keep better than most over a few days which is an added bonus of this recipe!
Are funfetti and confetti cookies the same thing?
Yep! Funfetti is technically a trademarked word, so sometimes you'll see people use confetti in its place. Either way, both words mean you're baking up a sweet treat packed with sprinkle fun!

Can I make these cookies in different sizes?
Yep! There's instructions for both big and mini variations in the recipe, so you can make whichever size works best for you. Both are equally delicious!

What kind of sprinkles should I use?
I actually tested a few types of sprinkles for this recipe, and I definitely prefer the stick-style sprinkles. While you certainly can use the mini round nonpareil sprinkles in a pinch, they tend to dis-color your dough and add a crunch that battles with the soft and chewy nature of these cookies.
---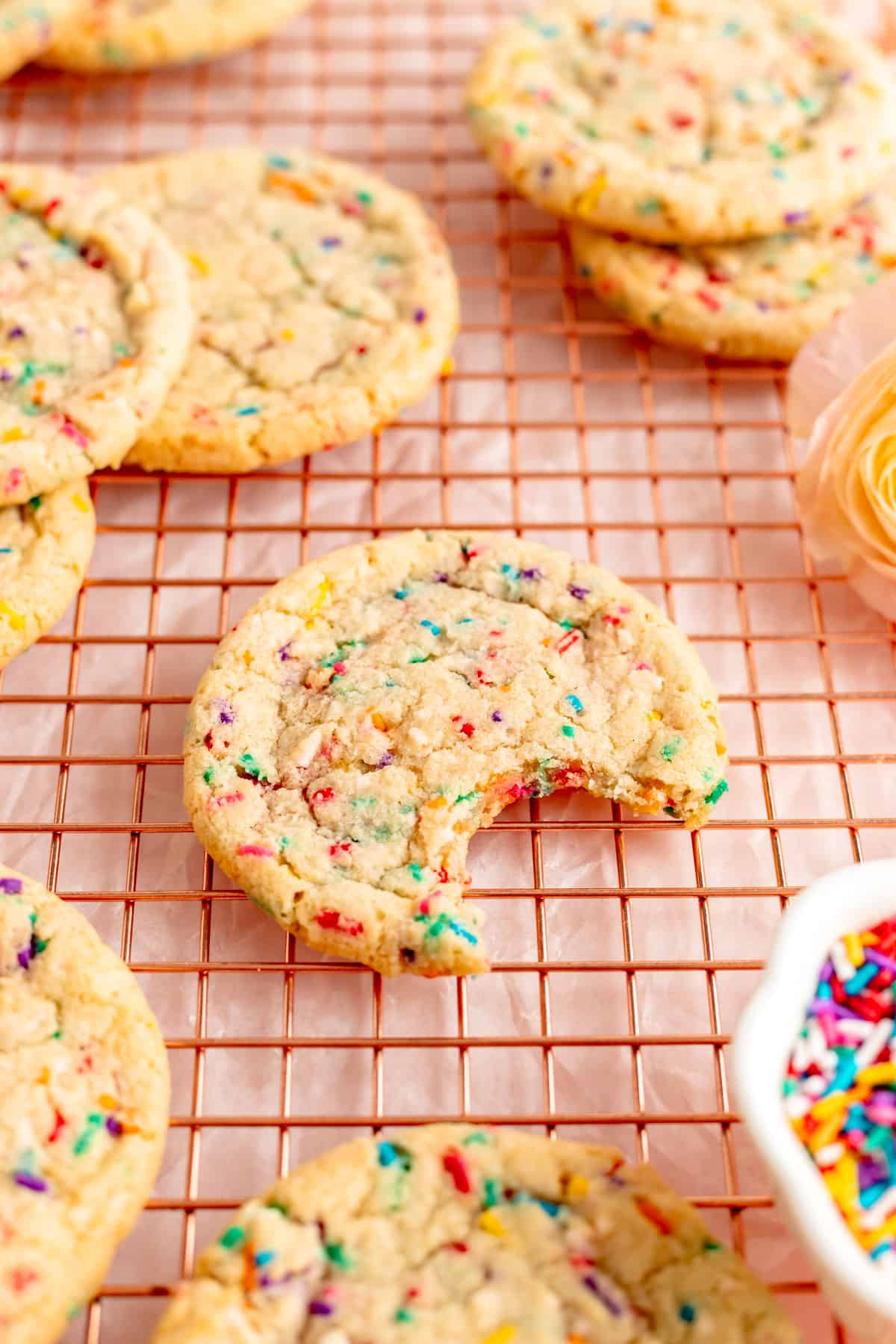 Other Cookie Recipes You'll Love
Craving more delicious treats? For more tasty cookies, be sure not to miss my...
⭐ If you bake up this tasty recipe please give it a ⭐ rating in the recipe card or leave a comment and feel free to ask any questions at the bottom of the page to help others find their way to this sweet recipe too! ⭐
Full Recipe Here!
Funfetti Cookies
This funfetti cookie recipe starts with a classic soft and chewy sugar cookie dough, and packs it with rainbow sprinkle confetti!
Ingredients
½

cup

(1 stick) unsalted butter, softened

1

cup

sugar

1

tablespoon

vanilla extract

1

large egg

1 ¾

cups

all-purpose flour

½

teaspoon

baking powder

½

teaspoon

baking soda

½

teaspoon

salt

½

cup

multi-colored stick sprinkles*1
Instructions
Prep and line: preheat your oven to 350°F and line two baking sheets with parchment paper.

Cream butter, sugars, and vanilla: cream together the butter, sugar, and vanilla extract for 1-2 minutes until very light and fluffy on medium-high speed using a hand or stand mixer.

Beat in the egg: add in the egg and beat for 30 seconds more on medium-high until the batter is smooth, opaque, and slightly fluffy.

Mix in dries: add flour, baking powder, baking soda, and salt, mixing on low speed just until fully combined (be sure to scrape the bowl really well about halfway through mixing!)

Add sprinkles: add in the sprinkles all at once, and mix in by hand or very briefly on low with a mixer, just until they're evenly distributed throughout the dough (if you mix too much here the sprinkles can break down and dye your dough a funny color).

Scoop and tray: scoop dough into rounds using a scant ¼ cup of dough per cookie*2 (an ice-cream scoop works well here for easy portioning!). Roll between your hands to round off into 2" round dough balls (only necessary if you didn't use an ice cream scoop).

Tray and bake: place cookies on prepared trays, at least 2" apart. Bake for 13-16 minutes, just until the edges have a hint of golden-brown, the bottoms have browned and the tops are puffed and crackled, but not fully set. (You do want these cookies to be a little under-baked for the tastiest texture.)

Knock em' down: knock each tray firmly on the counter or stovetop several times immediately after removal from the oven to collapse the dome and get that perfect cookie crackle.

Cool, share, and enjoy: allow cookies to cool as long as you can (so those doughy middles can set up to a perfectly chewy center, and the edges can get deliciously crisp). Then pass around these funfetti festive treats to start the party off on a sweet note!
Test Kitchen Tips
*1Can I use a different kind of sprinkle? While these cookies will still work with the small round nonpareil sprinkles, I prefer the rainbow stick sprinkles both because their color doesn't come off and discolor the dough, and they have a softer texture that works well with these cookies.

 

However, if all you have is the little round sprinkles, you are welcome to use them.
*2Make 'em mini!

 

These cookies are both adorable and delicious as minis.

 

To make minis, scoop dough into 1.5" round balls, using a scant 2 tablespoons of dough per cookie.

 

Then just adjust your bake time to 11-14 minutes.

 
Nutrition
Serving:
1
cookie
Calories:
235
kcal
Carbohydrates:
37
g
Protein:
2
g
Fat:
9
g
Saturated Fat:
5
g
Polyunsaturated Fat:
0.4
g
Monounsaturated Fat:
2
g
Trans Fat:
0.3
g
Cholesterol:
34
mg
Sodium:
167
mg
Potassium:
29
mg
Fiber:
0.5
g
Sugar:
23
g
Vitamin A:
256
IU
Calcium:
17
mg
Iron:
1
mg
⭐ Did you bake up this tasty recipe? ⭐
Please give it a ⭐ rating in the recipe card or leave a comment at the bottom of the page to help others find this sweet recipe - I'd so appreciate it! Xo, Jocelyn

---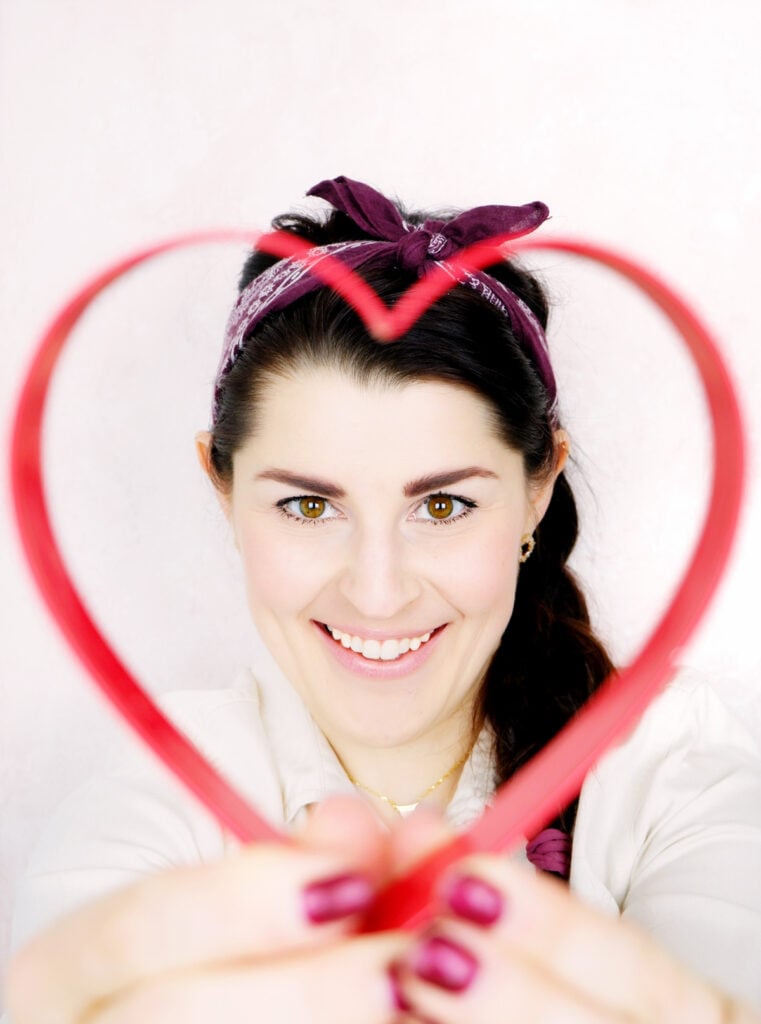 I hope you and your loved ones enjoy this recipe and when you give these a try, please share (literally and electronically!) and tag me on Instagram or Facebook @mint.and.mallow.kitchen so I can see all your amazing sweets and help you with any baking conundrums that come up!

Love, light and sweets always,
Jocelyn

This website contains Amazon affiliate program links. This means that I earn a small commission on qualifying purchases at no additional cost to you. I will never provide a link to nor recommend any product or service that I don't genuinely love or personally use. Thank you for supporting MINT + MALLOW kitchen and the brands that keep this blog running.
---
Are you ready to learn how to bake everything better?
Check out our lesson collections to learn how to play and develop your own recipes in the kitchen, so we can help you take all your bakes to the next level!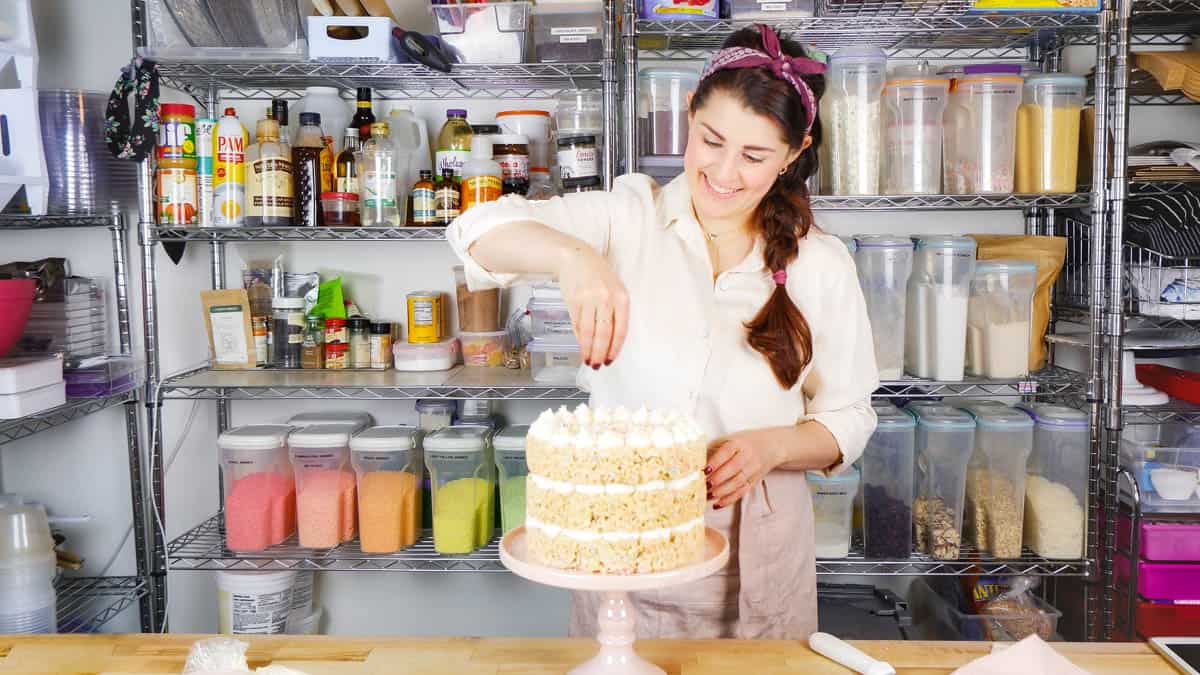 ---