---
This easy snickerdoodle recipe without cream of tartar has a quick and simple prep, requires no chill, and leaves you with soft, cakey, perfectly spiced cookies that have all that snickerdoodle nostalgia with a lot less of the old-school fuss!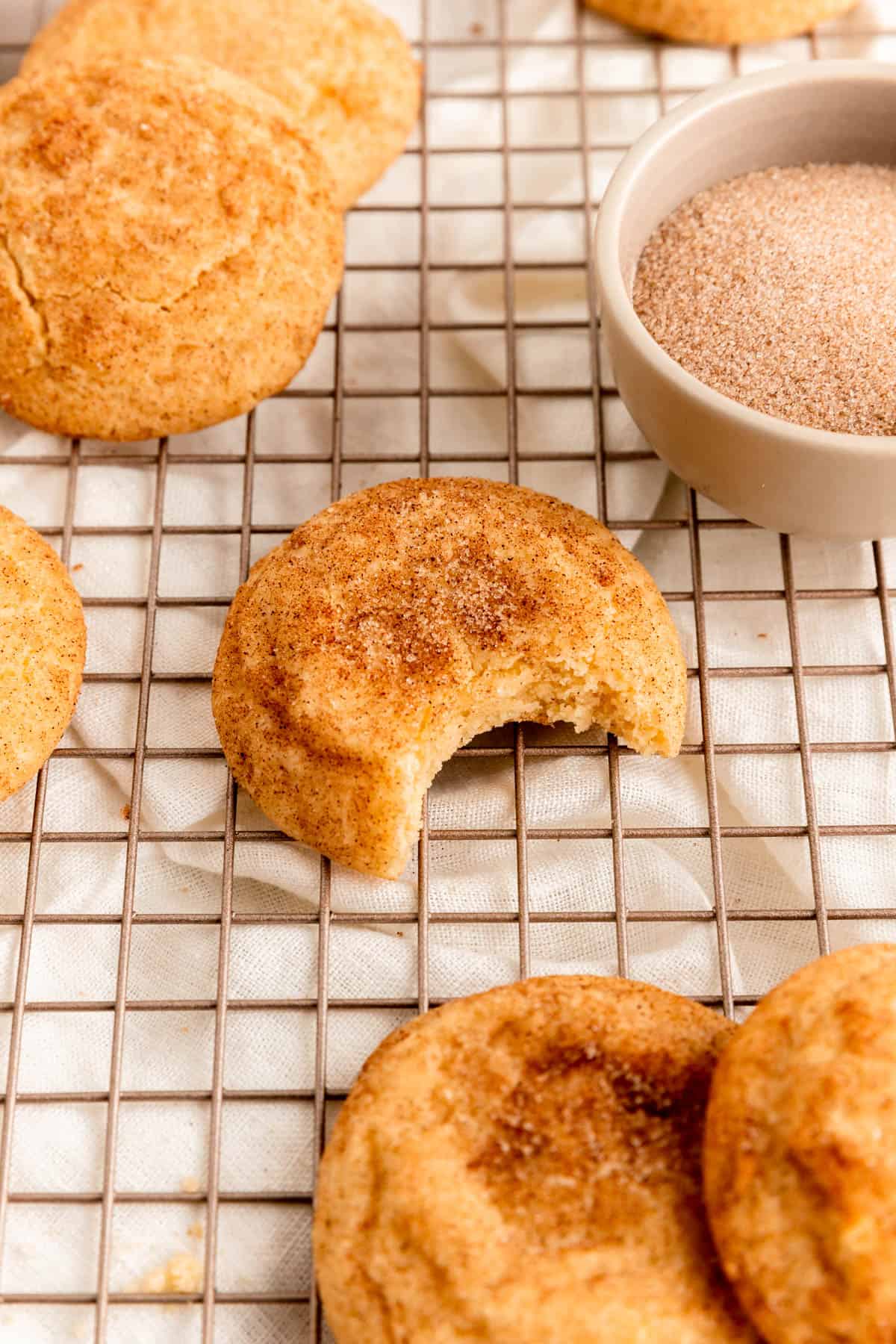 Jump to:
The BEST Snickerdoodles
The first thing you need to know about this recipe is that I'm not kidding when I say I did a loooot of testing to bring you the best snickerdoodle cookies without cream of tartar a baker can make.
They had to be delicious (of course), evoke that "grandma just baked these up with all the love" nostalgia, but still be as easy as possible to prep without compromising quality.
So I removed that cream of tartar that no one ever seems to have around, and made these snickerdoodles with baking powder instead (more on how that works below!).
Needless to say, the end result is a delightfully soft, cakey, and tender cookie that can be ready in under an hour. AND they're made with simple ingredients that you already have around the house!
No chill, no fuss, no super soft and sticky doughs or pancaked cookies here. Just the perfect sugar and spice delight that will become your new go-to cookie recipe in no time.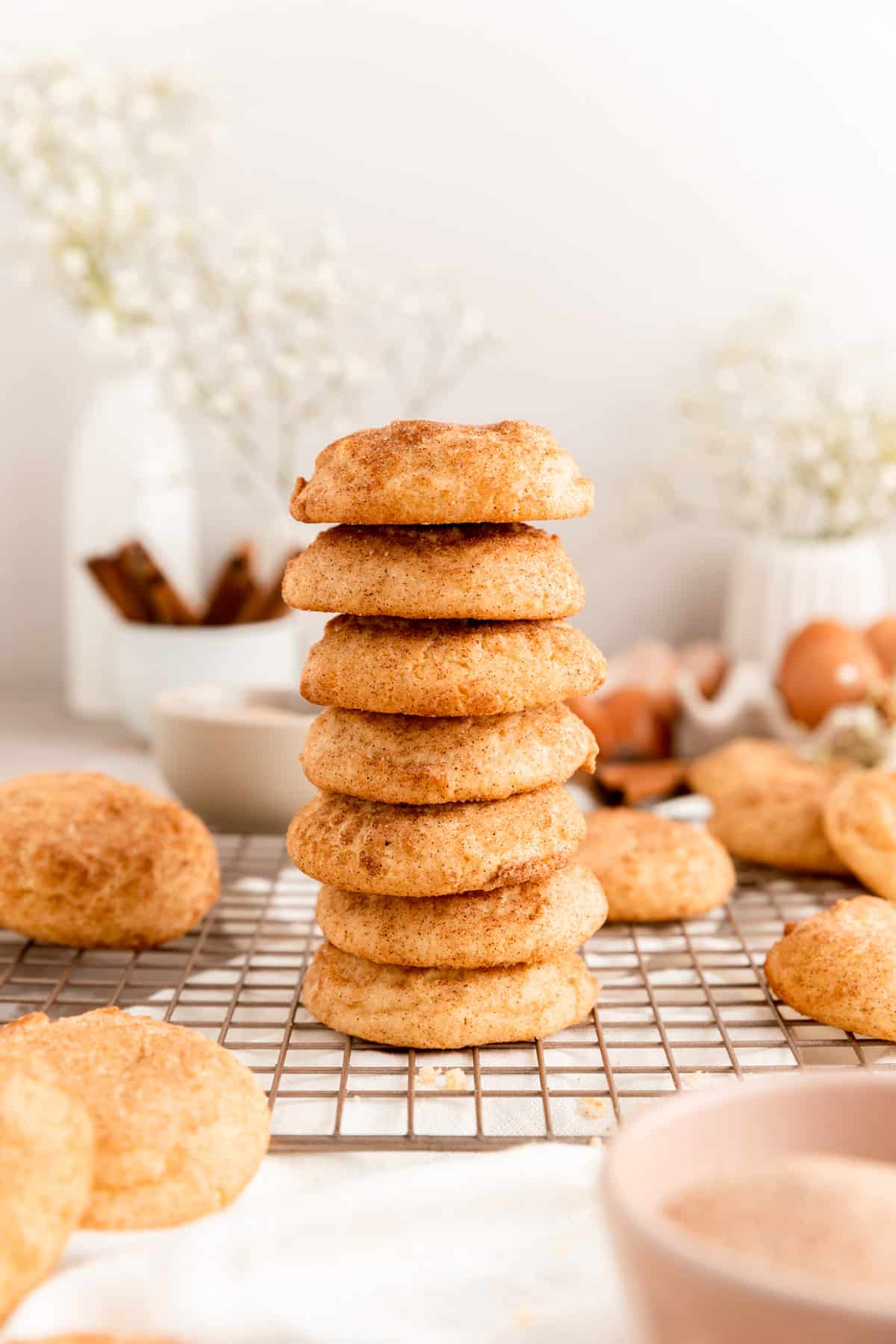 Sooo, how can you make a snickerdoodle recipe without cream of tartar?
Let's start at the beginning - you're probably wondering, what is cream of tartar?
Well, a very simple explanation is that it's a by-product of winemaking that once processed, functions as an acidic powder in our recipes.
But what does cream of tartar do in snickerdoodles?
Typically, cream of tartar would function as part of the leavening system. More specifically, it would be the "acid," that reacts with something "basic" (like baking soda). That reaction would form gases during the bake that make our cookies puff up and rise into beautifully domed delights. (Here's a bunch more info on leaveners and how they differ in case you're curious.)
So how do these cookies still rise so nicely with only a "single" leavener of baking powder?
Because baking powder actually contains both the "acid" and the "base" in one ingredient! Therefore by using baking powder, we eliminate the need to add an additional acid with cream of tartar, but still get a lovely domed cookie after our bake.
Ingredient Tips for Better Baking
(Pssst…if you're ready to just get baking, get all the details in the recipe card below!)
---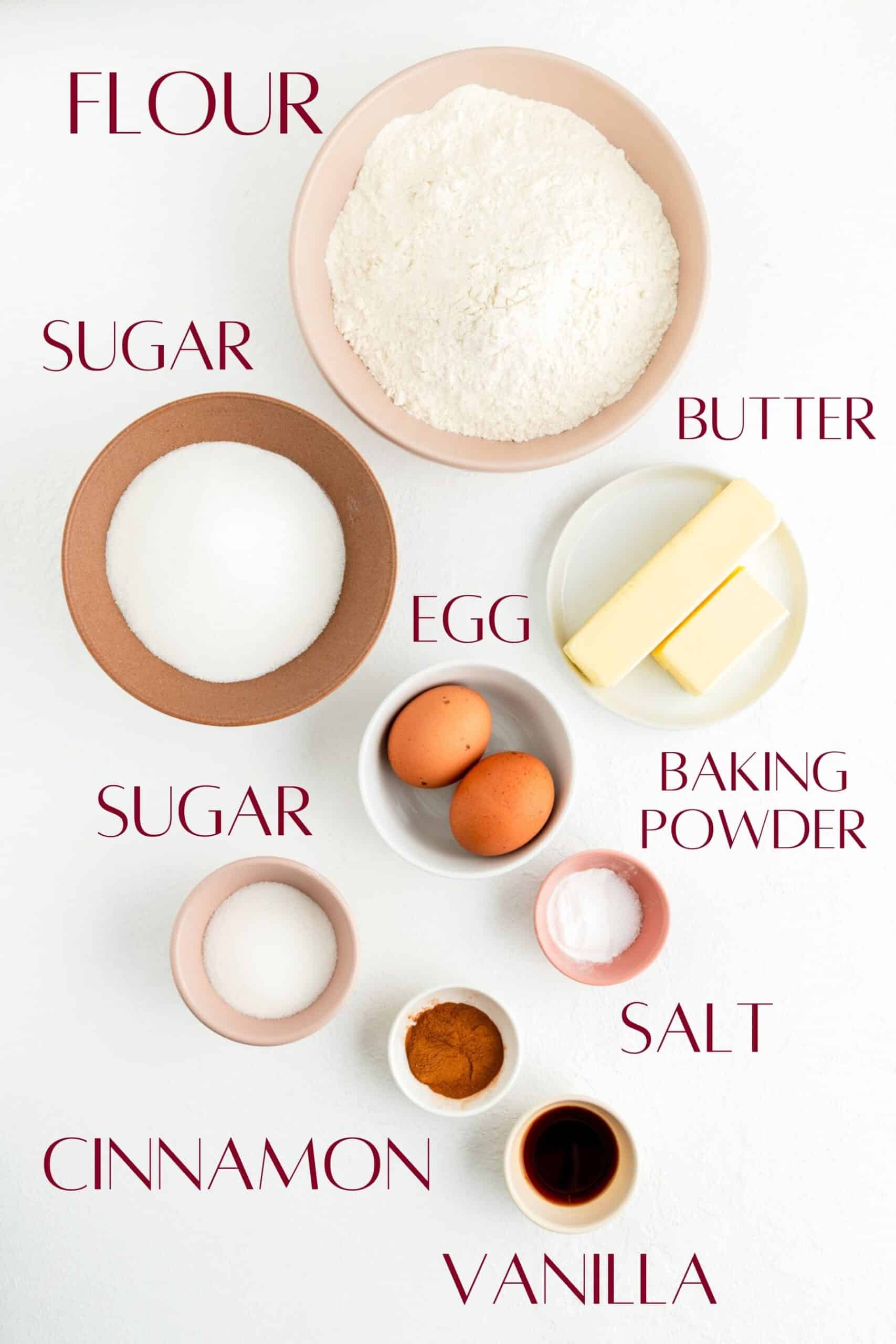 Butter: we're using a lot of butter in these cookies to keep them nice and tender so make sure it's unsalted.
Eggs: this recipe has twice the egg amount I typically use in my cookies. That extra egg helps to give us a cakier, tender cookie. It also keeps the dough stickier so the cinnamon and sugar coating adheres well.
Baking Powder: making these cookies with baking powder instead of baking soda makes it possible to have a recipe for snickerdoodles without cream of tartar. Baking powder helps cookies spread "up" while baking soda helps cookies spread "out." So the baking powder leavening system also helps keep us in the "cakey" instead of "chewy" world.
Cinnamon: because there's a lot of cinnamon in the coating for these cookies, I like to use a sweeter,

more-mild cassia cinnamon

, as opposed to a Vietnamese cinnamon which has a bit of heat to it, sort of like Red Hots candy. I always thought of snickerdoodles as a lightly spiced butter cookie. I want you to be able to taste the buttery goodness through a more subtle spice. However, if you like that strong cinnamon heat, feel free to use that spicier Vietnamese cinnamon in the coating for a little extra kick.
(p.s. for all the basic tips that no one ever taught you, that are super important to help you bake your best, check out my Baking 101 series!)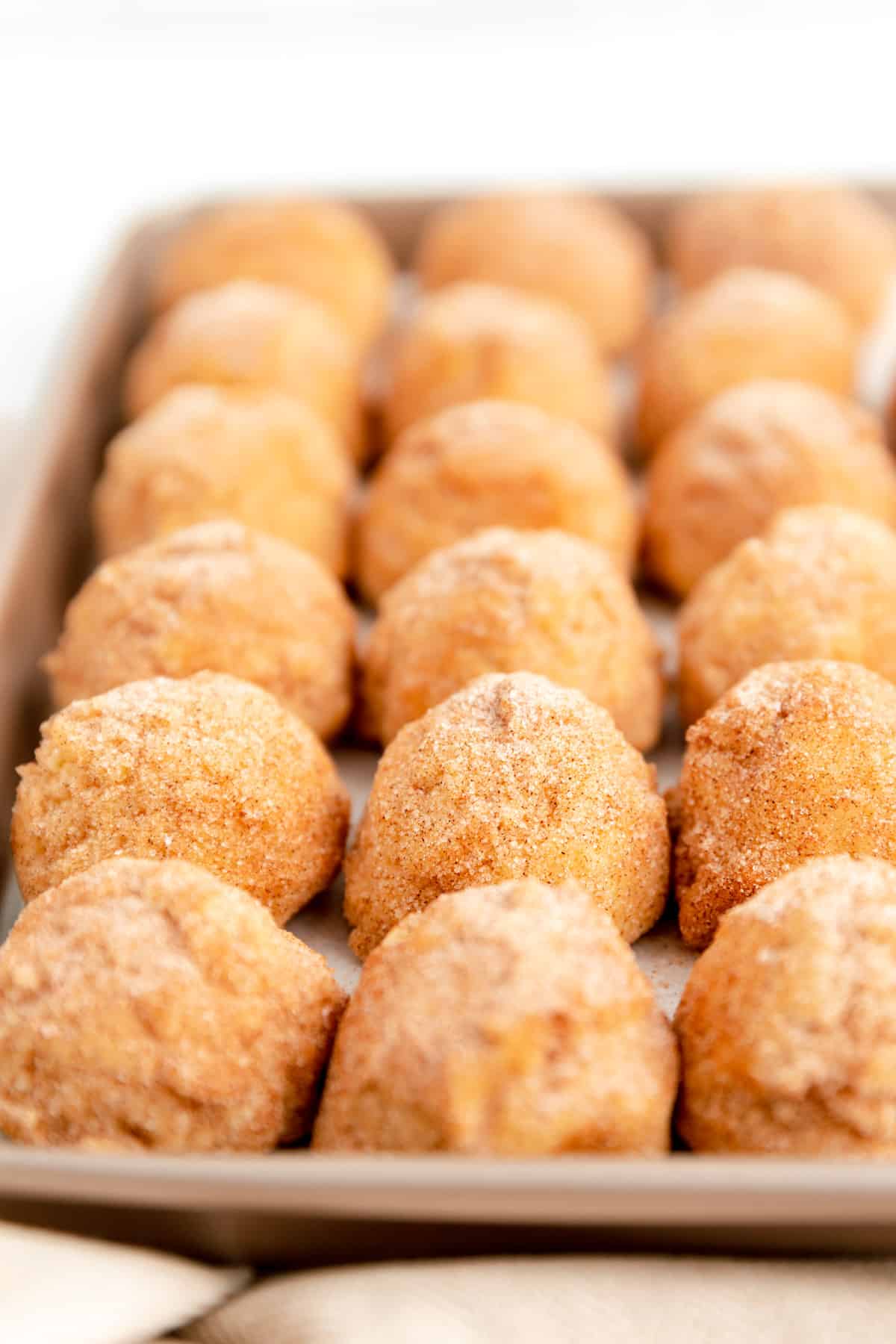 Special Tools You'll Need
Hand or stand mixer

: you'll need a mixer to get your butter and sugars light and fluffy, and to fully incorporate that high ratio of eggs
1.5" ice cream scoop

: a scoop is optional, but helpful for quick, even cookie portioning, especially because this is a softer dough
How to Make These Cookies from Scratch
(Pssst…if you're ready to just get baking, get all the details in the recipe card below!)
---
Preheat your oven and line your baking pans.
Cream together the butter, sugar, and vanilla extract. (More on why you want to add the vanilla early in this lesson on butterfat!)
Beat in the eggs.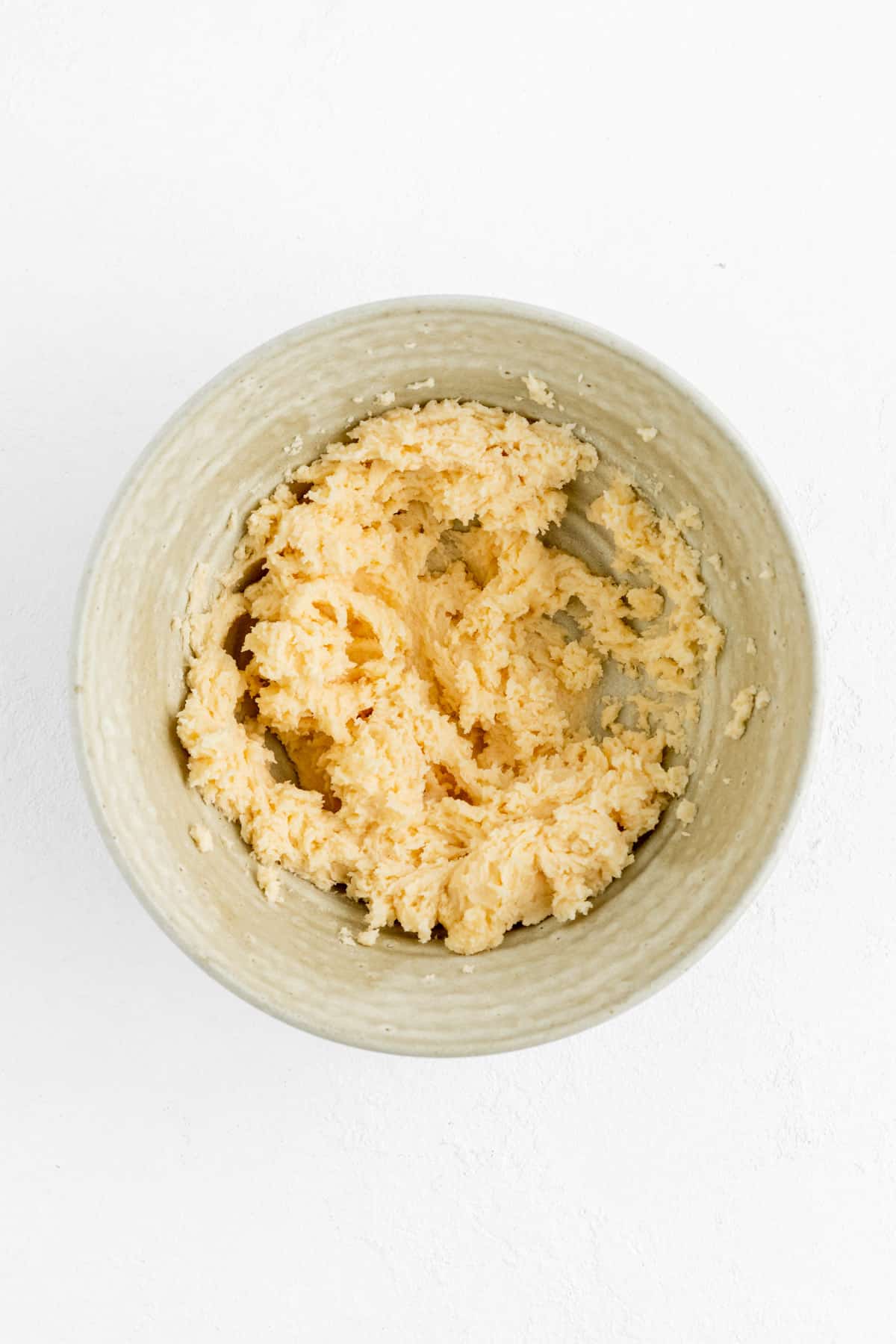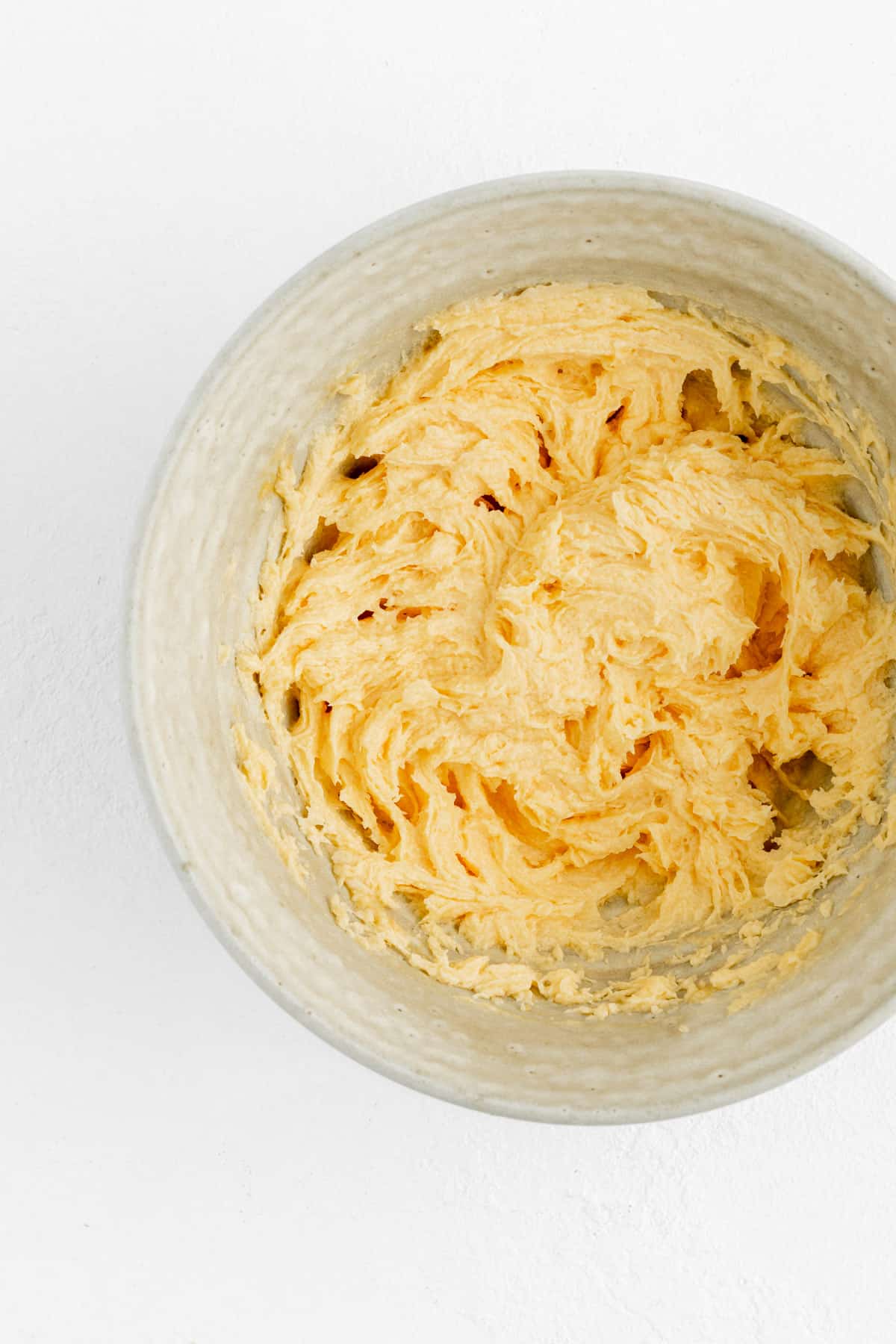 Mix in the dry ingredients, just until combined.
Combine cinnamon and sugar.
Scoop your cookies into 1.5" dough balls. Round as needed, then coat in cinnamon sugar.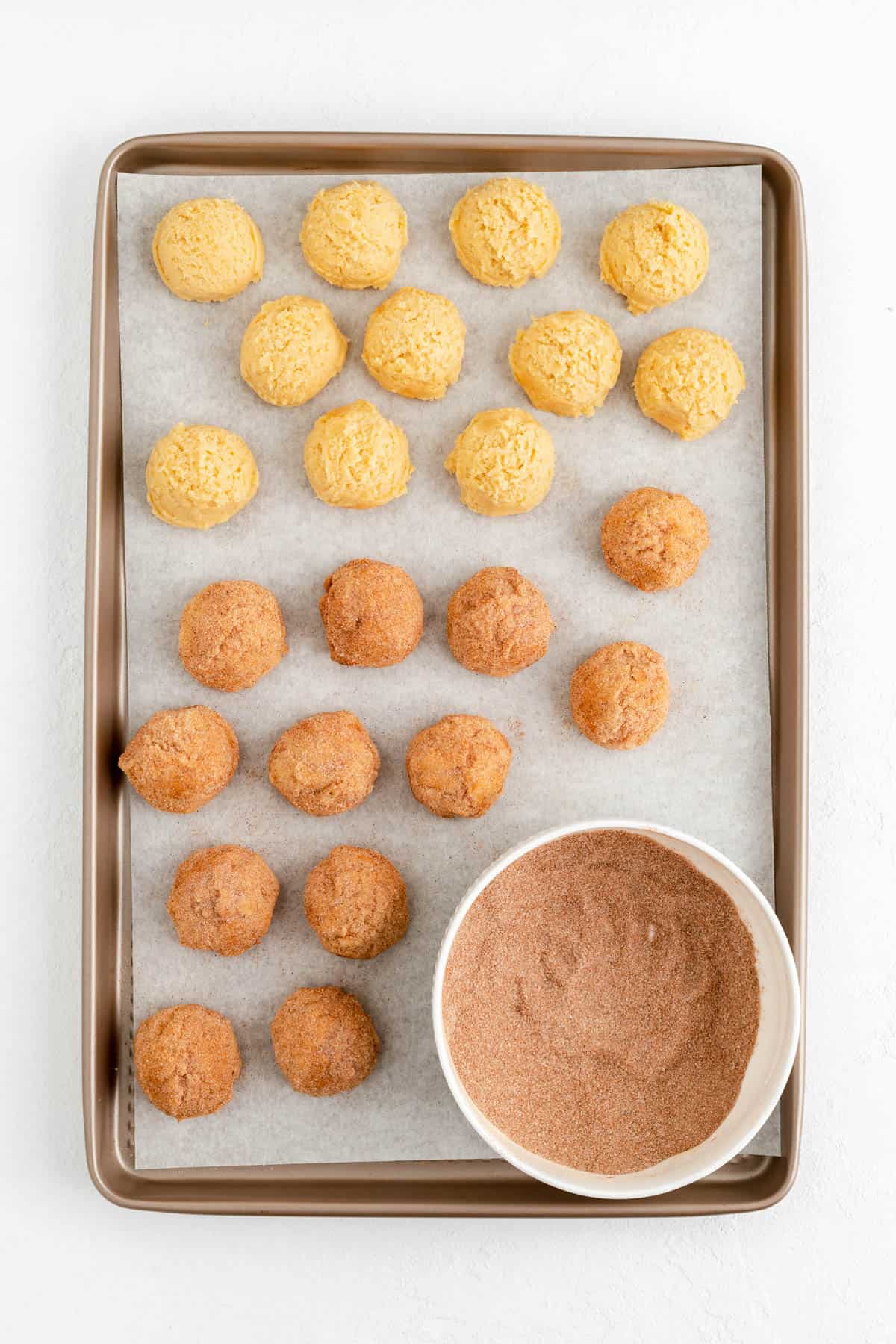 Tray on prepared pans and bake until dry on top and almost set. We want these cookies a little underbaked for that nice chewy texture.
Cool, share, and enjoy these sugar and spiced treats!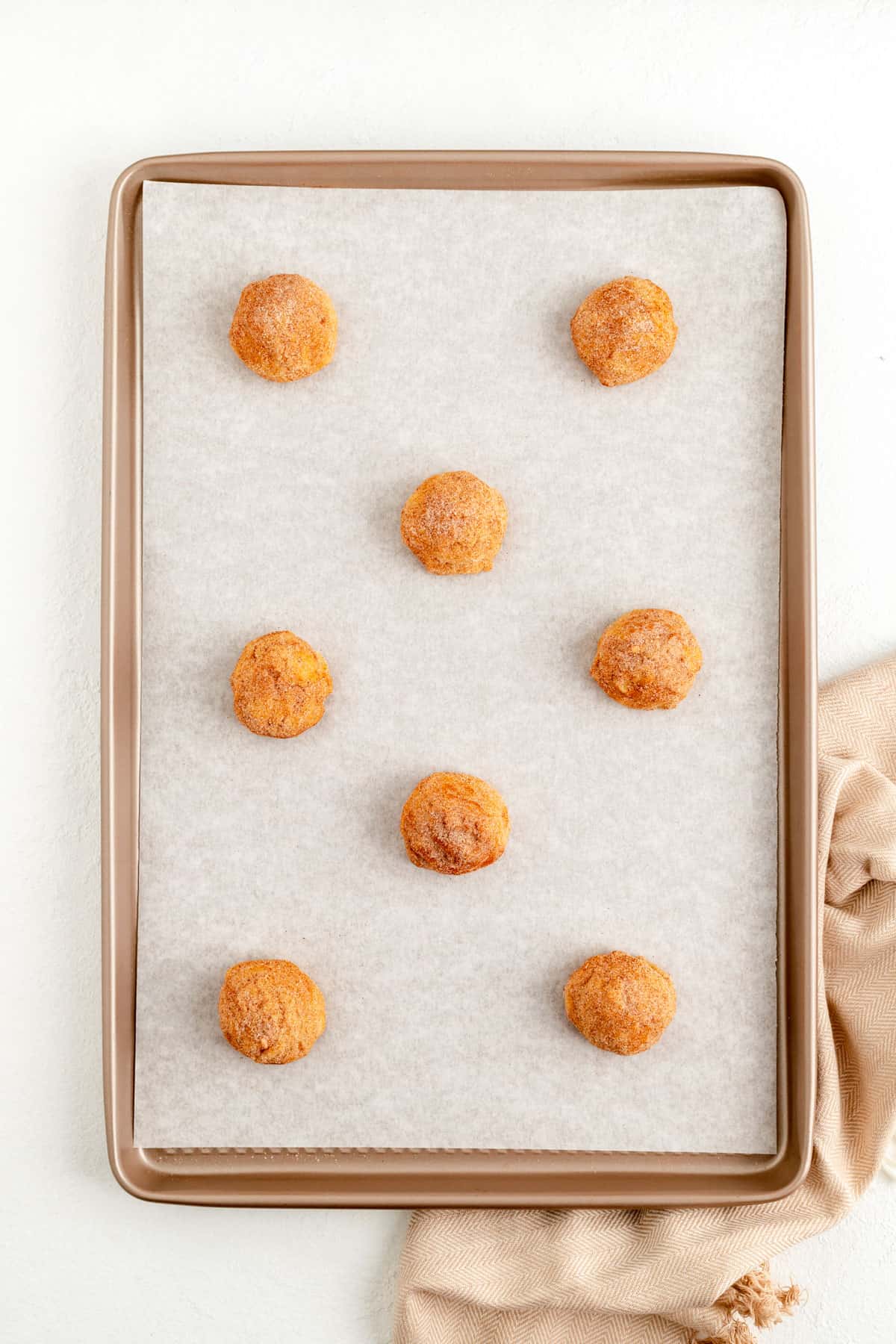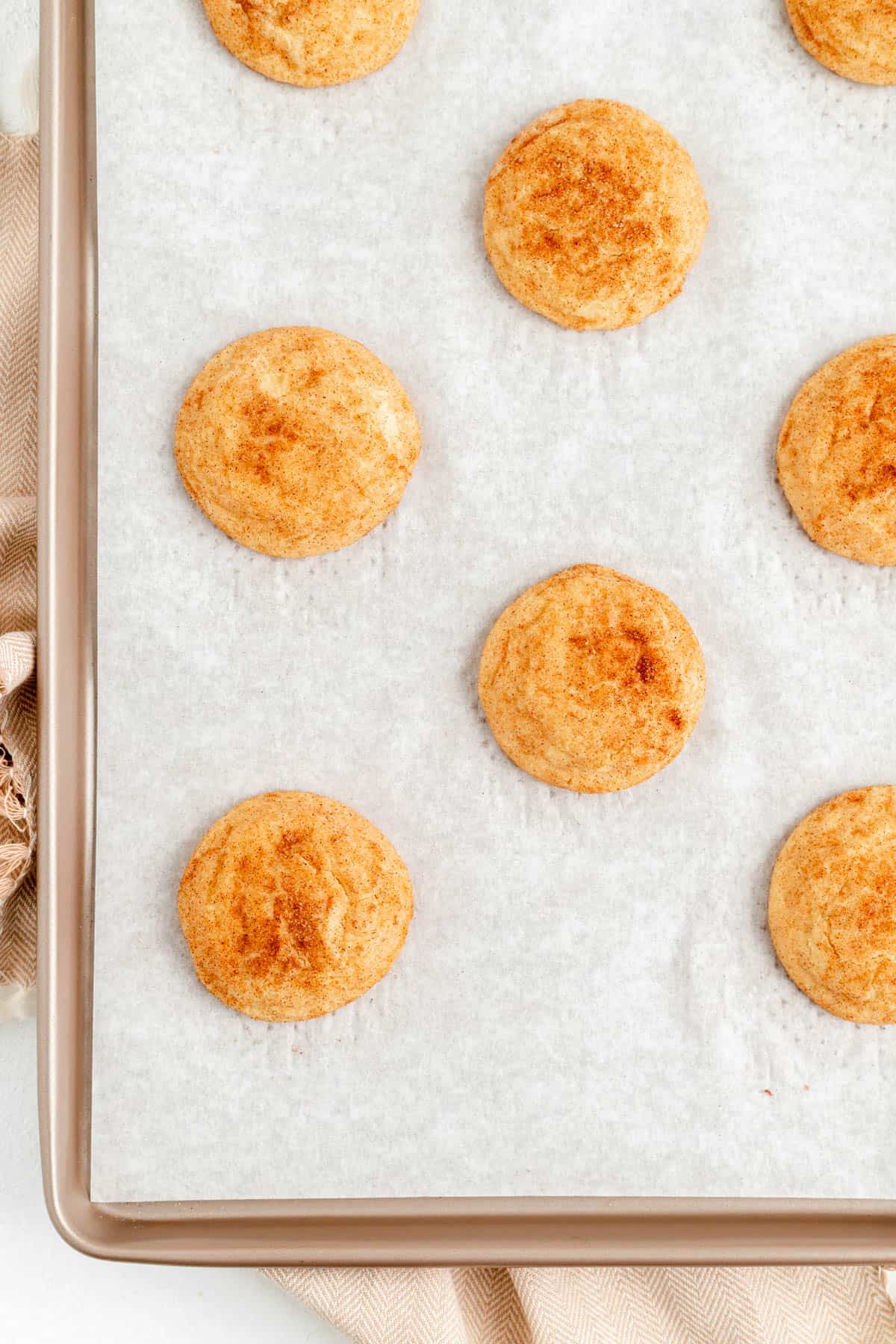 Check out my quick video of these steps in action on Instagram, or head over to the full RECIPE WEB STORY for a click-through tutorial!
Test Kitchen Tips for Sweet Success
Don't overbake! Because these cookies are on the cakier side, we want to make sure we don't overbake them or they can dry out quickly. See the FAQs section below for tips on how to know when they're done!
Roll in coating immediately: cookie dough can dry out pretty quickly. So I highly recommend rolling your dough balls immediately after you scoop one or two for maximum stickability (and yes...that's actually a real word!). If you scoop all the dough, then go back to coat it, the surface can dry out and make the sugar less likely to stick.
Get the butter and eggs nice and fluffy: we want to really beat these cookies well before adding the dry ingredients. If we beat the dough with the flour in there, it can toughen up the gluten and our final cookies. Whipping the butter well at the early stages traps air bubbles in your dough. Those air bubbles then heat up and expand in the oven to help the baking powder with the rise, and give you that crackly top. Also, since we have more egg in this batter than your typical cookie, you'll want to make sure all that liquid is fully incorporated before moving on to adding the flour.
Use a scoop: while not required, you'll find an

ice cream scoop

to be very helpful for these cookies. It will allow you to evenly portion and form this softer dough, let you skip rounding the dough balls by hand, and produce much rounder cookies than scooping with a dinner spoon as well.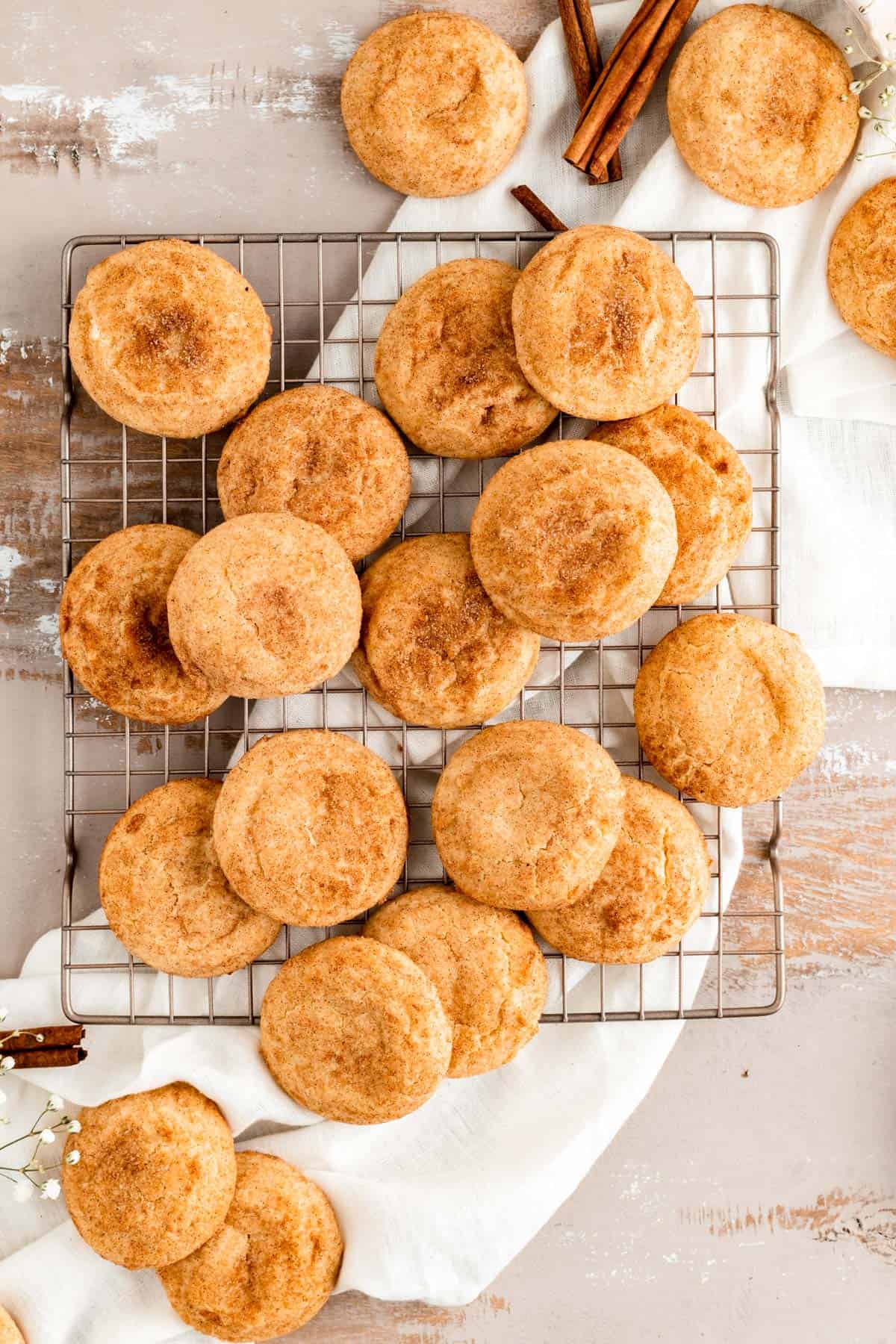 More Tips + FAQs
Can you make these cookies ahead of time? Can you bake them from the fridge or freezer?
While these cookies are best baked just after mixing at room temperature, you can bake them directly from the fridge or freezer in a pinch.  Just know that doing so will make the cookies spread less and will yield slightly doughier, less cakey middles.

You can chill scooped dough balls for 1 month in the freezer or 3 days in the fridge. When baking chilled or frozen dough balls, you'll need to increase your bake time to 12-15 minutes.

If you have time, I highly recommend you pull your chilled dough out 2-3 hours before baking and leave it on the counter to thaw to room temperature. That will get you closer to the original, just-mixed texture, in which case you'd bake your cookies for the original 10-12 minutes.
How do you store snickerdoodles?
These cookies rarely survive more than a few days in our house (facts lol). But, if you do need to store them, keep them at room temperature in an air-tight container for up to a week.

What's the difference between snickerdoodles and sugar cookies?
I think this answer is really going to differ from baker to baker and cookie lover to cookie lover, but my personal opinion is that these two cookies differ in both texture and flavor.

In terms of flavor, you of course have the cinnamon spice in snickerdoodles that you won't find in sugar cookies. I also prefer my snickerdoodles with a higher ratio of butter which translates into a more noticeable buttery flavor than you'll find in a standard sugar cookie.

Now there are a million and 1 different types of sugar cookies, but my favorite is the thin, bendy, chewy, crackly kind. This really contrasts the tall, light, and cakey texture of these snickerdoodles.

These textural differences are due to a higher ratio of sugar in sugar cookies, and a higher ratio of eggs in snickerdoodles, in addition to the fact that the two cookies use different leavener systems as well.
How do you know when snickerdoodles are done?
With snickerdoodles, the cinnamon coating can obscure the usual golden color cues we use to tell when cookies are ready. So what's a baker to do?

1. Firstly, follow the bake time. Typically I recommend taking the bake time as a bit more of a suggestion than a rule because every oven is different. However, as long as you know your oven temperature is accurate, and you size the cookies as directed in the recipe, 10-12 minutes will be the perfect bake time for these cookies.

2. In terms of sensory cues, you'll want to gently touch the tops of the cookies. They should feel completely dry, although they may still be soft and not quite fully set (a touch underbaked is actually okay for these cookies and keeps them from drying out).

3. Smelling your cookies is also a good indicator they're close to done. (That smell is actually aromatic molecules being released from your product into the atmosphere, which typically only happens late in the baking process.)

4. The bottoms of the cookies should also be a medium golden brown (darker than the tops) as shown in the picture below.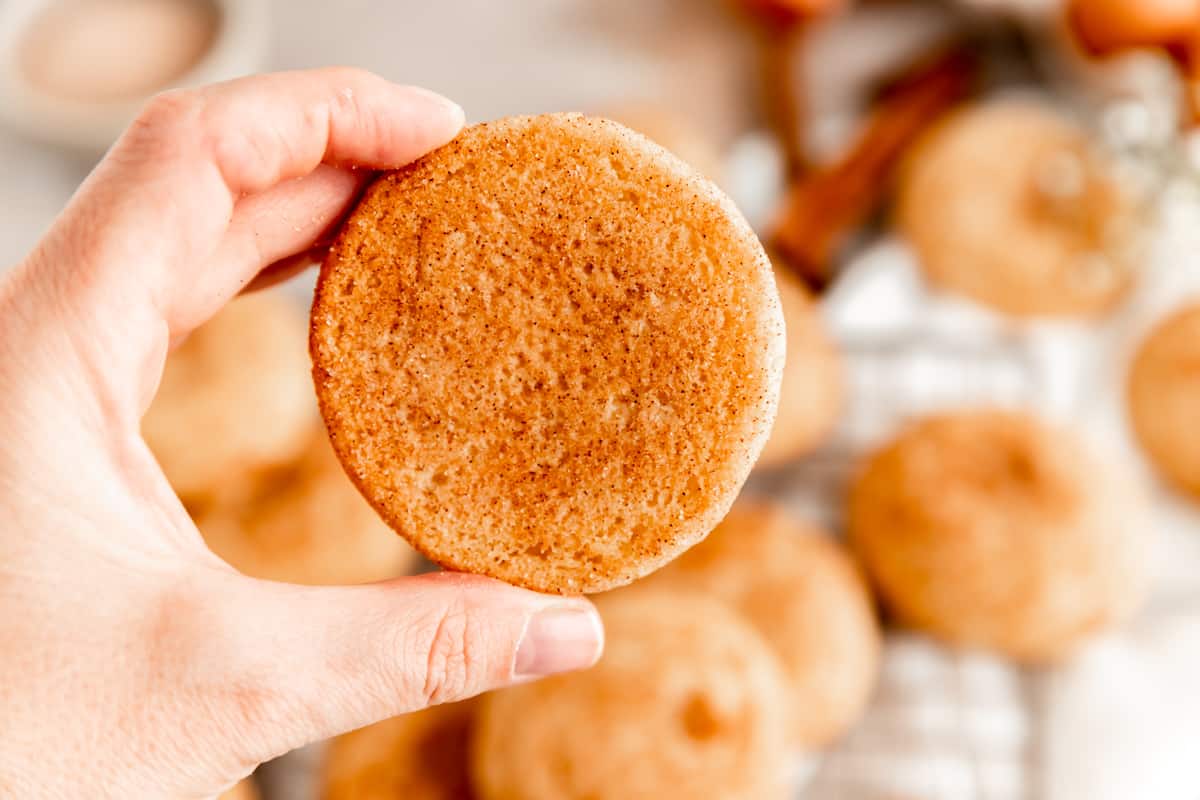 Can I substitute baking soda for baking powder in this recipe?
As discussed above baking soda has fewer components than baking powder, so they are not interchangeable.

Baking powder tends to go up while baking soda tends to go out. As such, I don't recommend using baking soda here, as it'll not only significantly affect the texture and shape of the cookies, but will also likely have a soapy taste at the level we're using in this recipe.
---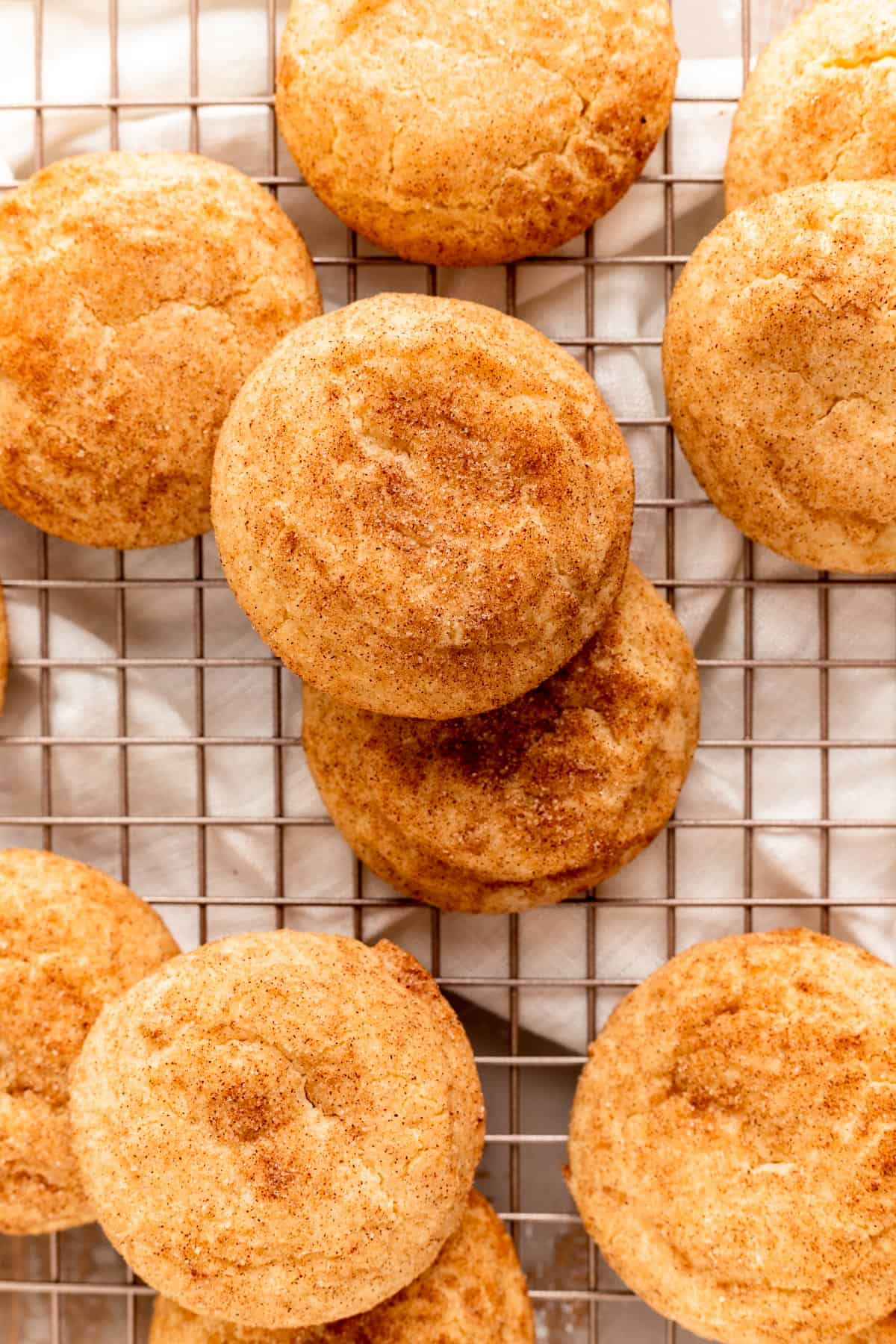 Other Recipes You'll Love
When it comes to other classic cookies, don't miss these favorites: Sea Salt Chocolate Chip Cookies, Double Biscoff Butter Cookies, Classic Chewy Sugar Cookies, Double Chocolate Chip Cookies, and Marshmallow Chocolate Chip Cookies.
And if you're looking for more cinnamony goodness, be sure to whip up a batch of my, rich Oreo Cinnamon Rolls mash-up, light and fluffy Cinnamon Donut Muffins, Quick & Easy Cinnamon Streusel Muffins, Pumpkin Whoopie Pies with Cinnamon Cream Cheese Filling, and my Cinnamon Streusel Apple Hand Pies as well!
⭐ If you bake up this tasty recipe please give it a ⭐ rating in the recipe card or leave a comment and feel free to ask any questions at the bottom of the page to help others find their way to this sweet recipe too! ⭐
Full Recipe Here!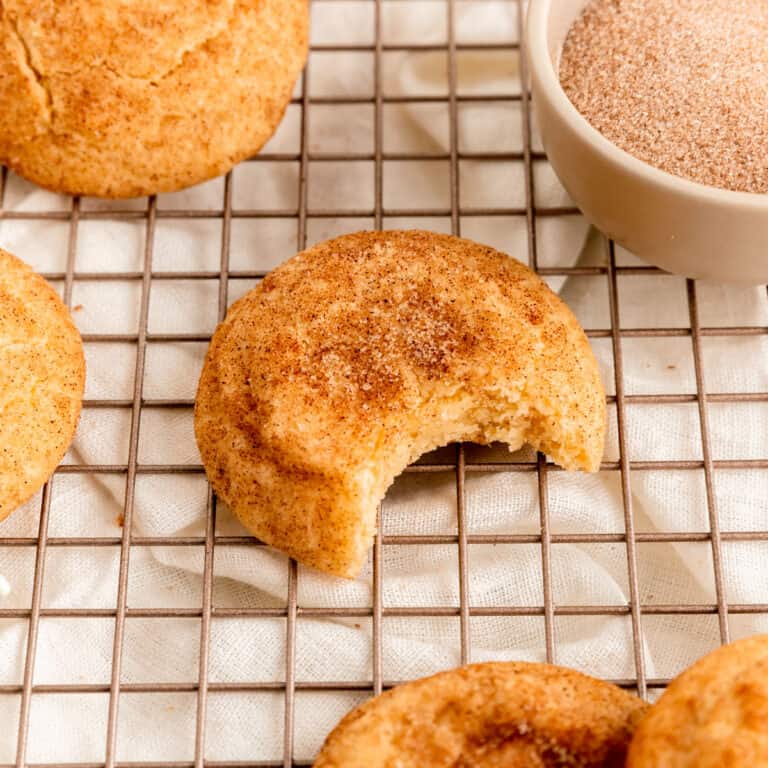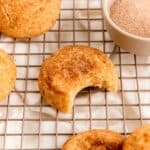 Easy Snickerdoodles (without cream of tartar!)
This recipe is quick and easy to mix up, requires no chill, and leaves you with soft, cakey, and perfectly spiced cookies that have all that snickerdoodle nostalgia with a lot less of the old-school fuss!
Ingredients
FOR THE COOKIES:
12

tablespoons

(1 ½ sticks) unsalted butter

(softened)

1 ¼

cups

sugar

2

teaspoons

vanilla extract

2

large eggs

2 ½

cups

all-purpose flour

1 ½

teaspoons

baking powder

½

teaspoon

fine salt
FOR THE CINNAMON SUGAR:
½

cup

sugar

1

tablespoon

ground cinnamon
Instructions
Prep and line: preheat your oven to 350°F and line two baking sheets with parchment paper.*1

Cream butter, sugar, and vanilla: cream together the butter, 1 ¼ cups sugar, and vanilla extract for 2-3 minutes until very light and fluffy on medium-high speed using a hand or stand mixer.

Beat in the eggs: add in the eggs, and beat for 30-60 seconds on medium-high until the batter is smooth, opaque, and slightly fluffy.

Mix in dries: stir together flour, baking powder and salt in a small bowl until blended. Add that dry mix to the batter, and mix on low speed just until fully combined, about 30-60 seconds. A smooth, soft dough should form. (P.S. be sure to scrape the bowl really well about half-way through mixing to find flour clumps!)

Scoop and coat: combine cinnamon and ½ cup sugar in a small, wide bowl until well-blended. Scoop dough into 1.5" round balls, using about 2 tablespoons of dough per cookie*2 (an ice cream scoop works well for easy portioning). Roll dough balls between your hands to fully round (if not using an ice cream scoop), then roll in the cinnamon sugar until fully coated.*3

Tray and bake: place cookies on prepared trays, at least 2" apart. Bake for 10-12 minutes, just until their bottoms are golden brown and the tops feel completely dry, although they may still be soft and not quite fully set (a touch underbaked is actually okay for these cookies and keeps them from drying out).

Cool, share, and enjoy: allow cookies to cool as long as you can (so the warm middles and cool and reach their full cake potential). Then pass around these sugar and spice delights that will disappear from your kitchen in no time!
Test Kitchen Tips
*1Doughy or Cakey? This recipe, as written, produces a puffed-up, cakier snickerdoodle cookie.

 

If you'd like a flatter, doughier cookie, you can bake your cookies at 325°F instead of 350°F. The bake time will remain the same though.
*2Make 'em big! If you'd like to make bigger cookies, you can use a scant ¼ cup of dough per cookie and you'll just need to add 2-3 minutes to the bake time. The bigger cookies will also be a little doughier and a little less cake than the little ones, just FYI.
*3Roll in cinnamon sugar immediately! because the dough balls will dry out as they sit, I highly recommend coating your dough balls immediately after you scoop one or two. If you scoop all the dough, then go back to coat it, you may have a harder time getting the sugar to adhere due to the dried-out surface.
Storage: store these cookies at room temperature in an air-tight container for up to a week.
Fridge or freezer bake: while I prefer these cookies when baked fresh just after mixing, you can chill the scooped dough balls for up to 3 days or freeze them for up to a month. For best results, thaw the dough to room temperature before baking. If dough is thawed, simply follow the baking instructions in the recipe card. To bake directly from the freezer or fridge, follow recipe instructions for temperature and preparation, but know that your bake time will be a little longer (12-15 minutes), and your cookies will be a little doughier, and a little less cakey in the center than fresh mixed ones.
Nutrition
Serving:
1
cookie
Calories:
193
kcal
Carbohydrates:
30
g
Protein:
2
g
Fat:
7
g
Saturated Fat:
4
g
Polyunsaturated Fat:
1
g
Monounsaturated Fat:
2
g
Trans Fat:
1
g
Cholesterol:
34
mg
Sodium:
151
mg
Potassium:
28
mg
Fiber:
1
g
Sugar:
18
g
Vitamin A:
235
IU
Vitamin C:
1
mg
Calcium:
29
mg
Iron:
1
mg
⭐ Did you bake up this tasty recipe? ⭐
Please give it a ⭐ rating in the recipe card or leave a comment at the bottom of the page to help others find this sweet recipe - I'd so appreciate it! Xo, Jocelyn

---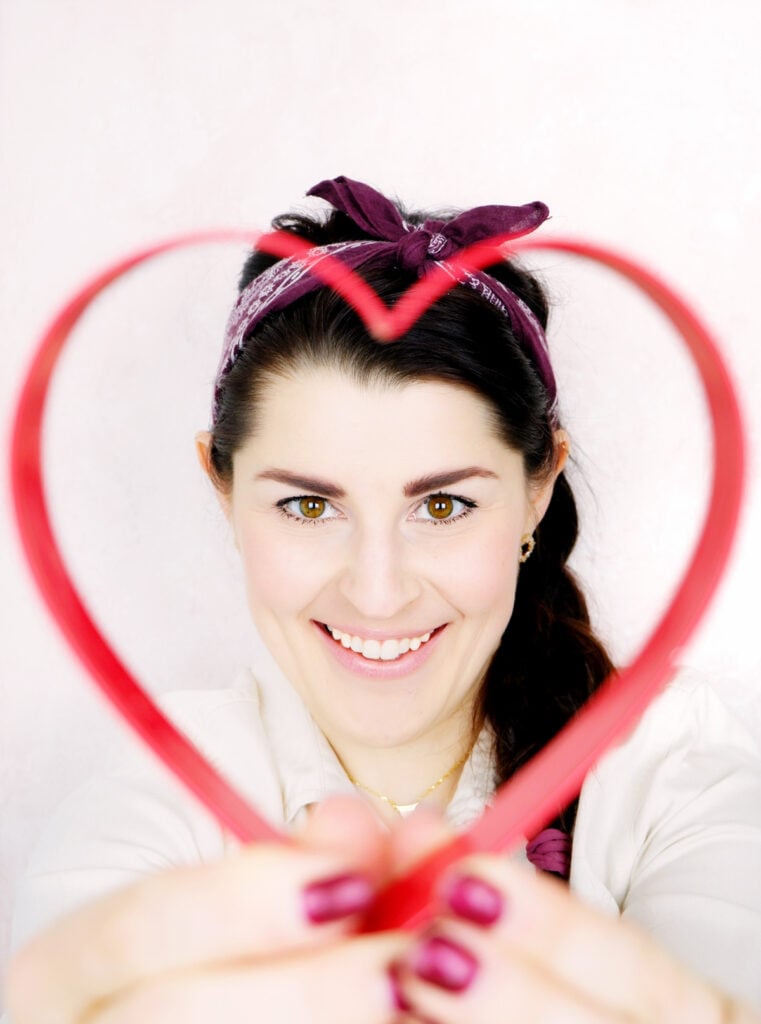 I hope you and your loved ones enjoy this recipe and when you give these a try, please share (literally and electronically!) and tag me on Instagram or Facebook @mint.and.mallow.kitchen so I can see all your amazing sweets and help you with any baking conundrums that come up!

Love, light and sweets always,
Jocelyn

This website contains Amazon affiliate program links. This means that I earn a small commission on qualifying purchases at no additional cost to you. I will never provide a link to nor recommend any product or service that I don't genuinely love or personally use. Thank you for supporting MINT + MALLOW kitchen and the brands that keep this blog running.
---
Are you ready to learn how to bake everything better?
Check out our lesson collections to learn how to play and develop your own recipes in the kitchen, so we can help you take all your bakes to the next level!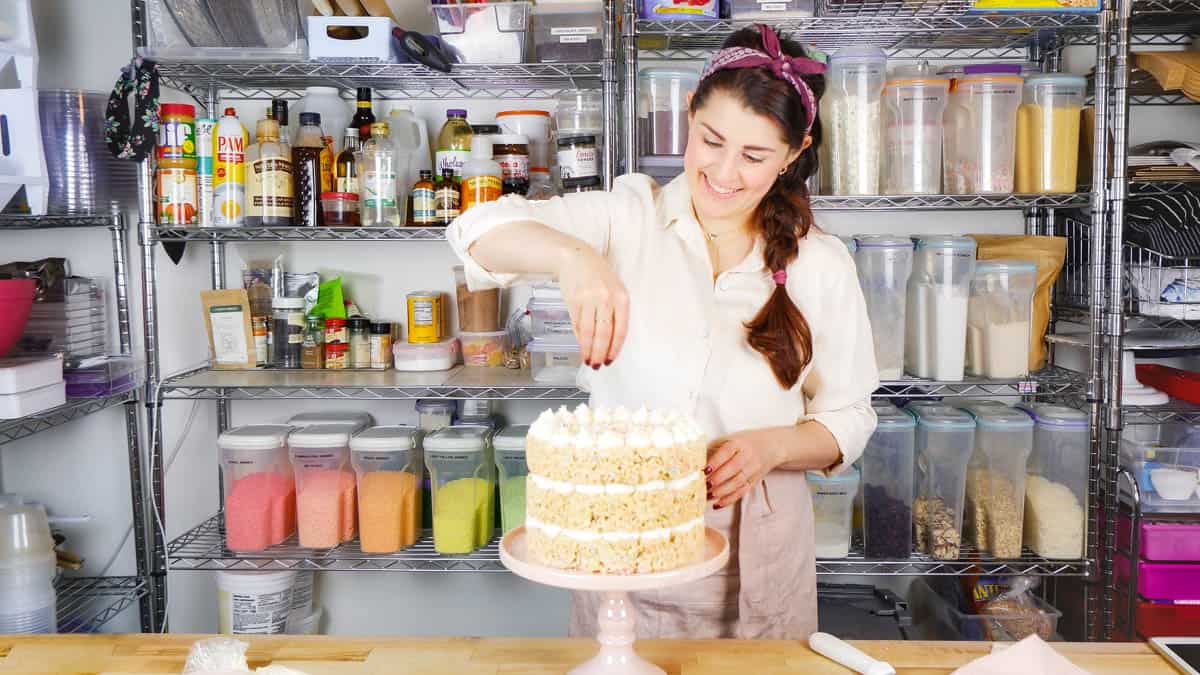 ---