---
This flavor-packed French Toast Pancake recipe makes the ultimate vanilla + cinnamon pancake stack with a little extra eggy flavor in there to imitate that classic French toast flavor profile. Plus - they couldn't be easier to make!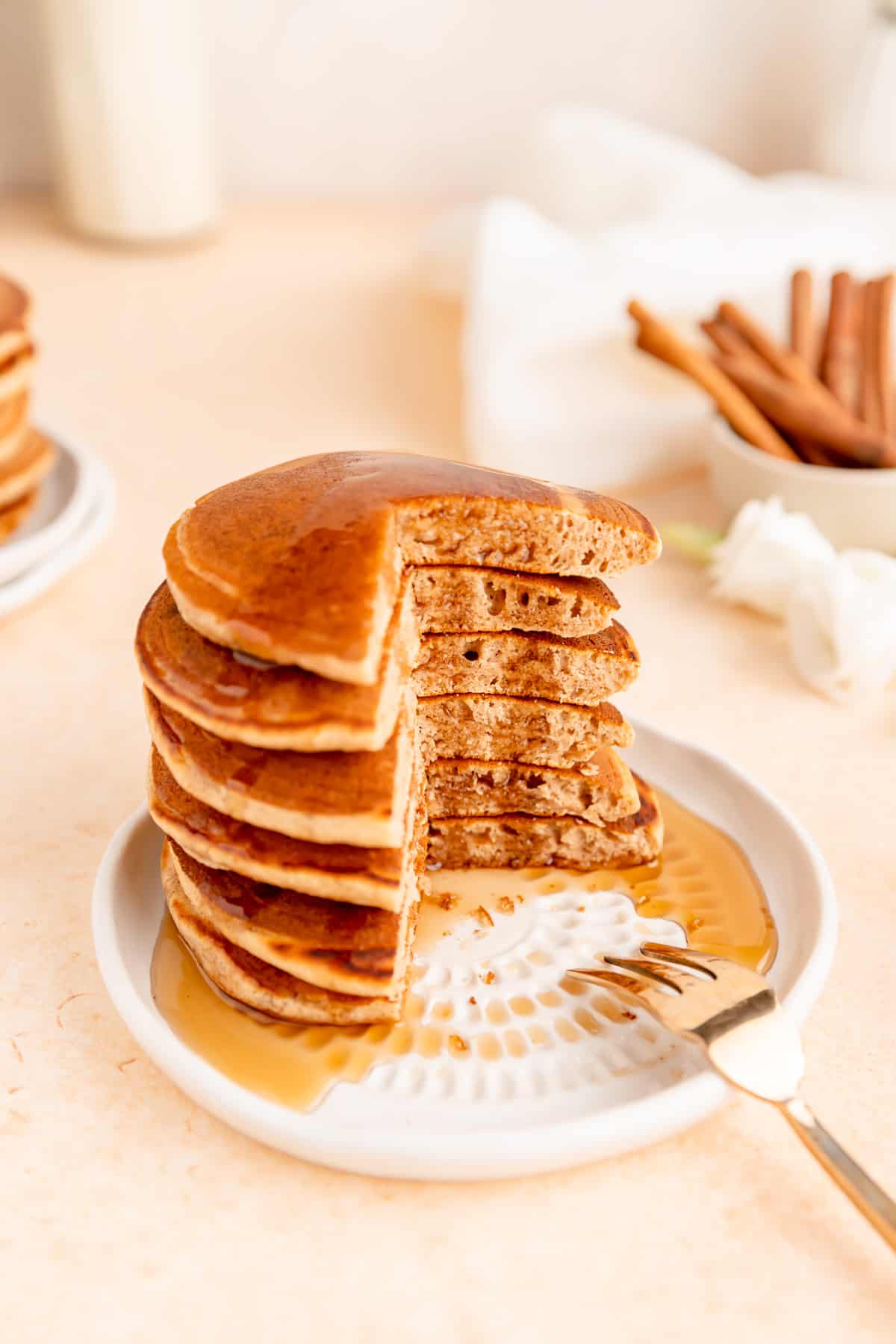 Jump to (scroll for more!):
All the Flavor, None of the Mess
Are you all out of bread but dreaming of that that eggy, cinnamon-y, vanilla-packed flavor we all know and love from a classic slice of French toast?
Or maybe you're craving that classic bready breakfast dish, but aren't up for the mess and labor of dipping draining and frying it up...
Perhaps, like me, you just love all things sweet and cinnamon-y...
Well no matter which of those terrible breakfast dilemmas had you stumble across my sweet corner of the internet...you've come to the right place!
These cinnamon pancakes have a slightly different batter than your classic buttermilk pancake to enhance all those subtle flavors in french toast and dial them up in this French toast pancake recipe.
And not only are these guys super tasty, but they're a quick, one-bowl mix, with no batter dipping, drippy bread, eggy counter mess to clean up afterwards!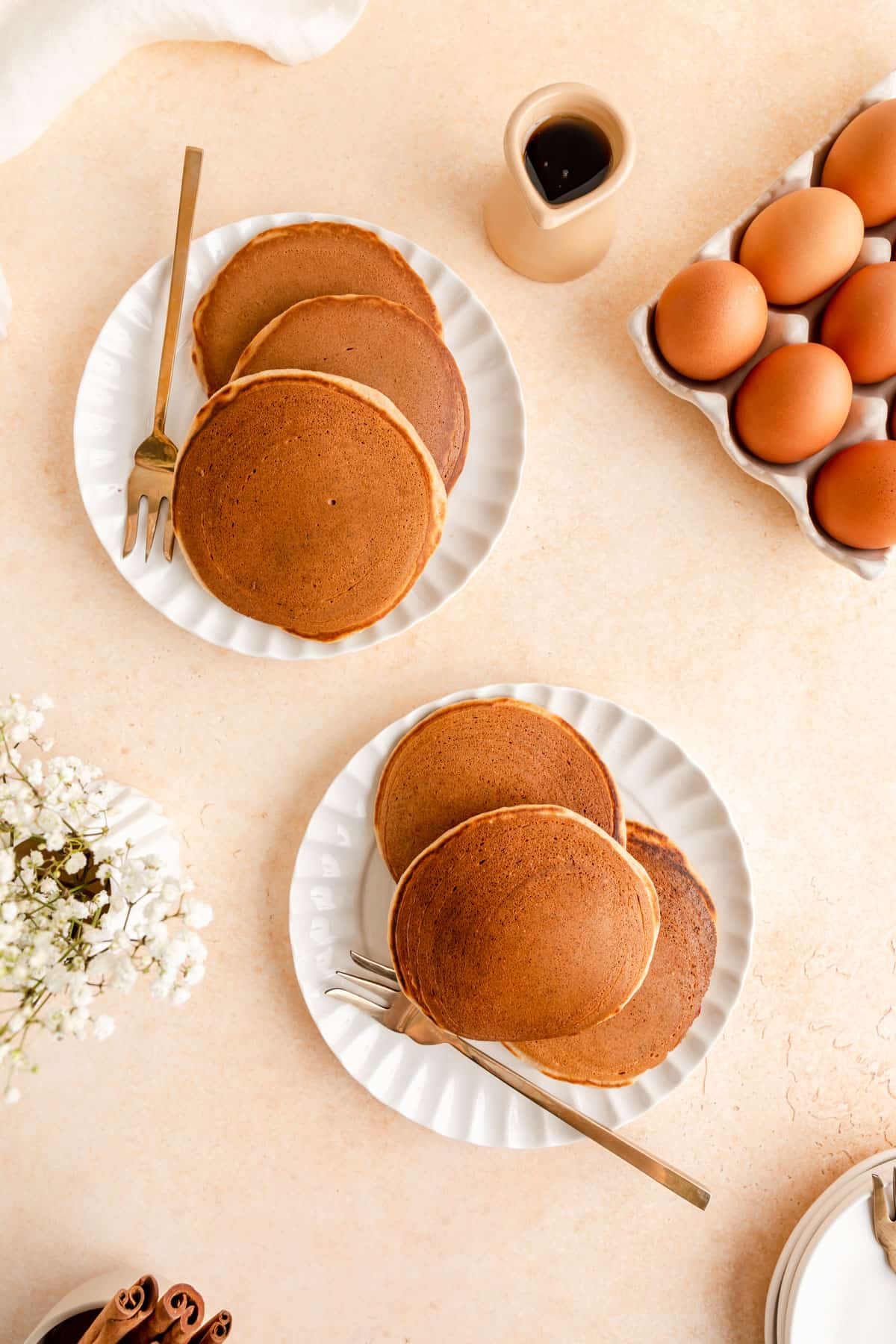 Ingredient Tips for Better Baking
(Pssst…if you're ready to just get baking, get all the details in the recipe card below!)
---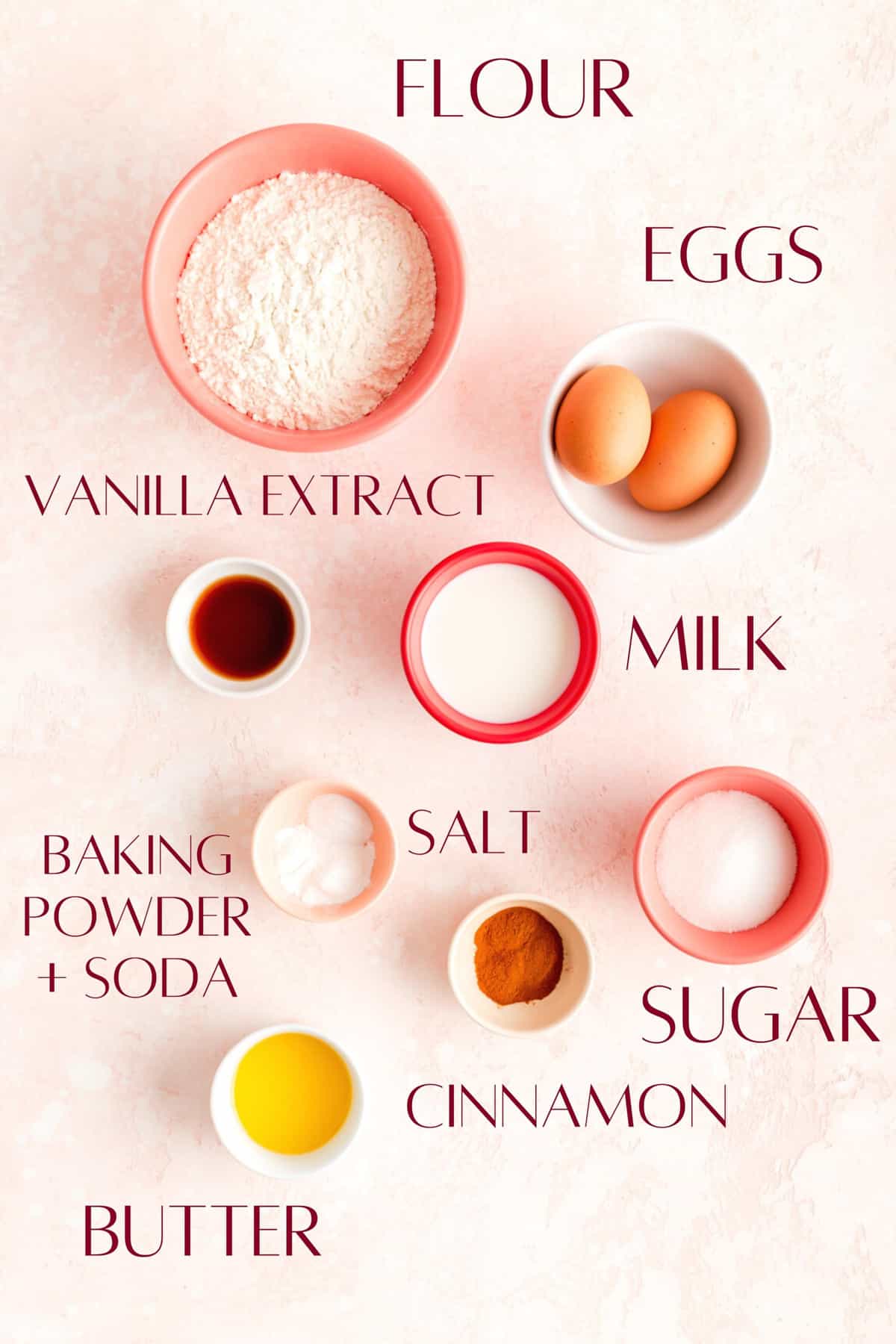 Sugar: I know it's tempting to skip the sugar in pursuit of a healthier breakfast, but because classic French toast has a noticeable sweetness to it, it's important to keep it in there for an accurate flavor profile here. It also helps a lot with the browning of your pancakes as well.
Cinnamon: because there's a good deal of cinnamon in this recipe, I like to use a sweeter, more-mild cassia cinnamon, as opposed to a Vietnamese cinnamon which has a bit of heat to it, sort of like Red Hots candy. The sweeter cinnamon allows the other flavors to come through a bit more, but if you like that strong cinnamon heat, feel free to use that spicier Vietnamese cinnamon in your batter for a little extra kick.
Baking powder + baking soda: we're using both baking powder and baking soda in these pancakes for different purposes. The baking soda helps to thicken the batter in the bowl (so it doesn't puddle out in the pan). The baking powder is what's going to help our pancakes spring and puff up when they hit the hot griddle (for a taller, thicker pancake!).
Eggs: we have an extra egg in these vanilla cinnamon pancakes so we can imitate the flavor of that egg-heavy batter you use to coat the outside of traditional French Toast.
Whole, 2%, or skim milk: classic pancakes do often use buttermilk. But when testing buttermilk with this recipe, it made it taste less French-toasty. Therefore I recommend sticking with whole, 2%, or skim milk to keep a more authentic flavor profile.
Vanilla extract: since we're using a lot here, I recommend using a good high quality vanilla (like Nielsen Massey) with robust flavor for the tastiest pancakes. Cheaper vanillas can also add an alcohol taste to the batter which we want to avoid as well.
(p.s. for all the basic tips that no one ever taught you, that are super important to help you bake your best, check out my Baking 101 series!)
How to Make Cinnamon Pancakes
(Pssst…if you're ready to just get baking, get all the details in the recipe card below!)
---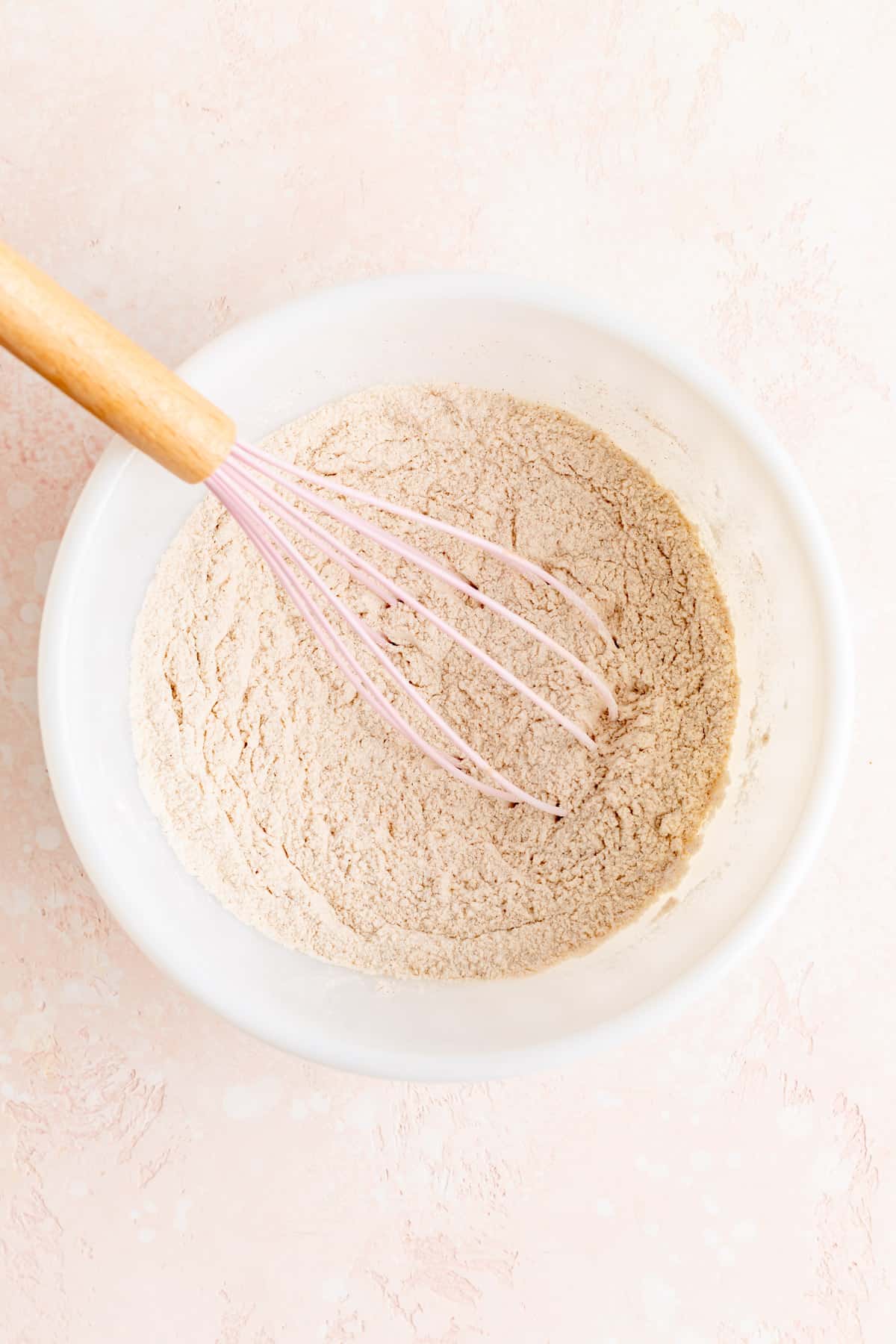 Blend together the dry ingredients.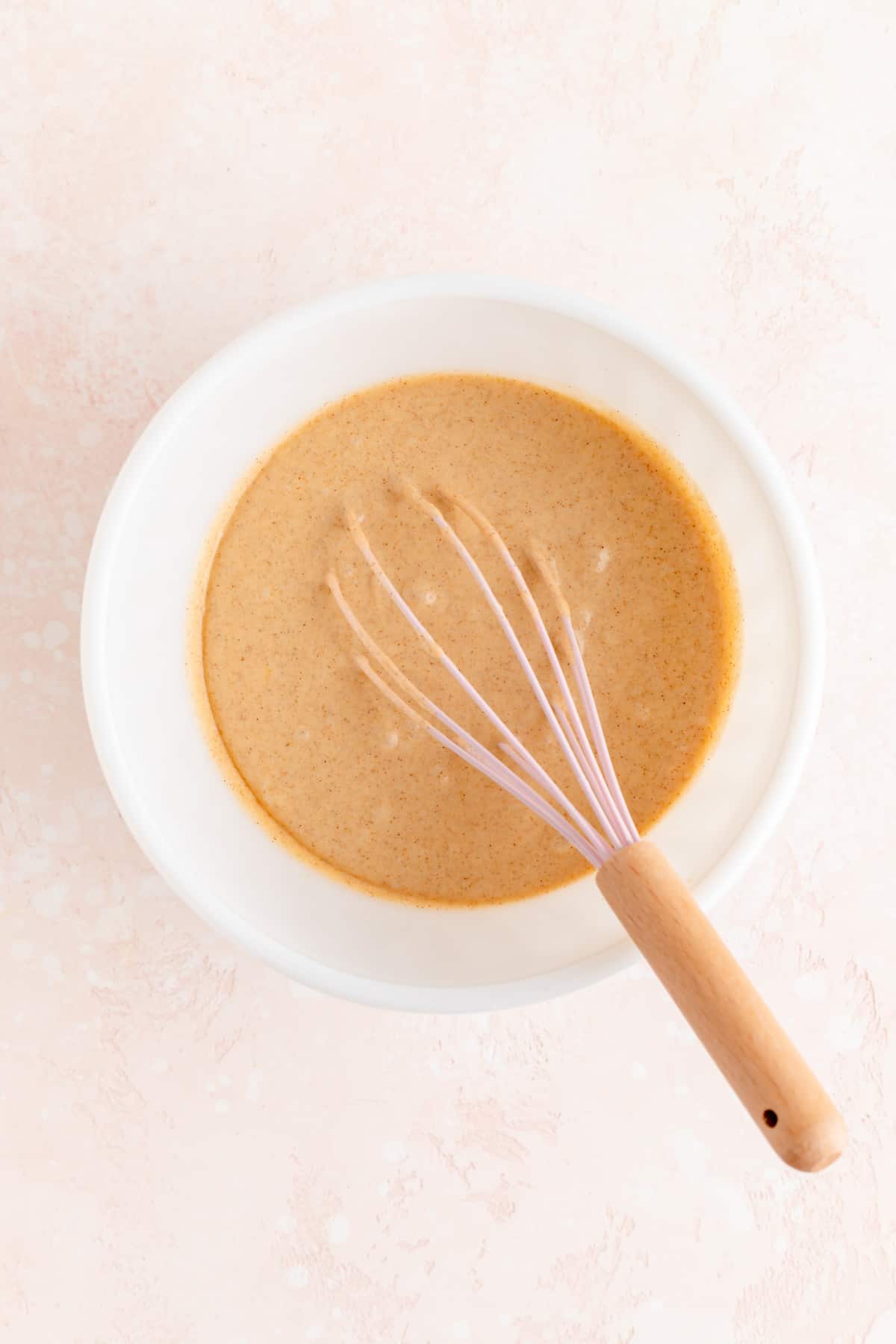 2. Add in the wet ingredients and melted butter, and whisk until well combined.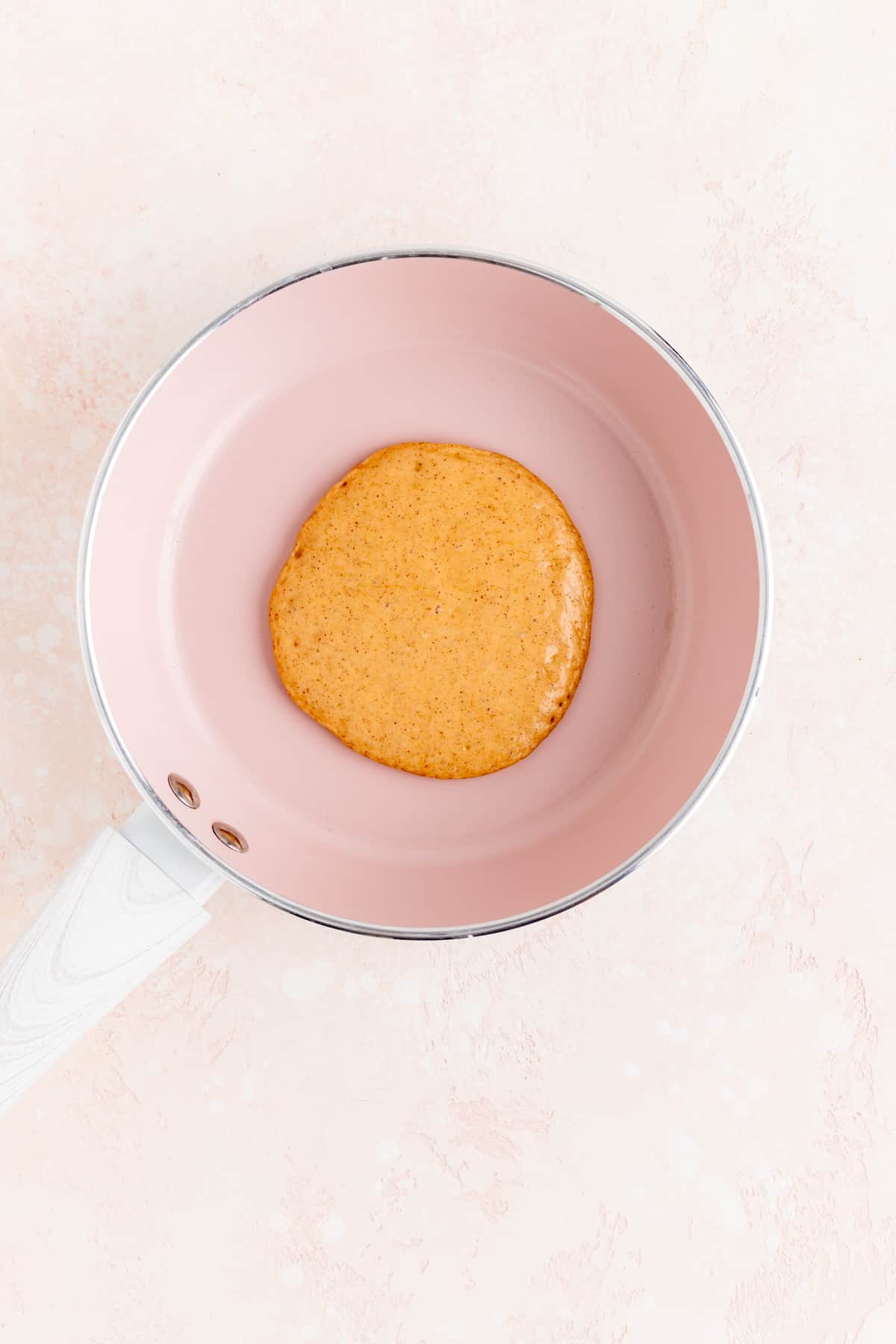 3. Briefly rest the batter while you pre-heat your pan or griddle. Grease your cooking surface and portion you batter onto the pan/griddle.
4. Flip and cook until golden-brown on both sides.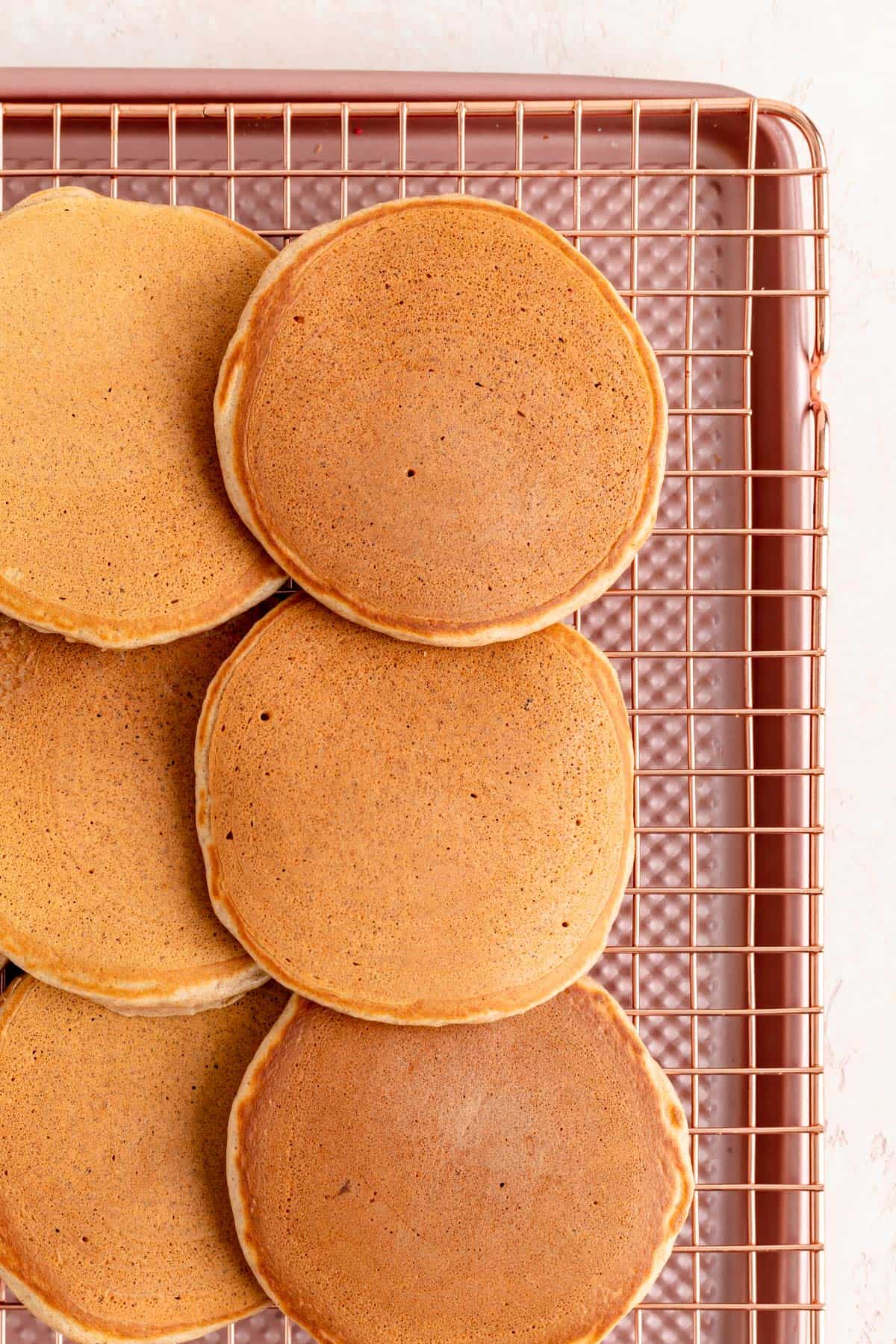 Repeat until you have a tall and fluffy stack. Serve warm with all the toppings, share and enjoy!
And check out the full RECIPE WEB STORY for a click-through tutorial!
Make This Recipe Your Own
You can add your favorite fresh fruit, like blueberries, or chocolate chips, or even chopped nuts to the batter if you like!
When adding any of these ingredients, blend the full batter base together first. Then start with a ½ cup of mix-ins, and you can always add more once you see how the distribution looks after mixing.
After trying this recipe for the first time, you can also feel free to dial the vanilla and cinnamon flavor up or down to your liking!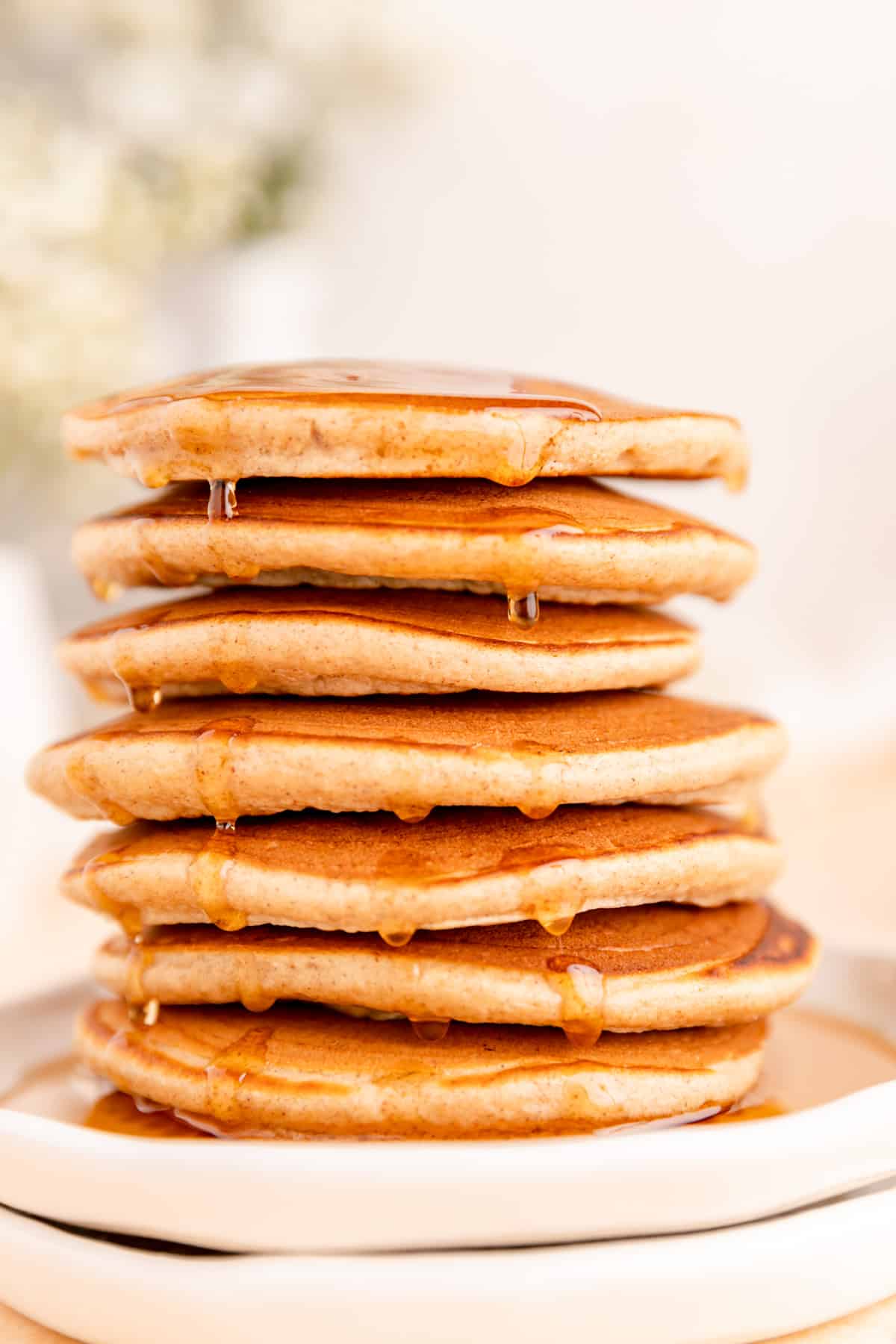 Test Kitchen Tips for Sweet Success
Don't over-thin the batter: I often see people wanting a really runny pancake batter. But having a slightly thicker batter, that you may need to gently spread right when you drop it on the griddle, will help you get those thick and tall pancakes.
Flip only once: for the prettiest finish, only flip your pancakes once by checking that the bottom is golden-brown before you go to flip them over. The clues I always look for to know they're ready to flip is bubbles popping on the top, and a "matte" look to the surface that's lost its shine.
Keep your pan at a good heat: for the best texture of pancakes, we want each side to cook for 1-2 minutes - not much faster and not much slower. So adjust your heat as needed to match that timeline. I typically pre-heat my pan on medium-high (8/10) just so it doesn't take too long, then turn down to just above medium (6/10) once I'm actually cooking.
Use an ice cream scoop for portioning: one of my favorite tricks when cooking pancakes is to use an ice cream scoop to transfer the batter from the bowl to the pan. This will not only help all of your pancakes be the same size, but also makes it much easier for you to not get drips everywhere. My personal favorite scoop is this one which I slightly under-fill for about a quarter cup of batter per pancake, which makes a 4" pancake.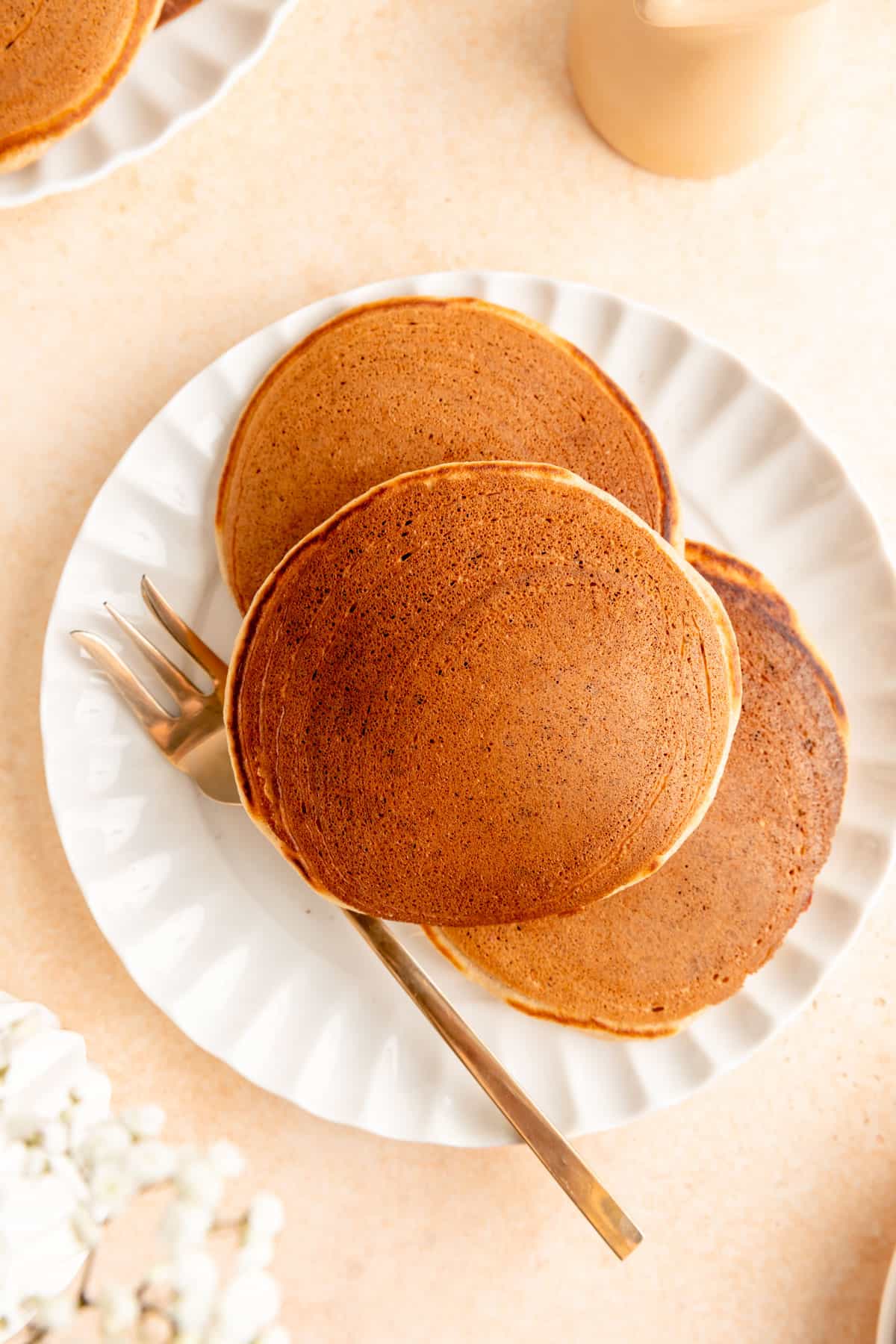 More Tips + FAQs
Can you make these pancakes ahead of time?
You certainly can. That said, for pancakes I always recommend enjoying them fresh for the best experience, and you can keep them warm in the oven if preparing them shortly before serving. (See the recipe card for instructions!)
How do you store leftover pancakes?
These pancakes will keep in the fridge, stored airtight, for up to 5 days. You can simply reheat them in the microwave and enjoy!
Can you freeze these pancakes?
How do you thaw them out?
Absolutely! While again, I find pancakes are best served fresh and warm, if you'd like to store a few away for a rainy day, you can freeze them with parchment or wax paper squares between them (to keep them from sticking together). Simply place however many you'd like to thaw on a plate and microwave directly from the freezer to enjoy!
Can you put pancakes in the toaster to reheat them?
While technically you can, I've always found this dries them out. So I recommend just using a microwave to reheat them either from the fridge or even straight from the freezer. In the microwave, they'll sort of steam when thawing which keeps them soft and moist.
Can I make these pancakes bigger?
Absolutely! You can make these pancakes in any size from silver dollar to full-dinner plate size. You'll still look for the same visual cues to flip them over, it might just take a little more or less time to cook each side depending on how big you make them.
Is French toast batter
the same as pancake batter?
While it may seem these two batters are the same, there are some important differences. Typically french toast batter has fewer ingredients, no leaveners, and a higher amount of eggs and liquid overall - all of which make it a great batter to use as a coating.

Pancakes on the other hand have a higher ratio of dries to liquids, a little less egg and a little more milk. They also require leavener to give us that nice rise when we flip on them on the griddle.

To help these two treats meet in this mash up recipe, I added extra egg, vanilla, and cinnamon to a classic pancake batter. I then upped the sugar, swapped out the buttermilk for regular milk, and also made the batter a little thicker to give these pancakes more body than some to imitate a heavier, chewier french toast texture.
---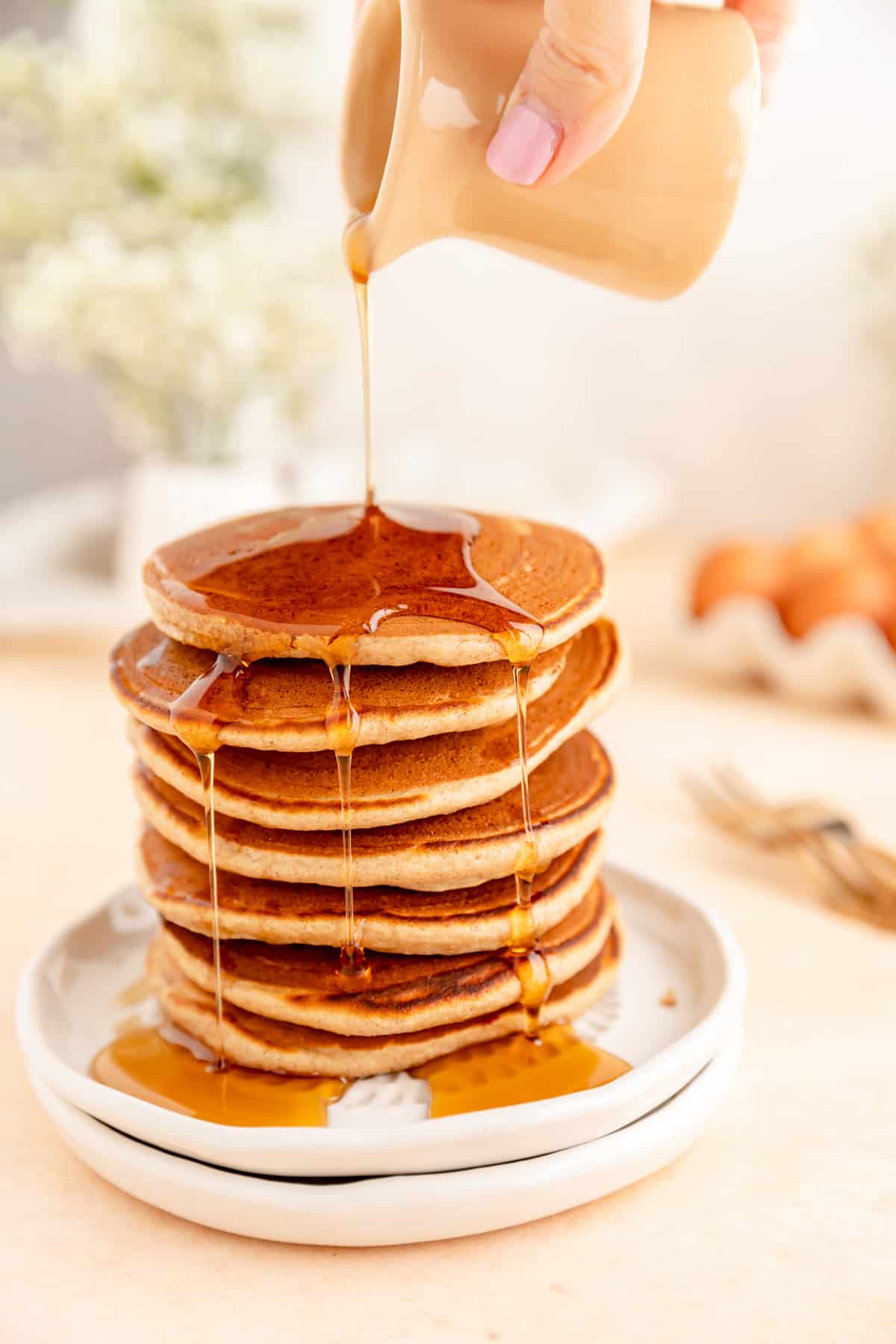 Other Breakfast and Cinnamon-y Recipes You'll Love
Craving more delicious treats? Here are a few of my other favorite breakfast and cinnamon-y recipes:

⭐ If you gave this recipe a try please give it a ⭐ rating and tag me on Instagram @mint.and.mallow.kitchen so I can see what you're baking up! ⭐
📖 Full Recipe
Cinnamon French Toast Pancakes (quick n' easy!)
This flavor-packed Cinnamon French Toast Pancake recipe makes the ultimate vanilla + cinnamon pancake stack, that couldn't be easier to make!
Ingredients
1 ⅓

cups

all-purpose flour

¼

cup

sugar

1 ½

teaspoons

ground cinnamon

1 ¼

teaspoons

baking powder

½

teaspoon

baking soda

2

large eggs

⅔

cup

skim, 2%, or whole milk*1

2

teaspoons

vanilla extract

2

tablespoons

unsalted butter

(melted)
Text me the ingredients please!
Instructions
Blend dry ingredients: using a medium-sized bowl, whisk together flour, sugar, cinnamon, baking powder, and baking soda until well blended.

Combine with wet ingredients: add in remaining ingredients (eggs, milk, vanilla, and melted butter) and stir everything together using a fork or whisk just until well combined with no big lumps of flour remaining (a few small lumps are okay).

Rest batter and preheat pan: allow the batter to sit and thicken slightly for 5 minutes while you preheat your pan or griddle over medium-high heat.

Grease and portion: lightly grease your pan/griddle, and turn the heat down to medium-low once your pan is fully heated. Pour a scant ¼ cup of batter onto the surface for each pancake, spreading the batter out as needed (this will make about a 4" pancake). Be careful your heat isn't too high because the sugar in this batter causes these pancakes to brown faster than most.

Flip and cook until golden: cook each pancake for 1-2 minutes on each side until golden-brown, flipping over only once the top edges look set and matte, and the tops start to bubble and lose their shine.

Repeat until you have a stack: repeat this process with all remaining batter.

Share and enjoy! Serve warm topped with butter, maple syrup, and fresh berries (or whatever other tasty toppings your heart desires) and enjoy this delicious breakfast mash up!
Test Kitchen Tips
*1Can I use buttermilk? Because this recipe is going for that sweet, eggy, warmly spiced flavor profile, I found traditional whole, 2%, or skim milk provided the truest "French toast" flavor.

 

That said, if you only have buttermilk or just love that slight acidity the buttermilk brings to pancakes, feel free to use it in this recipe.
Cooking for a crowd? You can feel free to double or triple this recipe to keep your pancake stack growing sky-high and feed as many people as you like.
Keep em' warm: if you're making a bigger batch of pancakes, you can preheat your oven for 5-10 minutes to 200°F. Then turn the oven off when you start mixing your batter, and as you finish cooking your pancakes, you can put them on a wire rack on a baking sheet in the oven to keep them warm for service. But make sure you're oven isn't too hot or it'll dry them out!
Nutrition
Serving
1
pancake
|
Calories
105
kcal
|
Carbohydrates
16
g
|
Protein
3
g
|
Fat
3
g
|
Saturated Fat
2
g
|
Polyunsaturated Fat
1
g
|
Monounsaturated Fat
1
g
|
Trans Fat
1
g
|
Cholesterol
34
mg
|
Sodium
106
mg
|
Potassium
48
mg
|
Fiber
1
g
|
Sugar
5
g
|
Vitamin A
121
IU
|
Vitamin C
1
mg
|
Calcium
51
mg
|
Iron
1
mg