---
Light, fluffy, moist, one-bowl, quick-mix - there are so many great adjectives I can use to describe this quintessential Easy Vanilla Sheet Cake! With a classic vanilla flavor, golden yellow crumb, and a light yet wonderfully moist texture, I promise this one-bowl, 9" x 13" cake will quickly become a favorite for birthdays and everyday occasions alike!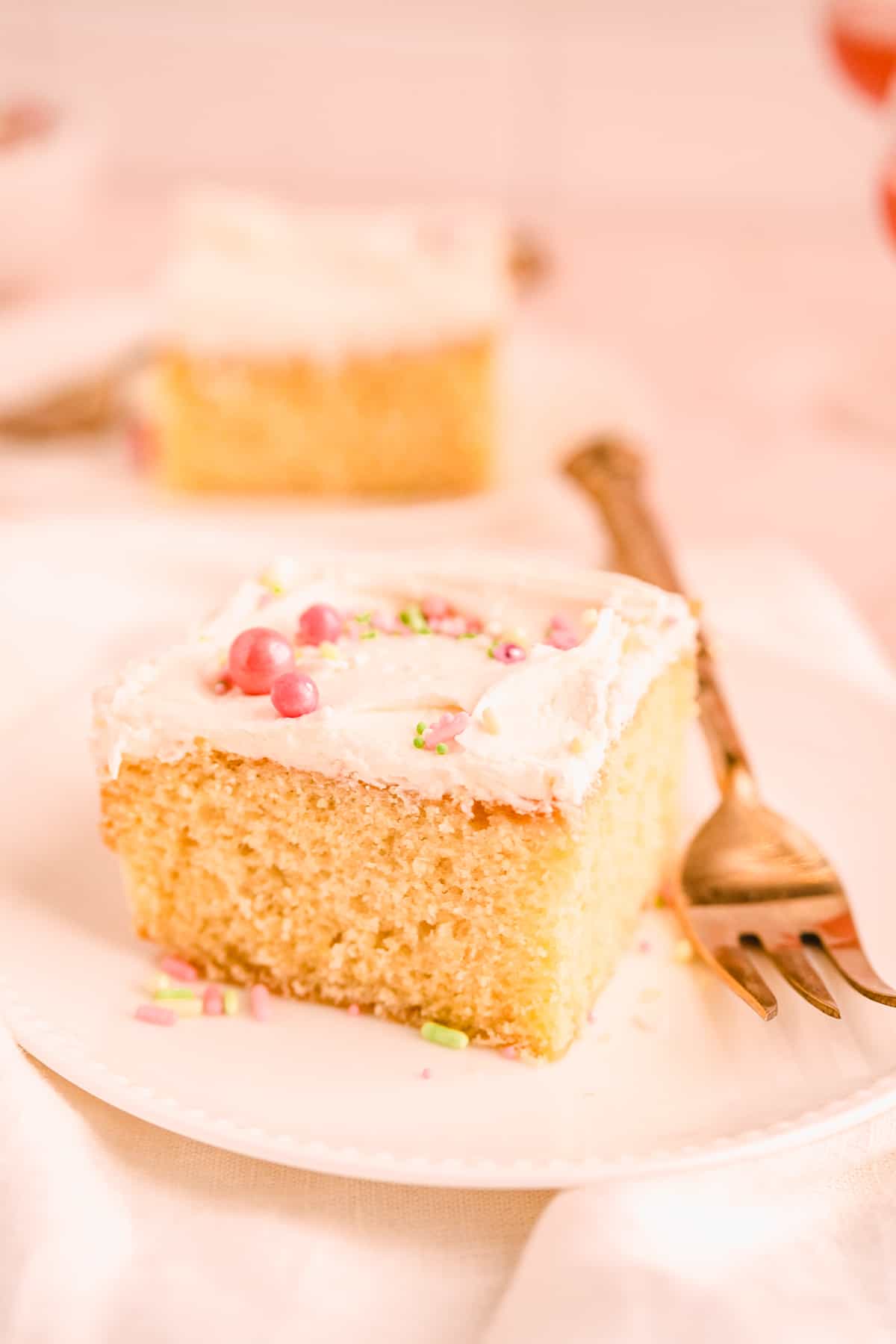 Jump to:
Why This Recipe Leads to Sweet Success
When I worked in box mix development (essentially formulating a high-end Betty Crocker cake mix for sale at grocery stores), a quick-mix vanilla cake always evaded me and my team. Ever since, I've been on a mission to develop a go-to, super easy vanilla cake recipe.
Well…I've finally done it!
You know I always keep my recipes as simple as possible here at M+M Kitchen. This vanilla sheet cake is no exception. With a buttermilk tang to balance out the classically sweet vanilla flavor, this simple cake is ready in only two steps and only dirties one bowl (…now that's my kind of recipe!).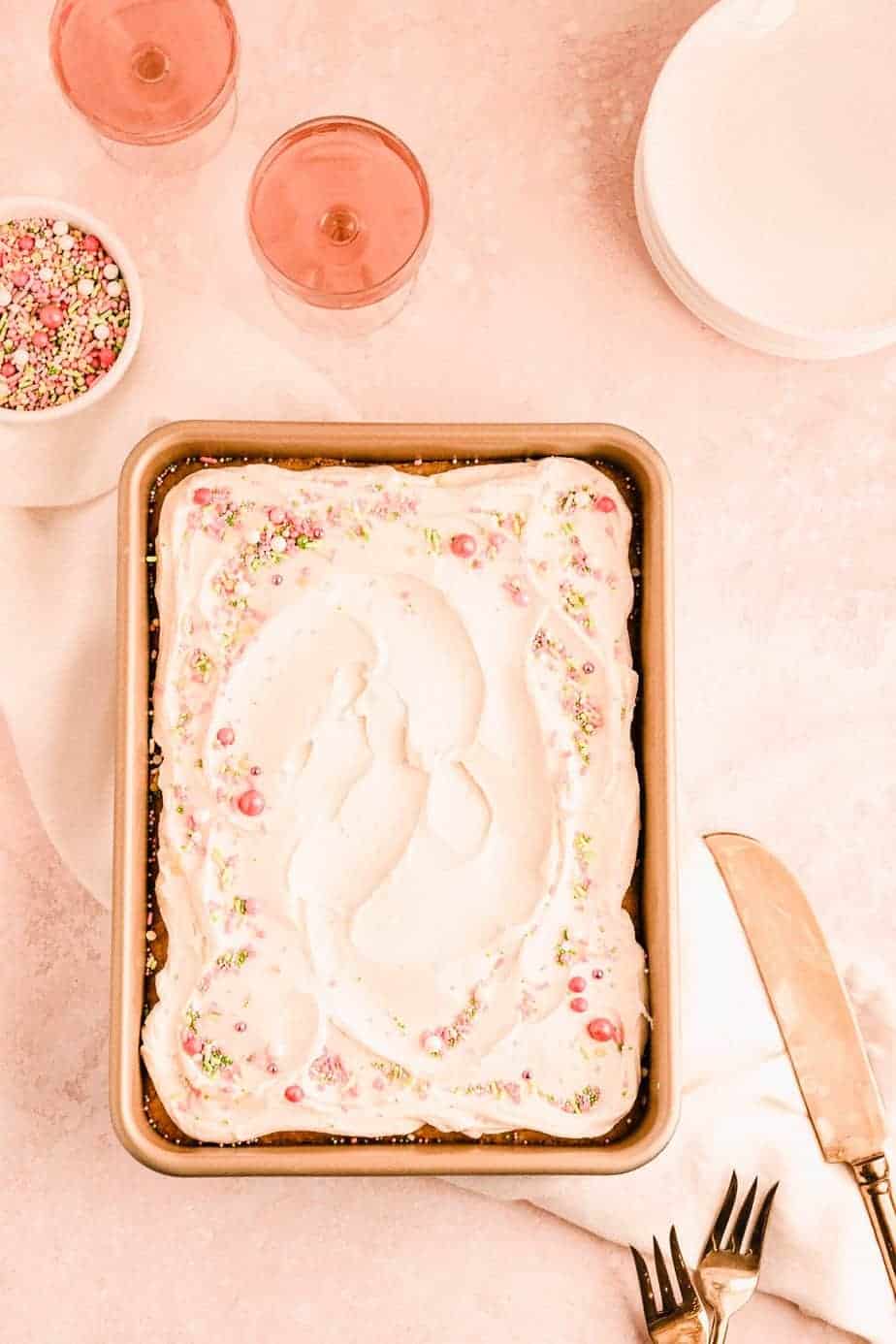 Easy Chocolate Cakes vs. Easy Vanilla Cakes
Here's an interesting little side note. You might have noticed that chocolate quick-mix cakes are much more common than vanilla because they tend to use oil instead of butter.
I admit, they do avoid the dilemma of chilly butter not fully mixing into your cake properly. But I promise you that a vanilla cake with oil is just not very appetizing when it comes to a scratch-made recipe.
(That said I'll never turn down a good, oil + egg Betty Crocker box cake if anyone feels like whipping me up one! hehe).
Ingredient Tips to Bake it Better
(Pssst…if you're ready to just get baking, get all the details in the recipe card below!)
---
Butter: as I mentioned above, vanilla cakes taste best with the clean and rich flavor of butter instead of oil. The high fat content helps to keep this cake nice and moist too.

Sugar: there's a good deal of sugar in here as well, which adds moisture and of course, sweetness. (As well as forming a lovely golden-brown crust on our cake top!)

Vanilla Extract: you'll want to use high quality vanilla as there's a lot of it in this recipe. Some cheaper varieties may provide an unpleasant alcohol flavor.

Baking Powder: this little guy is responsible for the lovely dome and light texture you'll find in this cake.

Eggs: there are a lot of eggs in here as these add both moisture and structure to our batter. (Check out Eggs 101 and Eggs 102 for more on this!)

Buttermilk: this helps to lighted up the batter and the final cake. The acidity is a nice note to offset the natural sweetness of the vanilla, and it also helps to tenderize our cake as well.
(p.s. for all the basic tips that no one ever taught you, that are super important to help you bake your best, check out my Baking 101 series!)
How to Make This Cake From Scratch
(Pssst…if you're ready to just get baking, get all the details in the recipe card below!)
---
Prep your pan and preheat your oven.
Cream butter, sugar, and vanilla. (Wondering why we're adding the vanilla here? Check out this lesson for all the details!)
Beat in all the other ingredients.
Pour your batter into the pan and bake until golden-brown and fully set.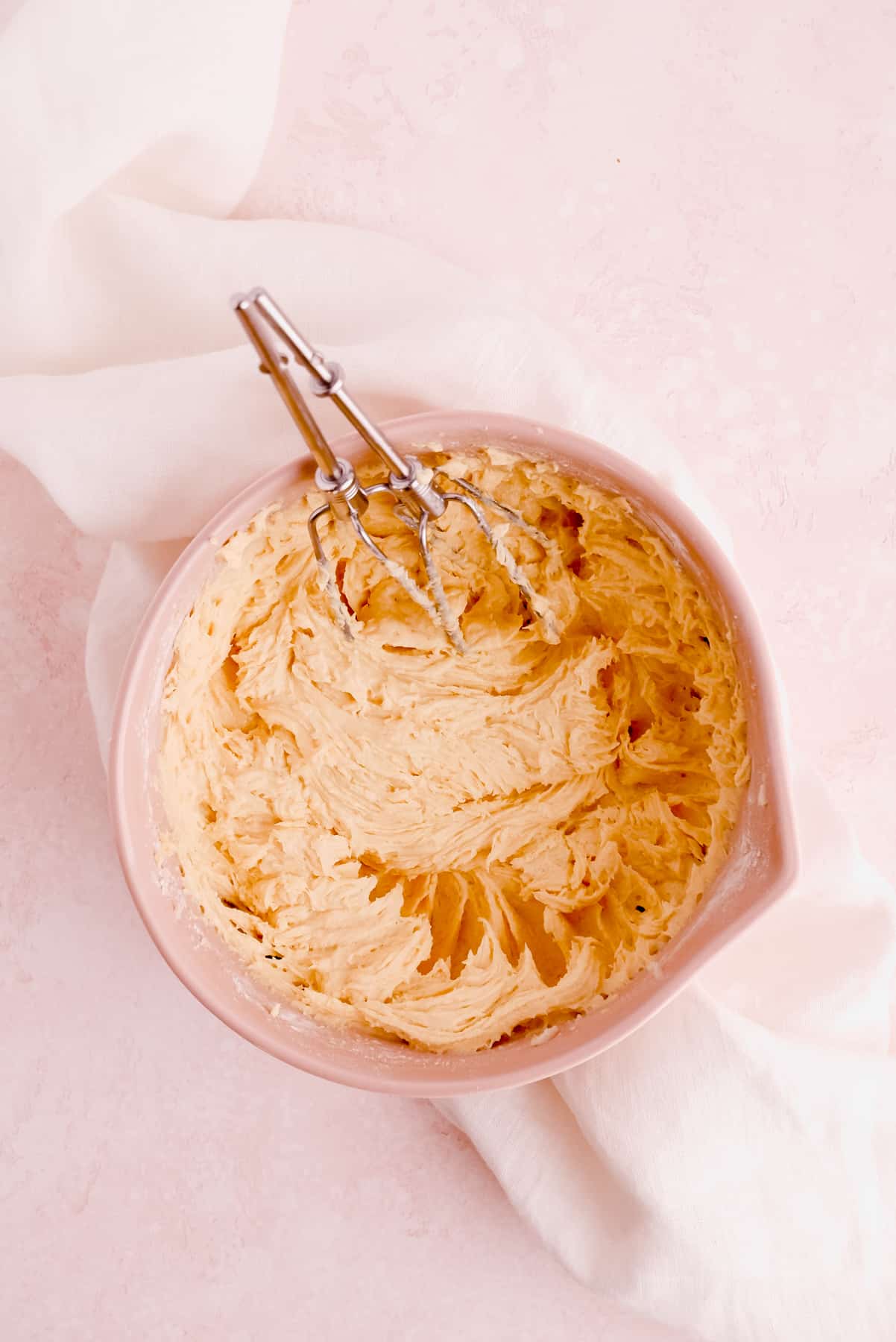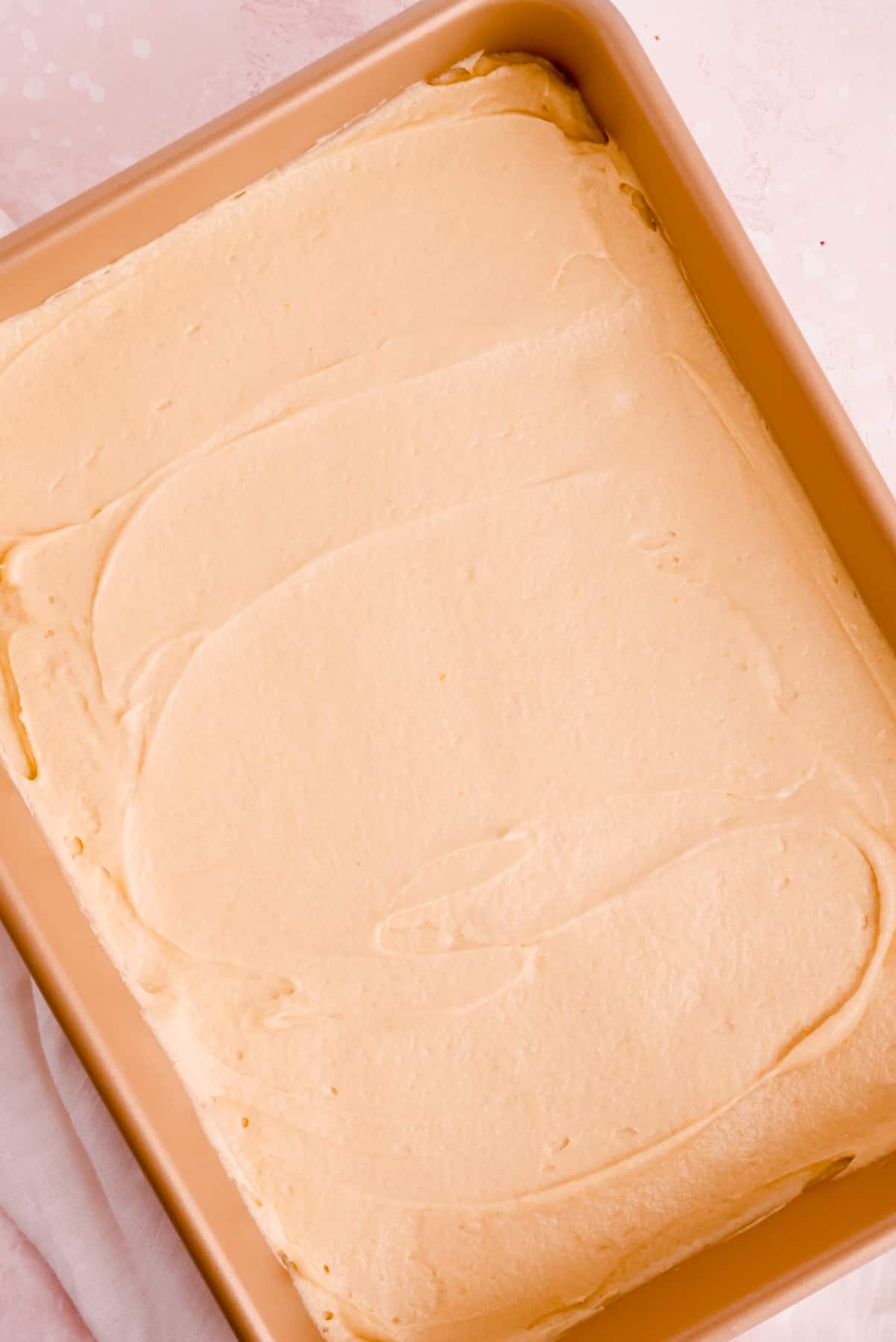 Cool, frost, and enjoy!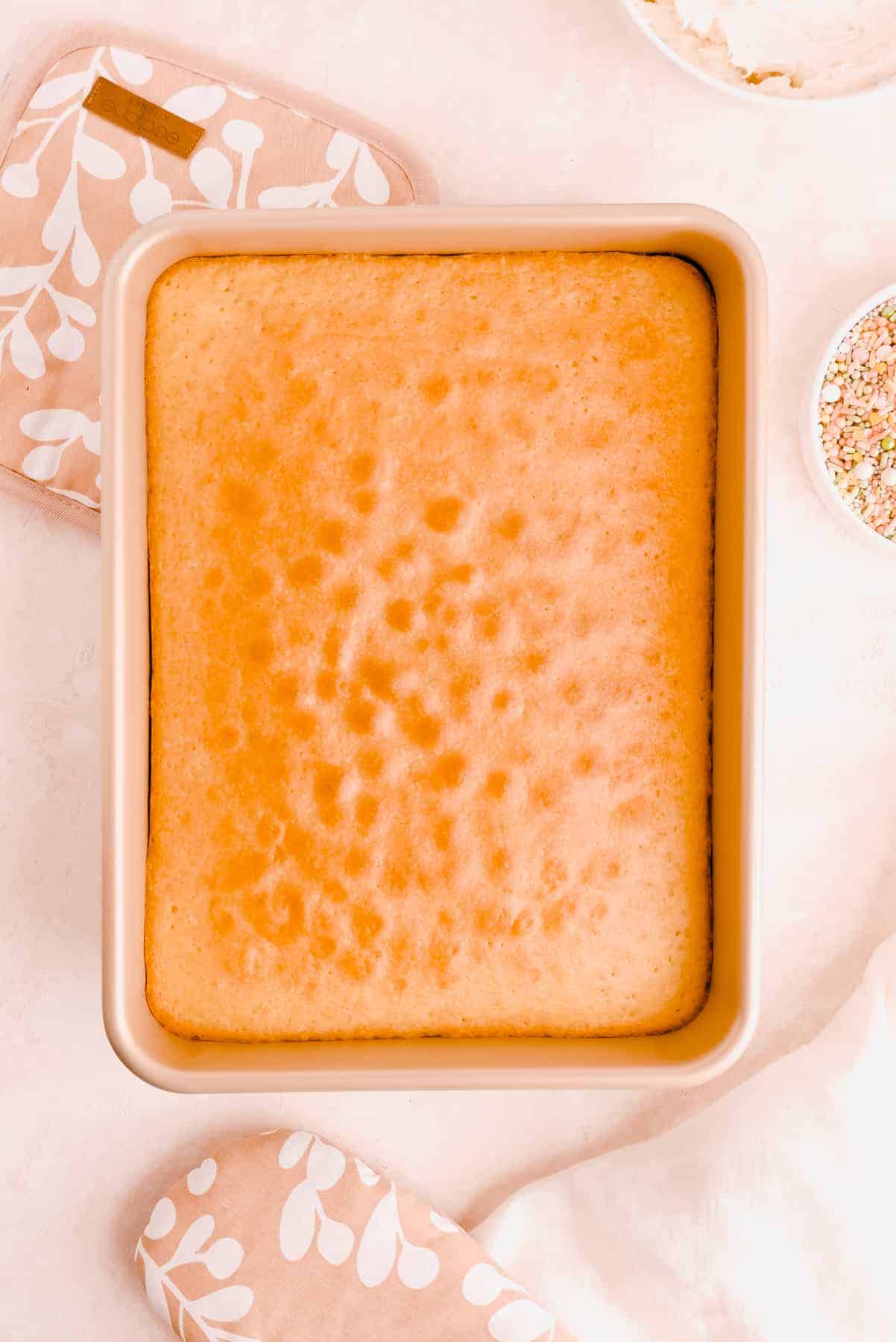 Check out the full RECIPE WEB STORY for a click-through tutorial!
Frostings and More
You can top this cake with pretty much any frosting you want…
…vanilla sheet cake with chocolate frosting
…vanilla sheet cake with cream cheese frosting
…vanilla sheet cake with strawberry frosting
I mean...I would eat any and all of those any day of the week! My personal favorite is to keep things extra simple with my Easy Vanilla Buttercream Recipe (and you only need to make a half batch to frost this whole cake!).
Of course, I highly recommend some sprinkles or even fresh fruit on top too. One of my favorite things about this recipe is that while it's delicious on its own, it's a great blank canvas to tailor to any occasion, season, guest of honor, or "just because" excuse for cake!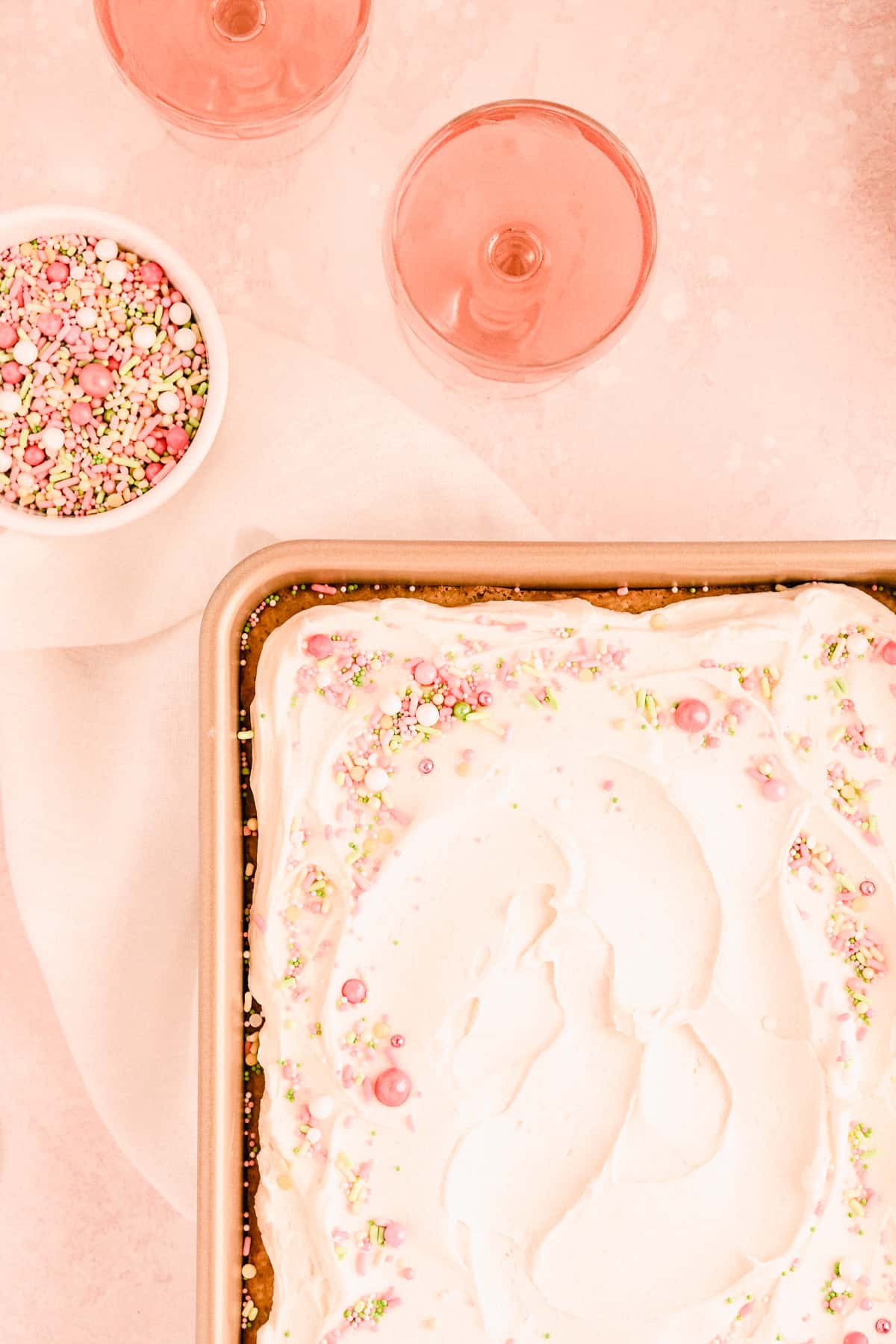 *Expert Tips and Tricks* for Better Baking

What's the TOP TIP for making the best cake?
The main thing to be wary of with this recipe (which is honestly pretty foolproof) is proper mixing.  You also want to make sure your cake is fully baked before pulling it out of the oven (there are more tips on how long to bake below!).

Although you can beat the butter and sugar vigorously, once you add the other ingredients, you should make sure to blend them together well, but avoid whipping them at high speed. This can both toughen your cake and cause the dome to fall during cooling.
Can you make this cake ahead of time?
I would recommend making your cake as close to service as possible.

But, you can always speed things up by mixing up the frosting a day ahead. You can store it overnight in the fridge and then just pull it out 2-3 hours before you plan to frost your cake.  This will allow it to soften up again to room temperature for easy use.
How do you store leftover cake?
While fresh cake is always best, this cake will keep for up to 5 days in an airtight container at room temperature. 

You will notice the crumb start to dry out over time, so if you can leave the cake in its original pan, and just wrap it super well with plastic wrap, that will preserve it as well as possible.

It's also helpful to put a small piece of plastic wrap over any cut edges of the cake for extra protection.
So what makes cake moist and fluffy?
As you'll know if you've read through just about any of the lessons in The Baker's Pantry tutorials, even the simplest recipes are complicated under the surface.

In this particular recipe, the eggs and baking powder are both helping to lighten our cake, making it rise and dome. The buttermilk, butterfat, and eggs are also all contributing to the moist texture of this cake.

Even the flour plays an important role here, as we need enough to give our cake structure to support that risen dome. But I was also careful not to add too much or we'd end up with a heavy texture and dry crumb.

So in short - everyone has a part to play, and nearly every ingredient contributes to this cake's light and fluffy texture. It also shouldn't be overlooked that since this is a 9" x 13" sheet cake, there's a lot of batter in just one pan.  That means the balance of ingredients is even more important to prevent dome collapse.

How long do you bake a sheet cake?
Speaking of falling domes…one of the biggest problems with 9" x 13" sheet cakes is that they seem to take forever to bake. If you don't leave your cake in long enough, that beautiful dome that comes out of the oven will slowly sink along with your domed-cake dreams.

Be sure to leave yours in the oven until…
…there is absolutely no wiggle in the middle when you gently shake the pan.
…the center of the dome doesn't feel soft, but springs back when pressed.
…the whole surface is a deep golden-brown.
…a toothpick inserted into the center comes out clean.
…and you likely see the edges of the cake starting to pull away from the pan as well.

If you check all those boxes, there's no way your cake will be under-baked!
---
Other Recipes You'll Love
Be sure to check out the Vanilla Buttercream, Easy Chocolate Buttercream, and Whipped Cream Cheese Frosting recipes which pair perfectly with this recipe. You can also check out our Candy Corn Surprise Cake tutorial for a fun way to dress up this cake that you can adapt to any occasion or holiday!
⭐ If you bake up this tasty recipe please give it a ⭐ rating in the recipe card or leave a comment and feel free to ask any questions at the bottom of the page to help others find their way to this sweet recipe too! ⭐
~The Sweet Recipe Card~
Easy Vanilla Sheet Cake
Light, fluffy, moist, quick mix - this simple sheet cake will quickly become your go-to cake for occasion both big and small!
Ingredients
1

cup

(2 sticks) unsalted butter, softened

(see tips)

1 ½

cups

sugar

1 ½

teaspoons

vanilla extract

2 ¼

cups

all-purpose flour

2 ¼

teaspoons

baking powder

¾

teaspoon

salt

½

cup

buttermilk

4

large eggs

¼

cup

sprinkles

(optional, but highly recommended for extra cheer)
Text me the ingredients please!
Instructions
Preheat and prep: preheat your oven to 350°F. Lightly grease the bottom (not the sides) of a 9" x 13" pan. On top of that, place a piece of parchment, cut to fit in the bottom of the pan, and again lightly grease the top of the parchment paper.

Cream butter, sugar and vanilla: cream together the butter, sugar, and vanilla until well-blended, light and fluffy (about 1-2 minutes on medium-high speed) (see tips).

Beat in all other ingredients: add all the remaining ingredients and mix on medium speed for 1-2 minutes until all ingredients are fully combined and batter is smooth.

Pour and bake: pour batter into prepared pan and spread evenly throughout pan. Bake for 34-40 minutes until top is golden brown, fully set, and springs back when lightly touched.

Cool, frost, and enjoy: allow cake to cool fully before frosting. Frost cake right in the pan using an offset spatula, dinner knife, or piping bag. Add some sprinkles and decorate to your heart's desire, share with your fellow cake-lovers and enjoy!
Test Kitchen Tips
Make sure your butter is fully softened as this quick mix cake will need it to makes sure your don't end up with cold butter chunks in your batter.
Nutrition
Serving:
1
piece
Calories:
263
kcal
Carbohydrates:
34
g
Protein:
3
g
Fat:
13
g
Saturated Fat:
8
g
Trans Fat:
1
g
Cholesterol:
72
mg
Sodium:
194
mg
Potassium:
46
mg
Fiber:
1
g
Sugar:
21
g
Vitamin A:
426
IU
Calcium:
54
mg
Iron:
1
mg
⭐ Did you bake up this tasty recipe? ⭐
Please give it a ⭐ rating in the recipe card or leave a comment at the bottom of the page to help others find this sweet recipe. I'd love it if you'd share your treats (literally and electronically!), and tag @mint.and.mallow.kitchen on Instagram or Facebook so I can see your beautiful bakes! Xo, Jocelyn
---
I hope you and your loved ones enjoy this recipe and when you give these a try, please share (literally and electronically!) and tag me on Instagram or Facebook @mint.and.mallow.kitchen so I can see all your amazing sweets and help you with any baking conundrums that come up!

Love, light and sweets always,
Jocelyn

This website contains Amazon affiliate program links. This means that I earn a small commission on qualifying purchases at no additional cost to you. I will never provide a link to nor recommend any product or service that I don't genuinely love or personally use. Thank you for supporting MINT + MALLOW kitchen and the brands that keep this blog running.
---
Are you ready to learn how to bake everything better?
Check out our lesson collections to learn how to play and develop your own recipes in the kitchen, so we can help you take all your bakes to the next level!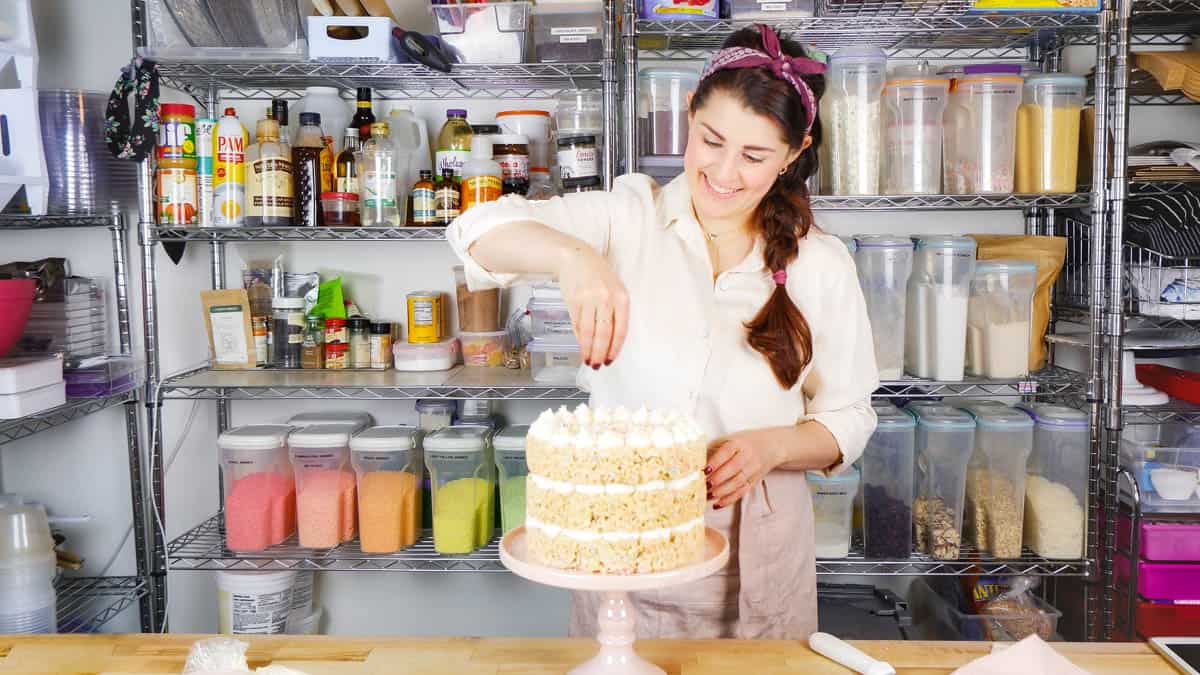 ---