Hello again, love...I'm so happy you're here!
So you want to know a little more about me? Well then, let's start at the beginning…
Meet Jocelyn...the Founder + Baker here at MINT + MALLOW kitchen.
Throughout a lifetime of pastry experience, I have always been truly happiest when mixing up some dough or batter to share with those I love.
(Enter the first cake I ever made, which was for my mom's birthday. Straight lines weren't my strong suit, but it's the thought that counts, right? - teehee)
---
Needless to say, I have always had a true love for baking ever since I was a little toddler covered in flour. I was taught first and foremost by my amazing mama how to make every occasion special for my family and friends through sweet treats.
Baking has been a tradition in my family for generations. I have also found it to be one of the best ways to share love through those generations. It can even connect us to those from the past who we may never have had the chance to meet through preparing their recipes, and following the traditions passed down in the kitchen.
After spending my academic career pursuing veterinary medicine, I had an epiphany while volunteering in the Cook Islands off the coast of New Zealand. With only nine months until my college graduation, I realized my soul's desire was not to be a vet. What I really wanted to do with my time in this world was making people happy through baking.
I soon graduated from Dartmouth College, and later from The French Pastry School in Chicago.
---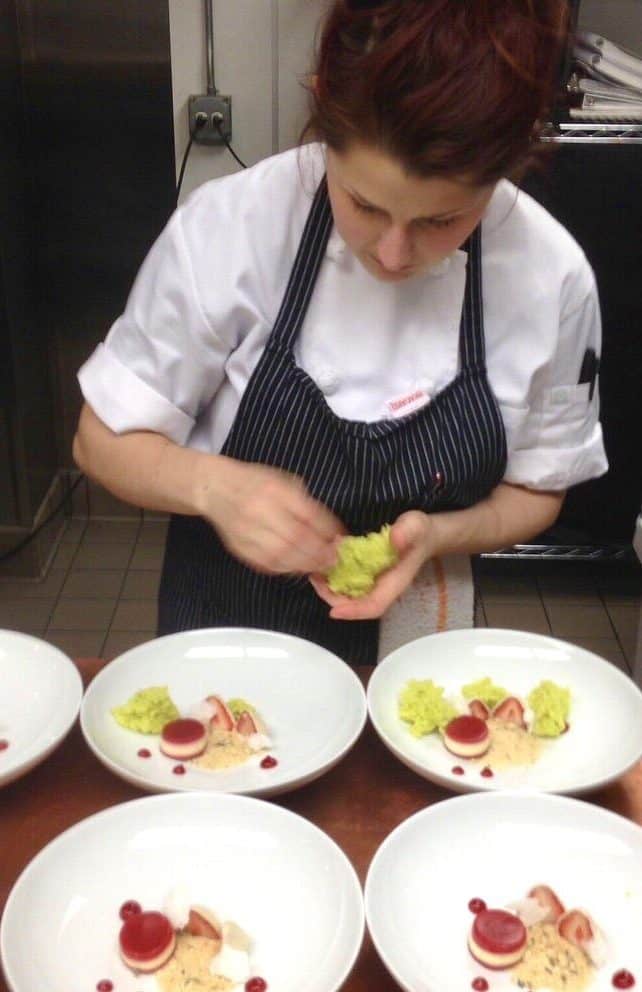 ---
Through all that hands-on experience, I learned as much as I could about how to do what I loved. And most importantly, I learned how to do it in the best way possible.
Then, I moved back to Vermont to merge my experience in the worlds of science and pastry by designing products and developing recipes for King Arthur Flour (now known as King Arthur Baking Company) while continuing to expand my professional knowledge.
It was at this point in my career that I truly discovered the magic of playing in the kitchen. Using my scientific methodologies in combination with all my pastry school knowledge and kitchen experience, I was able to quite literally create happiness for family, friends, and strangers alike in the form of butter + sugar + eggs + flour.
After a few years of honing my recipe development skills and learning all that I could from my experienced colleagues, I started the next part of my journey. Initially, I worked in a few more kitchens to diversify my skills. During this time, I began to form what would eventually become MINT + MALLOW bakery. I can honestly say that starting my own business was by far the most difficult, but most rewarding experience I could have ever imagined. In truth, when starting out, I had no idea what I was in for.
---
---
Time and time again, it has allowed me to re-write my view of the world, myself, and the reason I was put on this earth.
In the midst of all that, I gained an immense amount of knowledge about the logistics, obstacles, pitfalls, and strategies behind starting a bakery as I built and rebuilt every piece of this business on my own (and even today, I still do everything from content creation to building the website and balancing the books myself).
I truly wish you all the luck in the world. Please know, that regardless of where the business is at on the other end, the lessons you'll learn throughout the process of turning your passion into your career are beyond invaluable. No one can ever take them away from you. Those lessons are well worth all the long nights, breakdowns, burnouts, and earth-shattering perspective shifts you will have along the way.
Speaking of…despite having achieved what I thought was my true dream of opening a bakery just a few years after graduating from pastry school, I always struggled with the fact that geographically, I was limited to serving my very small local community. As incredibly supportive as that community has been, my mission is to bake the world happier.
After some soul-searching, the next manifestation of my business was born out of a simple desire to spread my creative wings while impacting as many people as possible during my time on this earth. And thus, M+M bakery blossomed into M+M kitchen.
Now, in this new space that I've created here in my sweet little corner of the internet…
This heart-centered test kitchen is my way of putting a lifetime of pastry expertise to work to serve as many of you as I can. Through sharing everything from family favorite recipes to high-end pastry formulas, I aspire to make delicious baked goods approachable and achievable for everyone.
After spending a little time here with me, my hope is to have you feeling confident in the kitchen. Whether you'd like to whip up a show-stopping dessert for that dinner party you're hosting this weekend or can't wait to finally develop the perfect chocolate chip cookie for your bakery's stand at the farmer's market, I'm here to guide you.
I hope these tips, tools, techniques, and recipes help fuel your creative baking fire. And even more importantly, I hope they help you learn to truly embrace (as I certainly have) that there is no better way to spread love and joy than through the universal language of sweets.
---
Where does all this sugary magic happen, you ask? My kitchen/photo studio/slightly-mad scientist laboratory is still based here in Vermont, just a stone's throw from my alma mater.
I'm lucky enough to spend most of my time here with the love of my life and official taste-tester for all things that come out of the M+M oven. Over the next few years, we'll be moving into a brand new kitchen and studio just across the river in New Hampshire, where we're building our forever home. I can't wait to take you all on the journey with me!
---
Love, light, and sweets always...
xo, Jocelyn