---
These cinnamon streusel coffee cake cookies are the perfect mix of a classic snickerdoodle, and all the best parts of a cinnamon coffee cake. Starting with a delicious sugar cookie dough, we'll roll the dough in cinnamon and sugar and then add a thumbprint center that's piled high with cinnamon streusel. Finally, we'll finish it all off with a beautiful vanilla glaze drizzle on top!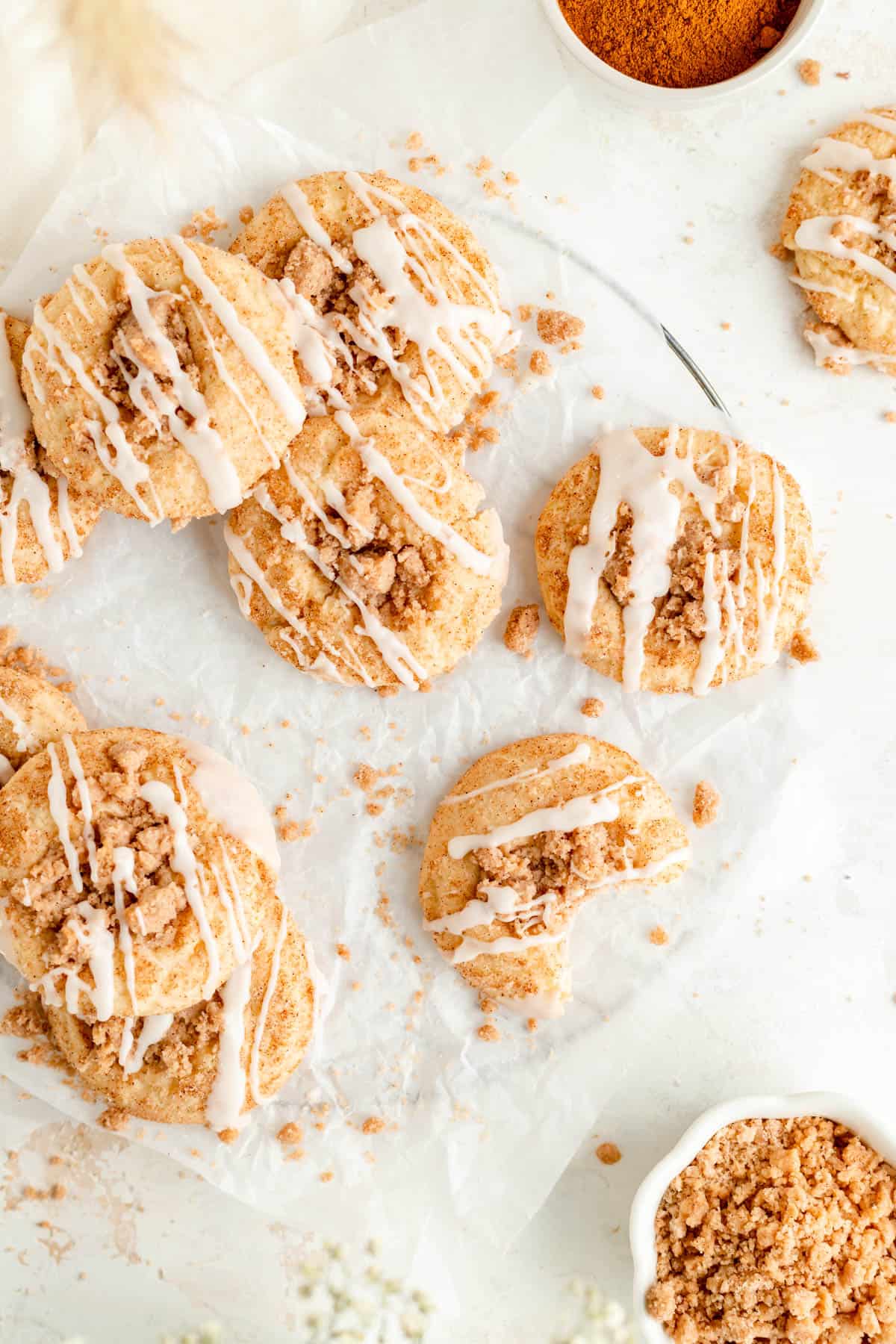 Jump to (scroll for more!):
What is coffee cake?
If you're wondering what exactly defines a coffee cake that we've pulled into these addictively delicious coffee cake cookies, let me help you out...
Traditional coffeecakes start with a moist vanilla cake. They tend to be pretty sweet, have a strong vanilla flavor, and definitely a nice and tender crumb. The middle of the cake usually has a "cinnamon filling" layer which is more or less composed of cinnamon, sugar and butter. The top is then coated in a beautiful layer of cinnamon streusel crumbs and then finished with a thin drizzle of vanilla glaze.
And in case you were wondering, no - there isn't actually any coffee in the cake. The name comes from how this treat is typically enjoyed - with a cup of coffee.
So how did all that become a cookie? Well...here's why I love this recipe and all the fun ways I kept this coffee break treat alive in this little hand-held sweet:
I tweaked this sugar cookie dough to include some extra eggs and baking powder (more like a cake batter) to give a little cakey-ness to these cookies amidst all the crunchy bits.
I used plenty of vanilla extract to make sure that pure vanilla flavor comes through all the cinnamony goodness.
I used a lot of cinnamon - but dividing it between different components of the cookie (the coating and the streusel) makes sure the flavor is strong, but not overwhelming.
I translated the cinnamon filling into a cinnamon coating to make sure we had multiple cinnamon layers on in this cookie.
I kept the classic streusel component in this recipe for that critical "crunch" on top.
I also added that traditional vanilla glaze drizzle in at the end, to really round out that traditional coffee cake profile.
Ingredient Tips for Better Baking
(Pssst…if you're ready to just get baking, get all the details in the recipe card below!)
---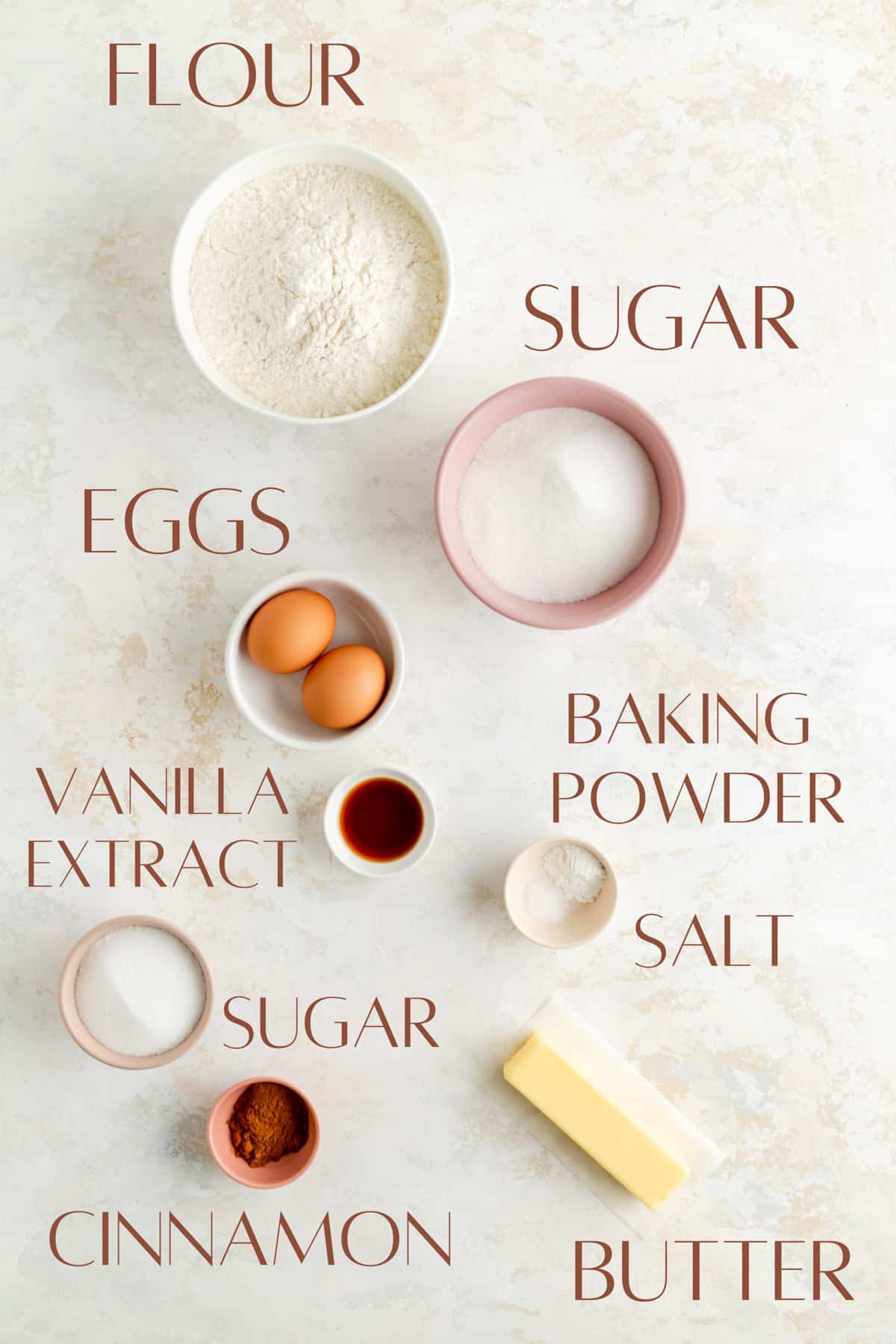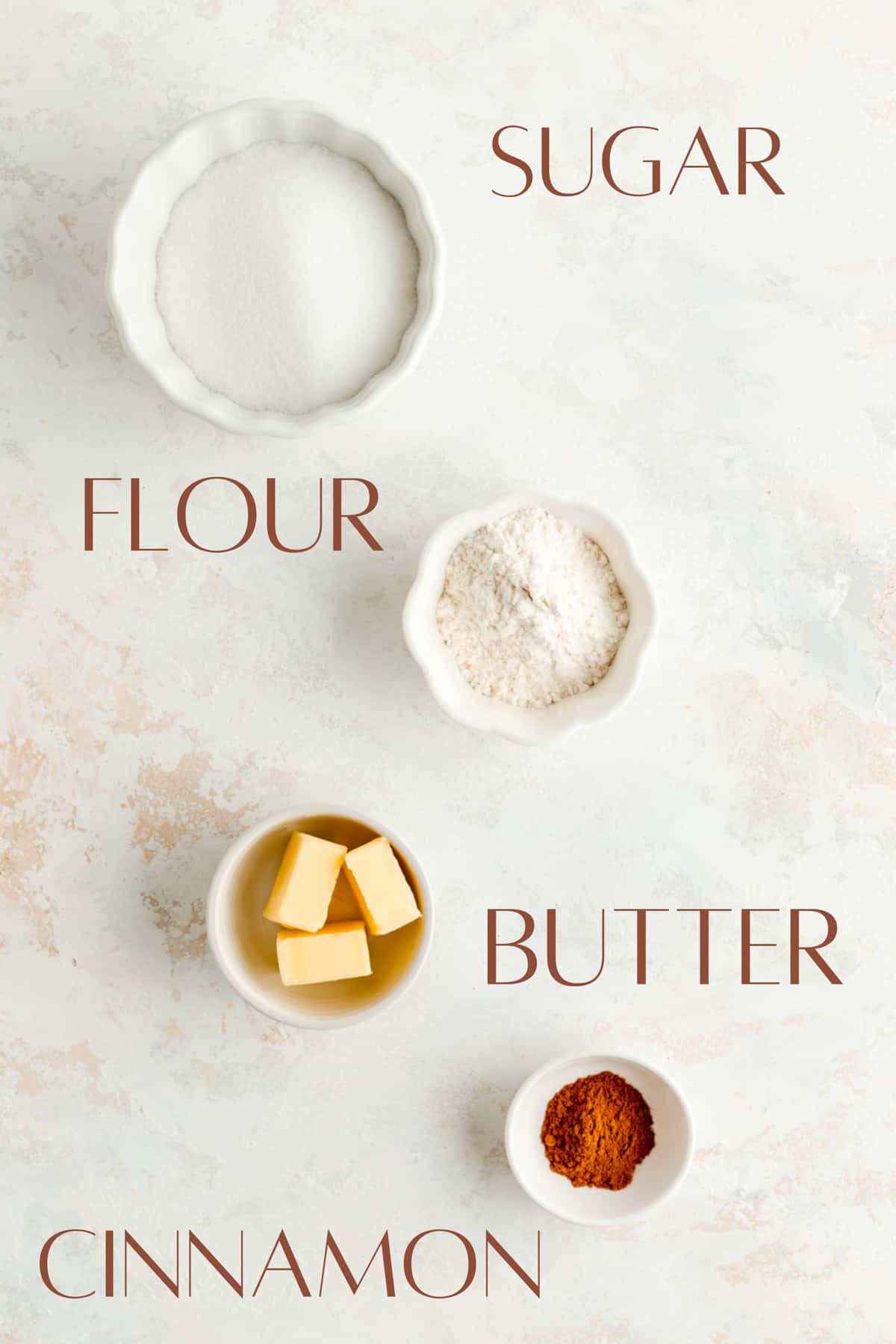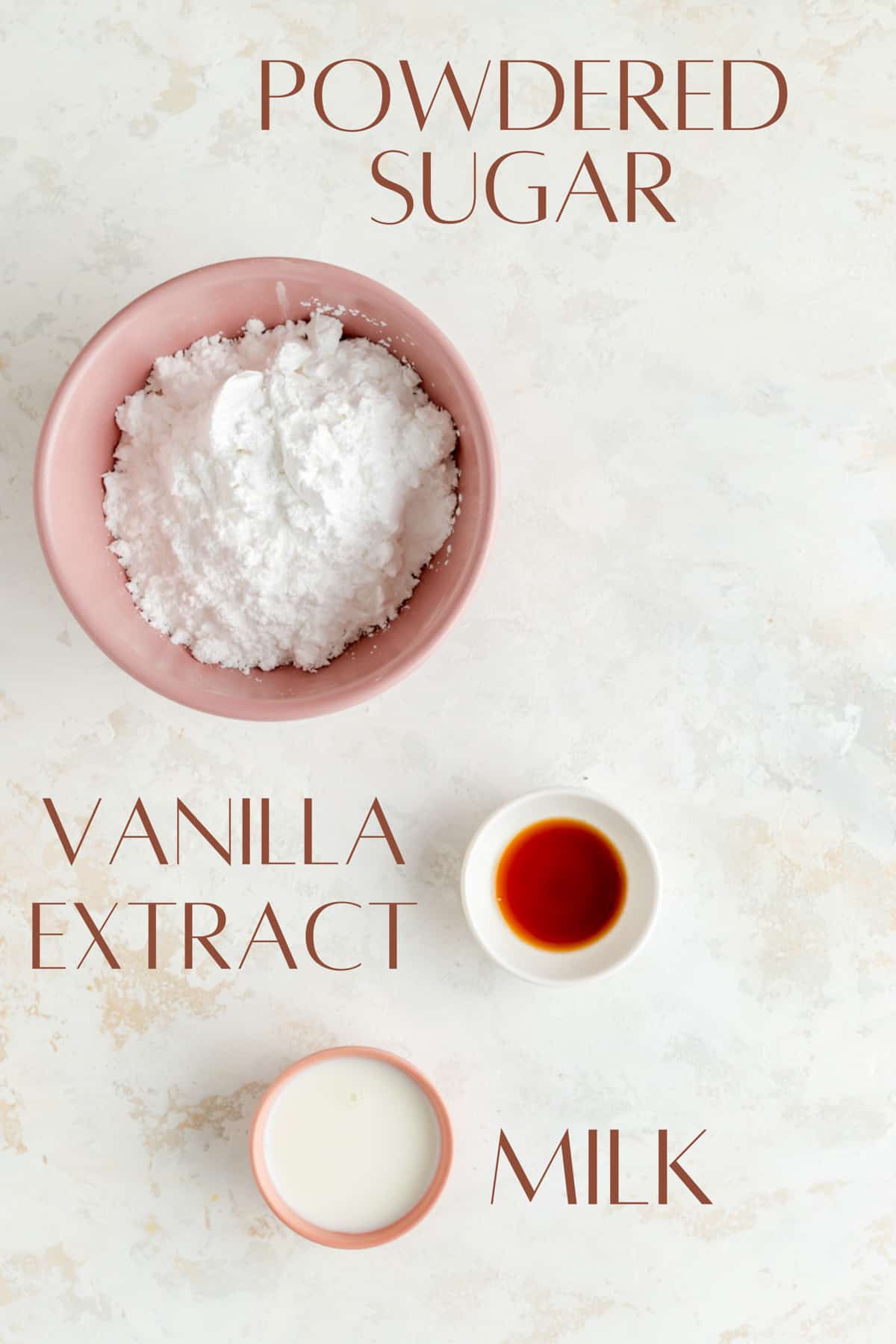 Cinnamon: because there's a good deal of cinnamon in this recipe, I like to use a sweeter, more-mild cassia cinnamon, as opposed to a Vietnamese cinnamon which has a bit of heat to it, sort of like Red Hots candy. The sweeter cinnamon allows the other flavors to come through more. But if you like that strong cinnamon heat, feel free to use that spicier Vietnamese cinnamon for a little extra kick.
Vanilla, Almond, or Orange Glaze: while a traditional coffeecake would usually have a vanilla glaze, feel free to play around with the flavor. I like vanilla or almond extracts, or adding fresh orange zest as a citrusy twist that pairs really nicely with the cinnamon. Whichever option you choose, just check the recipe notes to see the adjusted amounts according to your chosen flavoring.
(p.s. for all the basic tips that no one ever taught you, that are super important to help you bake your best, check out my Baking 101 series!)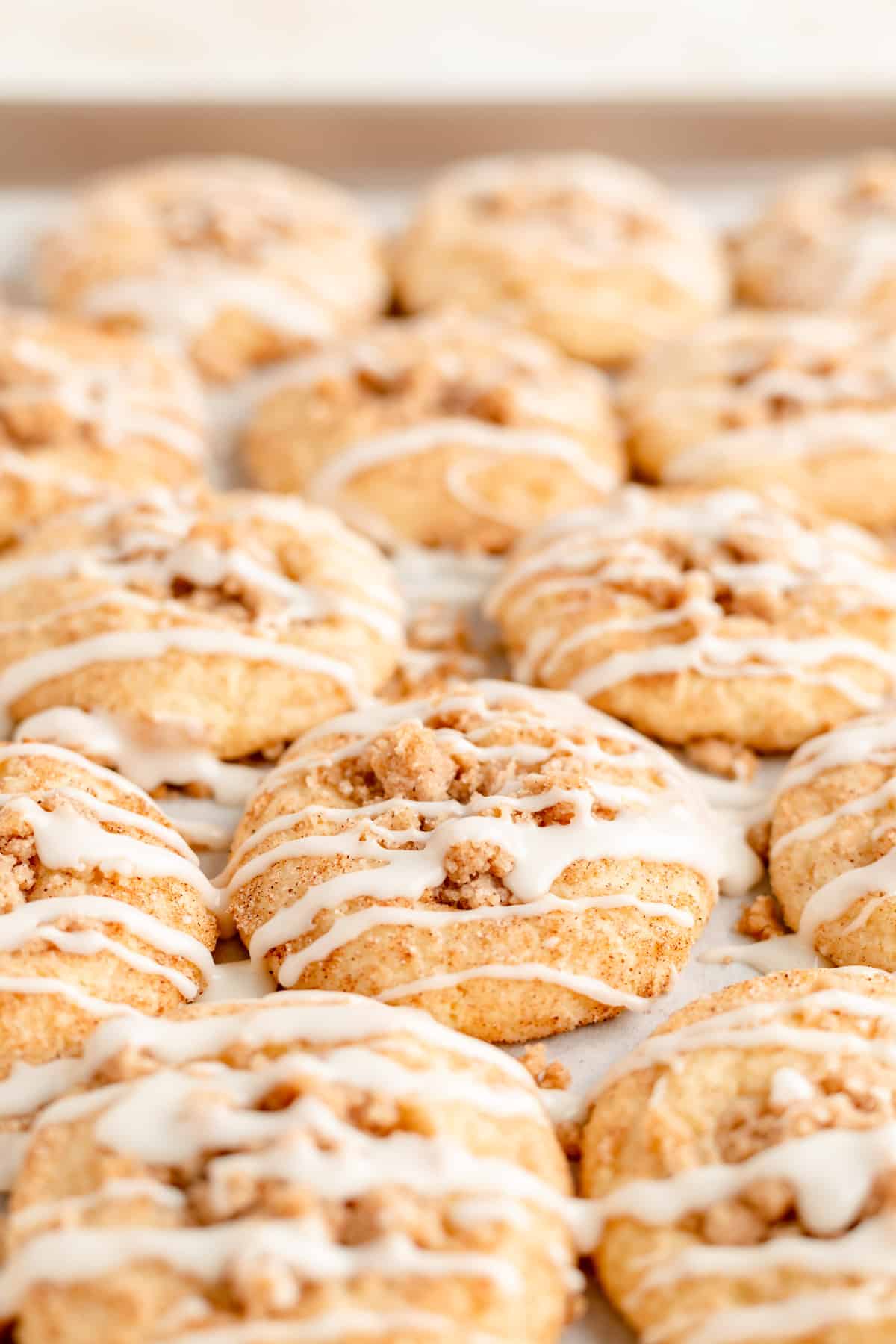 Special Tools You'll Need
Hand or stand mixer: you'll need a mixer to get your butters and sugars light and fluffy, and to fully incorporate the eggs.
1.5" ice cream scoop: a scoop is optional, but helpful for quick, even cookie portioning, especially because this is a softer dough
How to Make Coffee Cake Cookies
(Pssst…if you're ready to just get baking, get all the details in the recipe card below!)
---
TO MAKE THE STREUSEL:
Prep your baking sheets and pre-heat your oven. Stir together the dry streusel ingredients.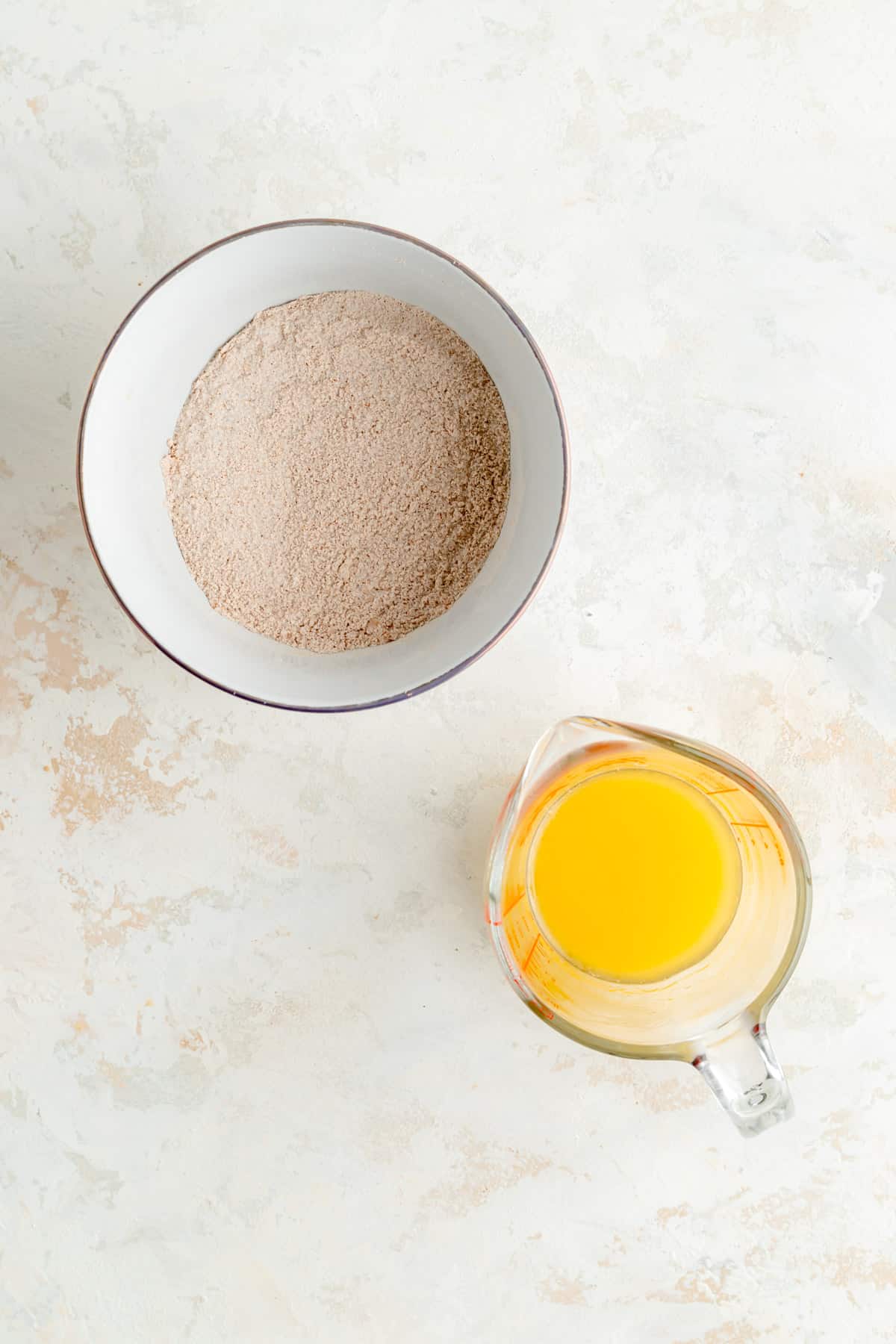 Mix in the melted butter until large crumbs form with no dry pockets. Set aside.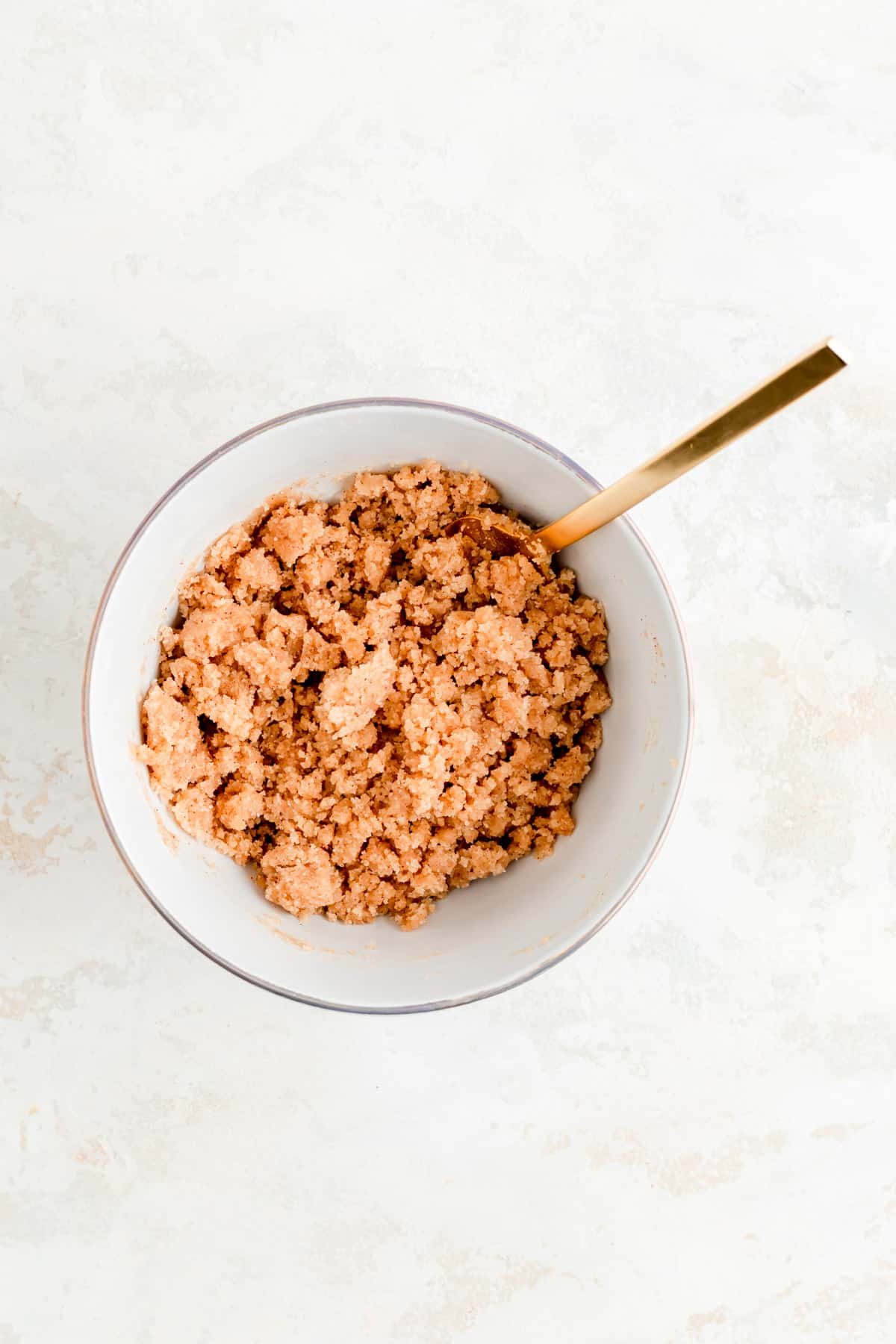 TO MAKE THE CINNAMON SUGAR:
Combine cinnamon and sugar. Set aside.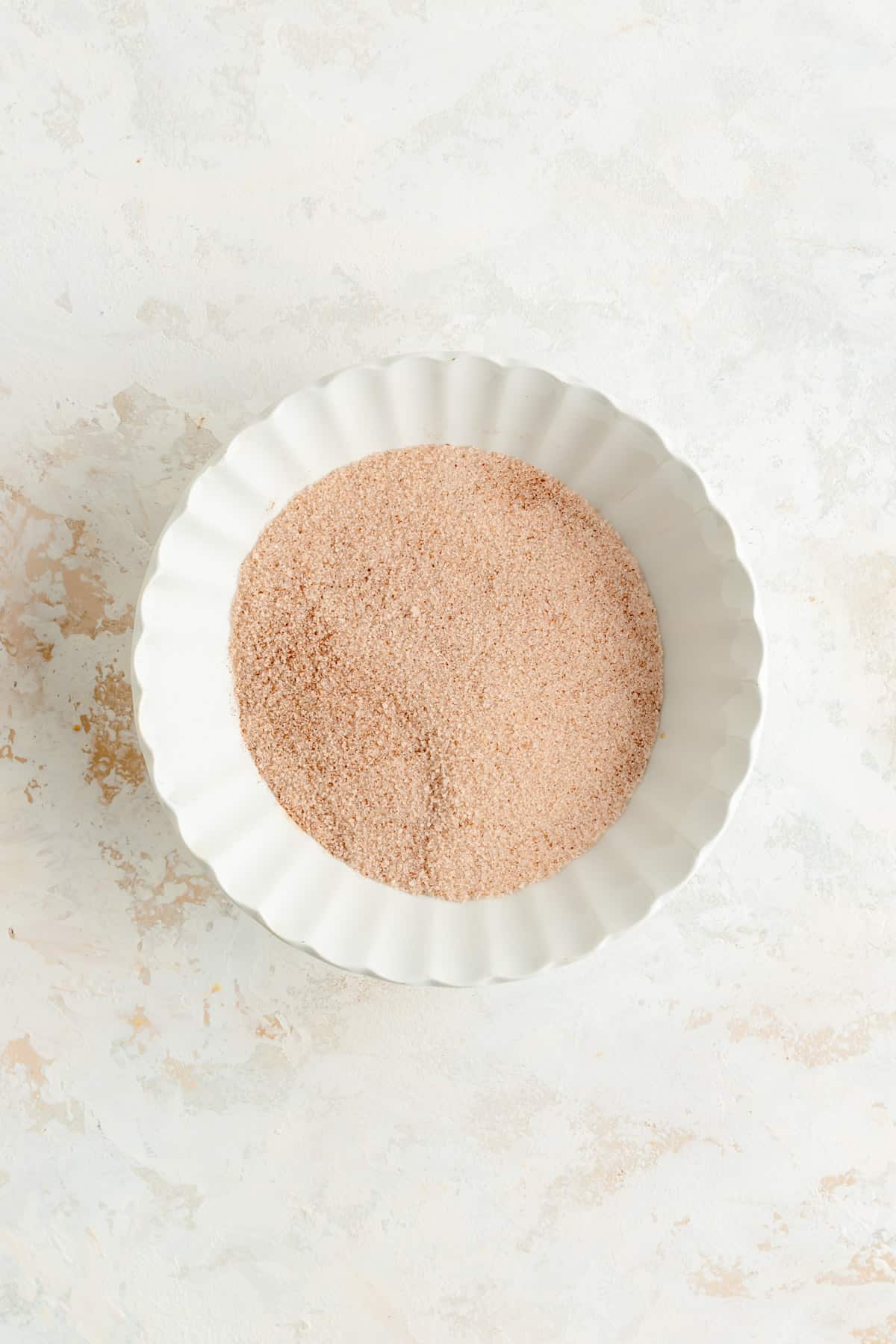 TO MAKE THE COOKIES:
Cream together the butter, sugar, and vanilla extract. (More on why you want to add the vanilla early in this lesson on butterfat!)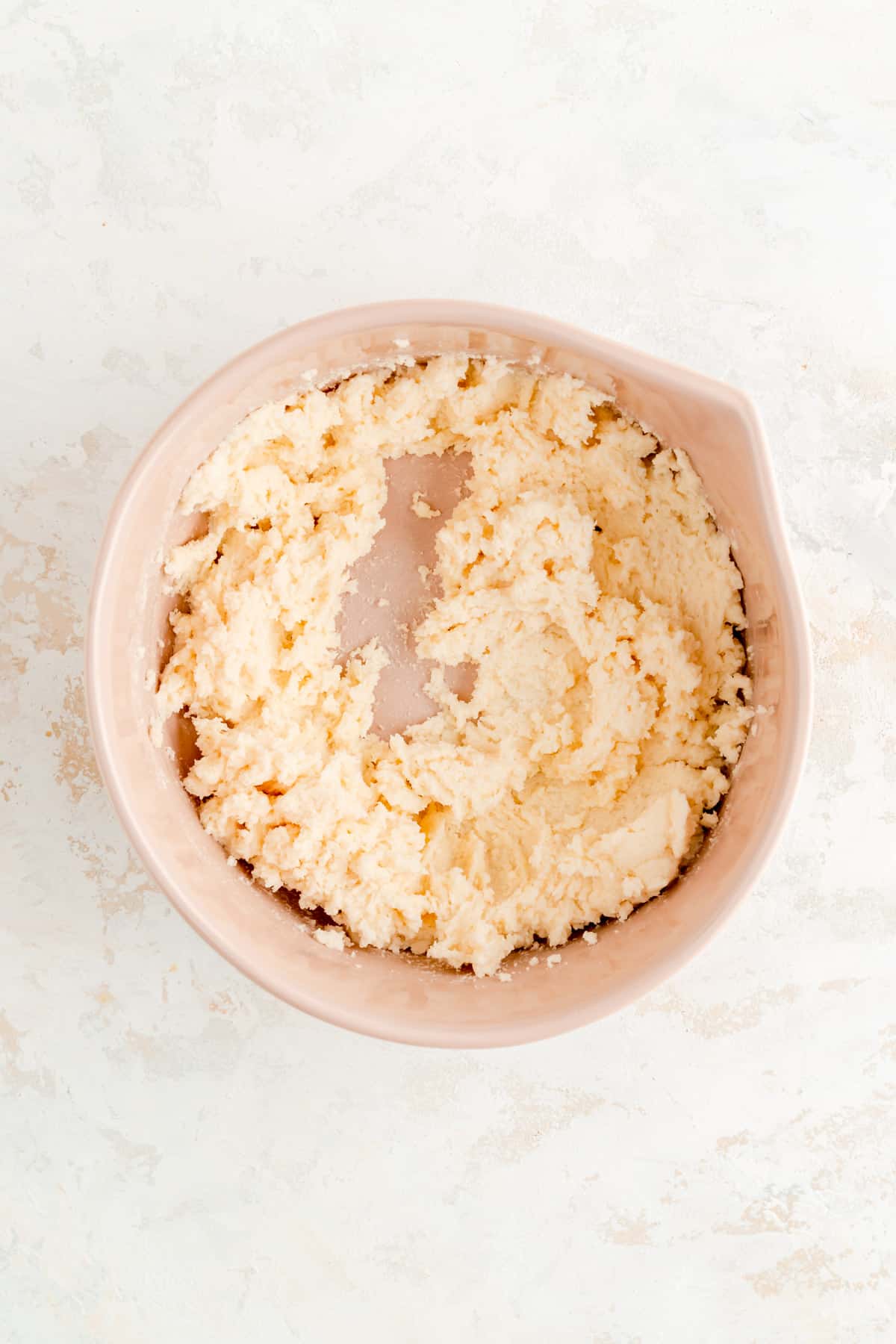 Beat in the eggs.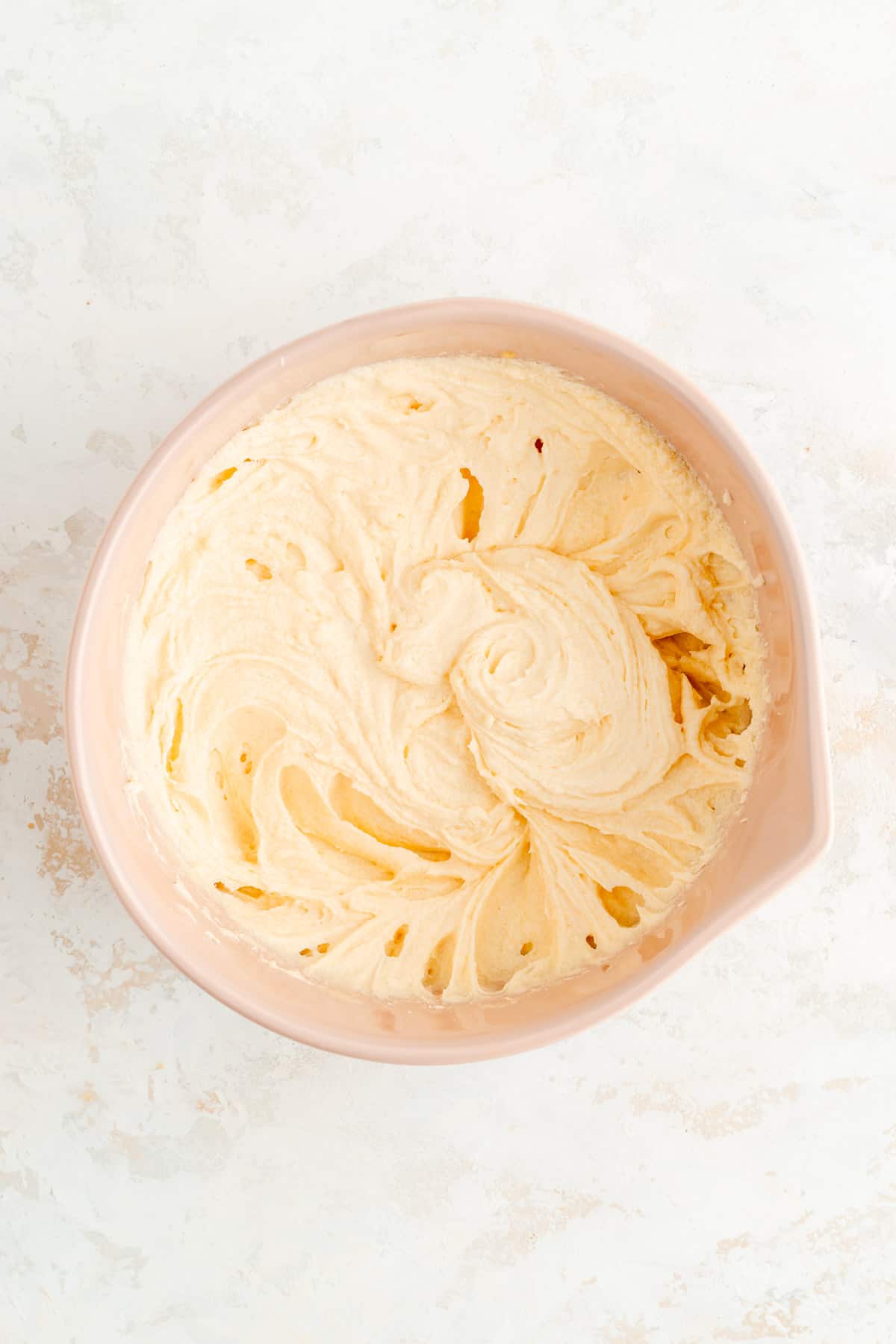 Mix in the dry ingredients, just until combined.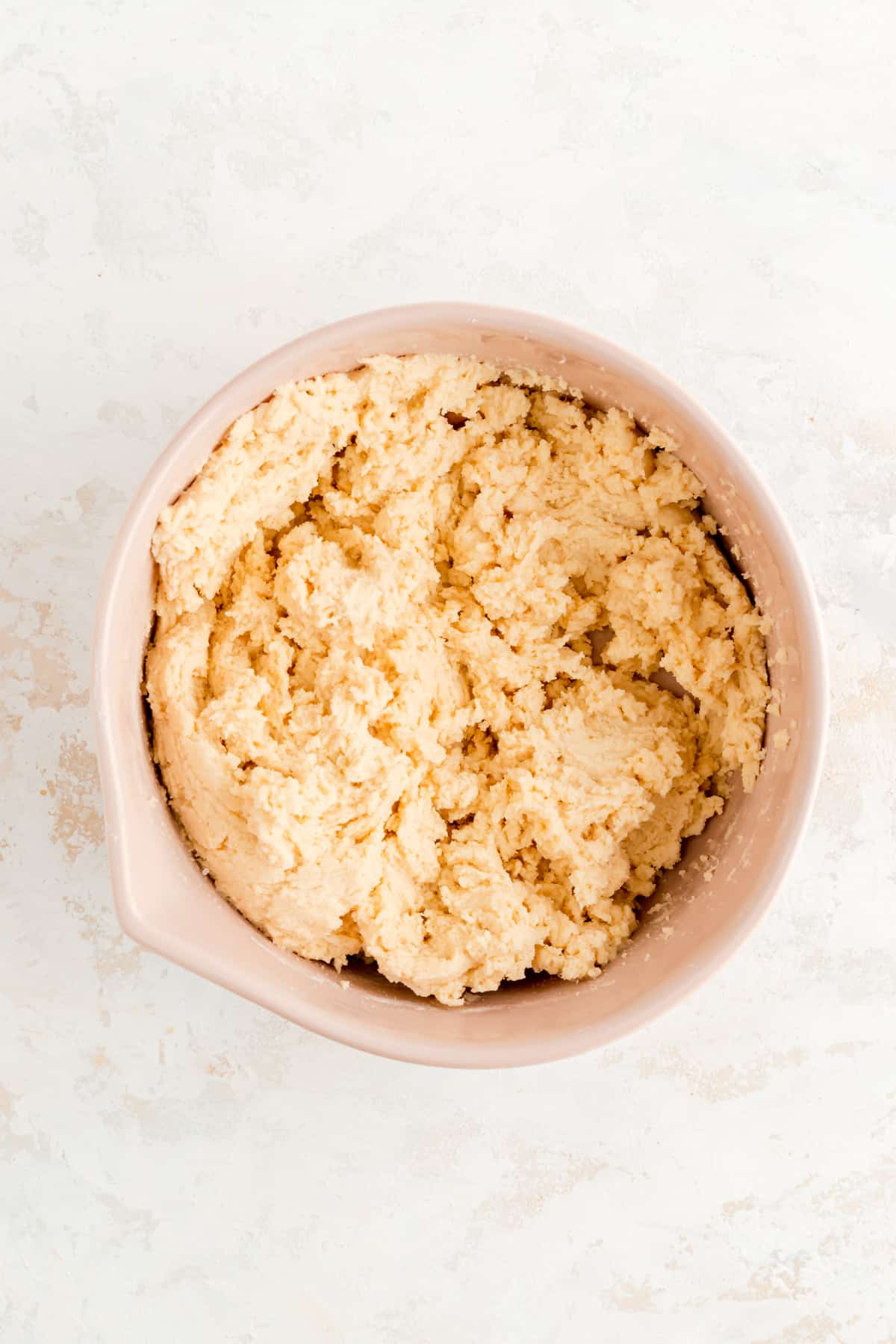 Scoop your cookies into 1.5" dough balls. Round as needed, then coat in cinnamon sugar.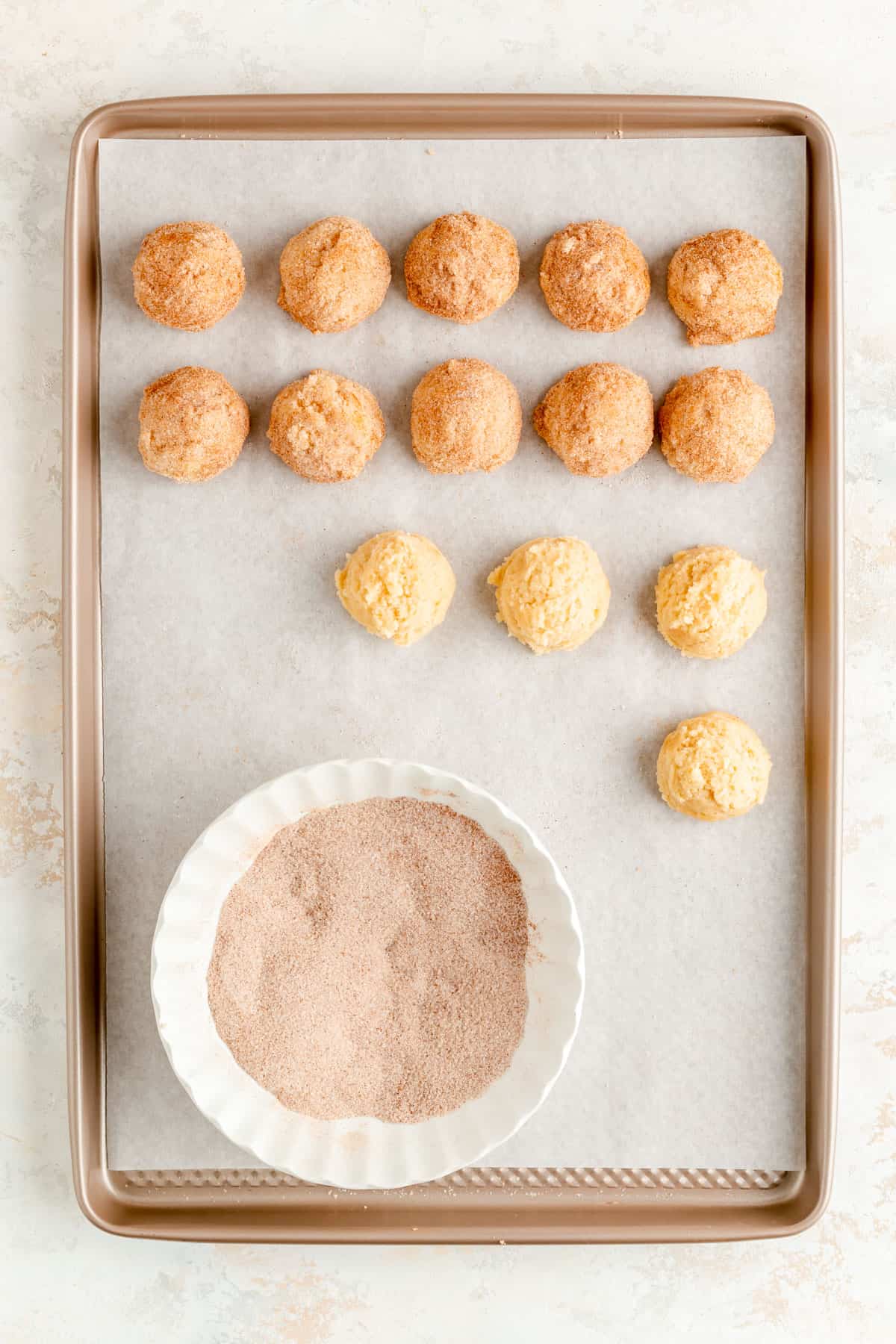 Tray up on prepared pans. Use your thumb to create a depression in the center of the dough balls.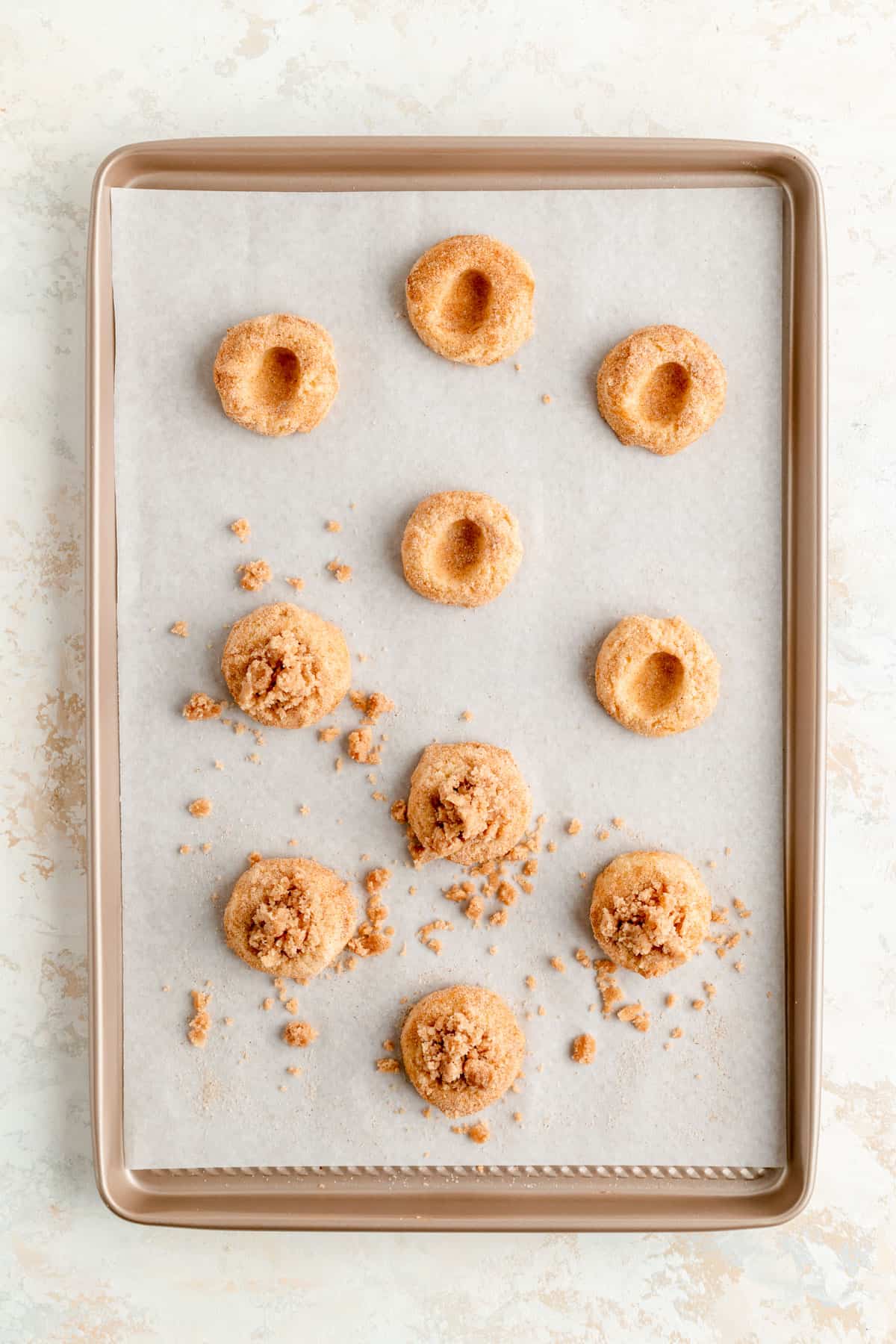 Generously pile up the streusel in the thumbprint and on top of the cookie.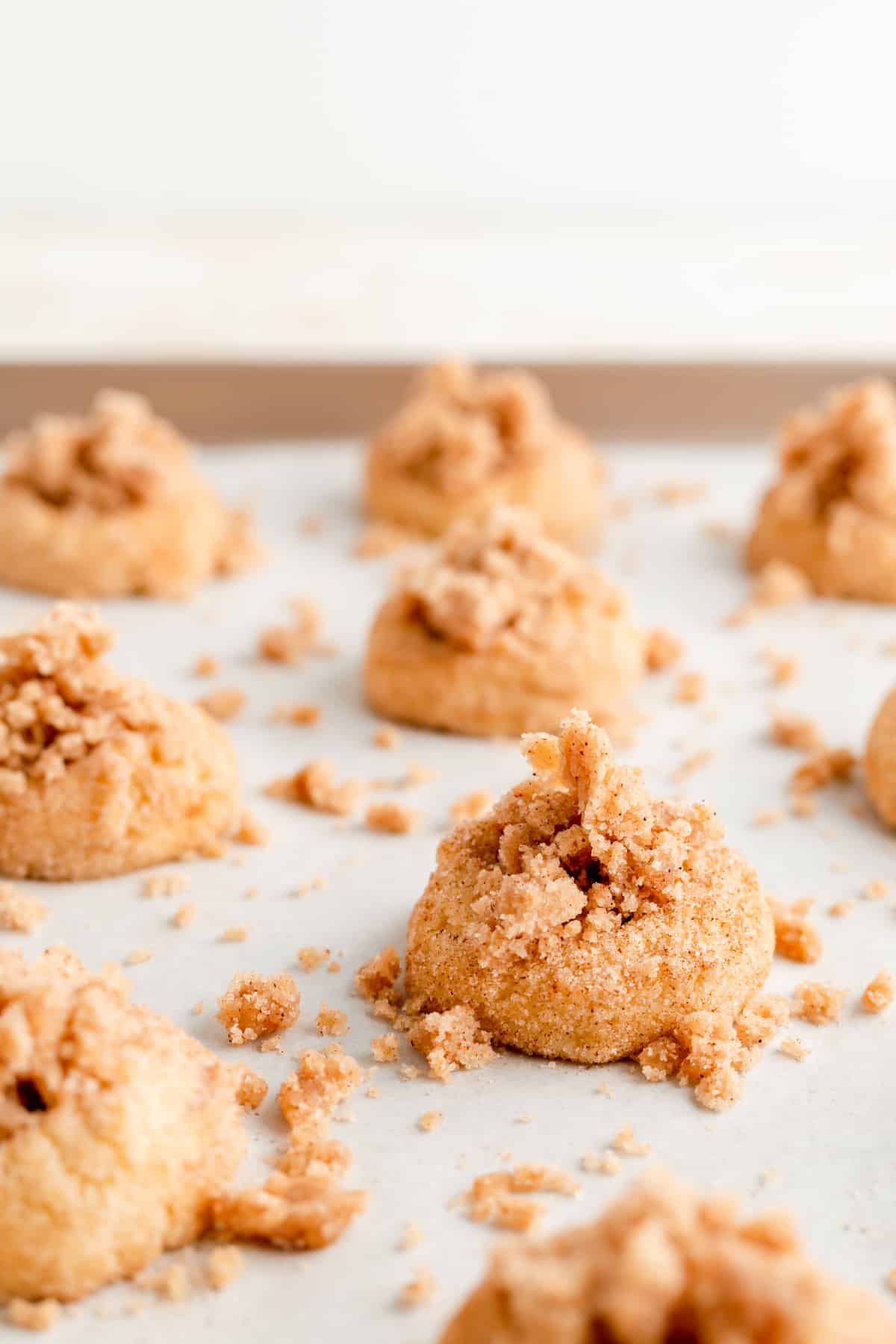 Bake just until the bottoms are golden brown and the tops feel completely dry and set on the edge. Cool completely.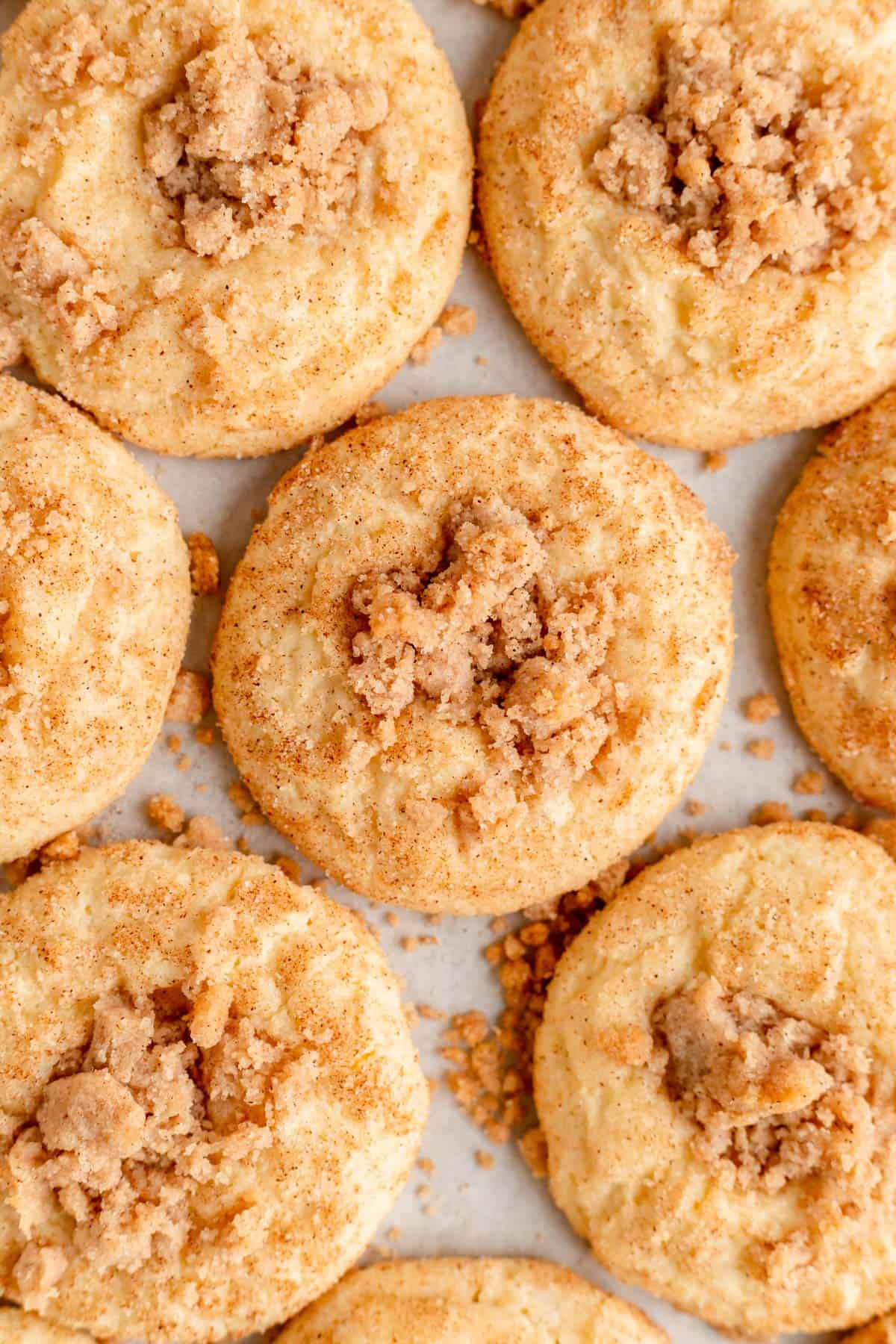 TO MAKE THE ICING:
Stir together all the icing ingredients until smooth and well combined.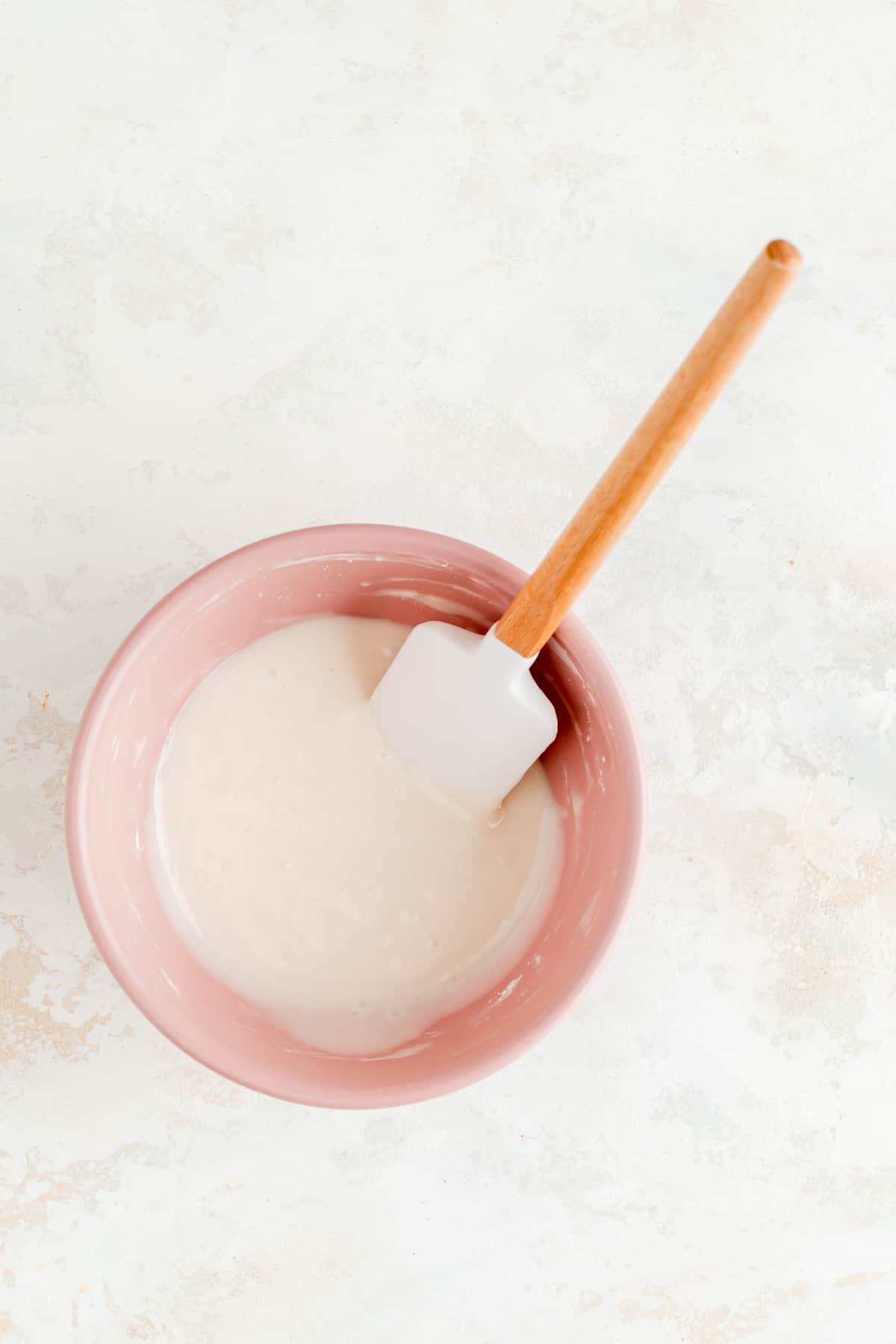 Tray the cookies up, close together, then drizzle icing back and forth to desired level of coverage. Share and enjoy!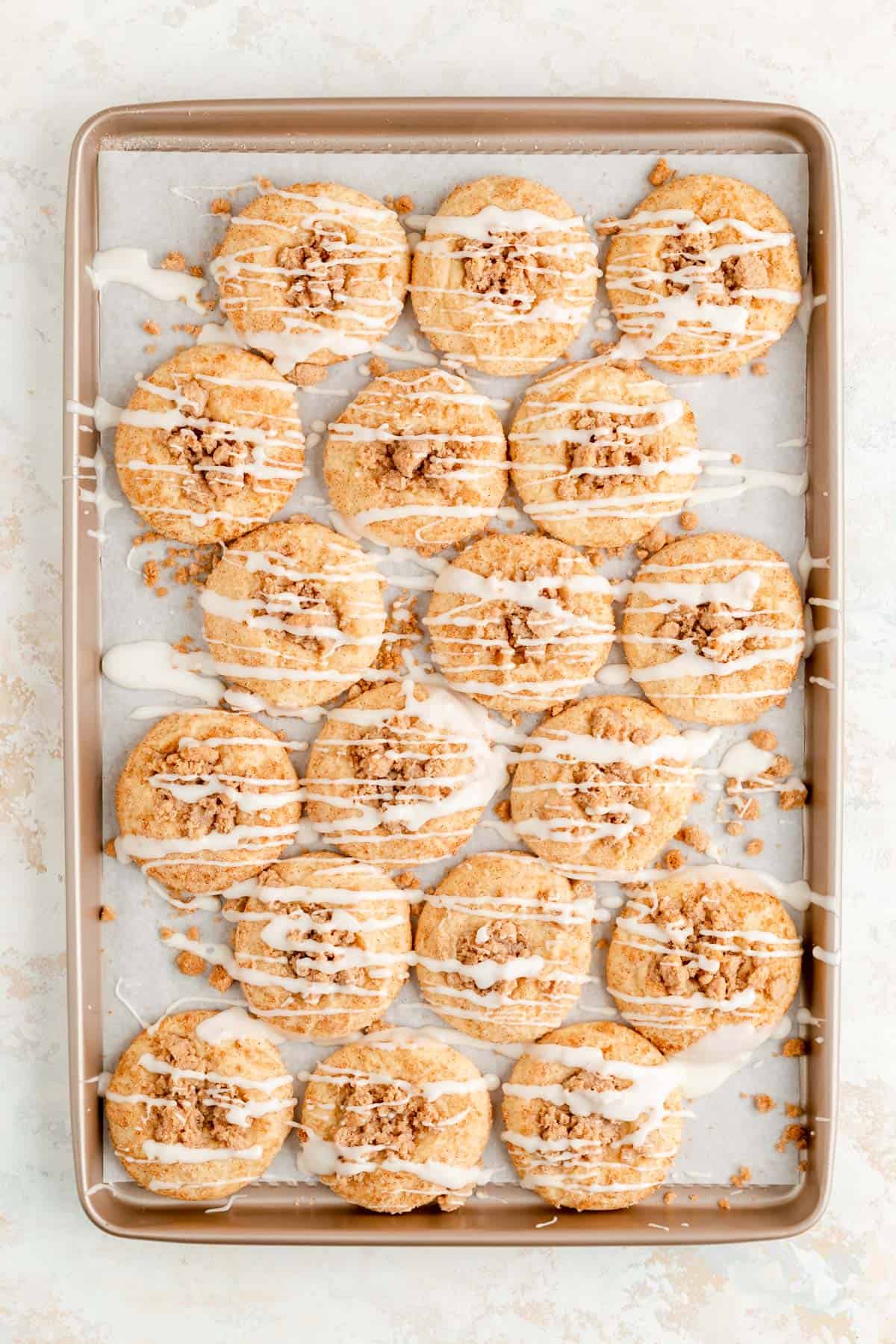 Full video tutorial!
So that's the steps in a nutshell, and here's a little video tutorial on how to assemble these tasty cookies...
And check out the full RECIPE WEB STORY for a click-through tutorial!
Test Kitchen Tips for Sweet Success
Roll in cinnamon sugar immediately! Because the dough balls will dry out as they sit, I highly recommend coating them immediately after you scoop just a few. So when I make these cookies, I'll scoop 2-3 dough balls, then switch to coating them in the cinnamon sugar. Then I'll scoop another 2-3, then coat those, and repeat this process until all the dough it gone.
Compact the streusel: depending on how much your streusel has cooled, it may be easier or harder to keep it in clumps instead of dust. For tips and working it back into clumps if needed, check out the recipe card notes below!
Use all the streusel: the crunchy streusel is definitely one of the best parts of these coffee cake cookies, so don't be afraid to pile it super high in those thumbprints. You should be able to use all the streusel across the 24 cookies, so if you get to the end and have some left, just keep piling it on! If you get to the end and run out, just grab some of the crumbs that fell on the tray to fill the remaining cookies.
Don't overbake: these cookies don't get much color at all on their tops in the oven. So, what you want to look for is a nice try top, and when you press the sides of the thumbprint, they feel fully set. You also want to make sure you don't see any raw-looking cookie dough in the middle near the streusel still. If you know your oven is true to temp, you should be able to stick to the bake times and be good to go!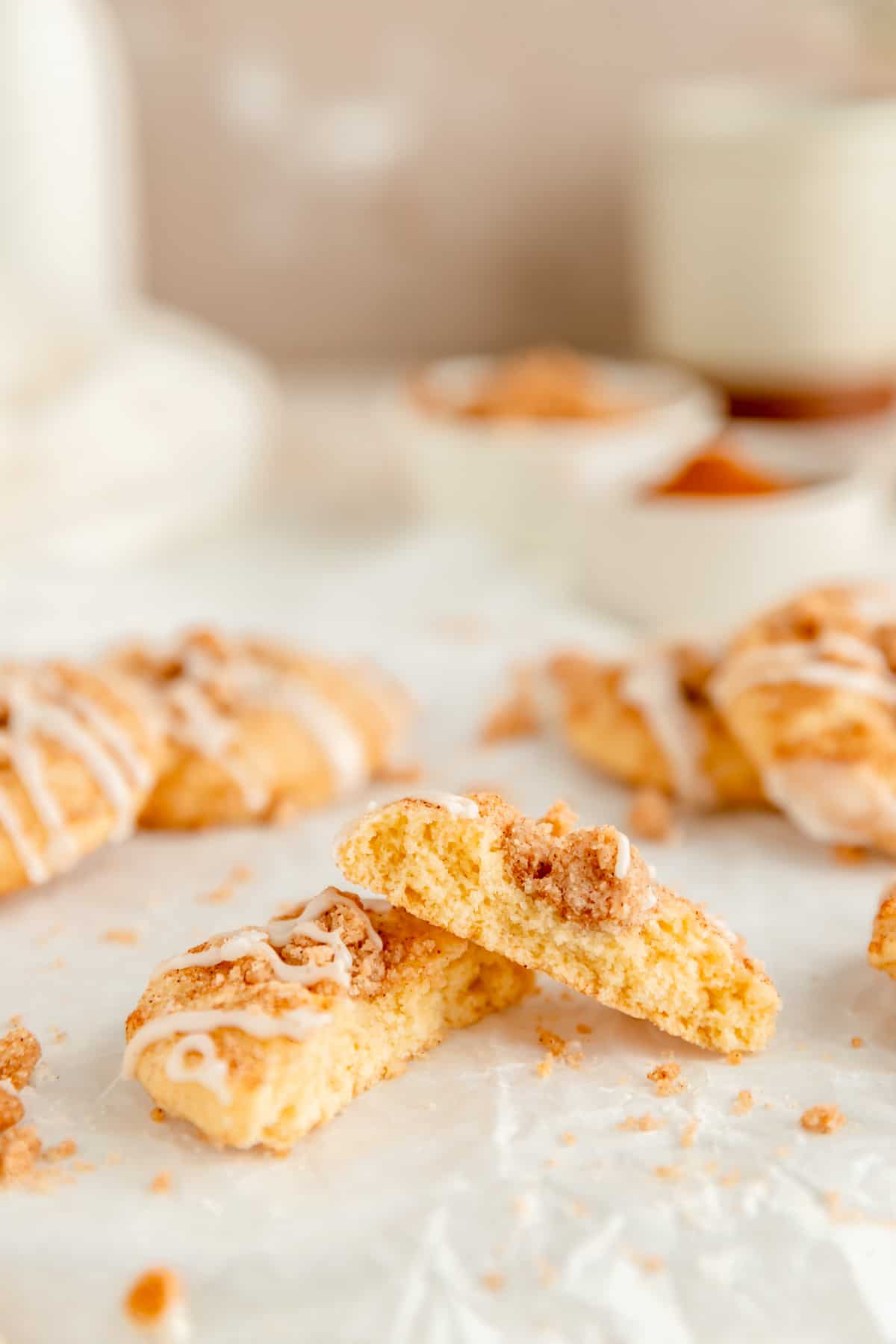 More Tips + FAQs
Can you bake these cookies from the freezer?
Because of the assembly method used for these cookies, I don't recommend them for fridge or freezer bake. There's nothing holding that streusel on before the bake, so you'll want to mix, assemble and bake the cookies all at once for best results.
How do you store these cookies?
Store cookies air-tight at room temperature for up to 5 days.
Can you add nuts to these cookies?
Yes! If you'd like to add some pecans or walnuts to the streusel, feel free! Make sure you chop them quite small, and I'd use ¼ cup at most or you might have difficulty mixing your streusel. I'd recommend fully mixing up the streusel and then adding the nuts in after to work them into the mixture.
Can I skip the vanilla
glaze?
Absolutely. These cookies are delicious with or without the vanilla drizzle so feel free to make them either way.
Is there actually any coffee in coffee cake?
Nope - there isn't actually any coffee in the traditional coffee cake. Instead, the name comes from how this treat is typically enjoyed - with a cup of coffee.
---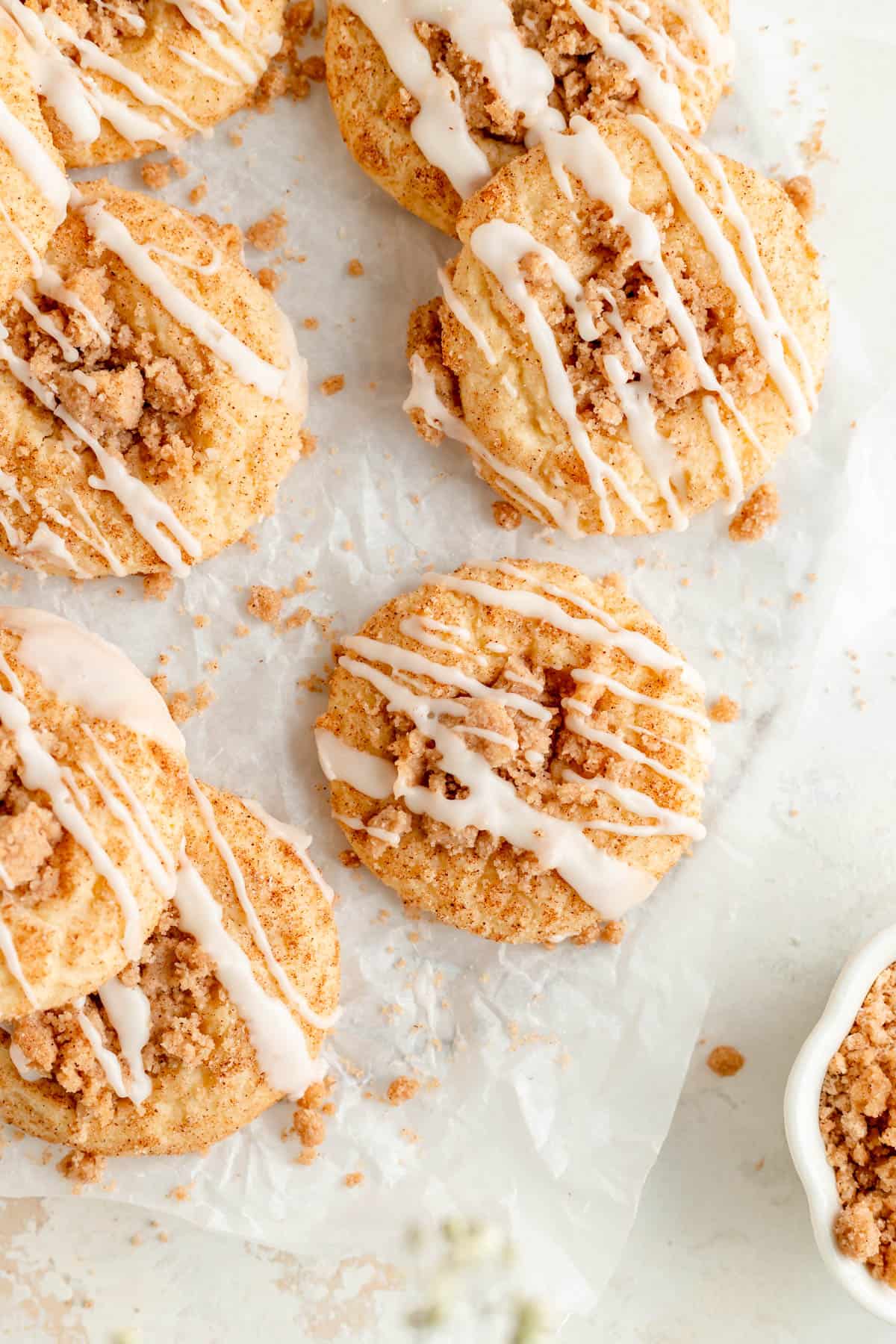 Other Spiced Recipes You'll Love
Craving more delicious treats? Here are a few of my other favorite cinnamon and spice recipes:

⭐ If you gave this recipe a try please give it a ⭐ rating and tag me on Instagram @mint.and.mallow.kitchen so I can see what you're baking up! ⭐
📖 Full Recipe
Cinnamon Streusel Coffee Cake Cookies
A classic sugar cookie, a snickerdoodle, and a cinnamon streusel coffee cake combine to make these unbelievably delicious vanilla-glazed coffee cake cookies!
Ingredients
FOR THE STREUSEL:
½

cup

sugar

⅓

cup

all-purpose flour

1

teaspoon

ground cinnamon

3

tablespoons

unsalted butter

(melted)
FOR THE CINNAMON SUGAR:
½

cup

sugar

2

teaspoons

ground cinnamon
FOR THE COOKIES:
½

cup

(1 stick) unsalted butter

(softened)

1 ¼

cups

sugar

2

teaspoons

vanilla extract

2

large eggs

2 ½

cups

all-purpose flour

1 ½

teaspoons

baking powder

½

teaspoon

fine salt
FOR THE ICING (optional):
1 ½

cups

powdered sugar

(sifted)

2

tablespoons

whole, 2% or skim milk

⅛

teaspoon

vanilla extract*1
Text me the ingredients please!
Instructions
TO MAKE THE STREUSEL:
Preheat and prep: preheat your oven to 350°F and line two baking sheets with parchment paper.

Stir together dries: use a fork to stir together the streusel's sugar, flour, and cinnamon in a small bowl.

Mix in butter: add melted butter to dries and use a fork to blend until large crumbs form and there are no more dry patches in the mixture. Set aside.
TO MAKE THE CINNAMON SUGAR:
Combine ingredients: stir together the ½ cup sugar and cinnamon in a separate small bowl and set aside.
TO MAKE THE COOKIES:
Cream butter, sugar, and vanilla: cream together the butter, 1 ¼ cups sugar, and vanilla extract for 1-2 minutes until light and fluffy on medium-high speed using a hand or stand mixer.

Beat in the eggs: add in the eggs, and beat for about 1 minute on medium-high until the batter is smooth, well-blended, and slightly fluffy (it'll look a little like cake batter here).

Mix in dries: stir together flour, baking powder and salt in a small bowl until blended. Add that dry mix to the batter, and mix on low speed just until fully combined, about 30 seconds. A smooth, soft dough should form.

Scoop and coat: scoop dough into 1"-1.5" round balls, using about 2 tablespoons of dough per cookie for around 2 dozen cookies total (an ice cream scoop works well for easy portioning). Roll dough balls between your hands to fully round (if not using an ice cream scoop), then promptly roll in the cinnamon sugar until fully coated.*2

Tray and thumbprint: place cookies on prepared baking sheets, at least 2" apart. Use your thumb to create a depression in the center of the dough balls, leaving a thin layer of dough at the bottom of the depression (in other words, don't make a full hole, just a deep indent).

Add streusel: generously pile up the streusel in the thumbprint and on top of the cookie as well.*3 You should use all the streusel by the time all the cookies are filled.

Bake: bake for 13-15 minutes, just until the bottoms are golden brown and the tops feel completely dry and set on the edge. There shouldn't be any dough that still looks raw near the streusel in the center either, but the tops won't have much color on them which is normal.

Cool fully: allow cookies to cool completely while you prepare the icing.
TO MAKE ICING:
Combine icing ingredients: stir together the powdered sugar, milk, and vanilla extract*1 until smooth and fully combined. The glaze should be thick, but still drizzle smoothly off the end of the fork. Feel free to carefully thin with milk, a teaspoon at a time, or thicken with powdered sugar, a tablespoon at a time, if desired.

Tray up cookies: place fully cooled cookies on a wire rack or baking sheet, close together.

Drizzle, share, and enjoy: use a fork, pastry bag with small round tip, or zip-top bag with a small corner cut off to drizzle the glaze back and forth over the cookies to you preferred amount of coverage. Allow glaze to set for 15-20 minutes, then share this delicious cinnamony mash-up with family and friends for an extra-special coffee break treat!
Test Kitchen Tips
*1Glaze flavoring: while a traditional coffee cake would usually have a vanilla glaze, feel free to play around with the flavor here. I like using ⅛ teaspoon vanilla extract, or just a few drops of almond extract, or adding the fresh zest of half an orange for a citrusy twist that pairs really nicely with the cinnamon. Feel free to use whichever option sounds tastiest to you, or even skip the glaze altogether!
*2Roll in cinnamon sugar immediately! Because the dough balls will dry out as they sit, I highly recommend coating your dough balls immediately after you scoop one or two. If you scoop all the dough, then go back to coat it, you may have a harder time getting the sugar to stick due to the dried-out surfaces.
*3Streusel Tips: depending on how much your streusel butter has cooled after mixing, it may be easier or harder to keep it in clumps instead of dust.

 

To make the clumps if needed, squeeze a big chunk of streusel together in your hand, then gently break up that chunk over top of the thumbprint to pile smaller and larger clumps up in the hole and on top of the cookie (check out this Instagram reel to see this in action!)
Storage: store these cookies at room temperature in an air-tight container for up to 5 days.
Fridge or freezer bake? because of the assembly of these cookies, I don't recommend preparing them ahead of time at all.

 

For best results, mix, assemble and bake the cookies al
Nutrition
Serving
1
cookie
|
Calories
209
kcal
|
Carbohydrates
38
g
|
Protein
2
g
|
Fat
6
g
|
Saturated Fat
3
g
|
Polyunsaturated Fat
0.3
g
|
Monounsaturated Fat
2
g
|
Trans Fat
0.2
g
|
Cholesterol
28
mg
|
Sodium
112
mg
|
Potassium
26
mg
|
Fiber
1
g
|
Sugar
26
g
|
Vitamin A
184
IU
|
Vitamin C
0.01
mg
|
Calcium
25
mg
|
Iron
1
mg