---
This Citrus Cream Cheese Pound Cake has three layers of citrusy flavor packed into one beautiful loaf. With a double citrus cake, a lemon juice soak, and last but not least, an orange juice glaze, this recipe is the perfect blend of sweet and tart flavors that will have you coming right back for another slice!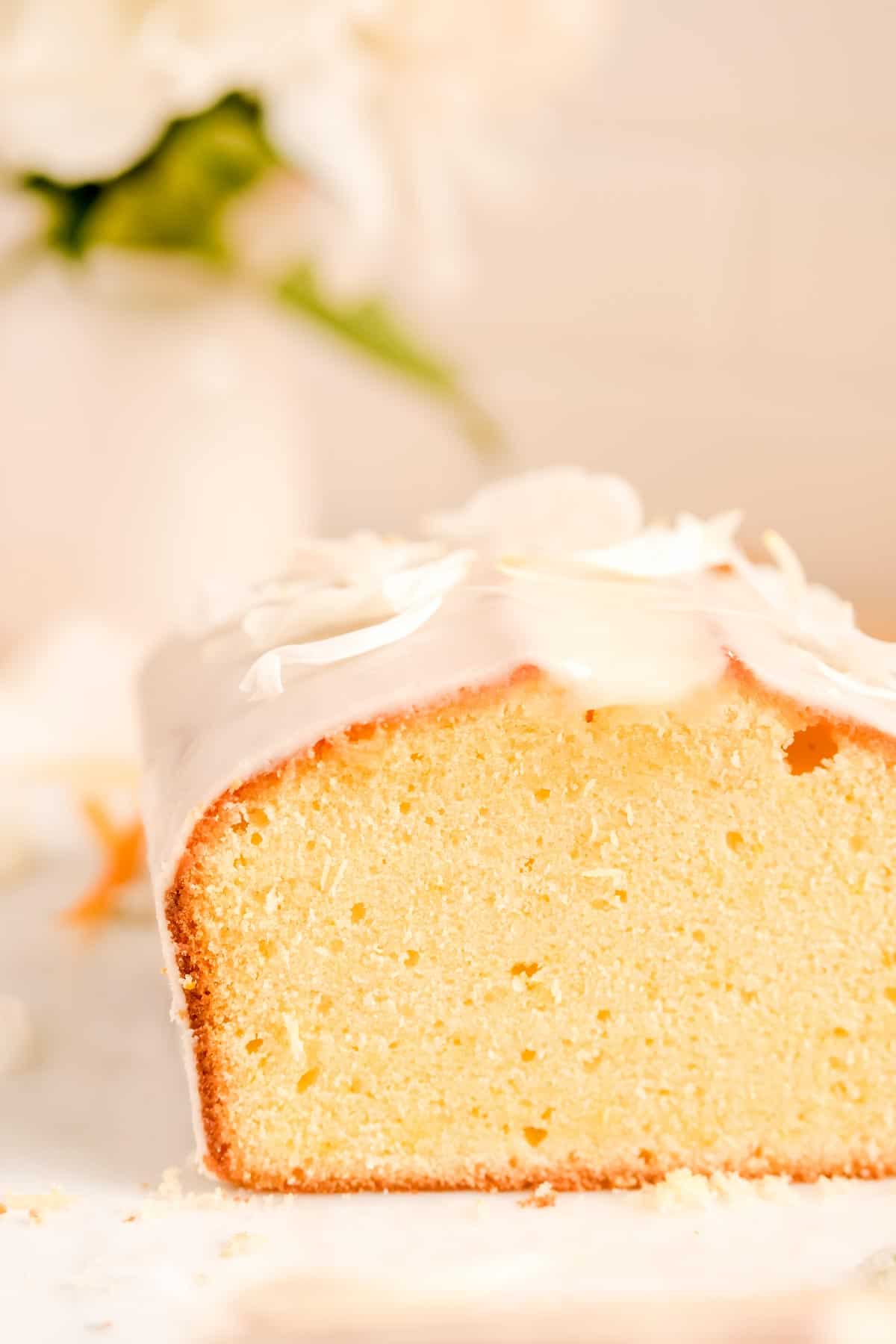 Jump to (scroll for more!):
Triple citrus for the win.
While I'm sure many of you have had classic lemon pound cake, this loaf has sooooo much more going on than your traditional lemon loaf.
The play of the orange and lemon flavors is perfectly balanced for both a refreshingly tart lemon pucker, and the sweet finish from the orange. The cream cheese then rounds it all out with a little extra tang and richness that places this citrus pound cake above all others.
(p.s. if you're looking for another extra zesty recipe, be sure to check out my Fluffy Lemon Pancake Recipe topped with a fresh lemon whipped cream for another bright and tasty treat!)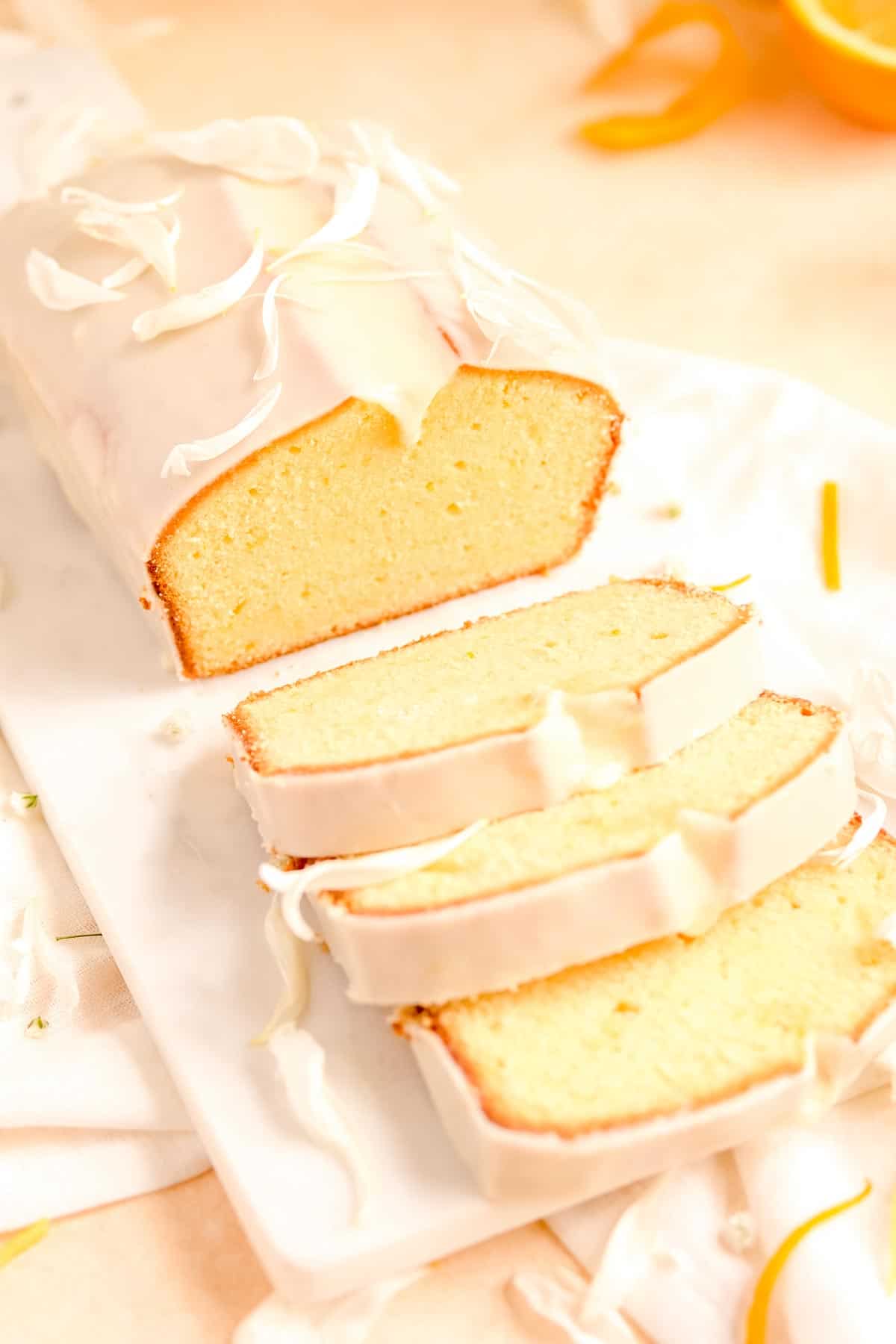 Why this recipe leads to sweet success...
Here are a few things you should know to help you bake with confidence every step of the way.
Air Bubbles and Pound Cakes: pound cakes are naturally very dense and tight-crumbed, which is of course why they have such a deliciously rich flavor and texture. To maintain this, we want to make sure not to whip too much air into our batter. So while in the first step you can feel free to turn the mixer speed up to thoroughly cream our fats and flavors together, you want to keep you mixer speed lower for the rest of the bake so you don't introduce too much more air once the eggs are added.
The Best Way to Zest: whenever possible, we want to zest our citrus right over our mixing bowl (and yes...this does mean you can't measure it, but a little less or more zest won't break your recipe!). This is because there's a bunch of citrus oil in the rinds that is released during zesting. We want to trap all that flavor in our batter. (Fun Fact: if you've ever seen a bartender twist a strip of zest over a cocktail before service, they're actually spritzing those oils into the cocktail to give you that same extra flavor we want in our loaf!)
Zest then Juice: there's nothing more difficult than trying to zest a cut, or even worse, juiced citrus rind. So always zest your whole fruit first, then slice and/or juice the zested fruit in recipes like this one that call for both juice and zest.
Ingredient lessons for better baking...
(Pssst…if you're ready to just get baking, get all the details in the recipe card below!)
---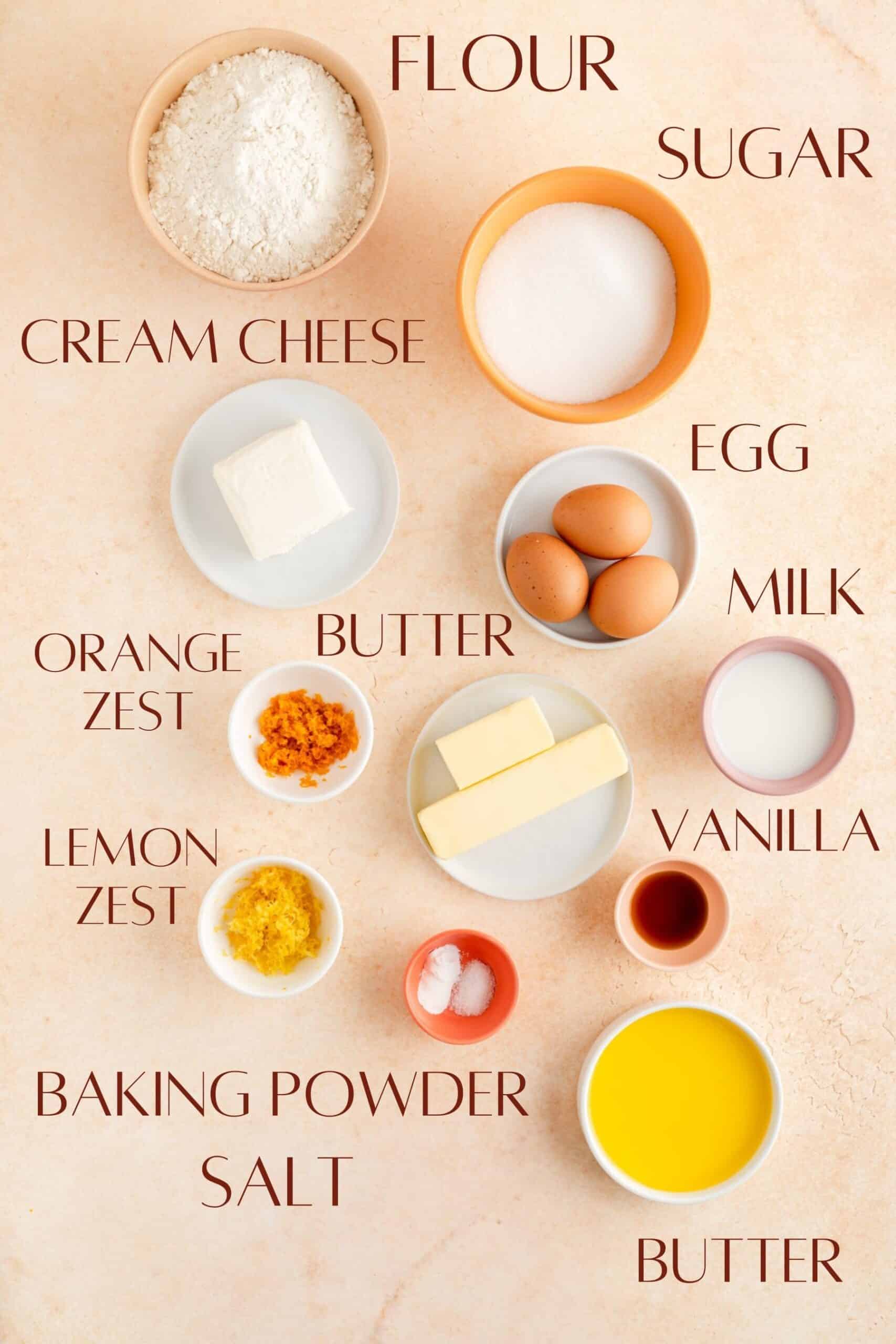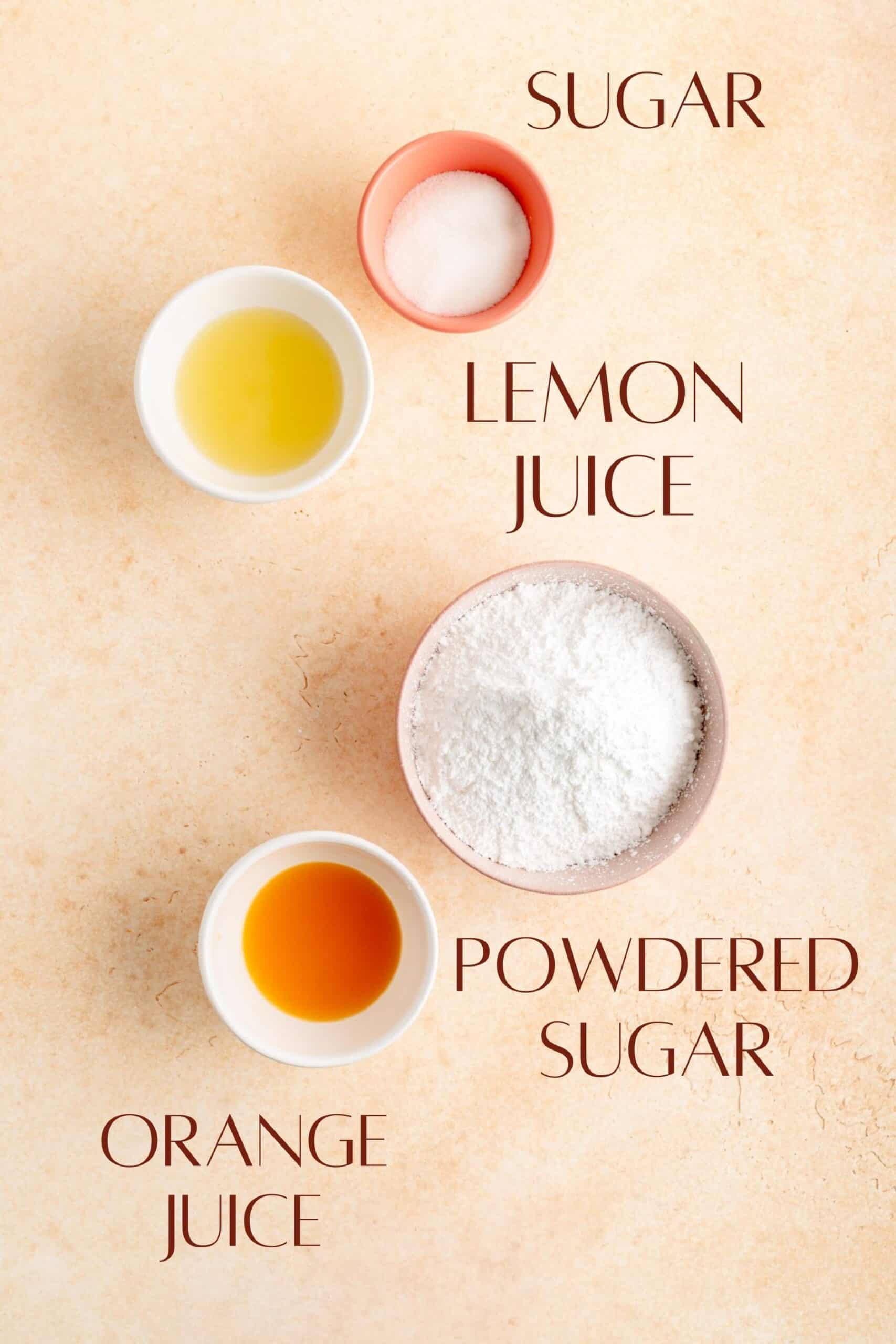 Baking powder: while not traditionally in a classic pound cake, I found a little bit of leavener really helped this recipe. It not only lightens up the texture of our cake, but makes for a much prettier loaf and better translation of the citrus flavor in the cake as well.
Cream cheese: you want to make sure your cream cheese is nice and soft for creaming. So if needed, feel free to zap it in the microwave, in 10 second intervals, mixing between each until easily spreadable.
Vanilla extract: so why aren't we using lemon extract? Well, firstly, I'm not a fan of it in most baked goods as I find it always has a bit of a "faux" taste to it compared to using real lemon zest or juice. Secondly, this recipe is already packed with plenty of flavor, so you really don't need it to still have a very satisfying citrus experience. I did include the vanilla extract however (as I do in every recipe), because I feel it really helps round out the flavor and bring everything together.
Orange Zest (about 1 tablespoons): fruit varies drastically in size so use your best judgement as to whether you're working with a "small" or "large" orange. When in doubt, just aim for one well-filled tablespoon of zest if you need to double check, and know a little extra certainly won't hurt anything!
Lemon Zest (about 1 tablespoons): same deal here! If you have particularly small lemons, you may find you need a second to reach that full tablespoons of zest.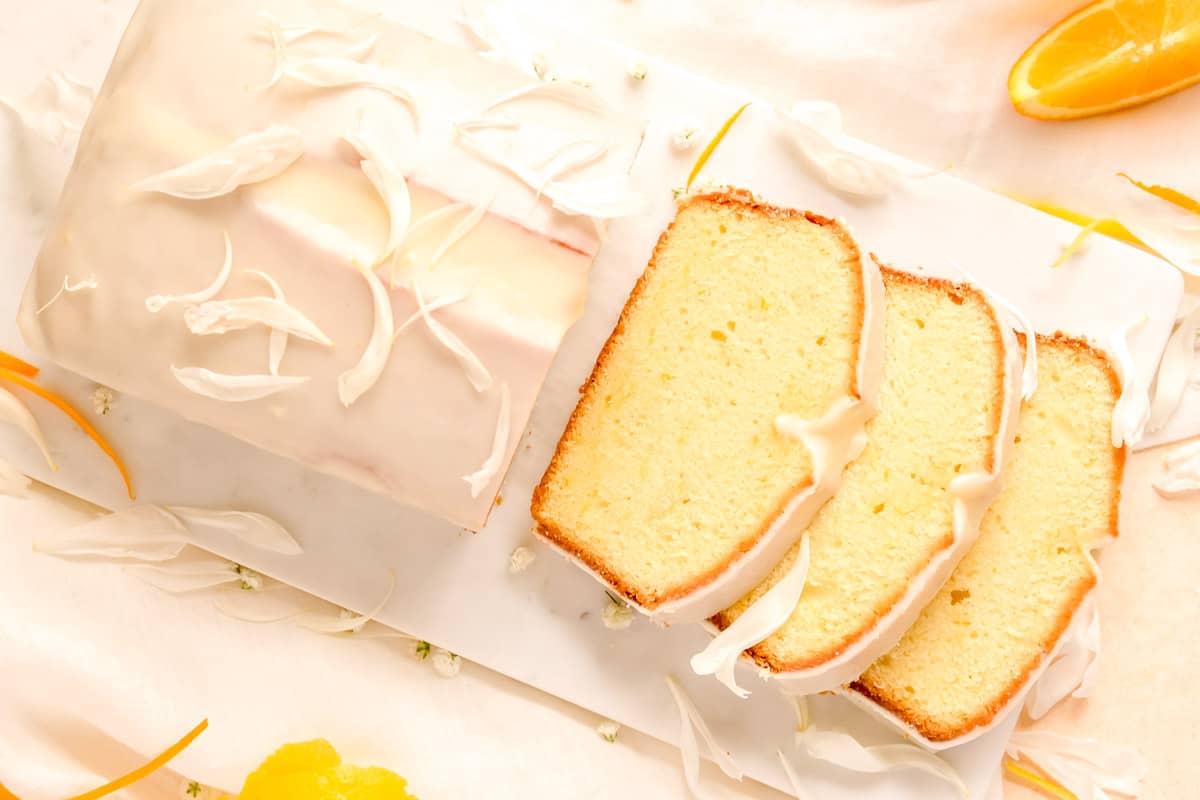 Special tools and equipment you'll need...
The only special tool you'll need here is a citrus zester, and you'll find my favorite microplane here, which rests perfectly on top of your mixing bowl.
Zesters (aka "microplanes") are also one of the scariest tools in the kitchen to me as they're wickedly sharp, and we often tend to forget that since they're not a traditional knife. So if you have a cut glove, I definitely recommend using it when zesting, even if you put a disposable glove over it to keep the fabric clean.
Don't have a zester? Check your cheese grater! They often have a fine-toothed side that can be used for zesting as well.
It's also really helpful to have a pastry brush for soaking your loaf, but if you don't have one you can get by without it.
How to make a lovely loaf from scratch...
(Pssst…if you're ready to just get baking, get all the details in the recipe card below!)
TO MAKE THE CAKE:
Prep your pan with a parchment sling and preheat your oven.
Zest the citrus into your mixing bowl, then juice the citrus. Set juice aside for the soak and glaze later.
Mix together your dry ingredients.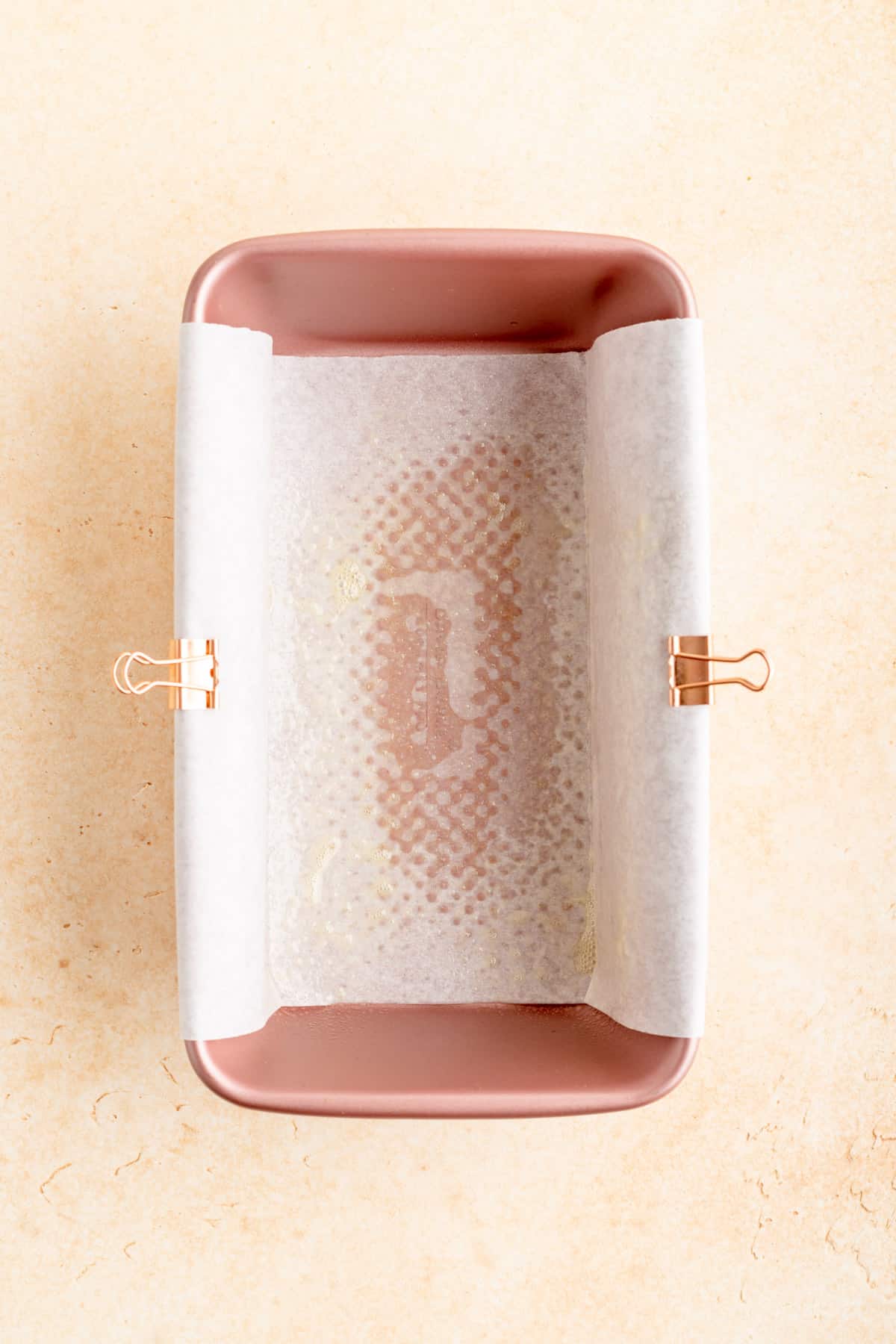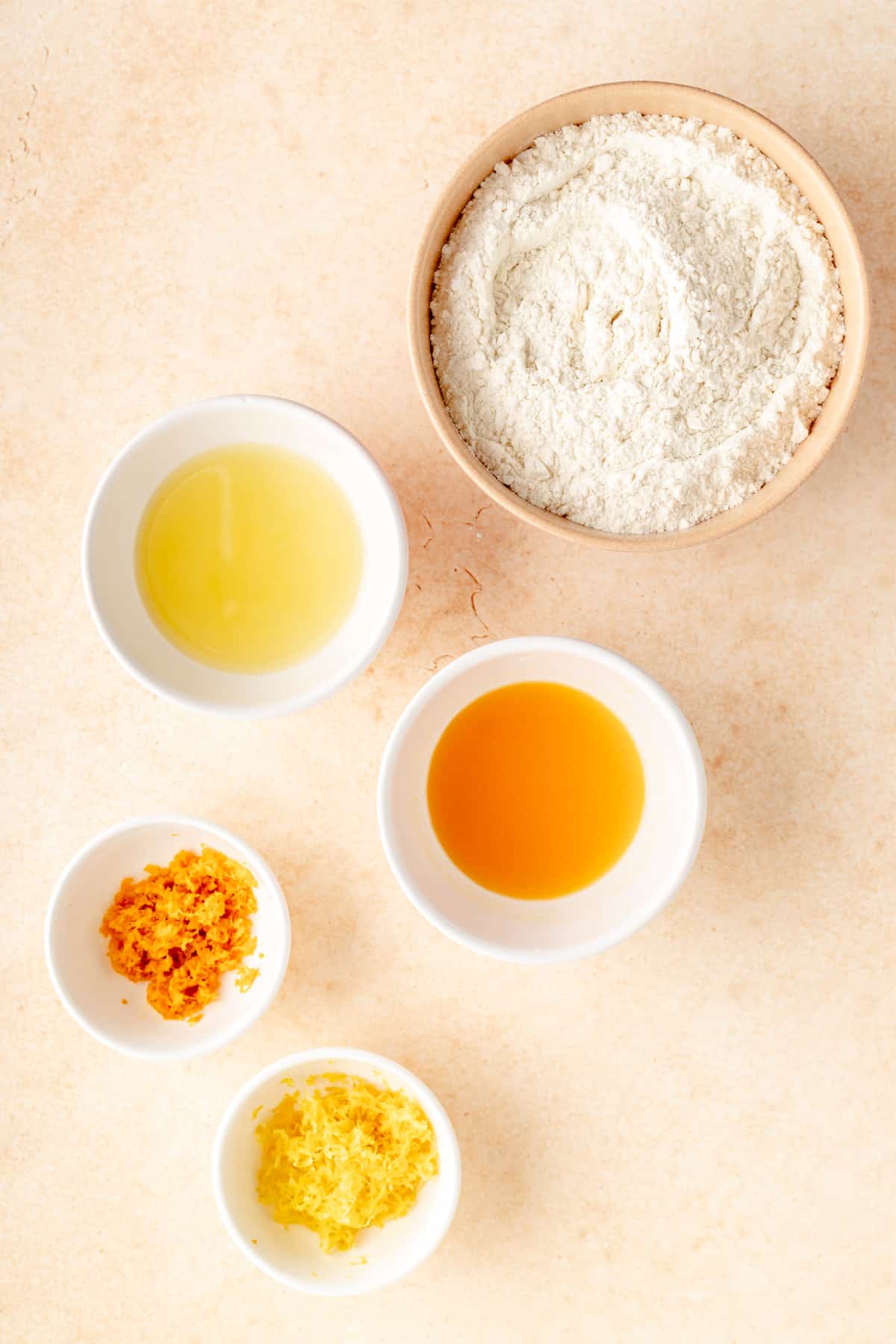 Cream together the butter, cream cheese, sugar, zests, and extracts. Introducing the flavors straight to the fats will help the fat carry the flavor in our final loaf!
Add in your eggs one by one. (Note, the batter will look a little broken here which is okay - it'll come together in the next step.)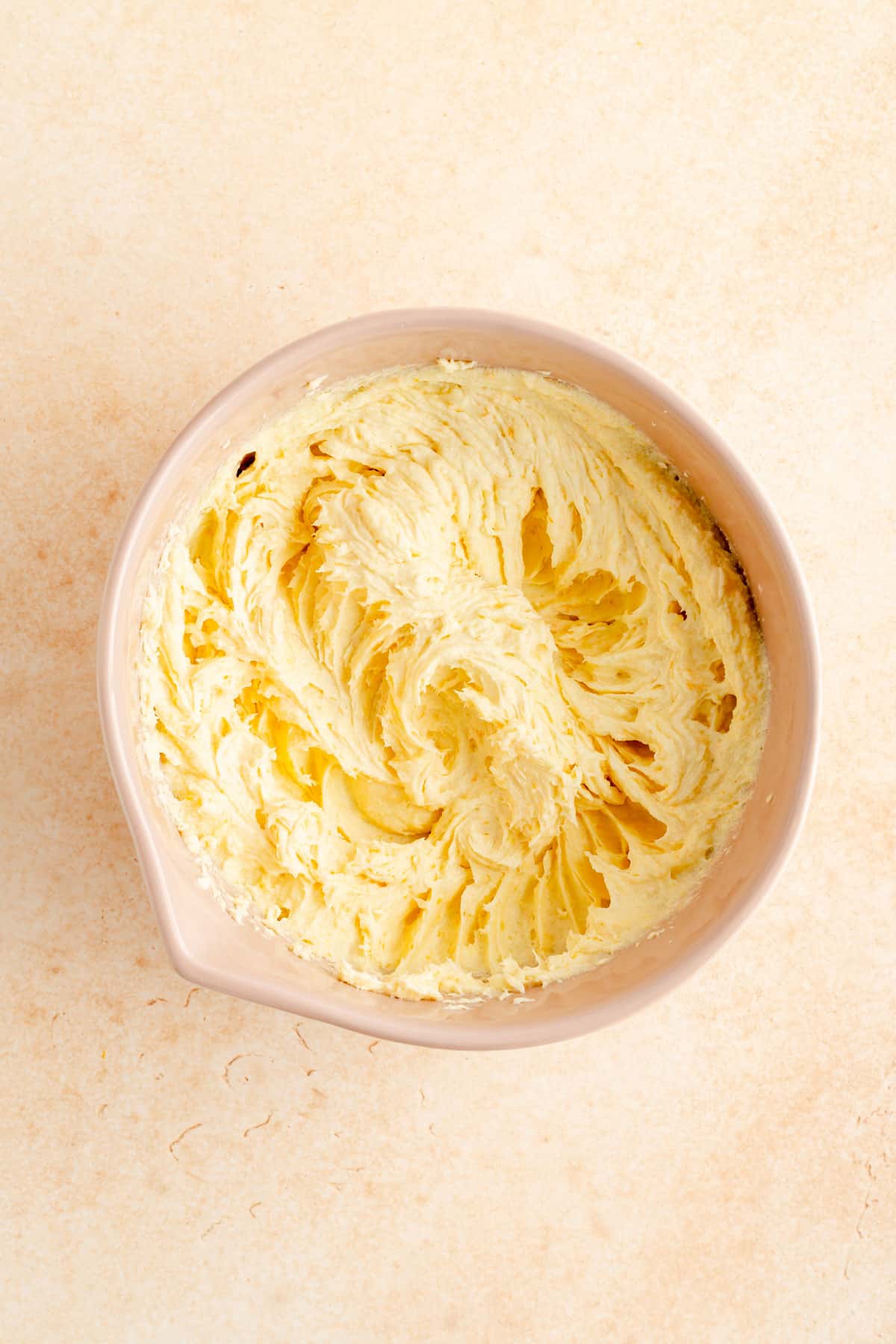 Mix your blended dry ingredients into the batter (you should see it smooth out), and then mix in the milk last.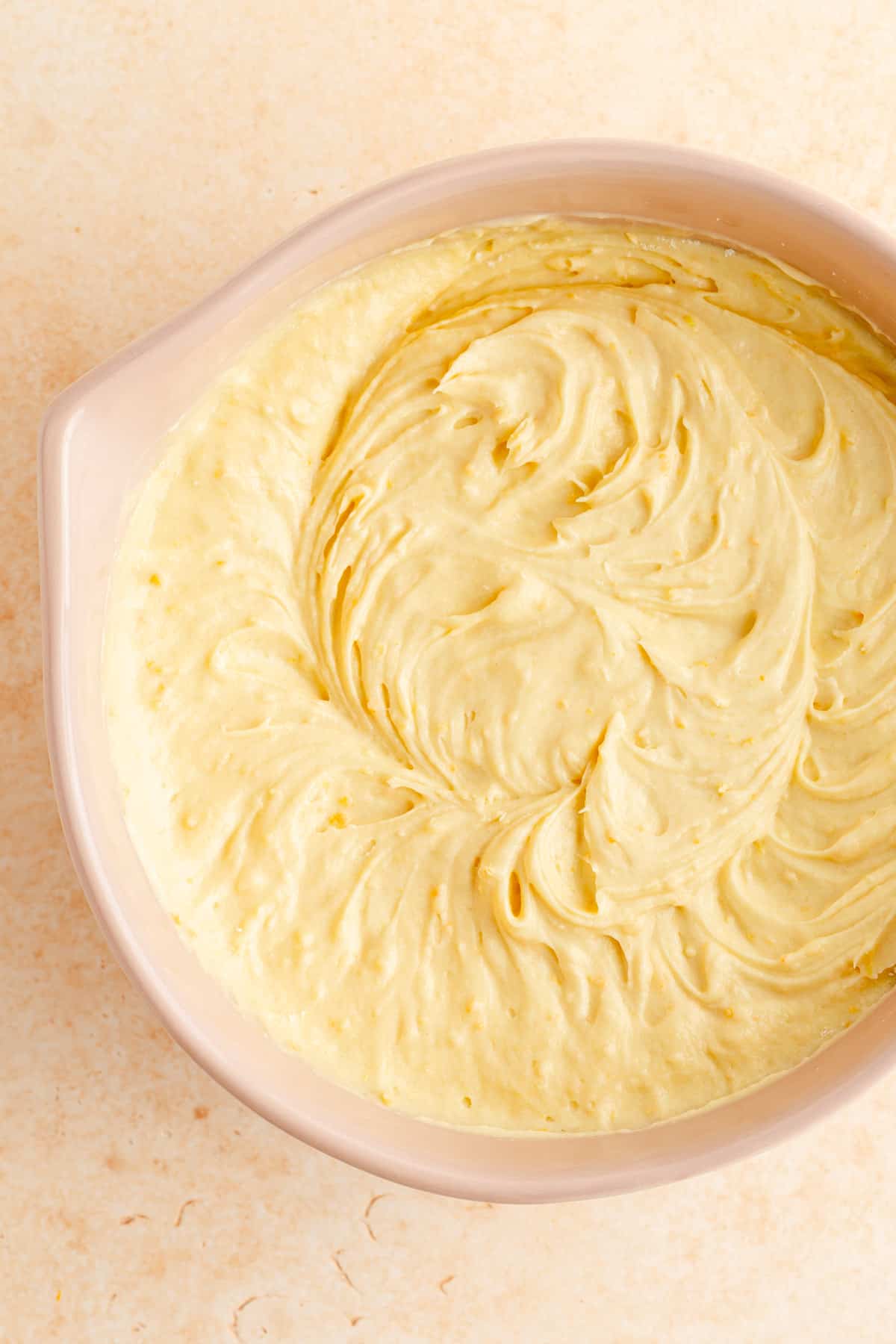 Transfer the batter to your pan and smooth the top. Use the "butter trick" to ensure a clean split in the center of your loaf if you like.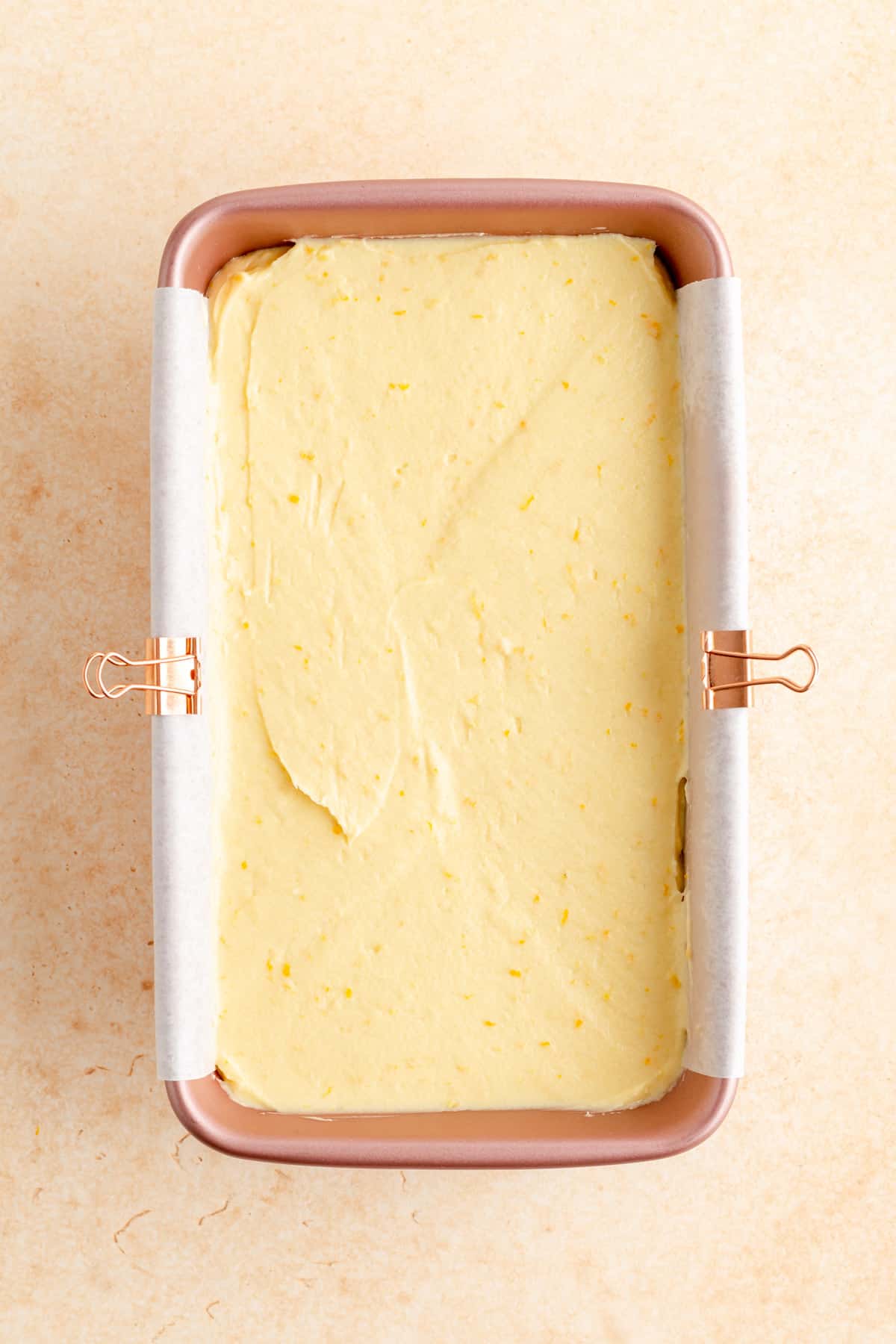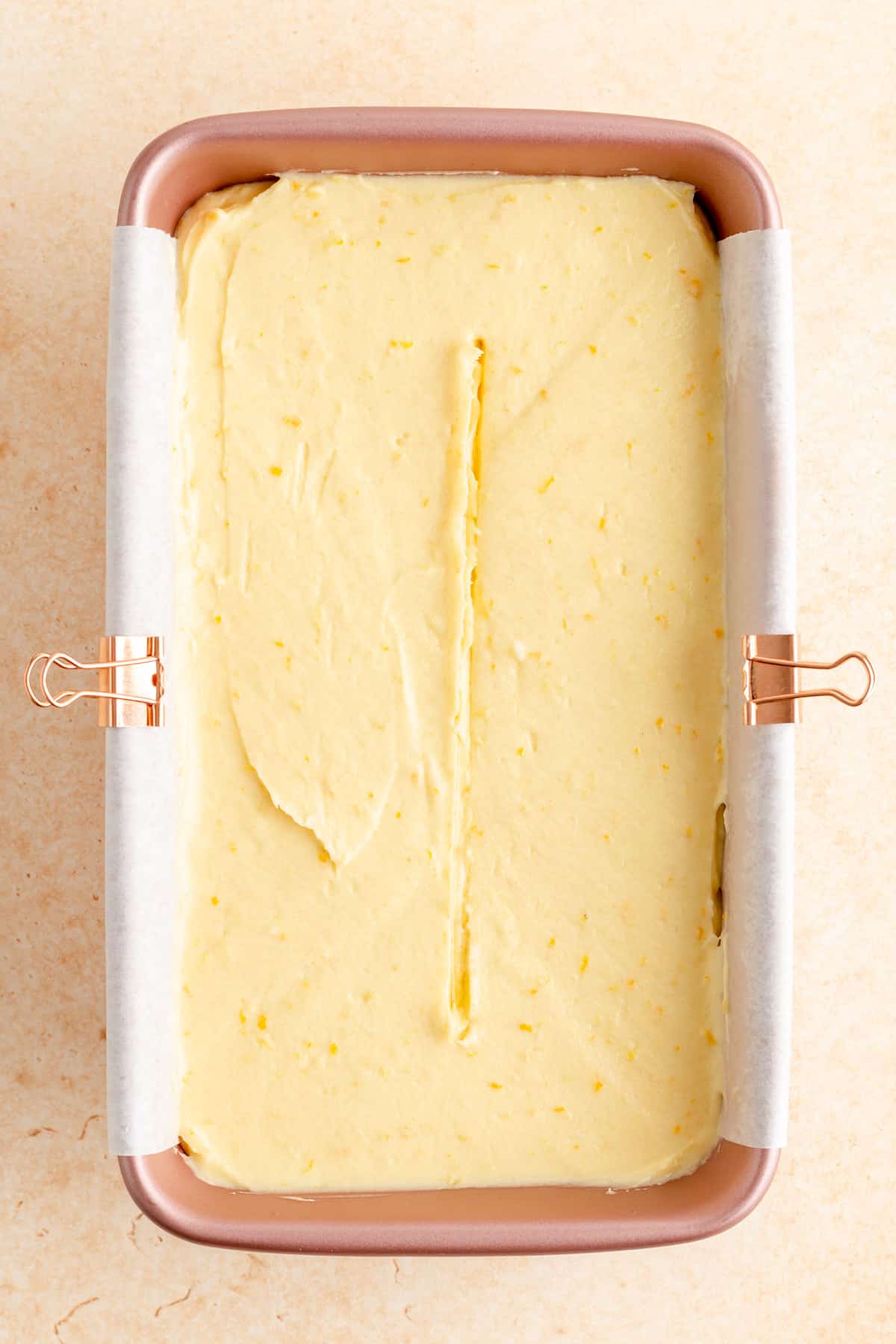 Bake your loaf until golden brown and fully set, then cool on a wire rack for 30 minutes while you prepared the syrup.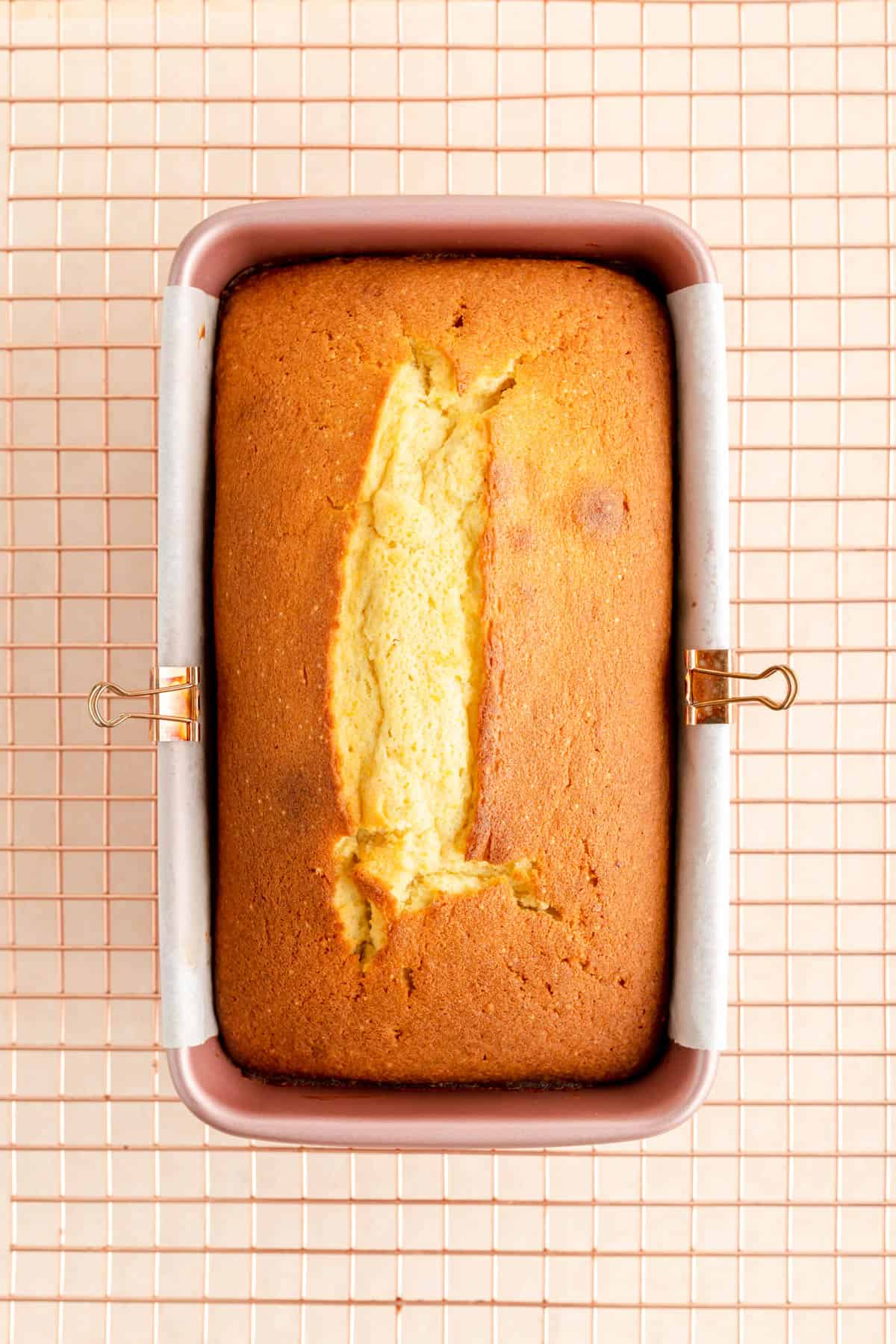 TO SOAK THE CAKE:
Combine the granulated sugar and lemon juice.
Heat and stir until sugar is fully dissolved.
Un-pan your loaf after 30 minutes of cooling, and set it back on the rack over foil or parchment.
Generously brush on all the glaze to thoroughly soak the loaf.
Allow the loaf to cool fully to room temperature while the soak absorbs.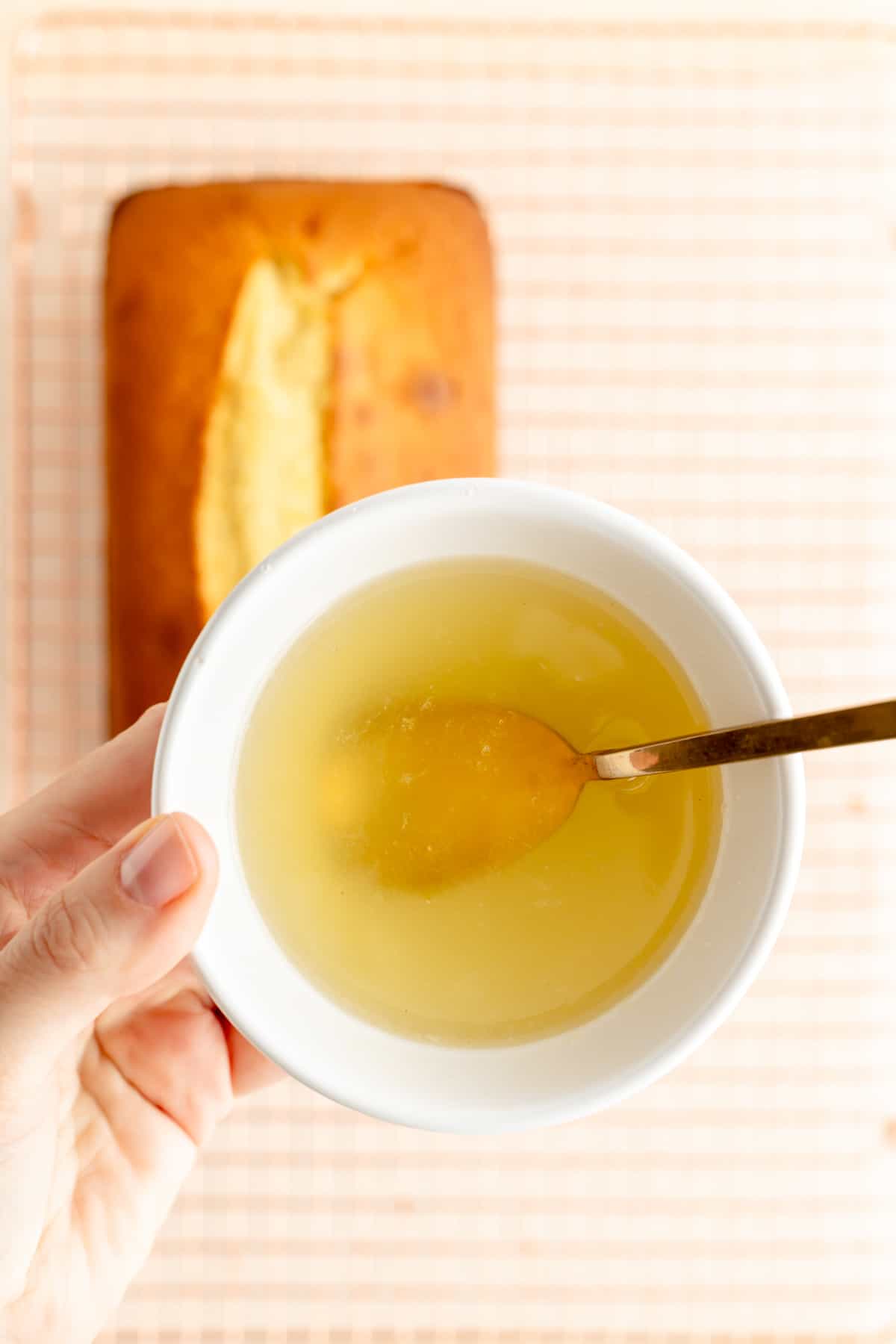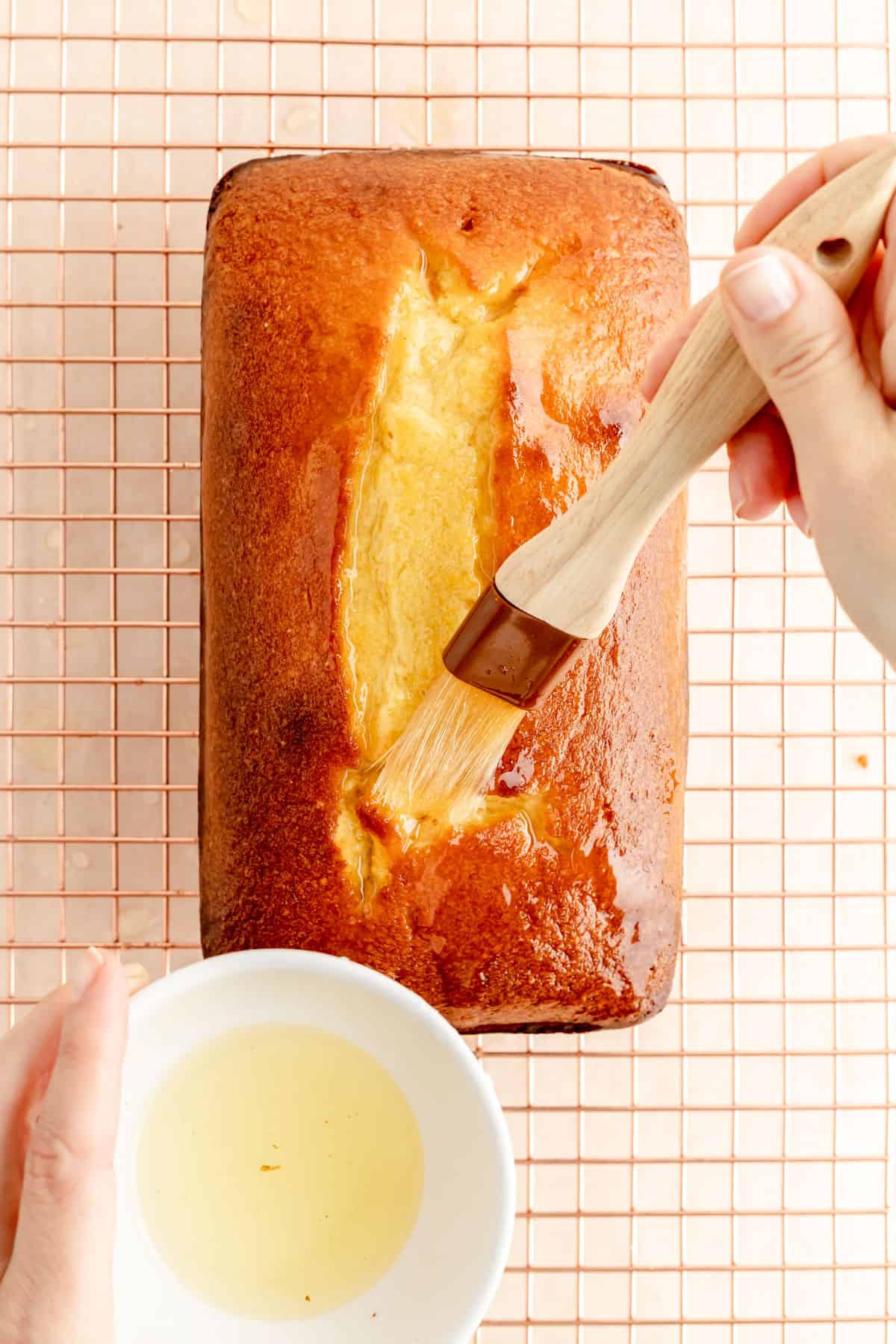 TO GLAZE THE CAKE:
Make the glaze by whisking the powdered sugar and orange juice until smooth.
Pour glaze over the loaf to fully coat the top and sides.
Allow glaze to set and crust for at least an hour, then slice and enjoy!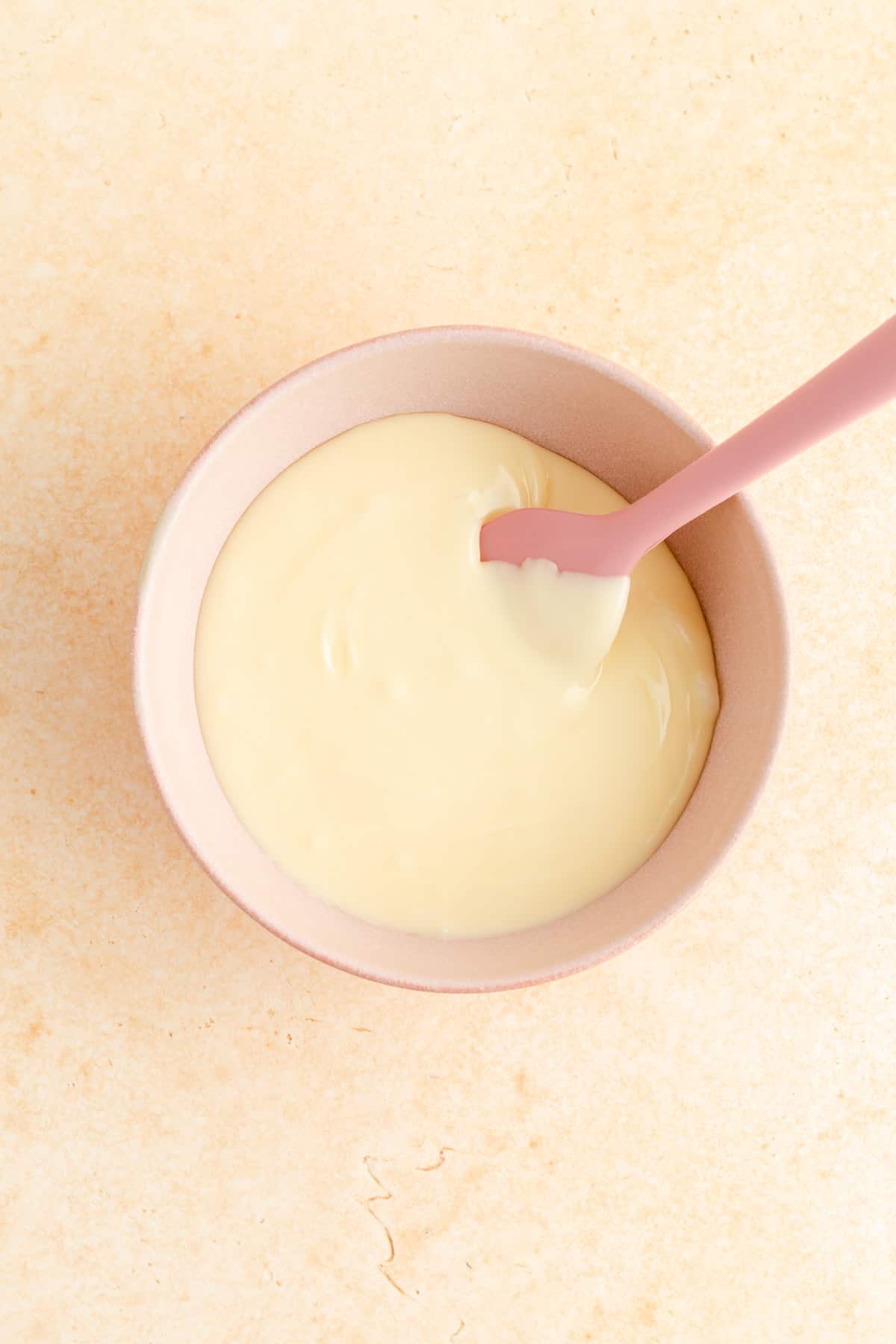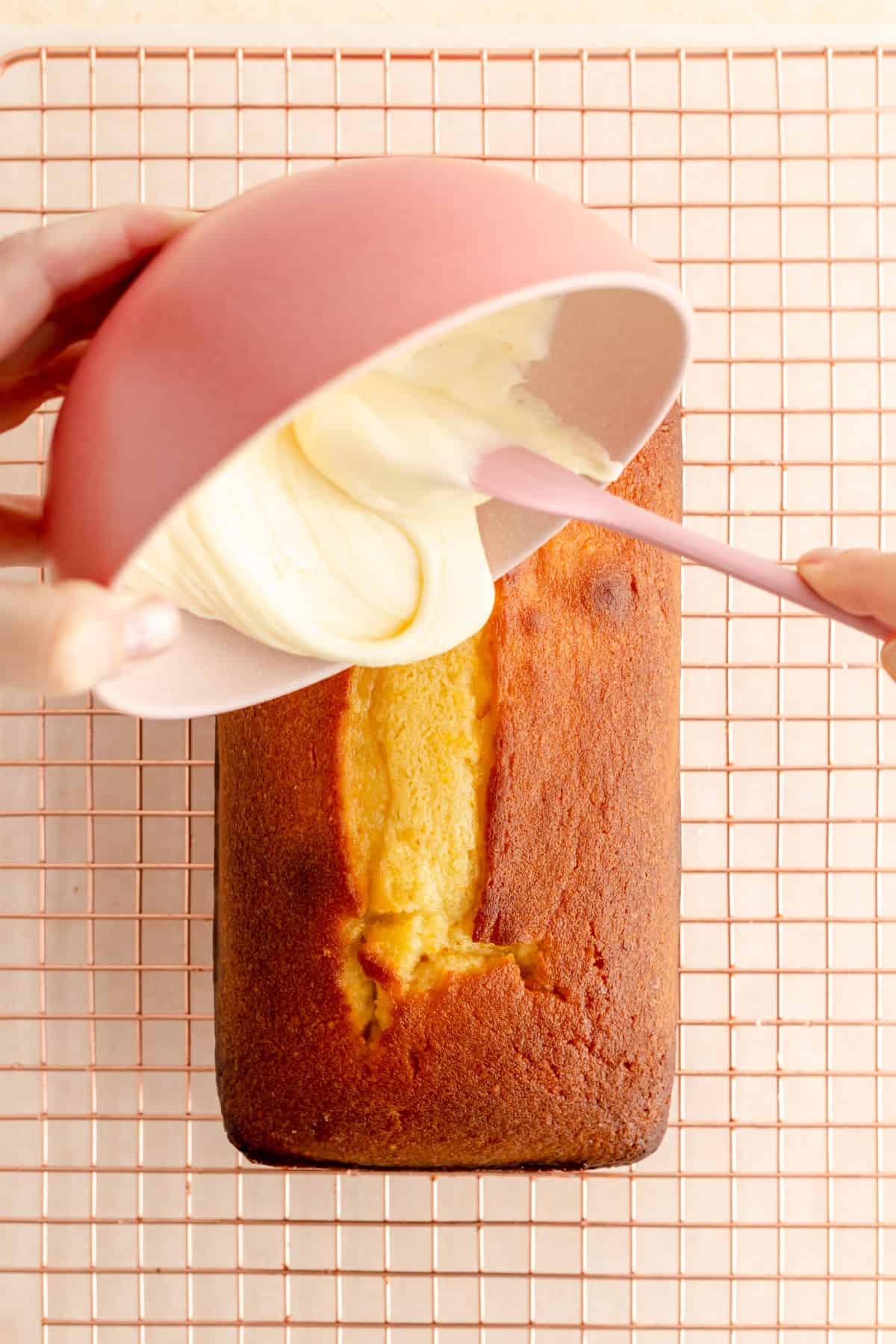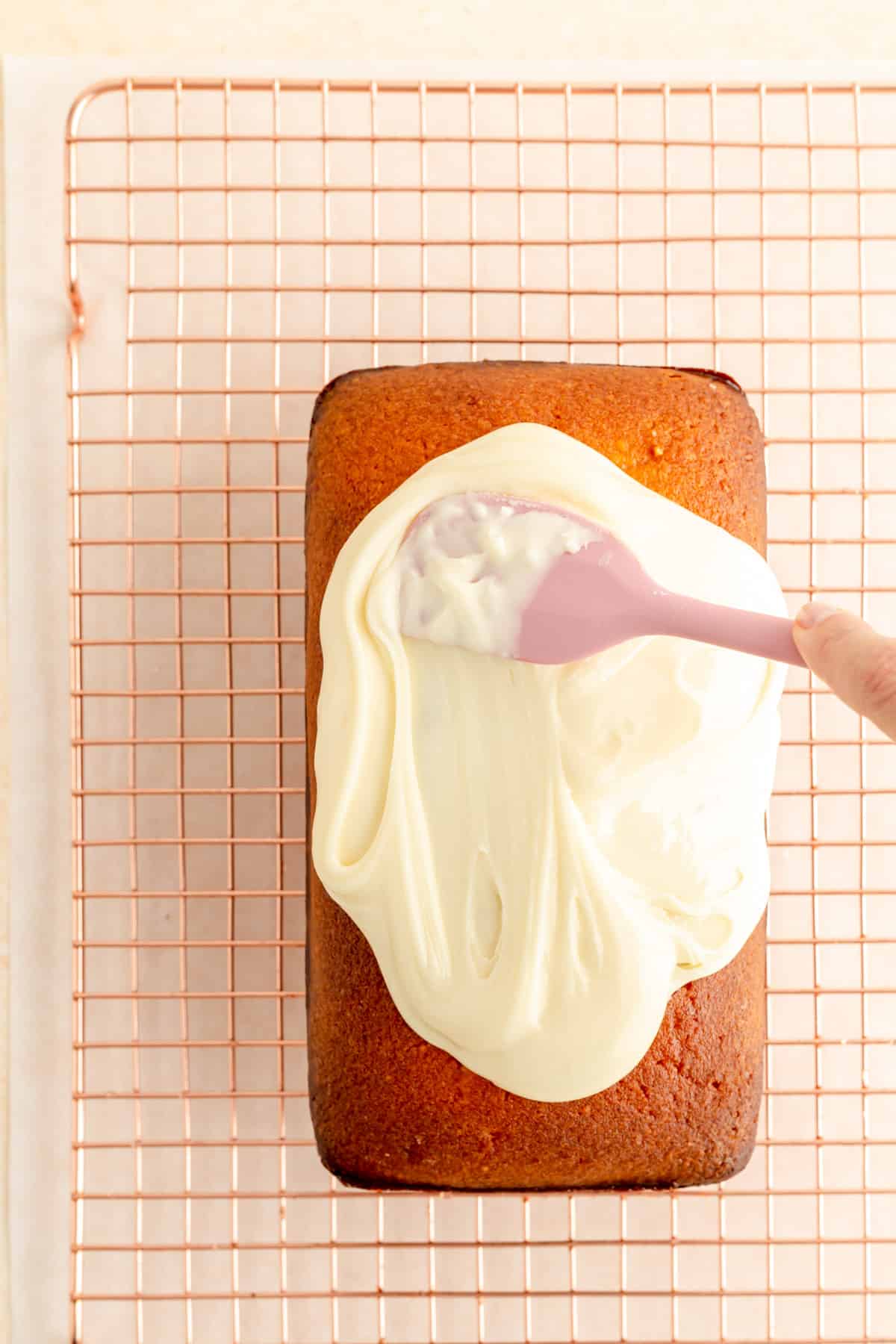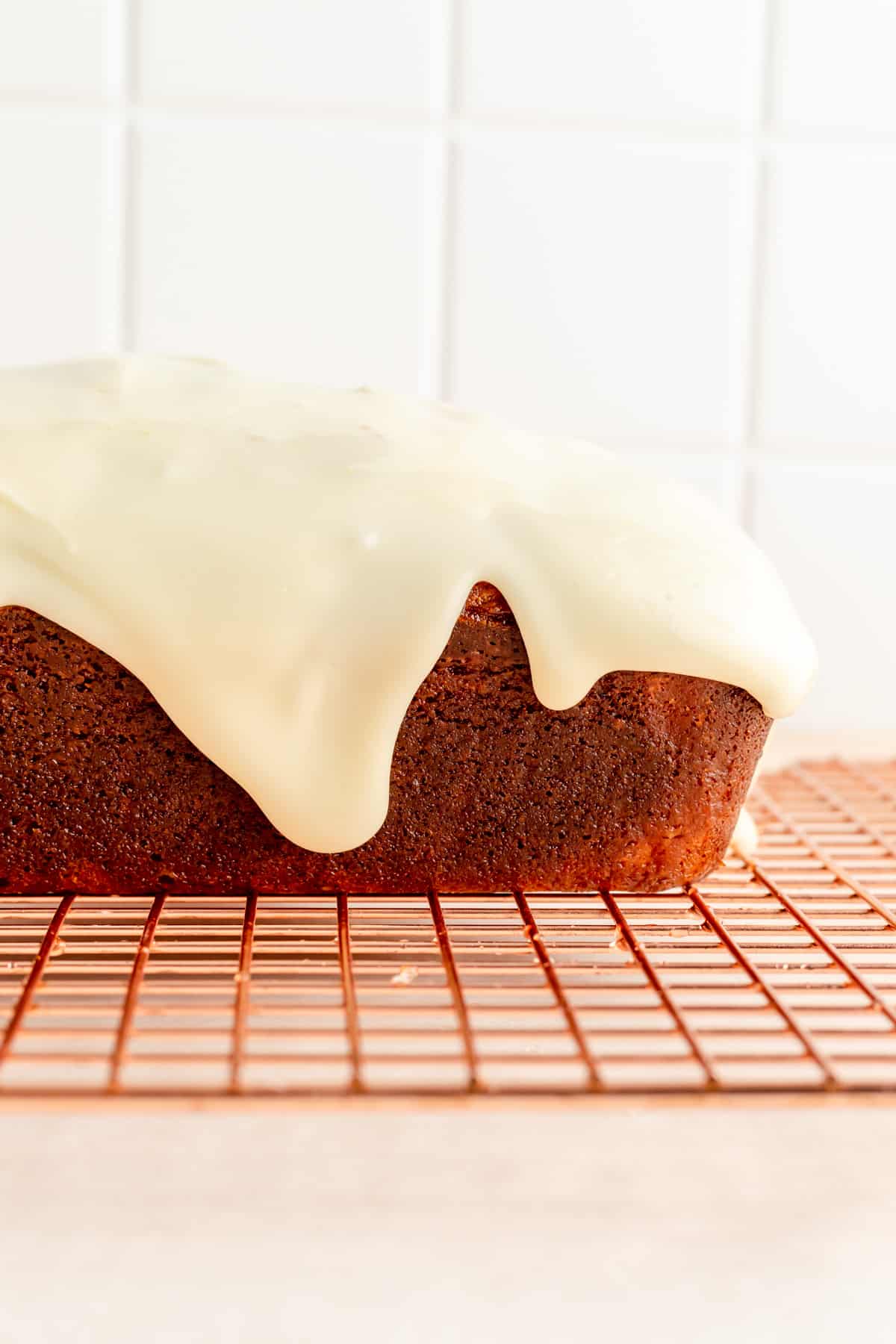 Let's watch the full video tutorial!
Now that you know how it's done, check out the full recipe video below to see it in action!
And check out the full RECIPE WEB STORY for a click-through tutorial!
What about an orange or lemon pound cake?
Feel free to make this recipe using all oranges or all lemons if you like! You'll still use the same amount of juice or zest called for, you'll just source it from only your preferred type of citrus.
Blood oranges can also be a fun and colorful twist for this recipe when substituted for the traditional oranges as well!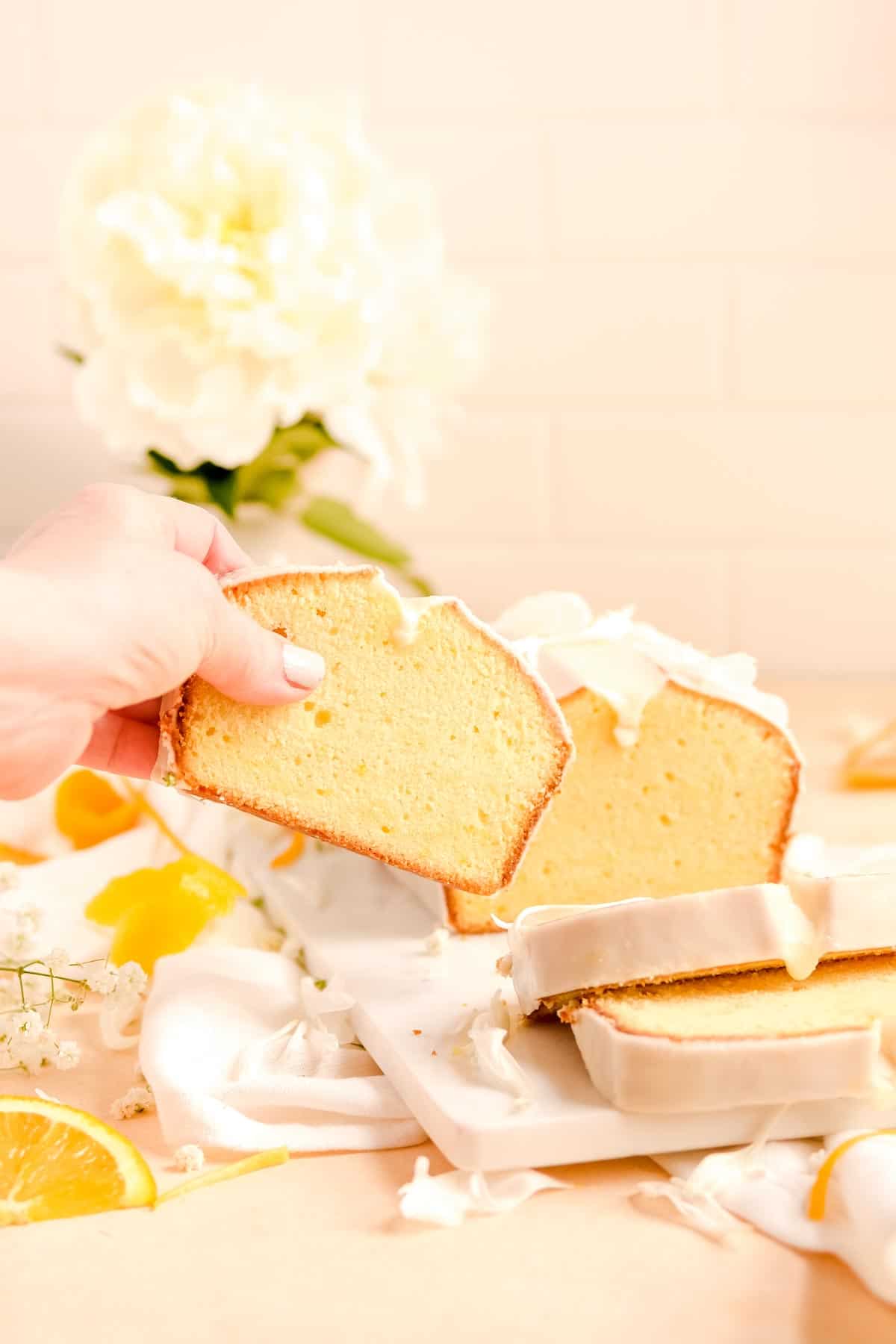 *Expert Tips and Tricks* to help you bake this recipes better...

What's the TOP TIP for making the best pound cake?
Keep your mixer low at all the steps after creaming the butter to maintain a tight crumb and rich texture. Also, use the butter trick for a beautiful split top every time! (details are the recipe notes below)
How do you store pound cake?
This cake can be stored well-wrapped in plastic wrap or in an air-tight container at room temperature for about 4-5 days.

Why is pound cake called pound cake?
Great question! Traditionally, pound cake was made with a pound of four ingredients: a pound of butter (4 sticks), a pound of sugar (2 ¼ cups), a pound of eggs (9 large eggs), and a pound of flour (3 ¼ cups). Now, you'll see my recipe is definitely not a direct representation of those traditional ratios, but it maintains that classically dense crumb, enriched with a whole lot of fat and sugar, and is baked in a loaf pan. Hence pound cake is still the best name for this bright and citrusy take on the classic recipe. (Read more in this pound cake article!).
Do you add baking powder to pound cakes?
As mentioned above, traditional pound cake did not include any leaveners (just butter, sugar, eggs, and flour). But since we now have access to wonderful ingredients like baking powder, which was invented long after the pound cake, I've found adding in a small amount to my pound cake recipes really helps to bring the best out of them in both flavor and texture!
---
Other recipes fans of this cake will love:
Craving more delicious treats? Here are a few of my other favorite citrus and cake recipes:

⭐ If you gave this recipe a try please give it a ⭐ rating and tag me on Instagram @mint.and.mallow.kitchen so I can see what you're baking up! ⭐
📖 Full Recipe
Citrus Cream Cheese Pound Cake with Orange Glaze
This orange and lemon pound cake has three layers of citrusy flavor - a double citrus cake, a lemon soak, and an orange glaze - packed into one beautiful loaf!
Ingredients
FOR THE POUND CAKE:
1 ¾

cups

all-purpose flour

¾

teaspoon

baking powder

½

teaspoon

sea salt

¾

cup

(1 ½ sticks) unsalted butter

(softened )

½

cup

(4 ounces) full-fat cream cheese

(softened)

1 ¼

cups

granulated sugar

1

teaspoon

vanilla extract

Zest of 1 large or two small oranges

(about 1 tablespoons)

Zest of 2 large or three small lemons

(about 1 tablespoons)

3

large eggs

⅓

cup

milk

2

tablespoons

unsalted butter

(for decoration, optional)
FOR THE SYRUP:
¼

cup

granulated sugar

¼

cup

lemon juice

(about 2 lemons)
FOR THE GLAZE:
2

cups

powdered sugar

(sifted)

3

tablespoons

orange juice

(about 1 large or 2 small oranges)
Instructions
TO MAKE THE CAKE:
Prep and preheat: grease a 9" x 5" loaf pan, line it with a parchment sling, and grease the parchment paper as well. Preheat oven to 350°F, and place your baking rack one rung below middle in the oven.

Zest and juice citrus: first zest the citrus, then slice in half and juice (straining or removing seeds with a spoon). Set juice aside for use later in the soak and glaze. (Zest the citrus right over your bowl if possible to catch all the flavorful oils that fly off in the process!)

Mix dries: combine flour, baking powder and salt in a small bowl until well-blended and set aside.

Cream fats, sugar and flavors: add butter, cream cheese, sugar, vanilla, and zests to a large mixing bowl and cream with a hand or stand mixer until very smooth and fluffy on medium-high for 1-2 minutes.

Add eggs: add in the eggs one by one, and beat on medium-low after each addition. Scrape bowl between each egg and mix until well combined, although the batter will look a little broken which is okay here (we have a lot of liquid in there that will blend in better once we add the dries).

Mix in dries, then milk: add the dry ingredient blend and combine on low speed just until the mixture is about 80% mixed (keep speed nice and low here as over-mixing will toughen your cake!). Scrape the bowl, pour in the milk, then finish mixing on low until batter is smooth and fully combined.

Transfer to pan: transfer batter into prepared pan and smooth to level the top. Use the "butter trick" if you like to ensure a clean split in the center of your loaf (see notes for "how to" instructions).

Bake loaf: bake for 60-70 minutes, rotating the pan halfway through, until the surface is a deep golden brown, a toothpick inserted into the center comes out clean and the batter in the center of the top split springs back when gently pressed (a thermometer inserted into the center of the cake should read 190°F+ when the loaf is fully baked).

Cool loaf: allow the loaf to cool on a wire rack for 30 minutes while you prepared the syrup.
TO SOAK THE CAKE:
Combine and heat: combine all soak ingredients in a microwave safe bowl. Microwave for 20 seconds at full power and then whisk mixture until sugar dissolves. Continue to heat in 10-15 second intervals as needed until sugar is mostly dissolved. (If preferred, this can be done on the stove.)

Un-pan loaf: after 30 minutes of cooling (the loaf will still be warm), carefully loosen the ends of the loaf from the pan, pull it out for the pan using the parchment sling, and transfer it to a wire rack set over a piece of parchment or foil for easy clean-up.

Generously soak loaf: using a pastry brush, brush the top, sides, and end of the cake with the full amount of glaze (I know it seems like a lot but be sure to keep brushing the loaf in multiple coats to use it all!). If you don't have a brush, see the recipe notes for an alternative.

Cool fully: allow cake to cool fully to room temperature.
TO GLAZE THE CAKE:
Make glaze: once the cake is cool, mix together all the glaze ingredients with a fork until smooth and well blended. The glaze should be thick, but still settle to a smooth surface in the bowl a few seconds after you stop stirring. Feel free to thin with a little extra juice or milk to your preferred texture.

Glaze loaf: with the loaf still on the wire rack over the parchment/foil, slowly pour the glaze over the surface of the loaf, spreading fully to the edges and ends with a knife or offset spatula, and allow the excess to drip off below the rack.

Slice, share and enjoy! For a fully set finish, allow the glaze to set for at least an hour before slicing, then share this fresh and zesty loaf with family and friends alike for a sweet bite to brighten their day!
Test Kitchen Tips
The "Butter Trick:" for a pretty split top every time!

Melt 2 tablespoon of butter in a shallow plate with a lip.
Using a bench knife, straight-edge cake comb or the end of a spatula, dip the thin edge into the melted butter, then very gentle, press the butter-coated edge into the center of your loaf, running the long way, right where you'd like the loaf to crack. Only press the edge of your tool in ¼" or less and be careful not to drip butter anywhere else on the loaf or it will crack there too.
You can do this two to three times until your butter line runs the length of your loaf, while leaving 1" of the batter on both ends with no butter line (this makes sure the loaf doesn't crack at the very ends which looks prettier once everything's baked).  Then you're ready for the oven!

Loaf over-browning? If your loaf is getting too brown during the bake, you can loosely tent it with aluminum foil while it finishes baking, but you don't typically need to do that with this recipe (it's meant to be a deep golden brown on top).
No pastry brush?

If you don't have a brush, you can slowly pour the soak on the loaf in a number of rounds, flipping it on its side to make sure those are soaked as well. Just allow enough time between rounds for the last one to soak in before rotating and working on the next side.

Classic Orange or Lemon Cream Cheese Pound Cake: feel free to only use one citrus zest/juice type if you prefer all lemon or all orange flavor. You should still add the same total amount of juice or zest, but you can just get it all from your the single fruit of your choice.
Nutrition
Serving
1
slice
|
Calories
416
kcal
|
Carbohydrates
61
g
|
Protein
4
g
|
Fat
18
g
|
Saturated Fat
11
g
|
Polyunsaturated Fat
1
g
|
Monounsaturated Fat
5
g
|
Trans Fat
1
g
|
Cholesterol
88
mg
|
Sodium
275
mg
|
Potassium
78
mg
|
Fiber
1
g
|
Sugar
46
g
|
Vitamin A
621
IU
|
Vitamin C
5
mg
|
Calcium
47
mg
|
Iron
1
mg