With a sweet and nutty brown sugar + butter base, these chewy, gooey butterscotch blondies have flavor for days! They're packed with coconut to add an extra-chewy bite inside, and a toasty crunch on top. In short, these butterscotch blondies have it all going on!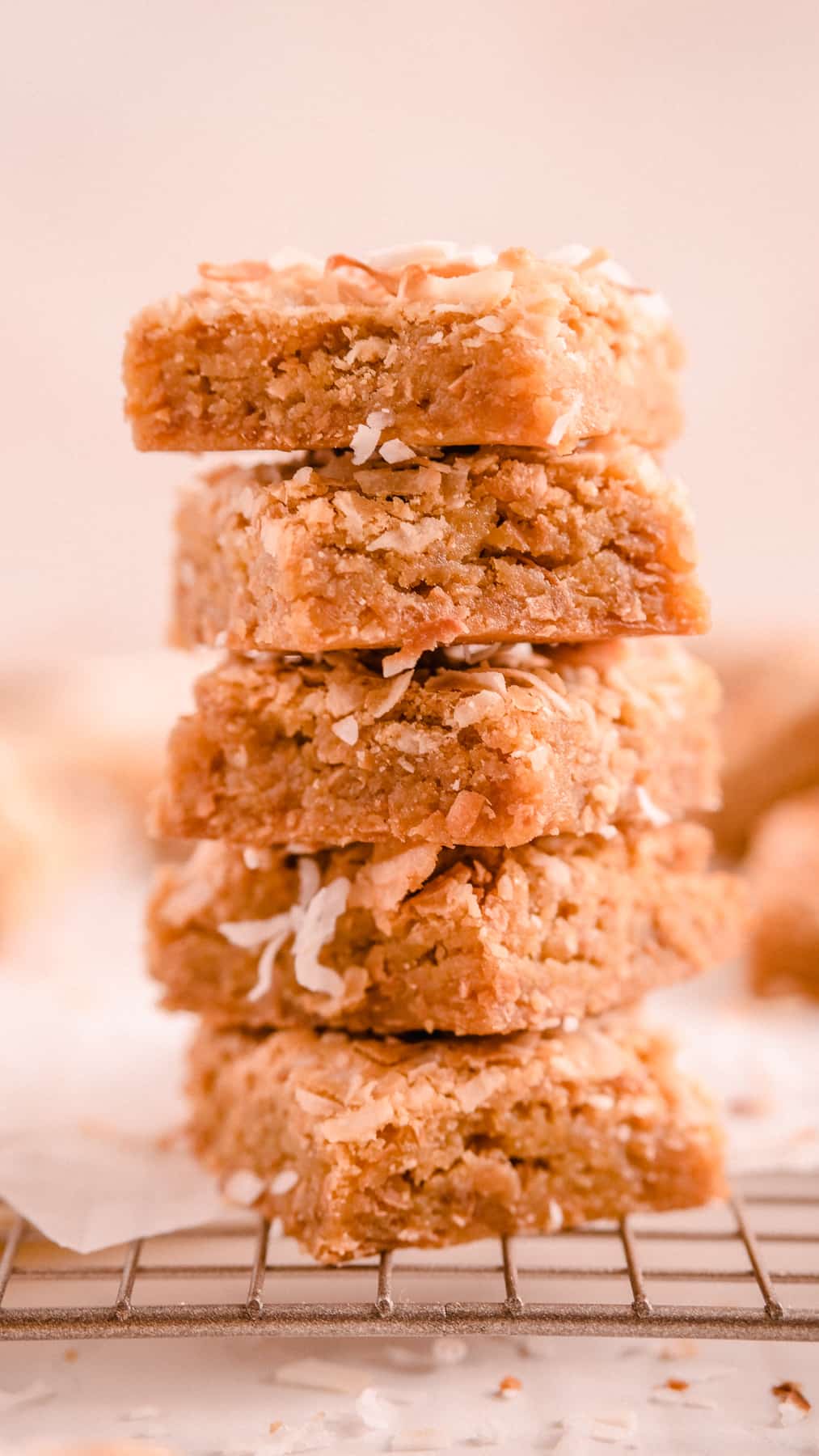 Jump to (scroll for more!):
A favorite family recipe, with a modern update.
The first version of this recipe which my family enjoyed for many, many years as part of our annual Christmas cookie bake always had a caramelly start and a coconut packed finish.
But as much as we loved their flavor, we didn't love that they always seemed to dry out too fast. We wanted to make them year round (because they were too good to enjoy just once a year), so I got to work on a full makeover of these butterscotch brownie bars.
I was on a mission to keep all the flavor and honor this family favorite's history, while coming up with a new recipe that would stay moist and chewy for days after we baked it. And not that I'm one to toot my own horn, but...in this case, I'd say mission butterscotch blondie update was a chewy, gooey, and very tasty triumph!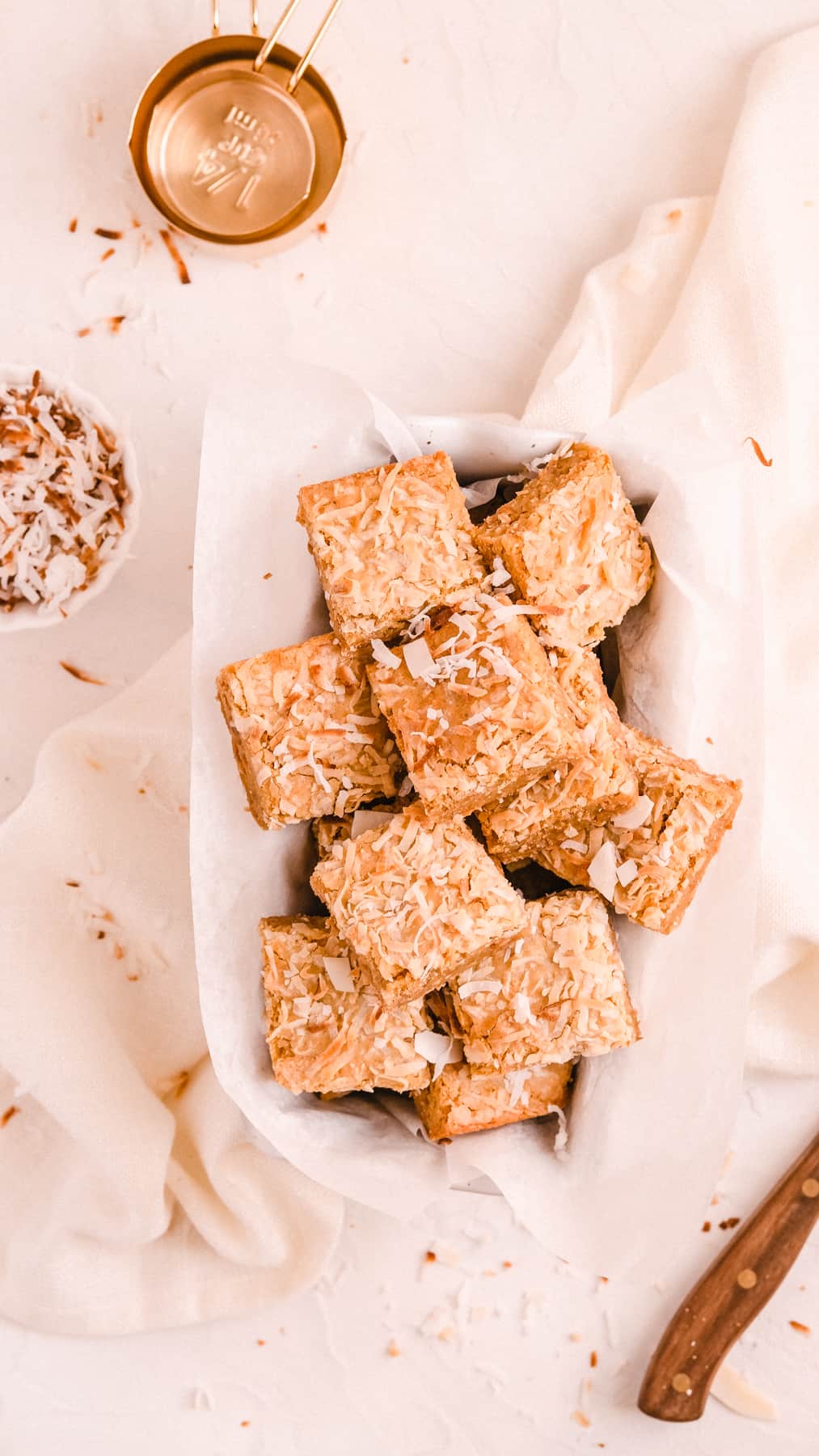 What you'll need to make these blondies...
(Pssst…if you're ready to just get baking, get all the details in the recipe card below!)
With only a few ingredients and a simple mix up, these bars could not be easier to make!
unsalted butter: you always need a good deal of butter to get that butterscotch flavor
brown sugar: helps to add those caramelly notes you need for a butterscotch without us actually having to make the caramel
salt: really important to balance the sweetness here
vanilla extract
eggs
all-purpose flour
sweetened shredded coconut: the coconut is what holds these bars together and allows them to stay nice and chewy, while still being easy to pick up as a proper bar
chopped pecans, optional: we've always made these bars without pecans and I promise they are delicious all on their own, but if you'd like to add a nutty twist, feel free to add some chopped nuts in there too for a sort of "butter pecan" blondie
Special tools and equipment you'll need...
As always you'll need your usual mixing bowl, whisk and 9" x 13" pan for this butterscotch blondies recipe.
How to make these tasty bars...
(Pssst…if you're ready to just get baking, get all the details in the recipe card below!)
Prep your pan with a parchment sling and preheat your oven to 350°F.
Whisk together all ingredients except flour and coconut.
Mix in the flour, then the coconut (and nuts if using).
Transfer batter to the prepared pan, smooth it out, and bake.
Cool, share, and enjoy!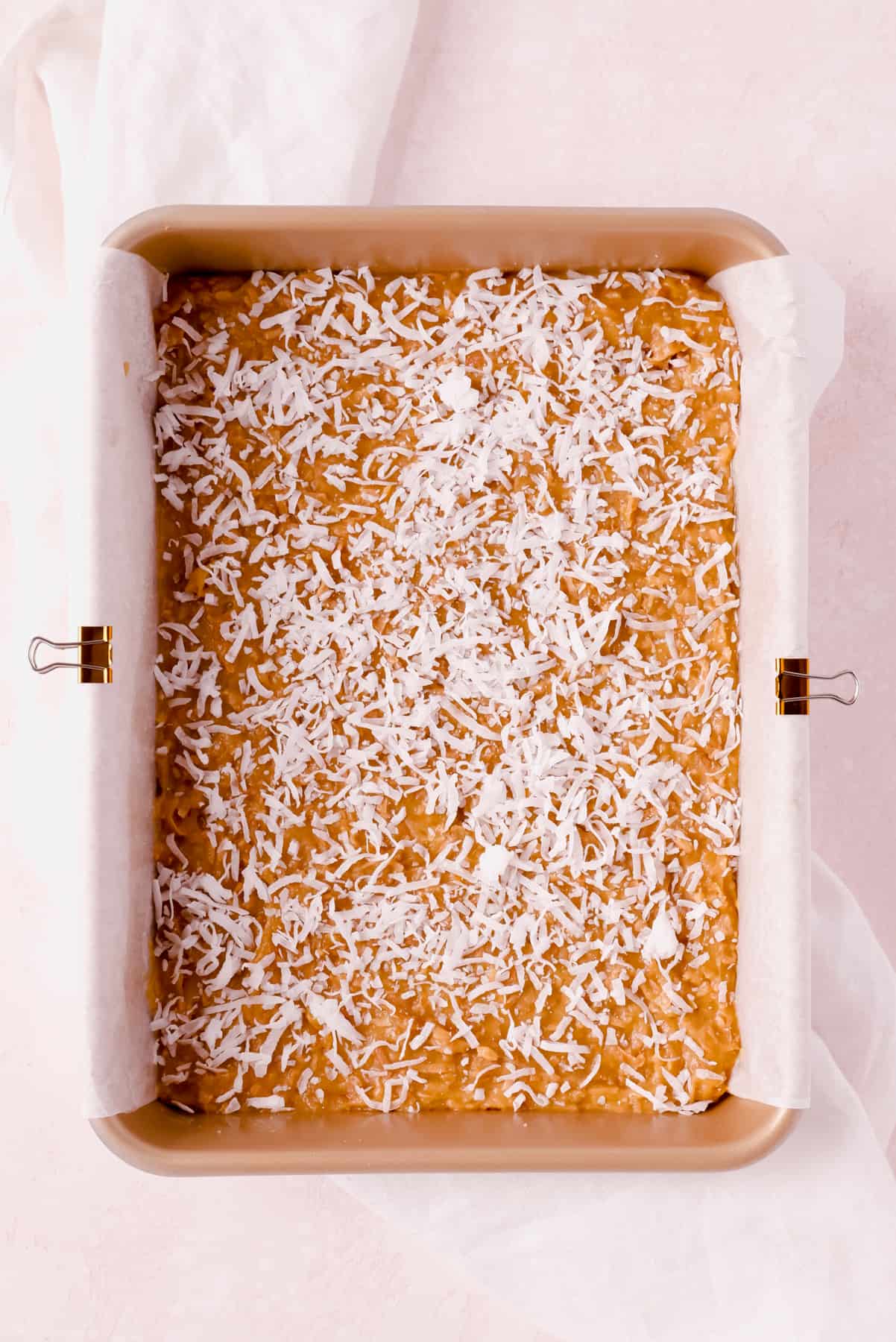 What baking principal does this recipe teach us?
In the first stage of this mix process, you'll find that the water from the eggs and the butter don't really want to play nice with each other. But, it is important to make sure you mix really well (and it may take a minute or two) to fully combine the melted butter with the rest of the ingredients until you no longer see any fat floating on the surface.
We know fat is super important for carrying all our flavors (see Butter 101: fat is flavor for more on this!), but it can also really effect the mouth-feel of our bars as well.
With enough mixing, we can essentially force the butter fat droplets to be small enough that they can live "happily" suspended in the water from the eggs (or visa-versa). This creates an emulsion (essentially oil suspended in water or water suspended in oil), much like you would create when making Hollandaise sauce.
If we don't mix the batter enough, the butter fat won't fully incorporate with the water from the eggs, and we may find the butter still on its own even in our final baked product. This would result in greasy blondies (and no one wants that!) so be sure you mix everything thoroughly in that first step for a perfectly smooth and chewy texture!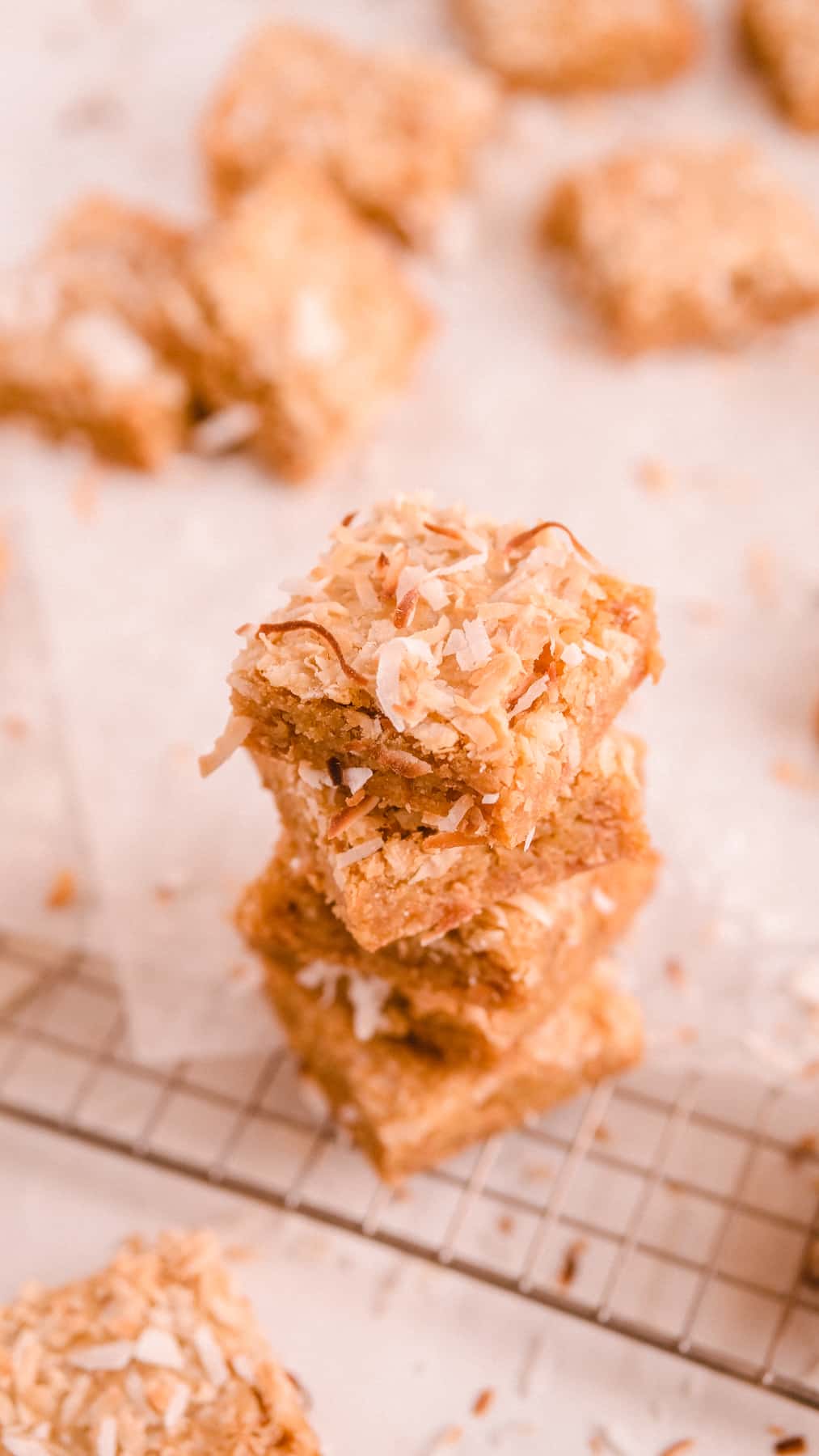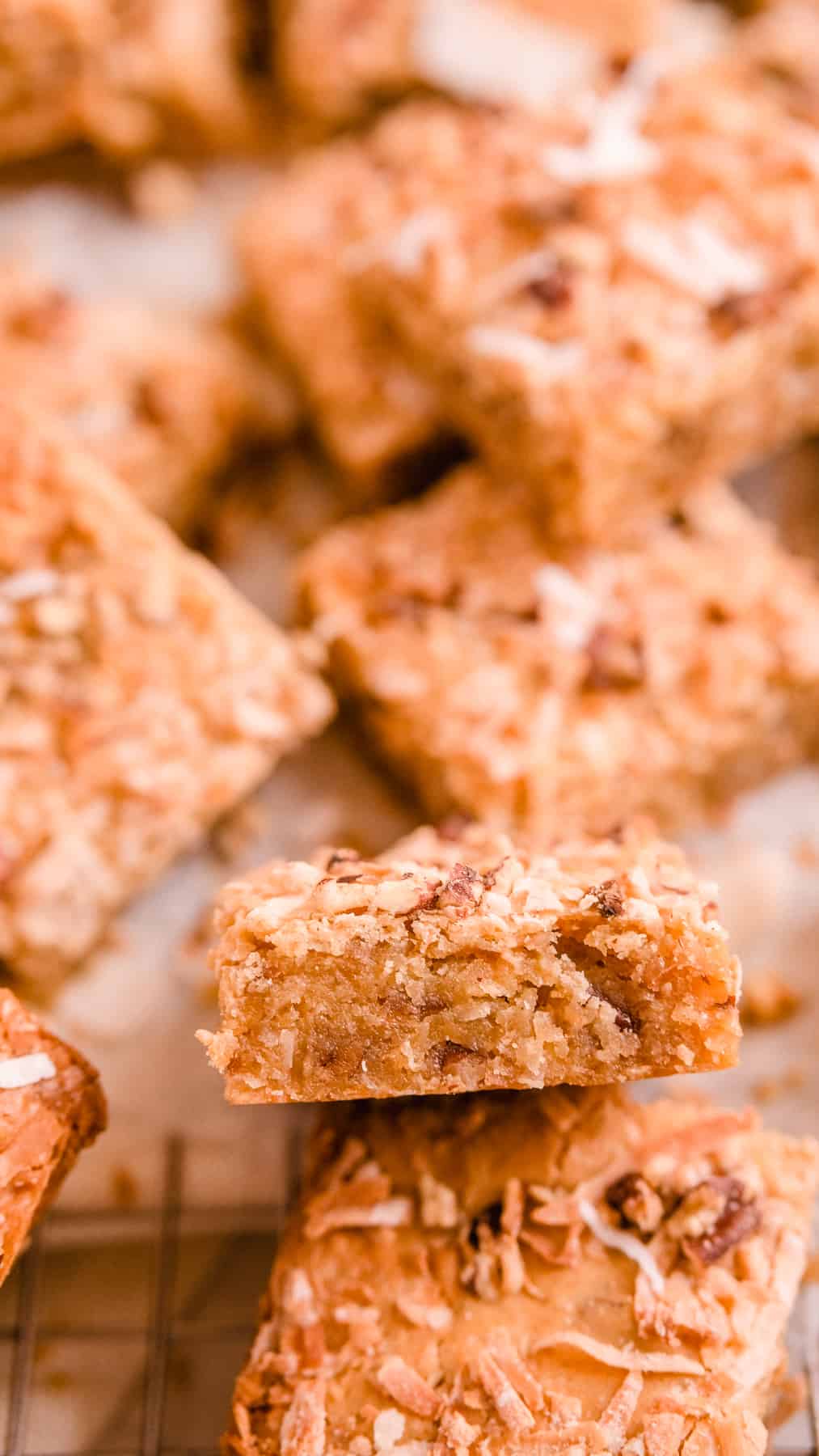 *Expert Tips and Tricks* for making the BEST butterscotch blondies...

What's the TOP TIP for making the best coconut butterscotch blondies?
Make sure to whisk really well in the first step until all the butter fat is fully incorporate into the mix. This will ensure the proper texture for your final bars!

Can you make these butterscotch bars ahead of time?
Yes! They keep really well for at least a week at room temperature and you can also freeze them (fully baked) for up to month and then thaw them to enjoy at a later date!

How do you store these butterscotch blondies?
While I always recommend enjoying all treats when freshly baked, you can store these bars in an air-tight container for up to 1 week.

Can you make these bars without the coconut?
Because of the soft and chewy nature of these bars, you really need to coconut to give them some body and hold them together, so I don't recommend making this recipe without the coconut.

Can you add pecans?
Absolutely! I'ver added optional instructions for a pecan variation to the recipe card below.
What does brown sugar do in a brownie or blondie?
One question I've heard a couple of times trying to distinguish these terms is: are blondies supposed to be gooey? In short, not necessarily.

While both blondies and brownies can be chewy, gooey, cakey, or even crispy around the edges, I've found it's really the ingredient combinations and balance, more than a blondie or brownie title that defines a bar's texture.

In this butterscotch blondie recipe, we have the brown sugar to thank for both the chewy and gooey elements of this bar. It contributes of course to the caramel flavor, and also keeps a little extra moisture in these bars compared to what white sugar would do. Hence, it was my best friend when looking to make a recipe that would stay moist for days!
What is the difference between a brownie and a blondie?

Well, similarly to our discussion on what constitutes an official buttercream this one is a bit of a name game in my opinion.

In general, I consider blondies to be bar cookies that don't have a chocolate base, although I think it's fair to say blondies are a specific type of brownie.

That said brownies I find are generally considered any bar cookie with a chocolate base(thanks to either cocoa powder or melted chocolate), although I've even used the terms a bit interchangeably here. If you made me pick though, I'd definitely say these are butterscotch blondies instead of butterscotch brownies.

I think the most important function of the word blondie is to manage expectations. It's a quick and easy way to let your audience know you're referring to a cookie bar recipe with a light base instead of a dark chocolate one.
---
Other recipes fans of these blondies will love:

⭐ If you gave this recipe a try please give it a ⭐ rating and tag me on Instagram @mint.and.mallow.kitchen so I can see what you're baking up! ⭐
📖 Full Recipe
Coconut Butterscotch Blondies
With a sweet and nutty brown butter flavor, these chewy coconut blondies have flavor for days!
Ingredients
¾

cup

(1 ½ sticks) unsalted butter

(melted)

2

cups

brown sugar

(packed)

½

teaspoon

salt

1

teaspoon

vanilla extract

3

large eggs

1 ½

cups

all-purpose flour

2

cups

sweetened shredded coconut

¾

cup

chopped pecans

(optional, to mix into batter)

½

cup

sweetened shredded coconut

(for topping)

¼

cup

chopped pecans

(optional, for topping)
Instructions
Prep and preheat: preheat your oven to 350°F. Line a 9" x 13" pan with parchment paper, leaving a 1" overhang on each side (I recommend clipping the overhang to the edge of the pan with metal binder clips!), and lightly grease with baking spray.

Whisk together most ingredients: combine butter, brown sugar, salt, vanilla, and eggs and beat by hand or with a mixer until everything is fully incorporated into a smooth and creamy mixture.

Add flour, then coconut: Add flour and stir until about 80% combined, then add in the 2 cups coconut (and ¾ cups chopped pecans, if using) and continue to stir by hand until fully incorporated.

Transfer and bake: transfer the batter to your prepared pan and smooth it evenly into all the corners. Sprinkle remaining ½ cup of coconut (and ¼ cup chopped pecans, if using) evenly over the top of the batter. Bake for 26-30 minutes until surface is deep golden brown, fully set, and slightly crackled.

Cool, share, and enjoy: cool bars fully before using the parchment sling to transfer the bars to a cutting board to slice (or simply slice them right in the pan) and share them with all the other butterscotch lovers that have found there way to the kitchen, thanks to the delightful caramel-y scents wafting through your house and enjoy!
Nutrition
Serving
1
bar
|
Calories
204
kcal
|
Carbohydrates
28
g
|
Protein
2
g
|
Fat
10
g
|
Saturated Fat
7
g
|
Trans Fat
1
g
|
Cholesterol
36
mg
|
Sodium
137
mg
|
Potassium
74
mg
|
Fiber
1
g
|
Sugar
22
g
|
Vitamin A
207
IU
|
Vitamin C
1
mg
|
Calcium
23
mg
|
Iron
1
mg