Is there any ingredient more important than butter when it comes to all our favorite classic baked goods? Chocolate Chip Cookies, Birthday Cake, Sea Salt Caramels...well for me, a classic recipe featuring the flavor of high quality butter is where it's at, because as you're about to learn, fat is flavor in our recipes.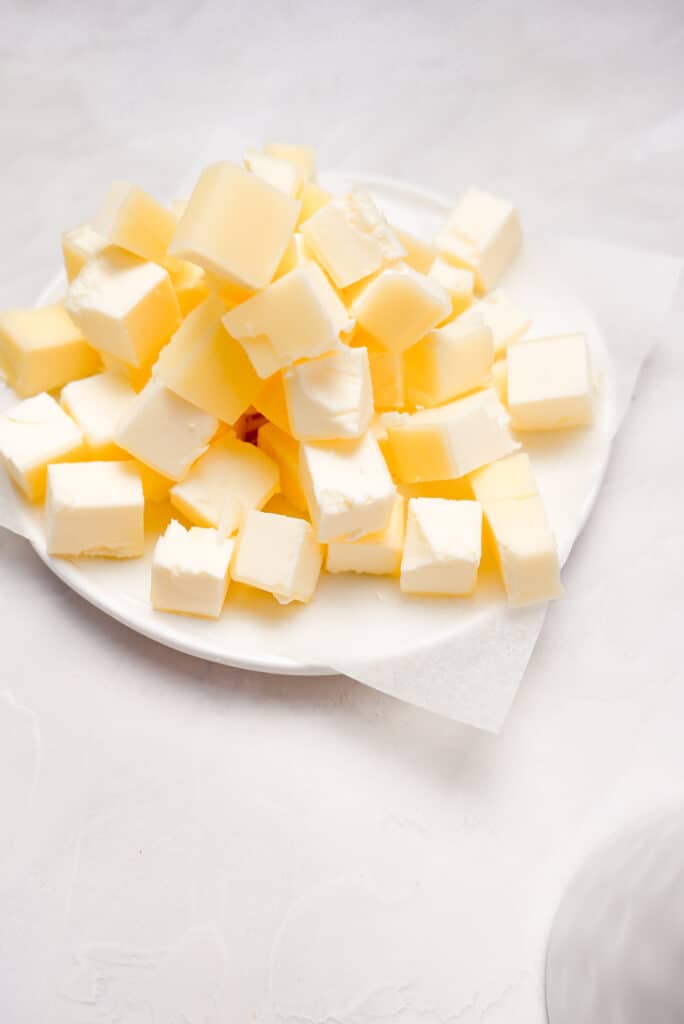 To help butter live up to its maximum potential, it's important to understand all the roles it plays in our recipes; namely flavor and tenderization. Today, we're going to focus on flavor. Specifically, understanding how butter combines and enhances all the flavors in our baked treats in every recipe.
Fat is flavor: an illustration
"Fat is flavor" is a phrase you may have heard before. You also might have guessed, butter is where this motto translates into your baked goods.
However, fat also loves to take its time when developing and absorbing flavors. Therefore, the element of time is another thing to keep in mind when thinking about the relationship between butter and flavor.
Three cups of tea sat on a table...
One of my old-school French chef instructors once told me a great anecdote I'll share with you. It illustrates the vital role time plays in fat's (and thus your sweet's) flavor development:
If you were to brew a bag of tea in 3 separate cups...

one filled with water
one filled with whole milk
and one filled with heavy cream

...you would find the following results:
~the cup with the water would brew the fastest, but ultimately taste the weakest
~the cup with the milk would take a little longer to brew to its full flavor, but would ultimately taste stronger than the tea made with water
~the cup with the cream would take the longest to brew, but would ultimately have the most robust and full flavor of them all
What's responsible for the difference between these teas?
In short, the amount of fat in each.
The tea brewed with water would be 0% fat, since water contains no fat.
The one brewed with milk would be around 4% fat.
And the third, brewed with cream, would be around 40% fat.
Because the cream tea has the most fat, it will take on the most flavor from the tea bag, and ultimately taste the strongest. This is because fat has the unique ability to not only absorb flavor compounds, but to preserve them as well.
What's a cup of tea have to do with my cookies?
So how does this come into play in baking? In short, it really depends on the recipe.
Butter will, of course, add flavor to any recipe through both its inherent flavor and the ability of its milk solids to brown. (Cooked milk solids offer that "nutty" or "cooked" flavor that you're probably familiar with in baked goods).
But to harness the full power of butter in our baking, we must consider the other major factor at play here: time.
So fat is flavor...when given time.
Let's loop back to our tea analogy. If you were to taste all three teas after 2 minutes of brewing, you'd find the water tea tastes strongest. Only after the high-fat cream tea had far more time to brew to its full potential would you would notice its ability to amplify the flavor.
Flavor-Infused Butterfat: Fresh Mint Ice Cream
The time factor is most important when you're looking to infuse a certain flavor into your recipe. In my own kitchen, one of the most common applications of this principle is in the making of ice cream (or even just fresh flavored whipped creams).
Many ice cream recipes require heavy cream - an ingredient rich in butterfat. My absolute favorite ice cream is Fresh Mint Chip (mint is one of my favorite flavors of many things, really…so much so that I named my business after it!).
Unfortunately, mint leaves themselves don't convey a very pleasant texture in ice cream. To get around this little issue, I always infuse my heavy cream base with fresh mint leaves overnight.
The overnight rest gives the fat in the cream 12-24 hours to take on the flavor of the leaves. Because of this, I am able to ultimately remove the leaves completely before freezing my ice cream custard base. (But I still know that the delicious flavor of those fresh mint leaves will stay trapped in the cream's fat globules.)
This can even be applied to simpler recipes as well.
This same principal works, albeit in a smaller way, even for simple recipes like our Easy Vanilla Buttercream. In this recipe, we want to add our vanilla in with the butter right at the start of mixing to give them as much time and direct contact as possible to lock in that vanilla flavor.
The Short + The Sweet
The biggest impact the "fat is flavor" principle has had on my day-to-day baking is in the creaming step you'll find in many recipes.

Instead of creaming together the standard combination of butter and sugar, I always add my flavor extracts in right with the butter. (Those flavoring could be vanilla or almond extract, vanilla paste, vanilla beans, citrus zest, etc.)

Why, you ask? Well, because the more time and the more direct contact the flavoring has with the butterfat, the more that flavor can infuse into the fat globules.

This will ultimately yield a more flavorful product, no matter what treats you're whipping up. Plus, the opportunity to throw another ingredient into the bowl earlier in the process eliminates a step later on. (And we're all about simplifying things whenever possible here at M+M Kitchen!)
---
Currently Preheating…
In our next butter lesson, Butter 102, we'll take a look at butter's role in the structure and texture of our baked goods.
---

---
Ready to learn more and put all your new skills to good use?
Check out my newest tutorials and recipes below, and get to baking!

This website contains Amazon affiliate program links. This means that I earn a small commission on qualifying purchases at no additional cost to you. I will never provide a link to nor recommend any product or service that I don't genuinely love or personally use. Thank you for supporting MINT + MALLOW kitchen and the brands that keep this blog running.