---
This recipe is the most delightfully light and fluffy...and did we mention...easy vanilla buttercream frosting. It's a breeze to whip up, and can be used to frost cakes, swirl on cupcakes, decorate your favorite sugar cookies, or fill up your macaron shells or whoopie pie sandwiches - the possibilities are endless!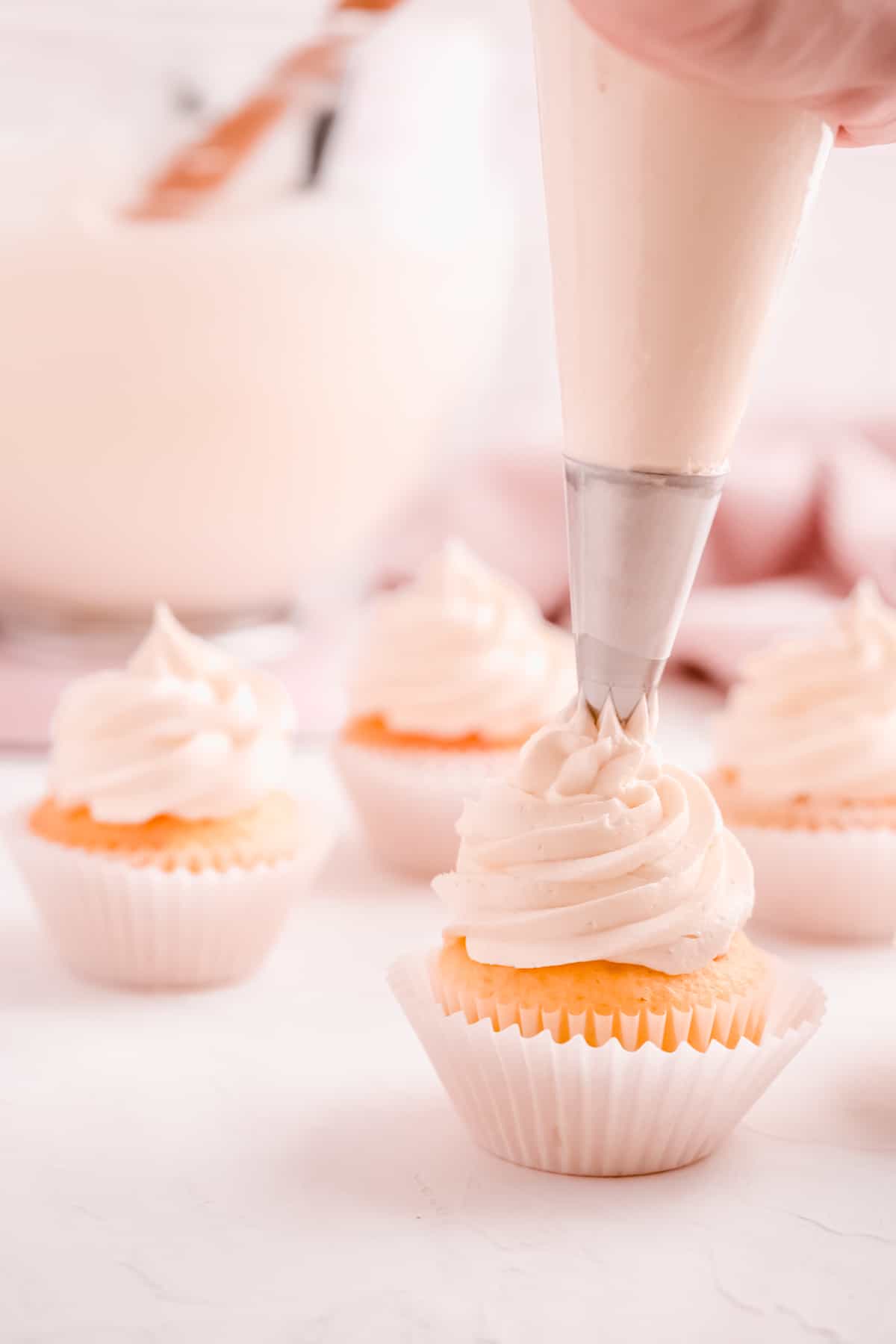 Jump to (scroll for more!):
American buttercream is the best buttercream in my book, because it's super easy to make compared to say a Swiss or Italian buttercream and soooo delicious. This is the buttercream I grew up with that my mom always made for our most quintessential family recipe - decorated sugar cookies (I'll be posting this recipe soon too!).
So even after my many years making the more official "buttercreams" that my French chef instructors would consider proper buttercreams - Italian Buttercream, Swiss Buttercream, and French Buttercream - the nostalgic notes in this easy vanilla frosting always makes it extra tasty in my book.
What is American buttercream?
There are five types of buttercream that I've had experience with during all my years in the kitchen and some are more common and well-defined than others. But here's a quick overview of buttercream breakdowns…
What are the three classic buttercream frostings? (with eggs)
Italian Buttercream: cooked sugar syrup (water + sugar) is slowly poured into raw whipping egg whites to cook them right in the mixer bowl, with butter added in slowly at the end
Swiss Buttercream: egg whites and sugar are whisked over a double boiler to dissolve the sugar and cook the eggs; then they are whipped on a mixer, with butter slowly added in at the end
French Buttercream: cooked sugar syrup (water + sugar) is slowly poured into raw whipping egg yolks to cook them right in the mixer bowl, with butter added in slowly at the end
Which are the quick-mix buttercream frostings? (without eggs)
American Buttercream: powdered sugar and butter whipped together with a little milk or cream
English Buttercream: powdered sugar and butter whipped together (no liquid)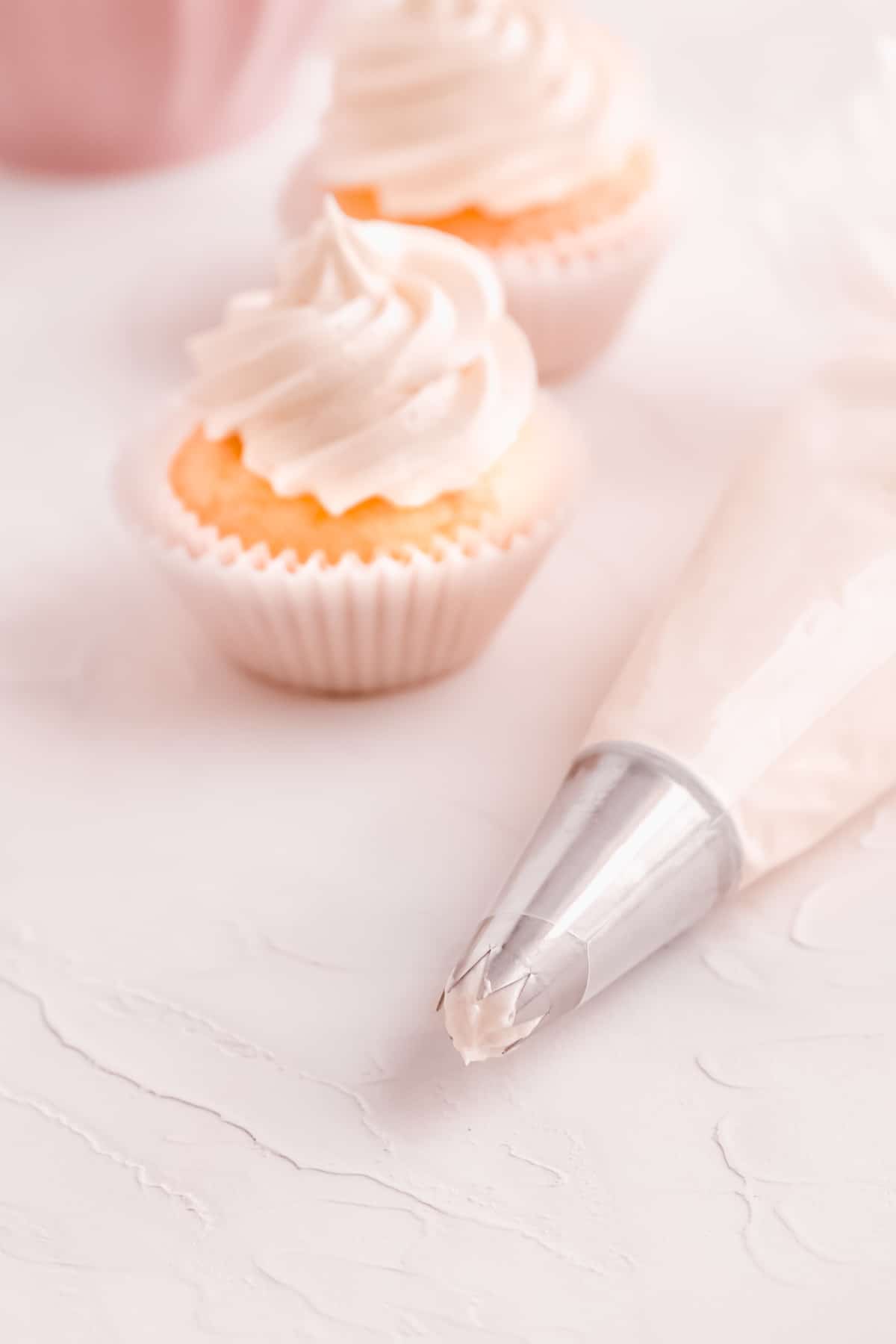 What is the difference between frosting and buttercream?
For the most part, I think this difference comes down to naming conventions in a lot of cases. (Even in this recipes where "easy vanilla buttercream frosting" uses both.) However, while I would call all buttercreams "frosting," I would not call all frostings "buttercreams."
So when is a "frosting" not a "buttercream"?
Well, this is my own personal definition, but once shortening comes into play, which is common in American buttercream recipes (whether for flavor balance or stability), I would call that particular recipe a "frosting". I like to reserve the term "buttercream" for a frostings that contains 100% butterfat, without any shortening, margarine, etc.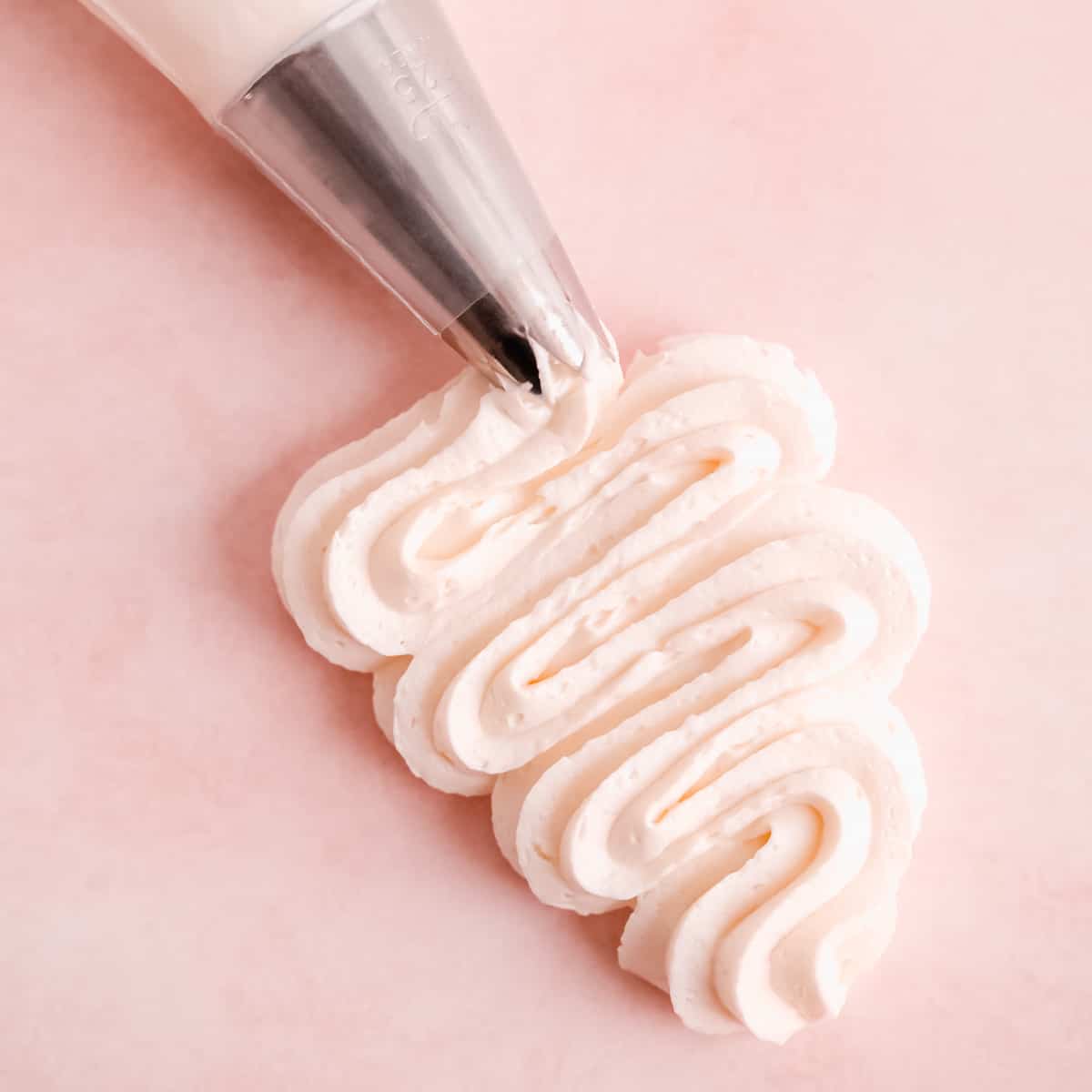 Can I use shortening in this buttercream recipe?
Absolutely! Just because I wouldn't consider it a "buttercream" once there's shortening in there, that is not to say there is anything wrong with using shortening. Especially when I did wedding cakes for the bakery, I always incorporated at least some shortening for stability.
But it's just always good to think about whether your particular recipe would benefit from 100% butter; or if swapping in some shortening makes more sense for you. In this recipe, you can substitute up to 50% shortening for the butter. Whether you choose all butter, or a 50/50 blend both options can still be delicious!
So let's get to whipping up some buttercream…I mean some frosting…I mean some buttercream frosting!
What ingredients you'll need to make this easy buttercream…
(Pssst…if you're ready to just get baking, check out all the details recipe card below!)
unsalted butter: I always use unsalted butter so I can control the level of salt, and you can substitute up to 50% of the butter with vegetable shortening as needed for your intended use
vanilla extract: a must for any recipe and vanilla bean paste is a great option here too if you like the look of the bean flecks in your frosting as well
powdered sugar, sifted: sifting is super important to make sure you have a smooth final icing
milk or cream: just a little bit of liquid helps to really lighten up this otherwise heavy mixture and to encourage the sugar and salt to dissolve as well (if you'd like to flavor your frosting with a liquid, that can be swapped in for some or all of the milk)
salt: balances the sweetness of the sugar, the rich notes of the butter, and blends all the flavors together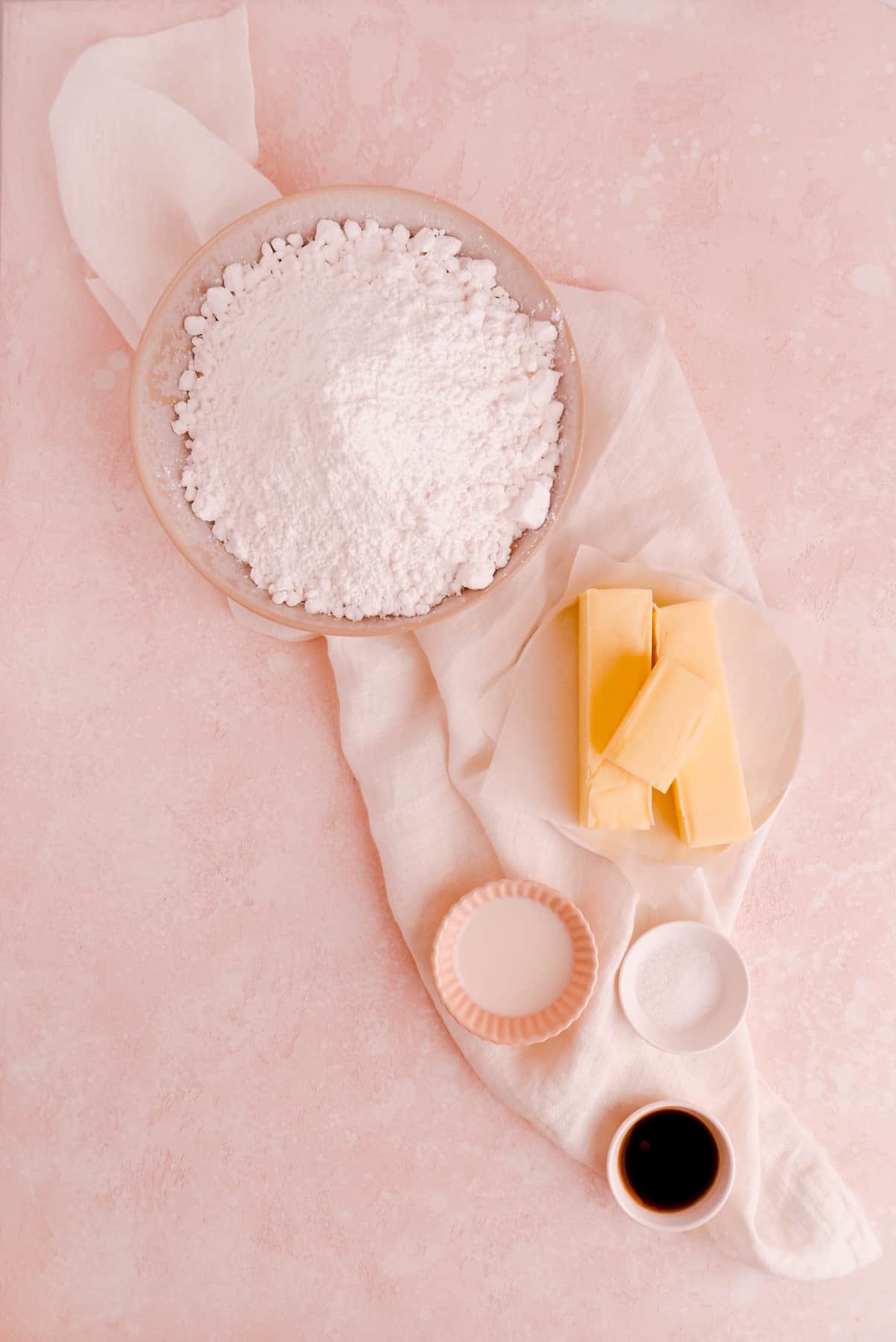 What tools you'll need to make buttercream…
For this recipe, you definitely need a hand or stand mixer to properly incorporate air into the batter and fully dissolve the sugar in the butter and liquid as well.
How to make this easy vanilla buttercream from scratch…
(Pssst…if you're ready to just get baking, check out all the details recipe card below!)
Dissolve the salt in the milk. If you add it straight to the sugar and butter, it tends to stay in grains and give you pops of salt instead of blending in.
Beat butter + vanilla until light and fluffy.
Add sugar in four batches. The batches are important! I know it's tempting, but don't add the sugar all at once or your final frosting could be grainy!
Add in milk or cream.
Frost, share and enjoy!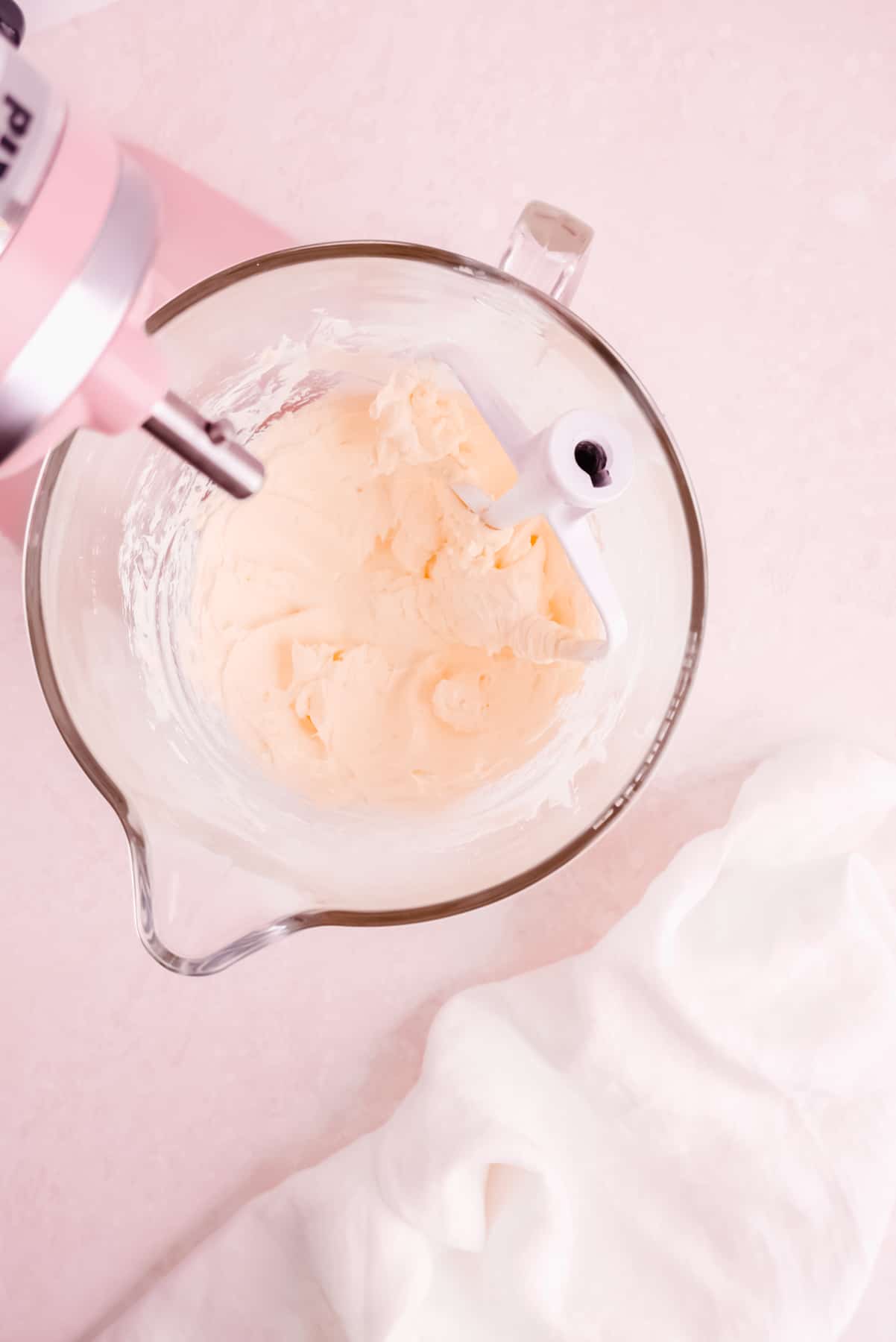 Substitution that will work…
You can substitute up to 50% of the butter in this easy vanilla buttercream frosting with shortening for increased stability or to cut down on the strength of the butter flavor if you prefer a more purely sweet frosting.
Can you make this recipe ahead of time?
Yes! This frosting will keep in the fridge for up to 1 week. It should be stored in the fridge if made before you plan to use it, and should be brought back to room temperature and briefly rewhipped to freshen it up before use.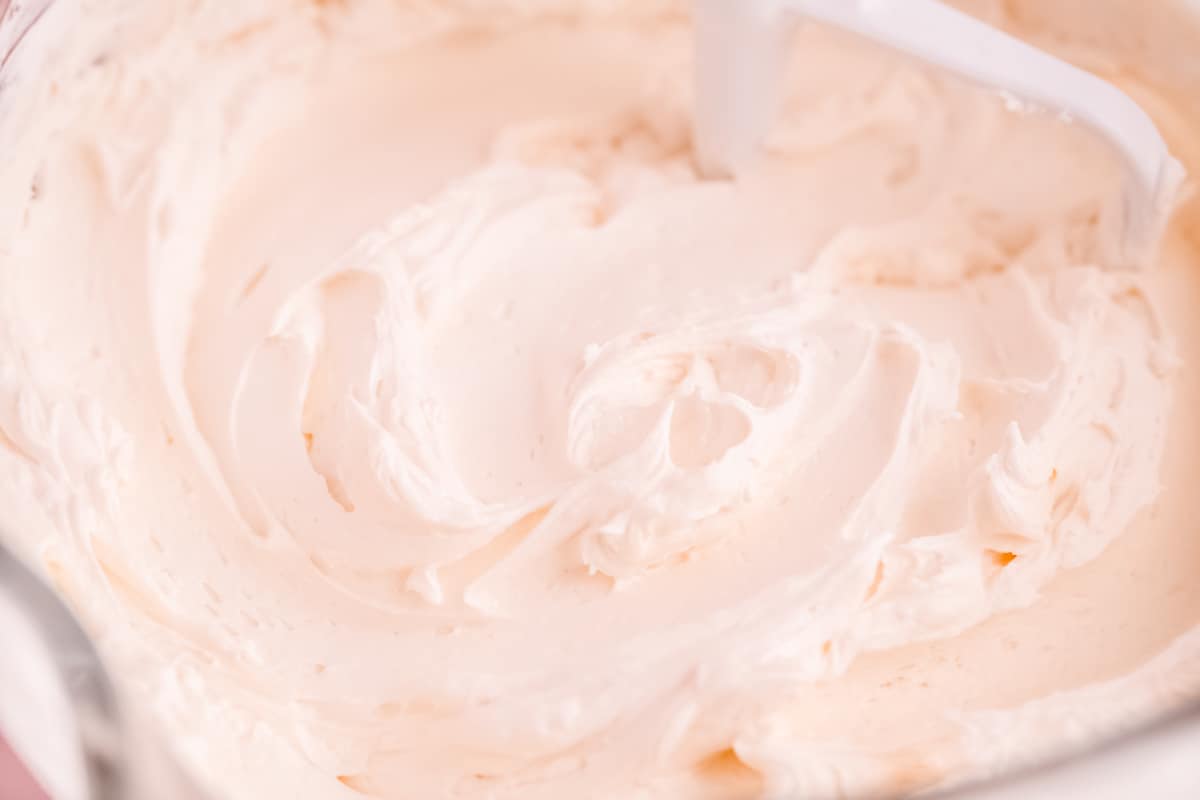 How do you store this frosting?
American buttercream will create a "crust" if left exposed to the air. So if storing it, or even letting it sit on the counter for any amount of time, always press plastic wrap over the surface so it is fully contacting all exposed frosting to prevent dry out. Additionally, any extra frosting should be stored in an airtight container.
Top tip for making the best vanilla frosting…
The biggest tip I can give you for American buttercream success is take your time when mixing. This recipe is very easy, but it does take some time to make properly.

The number one complaint I hear regarding American buttercream is that it's grainy. If you dump all your sugar in at once or don't allow it to whip for long enough, you will end up with a grainier frosting from poorly incorporated powdered sugar.

All those cooked buttercreams (Italian, Swiss, and French) have the heat of their syrups or steam to help dissolve the sugar. With American-style recipes like this easy vanilla buttercream, we're "cold-mixing" everything together since there's no applied heat. So we need to use time and patience as our "heat" to allow proper incorporation of the powdered sugar.

Simply follow the recipe to only add ¼ of the sugar at a time so it can properly incorporate into the butter, and allow ample mixing time before the next addition to guarantee success!
What's happening behind the recipe…
There's two important notes about what's behind the buttercream here you want to keep in mind in addition to the patient mixing process discussed above:
Get your flavoring in right at the start! Getting your flavoring (vanilla in our case) in direct contact with the fat will help to trap the flavor in your batter, and ultimately give this easy vanilla buttercream frosting a flavor that lives up to its "vanilla" name. (More about this in our Fat is Flavor lesson!)
Properly dissolving the salt is important! Salt is vital to any recipe to help bring all the other flavors out, and especially to balance what is a naturally very sweet recipe. If it stays in full grain form, it can't incorporate evenly to balance anything out. Instead, it will be unbalanced itself and you'll noticed unexpected (and unpleasant) pops of salt next to very sweet frosting. So taking just 20-30 seconds to stir the salt into your liquid will make a huge difference in your final product.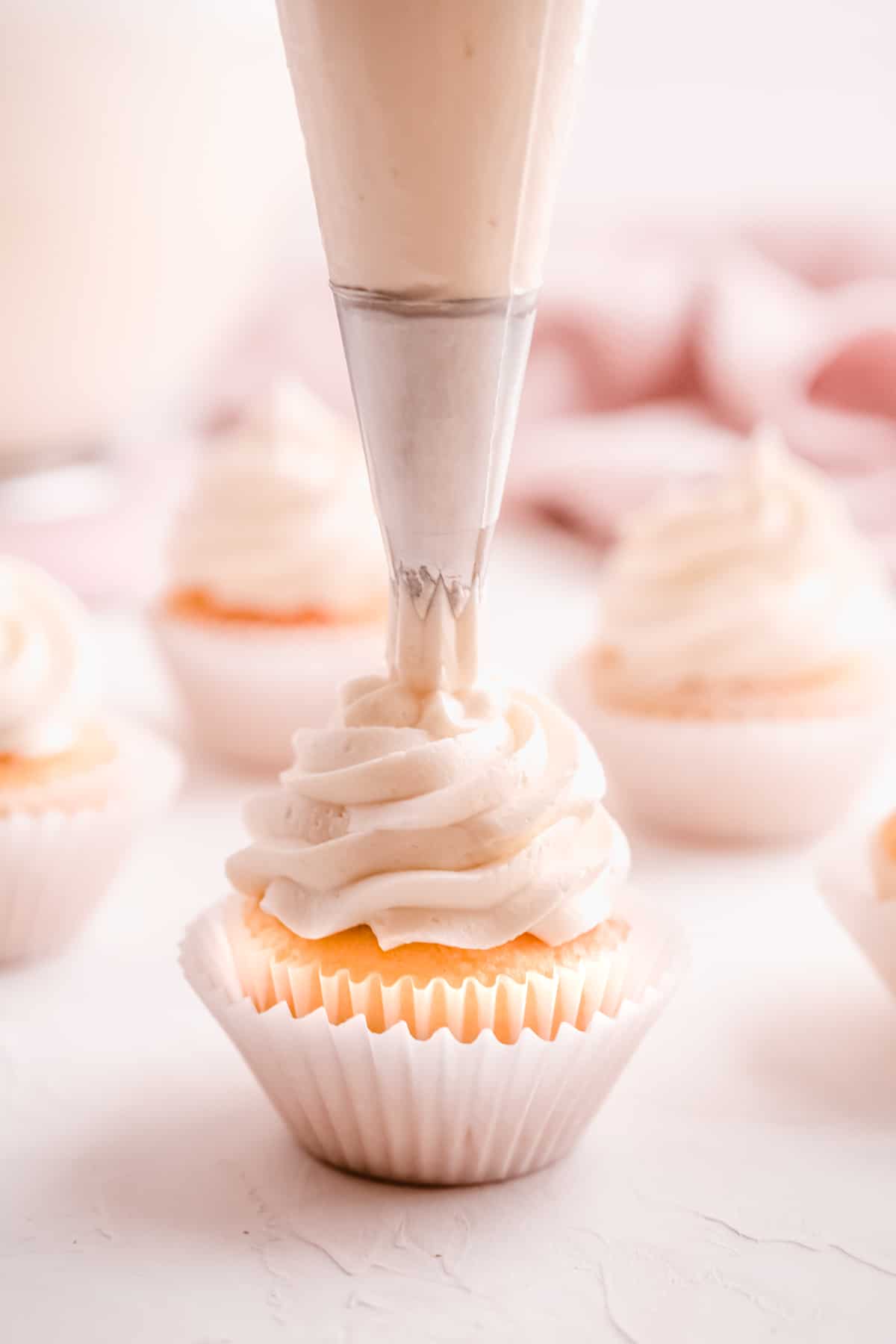 Can you make other flavors of frosting with this recipe?
Absolutely! This frosting is pretty sturdy compared to its more delicate Italian, French and Swiss cousins, so it can take on both liquid and powder flavorings on very well.
In term of specific amounts, they will vary extensively depending on the flavoring, but I'll be working on another post in the future to test all the specifics for you of how to flavor this buttercream in all the tasty ways.
If you have a particular flavor you're curious about, just ask in the comments below the recipe card and I'm happy to recommend starting amounts!
Other recipes that fans of this Easy Vanilla Buttercream Frosting will love…
What goes better with an easy vanilla frosting than an Easy Vanilla Sheet Cake?
Check out our super quick and Easy Vanilla Sheet Cake recipe to create the perfect base for this fluffy frosting.

⭐ If you gave this recipe a try please give it a ⭐ rating and tag me on Instagram @mint.and.mallow.kitchen so I can see what you're baking up! ⭐
📖 Full Recipe
Easy Vanilla Buttercream Frosting
This easy buttercream is delightfully light and fluffy, with a perfect balance of richness and sweetness. Use it to frost cakes, to decorate cookies - the possibilities are endless!
Ingredients
1 ¼

cups

(2 ½ sticks) unsalted butter, softened

(see tips)

1

tablespoon

vanilla extract

(or 2 teaspoons vanilla bean paste)

5

cups

powdered sugar, sifted

2

tablespoons

milk or cream

¼

teaspoon

salt
Instructions
Dissolve salt in milk: stir salt into milk for 20-30 seconds so it starts to dissolve.

Beat butter and vanilla: beat butter and vanilla extract with a stand or hand mixer for 1 minute on medium speed until smooth.

Add sugar in four batches: add a quarter of the sifted powdered sugar to the butter and mix briefly on low to incorporate, then beat on medium-high speed for 1-2 minutes until light and fluffy.

Add remaining sugar: repeat that process with the three remaining batches of powdered sugar until all sugar has been added and frosting is very light and fluffy, and has significantly increased in volume.

Add in milk: add in milk/salt mixture (be sure to scrape in the salt from the bottom of the container), and beat on medium-high for 2 minutes until liquid is fully incorporated and frosting is fluffy again.

Frost, share and enjoy: frost one 8" or 9" round two-layer cake, two 9" x 13" sheet cakes, or 36-48 cupcakes, then share the sweetness and enjoy! (or grab a spoon a give it a try right out of the bowl - no judgement here *wink*wink)
Test Kitchen Tips
Make sure your butter is properly soft for this recipe as you'll need soft, creamy butter to properly whip it into a light and fluffy buttercream. I also recommend using a higher quality butter as the flavor is really going to come through in this recipe.
A 1X batch of this frosting makes about 4 ½ cups when whipped to full volume which is enough to frost one two-layer 8" or 9" round cake, two 9" x 13" sheet cakes, or 36-48 full-sized cupcakes depending on how generous you are with your frosting.
This recipe has a decent amount of salt to balance out the sweetness (which I prefer), but if you're not used to using a lot of salt in your cooking or baking, feel free to use a scant ¼ teaspoon or leave it our altogether. It won't alter the texture, it'll just give you a more noticeably sweet frosting.
This recipe is super light and fluffy which means you will see bubbles, but if you'd like to smooth it out a bit for frosting a cake, allow it to mix on low speed for 2-3 minutes when you finish whipping it to get rid of some bubbles. You also can use a spatula to work the frosting back and forth against the side of the bowl to smooth it out and remove some bubbles as well.
Nutrition
Serving
1
cup
|
Calories
983
kcal
|
Carbohydrates
134
g
|
Protein
1
g
|
Fat
51
g
|
Saturated Fat
33
g
|
Trans Fat
2
g
|
Cholesterol
136
mg
|
Sodium
142
mg
|
Potassium
31
mg
|
Sugar
131
g
|
Vitamin A
1587
IU
|
Calcium
24
mg
|
Iron
1
mg