These old-fashioned donut muffins will bring up all the nostalgic feelings of your favorite cake donuts in a light and fluffy muffin, but with none of that frying fuss to make! The cinnamon and sugar topping takes these puffs to the next level and seals in all that mouth-watering flavor!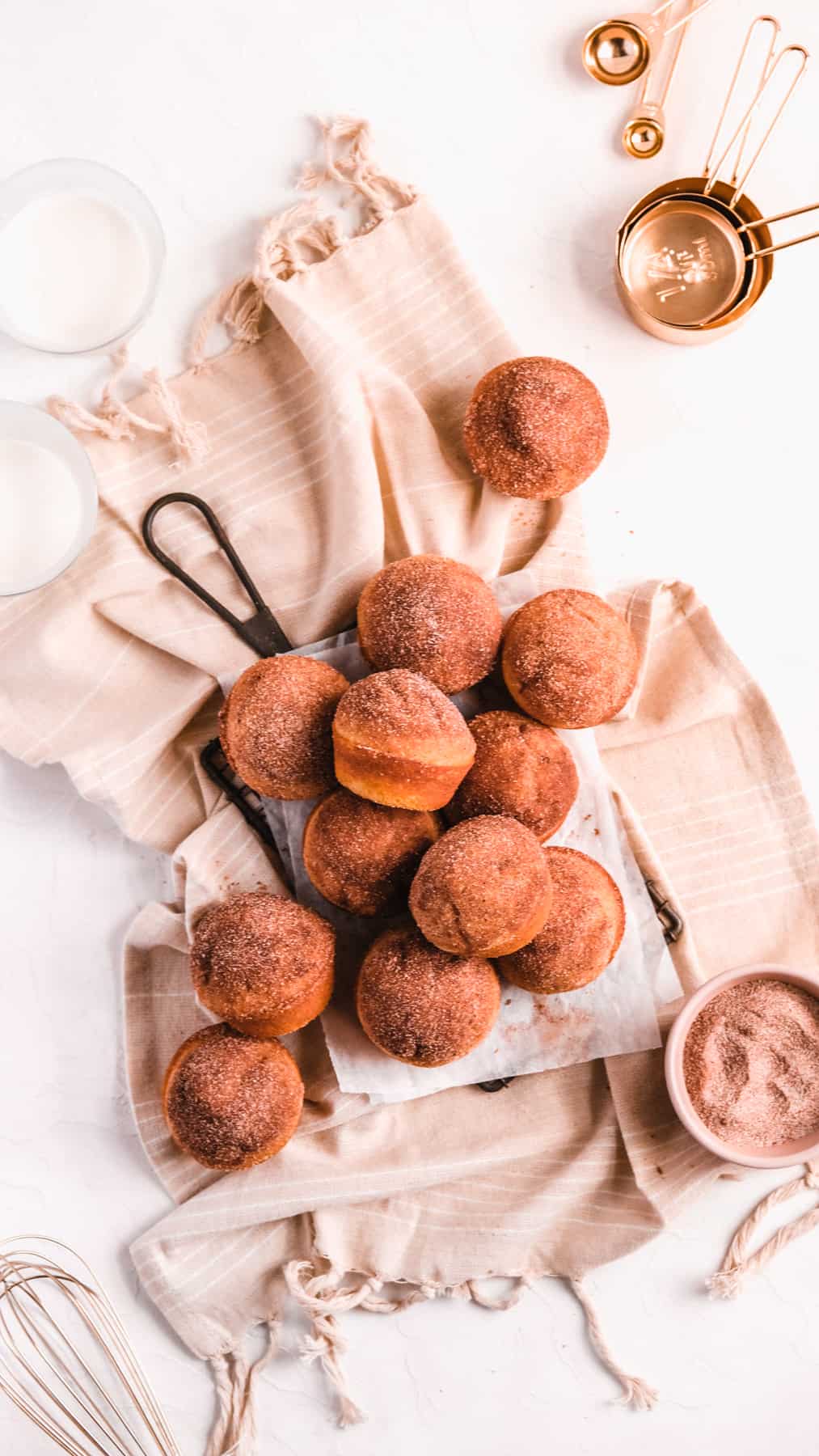 Jump to (scroll for more!):
This recipe was created for my friends over at Nellie's Free Range. I use their Certified Humane free range eggs all day, every day, in the kitchen and I appreciate you supporting the brands that I love to bake with and that keep this blog going. All opinions expressed here are my own.
Donut muffins bring people together.
Since I first developed this recipe, Nellie's fans have shared so many sweet photos of both these treats and their families mixing them up together. It's been truly heart-warming to see how many memories these cute little cinnamon puffs have helped create!
I have no doubt you and your family will be adding this sweet mash-up of an old-fashioned donut and a light and fluffy muffin to your list of go-to recipes. Whatever the occasion, these sugar-topped donut muffins are just what you need to add a little extra sweetness to your day.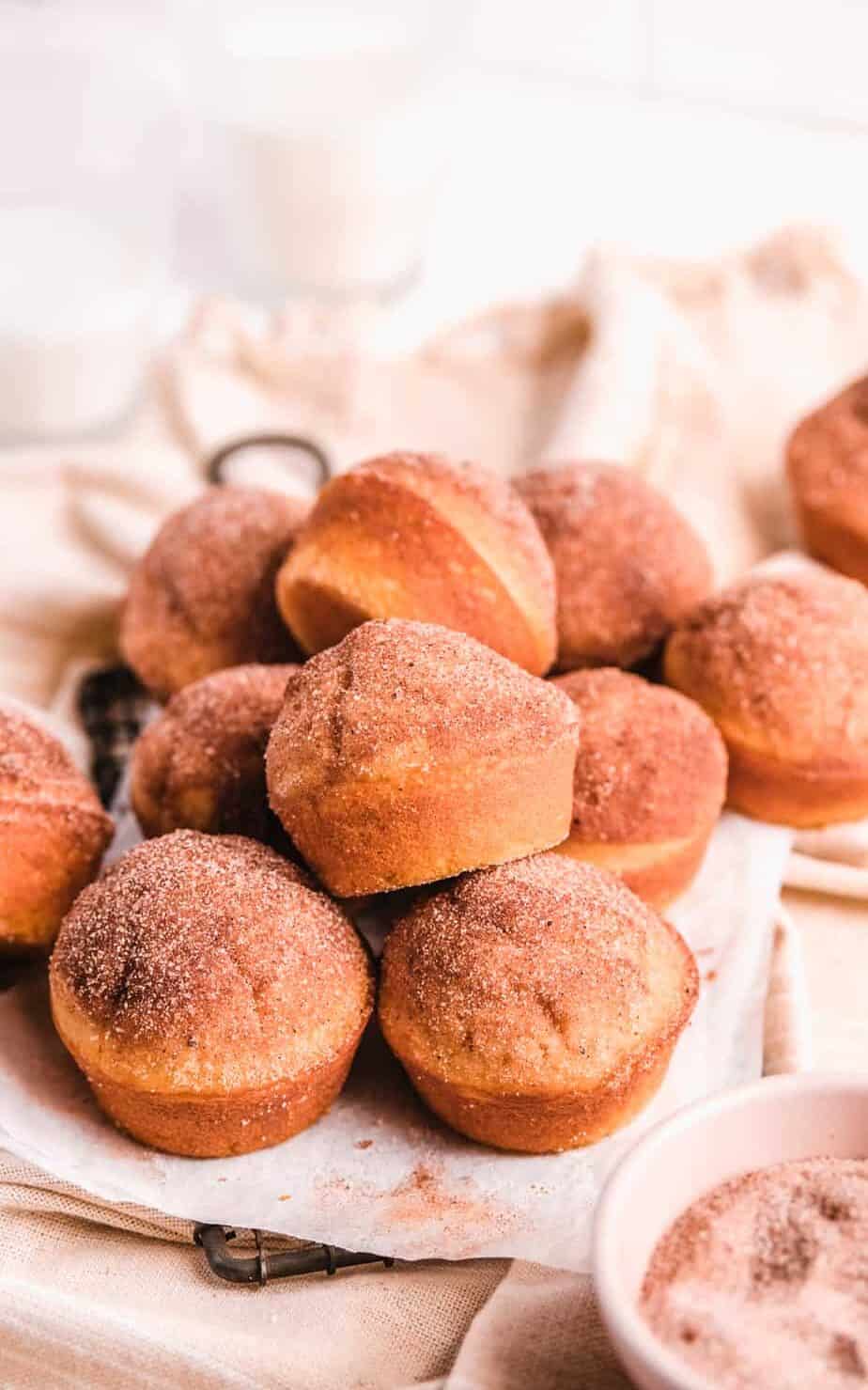 Ingredient list and lessons for sweet success...
(Pssst…if you're ready to just get baking, get all the details in the recipe card below!)
FOR THE MUFFINS:
all-purpose flour
sugar
cornstarch: to help tenderize these puffs (AP flour + cornstarch = faux cake flour)
baking powder
salt
Nellie's Free Range Unsalted Butter: we use a lot of butter in this recipe and having a high quality butter like Nellie's is key! Read more about why in this tutorial on how Fat is Flavor in our recipes.
milk: you can substitute buttermilk too if you like for even more of an "old-fashioned donut" flavor
vanilla extract
FOR THE TOPPING:
sugar
ground cardamom (optional): I love the cardamom in this recipe because it's subtle citrus notes just really brighten everything up, but if you want to stick with classic cinnamon and sugar, go for it!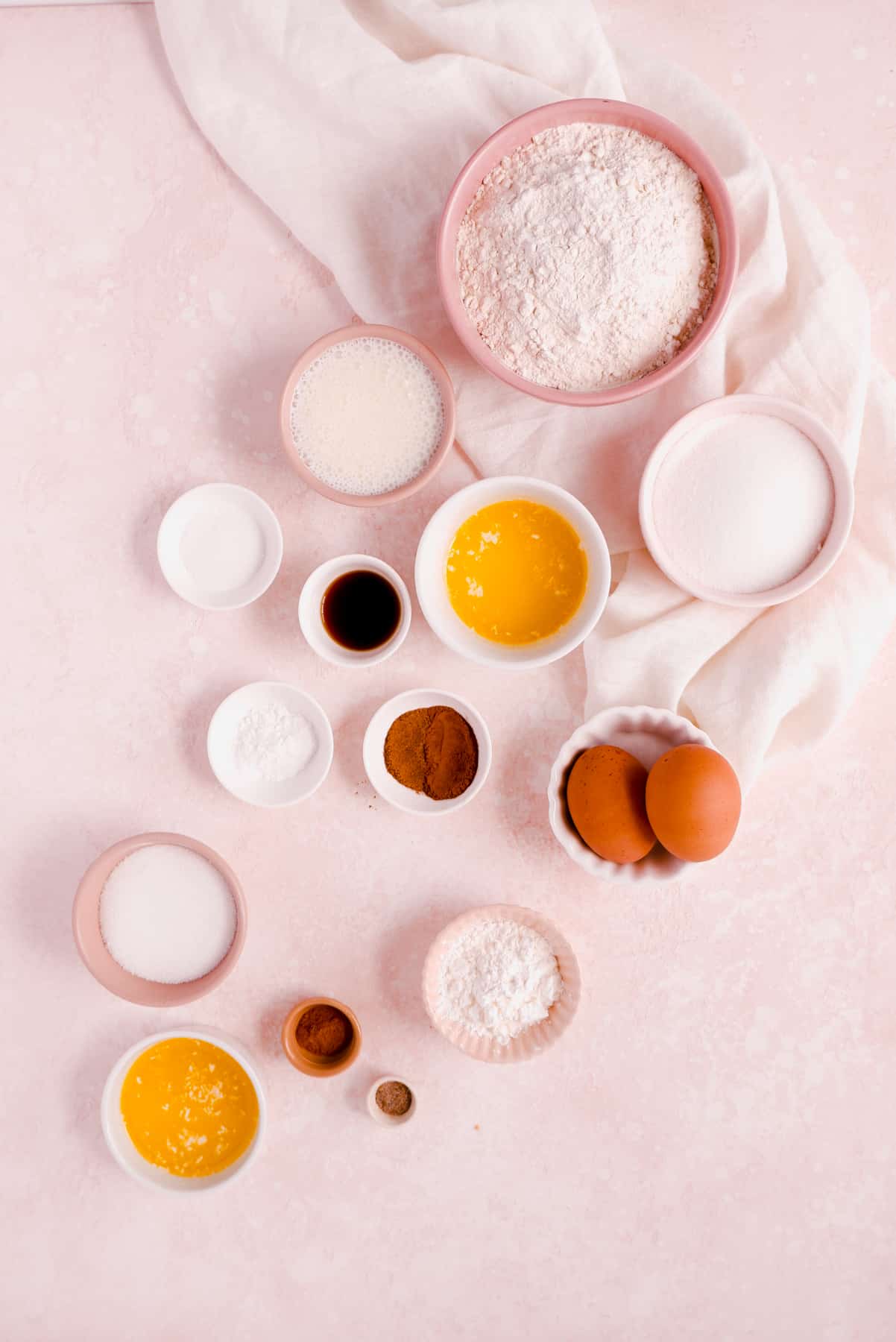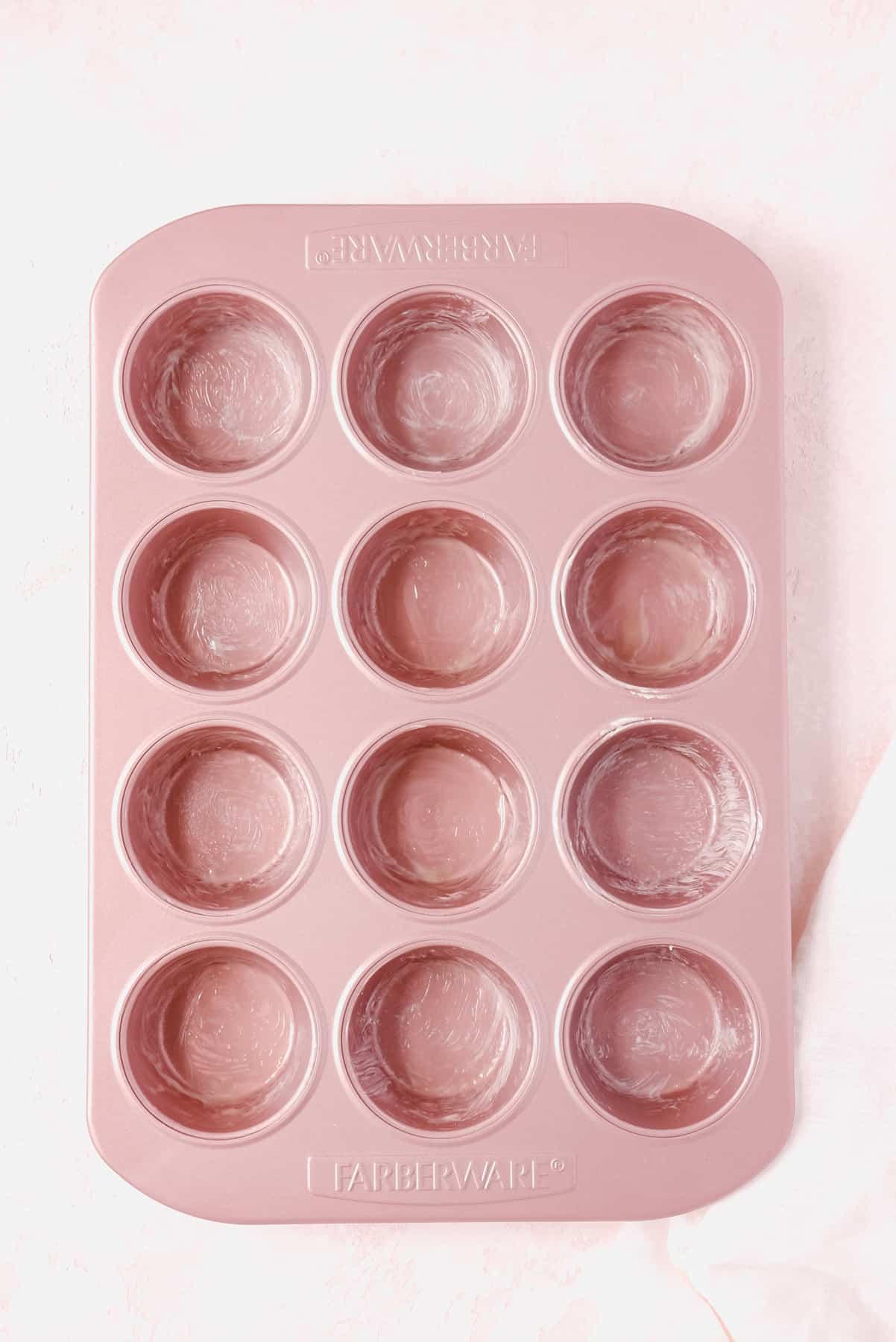 Special tools and equipment you'll need...
No special tools here! Just a couple of bowls, a whisk, a muffin pan, and a cooling rack or extra plate for dipping the tops and you're good to go!
How to make delicious donut muffin puffs...
(Pssst…if you're ready to just get baking, get all the details in the recipe card below!)
Preheat your oven to 375°F and grease your muffin pan with baking spray or butter.
Stir together wet ingredients, then stir together dries in a separate bowl.
Combine wet and dry ingredients, then add the melted butter last.
Portion out your batter into the prepared pan.
Bake until proudly puffed.
Cool for 5 minutes, un-pan, then cool another 10 minutes while making the topping.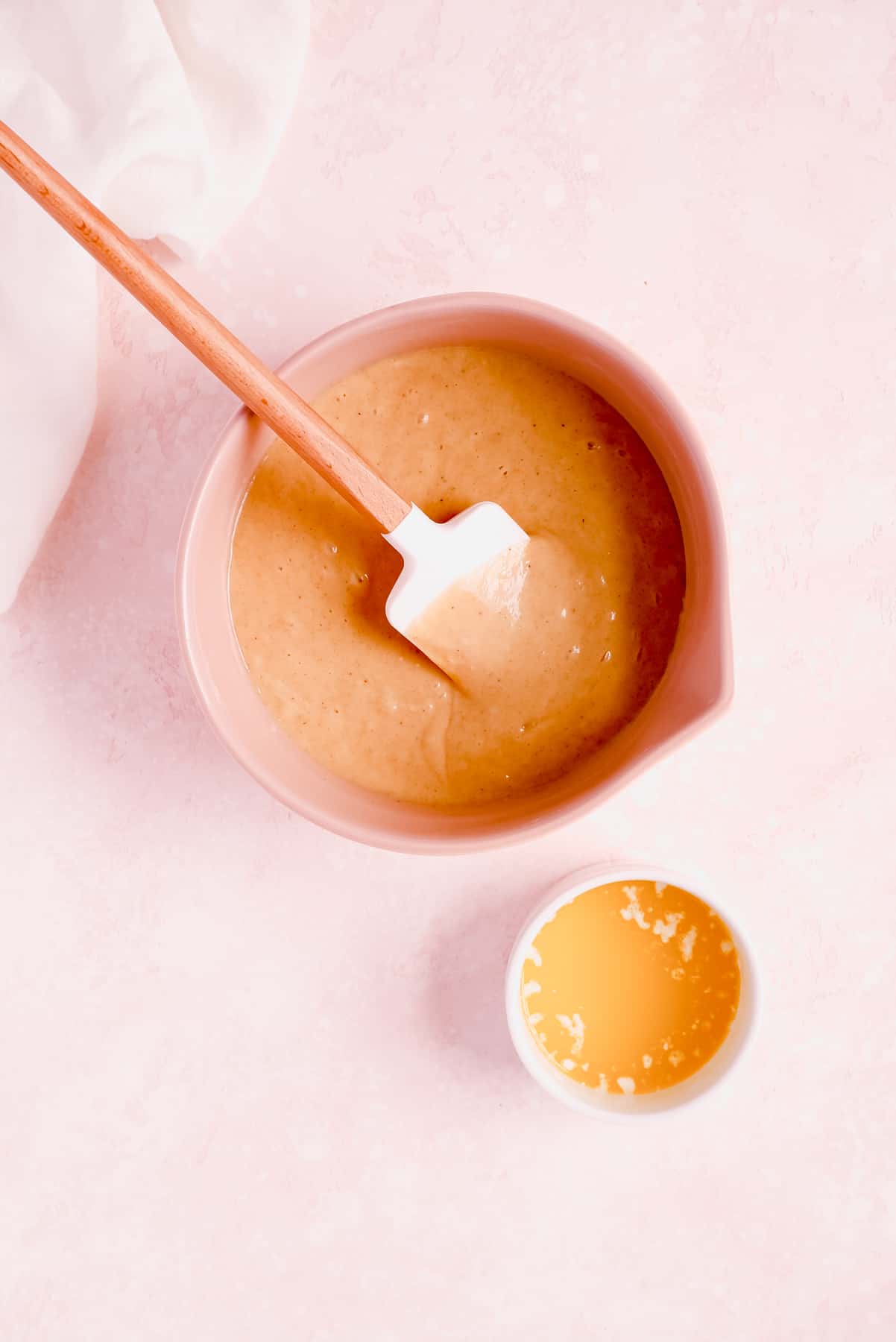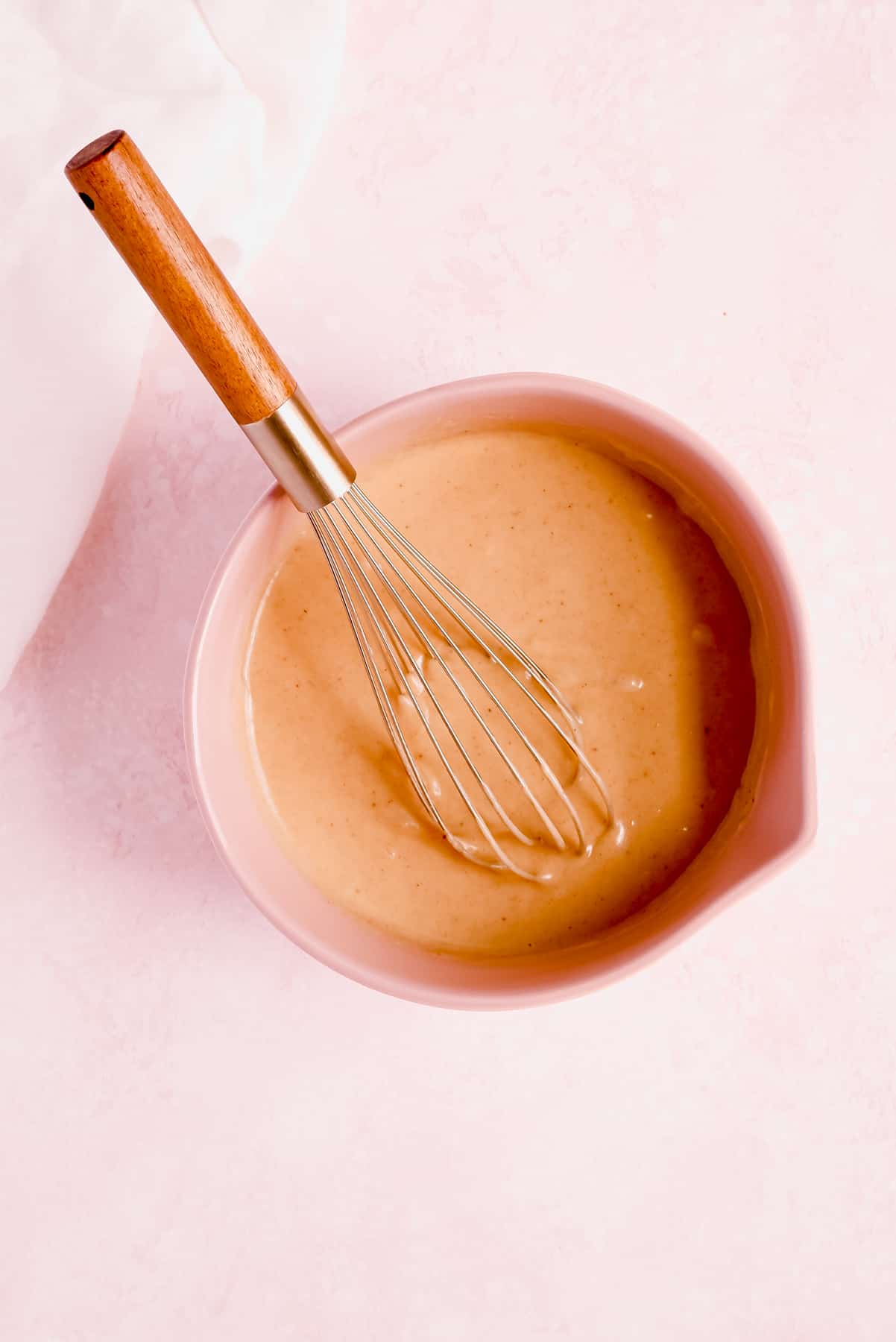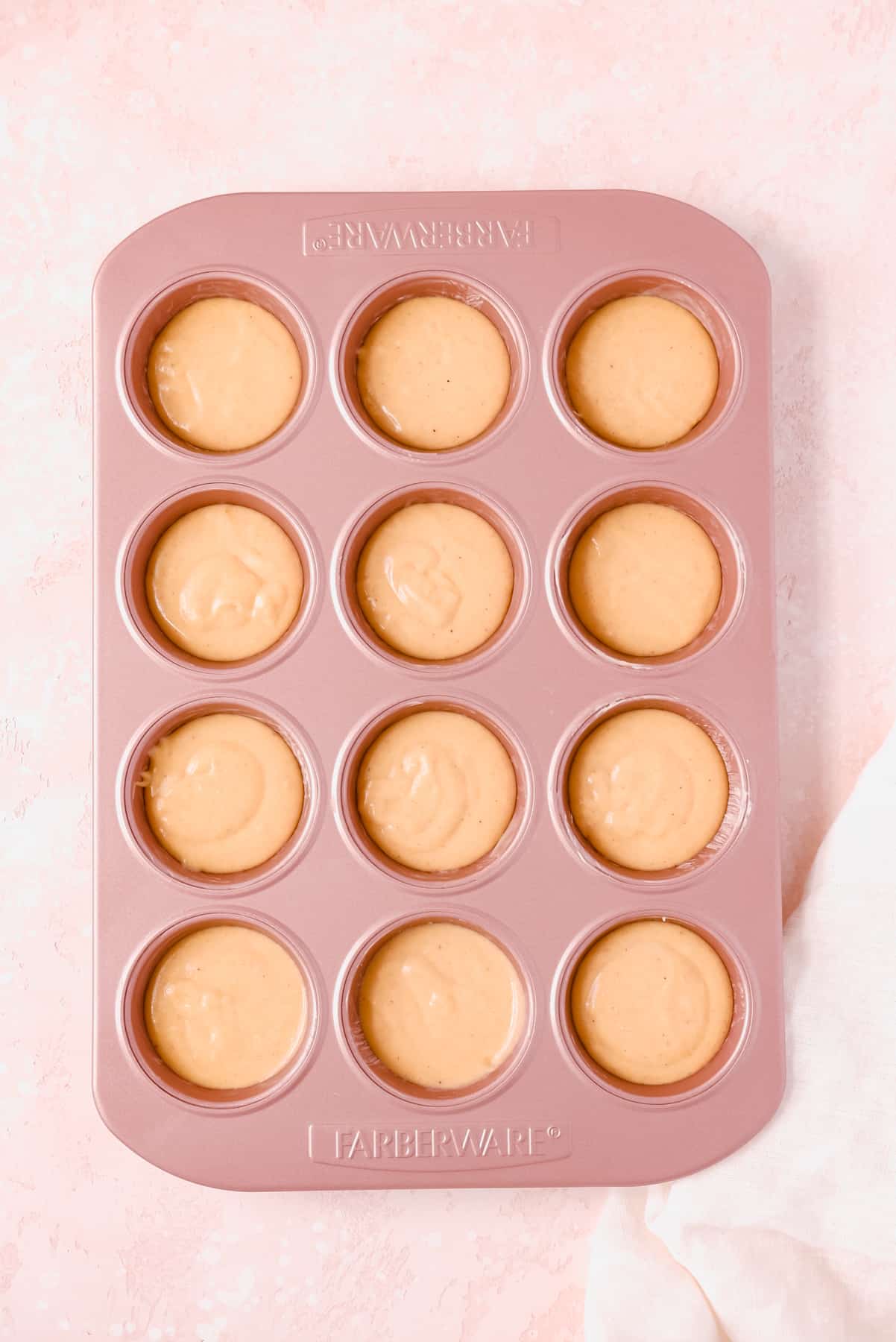 How to top with cinnamon and sugary bliss...
Melt butter in one small bowl.
Combine cinnamon and sugar in another.
Dunk tops (or the whole muffin!) in butter, then in cinnamon and sugar.
Double dunk the tops for a second round if the sugar topping soaks in.
Share and enjoy!
And here's the RECIPE WEB STORY for a click-through tutorial!
How do donuts become muffins?
During my M+M Bakery days, these cute cinnamon muffins were one of our most popular farmers' market treats.
This fun and easy recipe holds on to all the flavor and fluffy texture of your favorite cinnamon and sugar cake donuts. BUT, by changing up the mixing method to a simple muffin batter and using a well-greased pan to bake it off, these puffy treats take way less fuss and work to make.
Because a pan that is well-greased with butter or baking spray will essentially "fry" the outer edges of your muffin, you get to avoid the scary and complicated process of actually frying your donut batter altogether.
A hint of nutmeg and a classic cinnamon and sugar coating bring all your favorite donut flavors along, but you'll find these puffs have a delightfully lighter texture than a classic cake donut, which makes them all the more addicting!
(If your a jam-filled donut lover, be sure to check out our Strawberry Jam-Filled Mini Donut Muffin Recipe as well!)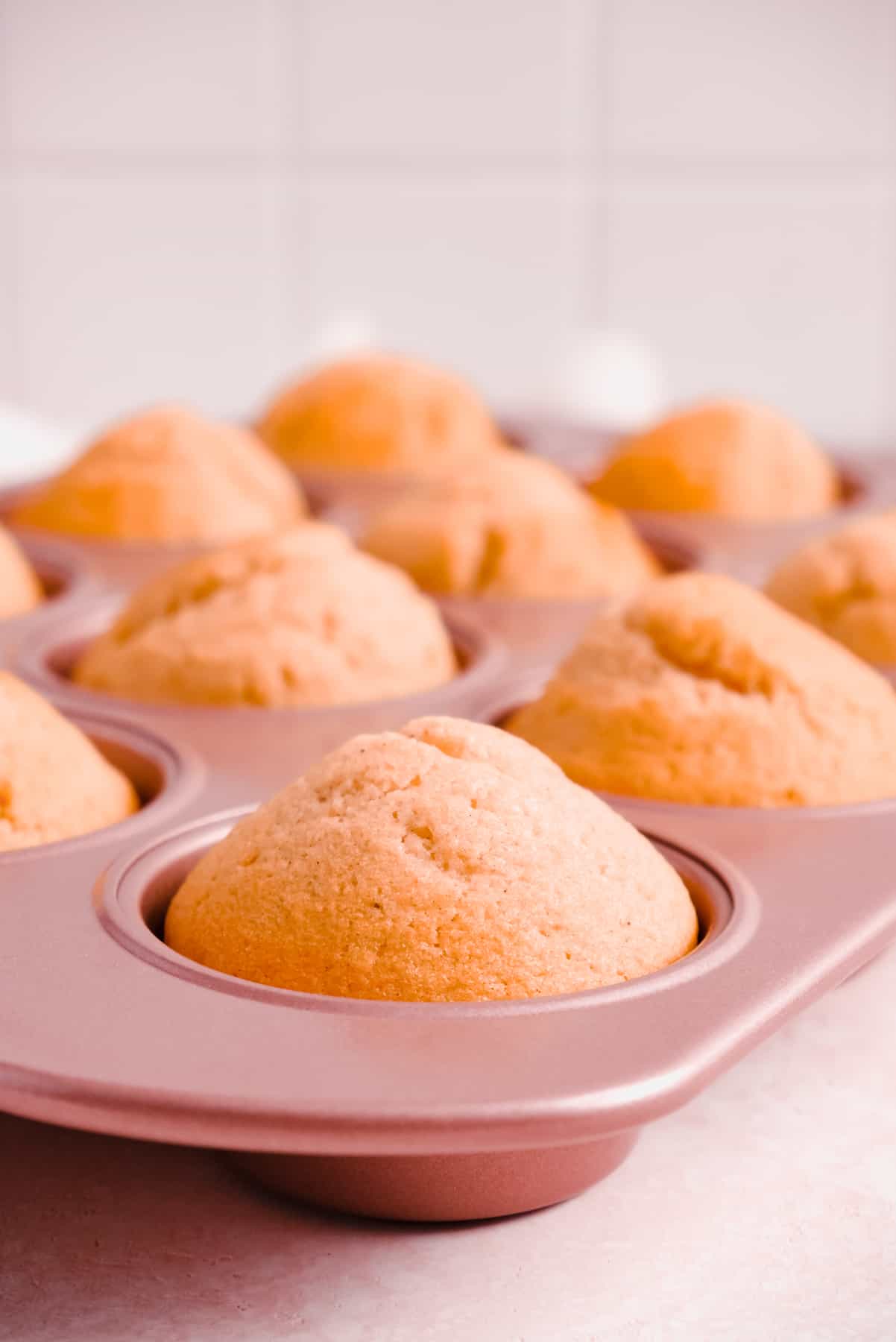 How do you make muffins fluffy?
These muffins are light, puffed and fluffy thanks, in short, to the right ingredients in the right portions.
Baking powder: We have a good deal of baking powder in our batter to help push those muffin tops sky-high!
Moisture: because this batter is also nice and runny compared to some others, it has ample time to rise and dome in the oven before the surface is fully set. This allows the gasses from the baking powder to more easily expand within the batter, allowing for more overall rise and a lighter, fluffier crumb inside our tasty donut muffins.
p.s. if you love tender, fluffy muffins, be sure to check out our Sour Cream Blueberry Muffins with Cinnamon Streusel too!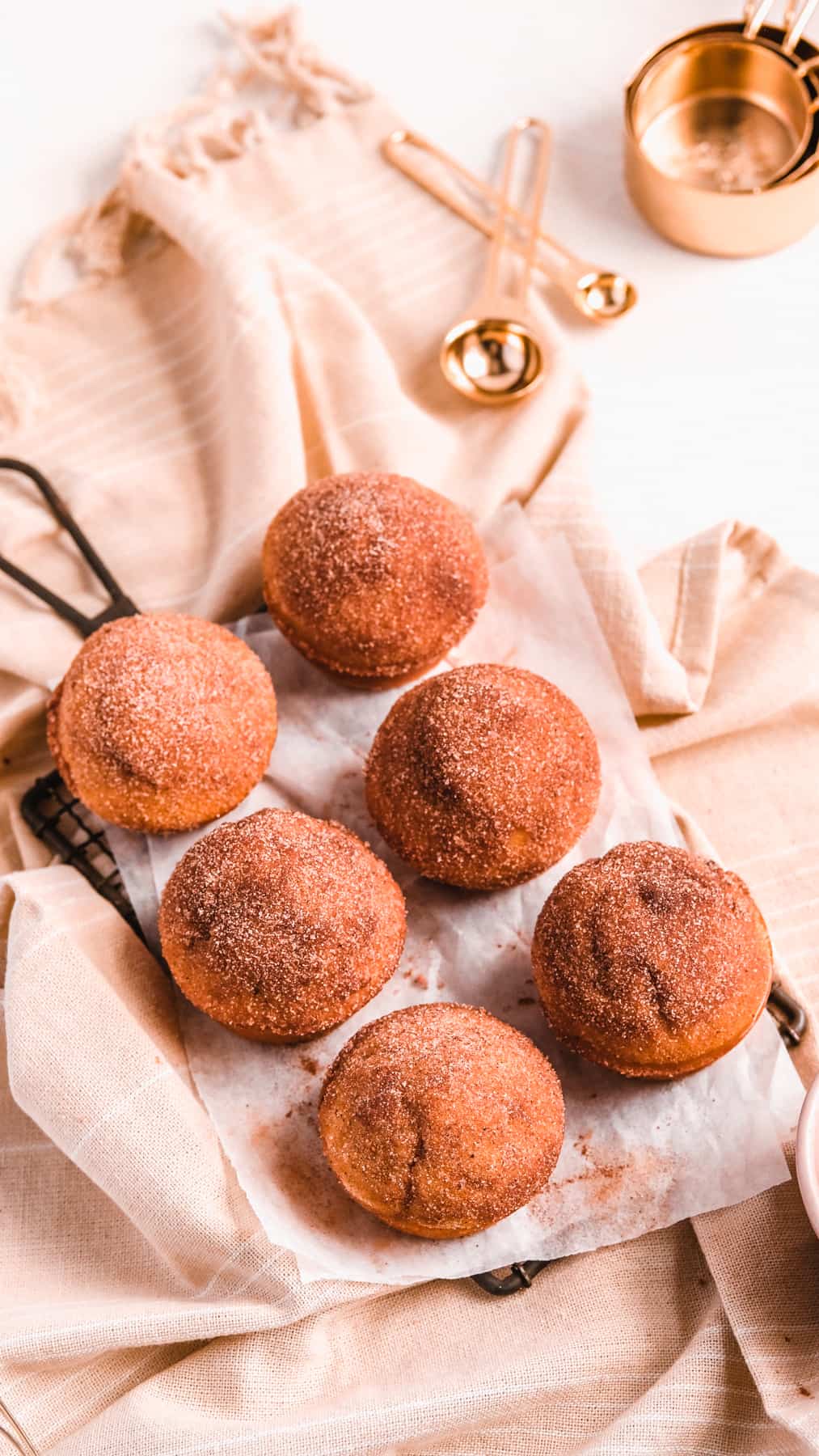 *Expert Tips and Tricks* for making the BEST cinnamon donut muffins...

What's the TOP TIP for making the best old-fashioned donut muffins?
The pan prep is super important here in a few ways:

1. You want to grease your pan instead of using cupcake papers to line it as this will allow the outsides of your muffins to get a fried flavor to them that really helps these puffs taste like real cake donuts.

2. You do want to grease your pan, but you don't want to over-grease your pan or you'll end up with a funny lip. In the photo below, the muffins on the left had a good, but quick spray at a few different angles over the whole pan whereas the ones on the right were over-greased with a spray in each muffin cup. (Don't worry though, even if you over-grease your pan, these little guys still come out super tasty and even have a little extra fired flavor as a bonus!)



How do I store these muffins?
Although like any donut, these little guys are best enjoyed fresh while still warm, you can keep them in an airtight container at room temperature for up to 5 days.

What substitutions can I make?
You can substitute buttermilk for milk if you'd like a little extra tang and even more old-fashioned donut flavor.

Can you make donut-hole mini muffins using this recipe?
Absolutely! Just change your bake time to 10-14 minutes and the rest all stays the same. You'll get 24-32 mini donut hole muffins depending on your specific pan's size. (And honestly...the minis are even more addicting than the big ones - especially if you coat the whole thing in cinnamon and sugar!) Check out our Strawberry Jam-Filled Donut Muffins for a full recipe written for minis.
---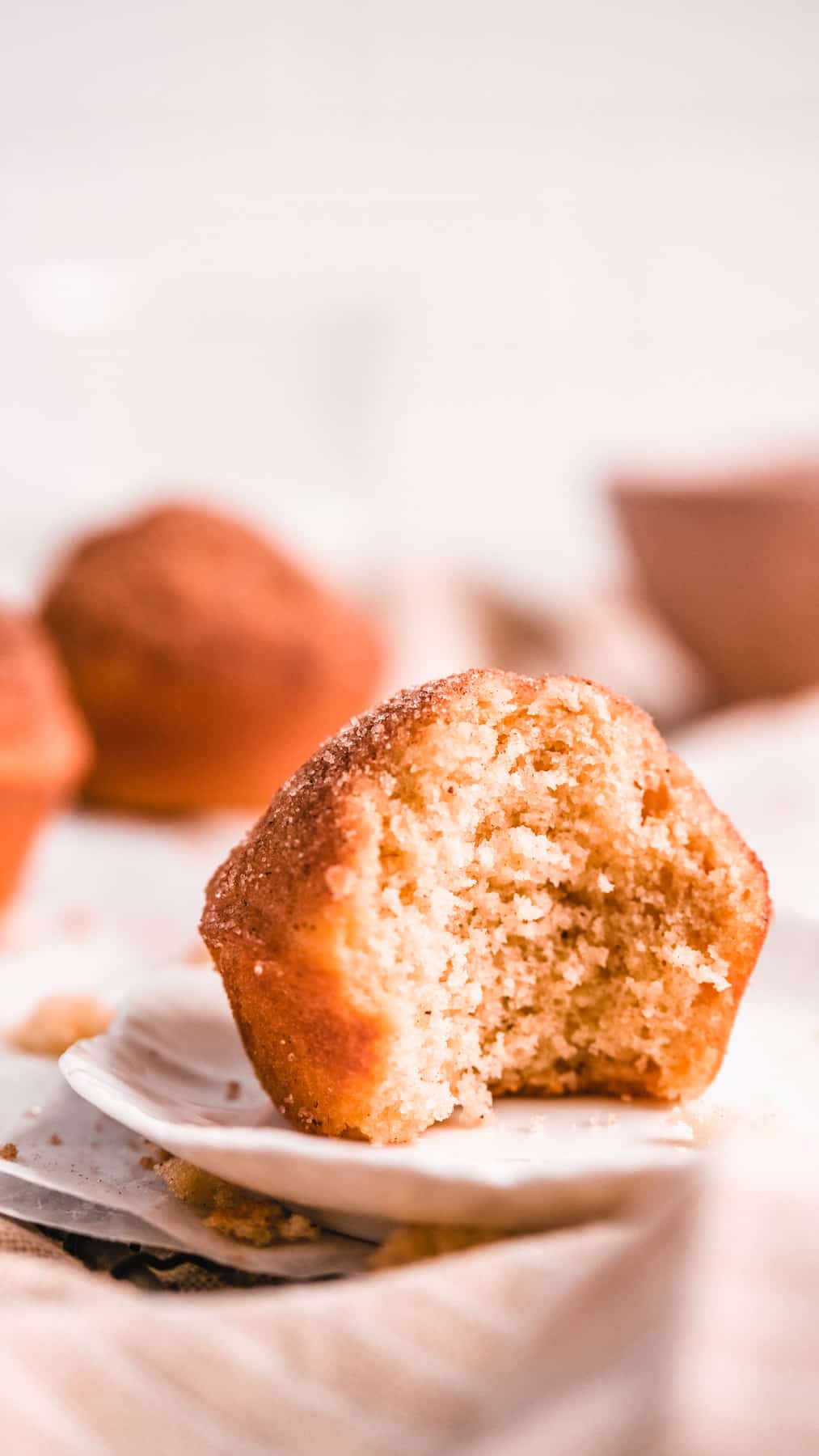 Other recipes fans of these classic donut muffins will love:
If you can't get enough of "fluffy" treats, be sure to check out my Fluffy Buttermilk Pancakes and Easy Brioche Oreo Cinnamon Rolls too! And for another of my favorite cinnamon-spiced treats, don't miss my all-time favorite Old-Fashioned Carrot Cake Recipe complete with fluffy Whipped Cream Cheese Frosting!

⭐ If you gave this recipe a try please give it a ⭐ rating and tag me on Instagram @mint.and.mallow.kitchen so I can see what you're baking up! ⭐
📖 Full Recipe
Old-Fashioned Donut Muffins
This fun and easy recipe holds on to all the flavor and fluffy texture of your favorite cinnamon and sugar cake donuts, but takes way less fuss and work to make.
Instructions
TO MAKE THE MUFFINS:
Prep and preheat: preheat your oven to 375°F. Grease a 12-cup muffin pan (see notes). Scale or measure all dry ingredients together in a medium-sized bowl and whisk until thoroughly combined. Stir together milk, eggs, and vanilla in a separate small bowl until well combined.

Mix wets and dries together: pour the wet ingredients and the melted butter into the dry ingredients and stir until batter is uniform and smooth, with no clumps of dry powder remaining.

Portion and fill pan: evenly distribute batter between all 12 prepared muffin cups.

Bake: bake muffins for 15-18 minutes until centers have puffed up and feel set when gently pressed.

Cool: allow muffins to cool 5 minutes, then remove them from the pan and let cool another 10 minutes while you prepare the topping.
TO COAT THE MUFFINS:
Prep topping: place melted butter in a small bowl. In a separate small bowl, combine sugar and spices until thoroughly mixed (see notes).

Dunk tops (or the whole muffin!): dunk warm muffin tops into melted butter, allowing any excess to drip off, and then roll the muffin tops in the spiced sugar. Repeat process for all remaining muffins.

Double dunk: Once each muffin has been coated, dunk the tops one more time each in the spiced sugar (but not the butter) to add a second layer of topping.

Share and enjoy: serve warm or keep in an airtight container at room temperature for up to 5 days. Share and enjoy the cinnamon and sugar goodness!
Test Kitchen Tips
Cardamom: I love using cardamom in the topping to elevate this classic flavor profile and bring a light citrus undertone to the spices, but if you're a die-hard lover of classic cinnamon and sugar donuts, or have a picky little eater at home, simply leave the cardamom out.
Make it mini! To make delicious mini muffins that will put a donut hole to shame, prepare the batter in the same manner and just adjust the bake time to 10-14 minutes. You should get about 30 mini muffins per batch. For a proper donut hole finish, dunk the whole mini muffin into the melted butter, shake off any excess, and coat fully in the cinnamon sugar.
Greased Pans: One of the classic features of a donut is that buttery caramelized crust. To achieve it, we recommend baking these muffins right in a greased muffin pan rather than a muffin pan lined with muffin papers. In a pinch, you absolutely can use muffin papers; you'll just find that the resulting donut muffins are a bit more muffin-y and a bit less donut-y (but still delicious!).
Nutrition
Serving
1
muffin
|
Calories
270
kcal
|
Carbohydrates
36
g
|
Protein
3
g
|
Fat
13
g
|
Saturated Fat
8
g
|
Trans Fat
1
g
|
Cholesterol
59
mg
|
Sodium
235
mg
|
Potassium
60
mg
|
Fiber
1
g
|
Sugar
20
g
|
Vitamin A
421
IU
|
Vitamin C
1
mg
|
Calcium
75
mg
|
Iron
1
mg