---
This homemade Strawberry Simple Syrup has a stunning natural deep red color, uses only 3 ingredients, and has a super quick and easy prep. You'll be blown away by how much fresh berry flavor is packed into one tiny bottle when you use this strawberry syrup for drinks, pancakes, desserts, and more!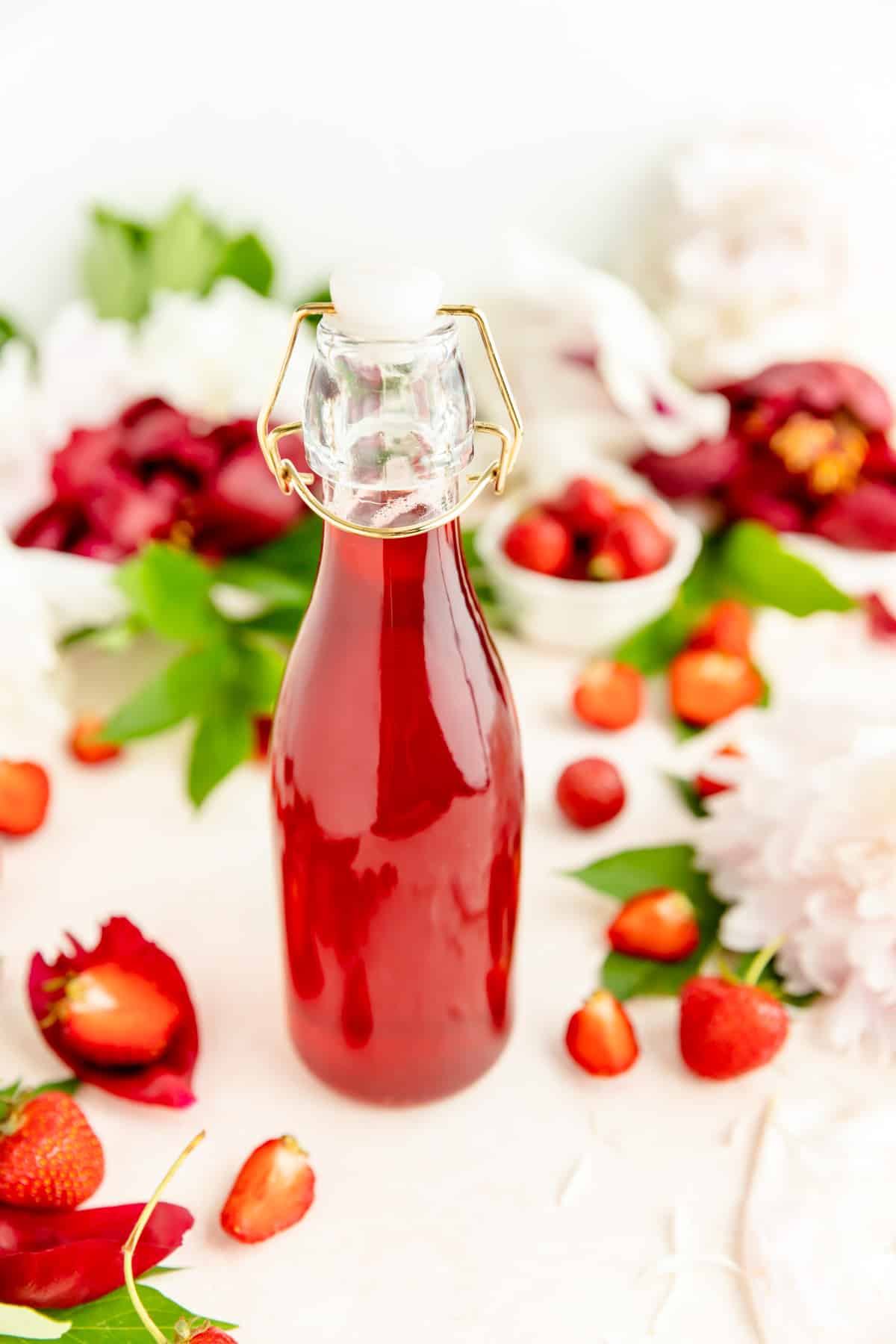 Jump to:
Simple, Stunning, Strawberry Syrup
As the name so aptly suggests, this homemade, super simple strawberry syrup really couldn't be simpler to make and can be used in endless ways.
You can use fresh or frozen berries, regular or organic, whatever your preference is - just look for the most flavorful berries you can find (I personally love fresh-picked during strawberry season here in Vermont!).
I developed this strawberry syrup recipe as a two-step, super simple process to take all the guesswork out, and make sure you get a beautifully clear syrup in the end.
This base recipe is designed to be a thinner syrup (perfect for mixing into drinks), but if you'd like to thicken it up as a delicious pancake topping, or to drizzle on some strawberry shortcakes, I've added a tip on how to do that too.
So grab a big pot, some fresh berries, and let's get to cooking!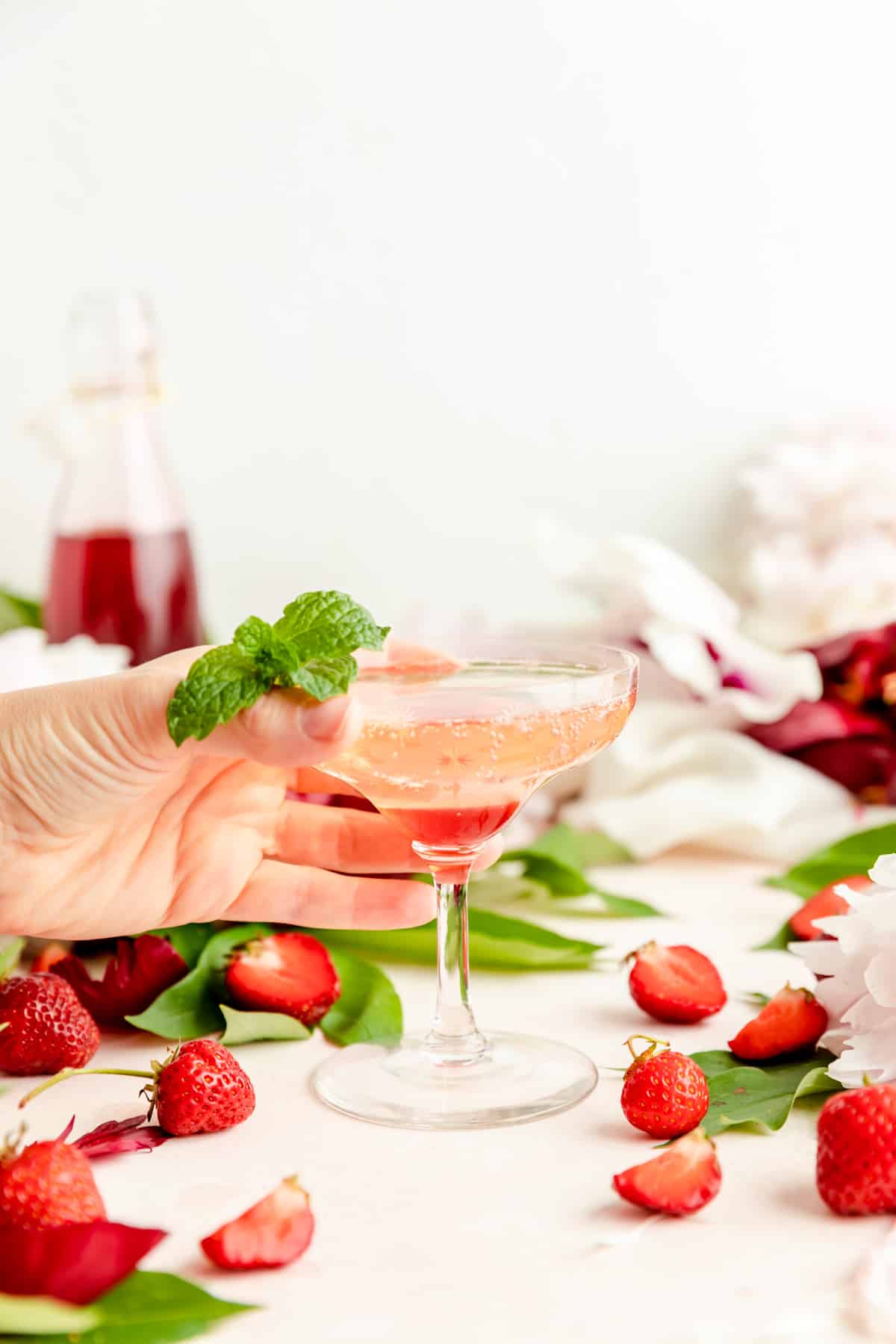 Ingredient Tips for Better Baking
(Pssst…if you're ready to just get baking, get all the details in the recipe card below!)
---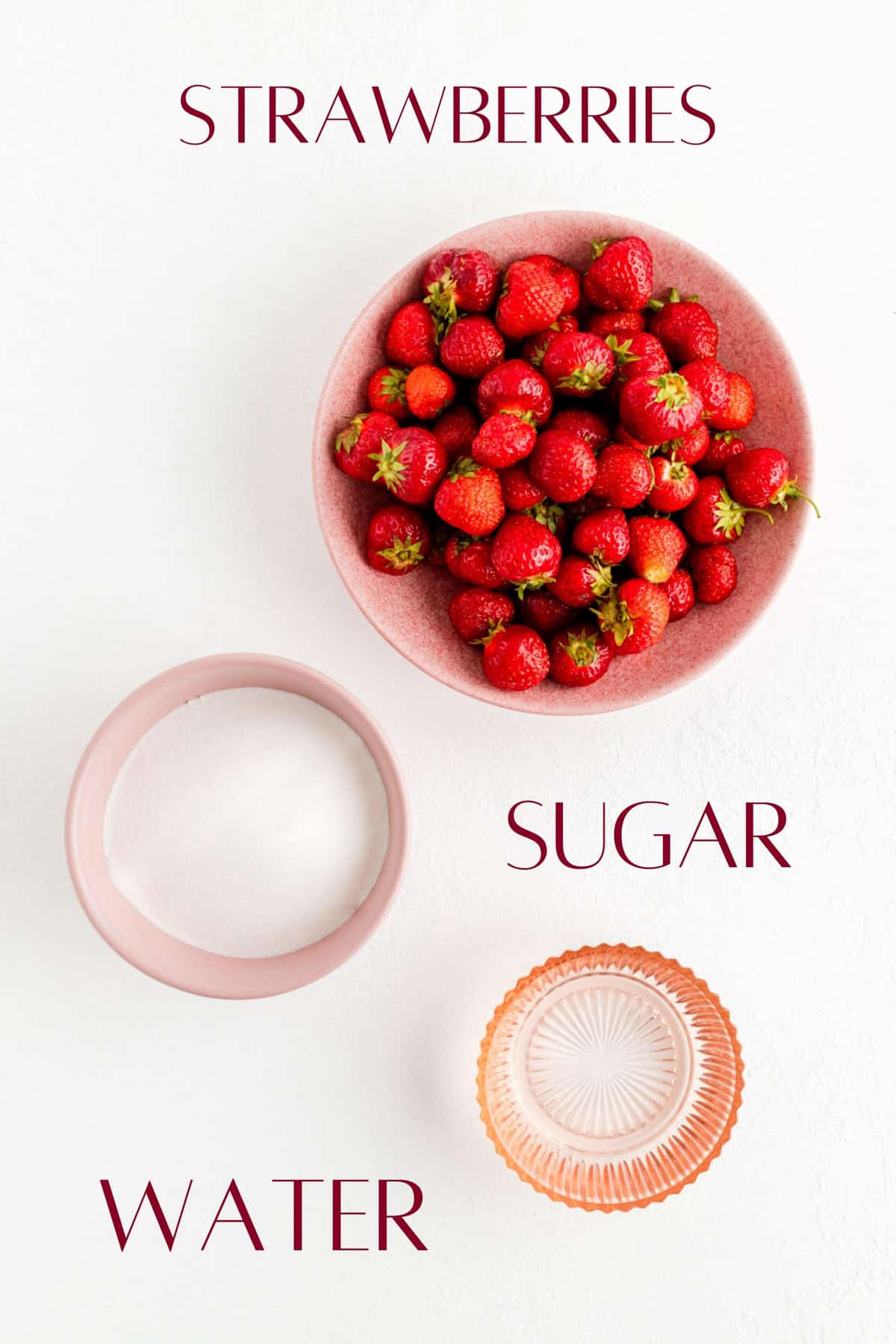 As I mention above, feel free to use your strawberries of choice.
I personally prefer the fresh-picked strawberries in the middle of summer, as I find they have the most flavor and also a really beautiful deep red color throughout the whole berry.
But of course, this strawberry syrup is delicious all year round, so feel free to use whatever berries you can find in your local grocery store, farm stands, or even frozen berries if you like.
(p.s. for all the basic tips that no one ever taught you, that are super important to help you bake your best, check out my Baking 101 series!)
Special Tools You'll Need
Simple syrup recipes are pretty darn simple, so you don't any fancy equipment.
My main tip is to make sure you have a nice big pot (bigger than you think you need) for boiling your syrup at it can rise up a lot while cooking. You want to make sure it doesn't flow over onto your stove leaving you with a burnt sugar mess (I'd use one that holds a minimum of 2 quarts/8 cups of liquid, ideally even a little bigger).
You'll also need a relatively fine strainer, or a course one lined with cheese cloth or a coffee filter in a pinch, if you want to get all of those fine little strawberry pieces out for a really clear syrup in the end.
How to Make Strawberry Syrup
(Pssst…if you're ready to just get baking, get all the details in the recipe card below!)
---
Rinse, de-top, and quarter the strawberries.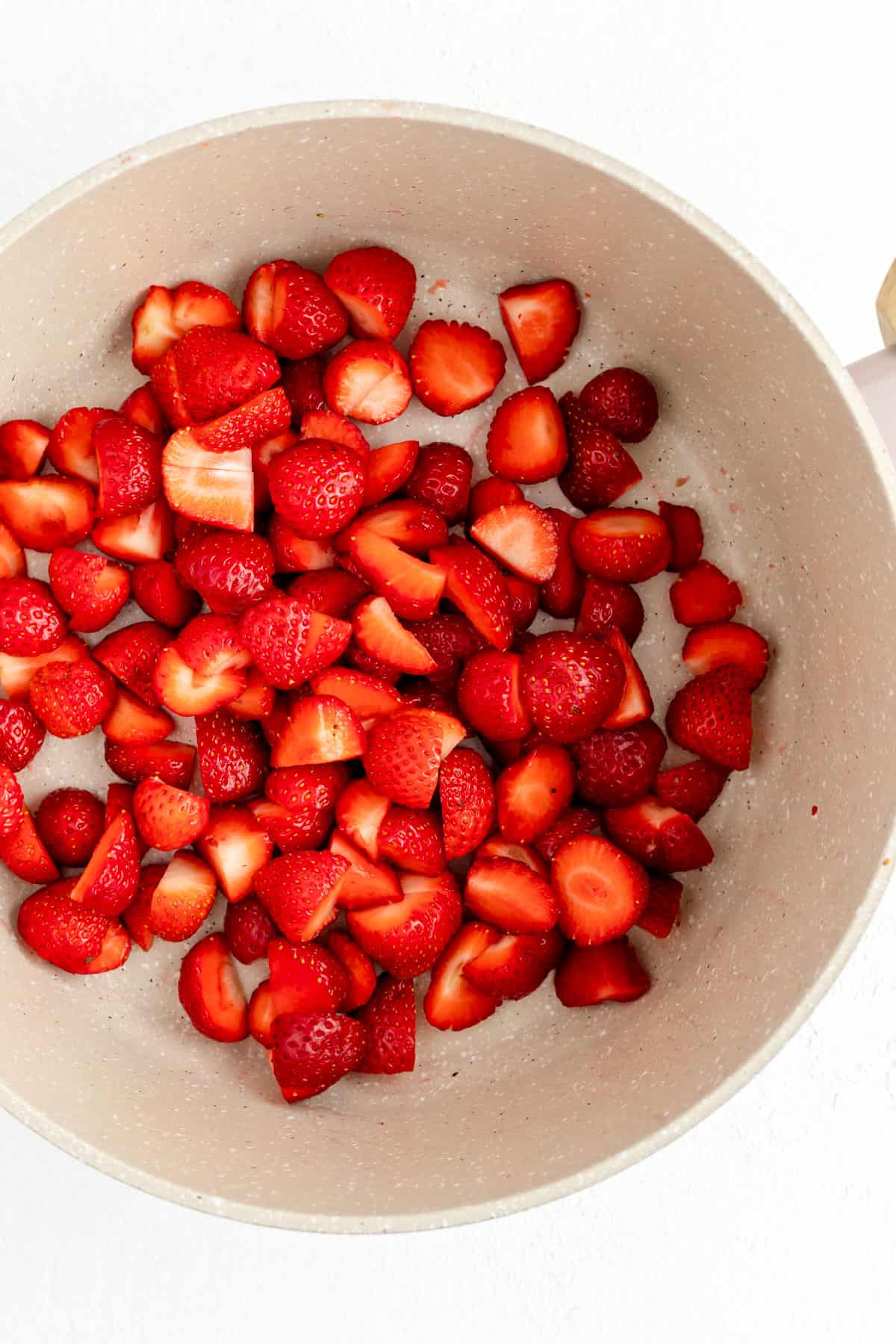 2. Place berries in a medium-sized pot and crush them up. Add water.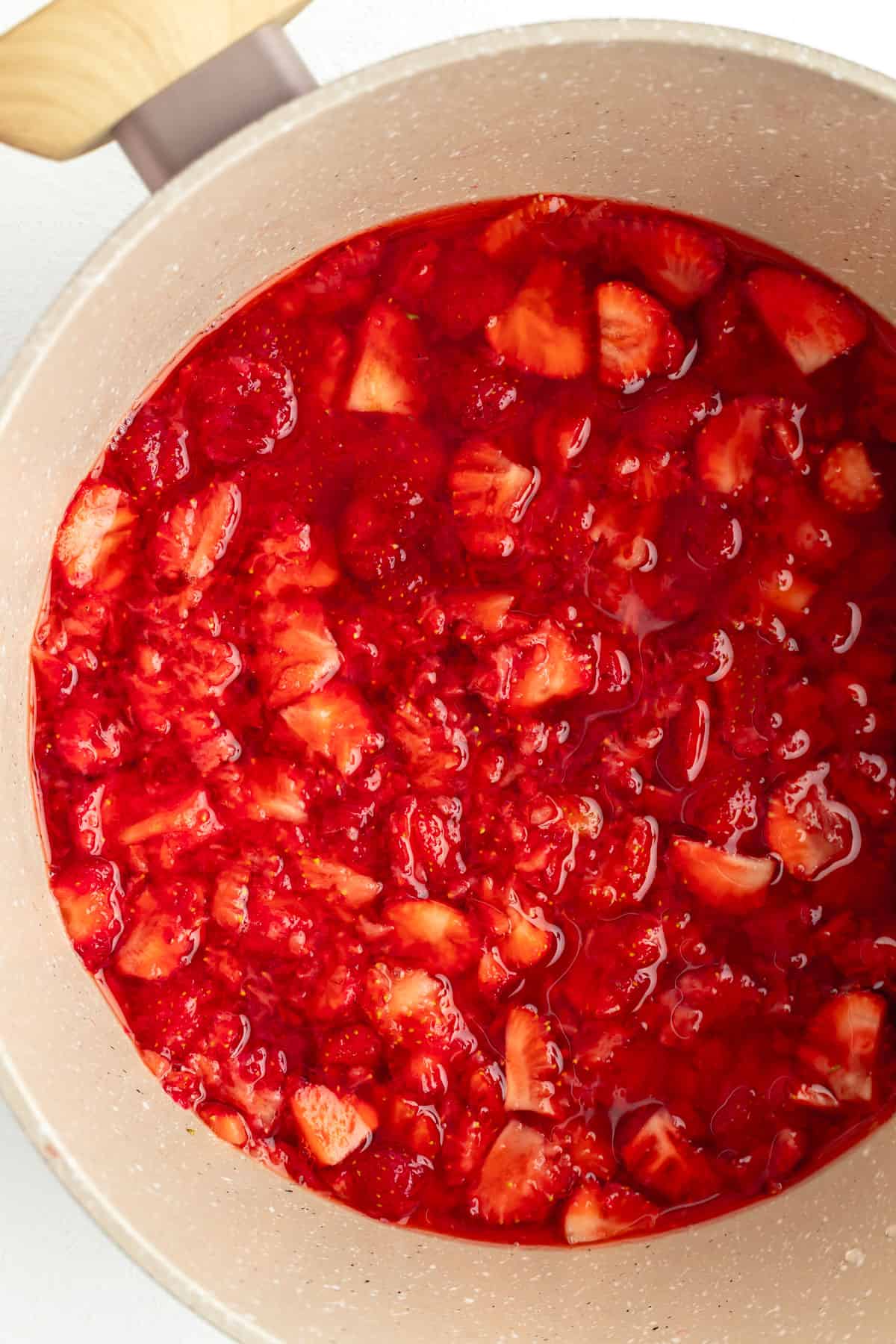 3. Boil for 5 minutes.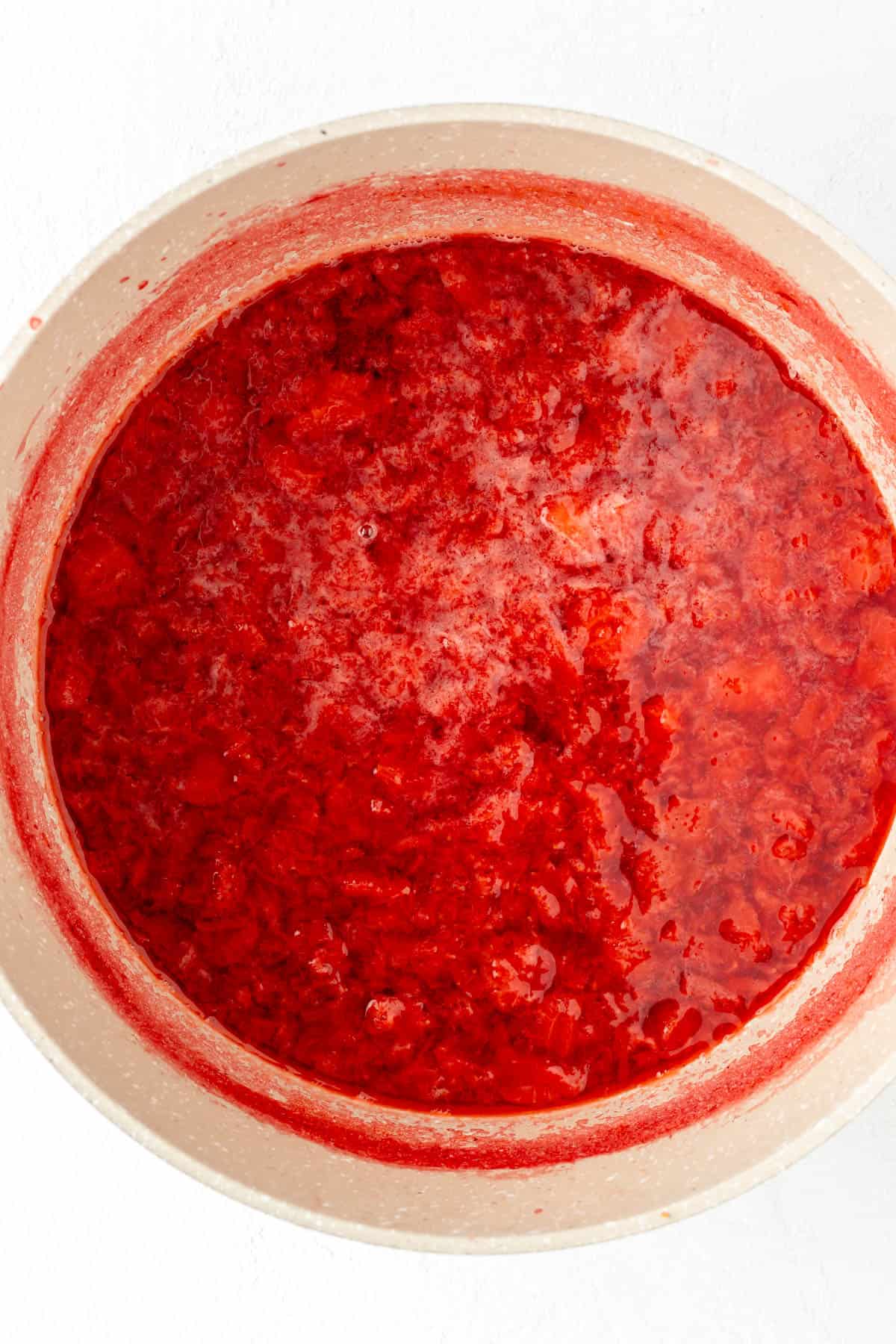 4. Strain through a fine sieve, pressing berry pieces firmly to squeeze out all the juice.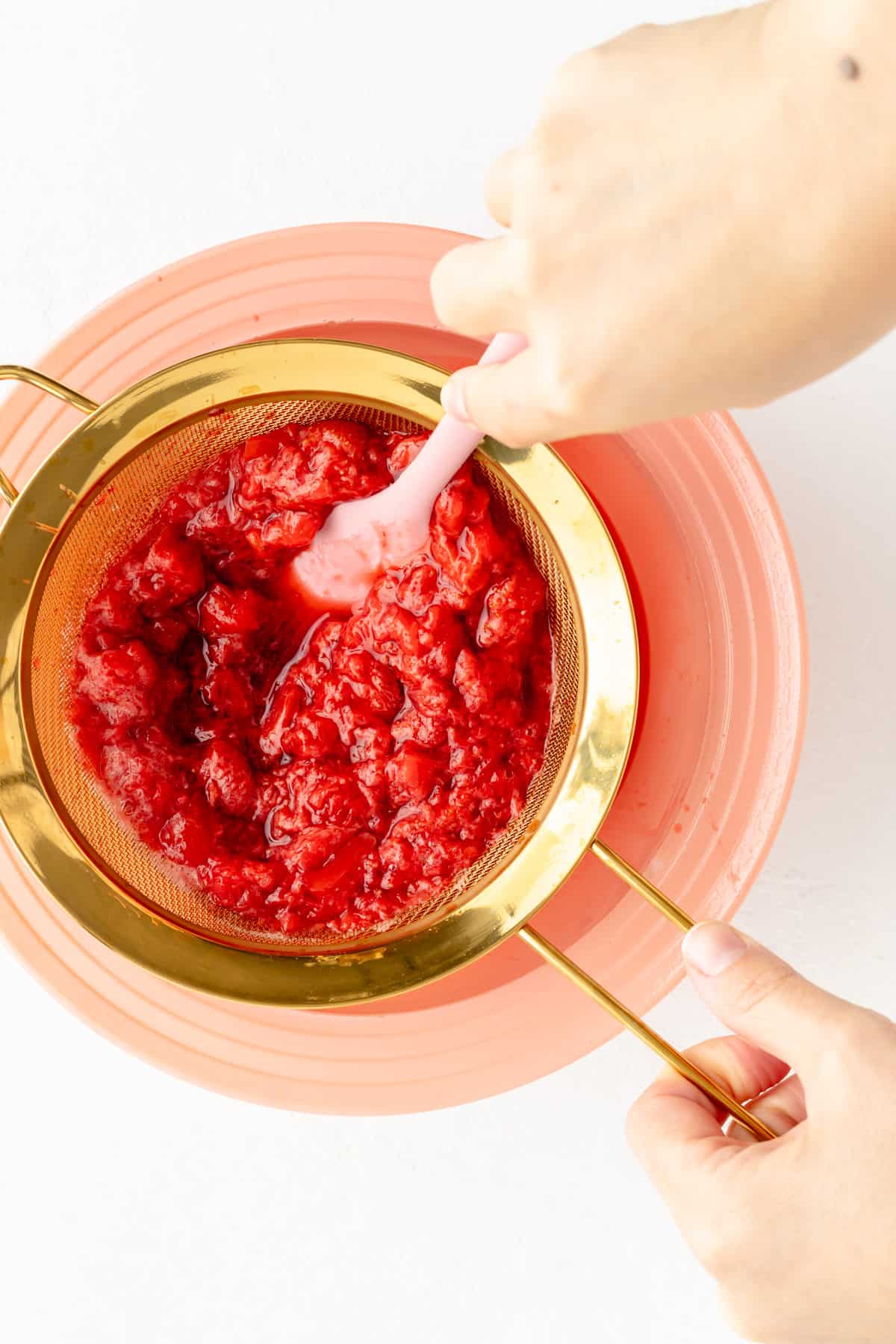 5. Combine 1 cup strawberry water with sugar carefully on the stove. Stir gently just until the sugar is roughly incorporated).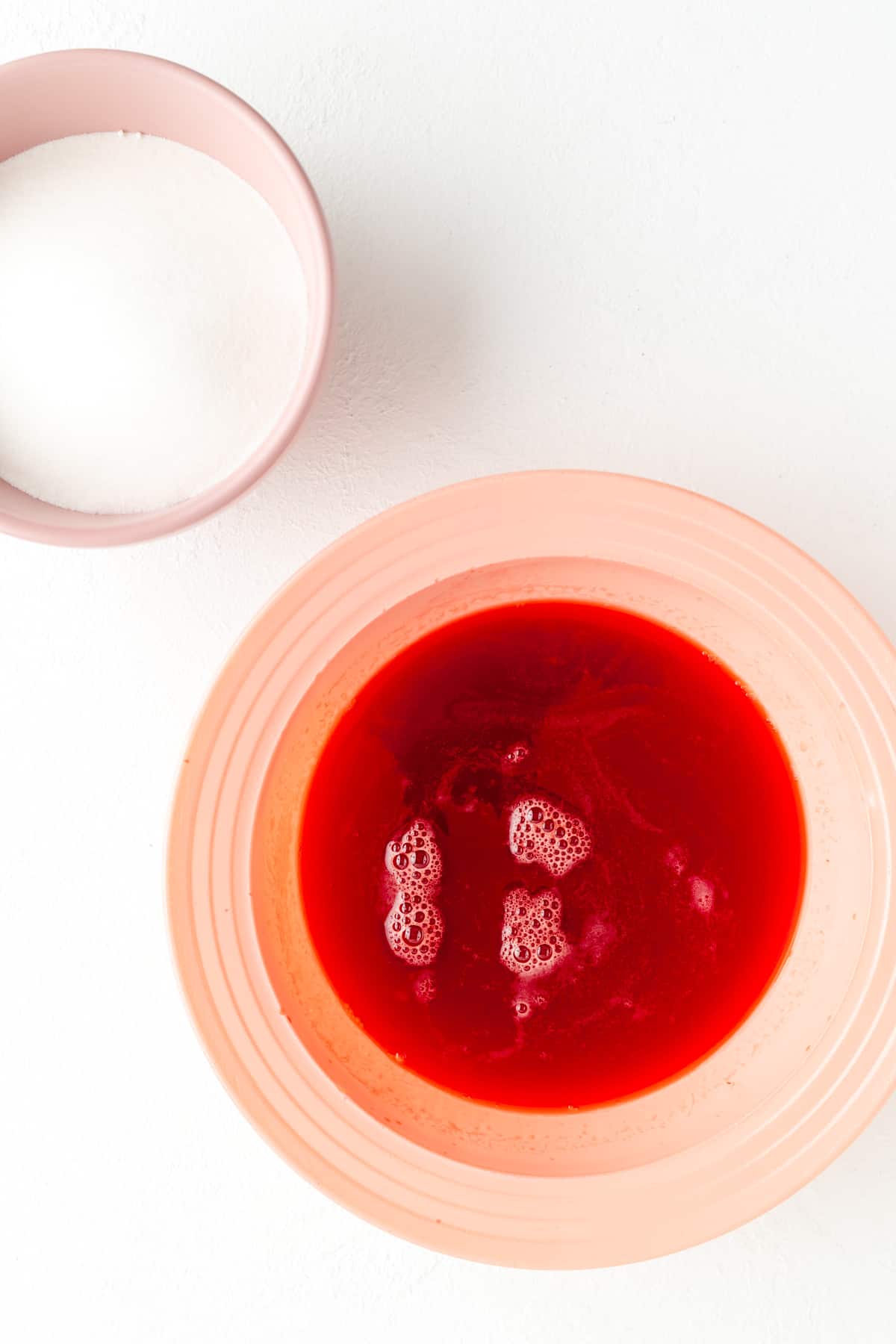 6. Bring to a boil without stirring at all, then boil for 1 minute until sugar is fully dissolved.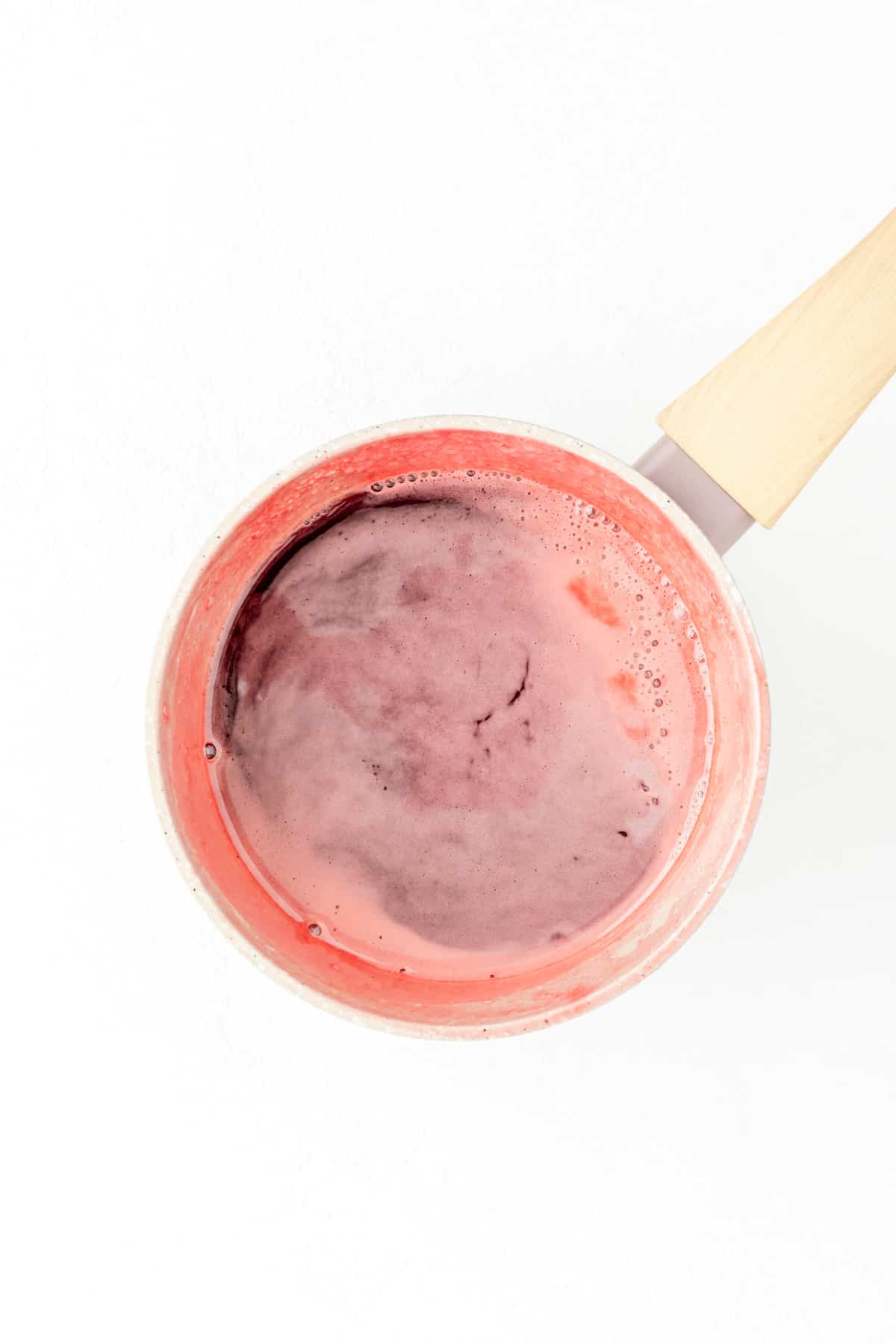 7. Allow to cool then transfer to a heat-proof airtight container for storage.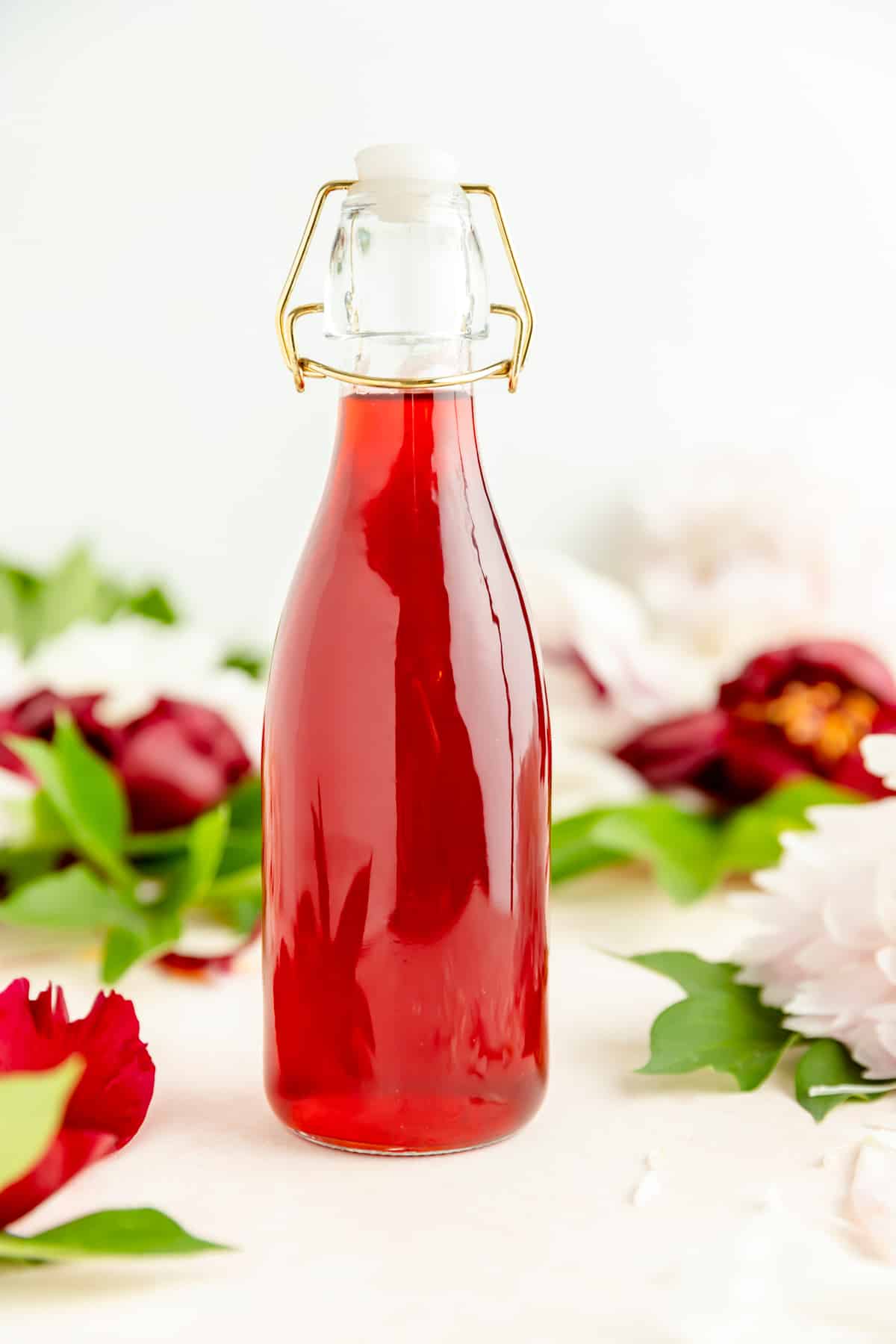 And check out the full RECIPE WEB STORY for a click-through tutorial!
Strawberry Syrup for Drinks + More!
As mentioned above, you can use this strawberry simple syrup for drinks and cocktails of course, but it's also delicious on so many other breakfast treats and desserts.
Drinks (thinner variation - start with 1 tablespoons of syrup to 1 cup of liquid, then add more to taste if desired)

Strawberry milk
Strawberry lemonade
Strawberry iced tea
Strawberry soda
Strawberry margarita
Strawberry mojito
Strawberry prosecco or champagne
Breakfast Treats (use thicker variation)

Strawberry syrup for waffles
Strawberry pancake syrup
Strawberry syrup for dunking French toast sticks
Smoothie sweetener
Strawberry drizzle for your morning yogurt, chia, or oatmeal bowl
Desserts

Soaking cake layers (thinner variation)
Top strawberry shortcake (thicker variation)
Drizzle over angel food cake (thicker variation)
Serve as a sauce with fresh berry crepes (thicker variation)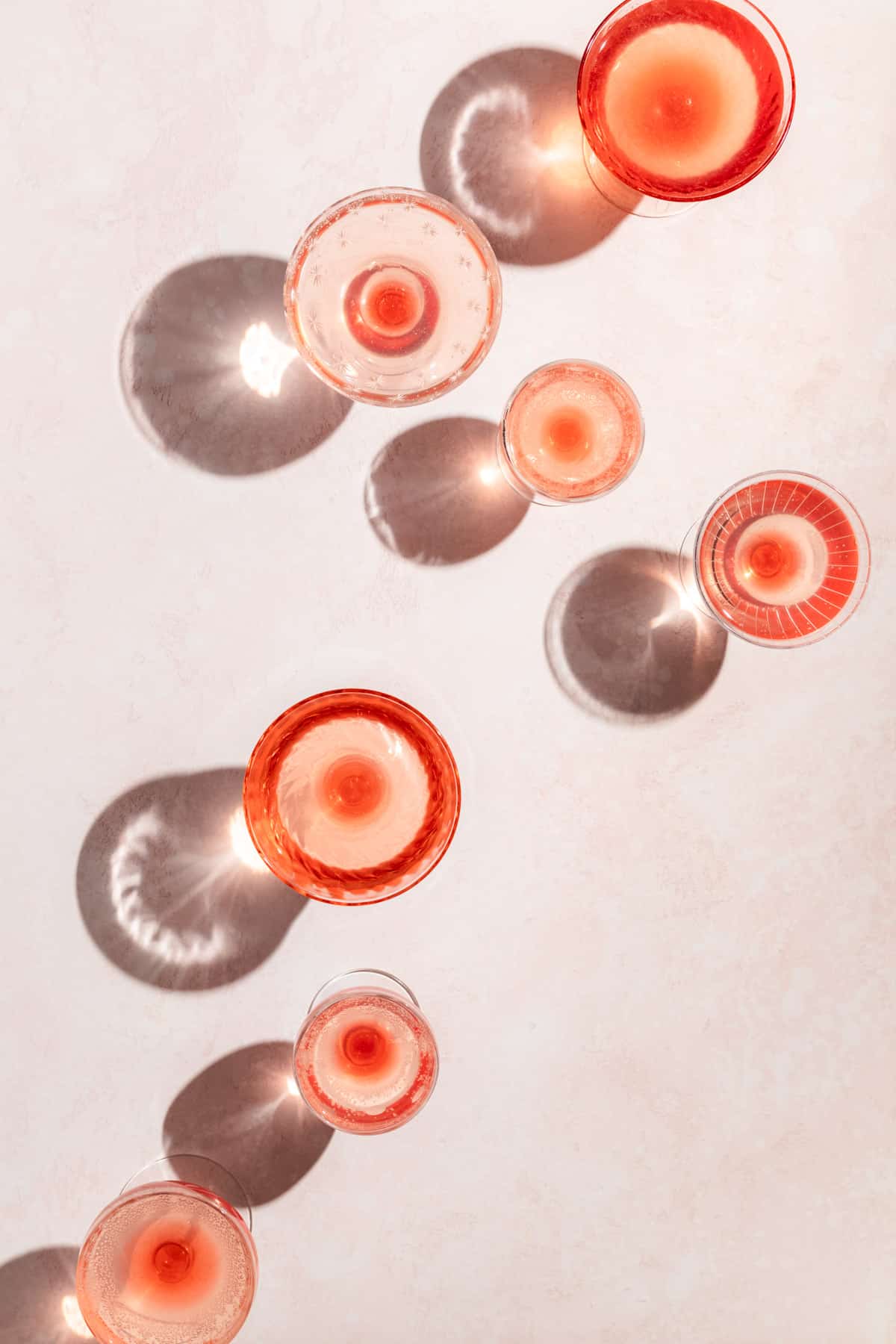 Test Kitchen Tips for Sweet Success
Follow instructions to a "T": simple syrup is super simple, as long as you set yourself up right from the start. By ensuring we add the liquid into the pot first, we prevent the sugar from really adhering to the bottom of the pot. Also, by adding the ingredients on the stove, with very small and gentle stirring, we make sure no crystals splash on the side of the pot which can lead to recrystallization (which we definitely do not want!).
Thinner or thicker depending on your intended use: for this recipe I provided to different thicknesses based on the amount of time you boil the syrup. The longer you boil the syrup, the more liquid evaporates off, and therefore the thicker your syrup will get. For use in any kind of drink or cocktail, use the thinner variation (1 minute boil) which may sink to the bottom of your liquid a little bit when first added, but will still stir in well. To use as a topping or a garnish, make the thicker variation (boil for 5 minutes total) which would be too heavy for a drink, but is perfect if you want to thicker topping for a breakfast treat or dessert.
Use a fine sieve, and squeeze out the juices: for a nice translucent syrup, you want to use a fine sieve, or lined course-sieve, for straining out the strawberries so no pieces can get through. When the strawberries are in that strainer, make sure you use a spatula to press the soft strawberry pieces really firmly down into the sieve. That way you can squeeze out all that extra strawberry juice to ensure the maximum amount of flavor in your final syrup.
Looking for more tips? For a full video on making simple syrup and more detailed tips on the process, check out my How to Make Mint Simple Syrup post which has a lot more details on the simple syrup process and also tips for making a simple vanilla syrup as well.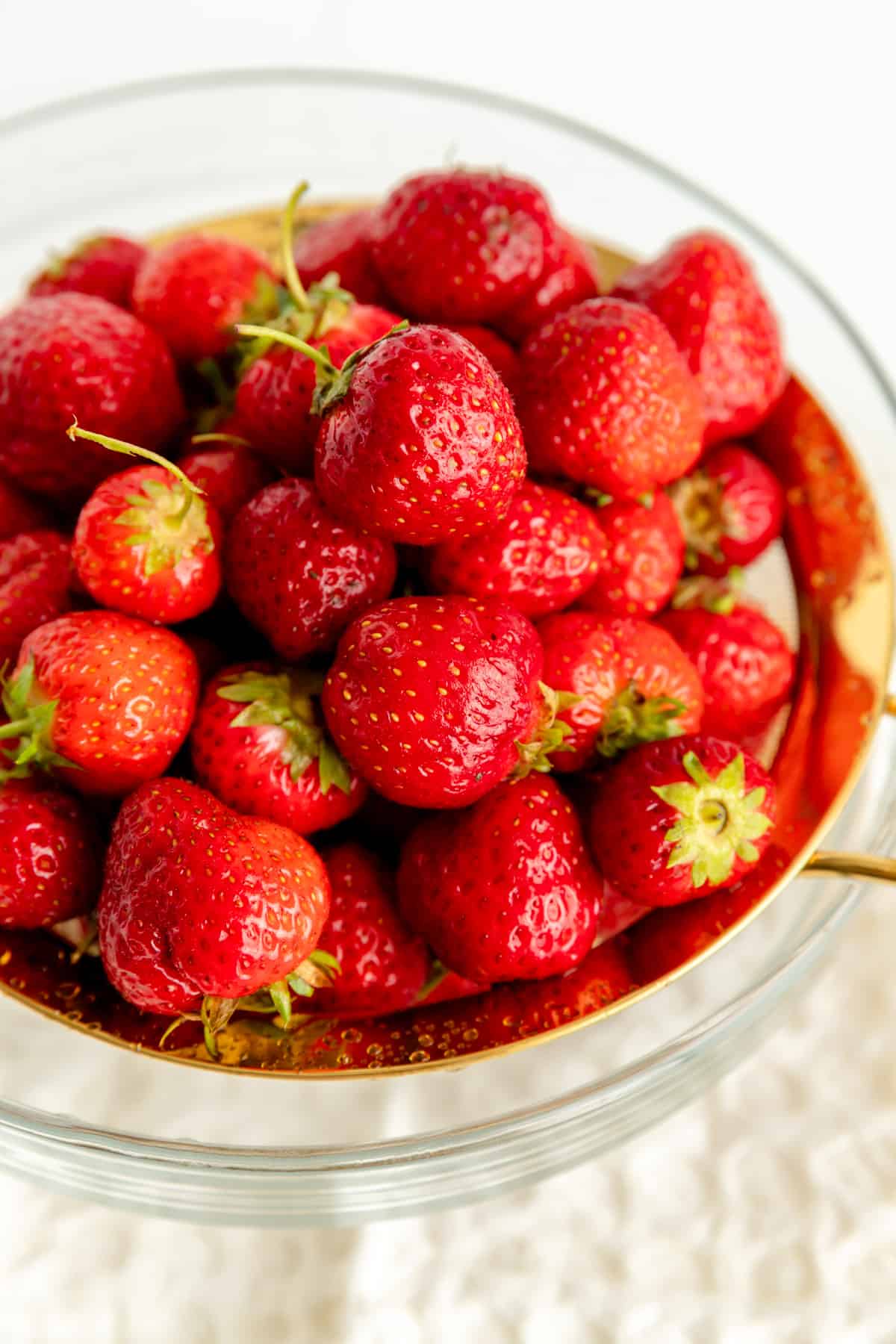 More Tips + FAQs
How do you store strawberry syrup? How long does it last?
Store your simple syrup in an airtight non-reactive container. I prefer glass, like a mason jar or glass pour bottle with a tightly sealed top as pictured here. Simple syrup keeps for 3-4 weeks in the fridge if it's kept air-tight and clean (not contaminated with cake crumbs etc.).
Can I freeze this syrup?
Yes! It will keep frozen for up to 4 months, and it's best thawed in the fridge for a day or two before use.
Can I use frozen strawberries?
You're welcome to use frozen strawberries if you like for this recipe. The flavor of the final syrup is obviously completely dependent on the flavor of the original strawberries, so you always want to go for the highest quality strawberry you can find whether they're fresh or frozen.
Can I use a different fruit?
While you absolutely can make simple syrup with nearly any fruit, I haven't tested this particular recipe with any other option. I think likely a raspberry or blackberry simple syrup would work fine using this exact method ratios, but as I haven't tried it I can't guarantee success. (If you do give it a try with a different fruit, feel free to let me know how it goes!)
Can I reduce the sugar?
The sugar to liquid ratio in this recipe is extremely important for the final texture of this syrup, so you can't reduce the sugar amount without negatively impacting the recipe.
How do I make just plain simple syrup?
If you're looking for a recipe for plain/vanilla simple syrup you can check out my How to Make Mint Simple Syrup post, which has a lot more details on the simple syrup process, and also tips for making a simple vanilla syrup as well as a fresh mint syrup that is truly to die for.
---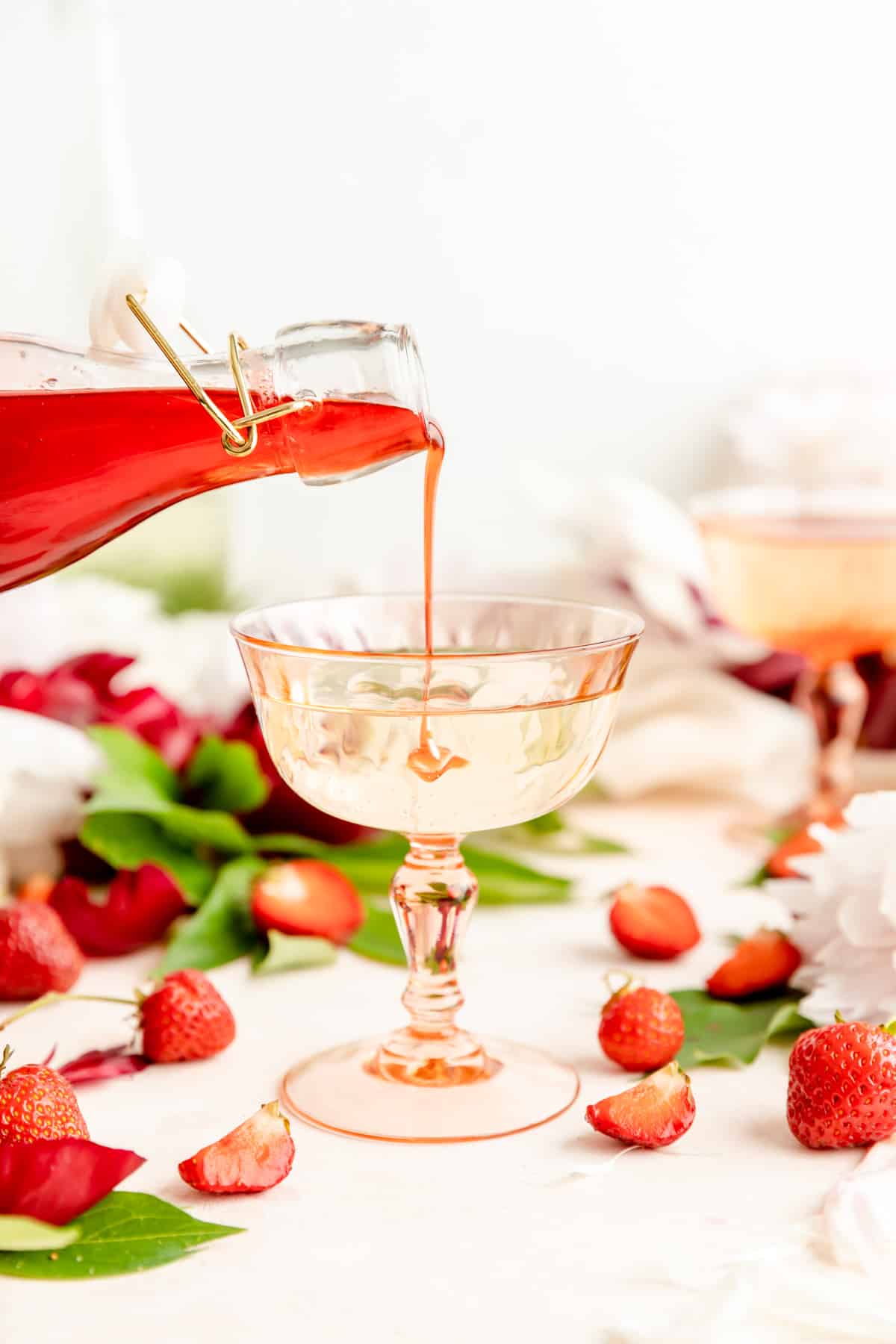 Other Sauces, Syrups and Fruity Recipes You'll Love
Craving more delicious treats? Here are a few of my other favorite sauce and syrup recipes:
And here are a few of my other favorite fruity recipes:
⭐ If you gave this recipe a try please give it a ⭐ rating and tag me on Instagram @mint.and.mallow.kitchen so I can see what you're baking up! ⭐
📖 Full Recipe
Strawberry Simple Syrup (for drinks, pancakes, and more!)
This homemade syrup has a stunning natural deep red color, only 3 ingredients, and a super simple prep. You'll be blown away by how much fresh berry flavor is in one tiny bottle!
Ingredients
FOR THE STRAWBERRY WATER:
1

pound

strawberries*1

(about 3 cups chopped)

1

cup

water
FOR THE SYRUP:
1 ½

cups

sugar

1

cup

strawberry water
Instructions
Prep strawberries: rinse the strawberries. Remove the tops from the berries, and cut into quarters.

Add strawberries and water to pot: place berries in a medium to large-sized pot (2 quarts or bigger as this recipe can boil up quite a bit, so make sure there's plenty of room so your syrup doesn't overflow). Roughly crush the berries with a fork in the pot to start releasing their juices. Pour 1 cup water overtop and stir briefly (the berries should be just barely submerged).

Boil berries to infuse: bring the water to a rolling boil over medium-high heat and allow mixture to continue cooking at a full rolling boil for 5 minutes. If mixture is about to boil over, just turn down the heat, and stir frequently to prevent strawberries from sticking and burning on the bottom of the pot. At the end of 5 minutes, take the pot off the heat and allow it to sit for 5 minutes to cool slightly and infuse a bit more.

Strain the berries: strain the strawberry water through a fine sieve or coarse sieve lined with cheesecloth or a coffee filter. You should have at least 1 cup of liquid drain through, and be sure to press the berries into the sieve with a spatula to make sure you release as much juice as possible. You can just discard the strawberry bits in the strainer when finished. Rinse out your pan so it is nice and clean for the next step.

Add strawberry water and sugar to pot: set your pot on the burner with the heat off. Pour 1 cup strawberry water into the pot, then add in the sugar pouring it slowly into the center of the pot (it's important the water goes first to prevent the sugar from sticking to the bottom, and we add everything on the stove so we don't shake the pot while moving it).

Gently stir to combine: very gently stir the mixture to incorporate any big clumps of sugar, just until roughly combined, being sure not to splash any sugar onto the sides of the pot (it could cause your syrup to recrystallize while cooking which we definitely don't want!).

Turn on the heat: turn your burner on to medium heat. Allow the syrup to heat up and cook without stirring it at all (that said, if you see a stubborn white spot in the bottom of the pot where the sugar is sticking, feel free to gently stir it in). Once it reaches a boil, maintain a rolling boil for 1 minute for thinner variation*2 (or longer if needed to fully dissolve the sugar although it should be dissolved after just that 1 minute).*3

Cool and enjoy! Once the syrup is clear, remove it from the stove and allow it to cool in the pot or carefully transfer to a heat-safe container for storage (I prefer glass pyrex pitchers or mason jars). Keep refrigerated for up to 4 weeks. Use to soak your favorite cakes, add a fresh berry note to your favorite cocktail, or even spruce up your ice tea or summer lemonade!
Test Kitchen Tips
*1Strawberry Weight: this weight is for whole strawberries (not cleaned and cut).

 

So you're just using one standard container you'd find at the grocery store for this recipe.
*2 Thicker variation: if you'd like a thicker syrup for topping breakfast treats and desserts, boil the final syrup for 5 minutes total instead of 1.  Watch it carefully and stir it often as it can quadruple in volume during this longer boil.
*3 Foamy top: a foam will form on the surface of your syrup as it boils. You can skim off if you like, but usually I find it goes away on it's own as the syrup cools so I don't bother.
Storage: store your simple syrup in an airtight, non-reactive container. I prefer glass like a mason jar or a glass pour bottle with a tightly sealed top. Simple syrup keeps for 3-4 weeks in the fridge if it's kept air-tight and clean (not contaminated with cake crumbs etc.).
Freezing: this syrup can be frozen and will keep frozen for up to 4 months. It's best thawed in the fridge for a day or two before use.
Nutrition
Serving:
1
tablespoon
|
Calories:
54
kcal
|
Carbohydrates:
14
g
|
Protein:
0.1
g
|
Fat:
0.1
g
|
Saturated Fat:
0.003
g
|
Polyunsaturated Fat:
0.03
g
|
Monounsaturated Fat:
0.01
g
|
Sodium:
1
mg
|
Potassium:
29
mg
|
Fiber:
0.4
g
|
Sugar:
13
g
|
Vitamin A:
2
IU
|
Vitamin C:
11
mg
|
Calcium:
3
mg
|
Iron:
0.1
mg

---

This website contains Amazon affiliate program links. This means that I earn a small commission on qualifying purchases at no additional cost to you. I will never provide a link to nor recommend any product or service that I don't genuinely love or personally use. Thank you for supporting MINT + MALLOW kitchen and the brands that keep this blog running.