This fun and easy recipe holds on to all the flavor and fluffy texture of your favorite vanilla cake donuts. But, it takes way less fuss and work to make with a fun strawberry-licious twist! These mini jam-filled donut muffins are perfectly bite-sized and pack so much flavor that you'll be coming back for another, and another, and another...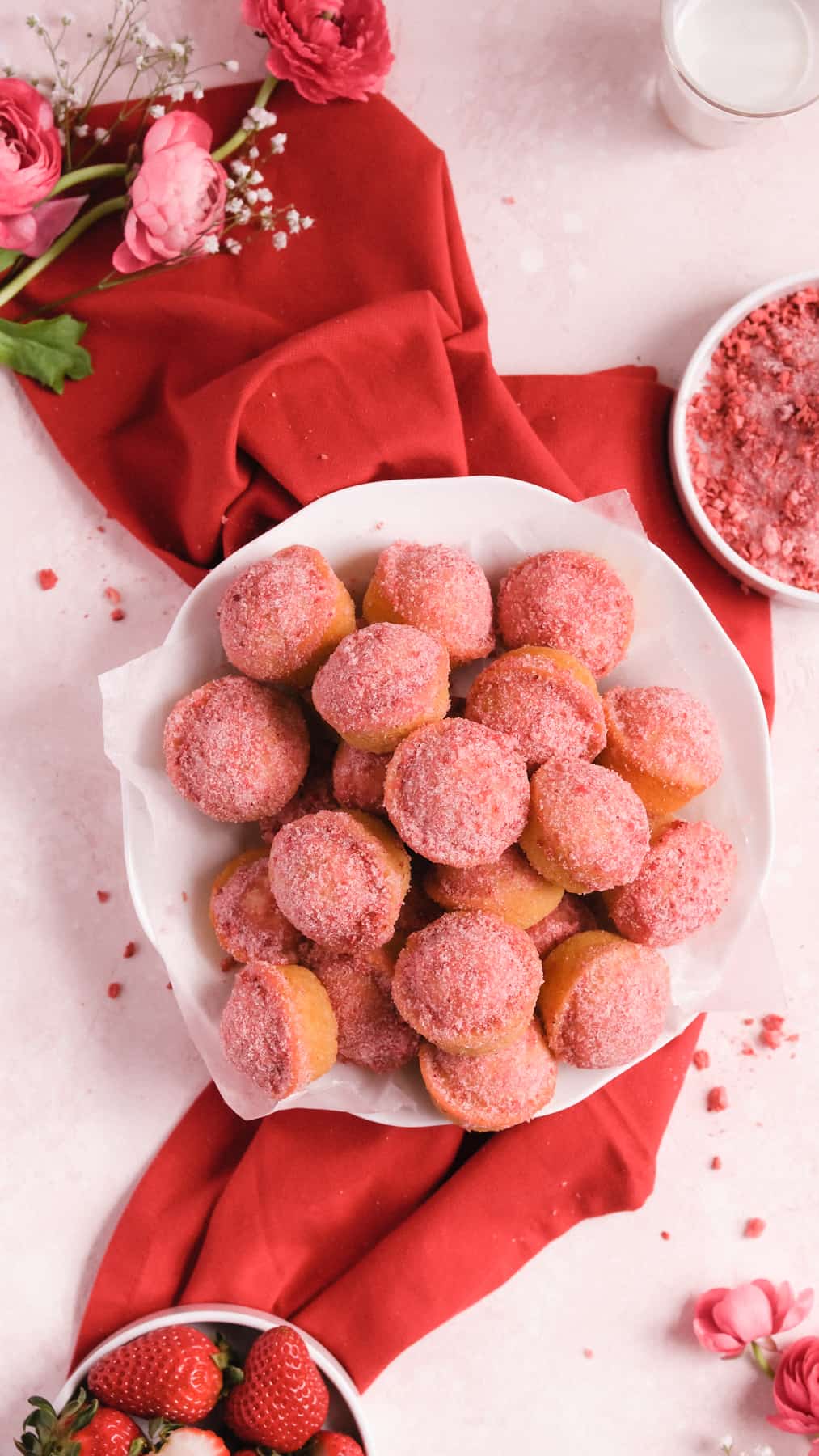 Jump to (scroll for more!):
A fan favorite with a jammy fruity twist.
Since I first developed the classic cinnamon and sugar version of this recipe, I've been thrilled to see how many of you brought it into your kitchens. It's been such a heart-warming experience, I figured, let's do it again!
Now you know I'm always down for the classic cinnamon puffs. BUT, I have been wanting to channel a jam filled donut flavor into a modern twist on this recipe for a while now. And since one dose of strawberry is never enough, I added a fun strawberry sugar coating to these too!
I also switched to a mini muffins prep, because I really liked the jam to muffin ratio in the minis. And they are just so darn cute, I felt like they needed to have their day in the spotlight too!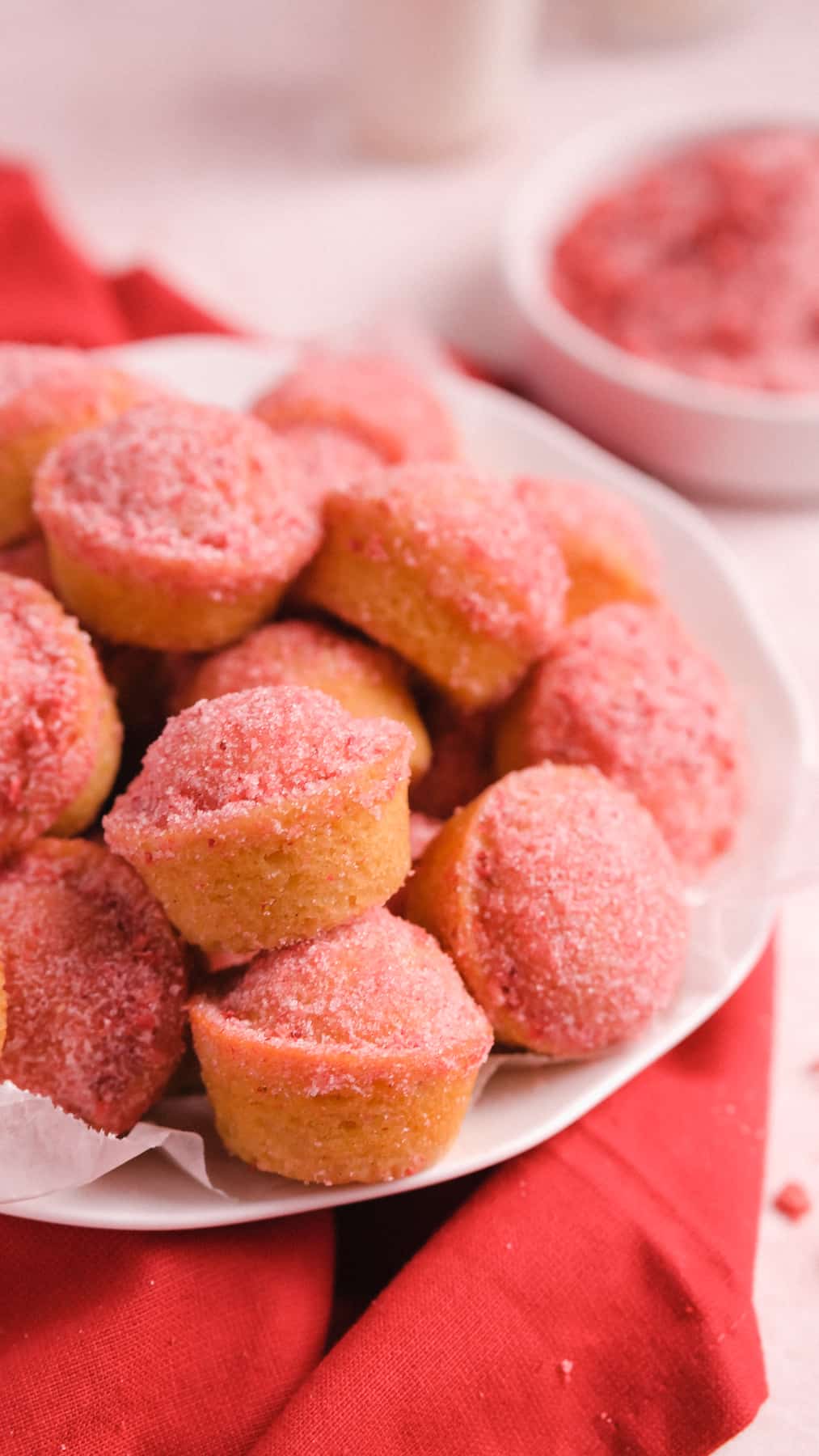 What you'll need to make these jam filled donut muffins...
(Pssst…if you're ready to just get baking, get all the details in the recipe card below!)
FOR THE MUFFINS:
all-purpose flour
sugar
cornstarch
baking powder
salt
ground nutmeg: I know it may sound a little weird, but all classic donuts have just a hint of nutmeg that I wanted to keep in here, but I promise you won't taste the spice itself much at all (you can of course leave this out too if you're super sensitive to nutmeg!)
Nellie's Free Range Unsalted Butter: we use a lot of butter in this recipe and having a high quality butter like Nellie's is key! Read more about why in this tutorial on how Fat is Flavor in our recipes.
milk: you can substitute buttermilk too if you like for even more of an "old-fashioned donut" flavor
vanilla extract
FOR THE TOPPING:
sugar
freeze-dried strawberries: you can find these a number of places online (including amazon), and also at many grocery stores, health food stores and even in the snack section of your pharmacy these days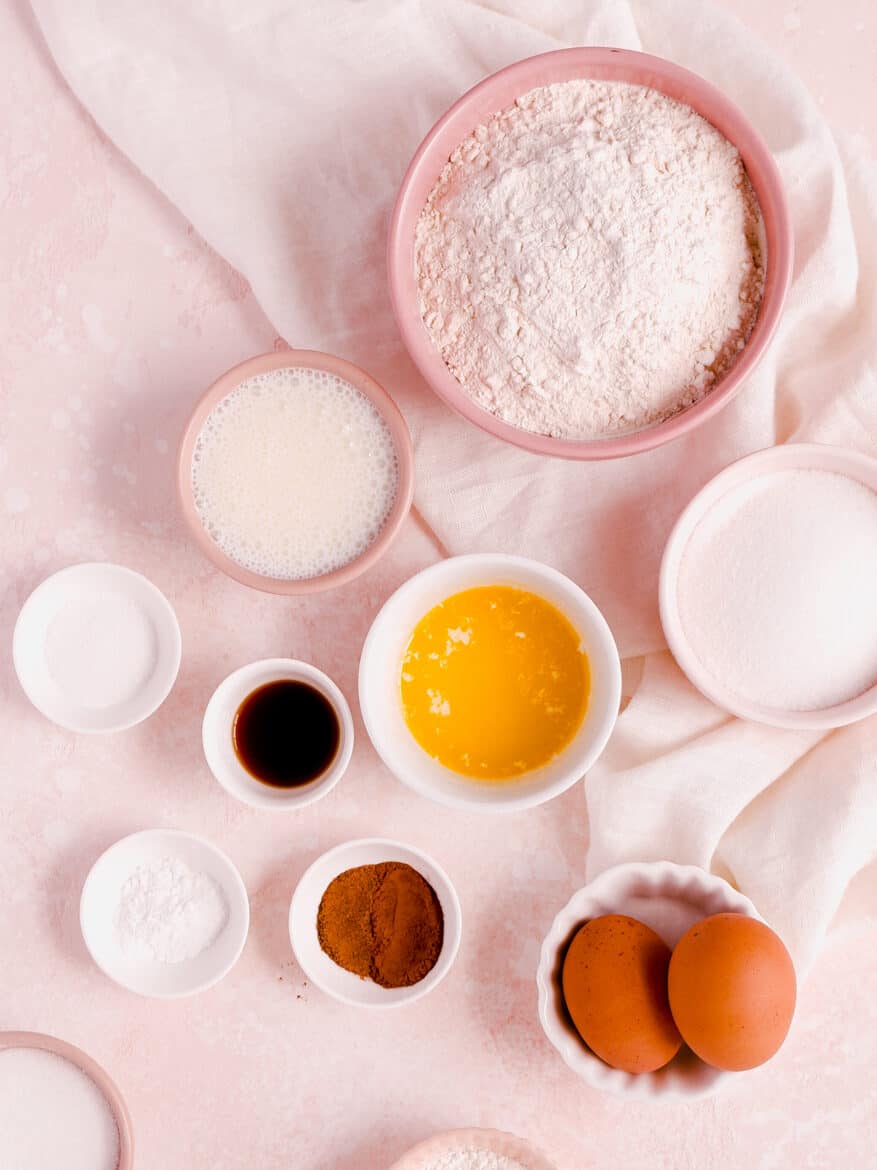 Special tools and equipment you'll need...
No special tools needed here! Just a couple of bowls, a whisk, a mini muffin pan, and a cooling rack or plate for when you're working on the tops and you're ready to bake!
How to make delicious donut muffin puffs...
(Pssst…if you're ready to just get baking, get all the details in the recipe card below!)
Preheat your oven to 375°F and grease your mini muffin pan with baking spray or butter.
Stir together wet ingredients, then stir together dries in a separate bowl.
Combine wet and dry ingredients, then add the melted butter last.
Portion out your batter into the prepared pan.
Bake until proudly puffed.
Cool for 5 minutes, un-pan, then another 10 minutes while making the topping.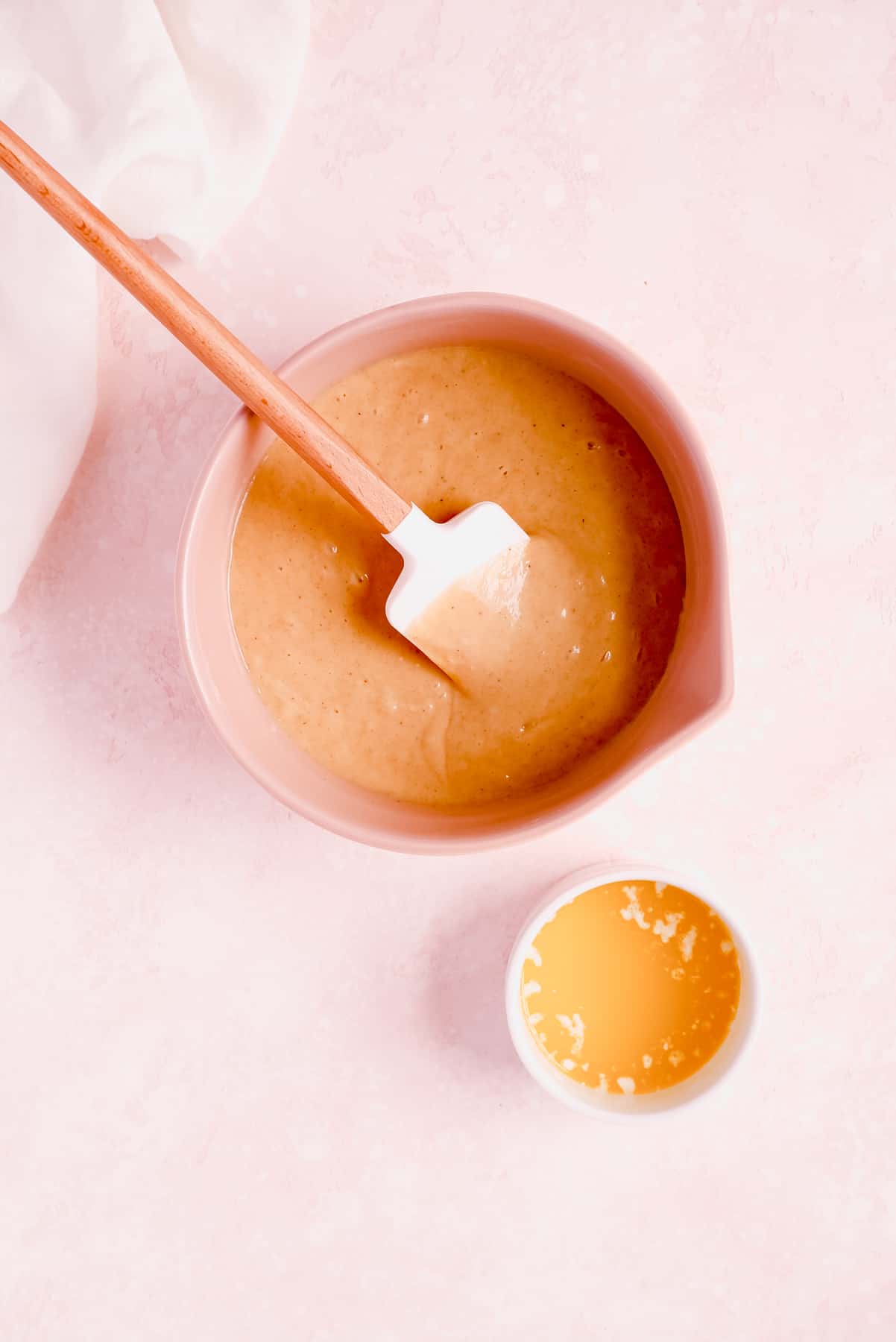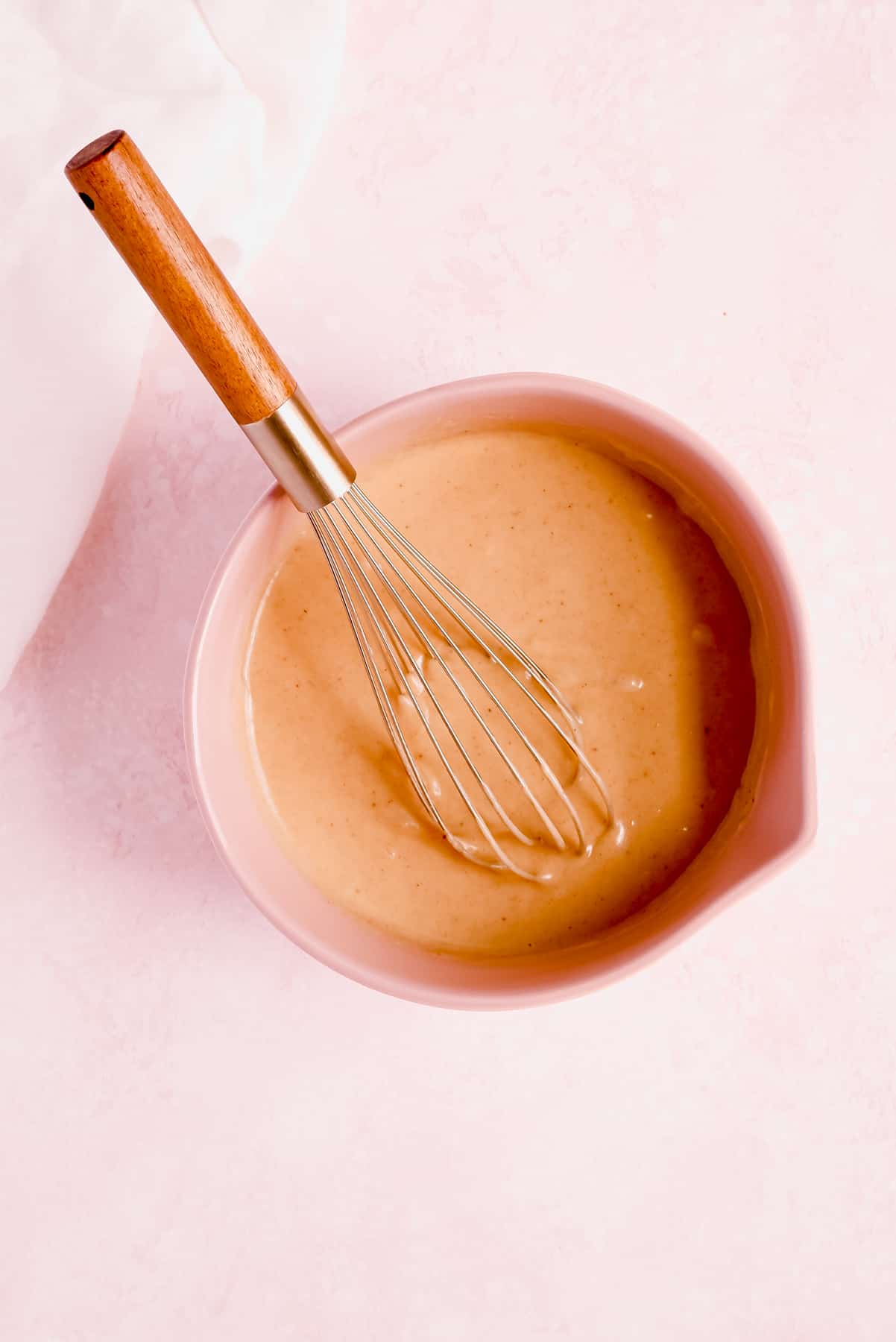 How to top with berry sugar bliss...
Melt butter in one small bowl.
Crush your strawberries in a zip-top bag.
Blend the strawberry powder with the sugar in a small bowl.
Dunk tops (or the whole muffin!) in butter, then in the strawberry sugar.
Double dunk the tops for a second round if the sugar topping soaks in a lot after they sit for a minute.
Share and enjoy!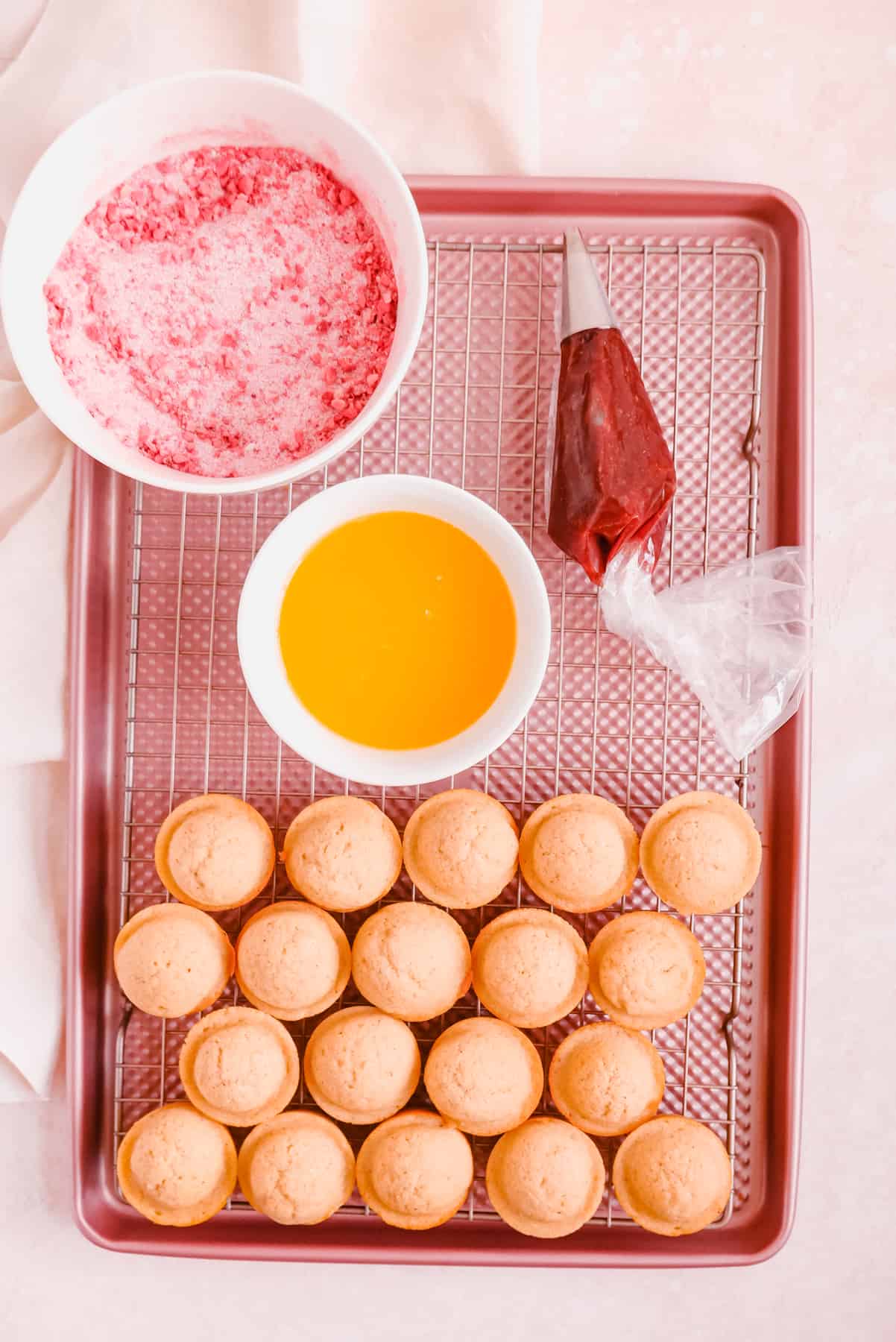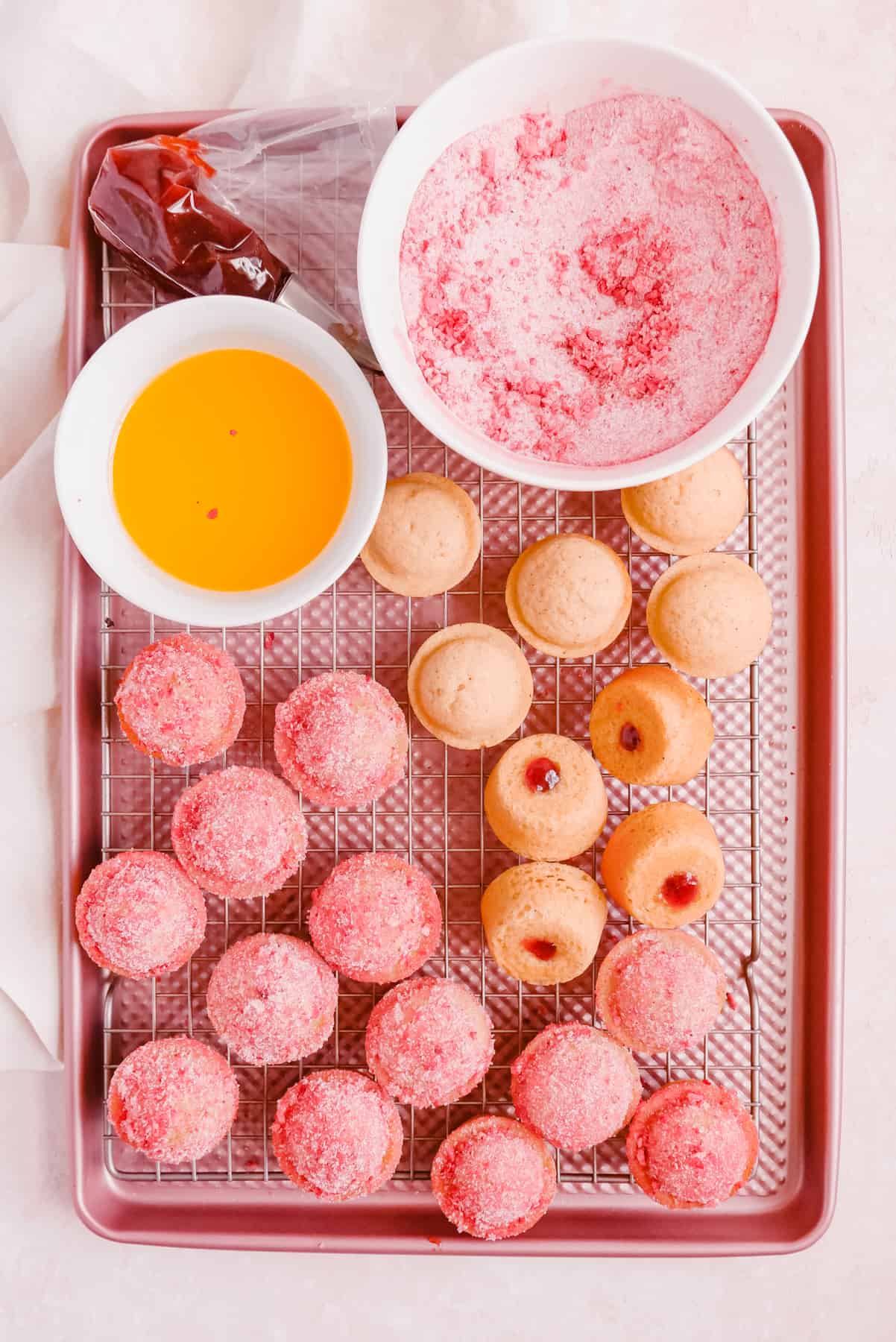 How do you turn donuts into muffins?
Since I chatted through all sorts of fun baking knowledge in the original Cinnamon & Sugar Donut Muffin recipe post, you can head over there to learn all about:
Exactly how a donut becomes a muffin
How you make muffins fluffy
And a full set of instruction to bake these strawberry donut muffins in a full-sized pan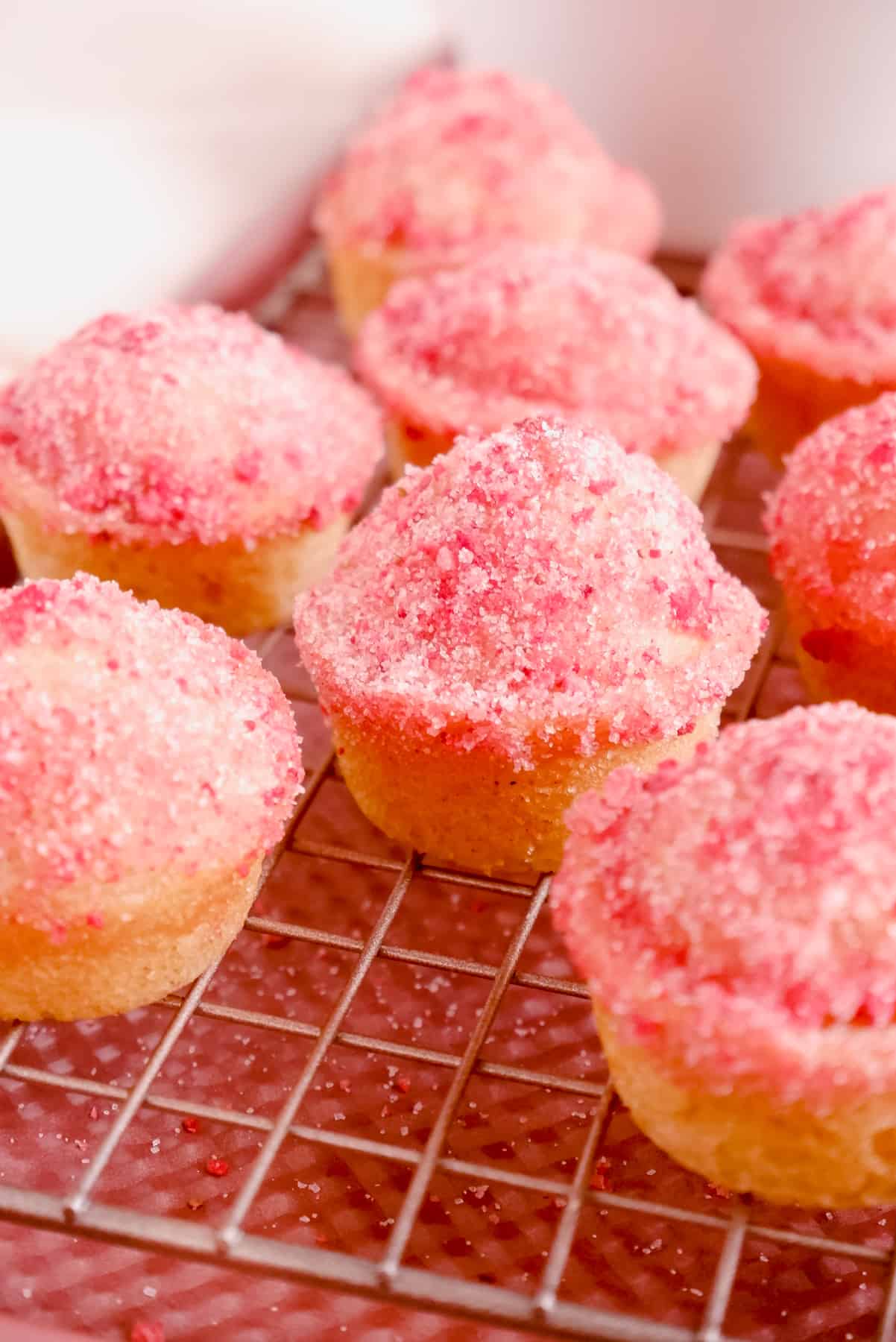 *Tips and Tricks* for making the BEST strawberry donut muffins...

What's the TOP TIP for making the best old-fashioned donut muffins?
The pan prep is super important here in a few ways:

1. You want to grease your pan instead of using cupcake papers to line it as this will allow the outsides of your muffins to get a fried flavor to them that really helps these puffs taste like real cake donuts.

2. You do want to grease your pan, but you don't want to over-grease your pan or you'll end up with a funny lip. In the photo below, the muffins on the left had a good, but quick spray at a few different angles over the whole pan where as the ones on the right were over-greased with a spray in each muffin cup. (Don't worry though, even if you over-grease your pan, these little guys still come out super tasty and even have a little extra fired flavor as a bonus!)



How do I store these muffins?
While baked goods are always best when enjoyed fresh, you can keep these little guys in an airtight container at room temperature for up to 5 days. (Although I'll be impressed if you don't eat them all in 2 like me!)

Can you make full-sized donut muffins using this recipe?
Absolutely! Just change your bake time to 14-17 minutes and the rest all stays the same. You should get 12 full-sized muffins from this recipe.
---
Other recipes fans of these berry-licious donut muffins will love:

⭐ If you gave this recipe a try please give it a ⭐ rating and tag me on Instagram @mint.and.mallow.kitchen so I can see what you're baking up! ⭐
📖 Full Recipe
Strawberry Jam Filled Donut Muffins
This fun and easy recipe holds on to all the flavor and fluffy texture of your favorite vanilla cake donuts, but takes way less fuss and work to make with a fun strawberry-licious twist!
Ingredients
For the muffins:
1 ⅔

cups

all-purpose flour

⅔

cup

sugar

2

tablespoons

cornstarch

2

teaspoons

baking powder

¾

teaspoon

salt

¼

teaspoon

ground nutmeg

½

cup

(1 stick) Nellie's Free Range Unsalted Butter

(melted)

¾

cup

buttermilk

1

tablespoon

vanilla extract (or 2 tsp vanilla bean paste)
For the filling + topping:
Instructions
TO MAKE THE MUFFINS:
Prep oven/pans and combine all wets and then all dries: preheat your oven to 375°F. Grease a 24-cup mini muffin pan (see notes). Measure all dry ingredients together in a medium-sized bowl and whisk until thoroughly combined. Stir together milk, eggs, and vanilla in a separate small bowl until well combined.

Mix wets and dries together: pour the wet ingredients and the melted butter into the dry ingredients and stir until batter is uniform and smooth, with no clumps of dry powder remaining.

Bake: bake muffins for 10-14 minutes until centers have puffed up and feel set when gently pressed (they will stay pretty pale on top even when fully baked).

Cool: allow muffins to cool 5 minutes, then remove them from the pan and let cool another 10 minutes while you prepare the topping.
TO COAT THE MUFFINS:
Melt butter: melt butter in a small, microwave-safe bowl.

Prep topping: crush freeze-dried strawberries in a zip-top bag until they're mostly a fine powder (a few little chunks are okay). In a separate small bowl from the butter, combine sugar and strawberry powder until thoroughly mixed.

Fill with jam: Using a piping bag fitted with a small round tip (with about ¼" opening), pipe some strawberry jam into each mini muffin from the bottom using the piping tip to make a hole and fill with a little jam. (see notes)

Dunk tops (or the whole muffin!): dunk warm muffin tops into melted butter, allowing any excess to drip off, and then roll the muffin tops in the berry sugar. Repeat process for all remaining muffins.

Share and enjoy: serve warm or keep in an airtight container at room temperature for up to 5 days. Share and enjoy some tasty, jam-packed fun!
Test Kitchen Tips
A Jammy Mess: If you're having a hard time piping from the bottom you can try making a whole through the side instead and wiggling the piping tip around inside the muffin to make a little room before squeezing in the jam. That said, these guys are meant to be a little messy and that's part of the fun!
Make 'em big! To make delicious full-sized muffins, prepare the batter in the same manner, but adjust the bake time to 14-17 minutes divided evenly between 12 full-sized muffin cups.
Greased Pans: One of the classic features of a donut is that buttery caramelized crust. To achieve this, I recommend baking these muffins right in a greased muffin pan rather than a muffin pan lined with muffin papers. In a pinch, you absolutely can use muffin papers; you'll just find that the resulting donut muffins are a bit more muffin-y and a bit less donut-y (but still delicious!).
Nutrition
Calories
177
kcal
|
Carbohydrates
24
g
|
Protein
2
g
|
Fat
8
g
|
Saturated Fat
5
g
|
Trans Fat
1
g
|
Cholesterol
35
mg
|
Sodium
190
mg
|
Potassium
96
mg
|
Fiber
1
g
|
Sugar
14
g
|
Vitamin A
269
IU
|
Vitamin C
61
mg
|
Calcium
36
mg
|
Iron
2
mg