---
This most classic of English tea treats, Victoria Sponge, gets a mini-makeover. We kept all the delicious flavors, with a rich vanilla buttercream filling and tart raspberry jam sandwiched between two layers of this classic vanilla sponge cake. (Hence why you'll sometimes see this recipe called Victoria Sandwich.)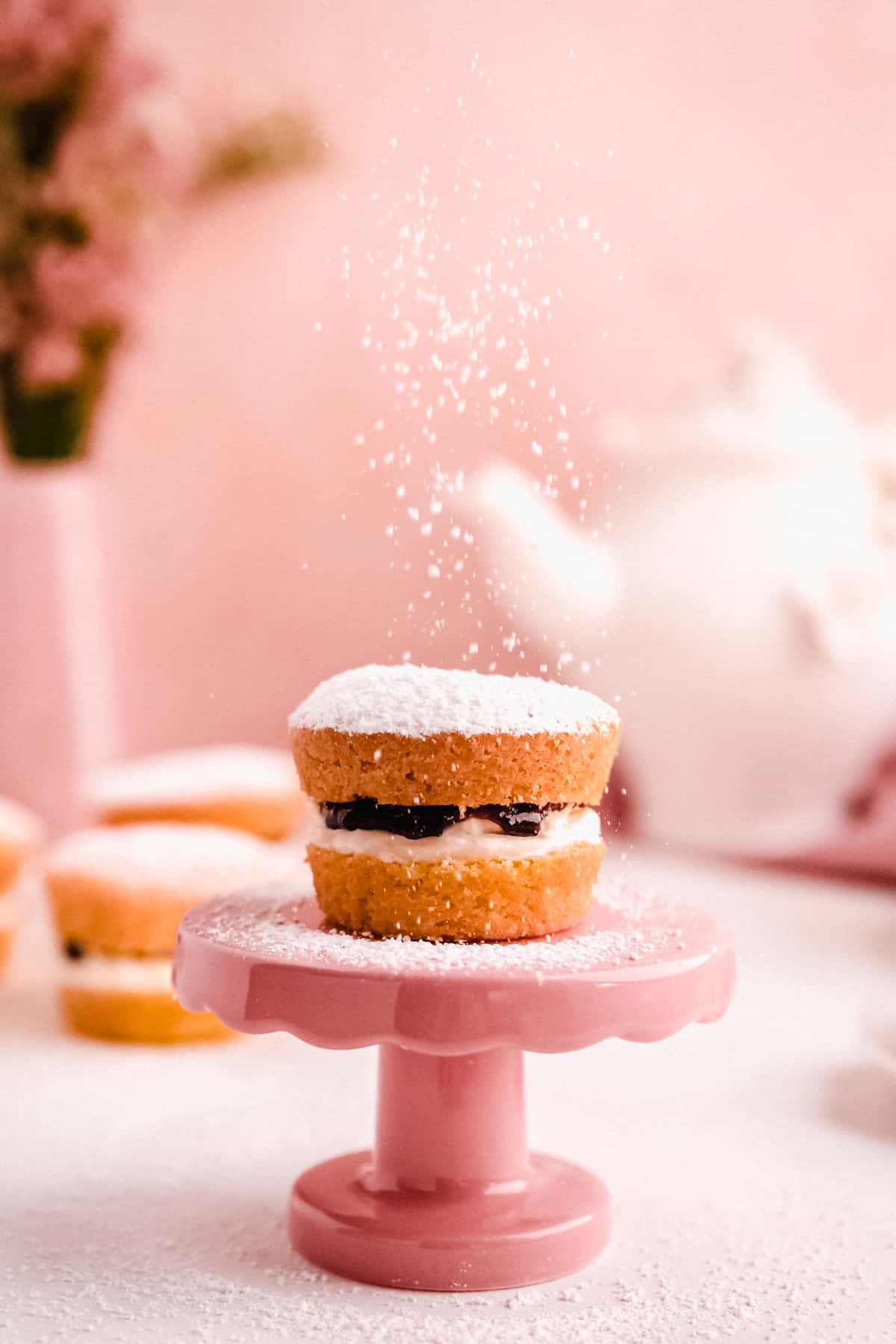 Jump to (scroll for more!):
As you'll learn over time, while I love classic American recipes, I also really enjoy British classics as well. My bakery was even split between these two delicious pastry traditions for our menu, as I couldn't decide between them.
A love affair with teatime...
I love that English recipes are typically written by weight already (read more on baking by weight here). But more importantly, most of the classic English cakes and sweets bring up a huge element of nostalgia for me.
I actually visited London and other English towns on a yearly basis as a child. Nothing quite brings back the same warm and fuzzy feelings as when I think about enjoying teatime with mom as a little girl. (Fortnum & Mason is our favorite spot for that!)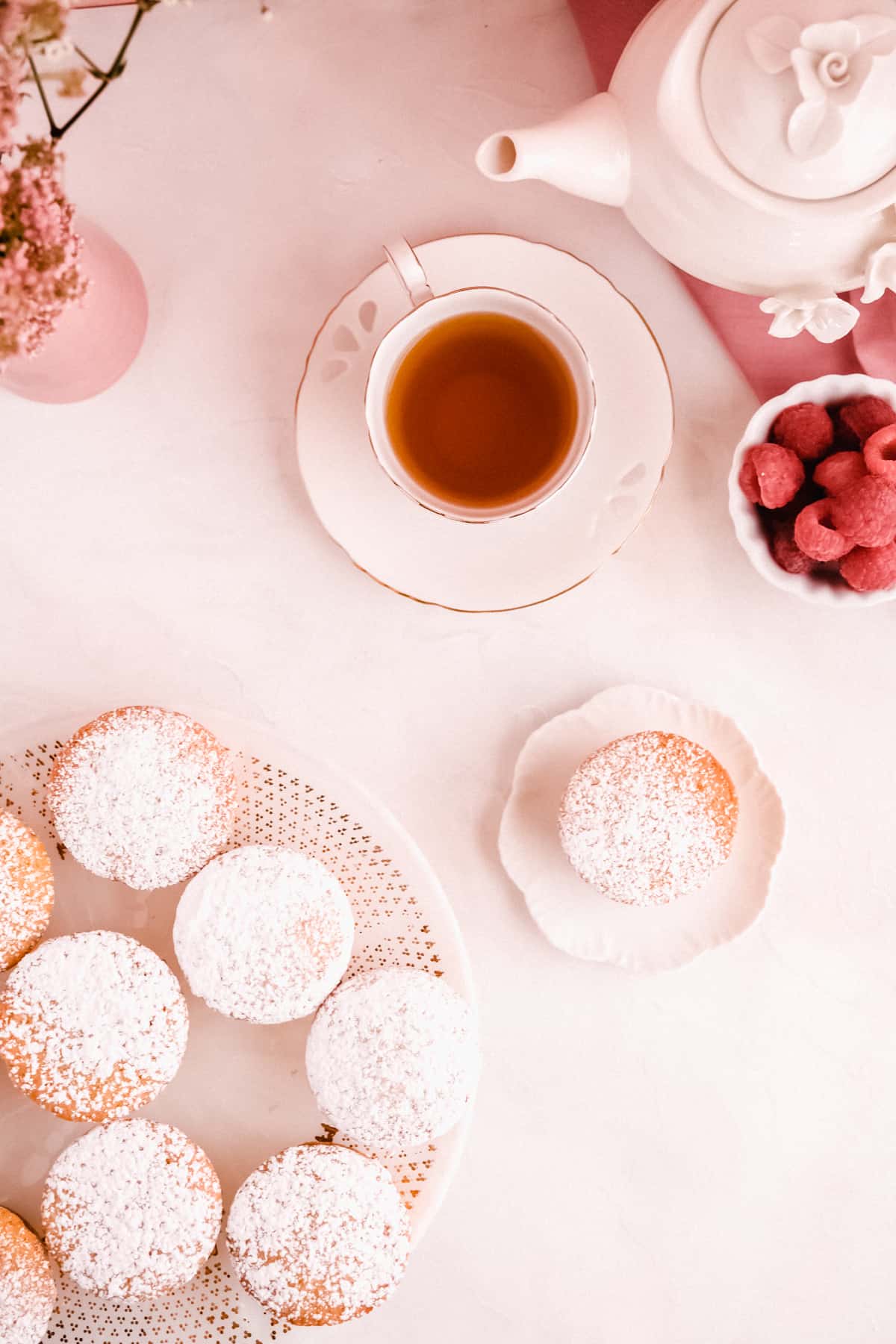 A brief history of the Victoria Sponge Cake…
This cake is truly one of the most classic English cakes that I know of. I have sampled more Victoria Sponges during my travels throughout England than I could possibly remember.
While during my research I found some conflicting accounts, it seems like this cake was indeed named after Queen Victoria. Perhaps it took her name because she is known to have loved this cake (among many other sweets). She is also one of the first rulers to have really embraced the "teatime" tradition we all know and love today. (Read a little more about her history here).
Her reign also coincided with some wonderful inventions, such as baking powder and baking soda. These ingredients made the Victoria Sponge cake possible: lightening it to a sponge cake texture as opposed to an un-leavened density of a pound cake. (Read more about that here.)
What's the basic ratio of a Victoria Sponge?
In all my research into particular recipes when developing these Mini Victoria Sponge Cakes, I generally found a 1:1:1:1 ratio of butter:sugar:eggs:flour. Usually, that flour is a self-raising flour (British-style that is), which contains some baking powder and salt already in it. If you come across recipes with British self-raising flour, which is not American self-rising flour, I like to reference Nigella's recommendation for converting self-rising flour to standard US ingredients.
Why is this a problem for American bakers?
Well…British recipes need to be converted from gram weights to cups and teaspoons. for baker's in the US. This unfortunately doesn't allow you to keep that 1:1:1:1 ratio without making the measurement really difficult and complicated.
So the recipe below is one I tested many versions of to convert to cups and classic measurements in the US, while still trying to keep as close to the 1:1:1:1 ratio as I could. I also tried to keep the taste and texture as close to the original (that we all know and love) as possible.
For recipe inspiration, I of course went to none other than the British baking queen, Mary Berry herself.
You all may know her as a judge on the Great British Baking Show. It was that show that introduced many Americans to countless amazing British baked goods - and Victoria Sponge is one of them!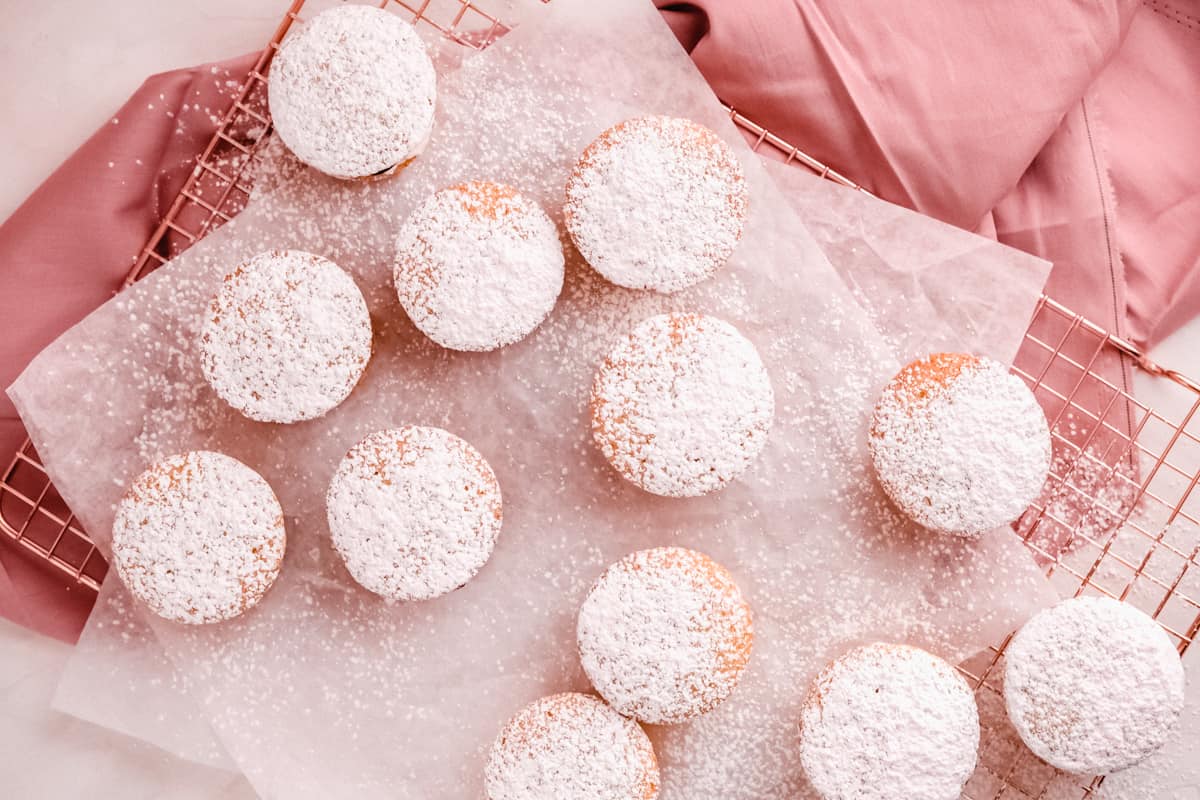 The Filling Debate
So I mentioned I tried a lot of Victoria Sponge Cakes during my travels aboard, and I've had almost as many different fillings as I have had cakes. Some options I've tried and considered for these Mini Victoria Sponge Cakes were…
whipped cream
buttercream made with granulated sugar
english buttercream
…all paired with a layer of either strawberry or raspberry jam.
I landed on buttercream and raspberry jam as my personal favorite pairing for these mini cakes. I found the tart notes of the raspberries beautifully offset the richness of the classic vanilla buttercream filling.
The english buttercream is typically two ingredients (butter and powdered sugar), but I did add a little liquid to this version. Because the mini cakes are a bit more delicate than when you're frosting a full sandwich cake, lightening the frosting was helpful for easier filling.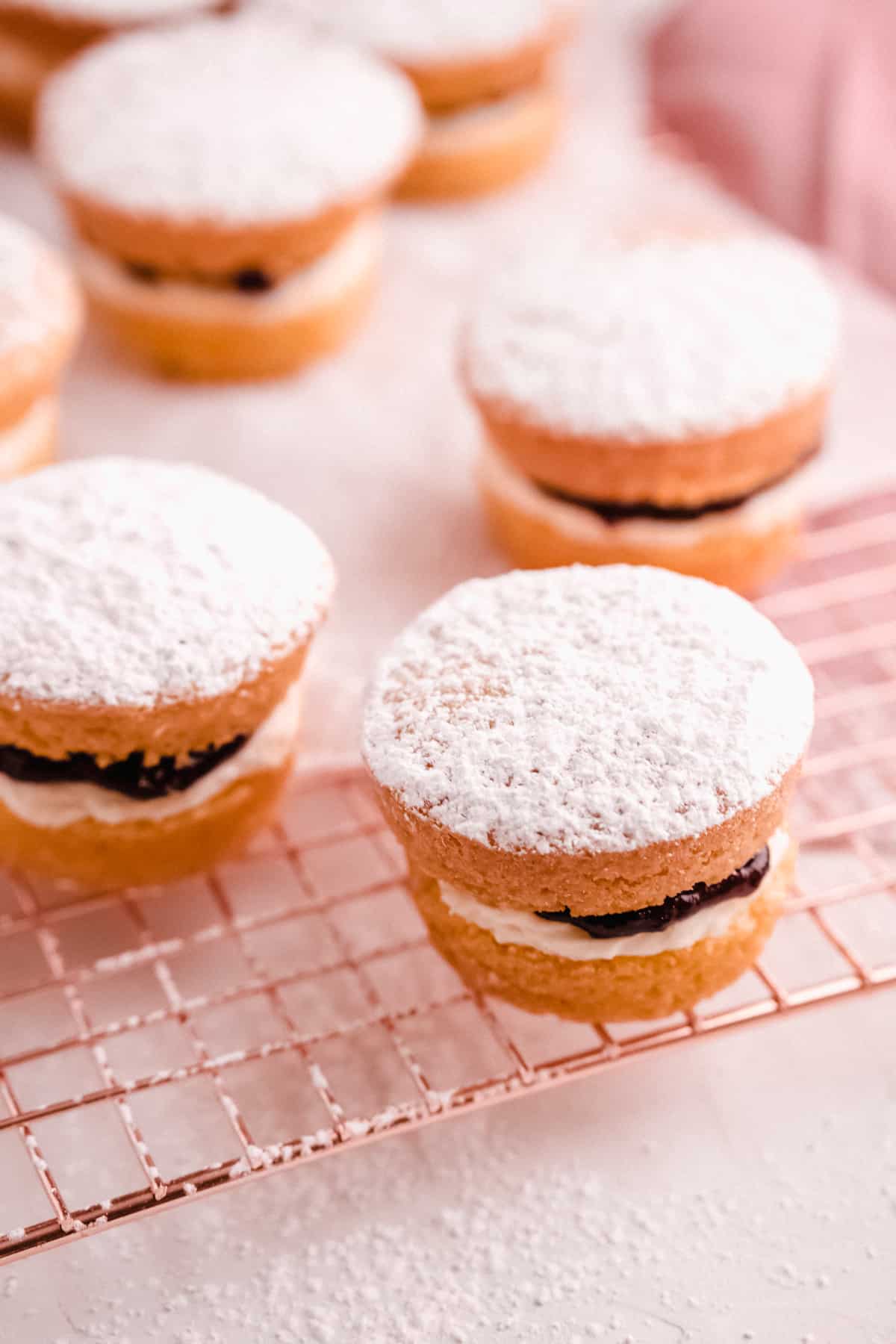 Why Mini Victoria Sponge Cakes?
Honestly, I just love mini anything! I had a sort of holiday or teatime buffet in mind when creating these little bundles of berry jam joy. It seemed to add an extra little element of fun to go the Mini Victoria Sponge Cake route, and it also just offered a new twist on a super classic recipe while adjusting the measurements to US-friendly units.
Special Equipment needed…
None! Just your basic bowls, tools, and a cupcake pan. It can be helpful to have an ice cream scoop for equally portioning the batter, but you definitely don't need one.
What ingredients you'll need to make these Mini Victoria Sponge Cakes…
(Pssst…if you're ready to just get baking, get all the details in the recipe card below!)
Butter: unlike many sponges there is a good amount of butter in this recipe which provides a beautifully rich flavor. It also helps us coat the pan as well!
Sugar: can't have a cake without some sugar!
Eggs: these will help to hold our cake together and contribute to the rise as well (check out Eggs 101 and Eggs 102 for more on this!)
Vanilla Extract: make sure to use a high quality vanilla (as always) since it will really shine through in this recipe
All-Purpose Flour: while traditionally you'll find Victoria Sponge recipes made with self-raising flour, I've adapted this recipe to all-purpose since that's more readily available in the US (and our self-rising flour isn't the same as England's). Flouring our pan also prevents us from getting an unattractive, flat rim around the edge of our mini cakes.
Baking Powder: this gives us some lightness that we don't have from the eggs in this recipe since they aren't whipped as they are in other sponges (more on that below)
Salt: to amplify and balance all the other flavors out
Powdered Sugar: for the frosting and a pretty dusting finish on your cakes as a final touch
Milk: while this isn't traditionally found in English buttercream (and sort of makes this an American buttercream recipe), lightening up the frosting a little bit with some liquid made it easier to frost the mini cakes without beating them up
Raspberry Jam: you can use strawberry instead, but I really like the slight tang of the raspberries to offset the rich buttercream filling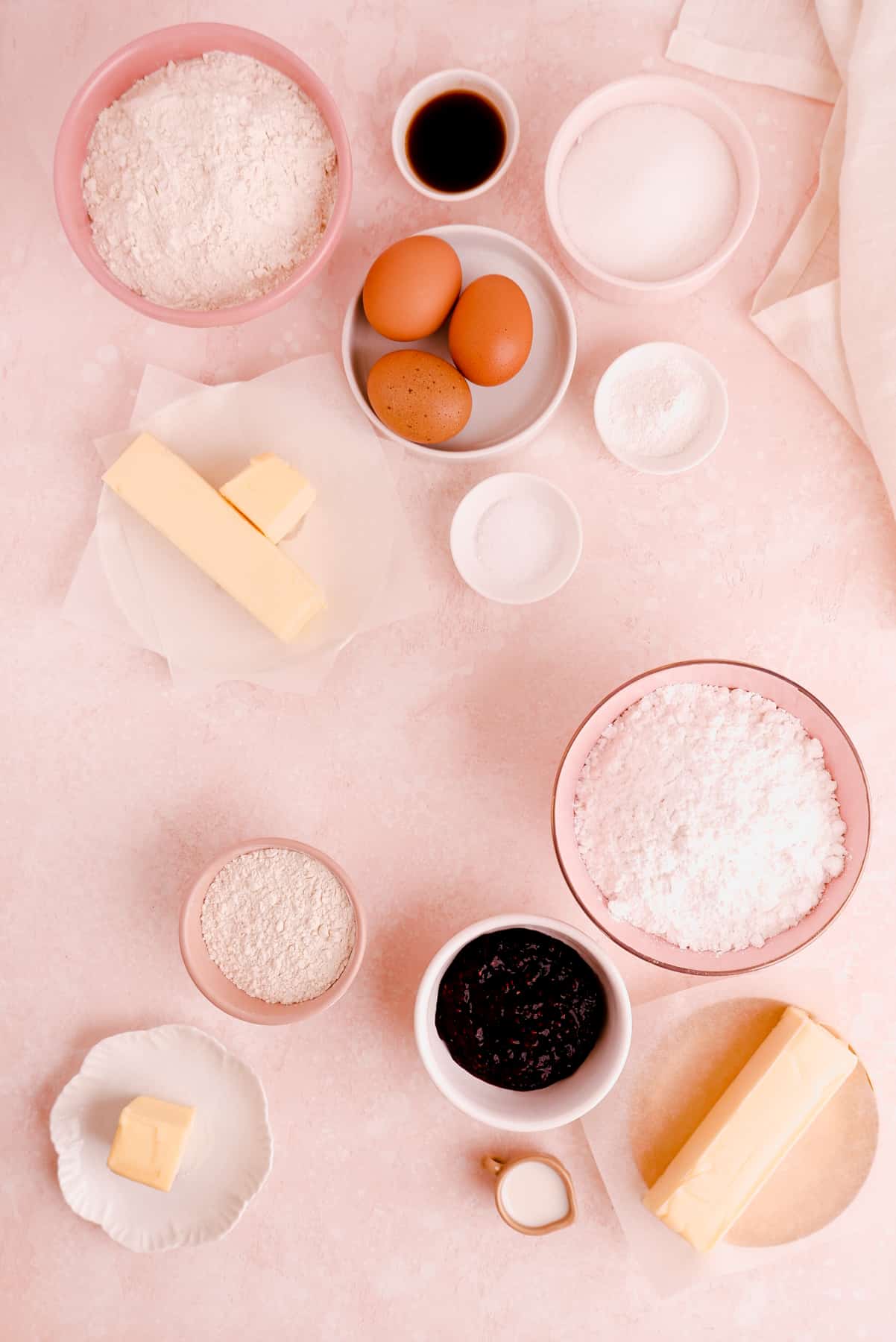 Making Mini Victoria Sponge Cakes from scratch…
(Pssst…if you're ready to just get baking, get all the details in the recipe card below!)
To make the cupcakes:
Butter + flour your pan and preheat your oven.
Cream butter, sugar and vanilla.
Beat in all the other ingredients.
Transfer batter to your prepared pan and bake.
Cool cakes fully before de-panning and filling.
To make the frosting and assemble:
Combine and mix all frosting ingredients.
Fill and stack your mini cakes, then it's officially teatime!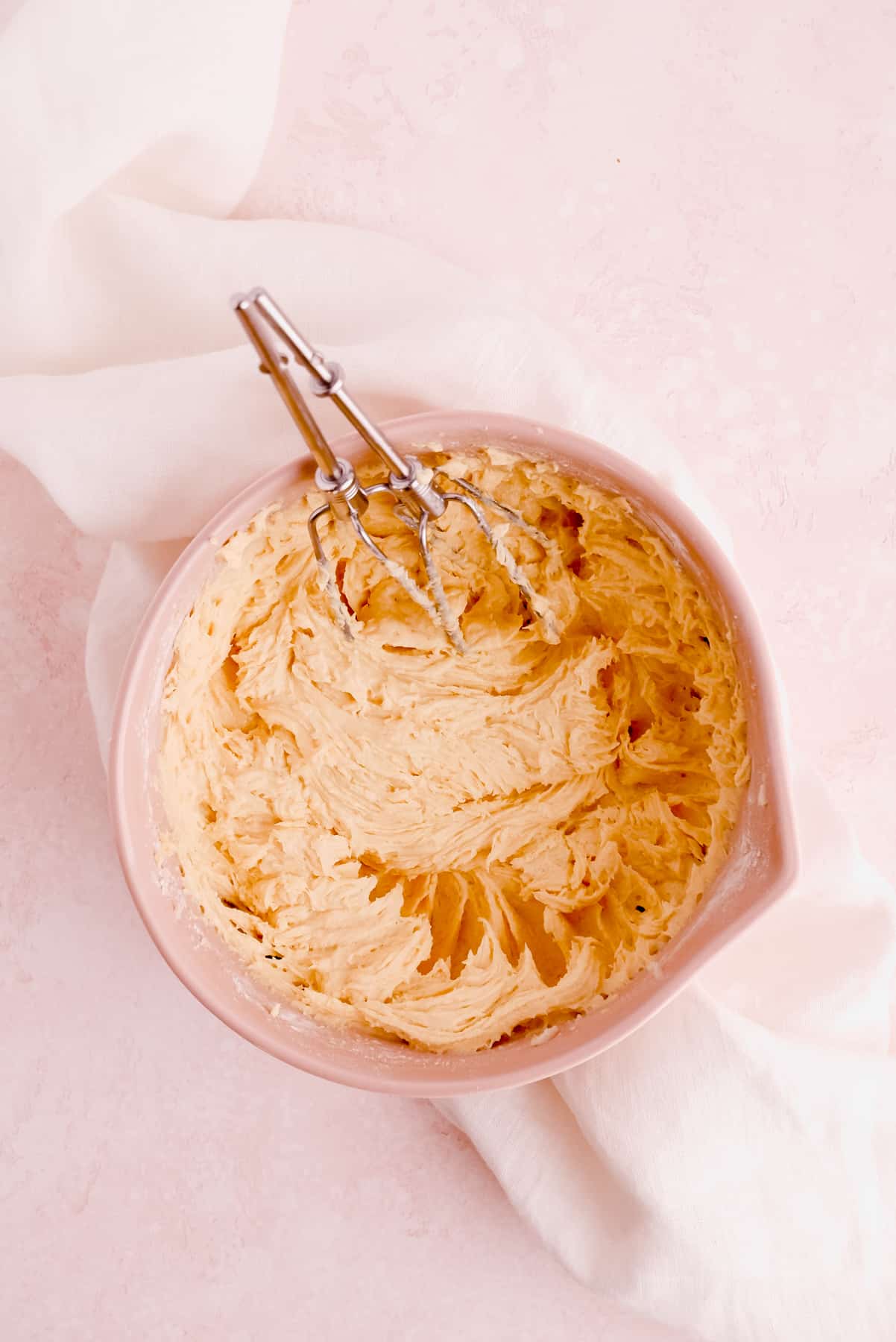 Making ahead, storing after…
This recipe is really best enjoyed fresh, but can be kept in an airtight container for up to 3 days.
Top tip for a successful bake…
I honestly would say the most important step in this recipe is the very first one. I actually tested 4 different pan-prep methods and it made a huge difference in how these mini cakes turned out.
Your goal in the prep step is just to smear butter very thoroughly all over the inside of the tin. (Make sure you get into all those bottom corners of the cups as well!) Then you'll knock flour all over the buttered surface until the inside of the cups are fully dusted.
This particular coating allows you to release your cups properly after baking, but also prevents an unattractive lip you can get if you only grease (and don't flour) the tin. (Cupcake papers prevent the sides from browning, and at that point it really did read more as a cupcake than a Mini Victoria Sponge).
The best part of the flour coating is it will highlight the spots you missed in your butter. If you see a dark patch of pan that the flour didn't stick to, just add a little extra butter and then dust until everything's all set to go!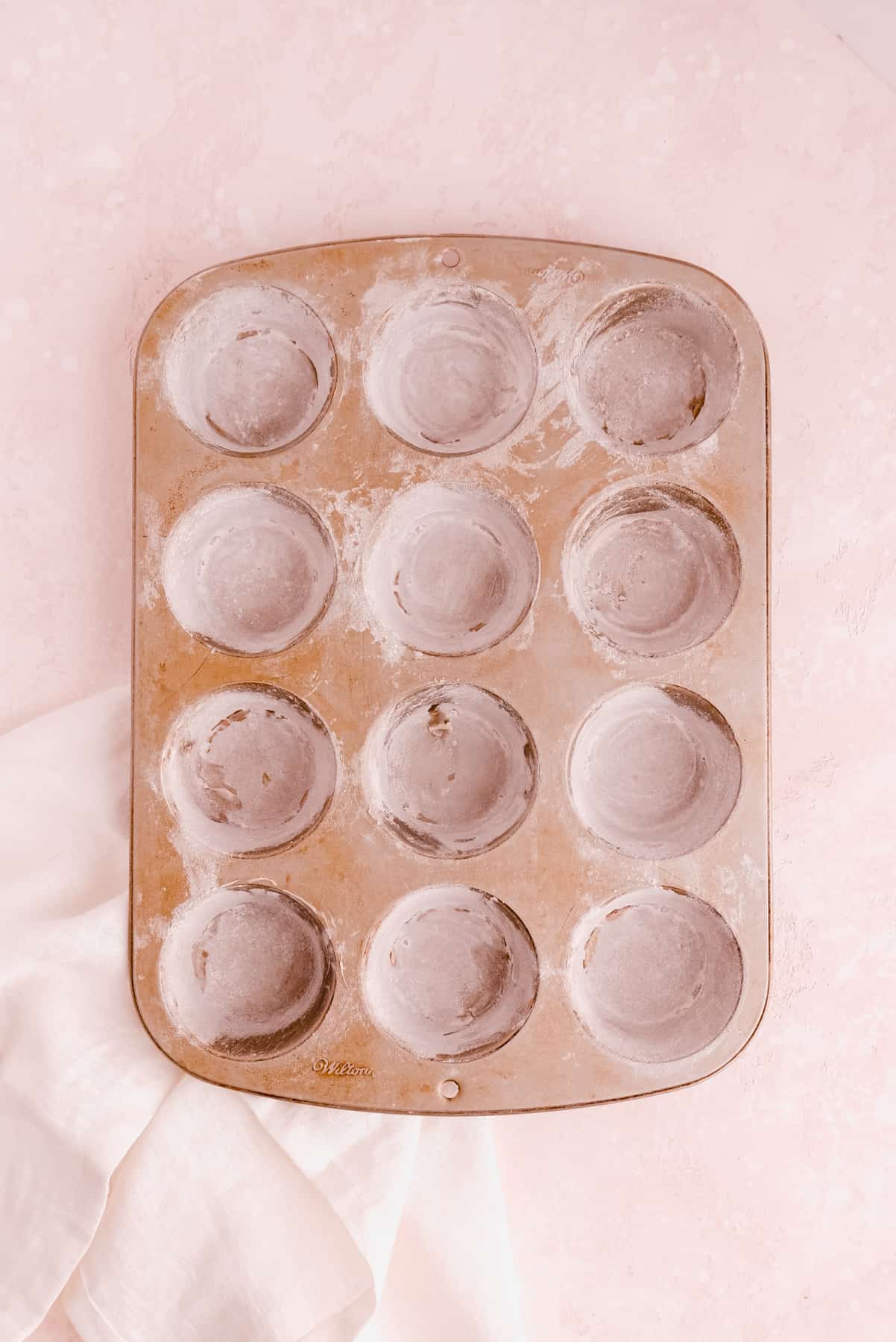 What's happening behind the recipe…
One really interesting note about this "sponge" is it's not really a traditional sponge in the classic light, fluffy, and "spongy" sense.
This sponge is actually a little crumbly (in a tender, delicious way!), but still fairly light thanks to baking powder. One of the biggest differences in the process between classic sponges and this cake, is you're not whipping your eggs at all before adding them batter.
How is this sponge different from other classic sponge cakes?
Most other styles of cakes that fall into the "sponge" category, like génoise or chiffon, get their lofty, cohesive texture from a batter with whipped eggs. In these styles of recipes, you typically whip your eggs (or just the whites) on their own, and then gently fold them into your batter.
Those recipes also tend to be much lower in fat which contributes to their lightness as well.
In this vanilla sponge recipe, we're just adding the eggs in whole and unbeaten, with many other ingredients and a lot of butterfat. So you'll be incorporating a little air in to them still when beating everything together. But, you won't get nearly as much air incorporated as if you'd whipped them independently.
This leaves our Mini Victoria Sponge Cakes with a texture somewhere between a pound cake and those traditional whipped-egg sponges - which is a delicious place I am perfectly happy to be!
If you'd like to read more, this article has some great details on sponges and how they differ from one another.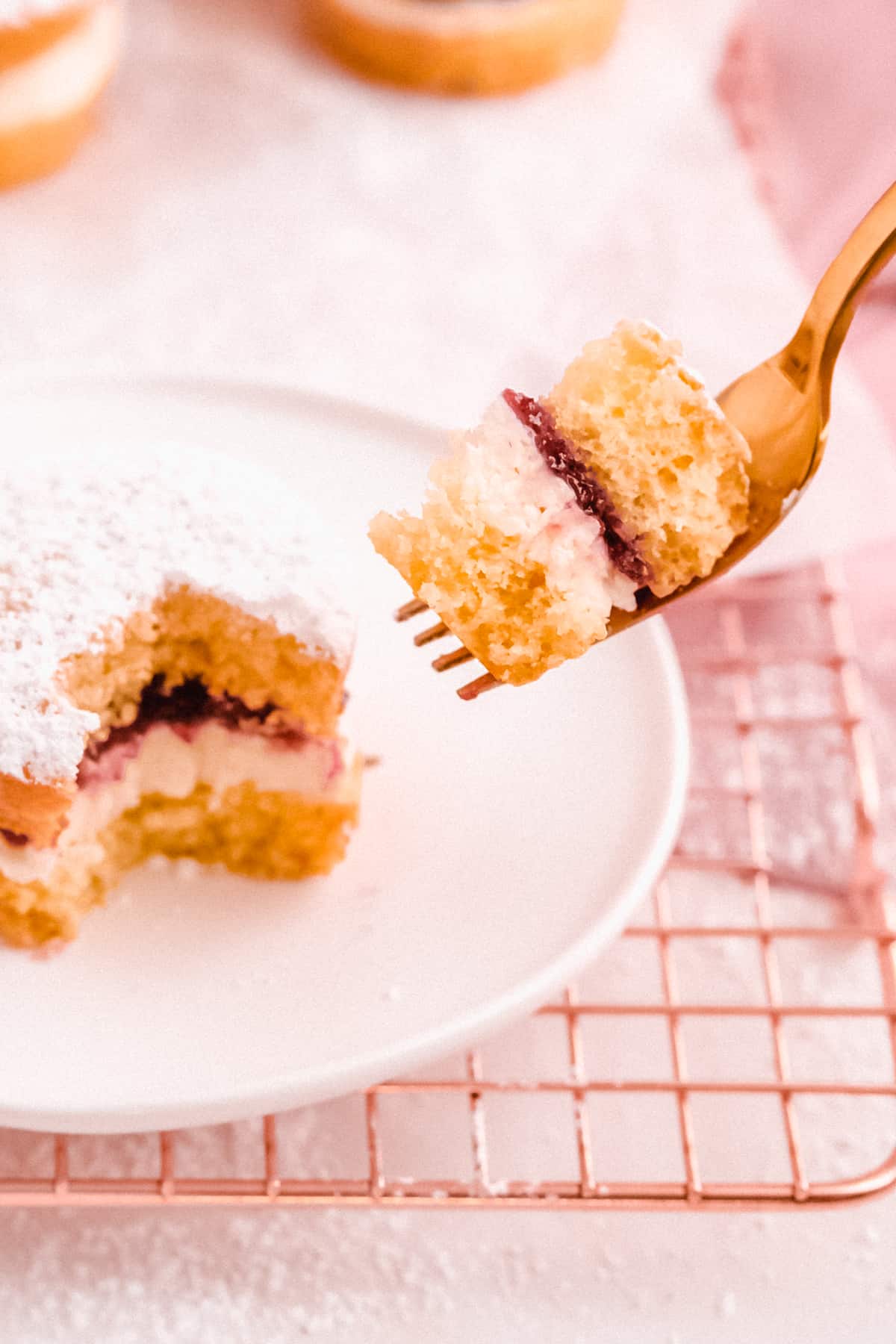 Other recipes that Victoria Sponge fans will love…
As I mentioned before, this and other classic British recipes can be hard to find in cups and ingredients readily available in the US. So for all those of you in the states that have a British sweet tooth like me, this one's for you…

⭐ If you gave this recipe a try please give it a ⭐ rating and tag me on Instagram @mint.and.mallow.kitchen so I can see what you're baking up! ⭐
📖 Full Recipe
Mini Victoria Sponge Cakes
With a rich vanilla buttercream and tart raspberry jam sandwiched between two layers of vanilla sponge cake, this classic gets a mini makeover fit for any afternoon tea party!
Ingredients
For the pan:
2

tablespoons

(¼ stick) unsalted butter, softened

¼

cup

all-purpose flour
For the cupcakes:
10

tablespoons

(1 ¼ sticks) unsalted butter, softened

¾

cup

sugar

1

teaspoons

vanilla extract

1

cup

all-purpose flour

1 ½

teaspoons

baking powder

¼

teaspoon

salt

3

large eggs
For the buttercream:
½

cup

(1 stick) unsalted butter, softened

2

cups

powdered sugar, sifted

1

tablespoon

milk

½

cup

raspberry jam

(see tips)

Additional powder sugar for dusting

(optional)
Text me the ingredients please!
Instructions
To make the cupcakes:
Prep and preheat: preheat your oven to 350°F. Using a paper towel wrapped around your fingers (or your preferred butter greasing method), work with 2 tablespoons of the softened butter to smear the inside of each cup of a 12-cup muffin pan thoroughly. (Make sure you fully coat the corners and the bottom of the cups, and you'll probably have a little of that two tablespoons of butter leftover.)

Add about 1 teaspoon of flour inside of each cup, then knock the pan around over your sink or trash can to fully flour the bottom and sides of each cup. Dump out any excess flour after coating into the sink or trash.

Cream butter, sugar and vanilla: cream together the 10 tablespoons butter, sugar, and vanilla until well blended, light and fluffy (about 1 minute on medium-high speed).

Beat in all other ingredients: add all the remaining cupcake ingredients and mix on medium speed for 30 seconds until all ingredients are fully combined and batter is smooth.

Transfer and bake: divide batter evenly between the 12 muffin cups (about a scant ¼ cup each). Bake for 17-21 minutes until the tops are golden brown, fully set, and gently spring back when touched.

Cool: allow cakes to cool completely while you prepare the filling. Once cooled, remove the mini cakes from their pan, loosening the sides gently with an offset spatula or knife as needed before popping them out of the tin.
To make the frosting and assemble:
Combine and mix frosting: combine the ½ cup butter, powdered sugar and milk in a medium bowl, and mix on high speed for 3 minutes until fully combined, light, and fluffy. (I recommend a hand mixer here as this mini batch is too small for most stand mixers to be able to mix well.)

Fill, stack, and enjoy teatime! Slice each mini cake in half from the side like a hamburger bun. Spread a thin layer of the buttercream on the bottom halves of the cooled cakes (1-2 tablespoons each). Spread about 1 tablespoon of jam over top of the buttercream in a thin layer.

Top each bottom half with their corresponding tops. Dust with powdered sugar on top using a sieve for a pretty finish, then have some friends join you to share over a pot of tea!
Test Kitchen Tips
While you'll find both raspberry and strawberry jams used in Victoria Sponge cake, I prefer raspberry as I think the tart notes offset the rich filling I like to use as well. Strawberry is a great option too though if you just prefer the flavor or are looking for a more summery twist.
Another classic filling for Victoria Sponge cake is just simple whipped cream. So if you're in a hurry, you can just use some freshly whipped cream (or even store-bought for a super-quick prep) to replace the frosting in the filling. Please note though that if you use whipped cream, you should only fill the cakes you are immediately planning on eating as the whipped cream filling will not keep as well as the frosting.
Nutrition
Serving
1
cake
|
Calories
399
kcal
|
Carbohydrates
52
g
|
Protein
3
g
|
Fat
20
g
|
Saturated Fat
12
g
|
Trans Fat
1
g
|
Cholesterol
91
mg
|
Sodium
126
mg
|
Potassium
49
mg
|
Fiber
1
g
|
Sugar
39
g
|
Vitamin A
648
IU
|
Vitamin C
1
mg
|
Calcium
48
mg
|
Iron
1
mg