---
This old-fashioned carrot cake with crushed pineapple, coconut, pecans, raisins, and all the spices, is exactly what it should be - a little bit of cake batter packed with a whole lot of the good "schtuff" as I like to say. Balance out that hefty cake layer with a super-light whipped cream cheese frosting, and you have a match made in heaven!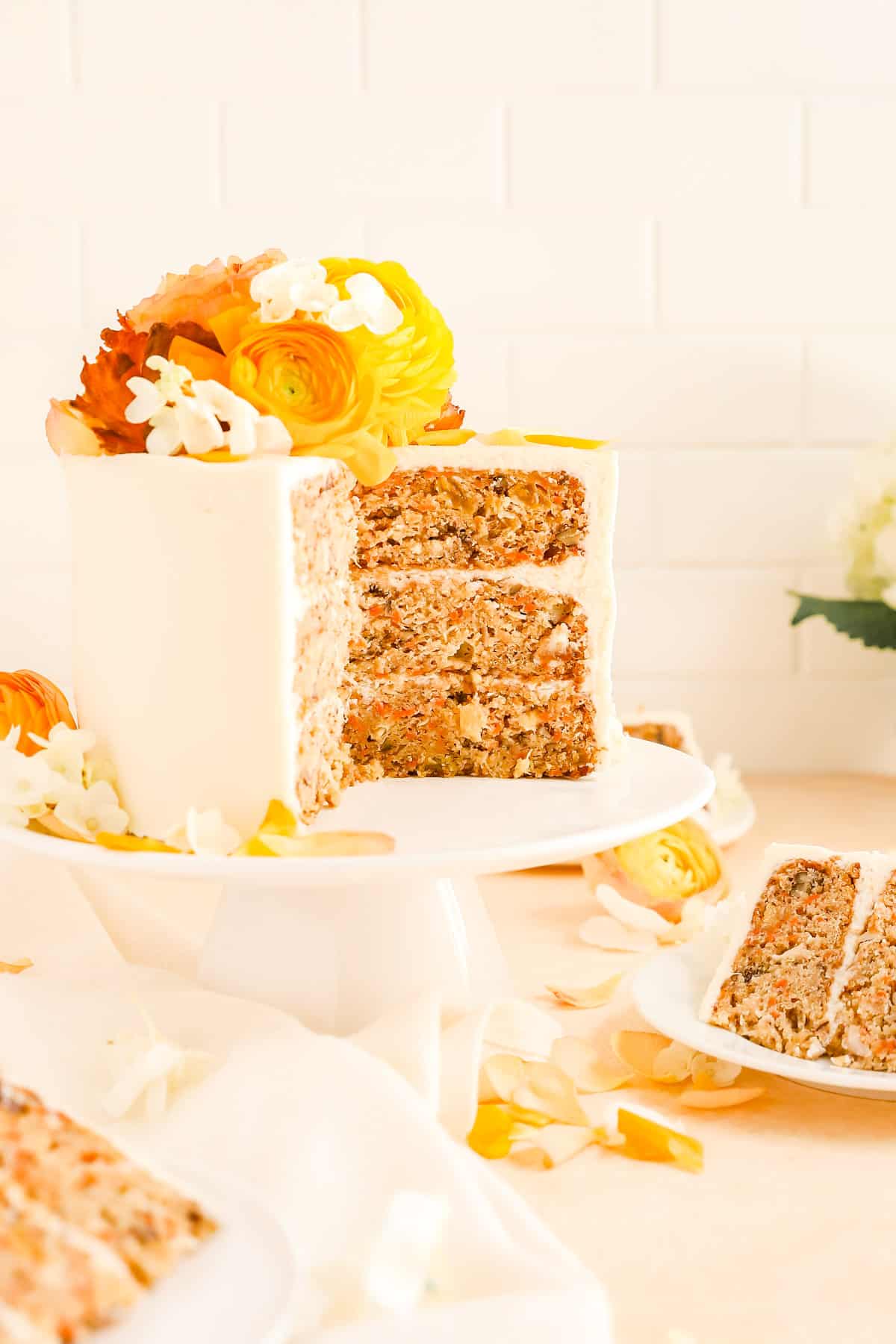 Jump to (scroll for more!):
All About Carrot Cake Ingredients
So you might be rambling through a list of tasty ingredients in your head and wondering...
"What actually are the traditional ingredients in carrot cake? Does it usually have pineapple? How about raisins? And is it pecans or walnuts?"
Well...carrot cake is one of my absolute favorite desserts. I have had countless versions of it over the years and I may consider myself a bit of a carrot cake aficionado. There were months where I'd bake it 3-4 times a week at the first restaurant I ever worked in.
Given my experiences with many shredded carrot layers over the years, this particular version might just be my favorite.
It has a light and flavorful twist with a whole bunch of added crushed pineapple, but still keeps all the classic ingredients: tons of shredded carrots, coconut, raisins, pecans or walnuts, cinnamon, ginger, nutmeg, and a dash of cardamom.
While a few of these tweaks may have you feeling that this isn't the most "old-fashioned" of cakes, for me, the word "old-fashioned" speaks to a heavy batter with just enough base to hold together a bowl packed full of all the tasty carrot cake inclusions. Top that off with a light and fluffy whipped cream cheese frosting to balance those weighty layers out, and I promise you, this carrot cake will come second to none.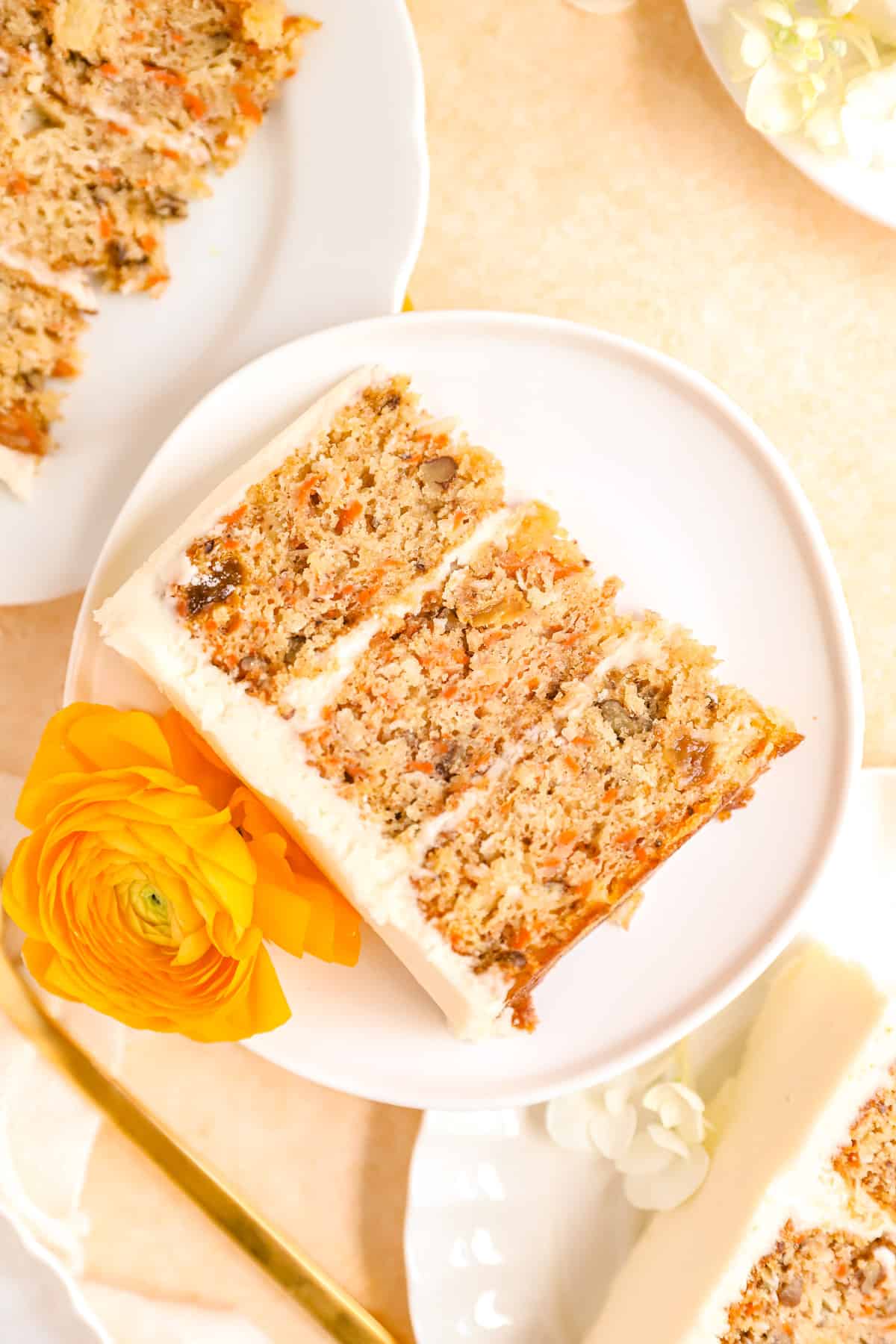 Why This Recipe Leads to Sweet Success
There are a few key fundamentals you should know to understand why this recipe not only works, but will be a deliciously sweet success.
Batter vs. "the schtuff": one of the hardest things about carrot cake is finding a way to hold onto that traditionally heavy batter, while not making your layers too dense. I tested many versions of the base batter for this recipe to ensure it's strong enough to carry all the delicious inclusions, but light enough to let them shine through without you feel like you're just eating the inclusions on their own.

It's pretty forgiving: I also designed this recipe to be pretty darn forgiving. While I love a carrot cake with a lot of inclusions, there's definitely flexibility for you to swap different ingredients in or out to craft your perfect carrot cake which I'll cover in more detail below.

Hefty layers + super light whipped frosting: because I love my carrot cakes filled with plenty of nuts, coconut, raisins and more, I always pair it with a very light frosting. I wanted something that almost had the texture of whipped cream, BUT still the classic flavor of the cream cheese frosting we all love on our carrot cakes. Enter our Whipped Cream Cheese Frosting recipe which is so light and fluffy it creates a perfect textural balance to this cake (and doesn't even require any heavy cream!).
Ingredient Tips to Bake it Better
(Pssst…if you're ready to just get baking, get all the details in the recipe card below!)
---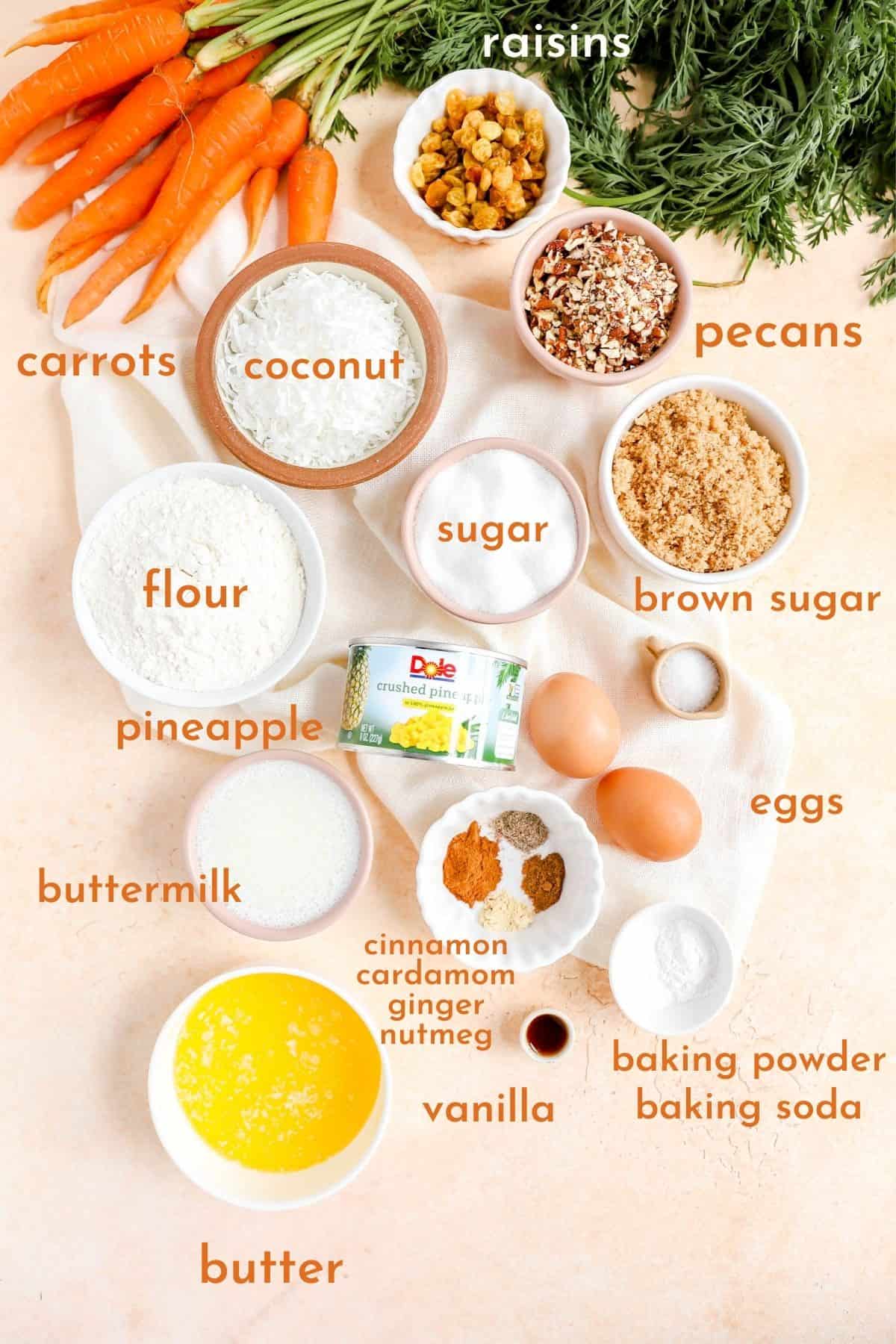 Grated/shredded carrots: when shopping, buy the big 6-8" whole carrots as they're easier to shred. After peeling, I love using the shredder disk in my food processor to make things easy. But you can also use a traditional cheese grater. Note, you'll also want to use the larger holes, not the fine side of the grater for best results

Shredded coconut: for this recipe we want the classic shredded, sweetened flakes. Desiccated just doesn't translate to as nice of a texture in the final cake.

Ginger: while ginger is traditionally a strong flavor in carrot cakes, I found with the pineapple I preferred it at a lower level. However, if you're a ginger lover, feel free to double the amount called for in this recipe. (Also make sure you're using high quality spices so your cake can reach it's full flavor potential! My personal go is always The Spice House both for quality and such an incredible variety of spices to choose from).


Cardamom (optional, but tasty)

: I love the slightly spicy and floral citrus notes of cardamom and I think it really adds a lot to this cake. That said, if you're just not a fan or don't have any, don't worry - you'll still have a delicious cake if you leave it out.

Crushed canned pineapple: while I always tend towards fresh produce, I don't recommend fresh pineapple here, because it's soooo much easier to use it from the can, and the softer flavor of canned pineapple incorporates much more naturally in the batter. (There are also notes on how to sub-out this ingredient for applesauce below!)

Butter: while most carrot cake recipes use oil, I always prefer melted butter in its place whenever possible, as it just brings a lovely flavor to the batter. That said, it's totally fine to just use oil instead if you like.

Buttermilk: I love the slight tang of buttermilk to balance the sweet pineapple, but you're welcome to use regular milk or even water if you like instead.
Special Equipment You'll Need
The only special tool here is a food processor (my preferred tool) or a traditional cheese grater if you don't have a processor for shredding the carrots.
How to Make This Cake from Scratch
(Pssst…if you're ready to just get baking, get all the details in the recipe card below!)
---
TO MAKE THE CAKE:
Preheat your oven to 350°F and grease/line your cake pans with parchment.
Prepare the "schtuff." Shred carrots, then stir together chopped pecans, raisins, and coconut.
Whisk together the dry ingredients.
Stir together all the wet ingredients.
Combine the dries, wets, and melted butter until smooth-ish.
Stir in the carrots and "schtuff" until well-blended.
Portion batter into prepared pans and bake until deep golden brown and fully set.
Cool fully while preparing the frosting.
TO MAKE THE FROSTING:
Whip up the frosting. See our Whipped Cream Cheese Frosting post for all the details on how to make this addictively fluffy icing! In short, you'll whip the fats, stir in the powdered sugar, and then mix in a little milk.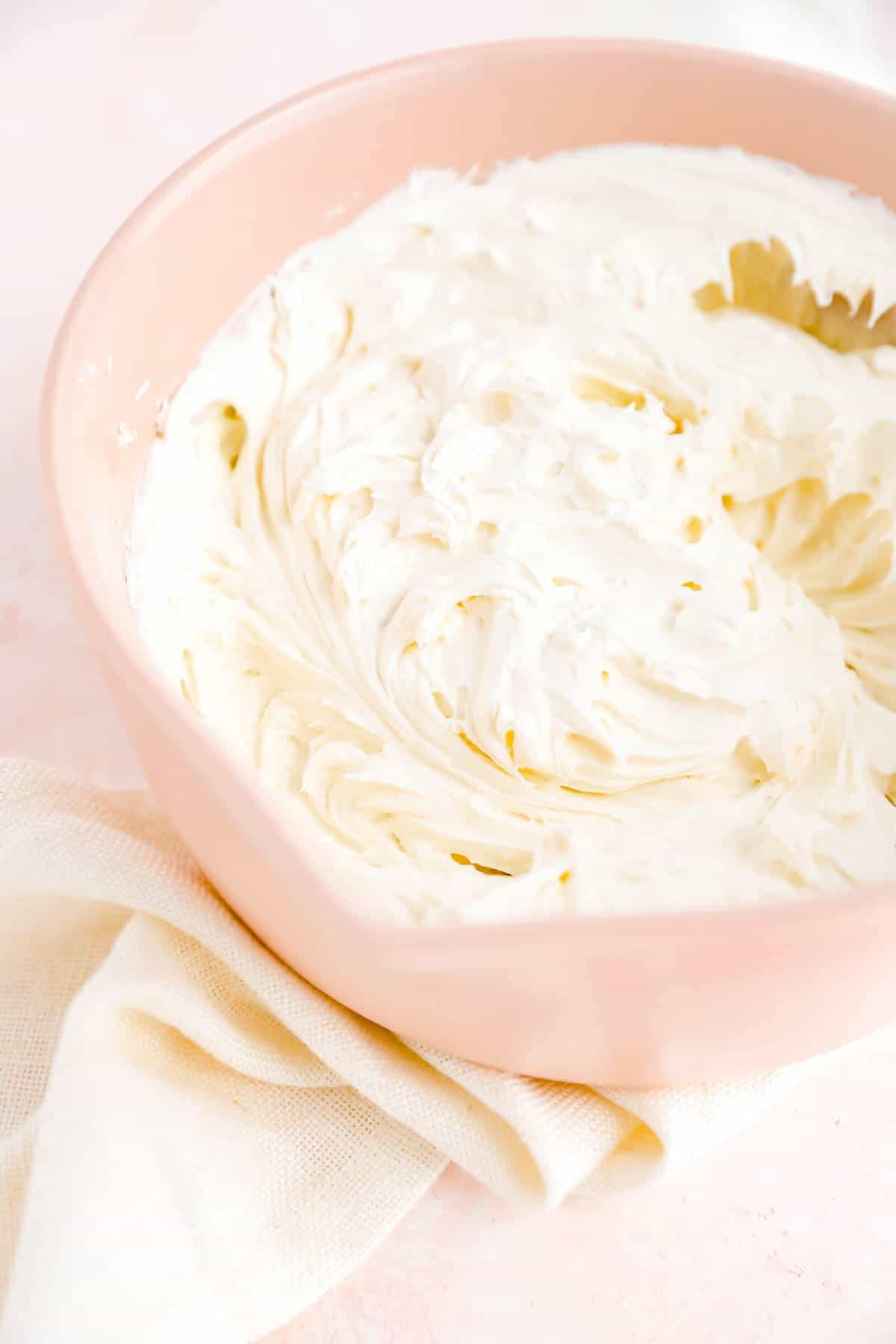 TO ASSEMBLE THE CAKE:
Level your cakes (only if needed). If your cakes came out naturally level-ish, feel free to skip this step - I did for this recipe!)
Fill, stack and frost you cake layers, and decorate to your heart's content.
Slice up, share and enjoy!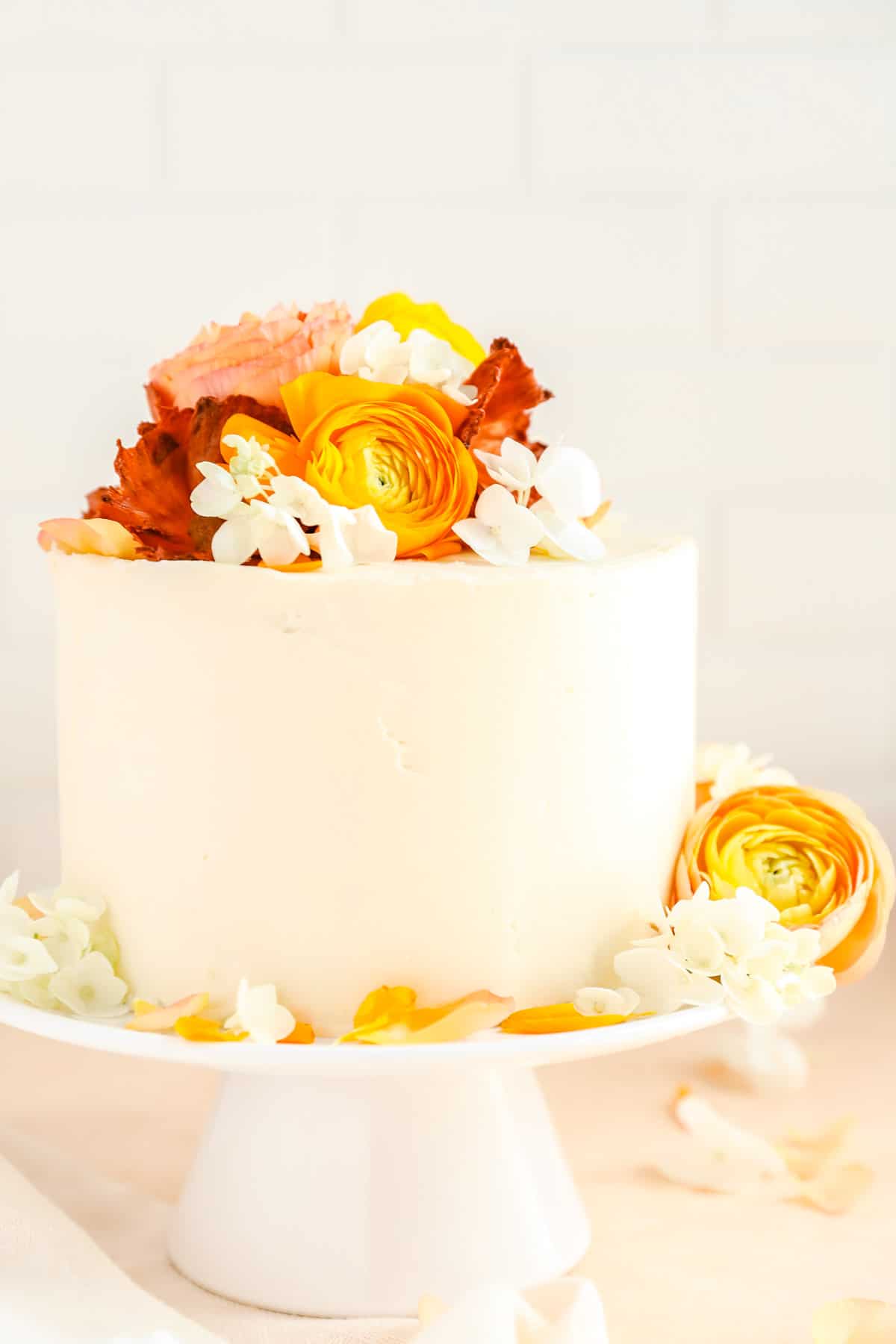 Check out the full RECIPE WEB STORY for a click-through tutorial!
Fun Ways to Make it Your Own
If you're not a big pineapple fan, follow the notes in the recipe card to swap in a half cup of applesauce in place of the pineapple for an even more classic carrot cake.
I loved pecans in this particular recipe as I think they pair nicely with the pineapple, but if you prefer walnuts, feel free to use them instead.
Again, I love golden raisins both for their color and light flavor in this recipe, but feel free to use dark raising if you prefer those.
While classic carrot cake is usually paired with cream cheese frosting, if that's just not your thing, a great cream cheese frosting substitute for carrot cake would be our Quick and Easy Vanilla Buttercream.
*Expert Tips and Tricks* for Better Baking
What's the TOP TIP for making the best carrot cake?

1. Make sure your batter is really well blended before adding in the inclusions (aka schtuff).

2. Use the best carrots you can find! I always use fresh local carrots in my recipe, not only because their flavor is the best, but they also tend to release less water than the brand-name carrots. (That said, any carrots will work totally fine in this recipe!)
How do you store this cake?
Because of the cream cheese and all the fresh fruits and veggies in this recipe, you'll want to store this cake covered in the fridge. Once cut, I also like to place a piece of plastic wrap in full contact with the cut surfaces to keep them from drying out as much as possible.
What can I substitute for pineapple in carrot cake?
Applesauce! If you'd like to skip the 1 cup of pineapple, just leave it out and add in ½ cup of applesauce in its place. (The applesauce is more liquidy which is why we use less of it.)
How do I bake this in a 9 x 13
inch pan?
All the details are in the recipe card notes, but in short, you'll just place all your batter in a greased 9 x 13 inch pan and bake for only about 30 minutes as this recipe makes a fairly thin sheet cake (more like cake bars really).


Can I make this carrot cake without nuts?
Absolutely. You can just skip the nuts all together or replace them with additional raisins or coconut.
Is there a cream cheese substitute?
Yes! If you'd prefer a cream cheese frosting substitute for your cake, just whip up a batch of our Easy Vanilla Buttercream Frosting!
---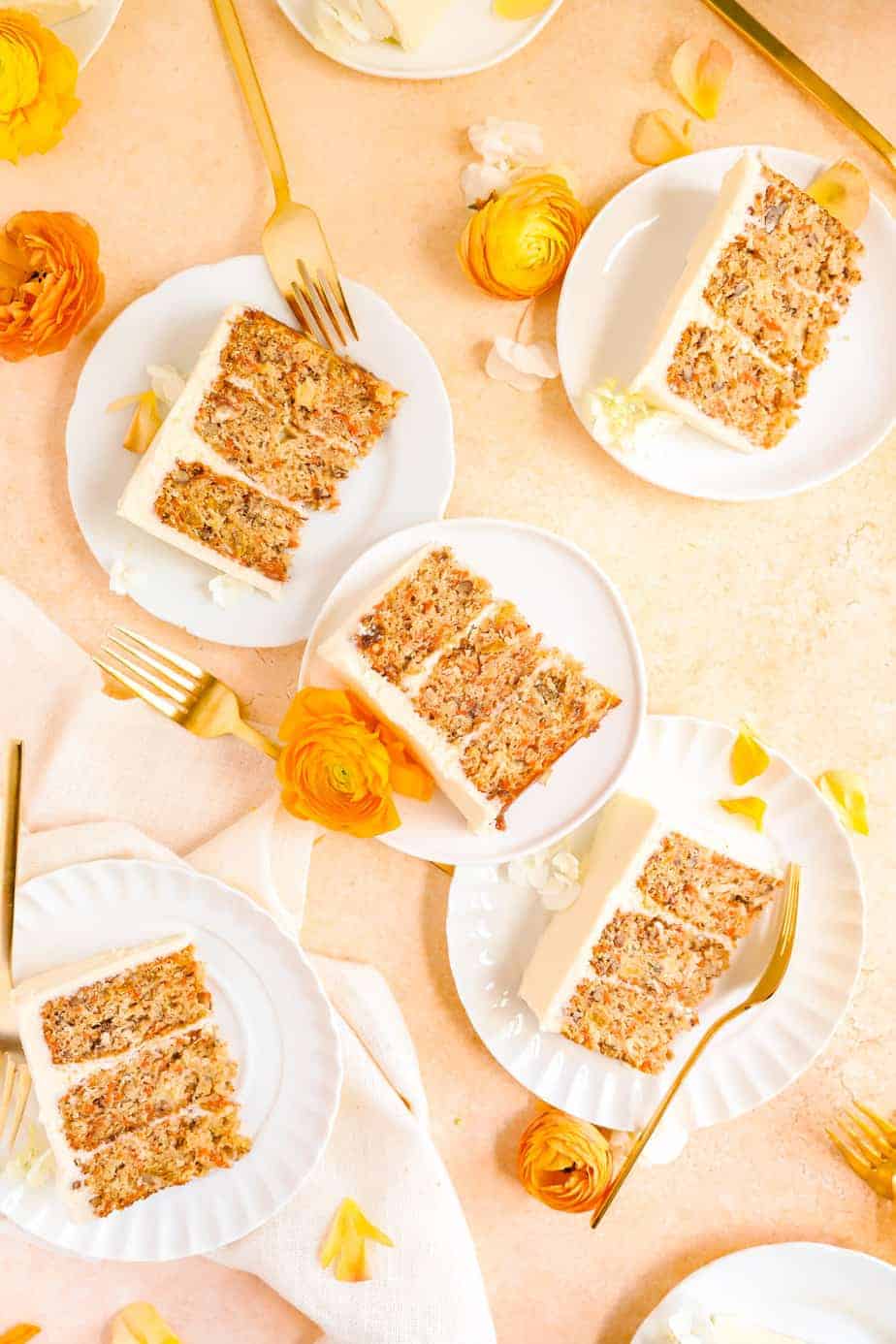 Other Recipes You'll Love
Another delicious traditional cake is our Quick and Easy Vanilla Sheet Cake with Vanilla Buttercream, Chocolate Buttercream, Raspberry Frosting or Whipped Cream Cheese Frosting.
My Peach Cobbler Pound Cake and Double Citrus Cream Cheese Loaf are must-bake recipes for any fruity cake lovers.
For some delicious bundt cakes that are quick to whip up, be sure to check out my Big or Mini Red Velvet Bundt Cakes with Cream Cheese Glaze and my Raspberry Bundt Cake with Cream Cheese Frosting.
And of course if you're a coconut lover like me, be sure to check out my Coconut Butterscotch Bars and 7-layer Magic Bars!

⭐ If you gave this recipe a try please give it a ⭐ rating and tag me on Instagram @mint.and.mallow.kitchen so I can see what you're baking up! ⭐
📖 Full Recipe
Old-Fashioned Carrot Cake with Pineapple and Whipped Cream Cheese Frosting
This Old-Fashioned Carrot Cake with Pineapple is chock full of coconut, raisins, and pecans, and finished with fluffy cream cheese frosting!
Ingredients
FOR THE CAKE:
1 ½

cups

grated/shredded carrots

(about 3 medium carrots)

½

cup

chopped pecans

(see notes)

¾

cup

shredded coconut

⅓

cup

golden raisins

2

cups

all-purpose flour

½

cup

packed brown sugar

½

cup

granulated sugar

1

teaspoon

baking soda

½

teaspoon

baking powder

¾

teaspoon

sea salt

¾

teaspoon

ground cinnamon

¼

teaspoon

ground ginger

¼

teaspoon

ground nutmeg

¼

teaspoon

ground cardamom

(optional, but tasty)

1

cup

crushed canned pineapple

(1 short can; 227g)

½

cup

buttermilk

2

large eggs

1

teaspoon

vanilla

½

cup

melted butter

(or vegetable oil)
½

cup

1 sticks unsalted butter

(softened)

½

cup

½ brick full-fat cream cheese

(softened)

1 ½

teaspoons

vanilla extract

4

cups

powdered sugar

(sifted)
Text me the ingredients please!
Instructions
TO MAKE THE CAKE:
Preheat and prep pans: preheat your oven to 350°F. Lightly grease three 6" round cake pans (see notes). Line each with a piece of parchment, cut to fit in the bottom of the pan, then lightly grease the top of the parchment paper.

Prepare the "schtuff:" shred carrots on a cheese grater or using a food processor. Set aside. Stir together chopped pecans, raisins, and coconut in a small bowl and set aside.

Combine dry ingredients: in a medium-sized mixing bowl, whisk together to flour, sugars, baking soda, baking powder, salt, and spices and set aside.

Combine wet ingredients: in another bowl, whisk together pineapple, buttermilk, eggs, and vanilla.

Combine the dries, wets, and melted butter: pour the wet ingredients and melted butter into the center of the dries and whisk together until well blended and smooth-ish by hand or using a mixer (it won't go totally smooth because of the pineapple pieces).

Add carrots and "schtuff:" stir in the shredded carrots and raisin/pecan/coconut mix until evenly distributed throughout the batter.

Portion and bake: divide batter evenly between the 3 prepared pans and shake to level. Bake for 33-36 minutes until top is a deep golden brown, fully set, and springs back when lightly touched.

Un-pan and cool: allow cake to cool for 20 minutes in the pan. Then, use a knife or offset spatula to loosen the cake edges from the pan, un-pan the cakes, then allow to cool fully while preparing the frosting.
TO MAKE THE FROSTING:
Whip up the frosting: see our Whipped Cream Cheese Frosting recipe for all the details on how to whip up a batch! You'll want to do this as the cakes start cooking so you can then chill it for about 30 minutes until the cakes are fully cool. (If you'd like, you can prepare the frosting a day or two ahead of time, then allow it to come to room temperature on the counter for a few hours before you frost your cake.)
TO ASSEMBLE THE CAKE:
Level cakes (only if needed): if your cakes have a high dome, level by using a serrated knife and cutting horizontally across the cake while holding the knife level. (If your cakes came out naturally level-ish, feel free to skip this step - I did!)

Adhere cake to serving plate: smear a tablespoon of frosting on your serving plate and press one layer of cake on onto the plate.

Fill a piping bag and stack layers: using a pastry bag, offset spatula or knife, add about ½ cup of frosting on top of the cake layer and spread into an even layer. Top with the second layer of cake (centering it and pressing it gently into the first layer of frosting), and top with another ½ cup of frosting spread evenly over the top. Finally, top with the third layer (placed on the frosting upside down for a nice, flat top), wiggle it to center and gently press down to fully adhere it to the frosting below.

Frost, decorate and enjoy! Use the remaining frosting to frost the entire cake, smoothing or swirling it to your heart's desire. Add extra chopped pecans, toasted coconut flakes, or whatever other festive decorations you like. Slice and share for a delicious flavor-packed treat that will put a smile on your face any day of the week! (Be sure to store any leftovers - not that you're likely to have any - in the fridge, and thaw cake on the counter for at least an hour before enjoying for the tastiest experience).
Test Kitchen Tips
Pecans or walnuts? That is the question. Because I added pineapple to this carrot cake, I went the pecan route as I think they pair better with that fruity addition, but if you prefer walnuts in your carrot cake, feel free to swap those in!
How much frosting is enough frosting? The frosting batch size listed here is just enough for a fairly thin, smooth coat of frosting on your cake.  If you'd like to pile on that cream cheese deliciousness, I recommend making a 1.5X batch and you can find all the details on that in our Whipped Cream Cheese Frosting post.
Resizing to a 9"x 13" Cake: if you prefer to bake this recipe as a quick and easy sheet cake, you can make this recipe as written and simply pour all the batter into a well-greased 9" x 13" pan.  Your bake time will be about 28-32 minutes as this batter amount makes a pretty thin sheet cake (think like carrot cake bars), so it bakes a bit faster.  Just feel the surface and when it bounces back and it golden brown all over, you're done!
For an extra fruity twist: if you really want to dial up the pineapple, feel free to use a pineapple jam filling between your layers and just use the cream cheese frosting to coat the outside of the cake.
A straight-up carrot cake: if you prefer to make a more simplified flavor profile that's just focused on the classic spices and "schtuff," feel free to add a ½ cup of applesauce in place of the 1 cup of pineapple.
A dairy-free cake: this cake is delicious in a dairy-free version as well! Swap vegetable oil in place of the melted butter and a non-dairy milk or water in place of the buttermilk, and you'll be good to go!
Nutrition
Calories
692
kcal
|
Carbohydrates
103
g
|
Protein
6
g
|
Fat
30
g
|
Saturated Fat
17
g
|
Polyunsaturated Fat
2
g
|
Monounsaturated Fat
9
g
|
Trans Fat
1
g
|
Cholesterol
95
mg
|
Sodium
406
mg
|
Potassium
267
mg
|
Fiber
3
g
|
Sugar
79
g
|
Vitamin A
4010
IU
|
Vitamin C
4
mg
|
Calcium
80
mg
|
Iron
2
mg