When considering the role that eggs play in a recipe, I could probably write a book on every possible use. There are countless benefits and problems that these little treasures can create. For this 102 lesson, we'll talk about the three big ones: flavor, structure, and texture.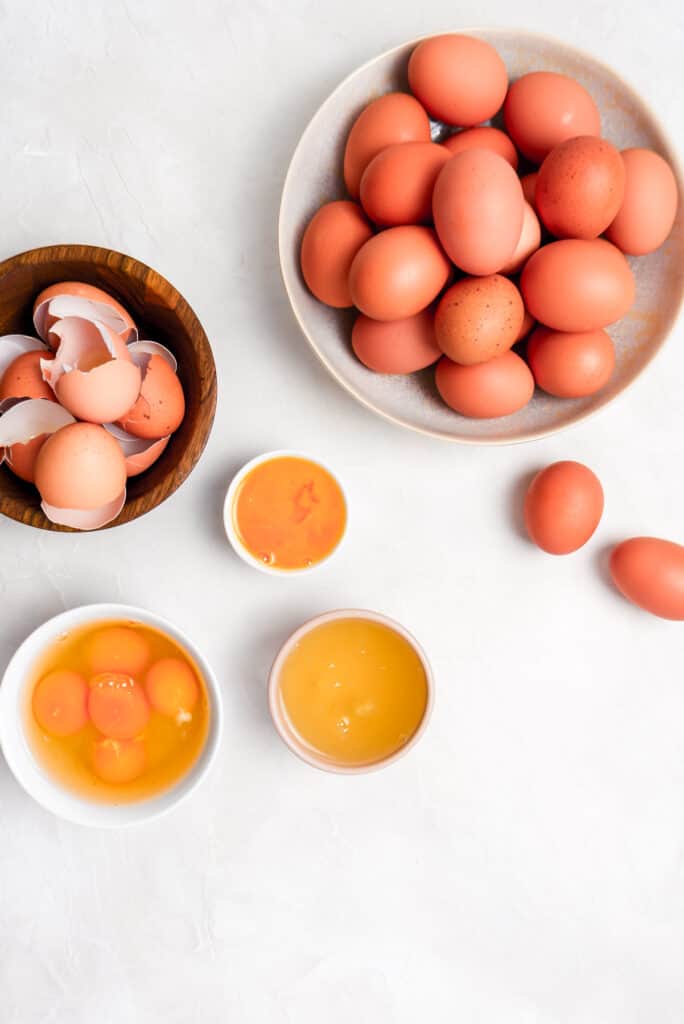 ---
Jump to (scroll for more!):
Flavor
This one is pretty obvious and more important in some recipes than others. Unlike many other ingredients, eggs are equally important for flavor as well as function.
Depending on your recipe, flavor may or may not be the most important reason to throw some eggs in your batter. Eggs have a distinct flavor when cooked in a baked good. It's a flavor we all recognize as part of classic recipes like sponge cakes or custards. There, eggs play a starring role.
Too much egg?
But it's important to be careful when baking these egg-forward treats. Overcooked eggs can very quickly take on an unpleasant sulfurous or rotten odor and taste even. If you've ever noticed an unexpected "off" smell or taste in a custard, for example, you can bet the eggs were overcooked either due to improper mixing or being left on the heat for too long.
Fat is Flavor
The motto "fat is flavor" holds true for eggs, just as it does for butter. Yolks are gold mines of flavor, as they contain all of the egg's fat. Like butter or cream, they'll also help amplify the other flavors in your recipe (such as vanilla extract). This allows egg yolks in particular to aid in creating a delicious and flavorful final product.
---
Structure
One of the most amazing things about an egg's role in creating structure in your baked goods is that, depending on your recipe and which parts of the egg you use, it can either add sturdiness or tenderness.
Eggs as Tenderizers + Structurers
As mentioned above, egg yolks contain the fat of the egg, which makes them great tenderizers. When used in certain recipes like butter cookies, they essentially "reduce" the structure of the final product. This produces that "melt-in-your-mouth quality" we all know and love.
Egg whites, on the other hand, contain mostly proteins. This means they can form strong networks and provide the structure required to hold the crisped and puffy dome of a meringue, for example. When using a whole egg, your baking can benefit from both an increase in tenderness and a solidifying of structure. And it's all thanks to one little shelled package!
Interactions with Other Ingredients
Eggs don't do all the work alone however, there's an interesting dynamic between eggs and other ingredients in your recipes. This is why adding eggs to a cookie recipe can make it cakier and open up the crumb structure inside, while adding eggs to a cake recipe can make the final product denser and even cause a collapse of its internal crumb.
Recipes are all about balancing both ingredients and their functions, and eggs are a vital part of that equation.
Eggs in Recipe Development
Regardless of whether you're working with yolks, whites, whole eggs, or some combination thereof, eggs are one of the most important tools that a recipe developer has to make big differences in their product with even the slightest tweak of this unique ingredient. In short, if your baked good needs more structure, go for egg whites. If you're looking to soften the structure of your product, try just yolks. And if you find yourself needing a bit of both, stick with whole eggs.
---
Texture
Structure and texture are inextricably linked in all baked goods. Therefore, in the same way that eggs can have two seemingly opposite effects on a product's structure, they can do the same for texture as well.
Egg whites ultimately set, reinforce, and help create a substantial, strong texture in baked goods - some might even call them "tougheners", but in a good way. Just think of a rubbery, solid hard-boiled egg white that easily holds together when sliced.
A hard-boiled yolk, on the other hand, tends to crumble rather than cut cleanly. That same crumbly, tender texture can be translated to your baked goods as well.
The Butter Cookie Swap Example
While a butter cookie made with just egg whites might seem a little tough, one made with just yolks will have the classic sandy, crumbly quality (courtesy of the fat and lack of protein found in those yolks.)
Using whole eggs in that same butter cookie will provide both structure and tenderness. Ultimately, those whole eggs will yield a cookie that's sturdy, but still melts in your mouth.
Since there are clear benefits to the roles that both whites and yolks play in baking, most recipes call for whole eggs. Not only is that the easiest form to use, but it also conveys both structure and tenderness in one versatile ingredient.
The Short + The Sweet
PHEW...so much for a quick and short overview! (I'm a bit of a nerd when you get me started on baking science - teehee).

So in summary, I can safely say that eggs are a truly egg-ceptional, unique, and powerful ingredient. They will effect nearly every aspect of your baked goods, from flavor, texture, and structure to aesthetics.

Since you can probably tell that there's a lot more teaching to discuss about this small, but mighty ingredient, be on the look out for many more egg-cellent lessons on yolks, whites, and whole eggs in the future (and I'm sorry, but there are just too many good egg puns to not sprinkle in a few here and there...wink* wink*).
Currently Preheating…
Next up on in the wonderful world of eggs...Eggs 103: The Anatomy of an Egg
---

---
Ready to learn more and put all your new skills to good use?
Check out my newest tutorials and recipes below, and get to baking!

This website contains Amazon affiliate program links. This means that I earn a small commission on qualifying purchases at no additional cost to you. I will never provide a link to nor recommend any product or service that I don't genuinely love or personally use. Thank you for supporting MINT + MALLOW kitchen and the brands that keep this blog running.