---
Whether you're using this dough as an all-butter flaky pie crust without shortening to build your favorite thanksgiving pie or making some delicious cinnamon and sugar pie crust cookies, this recipe will become your go-to for all your pie crust and snacking needs in no time!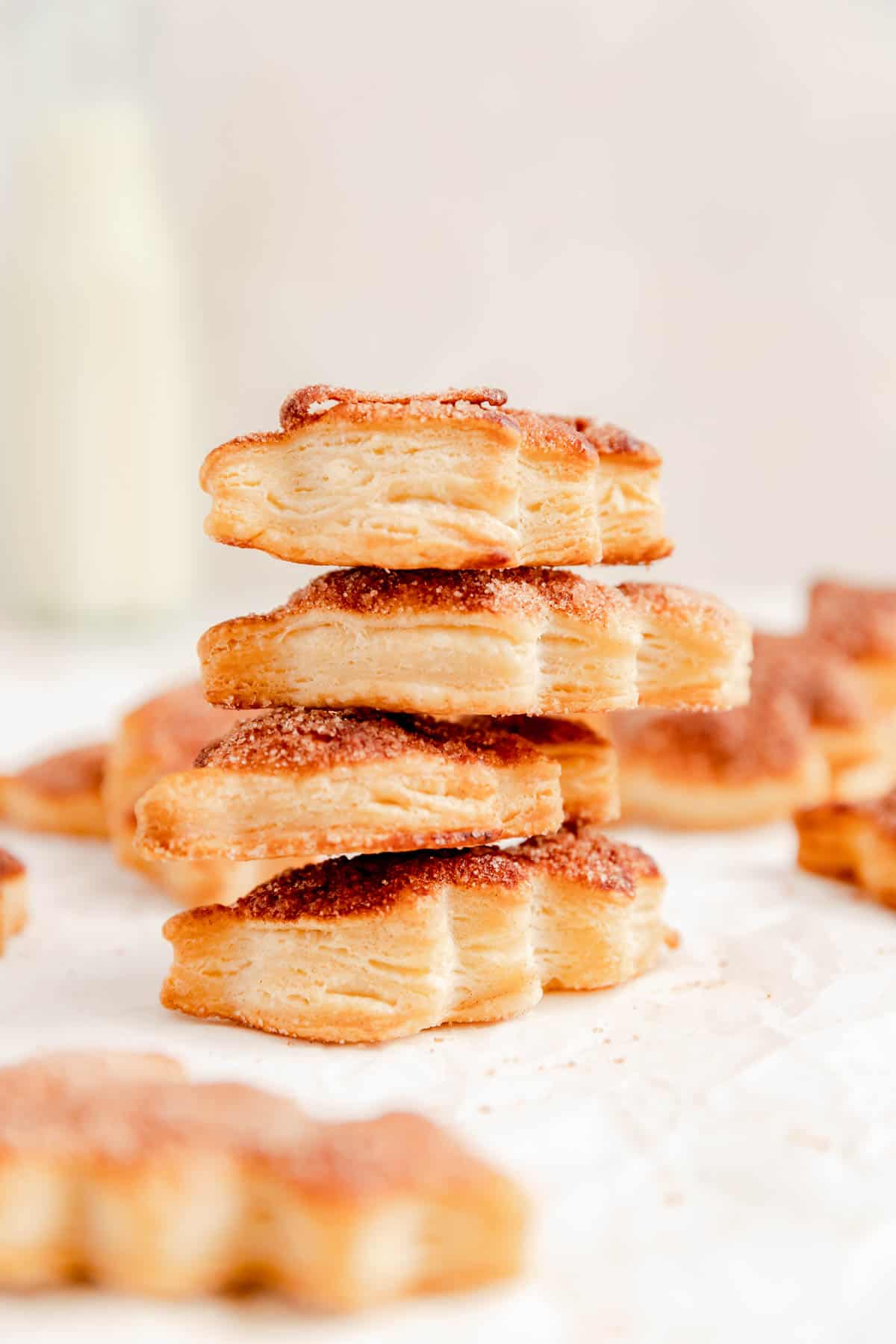 Jump to (scroll for more!):
The Clash of the Pie Crusts
There are few things our grannies would battle over more than what fat you should use to make your pie crust. Now, I am very much in the camp of "to each their own," but if you want to know my personal preference, I am an all-butter girl 1000%.
Generally, I find shortening crusts to be a little crumbly and tender, whereas butter crusts are flaky and crispier. I'm a big fan of the latter, so butter is the way I go, and I've always made all my pie crusts without shortening.
That said, butter crusts are often more labor-intensive to make well. I wanted to find an easy way to make that uber-flaky pie crust with as little effort as possible to achieve a beautiful end result. (And spoiler alert…I think I've done it!)
And of course, I could have just stopped at a beautiful butter pie crust. But I was compelled to share with you one of my favorite cookies growing up (and still today!) – the Pie Crust Cookie!
So, what are pie crust cookies (aka pie dough cookies) you ask? Simply cookies made of pie crust dough sprinkled with cinnamon and sugar and baked until those flaky golden-brown layers are crisped to perfection. So, let's learn how to make them!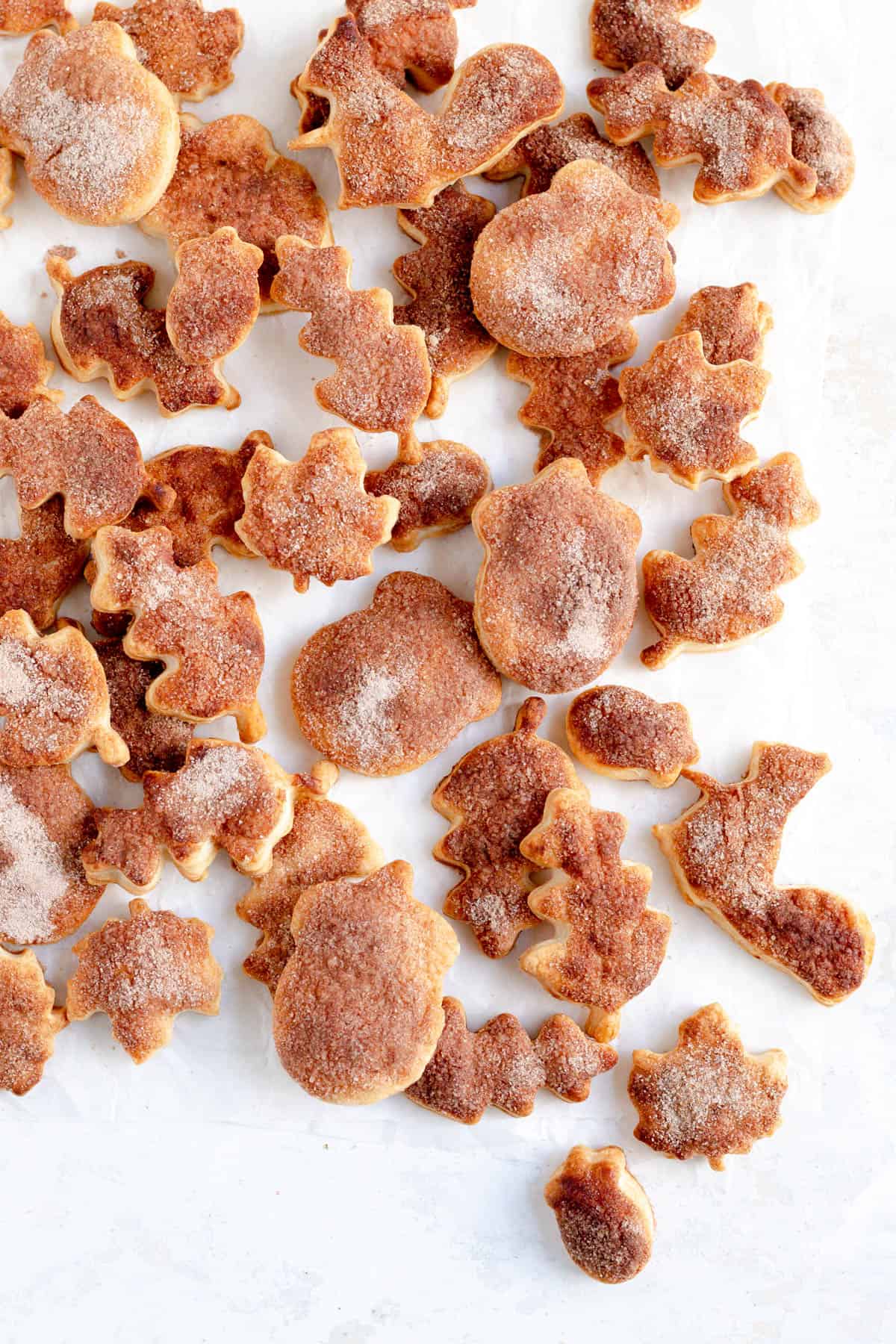 Why This Recipe Leads to Sweet Success
Here is some key info you should know to understand why this recipe not only works but will be a deliciously sweet success.
Crust AND Cookies: this recipe can absolutely serve as your go-to pie crust for all your favorite pie fillings, but I'm taking it a step further with a fun little twist. Because this dough is so good, there's no filling necessary to create a deliciously addictive treat thanks to pie crust cookies. Whether you're looking for cute cut outs or simple cinnamon sugar pie crust strips, this recipe has you covered!
All butter, no shortening: shortening has never been my favorite ingredient in general, as its flavor is neutral to underwhelming and the texture can be unpleasantly greasy if not used properly. So, when it comes to pie crust, for both flavor and texture, a high-quality butter is the way to go in my book.
Leftover pie dough never looked so good: did you know, you don't even have to pick between using this recipe as a crust or cookies? If you decide to make a full pie with your dough, you can still cook up any little scraps into pie dough cookies. That way, you'll have the best of both worlds with a delicious pie crust snack to munch on while you wait for your pie to come out of the oven!
Ingredient Tips to Bake it Better
(Pssst…if you're ready to just get baking, get all the details in the recipe card below!)
---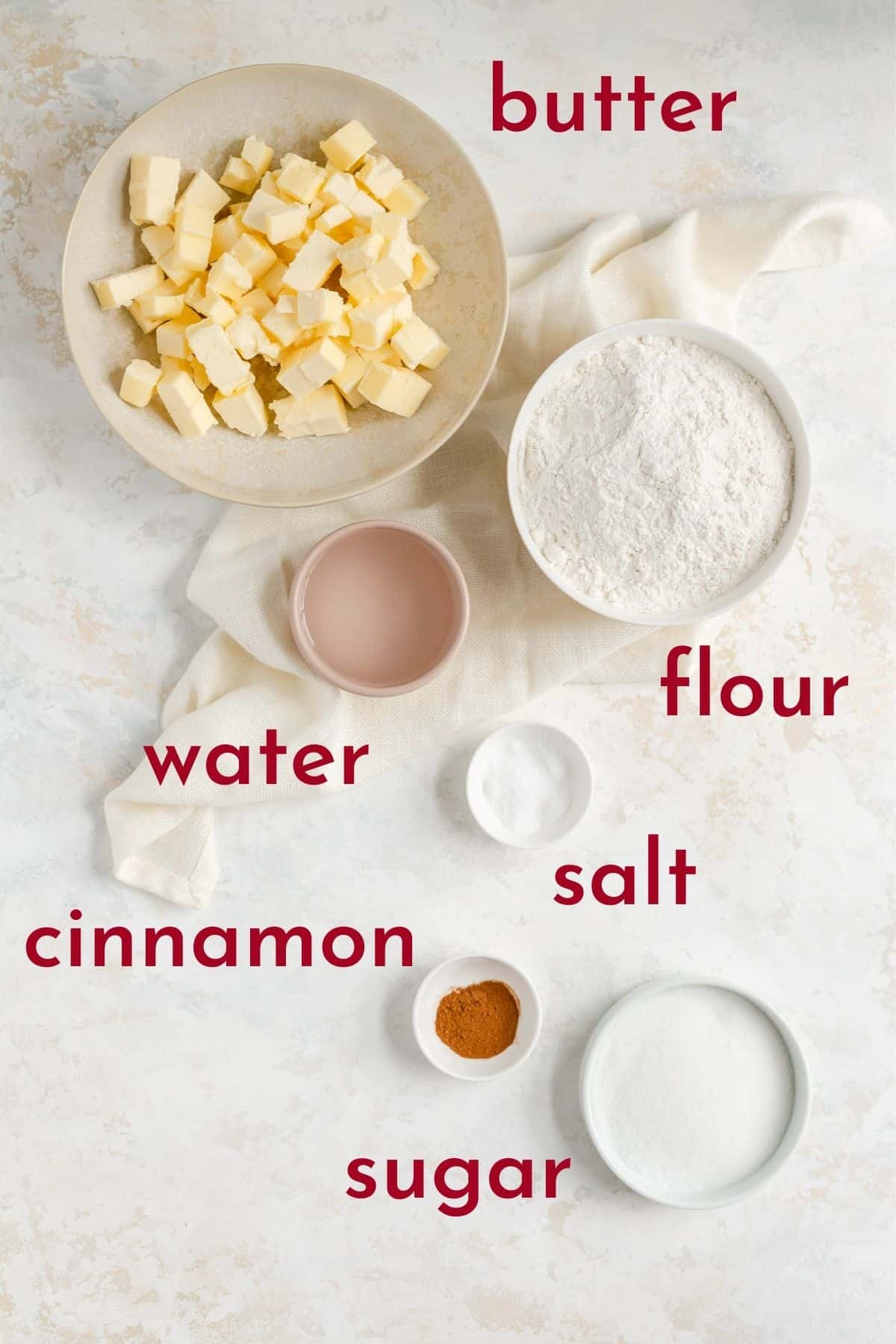 Butter: the butter is the star of the show here, so the higher the quality, the better! Be sure to use unsalted butter so you don't end up with a super salty crust. You'll also want it to be really cold before adding it to the mixer to make sure it stays in chunks instead of melting into your dry ingredients. The big chunks of butter help to create steam pockets that translate to flaky layers in the oven.
Flour: the strength of your flour is very important for the texture of your pie dough/crust. I would recommend King Arthur All-Purpose Flour as that has a specific protein level of 11.7% which is what this recipe was developed with. Other all-purpose flour will absolutely work though. You may just find your dough is a little tougher or a little softer if your protein level is higher or lower than that 11.7%.
Cinnamon and Sugar: this helps to make a nice crispy crust on top of your cookies, and the cinnamon adds that extra little hit of flavor that'll perfectly round out these tasty treats.
(p.s. for all the basic tips that no one ever taught you, that are super important to help you bake your best, check out my Baking 101 series!)
Special Tools and Equipment You'll Need
You'll want a stand mixer to make this dough properly, although it can be done by hand or in a food processor, especially if you're an experienced baker. You can also have some cookies cutters on hand, in addition to a rolling pin, to cut your pie dough cookies into any fun shapes you'd like! you can also just make cinnamon and sugar strips if you like for an easier prep.
How to Make This Pie Dough From Scratch
(Pssst…if you're ready to just get baking, get all the details in the recipe card below!)
---
TO MAKE THE DOUGH:
Dissolve salt in cold water.
Cut butter into the flour with the mixer on low until a few dime- and pea-sized pieces remain. (Here's a helpful video on how to cut butter in by hand if you don't have a mixer to use for this recipe.)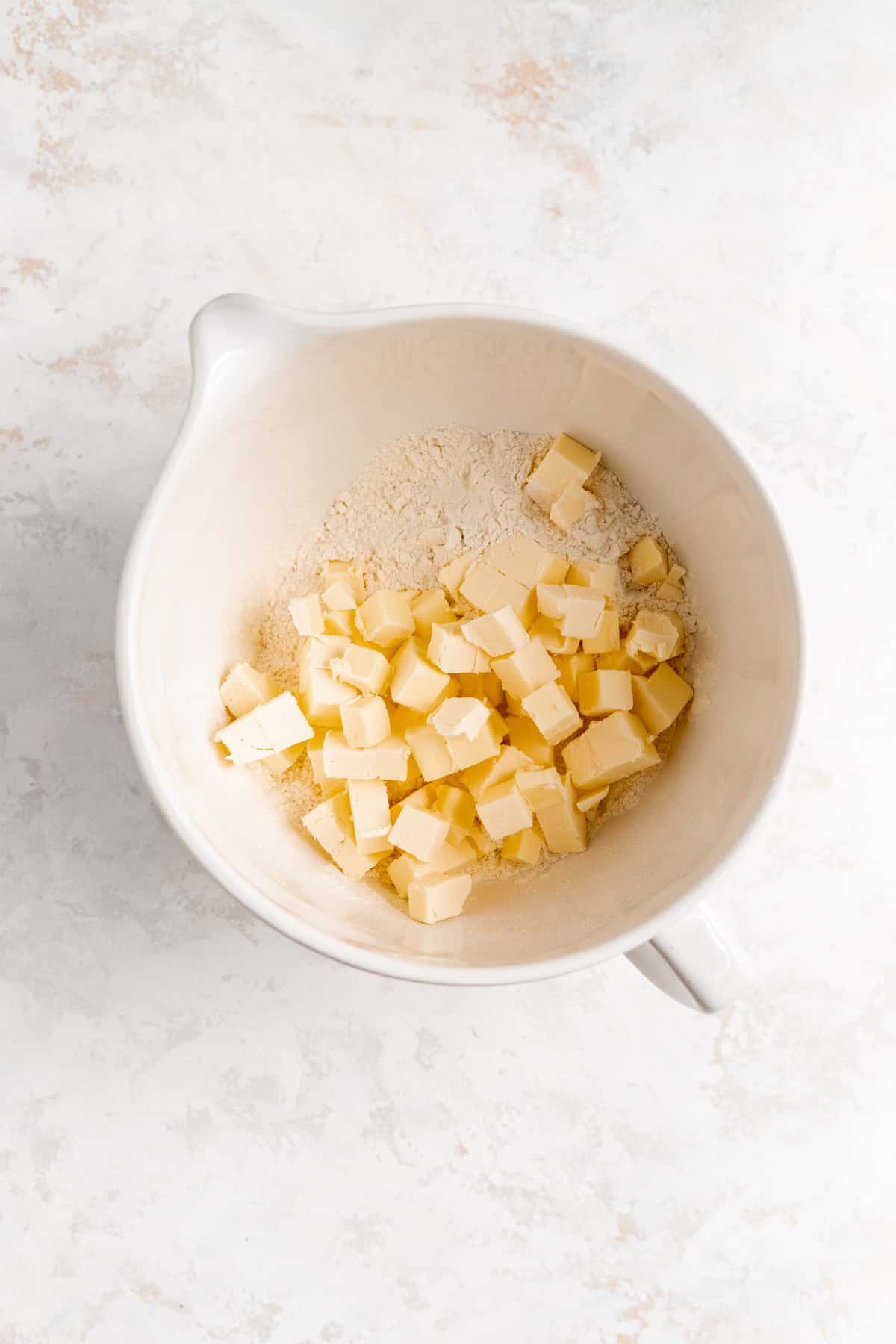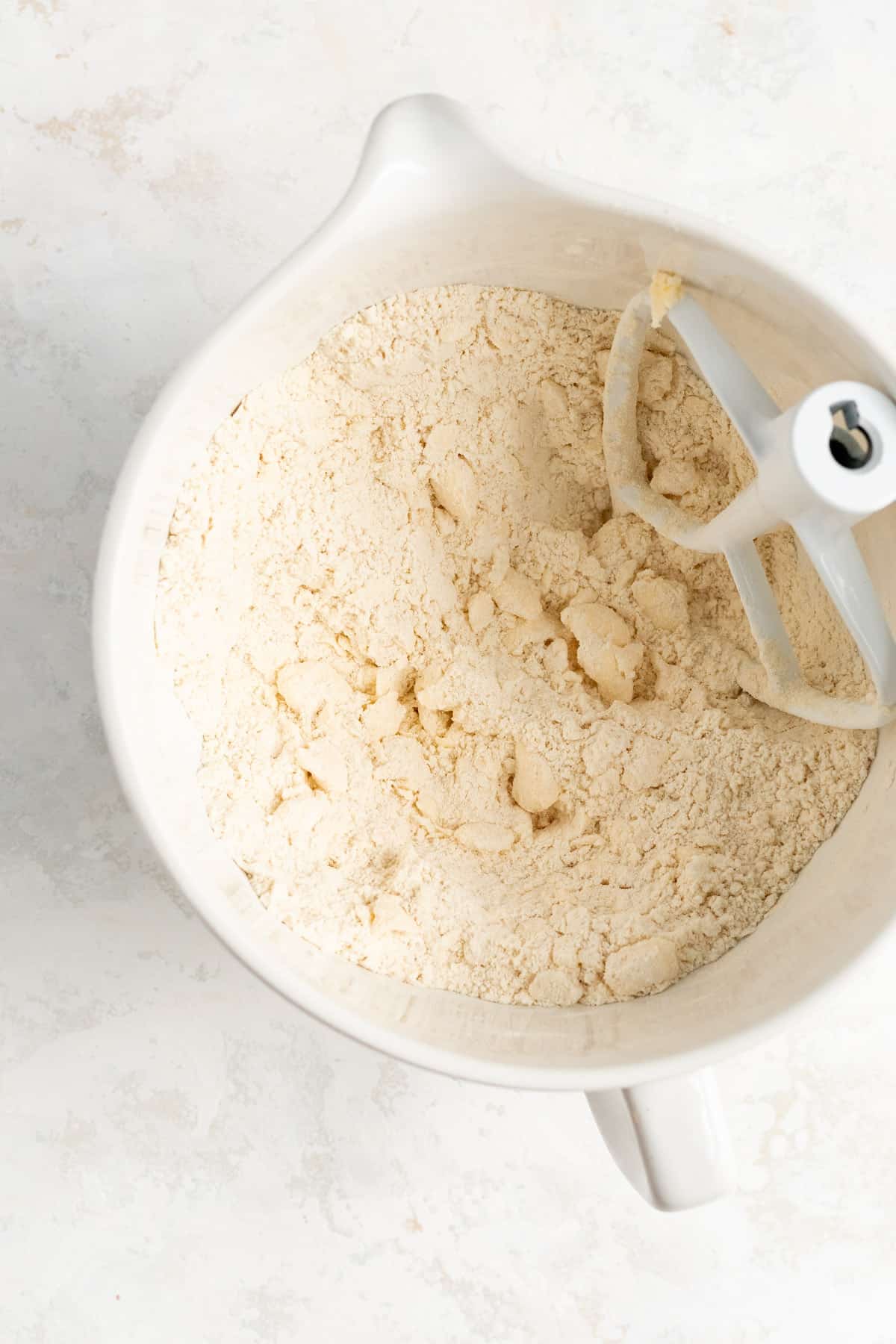 Stream in cold water and mix on low just until combined.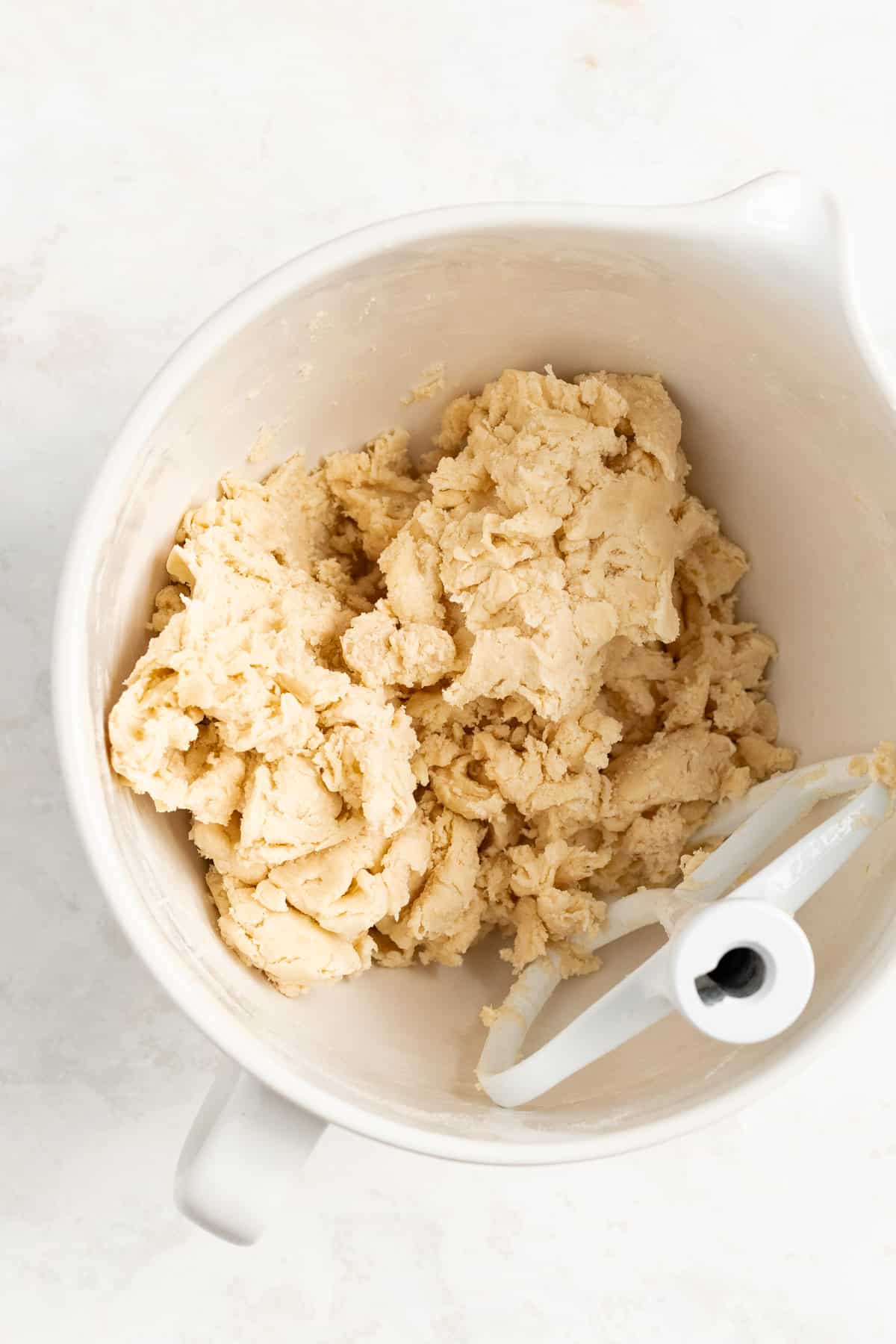 Finish dough by hand on the counter, bringing it together into a single rough mass. Then form dough into a 1"-thick brick (or two 1" thick rounds for a double-crust pie).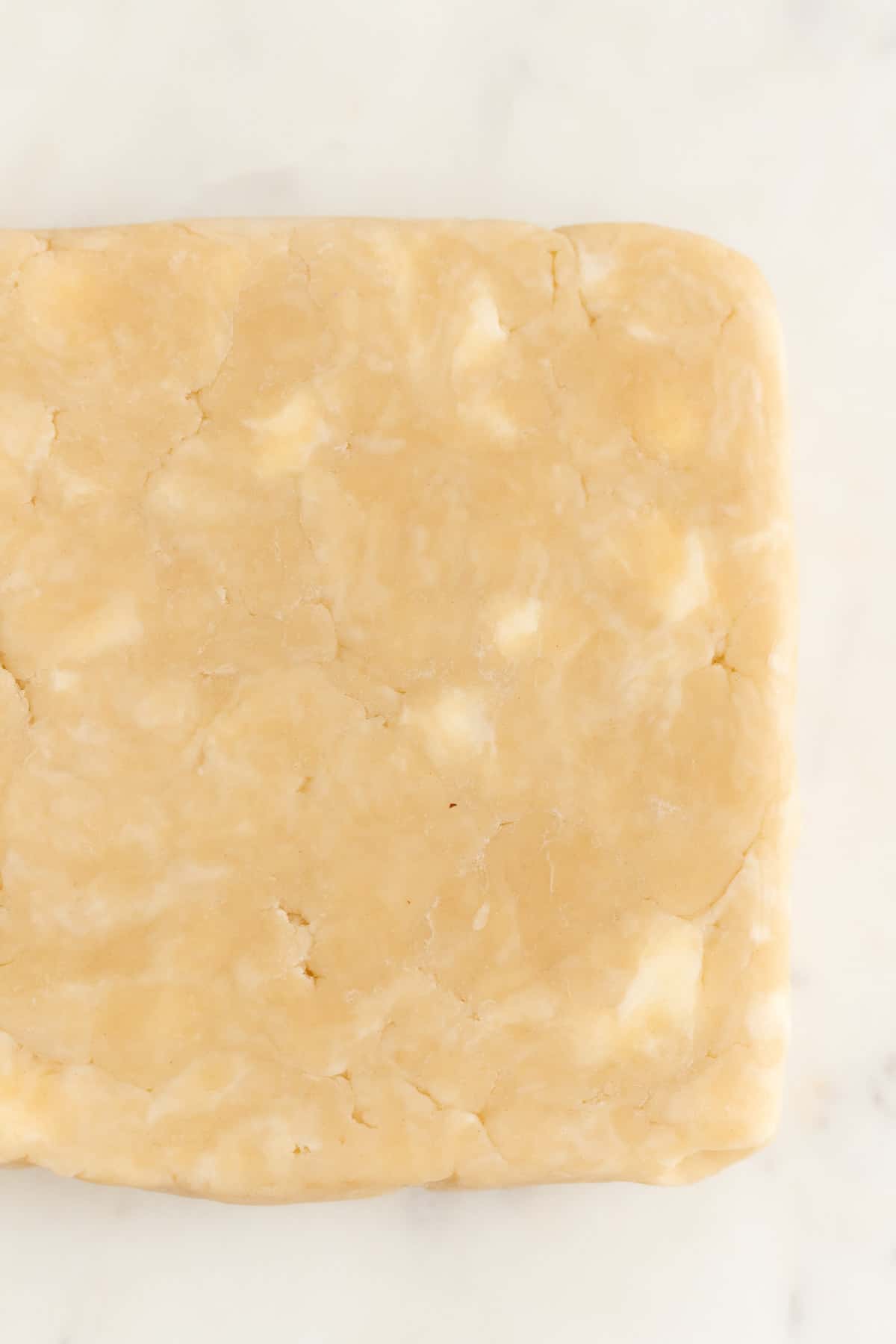 Wrap well in plastic wrap and chill until firm (about 30-60 minutes).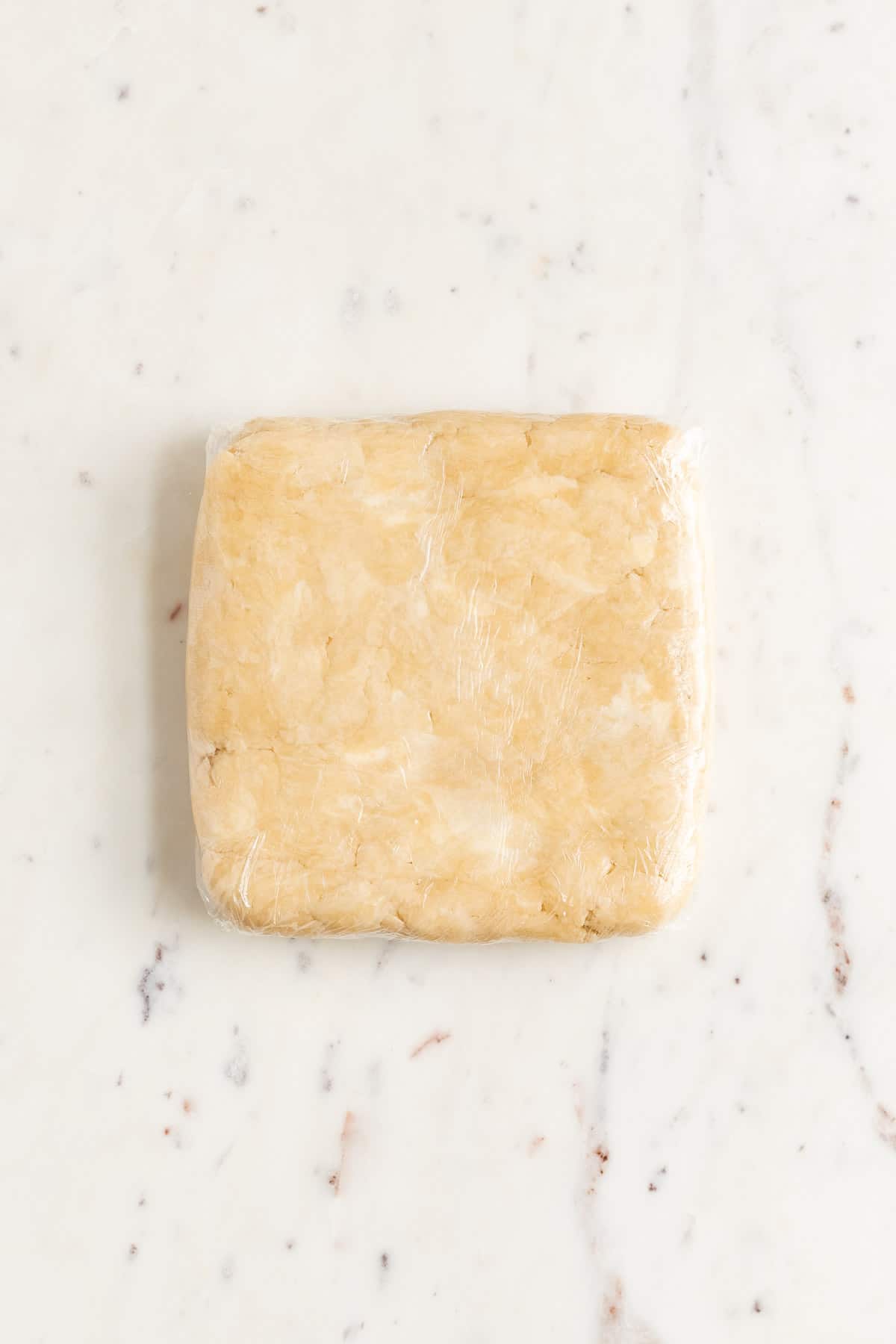 TO FINISH YOUR PIE OR COOKIES:
For a FULL PIE:
Roll dough out to about ⅛" thick, and follow the pie recipe instructions to line and bake your single or double-crust pie.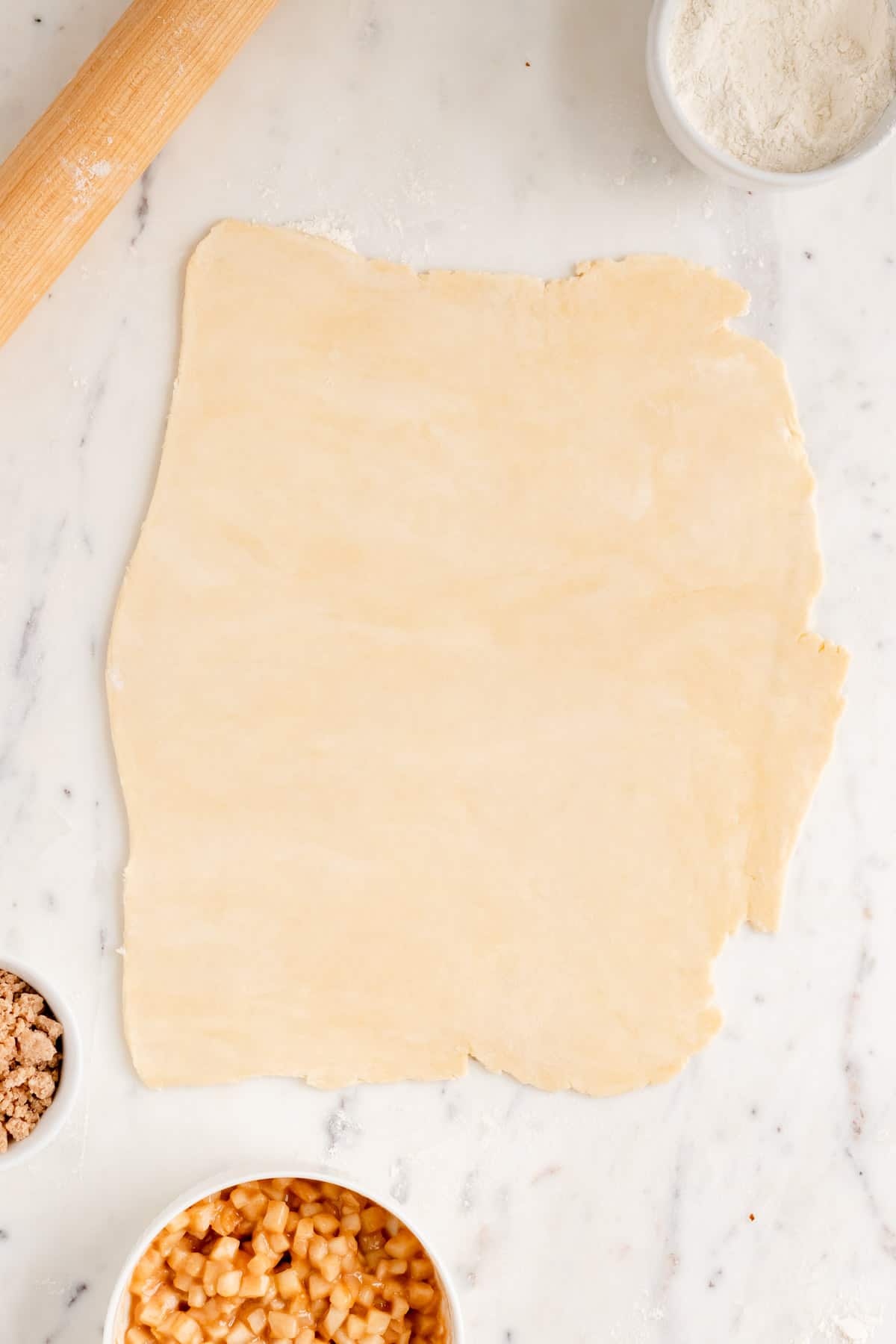 Or for COOKIES:
Preheat your oven and line two baking sheets with parchment for pie dough cookies.
Roll dough out to ⅛" to ¼" thick. Cut into desired shapes or strips.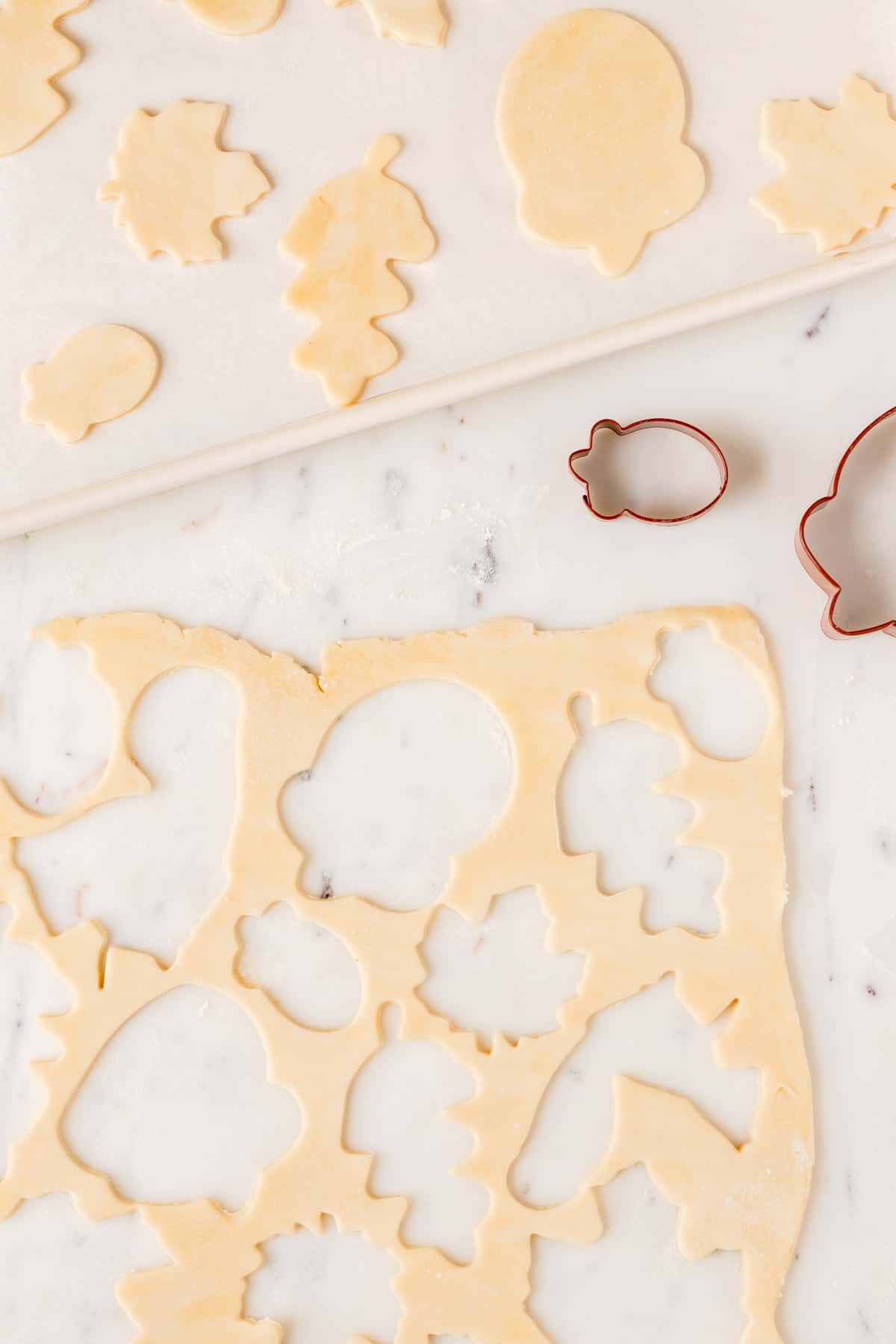 Transfer to prepared baking sheet, at least 1" apart.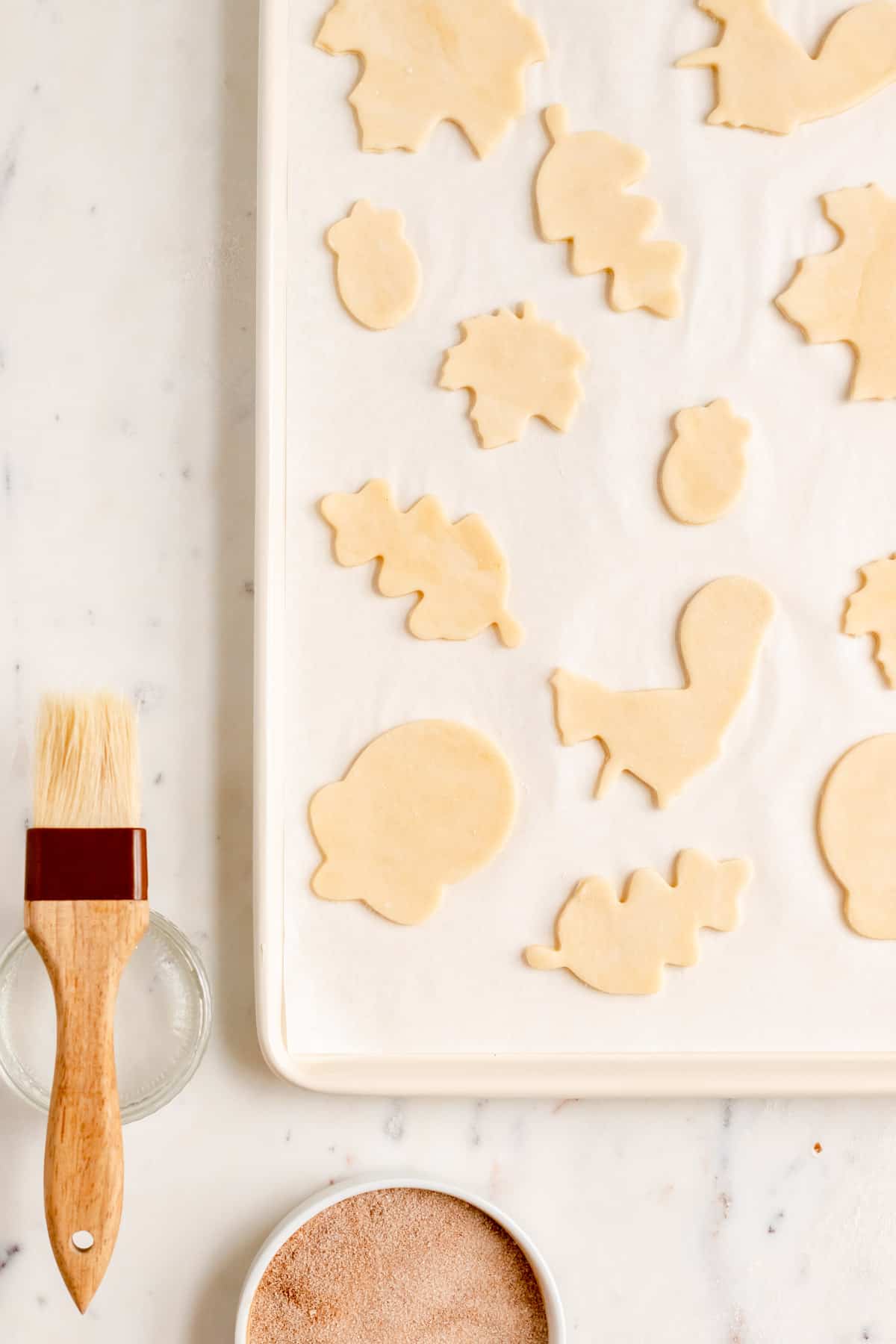 Mix cinnamon and sugar together.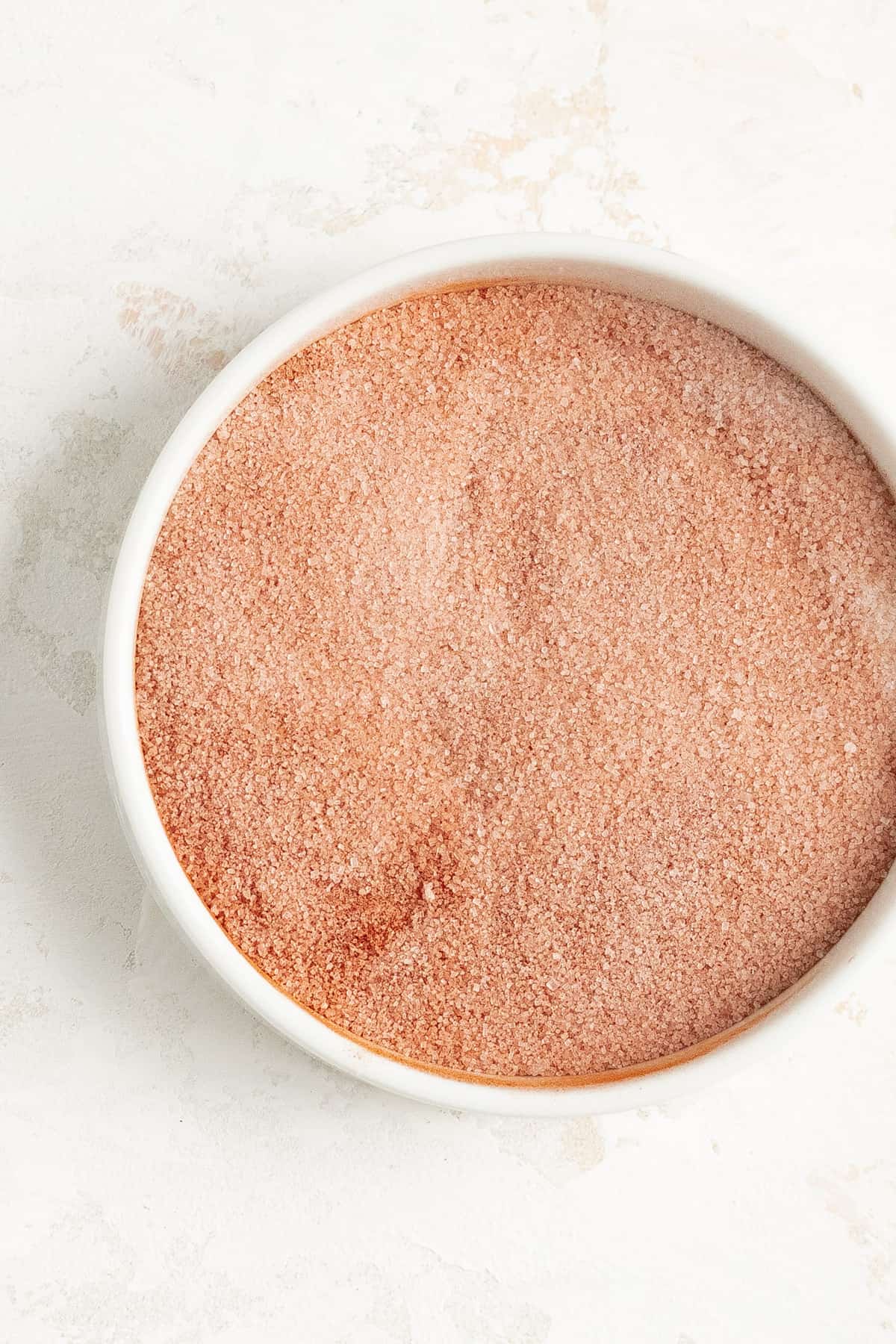 Slightly dampen the tops of the cookies with water, and sprinkle generously with cinnamon and sugar.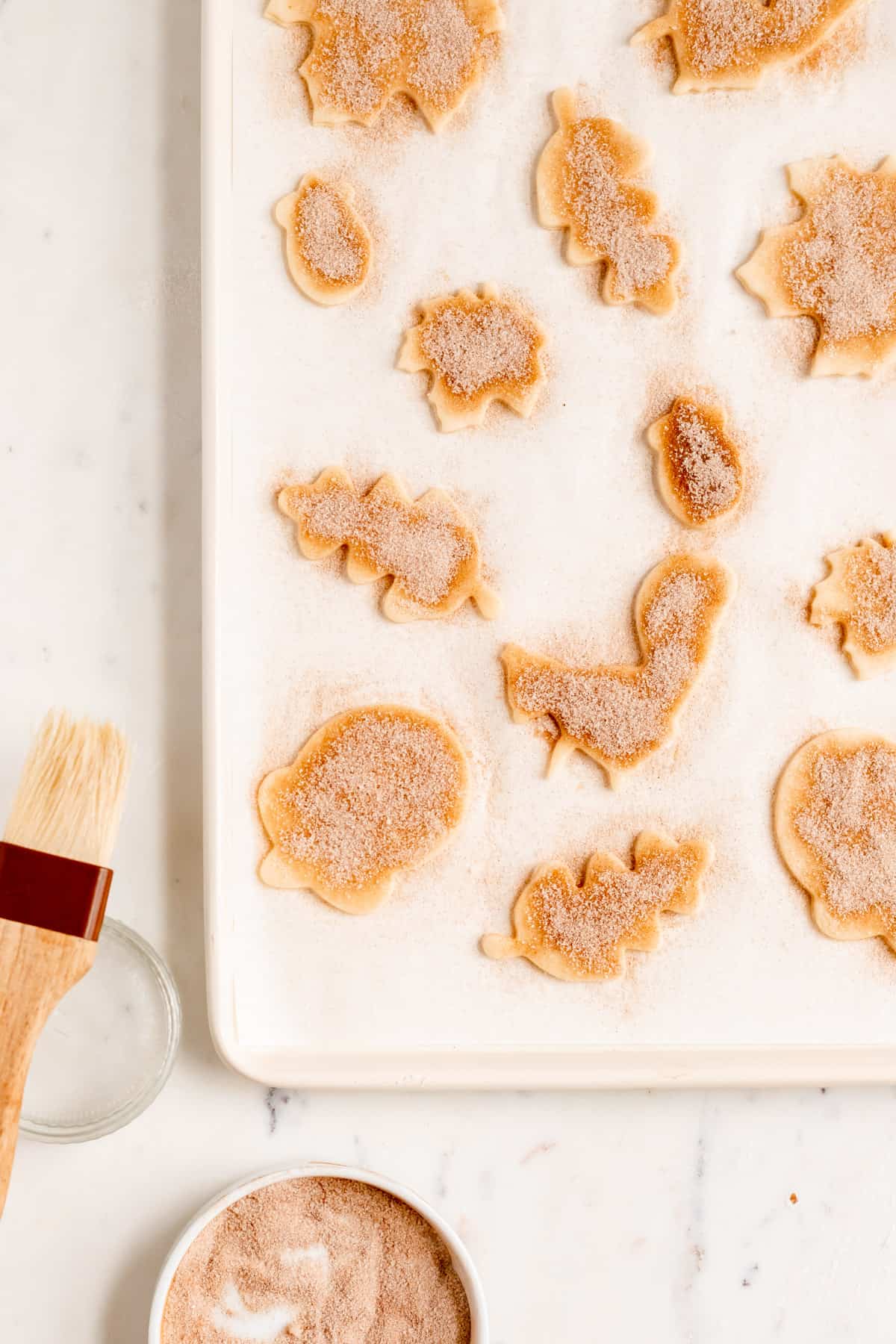 Bake cookies until deep golden-brown and super-flaky.
Cool until crunchy and enjoy!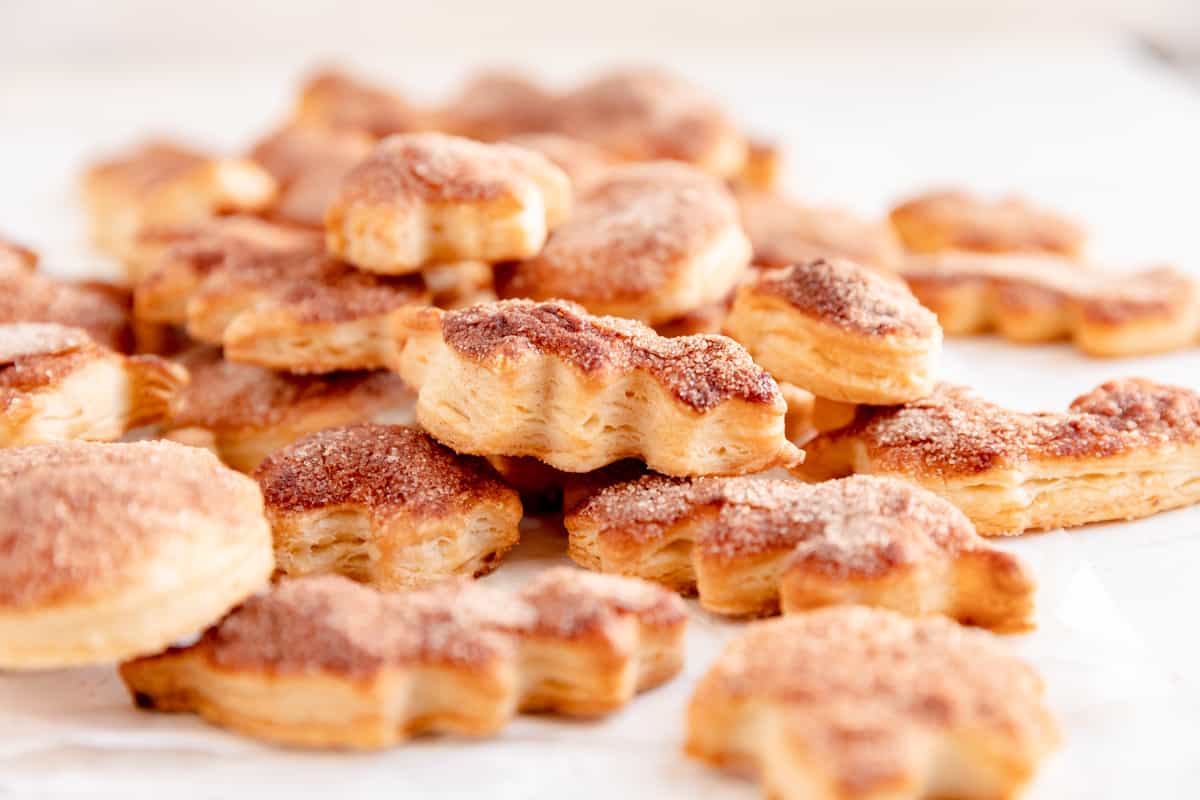 Check out the full RECIPE WEB STORY for a click-through tutorial!
*Expert Tips and Tricks* for Better Baking
What's the TOP TIP for making the best flaky pie crust cookies?
There are two really important tips to keep in mind.

Firstly, your water and butter need to be nice and cold. This will allow the butter to work fully into the dries without getting too warm and give you some big pieces even after a minute or two of mixing.  It will also keep the butter chunks intact in the final dough as the water will help keep the butter chilled in that final mix step.

Secondly, you'll want to be sure you keep some of those bigger chunks of butter (there should be visible pieces in your final dough).  Those chunks will create steam in the oven and those little pockets of steam will help form the flaky layers we all love in our pie crust.
Can you make pie dough ahead of time?
Yes!  Pie dough will keep up to 2 days wrapped airtight in the fridge before use.
How do you store these crispy little pie crust treats?
You can store the baked pie crust cookies in an airtight container at room temperature for up to 2 weeks.
Can I substitute out some butter for shortening?
I wouldn't recommend it as this recipe was specifically designed to reach its maximum potential with all butter.  If you're interested in a 50/50 butter and shortening mix, I'd recommend working with a recipe designed to use both from the start for best results.

What to do with leftover pie crust...
I think you probably know the answer to this by now…make pie dough cookies!  Whether you cut them into pretty shapes, or you just throw the edge trimmings from your double-crust pie onto a baking sheet, with a little cinnamon and sugar on top, they'll both be delicious!
---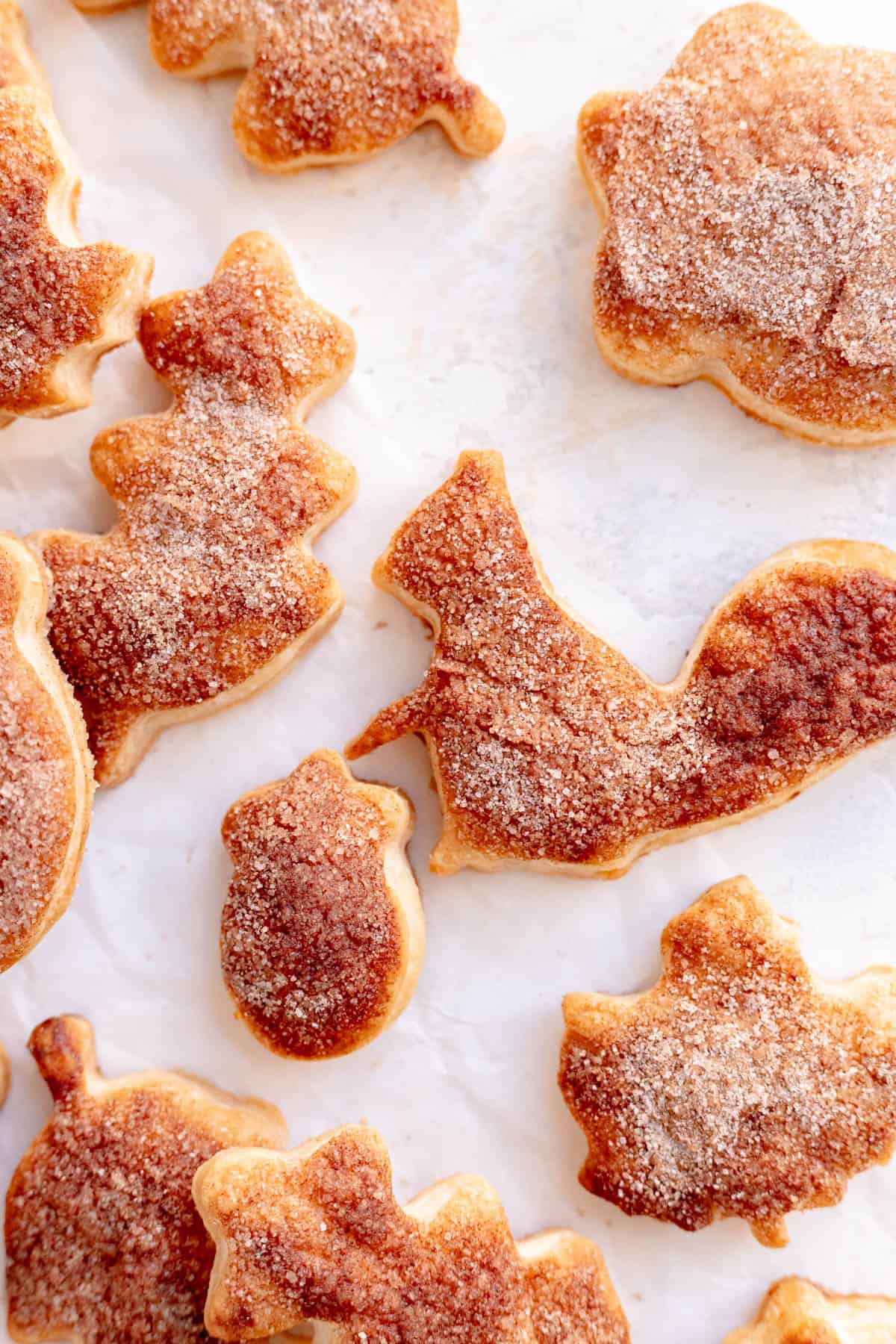 Other Recipes You'll Love
Craving more delicious treats? Here are a few of my other favorite cinnamon and spice recipes:

⭐ If you gave this recipe a try please give it a ⭐ rating and tag me on Instagram @mint.and.mallow.kitchen so I can see what you're baking up! ⭐
📖 Full Recipe
All-Butter Flaky Pie Dough Cookies
Whether you're using this dough as an all butter pie crust without shortening to build your favorite thanksgiving pie, or making some delicious cinnamon and sugar pie crust cookies, this recipe will become your go to for all your pie crust and snack needs in no time!
Ingredients
FOR THE DOUGH:
½

cup

cold water

1

teaspoon

salt

3 ½

cups

all-purpose flour

1 ½

cups

(3 sticks) unsalted butter

(cold and chopped into ¼" cubes)
FOR THE CINNAMON AND SUGAR:
¼

cup

sugar

2

teaspoon

ground cinnamon
Instructions
TO MAKE THE DOUGH:
Combine water and salt: stir salt into cold water in a small bowl or cup until salt is mostly dissolved.

Cut butter into flour: place flour in the bowl of a stand mixer.*1 Turn mixer on at the lowest speed, and add cold butter cubes in a few pieces at a time over the course of 1-2 minutes. Continue mixing (keeping the mixer on low!) until you have a mostly coarse meal with a few pea- and dime-sized chunks remaining (this usually takes about 2-3 minutes in a stand mixer).

Add in cold water: leave the mixer continuing to stir on low and pour in cold water/salt mixture in a steady stream, scraping salt out of the bottom as needed. Allow to mix (keep on the lowest speed), until it comes together.

Finish by hand: when dough is mostly combined, lightly flour a work surface and dump dough pieces and any dry pieces in the bottom of the bowl out onto the work surface. Use your hand to gently press the dough together into a single mass. Work it as little as possible to bring it together so your dough doesn't toughen, and the butter doesn't melt from the warmth of your hands.

Wrap and chill: shape dough into a 1" thick block. Wrap air-tight in plastic wrap. Place in the fridge for at least 30 minutes to 1 hour or until fully chilled (up to 2 days). (If using this dough for a round pie, you can instead form two circles that are 1" thick for chilling, so your dough Is already the right shape when you go to roll out your crust later.)
TO FINISH YOUR PIE OR COOKIES:
Follow pie recipe instructions: if using this dough to make a full pie simply roll-out, fill, and bake pie crust according to your recipe's instructions.*2
OR
Roll out pie dough cookies: preheat oven to 400°F and line two baking sheets with parchment paper. Remove pie dough from the fridge and lightly flour your work surface. Working with a ½ batch of dough at a time, roll out dough to about an ⅛" thick for cut out cookies, re-flouring your surface and rotating your dough as needed to prevent it from sticking to the counter (to make spiral strips instead, see notes*3).

Cut to desired shapes: use your favorite cookie cutters to cut cookies into your desired shapes. Place cut-out cookies on prepared baking sheets with 2" between each cookie.

Pour some sugar on 'em: combine cinnamon and sugar in a small bowl until fully blended. Using slightly damp fingers or a pastry brush, lightly brush the tops of the cookies with water (there shouldn't be puddling at all, just a subtle wet shine). Sprinkle cinnamon and sugar generously on top of the wet cookies until they're fully coated with the top layer looking dry (be generous - there's no such thing as too much cinnamon and sugar on these guys!).

Bake until flaked: bake for 16-22 minutes until puffed up, flaky and deep golden brown on the top, sides and bottom. If you roll your dough thicker, you'll need to bake closer to 22, and thinner, closer to 16, and it's important that you reach a deep golden brown, not just a touch on the edges, to avoid doughy middles.

Cool until crunchy and enjoy! Allow cookies to cool so fully those flaky layers can crisp up and enjoy the cinnamon and sugary goodness!
Test Kitchen Tips
*1To cut the butter in by hand: place flour in a larger mixing bowl. Add cold butter cubes to the flour and toss to fully coat them. Work the butter into the flour, bit by bit, either smearing it into sheets between your fingers (my preferred method) or cutting it into the flour with a fork or pastry blender. Continue to blend until you have a few dime-sized chunks remaining in a mixture of course and chunk crumbs (this usually takes about 2-3 minutes by hand).
*2Pie dough yield: this recipe makes enough dough for a double-crusted pie in a 9" round pie pan if rolled to between an ⅛" and ¼"-thick.
*3Cut out cookies or strips: if you'd rather just slice your dough into strips and then twist them to bake, you can do that too! The dough won't bake up quite as flaky, but your twist will still be delicious and they're less work to make too. In that case, roll your dough to ⅛" thick and I recommend adding the cinnamon and sugar both before twisting and retouching the bare tops with more cinnamon and sugar after twisting.
What to do with leftover pie crust: if you have scraps left after you make your traditional pie crusts, bake them up into free-form pie dough cookies for a delicious pie crust snack to reward the baker!
Nutrition
Serving
1
pie cookie
|
Calories
177
kcal
|
Carbohydrates
16
g
|
Protein
2
g
|
Fat
12
g
|
Saturated Fat
7
g
|
Polyunsaturated Fat
1
g
|
Monounsaturated Fat
3
g
|
Trans Fat
1
g
|
Cholesterol
31
mg
|
Sodium
247
mg
|
Potassium
24
mg
|
Fiber
1
g
|
Sugar
2
g
|
Vitamin A
355
IU
|
Vitamin C
1
mg
|
Calcium
8
mg
|
Iron
1
mg