With a perfect balance between a light and fluffy layer cake and a rich pound cake, this beauty lands smack in the middle with a tender and soft crumb. The zesty lemon glaze and cake balance out the natural sweetness in every slice of this lemon Bundt cake, and the sour cream helps to keep it nice and moist with an extra little tang!
---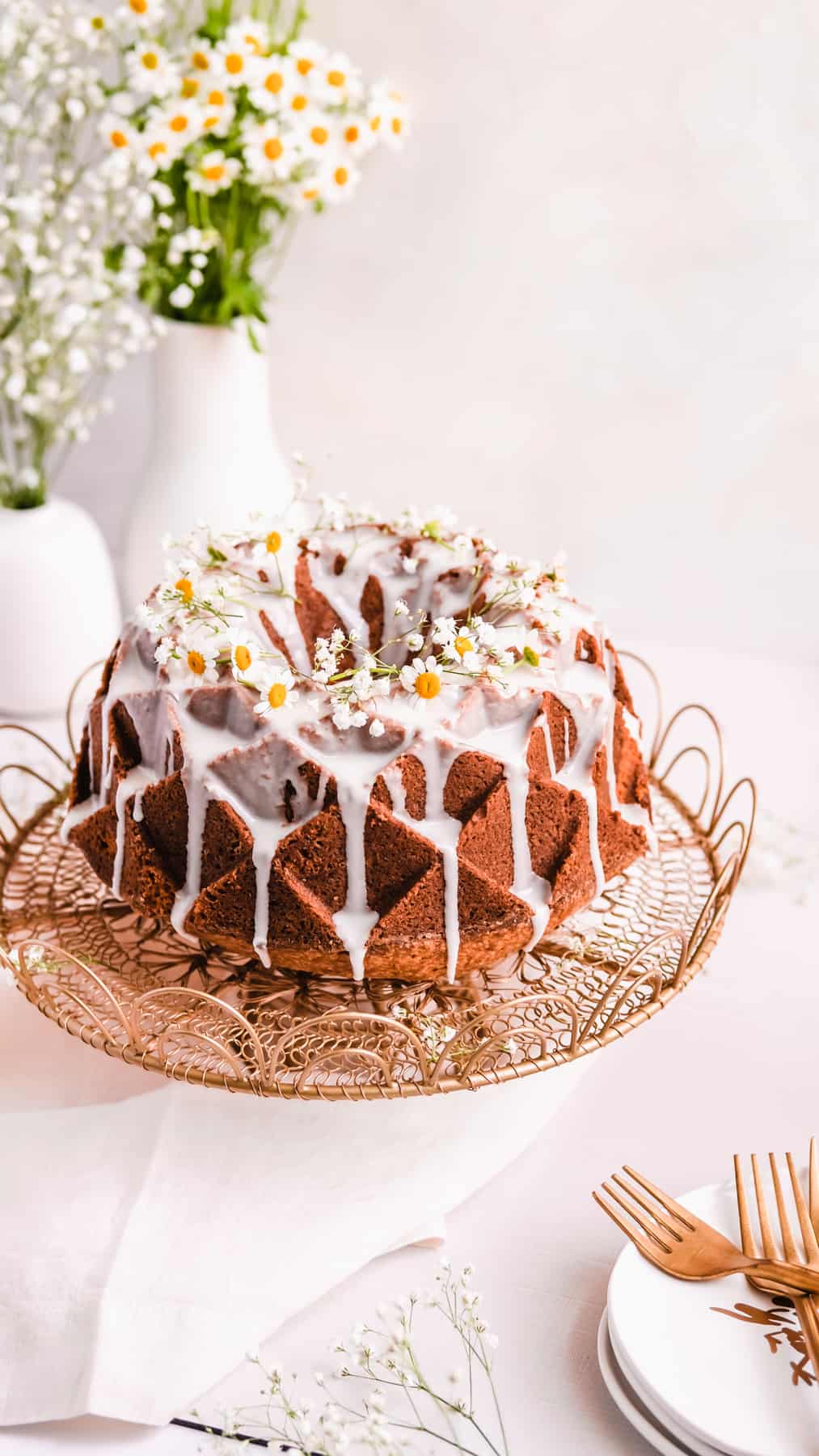 Jump to (scroll for more!):
The basics of the Bundt...
So what is so special about Bundt cakes? How is a lemon Bundt cake different from lemon loaf or lemon pound cake or lemon layer cake?
Well...that answer is very simple, it's just the pan really! While Bundt cakes may have a wide range of textures, Bundt pans are very specific and unique. Bundt pans (and even the word "Bundt" itself) have a really fun history. And even more, interestingly, that history is tied to a well-known bakeware company in the US: Nordic Ware.
As you can read a lot more about in this article, Bundt cakes signify people coming together. If you've read through our About the Baker page too, you'll know my mission is all about bringing people together around simply delicious food to create lifelong memories. So of course, I had to get a Bundt recipe on the blog ASAP!
(p.s. if you're looking for another extra zesty recipe that can be ready in minutes, be sure to check out my Lemon Pancake Recipe with Fresh Lemon Whipped Cream for another bright and tasty treat!)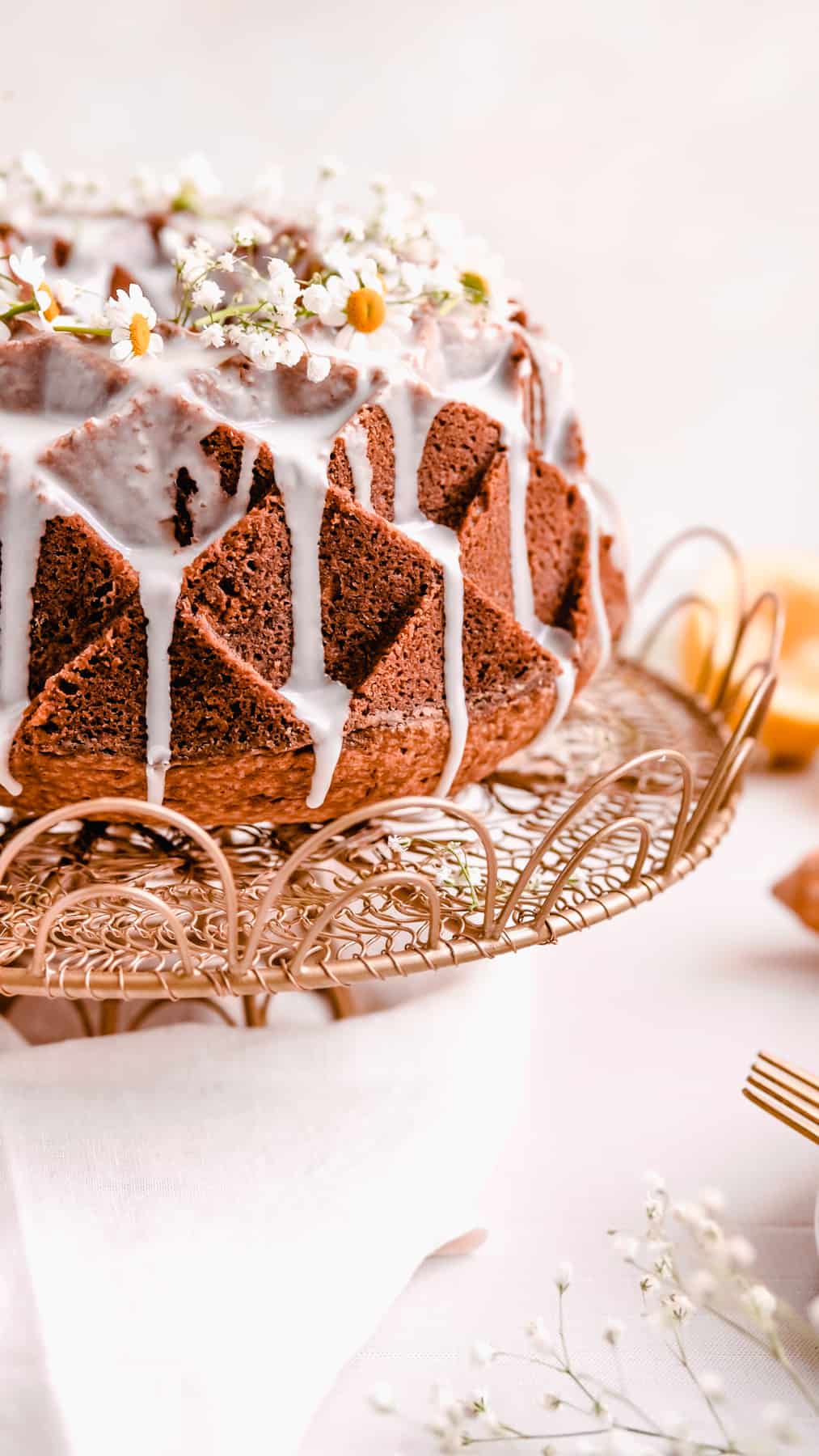 Bundts of steel.
Bundt pans themselves are defined by a ring shape with a hole in the middle. These days you can get them in a plethora of shapes and sizes. The ones you'll see pictured for this lemon Bundt cake with sour cream are known as the Original (rounded) and the Jubilee (diamond-pattern) pans.
Although I wanted to use the Jubilee pan for photos because it's so pretty, honestly, this is a lot of batter for a 10-cup Bundt to handle. I preferred my results using a 12-cup Bundt pan which was perfectly sized for this amount of batter. If you don't have a Bundt pan, a 12-cup or bigger angel food cake pan can work well too.
What you'll need to make this tasty lemon Bundt cake from scratch...
(Pssst…if you're ready to just get baking, get all the details in the recipe card below!)
FOR THE CAKE:
softened unsalted butter
sugar
2 lemons worth of zest: you can add a 3rd if you want an extra lemon punch!
eggs
vanilla extract: even though this cake is "lemon-flavored" I find a little vanilla always just rounds everything out
all-purpose flour
cornstarch: helps to tenderize our cake (AP flour + cornstarch = faux cake flour)
salt
baking powder
sour cream: really important to keep the cake tender and tangier than a milk or yogurt alternative which is exactly what we want for this zesty lemon cake
FOR THE GLAZE:
sifted powdered sugar: make sure you sift it to get a nice smooth glaze
lemon juice: you can just use the zested ones from the cake!
milk or heavy cream: both work great, you'll just have a slightly richer taste using the heavy cream
lemon zest: this will give you a little extra lemon flavor and lovely yellow flecks, but if you prefer a really smooth finish to your glaze, you can leave the zest out for a pretty white glaze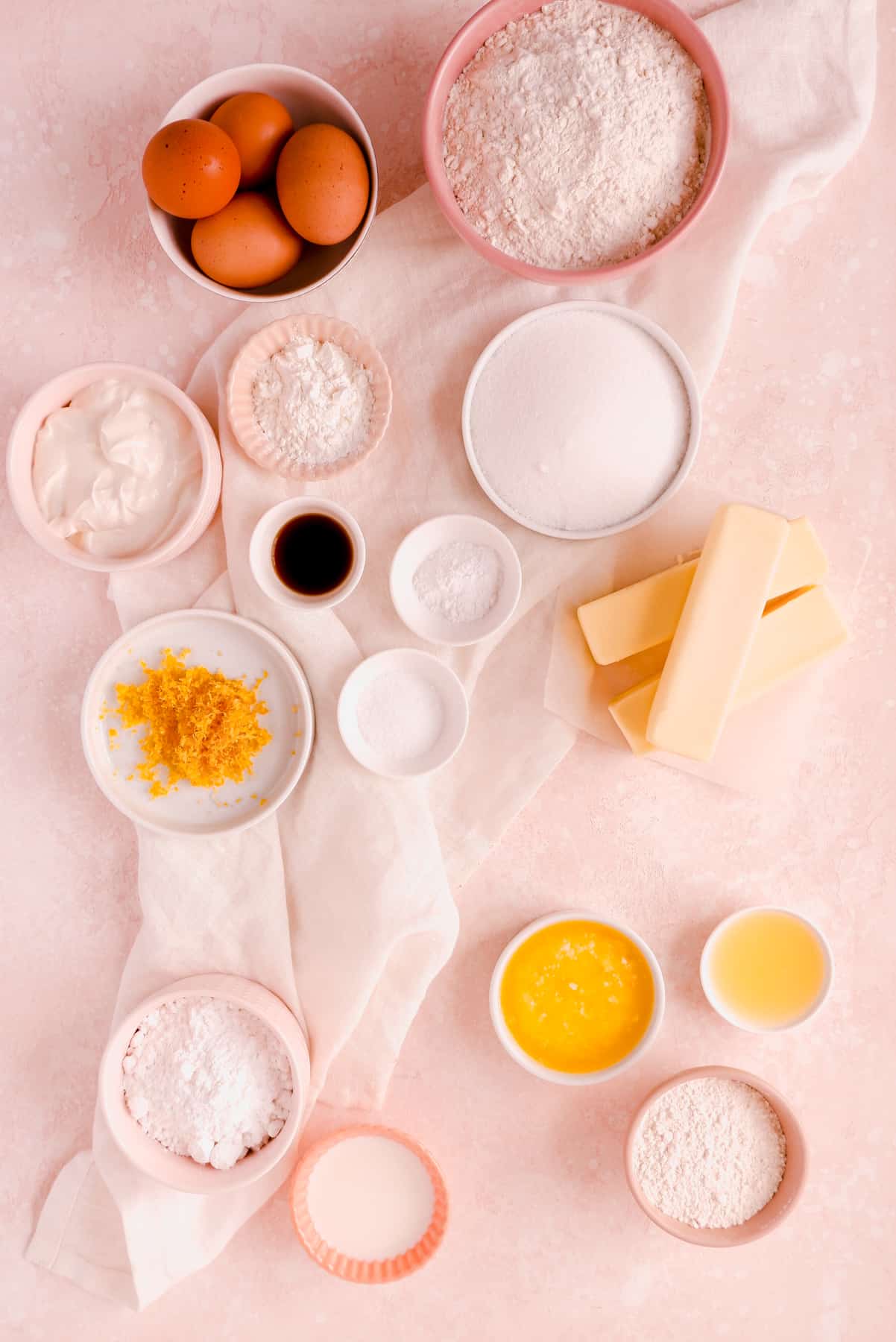 Special tools and equipment you'll need...
A Bundt pan, of course, a pastry brush if you have one, and a mixer to get your batter nice and fluffy!
How to make this tasty Bundt cake recipe from scratch...
(Pssst…if you're ready to just get baking, get all the details in the recipe card below!)
Preheat your oven to 350°F and butter + flour your Bundt pan. There is nothing that will ruin a Bundt cake faster than a poorly prepped pan and my heart just sinks every time I see a stuck Bundt with the top half in the pan and the bottom half on the cooling rack. Read all the details on pan prep below to make sure this doesn't happen to you!
Cream the butter, sugar, lemon zest, and extract until light and fluffy.
Beat in your eggs one-by-one. We're asking this batter to hold a lot of liquid and sugar so take your time adding the eggs slowly to prevent your batter from breaking.
Alternate dry ingredient and sour cream additions. Again, we're trying to be nice to our batter making additions in batches so it doesn't break on us. But we also want to be careful not to over-mix it.
Transfer your batter to the prepared pan and bake for 70-75 minutes. Make sure you don't pull it out too soon! We have a lot of batter in one pan so it takes a really long time for the heat to fully penetrate the whole cake.
Cool fully before glazing. It's really important to let your Bundt cake cool as long as possible in the pan, or you can essentially squish the bottom of the cake under its own weight if you flip it out too soon.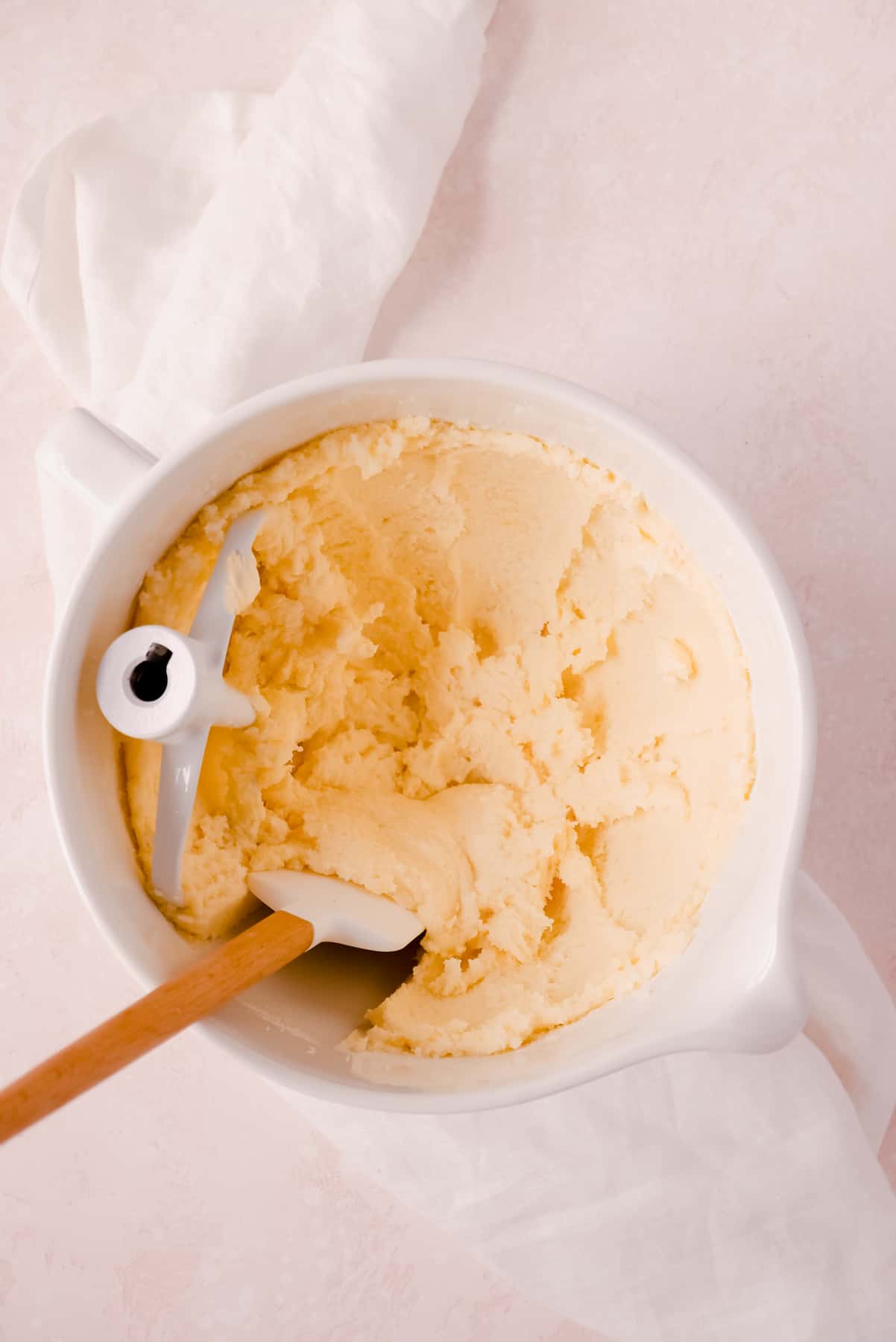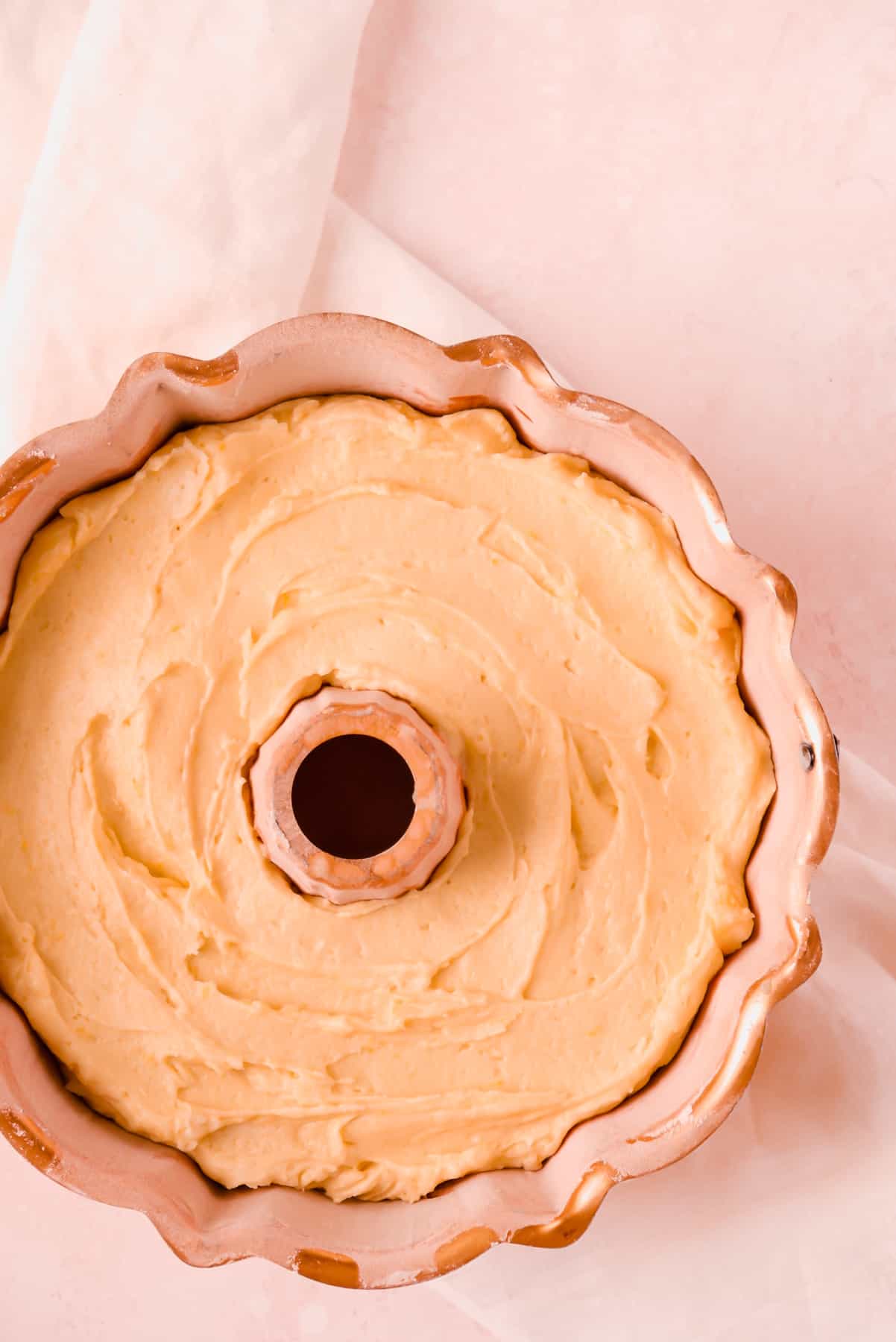 How to make lemon glaze for your cake...
Combine all the ingredients and whisk or stir with a fork until smooth.
Slowly pour glaze over the top of the cool cake, then slice it up and enjoy!
How to grease a Bundt pan...
As I mentioned above, the pan prep makes all the difference for Bundts! I want to make sure you have a feeling of *jubilee* as the appropriately-named pan you'll see pictured here suggests. But for that to happen, your cake must release in one piece.
When researching this recipe one of the related questions that came up was "Do you spray a Bundt pan?" Well, technically, yes you can.
But I've found that baking sprays don't do a thorough enough job of coating the pan. And they also often lead to a bubbly surface on your cake too that isn't very attractive.
I prefer to use melted butter (1-2 tablespoons is enough), and to carefully brush the full surface of my pan. This way you can make sure it is well-greased in all the nooks and crannies. (This is especially important if you're using a fancy or intricate pan).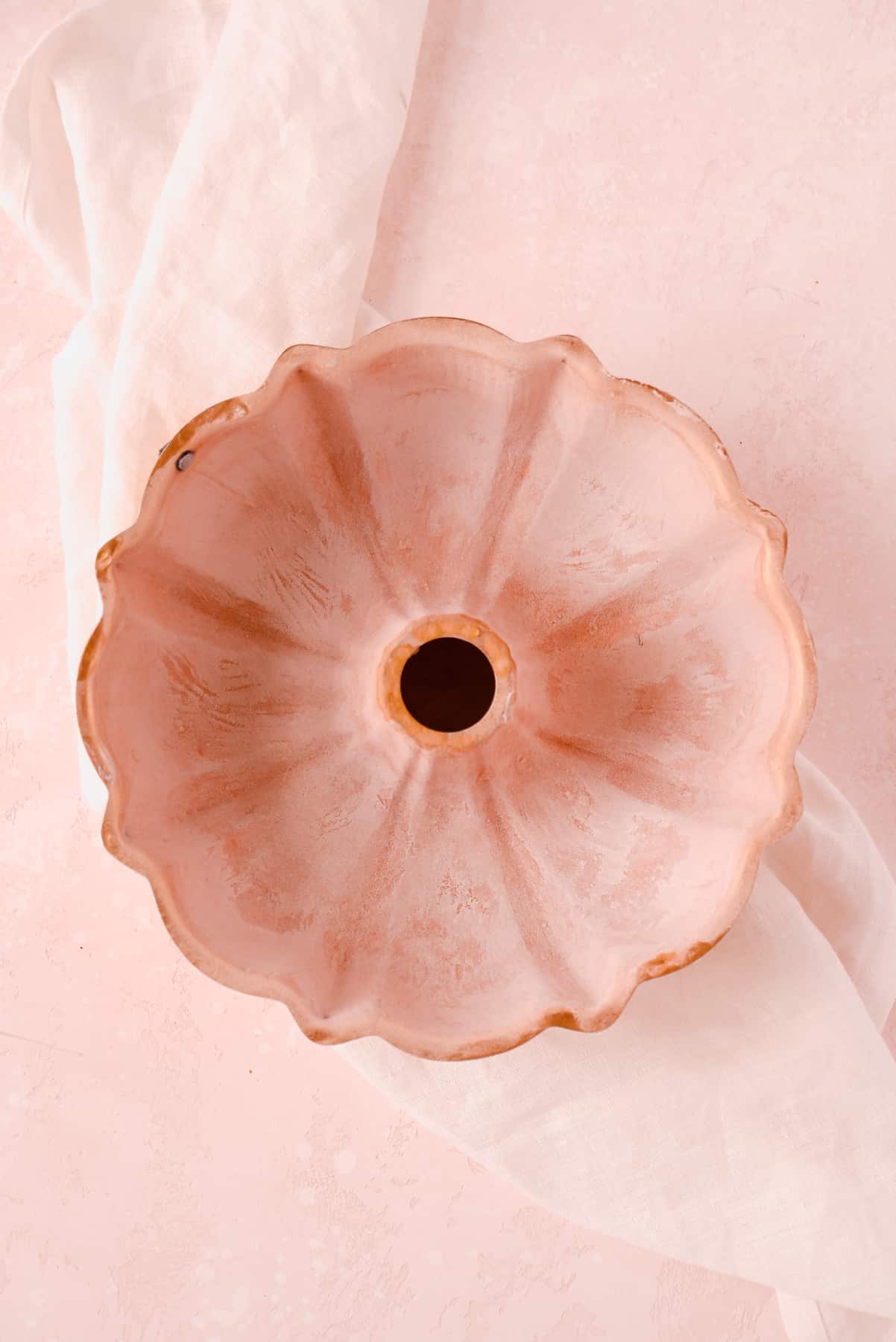 Once greased, I always flour my pan as well by dumping about a ¼ cup of flour into the bottom of the pan, and knocking it around until the butter is fully coated. If you see any spot where the flour won't stick, just add a little butter to that spot, re-flour that section, and you'll be good to go.
Once everything is well-coated, knock your pan out really well to remove any excess flour. For the least amount of mess, do this by knocking your pan out upside down over the trashcan or sink. Removing excess dusting flour prevents any flour clumps on the outside of your soon to be beautifully baked cake!
It may seem a little tedious, I know, but after testing a few different methods with this recipe, I found the butter + flour method to work best for a nice, clean release of our lemon Bundt cake.
And here's the RECIPE WEB STORY for a click-through tutorial!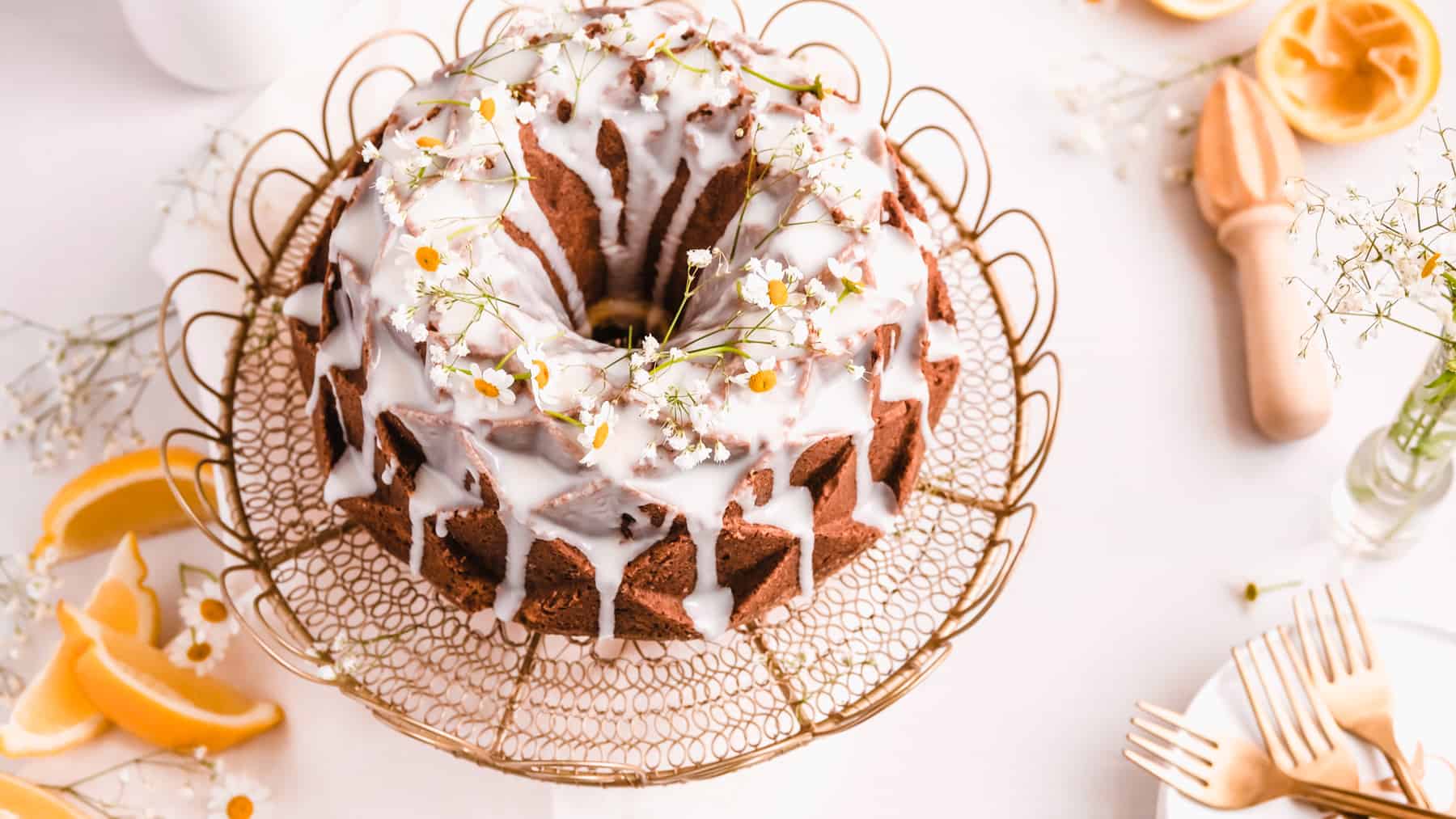 Tips and Tricks for making a delicious lemon Bundt cake...
What's the TOP TIP for making the best Bundt?

1. Proper pan prep, proper pan prep, proper pan prep...say that 10 times fast!
2. Also check out the recipe note on zesting your lemons over your mixing bowl to make sure you can trap all that lemon oil and it's amazing flavor in your batter!

How do you store this cake?
To keep this lemon Bundt cake fresh, wrap a small piece of plastic wrap over the cut ends, then keep it fully wrapped as well and air-tight for up to a week at room temperature.

How do you grease a Bundt pan?
Check out the full tutorial just above!

Why are Bundt cakes so moist?
This Bundt cake is kept extra-moist by the sour cream. In general, Bundt cakes are also moist because you have a high density of batter in a single pan which keeps it from drying out in the oven.

Can you add poppyseeds to this Lemon Bundt Cake?
Yes!! Add in 1-2 tablespoons of poppyseeds based on your taste preference to the batter with the last flour addition to have a lemon poppyseed Bundt variation as well!
---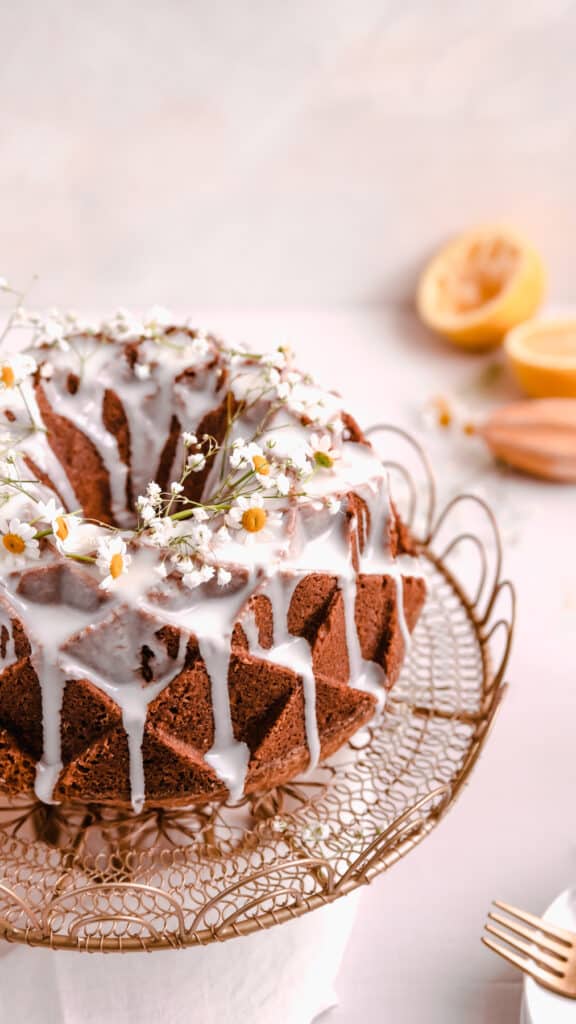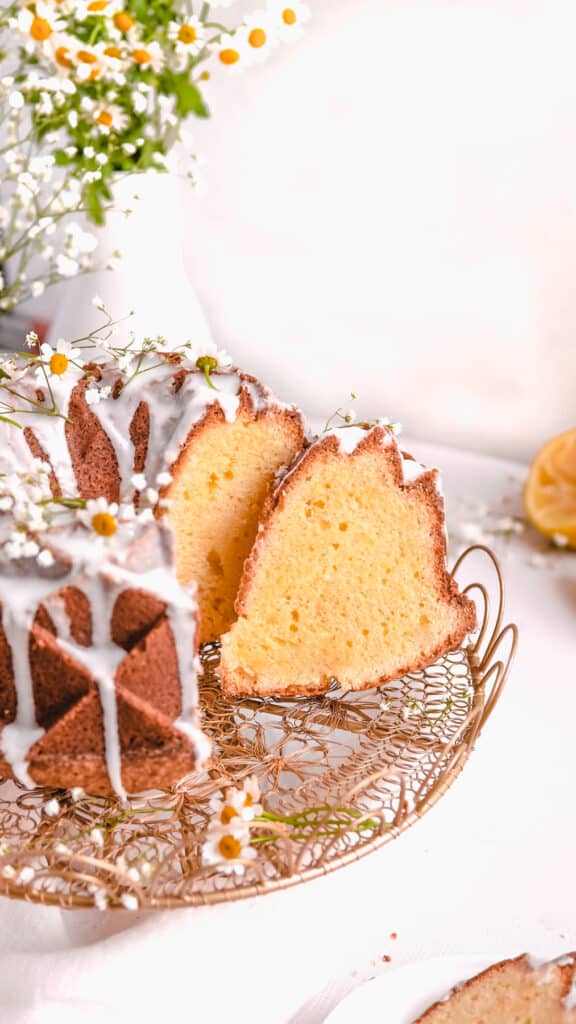 Other recipes fans of this cake will love:

⭐ If you gave this recipe a try please give it a ⭐ rating and tag me on Instagram @mint.and.mallow.kitchen so I can see what you're baking up! ⭐
📖 Full Recipe
Lemon Bundt Cake with Lemon Glaze
The zesty lemon flavor in both the tender cake and the drippy glaze of this Lemon Bundt Cake balance out the natural sweetness in every slice, and the sour cream keeps it extra moist!
Ingredients
FOR THE PAN:
1-2

tbsp

unsalted butter

(melted)

¼

cup

all-purpose flour
FOR THE CAKE:
1 ½

cups

(3 sticks) unsalted butter

(softened)

2 ½

cups

sugar

2

lemons

(zested, about 2-3 tablespoons)

4

large eggs

2

teaspoons

vanilla extract

2 ⅔

cups

all-purpose flour

2

tablespoons

cornstarch

1

teaspoon

salt

1 ½

teaspoons

baking powder

1 ¼

cups

sour cream
FOR THE GLAZE:
2 ¼

cups

powdered sugar

(sifted)

2

tablespoons

lemon juice

2

tablespoons

milk or heavy cream

1

lemon

(zested, about 1-2 tablespoons, optional)
Instructions
TO MAKE THE CAKE:
Preheat and prep: preheat your oven to 350°F. Grease and flour a 12-cup Bundt pan, brushing the melted butter thoroughly throughout the inside of the pan, then knocking the flour around the pan over a sink or trashcan to fully cover the butter (see notes). Knock all excess flour out of the pan.

Cream butter, sugar, zest, and extract: in a large bowl cream together butter, sugar, lemon zest (see notes) and vanilla extract using a hand or stand mixer for 2-3 minutes on medium-high speed until light and fluffy.

Beat in eggs: add eggs one at a time, mixing briefly between each, and once all are in the batter, beat for another minute on medium until batter is smooth and well-combined. (Butter and eggs don't love each other's texture, so adding the eggs one-by-one helps them to warm up to each other and prevents your batter from breaking).

Alternate dry and sour cream additions: combine the remaining dry ingredients and blend together in a small bowl. Add half of the dry blend to your batter, mix it until about 75% combined. Then, add in all of the sour cream, mix again until about 75% combined, and then add the remaining dry ingredients. (Be sure to scrape the bowl well between each addition!) Mix on low for 30 seconds, just until everything is fully combined.

Transfer and bake: transfer batter to prepared pan and spread evenly to all edges. Bake for 70-75 minutes until deep golden brown, with the top fully set, springing back when gently pressed. (Another good trick is to listen for a quiet little crackle and pop which is the air bubbles in your batter popping near when the cake is finished baking.)

Cool fully in pan: cool cake for at least one hour (or ideally until it's at room temp) while upright, then flip over on to a wire rack and un-pan to finish cooling completely. If cake is sticking to the pan, gently use a small offset spatula or dinner knife to loosen the edges where possible, then knock the pan on the wire rack a couple of times until it releases onto the rack.
TO MAKE THE GLAZE:
Combine all ingredients: whisk together all ingredients until smooth in a small bowl.

Drip, slice and enjoy! Slowly pour glaze over the top of the cool cake. Allow it to set for 10-15 minutes, then cut off a slice (and maybe one for a buddy too!) and enjoy!
Test Kitchen Tips
Make sure you take the time to grease and flour your pan well as it's the most important step in a Bundt recipe!  I prefer to use melted butter, brushed on thoroughly to cover the whole inside of the pan, and then knock flour around in the pan to fully coat the butter. Check out this recipe's blog page for a full detailed tutorial!
For a little extra lemon kick, zest your lemon directly over your mixer bowl so the oils that are released during the zesting process (which you often can't really see) make it into your batter too!
Nutrition
Serving
1
slice
|
Calories
323
kcal
|
Carbohydrates
45
g
|
Protein
3
g
|
Fat
15
g
|
Saturated Fat
9
g
|
Trans Fat
1
g
|
Cholesterol
65
mg
|
Sodium
246
mg
|
Potassium
70
mg
|
Fiber
1
g
|
Sugar
31
g
|
Vitamin A
488
IU
|
Vitamin C
8
mg
|
Calcium
43
mg
|
Iron
1
mg