Brown sugar + dark chocolate + the forbidden love of unbaked cookie dough - this recipe is the perfectly indulgent treat for cookie-dough lovers around the world (guilt free!).
---
Chocolate chip cookie dough made to be eaten right from the mixing bowl! If you're one of those people who always finds yourself a few cookies short of a recipe's yield because a little bit of dough miraculously disappeared into your tummy, then this is the recipe for you!
---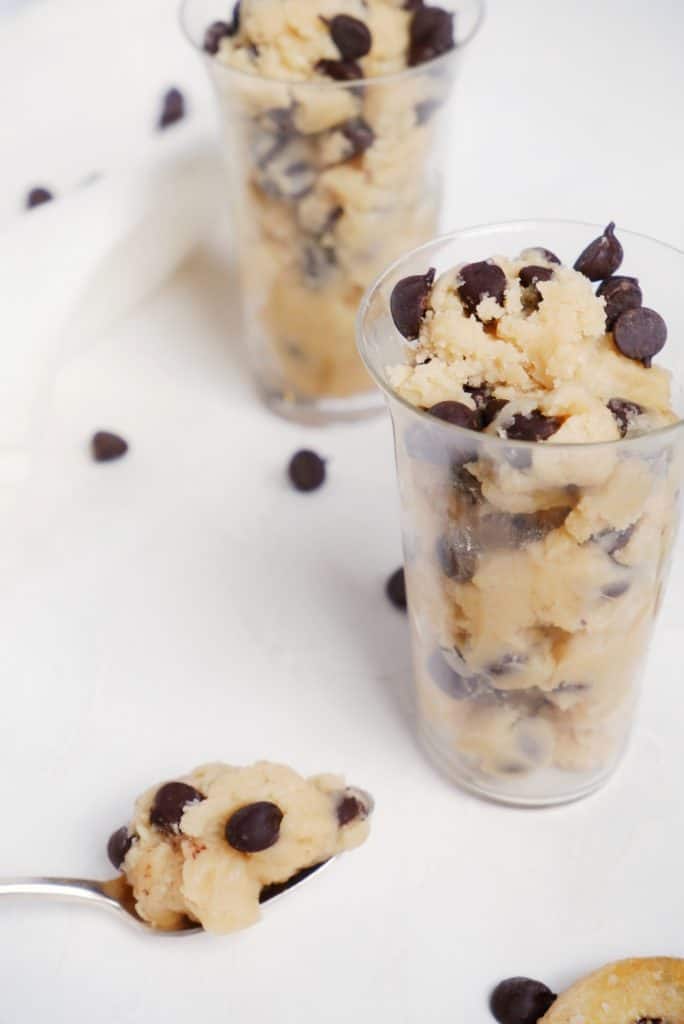 ---
Now confession...I'm guilty of eating plenty of classic cookie dough in my day. But this recipe is actually designed to be safe for raw consumption using sterilized flour and only pasteurized eggs and water.

Edible or not, self-control and cookie dough never go hand-in-hand in my kitchen. So I've kept this recipe nice and small. That way you don't have to feel too bad if you eat it all in a day...*wink wink*. It's also the perfect amount to split with your favorite cookie-dough aficionado anytime you like!
---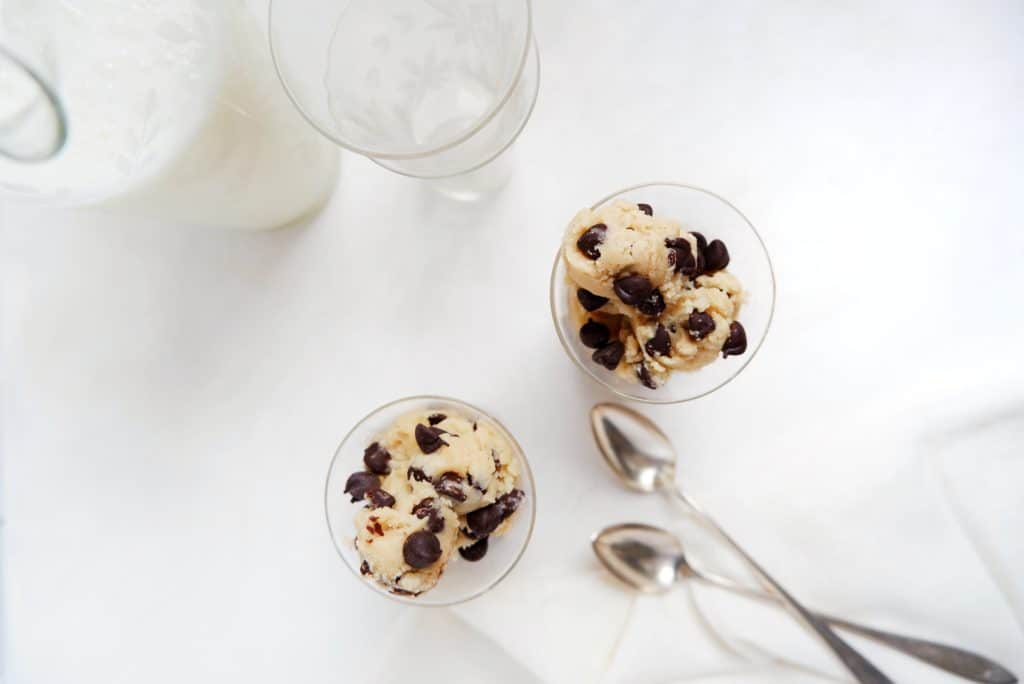 ---
Can you make this cookie dough vegan? I don't recommend substituting the butter in this recipe as it's flavor is really important for maximum yumminess. But you can check out the many delicious vegan chocolate chip cookie dough recipes on the web if that's of interest to you!
Can you bake the dough? In short, yes, although to optimize the edible dough you do significantly compromise the baked cookie quality.
---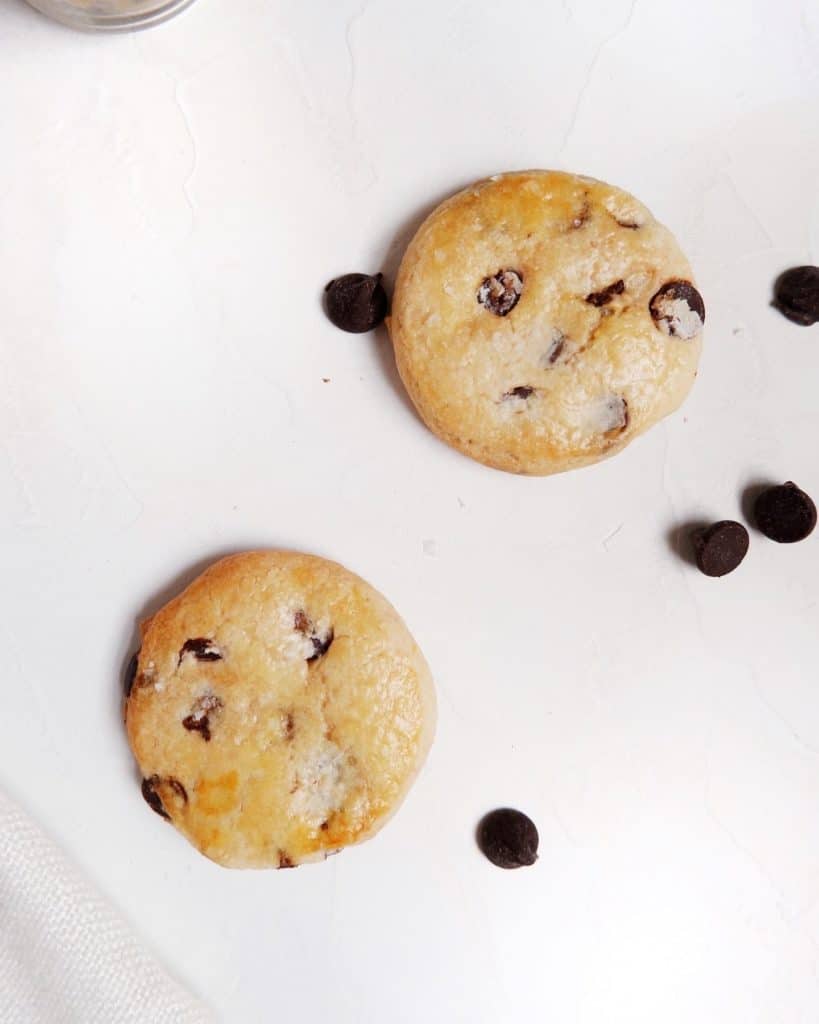 ---
You actually can't bake many edible cookie doughs at all. But, I wanted to make sure you all at least had the option! If you'd like to bake these off, I had the best results using the roll and cut method detailed below.
Roll the dough right after mixing to the thickness of the chocolate chips (about ¼" thick). Dust both below and above the dough with flour as you roll to prevent sticking. Cut out 2" circles, and tray them up 1" apart on a parchment-lined baking sheet.
Although it's optional, you can also add a little egg wash on your cookies before baking to bring some sheen and color, by beating a whole egg together and brushing the tops of the cookies right before baking.
Sprinkle with a little flaked sea salt if you like. Bake at 375°F for 10-12 minutes until golden brown on top edges and bottom.
Now, while the final product won't taste like a traditional chocolate chip cookie since these guys are missing the eggs and leavener, they do make a lightly sweetened, sturdy, chocolate chip tea biscuit of sorts that can be quite nice if that's a cookie category you enjoy.

⭐ If you gave this recipe a try please give it a ⭐ rating and tag me on Instagram @mint.and.mallow.kitchen so I can see what you're baking up! ⭐
📖 Full Recipe
Chocolate Chip Cookie Dough for Two
Chocolate chip cookie dough made to be eaten right from the mixing bowl! If you're one of those people who always finds yourself a few cookies short of a recipe's yield because a little bit of dough miraculously disappeared into your tummy, then this is the recipe for you!
Ingredients
2

tablespoons

unsalted butter

(softened)

2

tablespoons

brown sugar

2

tablespoons

granulated sugar

⅔

cups

sterilized all-purpose flour

(cooled, see Step 1)

1

teaspoon

water

⅛

teaspoon

sea salt

2

tablespoons

pasteurized liquid egg whites

(see tips)

¼

teaspoon

vanilla extract

3-4

tablespoons

chocolate chips

(see tips)
Instructions
Sterilize flour (see tips for why this is important): add flour to a microwave safe bowl (you can sterilize as much as you'd like as once). Heat at full power in the microwave until flour is at least 165 degrees Fahrenheit on an instant-read thermometer. Be sure to stir the flour before taking the temperature to even out any hot spots. Continue to cook in 30 second bursts until you reach temp (about 2-3 minutes for a few cups of flour). Alternatively you can bake flour spread thinly on a parchment-lined baking pan at 350 degrees Fahrenheit for 7-10 minutes. Allow flour to cool to room temperature before continuing.

Stir together all ingredients (other than chocolate): combine all the ingredients (excluding the chocolate chips) with a wooden spoon or hand-mixer until smooth and combined.

Add chocolate: add in the chocolate chips all at once and stir in by hand just until evenly distributed throughout the dough.

Share and enjoy: grab a fellow cookie dough lover, two spoons, and enjoy!
Test Kitchen Tips
Why do you have to sterilize the flour? Because unbleached, raw flour (which is what I always use in my kitchen) has no "kill" step in production (and we won't be using the oven to kill any possible contaminants), we need to ensure the flour is safe to eat raw. If you make this recipe regularly (and I mean…who could blame you?) you can sterilize a big batch of flour at once and then just keep it on hand, stored how you would store your regular flour, for any time that cookie dough craving is calling your name.
Pasteurized egg whites: pasteurized egg whites are treated in a way that makes them safe to eat raw, unlike traditional shelled eggs. If you don't have pasteurize egg whites on hand, you can use just water in an equal amount to replace the egg whites, but I preferred the liquid egg whites as they seemed to give the dough a bit more body like the classic (theoretically inedible) cookie doughs I know and love.
Dark chocolate: I prefer dark chocolate here, as I love the slightly bitter note offsetting the sweet cookie dough, but you can use your favorite chocolate chips or even chocolate chips and chopped nuts combined.
Storage (not that you'll need to): You can store any un-eaten dough (although I can't imagine there'll be any!) in an airtight container in the fridge for up to 3 days.
Nutrition
Calories
354
kcal
|
Carbohydrates
56
g
|
Protein
6
g
|
Fat
12
g
|
Saturated Fat
7
g
|
Trans Fat
1
g
|
Cholesterol
30
mg
|
Sodium
181
mg
|
Potassium
65
mg
|
Fiber
1
g
|
Sugar
24
g
|
Vitamin A
481
IU
|
Calcium
20
mg
|
Iron
2
mg